This post is sponsored by Joan Of Arc Cheese but the content and opinions expressed here are my own.
Melty brie, tangy-sweet sauce and buttery pastry come together in this cranberry brie puff pastry holiday appetizer. Quick to bake, easy to please!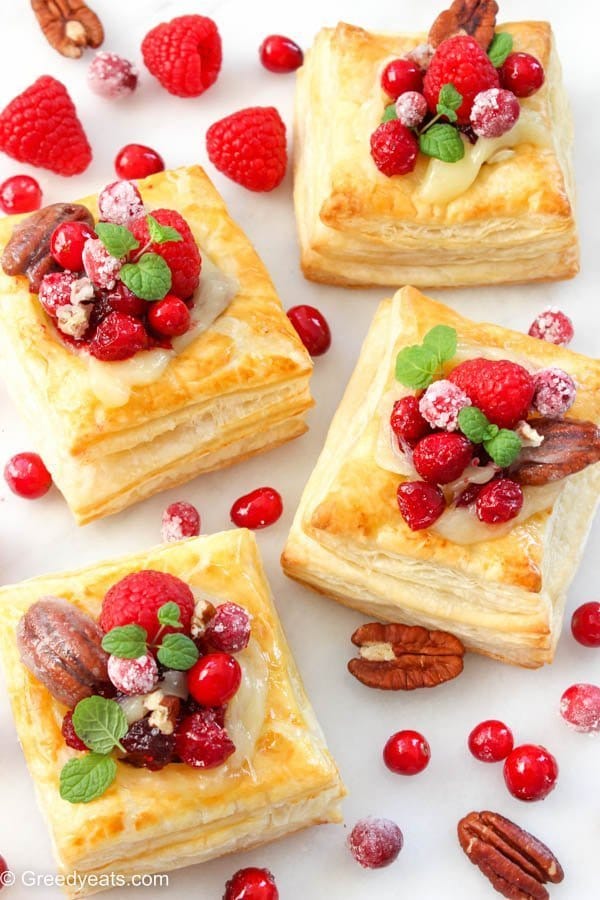 Want to experience sweet, tangy, buttery, crunchy creamy, flaky and salty in one bite? Then you don't want to miss baking cranberry brie puff pastry squares this holiday season.
No you really don't! If minimal effort and cute looking appetizers (that involve cheese) are your top priority this Christmas or New year or any day of the year, you have come to the right place.
Oh and check out this whole wheat sweet puffs. I so want to bite them right now!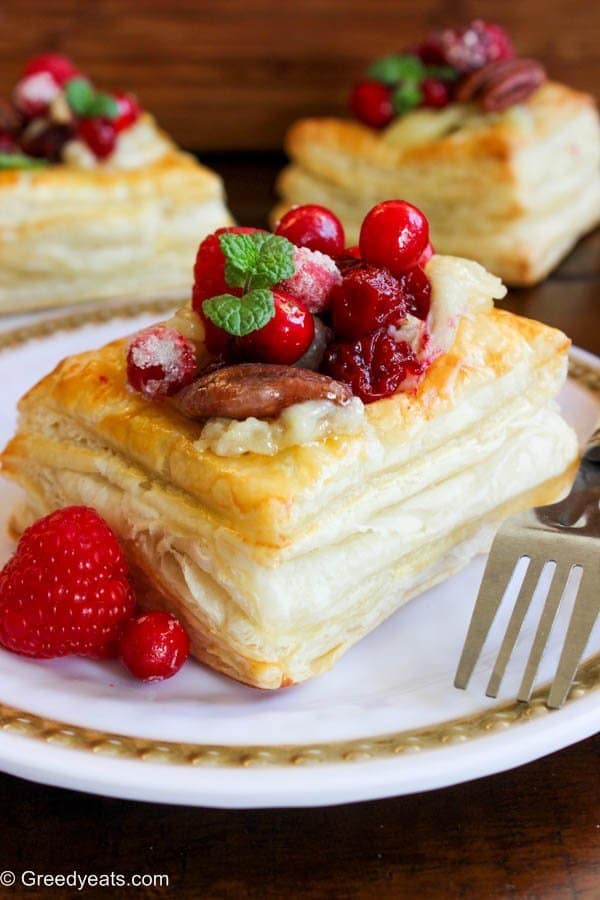 Cranberry brie puff pastry ingredients
There aren't many. And a fun fact! Three of them are hiding in the name of this recipe! 😀 Lets get to know them all.
Cranberries: I have used cranberries in three different forms here. Cranberry sauce, glazed crannies and sugared ones. You can practically use any jam or berry of your choice here. Ooh and I also topped my puff pastries with a glazed raspberry for looks taste.
Cheese: We are using Brie cheese today. Trust me you guys, there doesn't exist a substitute here!
Candied pecans: They add a sweet crunch to our cranberry brie puff pastry.
Puff pastry squares: Super easy to make and they bake up like puff pastry pillows. Look for yourself!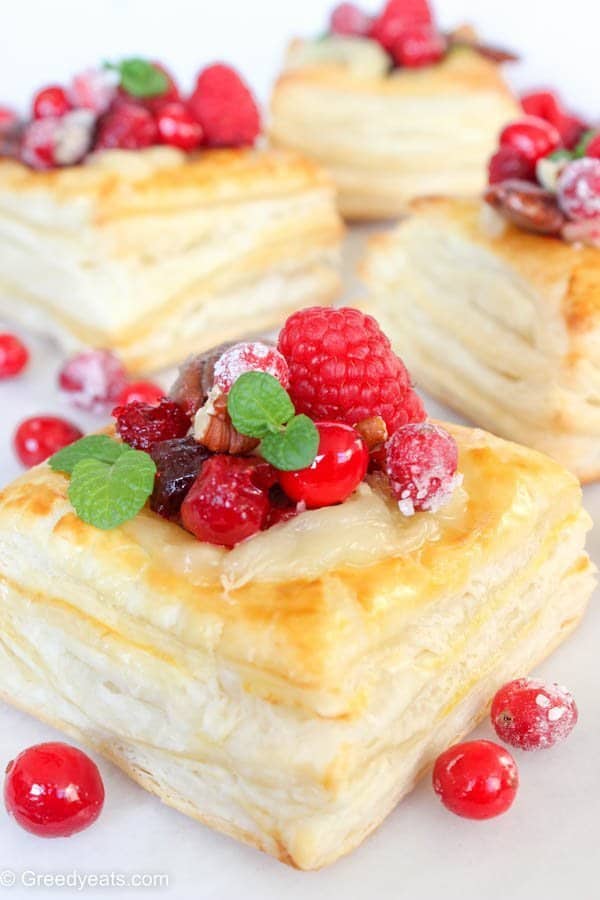 Don't confuse these squares with some plain puff pastry squares that taste nothing but flakes, butter and salt. Instead these are jam packed with different textured cranberries, crunchy pecans and overflowing with melty-creamy brie C-H-E-E-S-E. Just what a perfect Christmas Eve desires!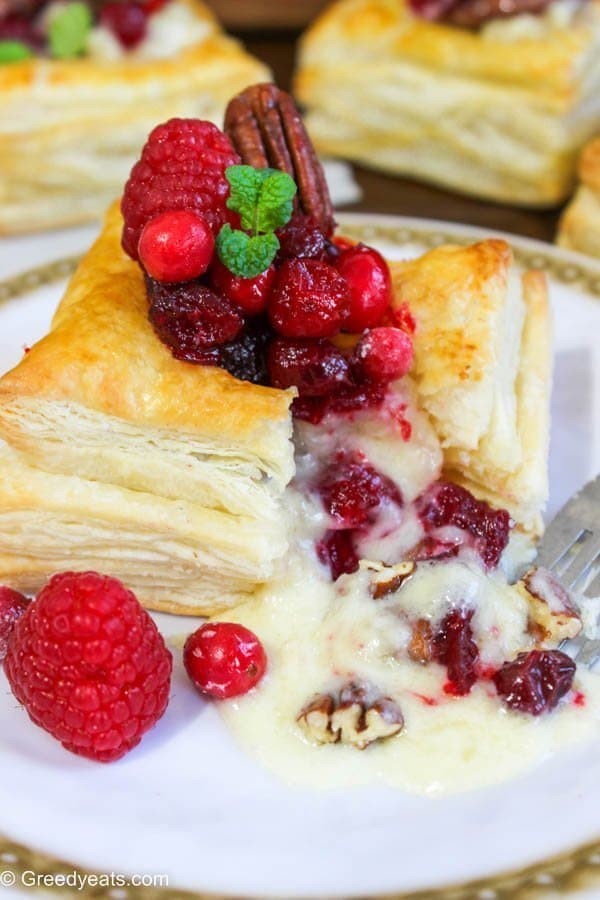 How to assemble cranberry brie puff pastry squares
We will cut our puff pastry sheet into 12 squares. And cut out circles from 8 of these pastry squares.
Stack the ones with holes on top of other squares. You will form 4 squares, three sheets high.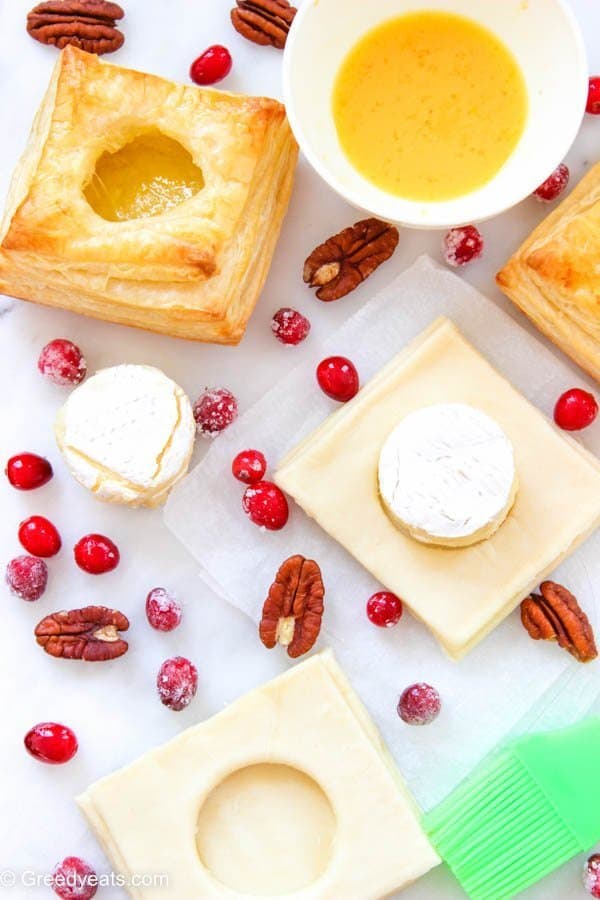 Also cut brie into 4 circles using a small and round pastry cutter. And bake! We will fill our puff pastry squares right after they come out of oven. Those baked pockets will be huge! You can even put more cheese (like I did) in them along with your favorite fruit toppings and jam!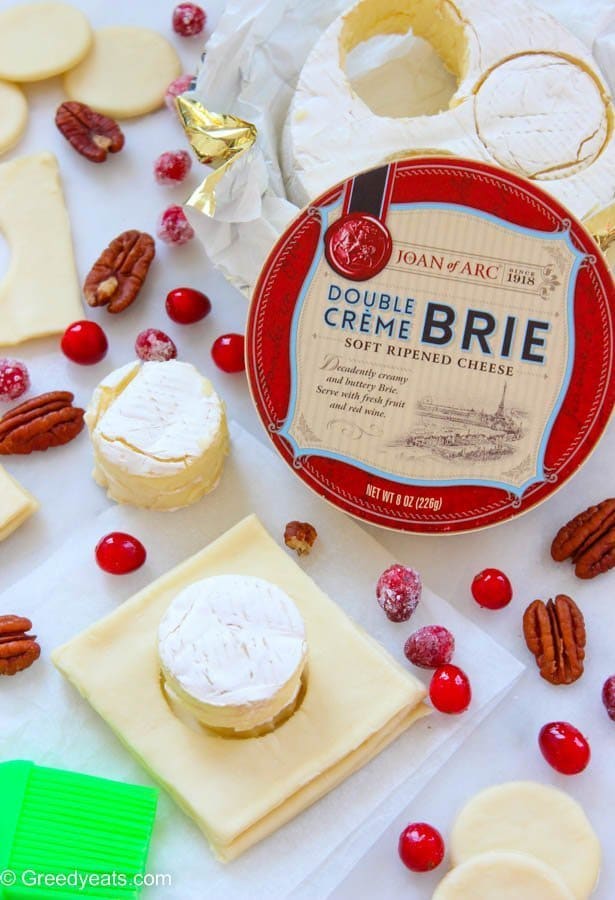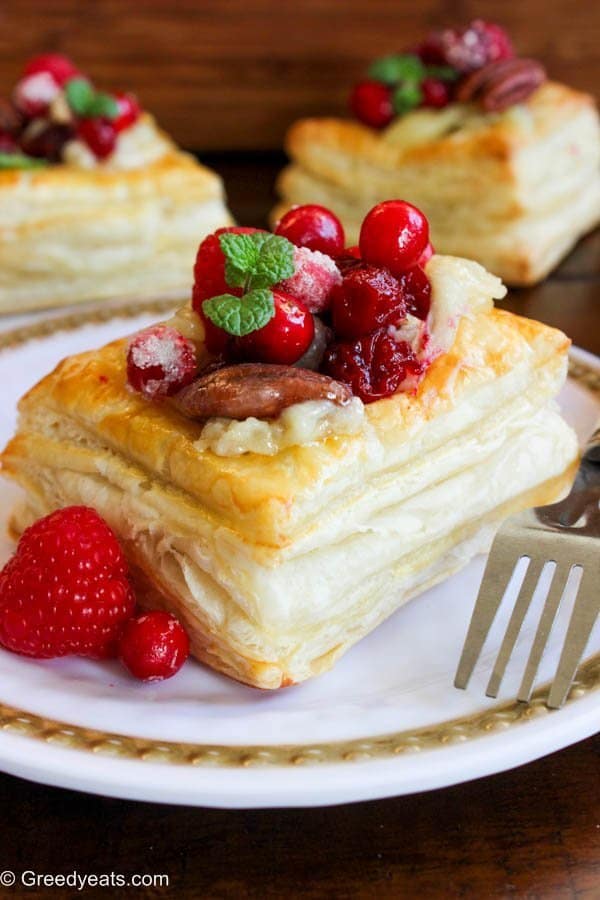 My ears stand up tall hearing the name of cheese. And I am a total sucker for anything warm, melty and gooey. When it is oozing out of a flaky pastry it has to be none other than Brie. So rich, creamy and delicious!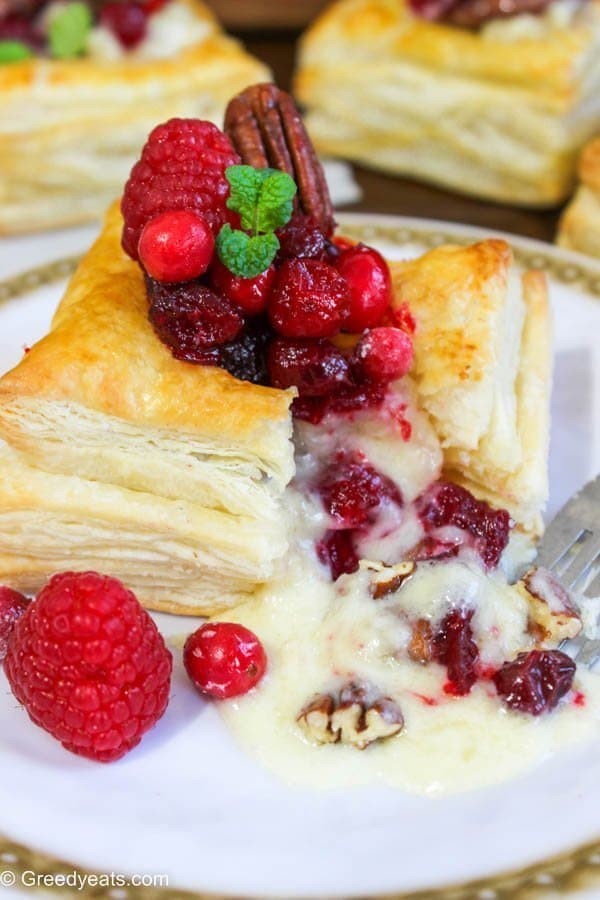 Servings:
4
Puff pastry squares
Ingredients
1 Sheet

Puff Pastry

1 Wheel

Joan Of Arc Brie

1 Egg

mixed with 1/2 Tbsp of water

1/3 Cup

Cranberry sauce

1/4 Cup

Candied pecans

A handful of

Glazed and/or sugared cranberries

4 Glazed Raspberries and a few

mint twigs (to garnish, optional)
Instructions
1. Preheat the oven to 400 deg C. Unroll the refrigerated puff pastry sheet and cut into 12 even squares (4x3).

2. Cut out circles on 8 of the pastry squares, using a small round pastry cutter. Place 2 squares with holes on top of the uncut pastry square. You will end up with 4 pastry dough tower squares.

3. Cut the wheel of Brie into 4 rough circles using that small, round pastry cutter again and place them in the center of the pastry squares.

4. Place on a baking sheet lined with parchment paper/silicon mat. Egg wash each pastry square and bake for about 10-15 minutes or till they are golden brown.

5. While the pastry squares are baking, keep your cranberry sauce or jams of choice and other toppings (glazed and sugared cranberries, pecans) ready.


6. Remove the puff pastry squares from oven and top with cranberry sauce, candied pecans, more cheese if desired (it will warm up and melt in the pastry while it's hot).

7. Top with glazed and sugared cranberries, raspberries and mint leaves. Serve warm!

Nutrition
Slightly adapted from carlsbadcravings.com