This Blackberry Lemon Muffins Recipe will have you already dreaming of when you're going to bake up your next batch. Loaded with sweet lemon flavor, lemon poppy seeds crunch and juicy berries, every bite is pure delight.
If you too love fun breakfasts, make sure you check out some of my other breakfast recipes. Try my Lemon Poppy Seed Muffins and my Easy Blueberry Muffins, too!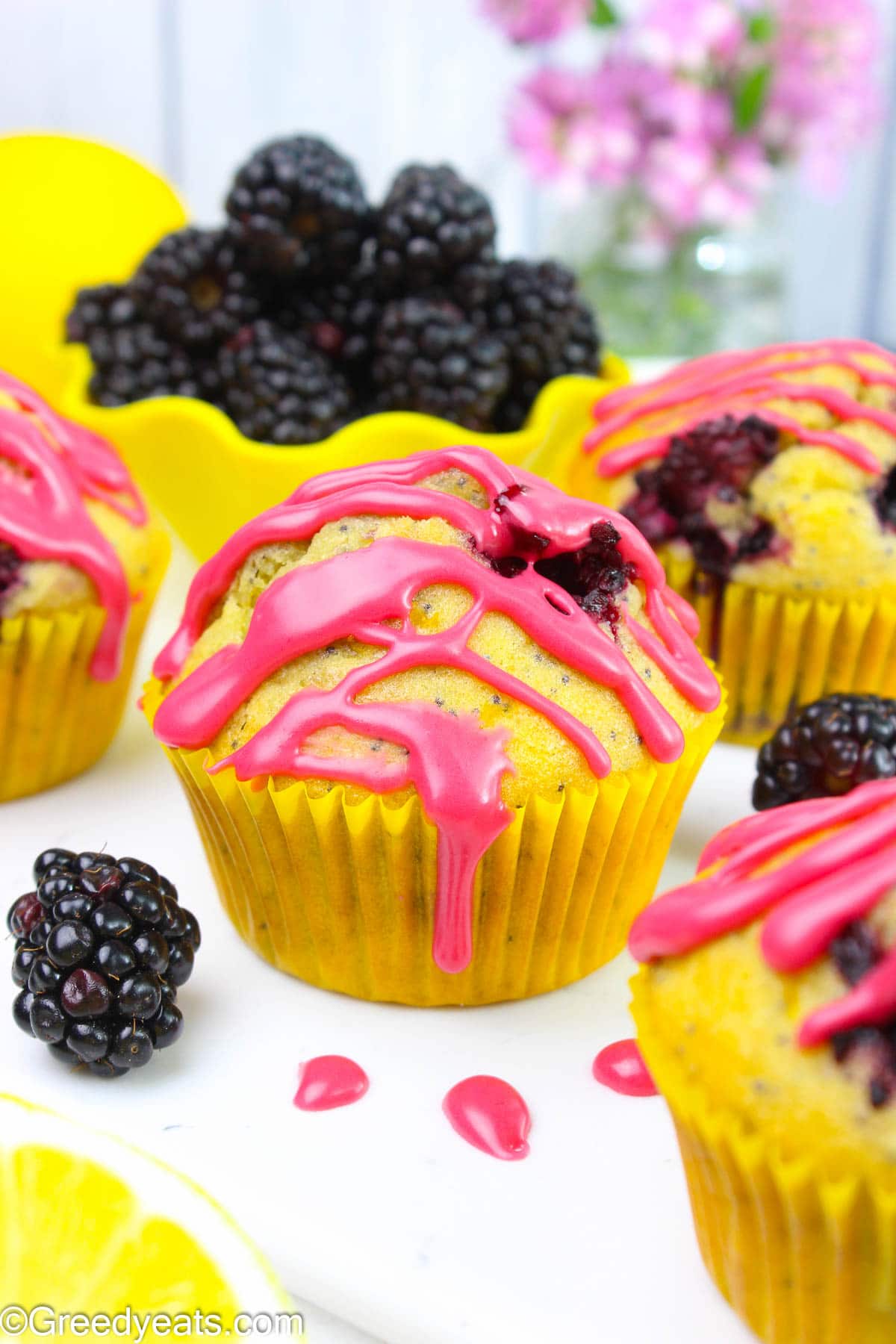 Adding fresh blackberries to your homemade muffins is the perfect way to add natural sweetness. I LOVE the flavor of blackberries and how well I'm able to taste them in this simple muffin recipe.
Speaking of fruit added in breakfasts, I think you'll like these Strawberry Scones as well.
TASTE AND TEXTURE:
Tart and sweet flavors in every bite
Moist and fluffy texture with tender crumb
Loaded with juicy berries and poppy seed crunch
Perfect for spring and summer breakfasts (or a delicious afternoon snack!)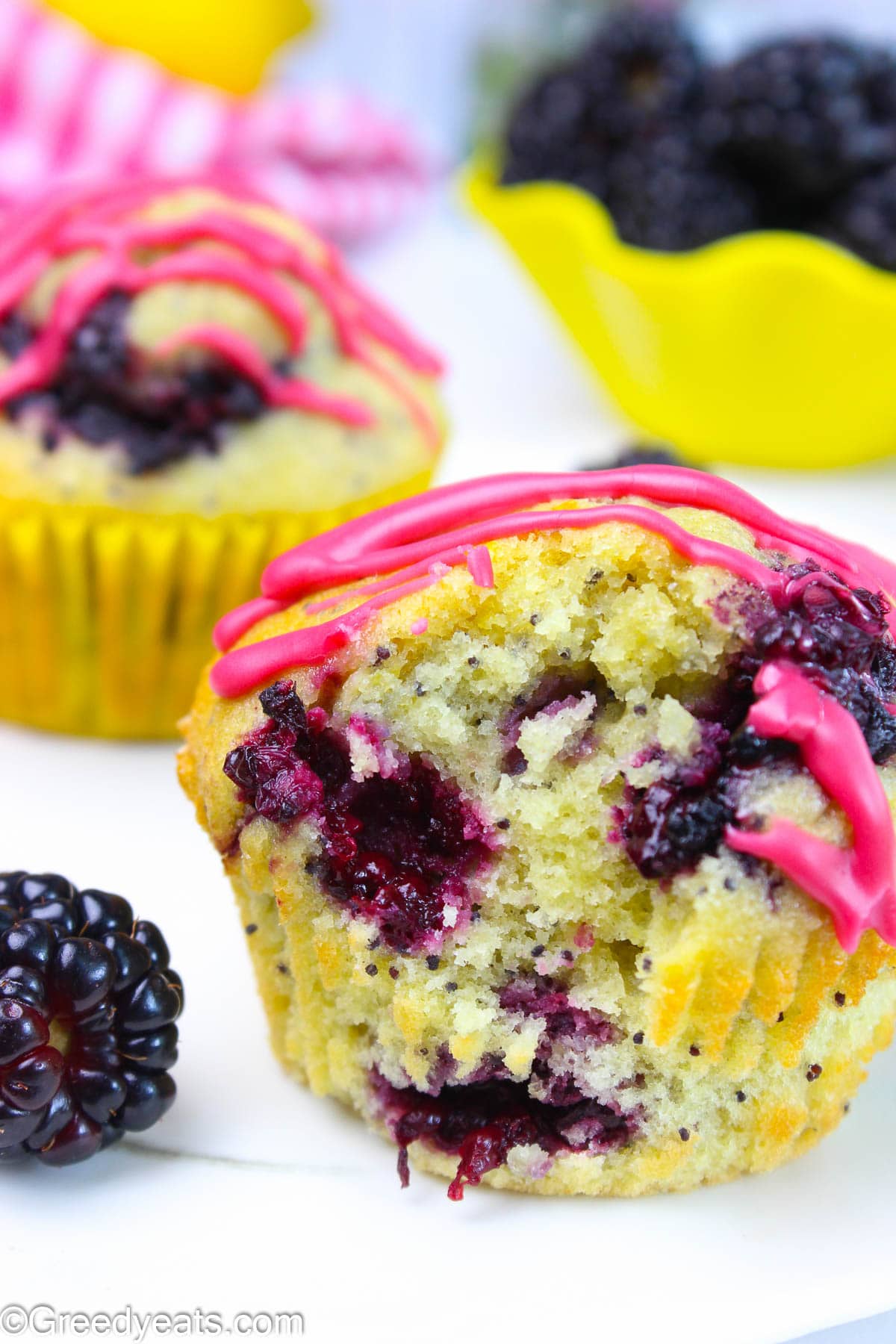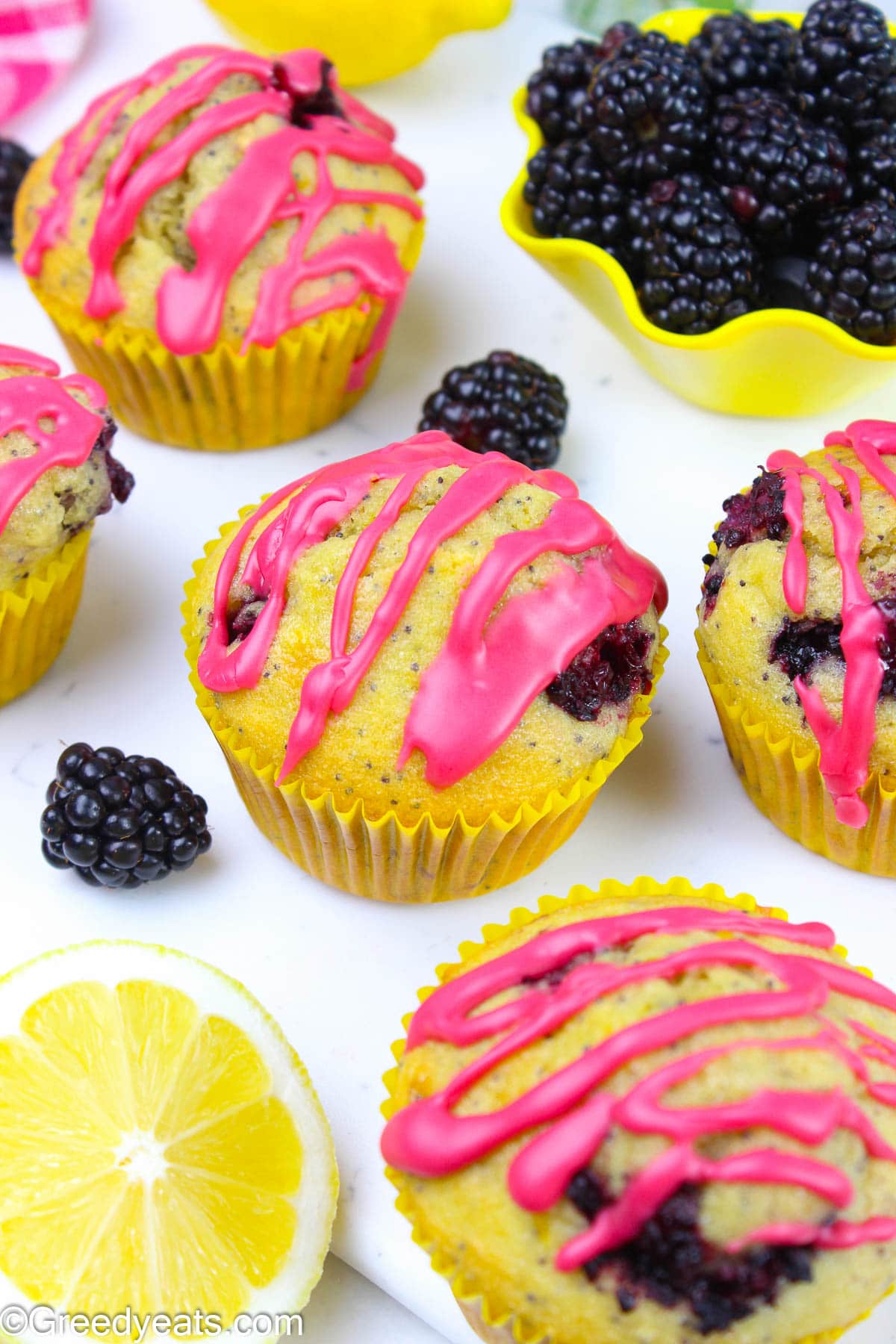 LEMON MUFFIN RECIPE INGREDIENTS:
These are the ingredients that you will need to make these simple muffins.
Flour - We are using all purpose flour as the base of this muffin batter.
Baking soda and Baking powder - Leaveners helps make muffins fluffy. Make sure you are using fresh ones for perfect rise and lift.
Unsalted butter - If all you have is salted butter, you can use it but just omit the extra addition of salt.
Eggs - Eggs are the binding agent that holds everything all together. Make sure you use them at room temperature.
Greek yogurt - Greek yogurt muffins bake super tender and extremely soft. Full fat yogurt can be substituted with low fat, but the texture in this case would be a little different.
Vanilla - Vanilla extract is a great flavor enhancer. Just a teaspoon will add the perfect flavor here for a batch of 12.
Lemon juice - Freshly squeezed lemon juice is the best!
Blackberries - You can use fresh or frozen. For this recipe I have used half frozen and half fresh ones. If using frozen ones, no need to thaw them first.


HOW TO MAKE LEMON BLACKBERRY MUFFINS
Step by step instructions on how to make and bake these muffins:
Step 1 - Preheat the oven to 425 degrees F and line your muffin pan with cupcake liners.
Step 2 - In a mixing bowl, sift baking soda, baking powder, salt, and flour. Keep aside.
Step 3 - In another bowl, beat butter, sugar, eggs and yogurt. Make sure to use room temperature ingredients.
Step 4 - Now mix dry ingredients into wet and mix at low speed until the flour disappears into the batter. Add and mix lemon juice, zest and milk until combined.
Step 5 - Carefully fold in the blackberries and poppyseeds if adding.
Step 6 - Pour the batter into the liners and bake until done.
Step 7 - Allow to cool on a wire rack before glazing.
Making the glaze. While muffins are baking, it's time to make blackberry glaze. Over stove top heat a cup of blackberries, a little water, sugar and lemon juice. Make the reduction, cool down and add confectioner's sugar. Set aside until the muffins are done cooling completely.


HOW DO YOU KNOW WHEN MUFFINS ARE DONE BAKING?
Best way to tell that muffins are done and ready to be pulled from oven is to use toothpick test. Grab a clean toothpick and insert it into the center of one of the muffins.
If the toothpick comes out clean, muffins are done and ready to be taken out of the oven. If there is any batter on the toothpick, muffins need a tad bit more time in the oven.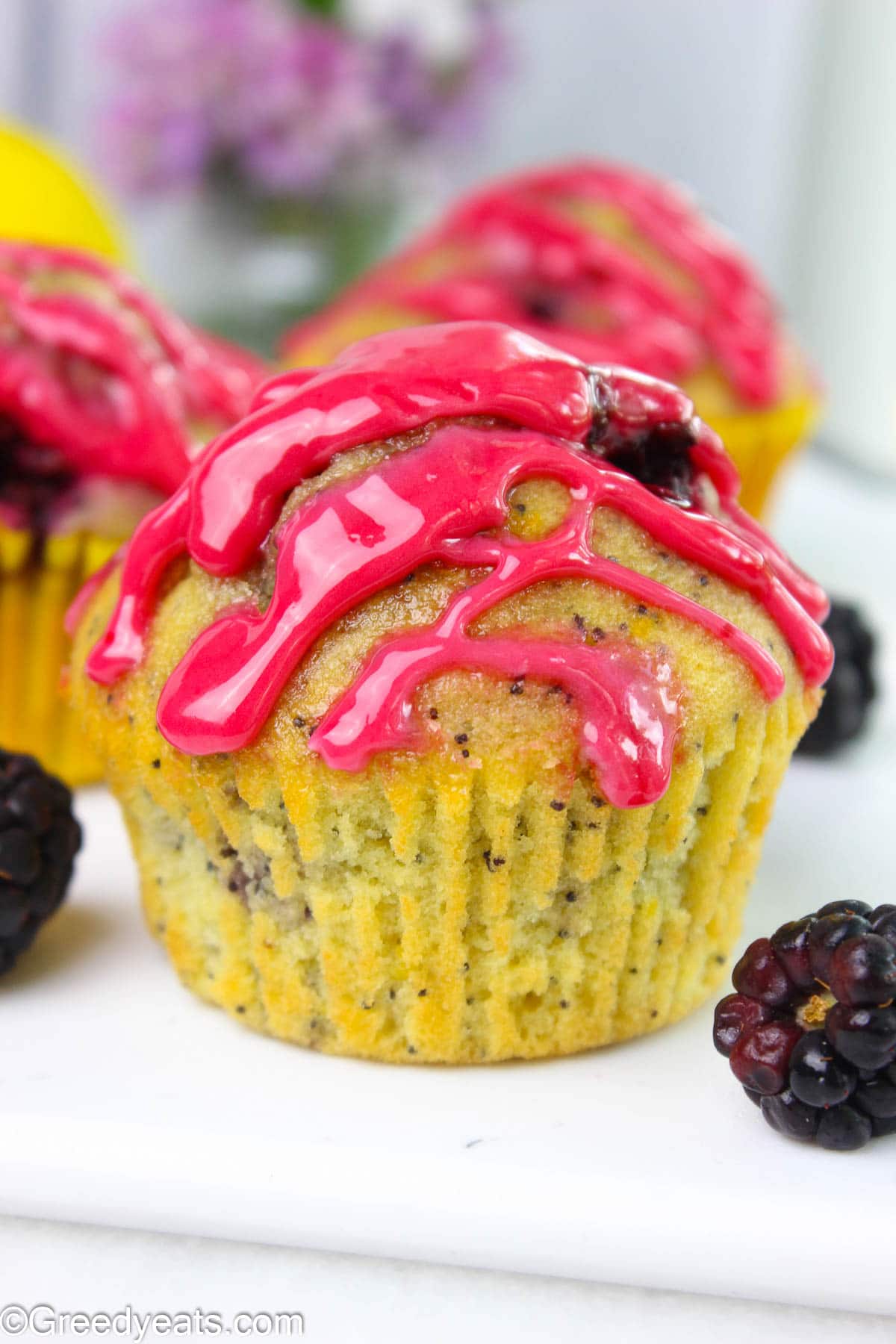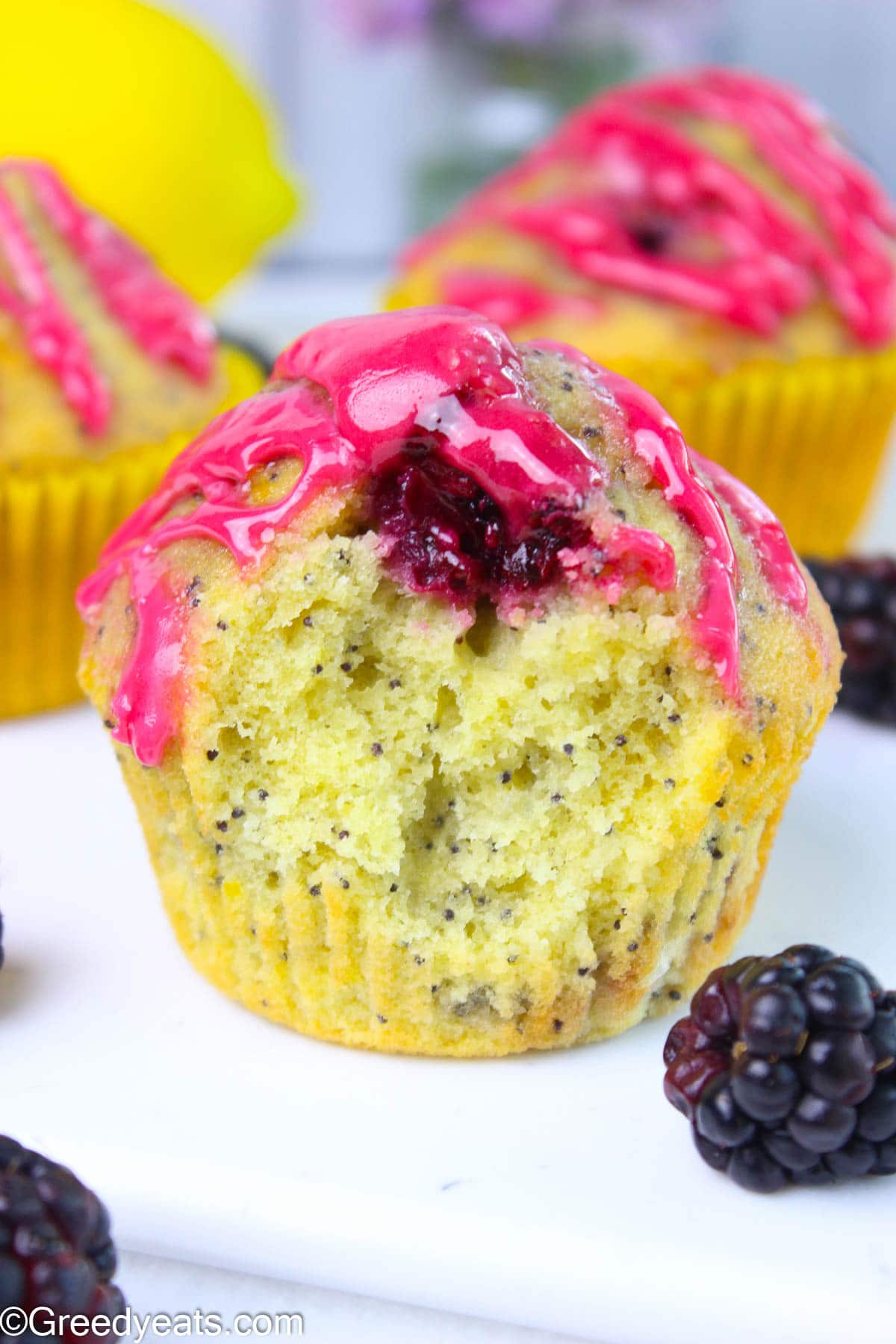 CAN I USE FROZEN BLACKBERRIES IN THIS MUFFIN RECIPE?
Yes, you can use either option. Just remember that you need to fold in the blackberries so that the liquid doesn't "bleed" into the batter. Also, if you are using frozen blueberries, don't thaw them first. Just add them in their frozen state to the batter.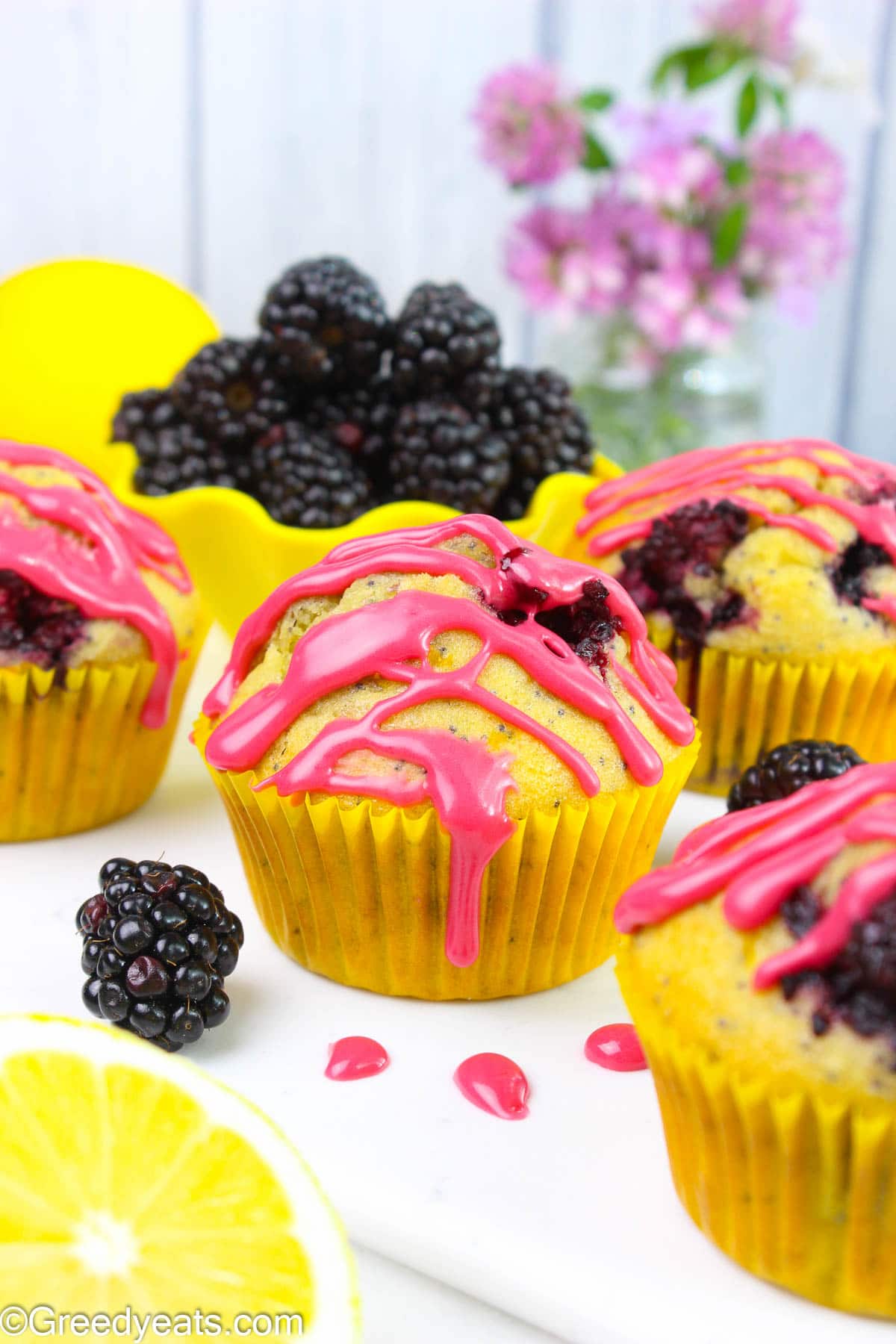 HOW TO STORE LEFTOVER MUFFINS
The easiest way to store muffins is to place them in an airtight container. This will keep them fresh and moist. You don't have to store these in the fridge. But you can if you'd like after two days since the muffins contain fresh berries.
HOW TO FREEZE MUFFINS
If you find that you have too many extras to eat, just save and freeze them for later! Add them to a freezer-safe bag, and they should be good for 2-3 months while stored in your freezer.
Don't glaze the muffins, if you plan to freeze them. Allow them to thaw first and then glaze when you are ready to serve,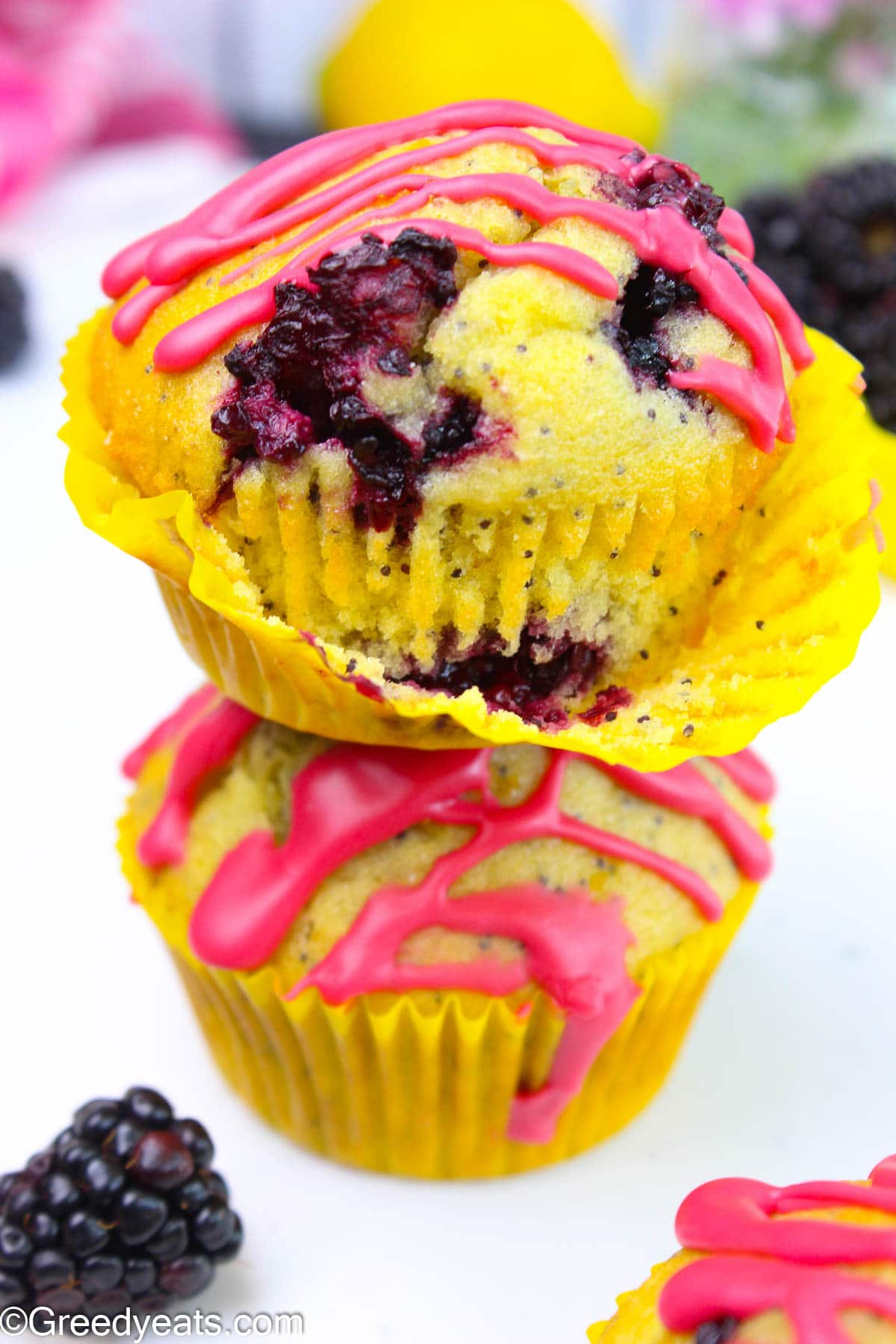 How do you make muffins light and fluffy?
A few simple tricks can make your muffins fluffy as clouds and lighter than air! Just make sure to-
Don't overmix the batter. Stir only until the mixture is combined well and then pour into cupcake liners.
Use fresh leaveners. Always test your leaveners before adding to the batter for freshness. Stale ones can be the biggest culprits to stop the baked goods from rising.
Always Sift dry ingredients. Sifting incorporates air in the dry ingredients, which help in rising.
Room temperature ingredients always! I can't stress this trick enough. Room temp. ingredients mix well and trap air in the batter which expands later in the oven as muffins bake.
How do I get my muffins to rise higher?
Everyone loves a well risen and domed muffin. Here is how to get those-
Don't overfill the cupcake liners. If you add too much, the muffins might spread and flatten instead of rising tall. Just go by the recipe and you will be fine.
Bake them at higher temperature initially. We bake muffins at around 400-425 deg F for 5 minutes. This initial burst helps leaveners in the batter to react quickly and thus they rise to the tippy top quickly.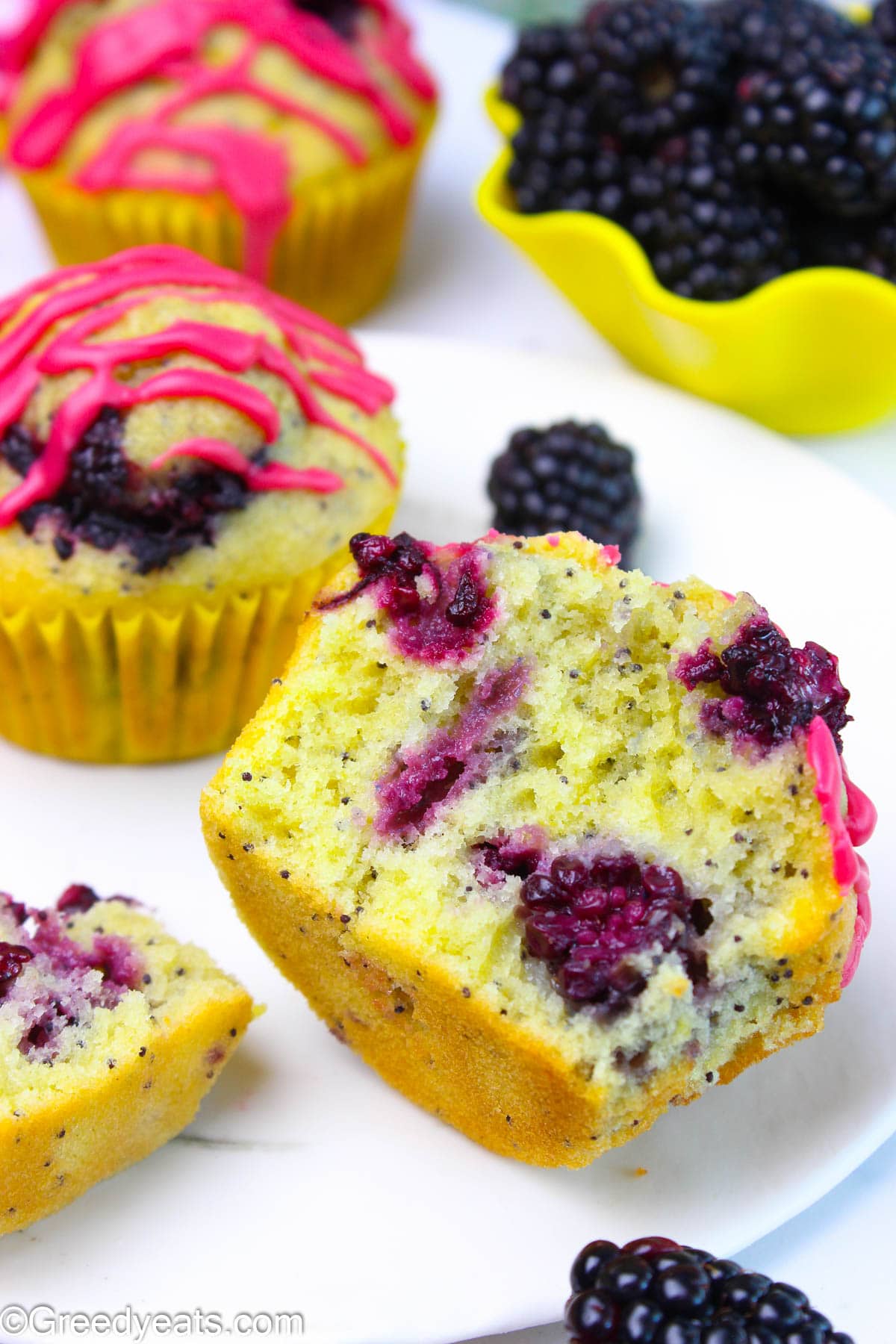 How do you make muffins moist and not dry?
Adding full fat dairy products such as yogurt, sour cream and milk makes them moist.
Also taking care not to over bake muffins helps a ton.
Always store muffins in air tight containers after they cool down, assures muffins stay moist and fresh for a few days.
MORE SUMMER DESSERT RECIPES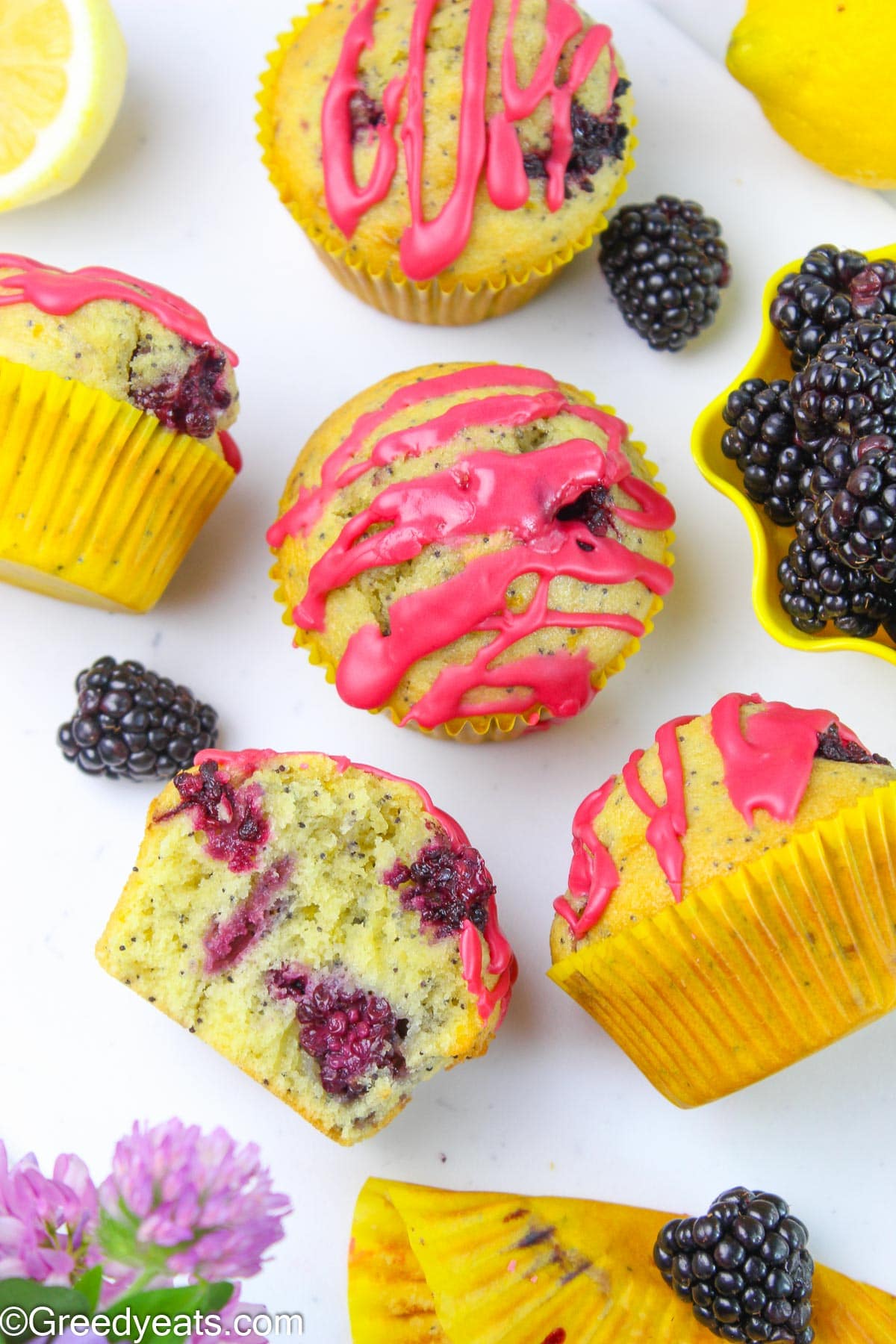 If you liked this easy muffin recipe, give it a star review. Also, tell me in the comments below, how did this turn out for you! And don't forget to share your creations with me on Instagram at #greedyeatsblog And lets be friends on Pinterest and Facebook too! 🙂
Recipe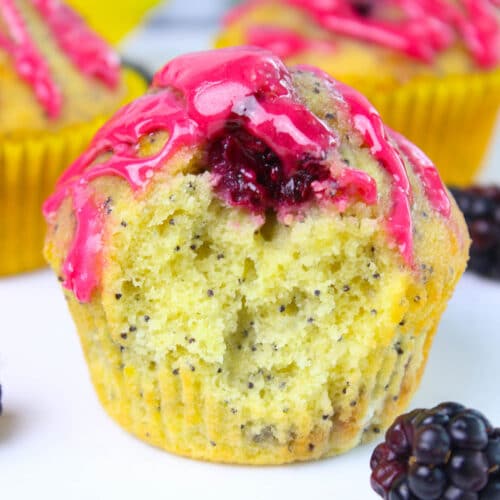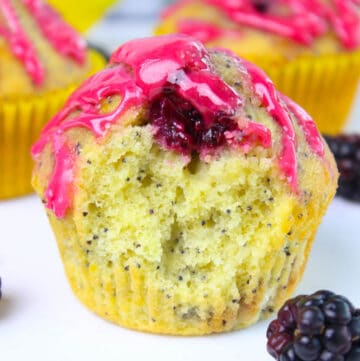 Lemon Muffins
You'll love this simple Lemon muffins recipe topped with sweet and fruity blackberry glaze.
Print
Pin
Rate
Equipment
1 Hand/stand Mixer

1 Muffin Tray

Sieve

Mixing Bowls

Muffin Liners
Ingredients
1¾

cups

all purpose flour

1

teaspoon

baking soda

1

teaspoon

baking powder

½

teaspoon

salt

(1 stick) ½

cup

unsalted butter

(softened to room temp)

¾

cup

granulated sugar

2

large

eggs

(at room temperature)

½

cup

Greek yogurt

(at room temperature)

1½

teaspoons

vanilla

¼

cup

milk

(at room temperature)

2

tablespoons

lemon juice

1

lemon's zest

1 ½

tablespoons

poppyseeds

1½

cups

blackberries

(fresh or frozen, I used both. No need to thaw berries if using frozen)
Blackberry Glaze Ingredients:
2

tablespoons

lemon juice

1

cup

blackberries

1

tablespoon

granulated sugar

1

tablespoon

water

1

cup

confectioner's sugar
Instructions
Preheat your oven. Preheat the oven to 425 degrees. Be sure to grease your pan so that the muffins don't stick.

Combine dry ingredients. Grab a bowl and mix together the baking soda, baking powder, salt, and flour.

Combine wet ingredients. In a different bowl, beat softened butter on high with a mixer for about 1 minute. Now add in sugar and mix until combined well. Next, add in the eggs, vanilla, and yogurt. Beat for 1 minute on medium speed then increase to high until the mixture is combined well. About a minute more.

Mix wet and dry ingredients together. Pour dry ingredients into the wet ingredients and mix at low speed. Mix in the lemon juice, lemon zest, and milk until combined.

Add blackberries and poppyseeds. Add poppyseeds and carefully fold in the blackberries. If you stir, they're going to bleed and turn the batter purple. (it's okay if this happens but try not to let it happen). 😉

Add batter to the liners. Pour muffin batter into cupcake liners so they're about ¾ full.

Bake. Place muffins in the oven and bake at 425 degrees for 5 minutes. Once that time has passed, reduce oven temperature to 350 degrees and bake for additional 15-18 minutes.

Make the glaze. While your muffins are baking, it's time to make the glaze. On stove top in a heavy bottom pan, simmer a cup of blackberries, water, sugar and 1 tablespoon of lemon juice till it all thickens for a few minutes. Muddle the berries up and allow them to cool, then strain the reduction using a sieve to get rid of seeds. Add reduction to confectioner's sugar (a tablespoon at a time) and whisk. Add remaining lemon juice and mix it in too. Keep adding reduction, a tablespoon at a time, till a thick glaze is formed. Set aside until the muffins are done baking.

Cool the muffins down. Once muffins are done baking, let them cool down for about 10 minutes in the pan, then allow to cool down completely on a wire rack before drizzling on the glaze.
Notes
Notes:
If you find the glaze to be too thin, add a little more confectioners' sugar to thicken it up to dropping consistency.
Storing and freezing instructions:  For longer storage, freeze muffins, without the  glaze on for 2- 3 months. Allow to thaw in the refrigerator overnight or on counter top for a few hours and then warm up in the microwave if desired. Glaze right before serving on room temperature muffins.
Milk: You can use any kind of milk you like. Full fat, 2% and even non-dairy milk work just as well.
Yogurt: Any full fat or low fat greek yogurt works in this batter. Regular yogurt with full fat can be substituted too.
Nutrition
Serving:
1
Muffin
|
Calories:
313
kcal
|
Carbohydrates:
39
g
|
Protein:
5
g
|
Fat:
10
g
|
Sodium:
248
mg
|
Sugar:
24
g