Traditional Tres Leches Cake is one of my most favorite Mexican desserts. The cake is soaked in milk to create an extra ordinary cake eating experience!
This post is sponsored by Left Field Farms but the content and opinions expressed here are my own.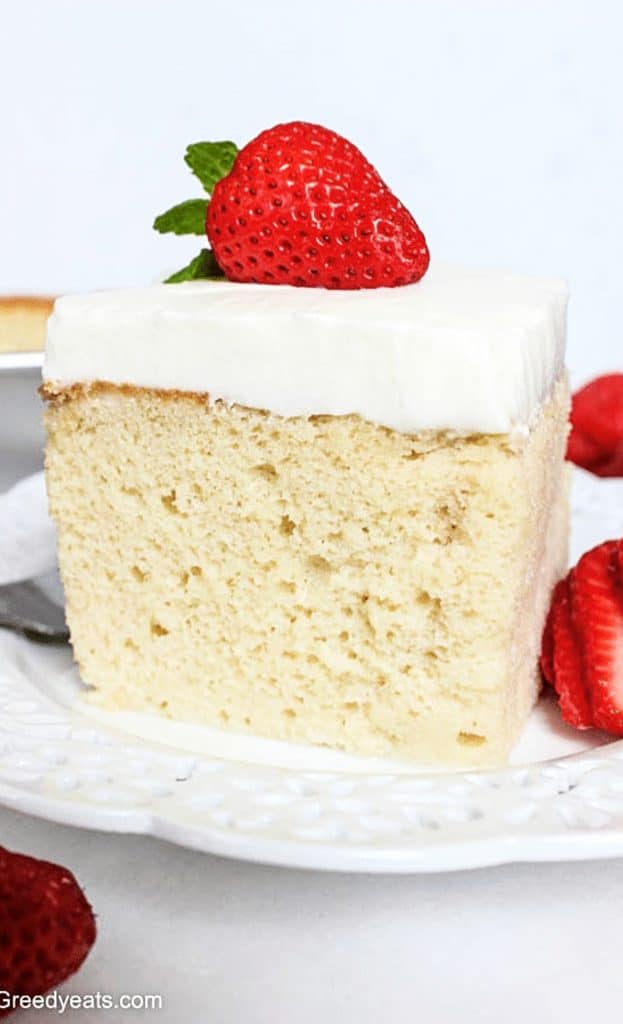 Have you ever tasted Tres Leches cake when dining in a Tex-Mex restaurant? A delicious, rich and soft sponge dunked in creamy milk, topped with dollop of cream. And fresh strawberries.
My mouth is watering as I type this! Eww!
But you know what I am talking about if you tried this cake. If not, this Mexican Cake is calling your name! I mean it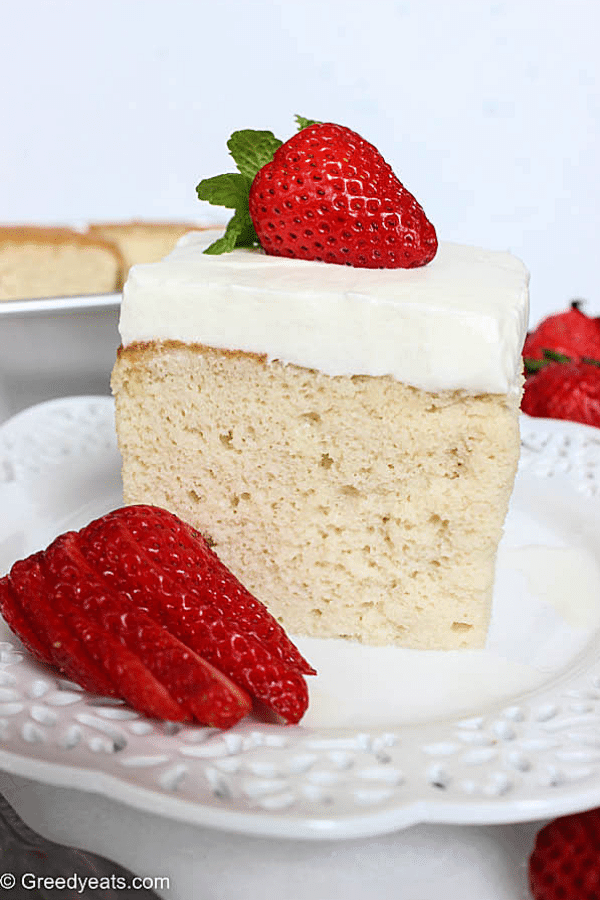 Traditional Tres leches cake ingredients
This cake is made with very simple ingredients like flour, eggs, sugar, milk and leaveners. Nothing innovative there!
Cake Flour- To create a softer textured sponge
Eggs- Separated, for lift
Baking powder for leavening
A splash of oil- For extra moisture and softness
Some Sugar to sweeten the cake
And we are using Left Field Farms clean label Creamer both in the cake and and in the milk mixture, along with Condensed milk to soak the cake.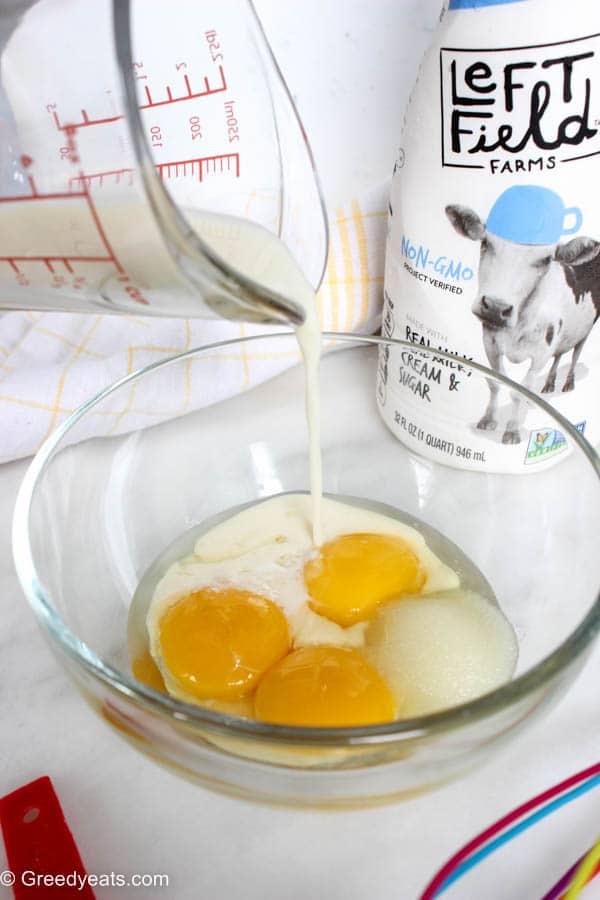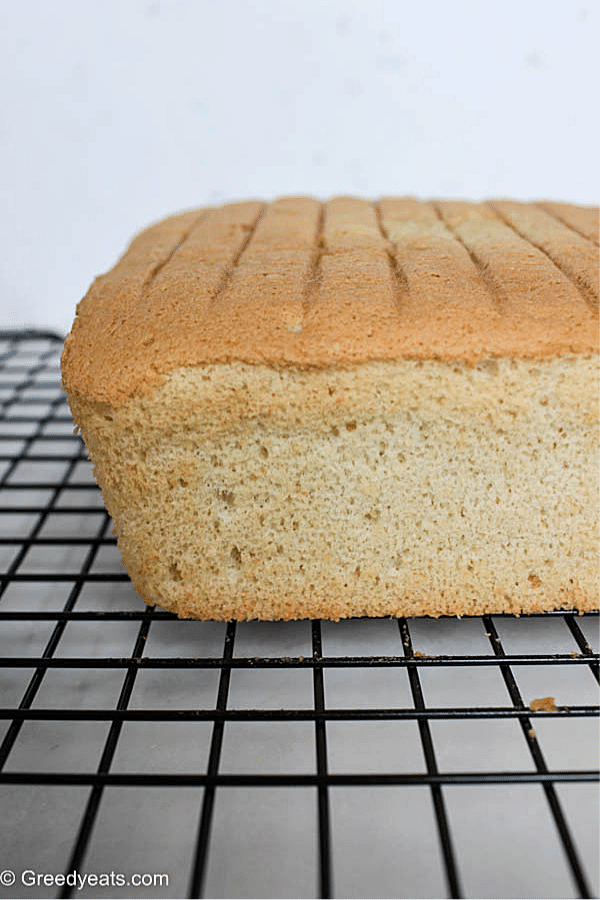 This way you don't even have to open an extra can of evaporated milk! 😀
And the result? A flavor rich, sweet and oh-so-refreshing cake. The Best Tres Leches Cake if you will!
Look for yourself!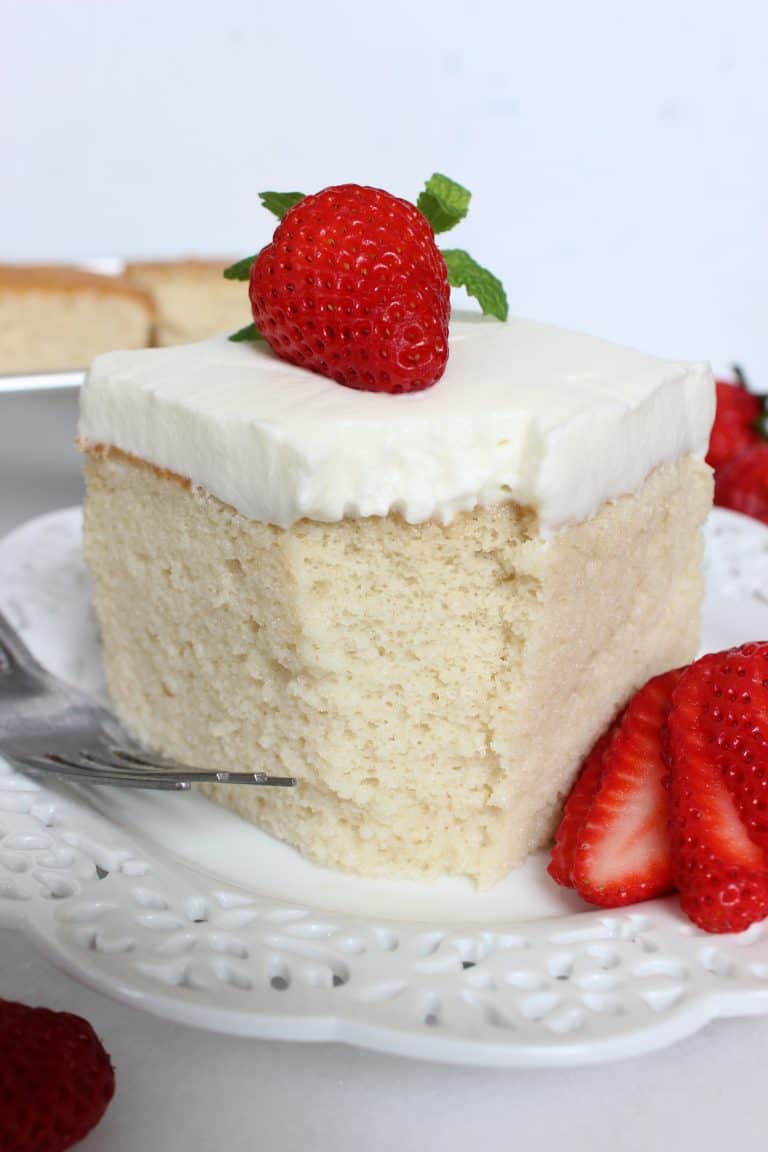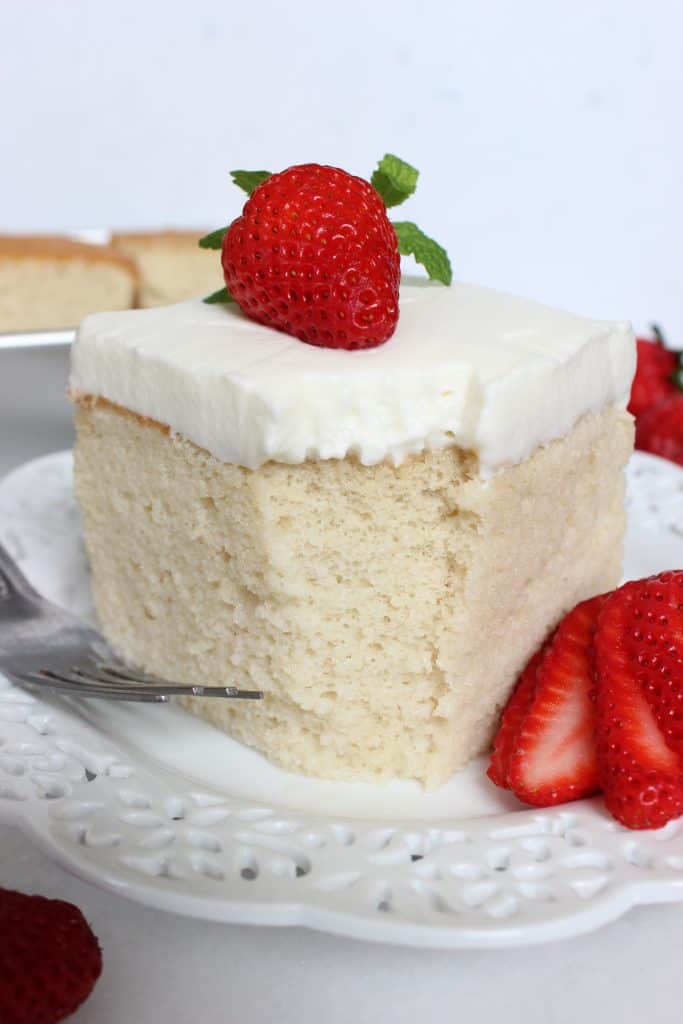 How to make Tres leches cake
Prepare a sponge cake by separating egg whites and beating them to soft peaks. Then incorporate the wet and dry ingredients to whites.
Let the cake cool.
Make a milk mixture by mixing condensed milk, creamer and full fat milk.
Poke your cake with fork and pour milk mixture all over the cake.
Spread with fresh whipped cream and chill.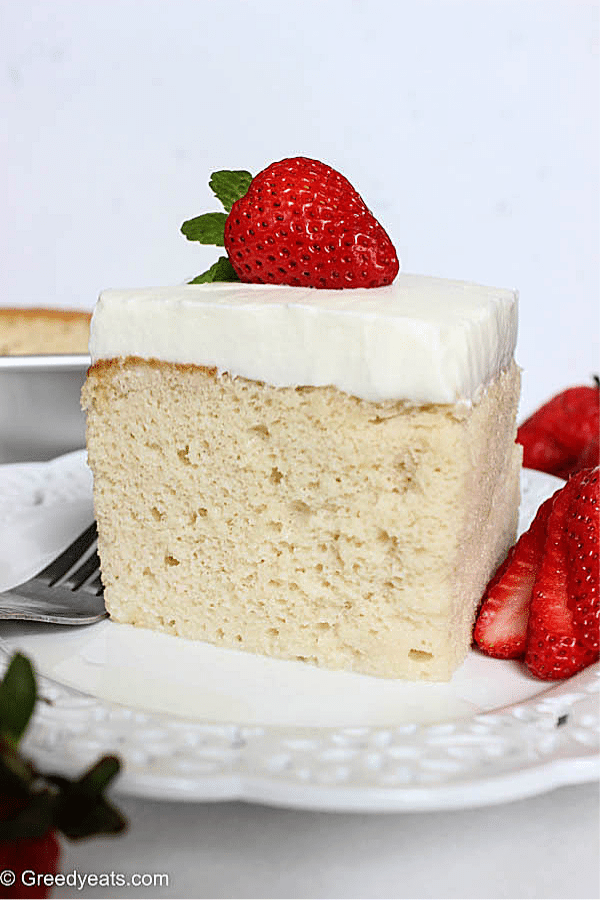 Does Tres Leches cake need to be refrigerated?
The short answer is Yes! We want the sponge to soak up the milk and get even more softer and moister and yum! Also it is best served cold. 🙂
How long can Tres Leches cake sit out?
After you soak the cake in milk mixture and top it with whipped cream, store the cake in refrigerator only. You can keep the un-soaked sponge covered tightly at room temperature for upto 2 days.
Recipe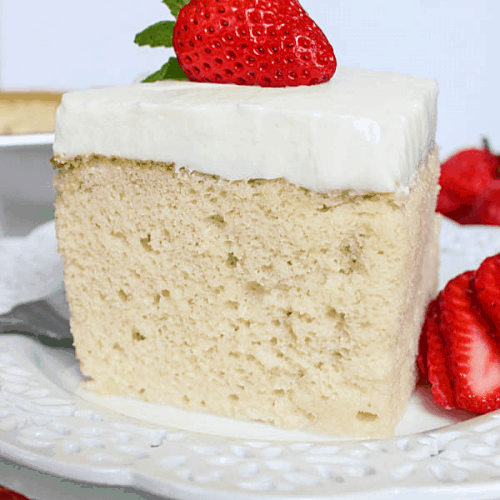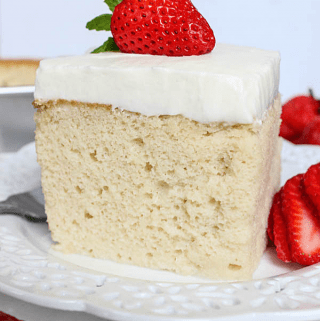 Traditional Tres Leches Cake
Traditional Tres Leches Cake is one of my most favorite Mexican desserts. The cake is soaked in milk to create an extra ordinary cake eating experience!
Print
Pin
Rate
Ingredients
Cake
75 Gms (10 Tbsp)

Cake Flour

1 tsp

Baking powder

⅛ tsp

Salt

3

Eggs, seperated (room temperature)

½ Cup (100 gms)

Sugar

2 Tbsp

Oil

80 ml

Creamer or full fat milk
For the Milk Mixture
10.5 Oz (¾ Can)

Sweetened Condensed Milk

¼ Cup

Left Field Farms Creamer (of choice)

¾ Cup

Milk (Full fat)
For Topping
1 Cup

Whipping Cream (Full fat)

2 Tbsp

Granulated Sugar

⅛ tsp

Vanilla extract

A few

fresh Strawberries (to Serve)
Instructions
1. Preheat your oven to 320°F (160°C) and line a 6-inch square cake tin with parchment paper. Make sure all your ingredients are at room temperature.

2. Add egg yolks + half of sugar to a mixing bowl and beat for a minute. Add oil, salt and milk to the bowl and mix in till everything gets combined well.

3. Now add in sifted cake flour and baking powder to the mixture and fold it in.

4. In a separate clean and dry bowl, add egg whites (at room temperature only) and beat in for a minute or until frothy. Slowly keep on adding the remaining sugar and beating continuously until the egg whites form soft peaks. This will take around 5-6 minutes.

5. Mix egg whites in the cake batter in three batches. And fold in using a spatula.

6. Pour the mix in your lined cake tin and bake for 25-28 mins or until a tooth pick inserted in the center comes out clean.

7. Invert the cake tin, as soon as you take it out of the oven and let it cool down completely. Poke the cake with a fork.
For the Milk Mixture:
1. Mix together condensed milk, milk and creamer in a medium mixing bowl until blended well and pour over cake.

2. Cover and chill the cake in refrigerator for a minimum of 4 hours.

For Whipped CreamTopping:

1. Add sugar and vanilla to a mixing bowl and add in chilled whipping cream to it.

2. With a hand mixer whip till it gets firm and stiff peaks form. Take care not to over whip the cream or else it may curdle.

3. Spread over cake. Keep the cake refrigerated until ready to eat.

4. Cut cake into slices and serve cold with fresh strawberries on top.


Notes
You can substitute cake flour with all purpose flour if you desire, but cake flour produces the best texture.
Do not skimp on the chilling time of this cake. Tres leches tastes best when all the milk gets soaked up. So always prepare the sponge ahead of time.
STORAGE
You can store the unsoaked sponge at room temperature for 2 days, or even freeze it for 2 months. Thaw before soaking.
Milk soaked and cream topped Tres Leches cake is stored in refrigerator for 3-4 days but it tastes best when consumed with in 2 days.
Nutrition
Slightly adapted from FoodNetwork.com