Moist, chewy and over flowing with carrot cake flavors Carrot Cake Energy Bites! Congrats, you just found a healthy way to eat your Carrot Cake!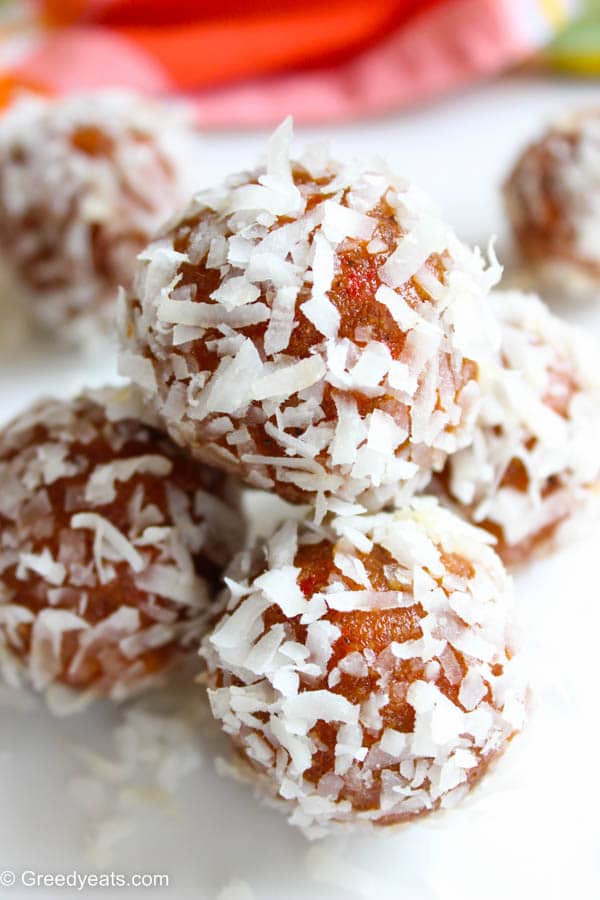 Do you still have leftover carrots sitting in your fridge after Easter?
Are you scared of eating/baking a big fat loaded carrot cake right now?
And you are looking for a guilt free snack for that 3 pm craving???
I got you covered!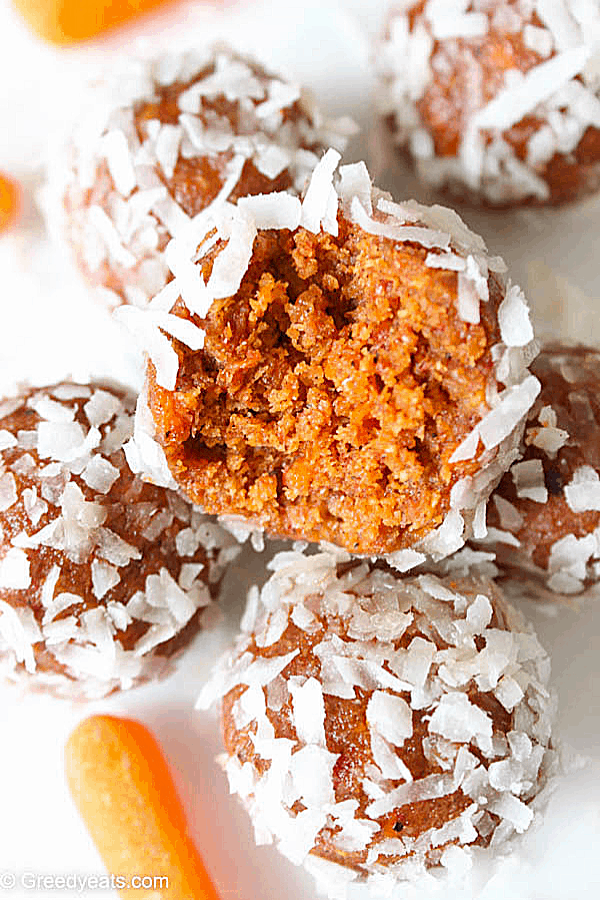 Did you look at that texture? ⇑⇑⇑
They are chewy from oats, creamy from almond flour, flavor packed from carrots and are sweetened with a little honey.
Oh and generously rolled in C-O-C-O-N-U-T! With a little trick to easily stick coconut on these carrot balls (more on that in a minute).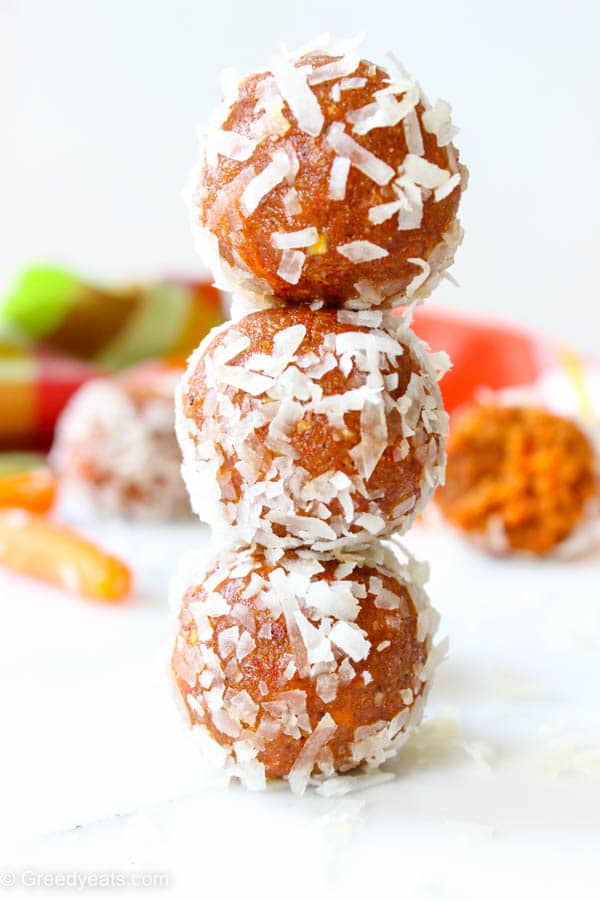 Ingredients for Carrot cake energy bites
Freshly grated Carrots (You can also pulse them in food processor)
Coconut flour
Almond flour
Oats Flour
Some Honey (see vegan option in notes)
Spices (optional, but recommended)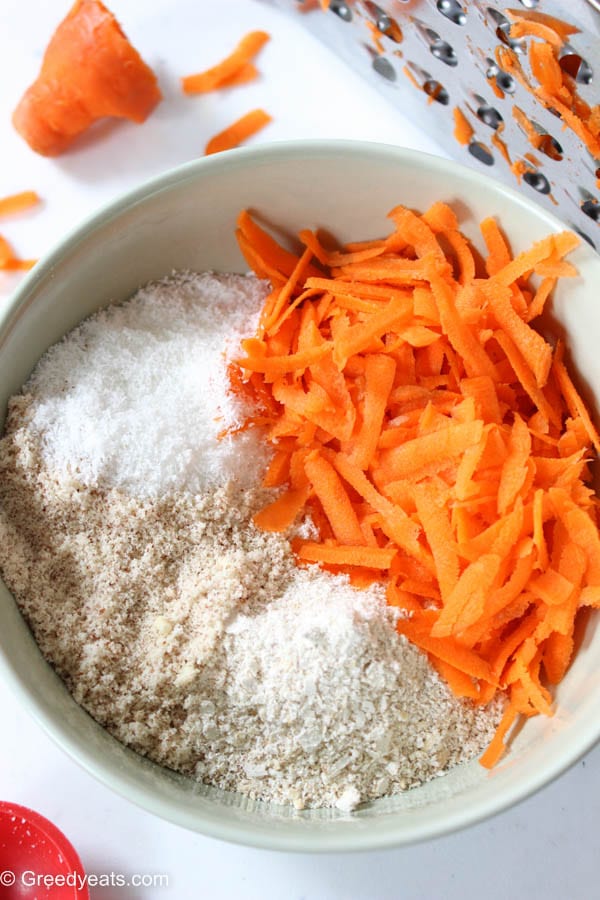 How to make Carrot Cake energy bites
We are keeping things as easy as possible. Also using minimum and clean ingredients.
You can simply mix everything with a spatula. Or if little chunks of carrots in these energy bites isn't your thing, you can quickly pulse everything in a food processor. Delicious, both ways!
I chose to quickly grate my carrots and mix all the 3 flours, honey, carrot and some spices together.
Then we will roll these cute little carrot cake energy bites.
Trick to easily stick coconut to carrot cake bites
It took me forever to stick shredded coconut to these energy bites. Then I tried rolling the balls in little honey first and coated them with coconut then!
Works like a charm!
Also if you find coconut flakes are a little to long, you can roughly cut them using a knife. They stick so much better this way!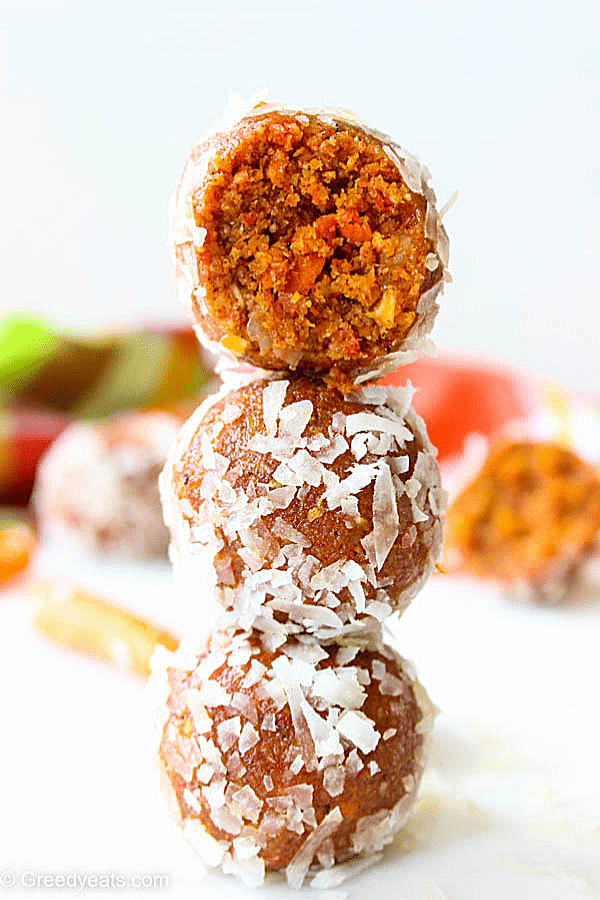 So easy to put together, don't even require to turn that oven on and these carrot cake energy bites taste like a carrot cake. Pinky swear!
Did I tell you these are loaded with a ton of protein, fiber and good for you fats?? You are welcome!
Snack on them, enjoy them as a dessert after dinner. ZERO GUILT every single time!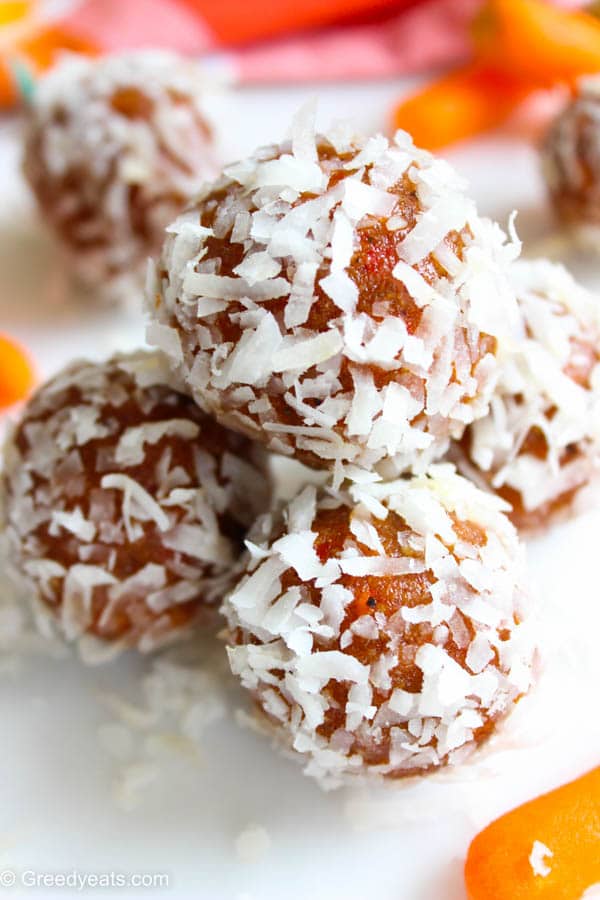 These carrot cake bites are known by so many names!
Call them carrot cake energy balls. Mini carrot cake bites. Carrot cake breakfast bites or raw carrot cake bites! I leave that up t0 ya!
PERFECT little Carrot cake balls if you will!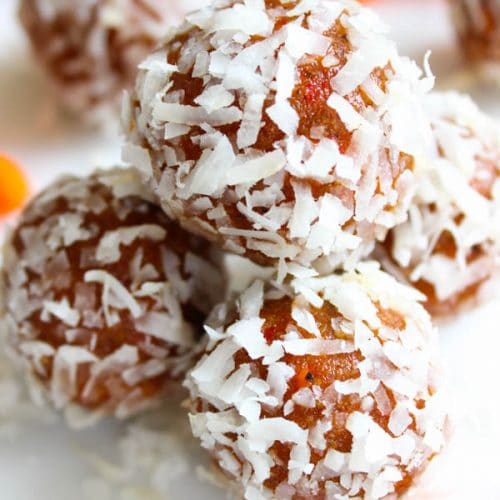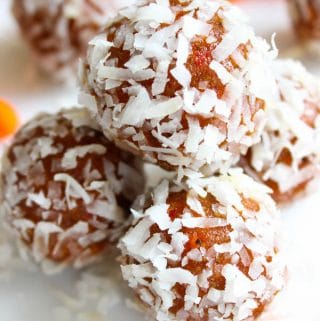 Carrot Cake Energy Bites
Moist, chewy and over flowing with carrot cake flavors Carrot Cake Energy Bites! Congrats, you just found a healthy way to eat your Carrot Cake!
Print
Pin
Rate
Servings
6
Good size Bites
Ingredients
1 Tbsp

Oats flour

2 Tbsp

Coconut flour

1/2 Cup (64 gms)

Almond flour

1 1/2 Tbsp

Honey

1/4 cup (30 gms)

Carrots (Grated)

1/4 tsp

Spices (I use 1/8 tsp cinnamon, 1/8 tsp cardamom, 1/8 tsp ginger, a pinch of nutmeg)
For coating the Energy Bites
1/4 Cup

Coconut (shredded)

2 tsp

Honey
Instructions
1. Mix all the ingredients- carrots, honey, spices, coconut, oats and almond flour in a mixing bowl and stir together using a spatula. Stir till the mixture starts coming together.

2. Alternatively you can process all the ingredients in a food processor till the mixture sticks together. But the dough shouldn't get too sticky or wet!

3. Roll the dough between your hands into 6 balls.

4. Take some honey in a plate and roll these balls lightly in it before coating with coconut.

5. Store the bite in refrigerator. Enjoy!

Nutrition
Slightly adapted from Quakeroats.com