Incredibly moist and velvety, soft and silky orange chiffon cake recipe to raise your spirits during these dull and gloomy winter days!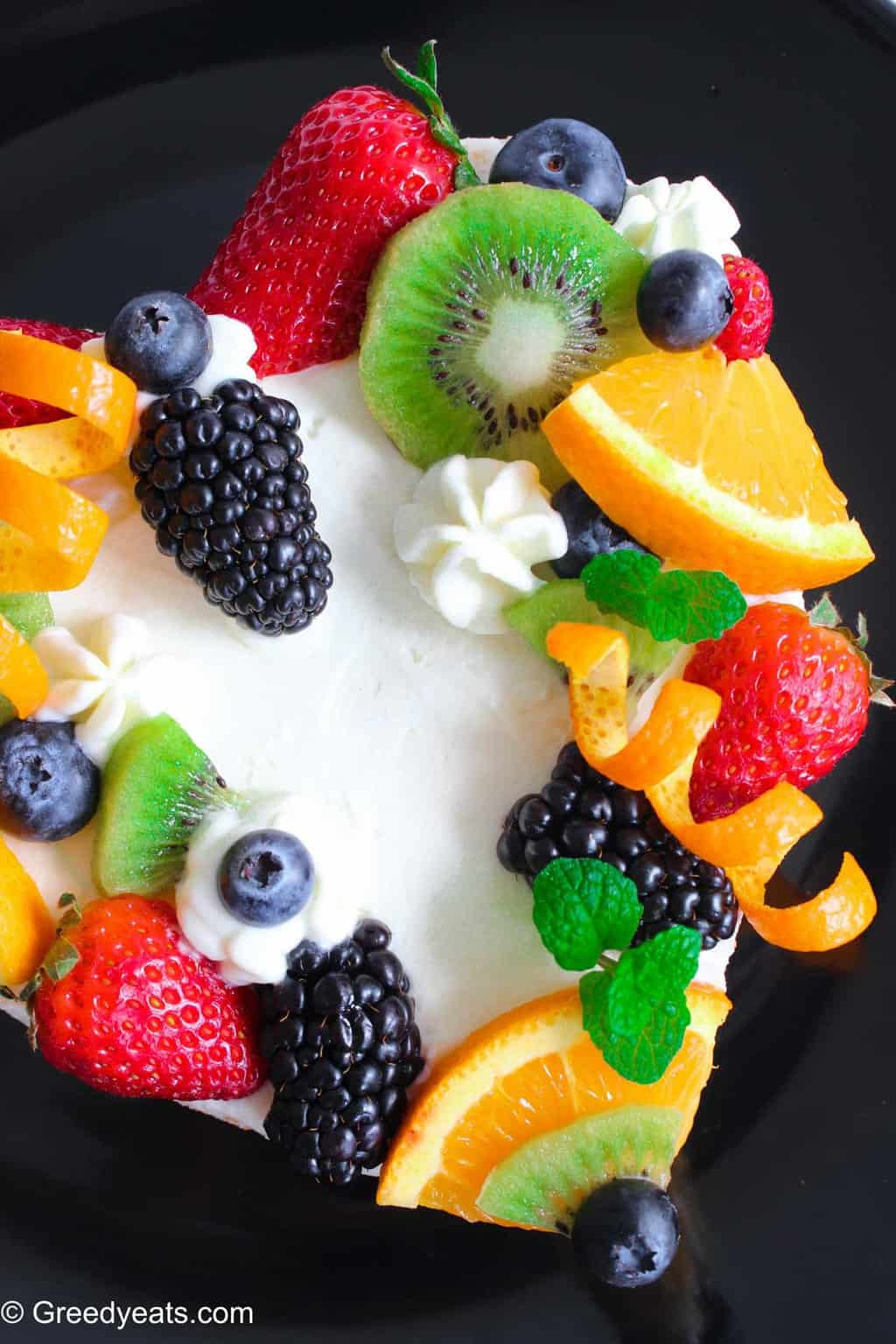 What do you like the most about winters( assuming you love winters as much as I do)? Plush blankets? Cozy sweaters? Snow boots? Hot beverages? I love them all. Not sure about you! May be you too adore all of these. Do you?
There is one thing that I am quite sure about. No matter how much we love winters, we can't help missing those bright spring days, flip-flops and all those flowy dresses either! Okay. spring wins! But forget not there is another lovely fruit winter blesses us with. And that is fresh harvest of navel oranges in this part of the world. These oranges are so ripe at fresh at his time of the season here.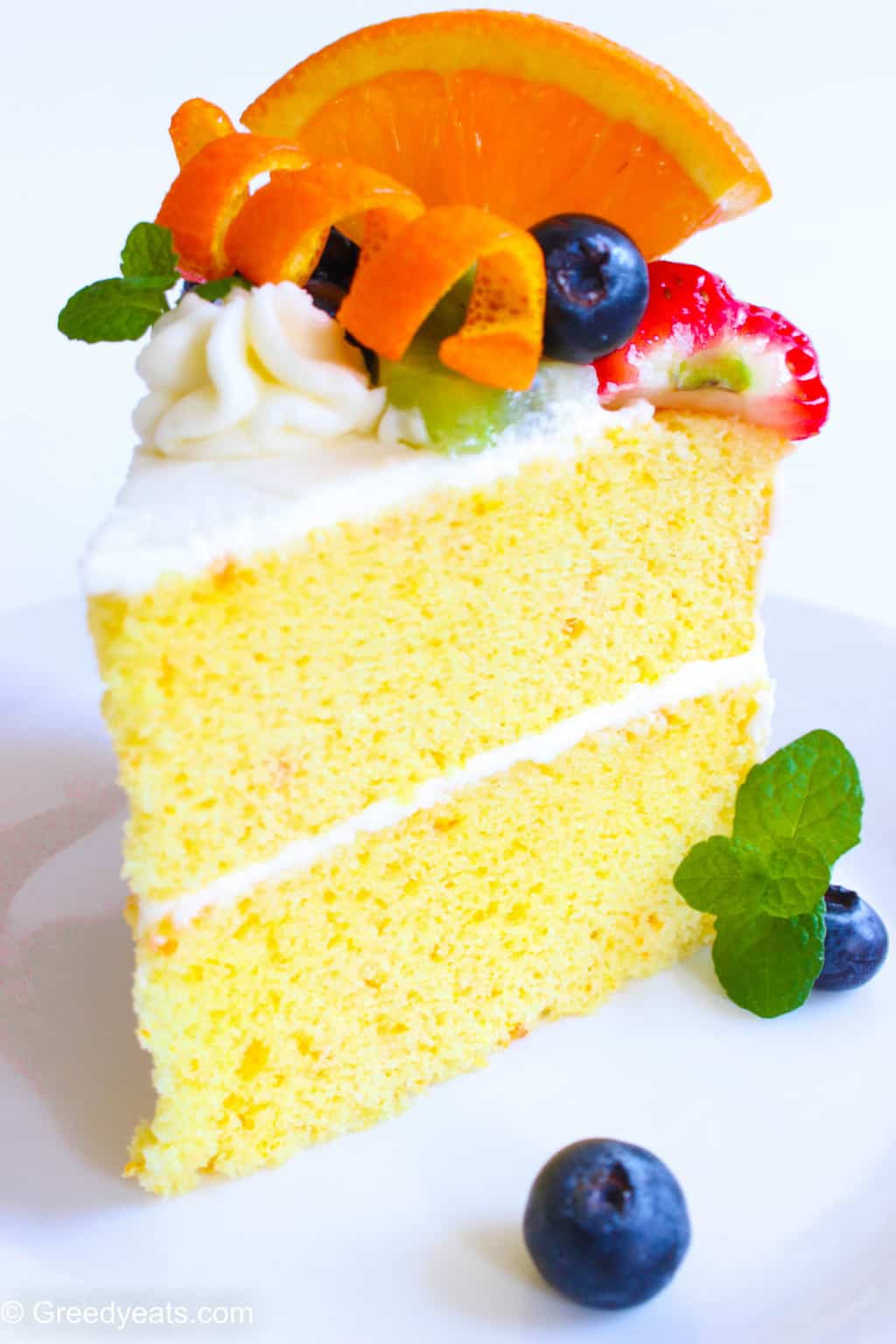 So what do you do when life hands you oranges? Now that's easy. You put them in your cake! And you decorate your cake with fruits!
A slice of this orange chiffon cake is entire spring served on your plate!
Orange chiffon cake recipe-texture, taste and frosting!
You can't be sad with this cake in your hands. It is delightfully orange-y (is that a word?) and sweet from juicy oranges. Supremely moist and cottony soft from the method used in the recipe. We will get to that in a second. I know I'm singing a thousand praises of this cake and all. With the first bite you too will be a fan of its refreshing orange flavor and silky texture!
I covered my chiffon cake with vanilla whipped cream. As you know sweet oranges and vanilla is a marriage made in heaven. You may also frost it with orange frosting to make this cake even more fruity! Personally, I sail with vanilla flavored orange chiffon any day. As the orange flavor is spot on in the cake itself. Why skip additional vanilla scent then?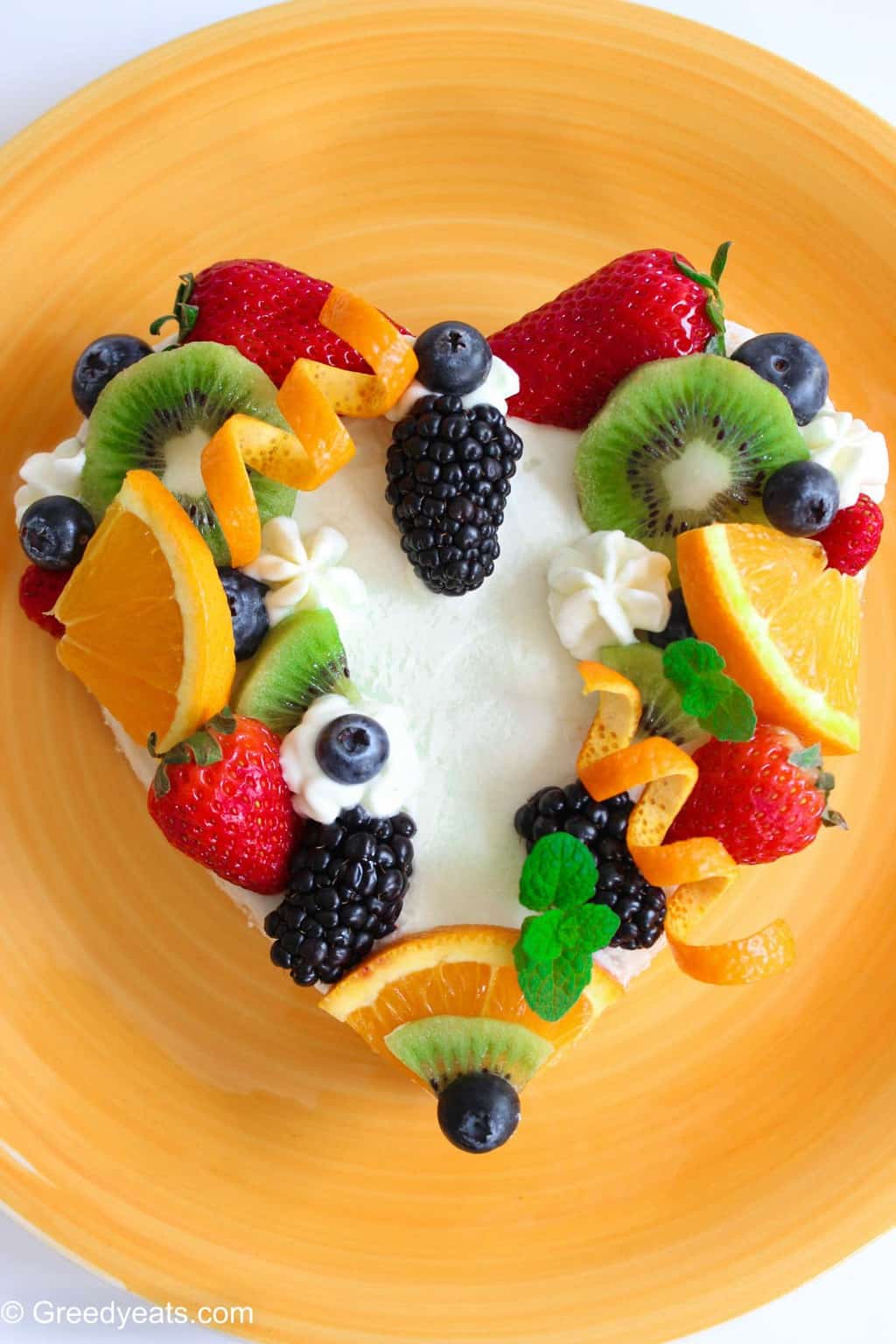 This cake is so moist and complete on its own that it barely needs a frosting. Now that is one big statement coming out of me. Cake without frosting? Bite into this cake once before calling me insane I'd say! I still frosted mine with a thin layer of frosting. Which I regretted later as I don't see that thick coat of frosting in my pics.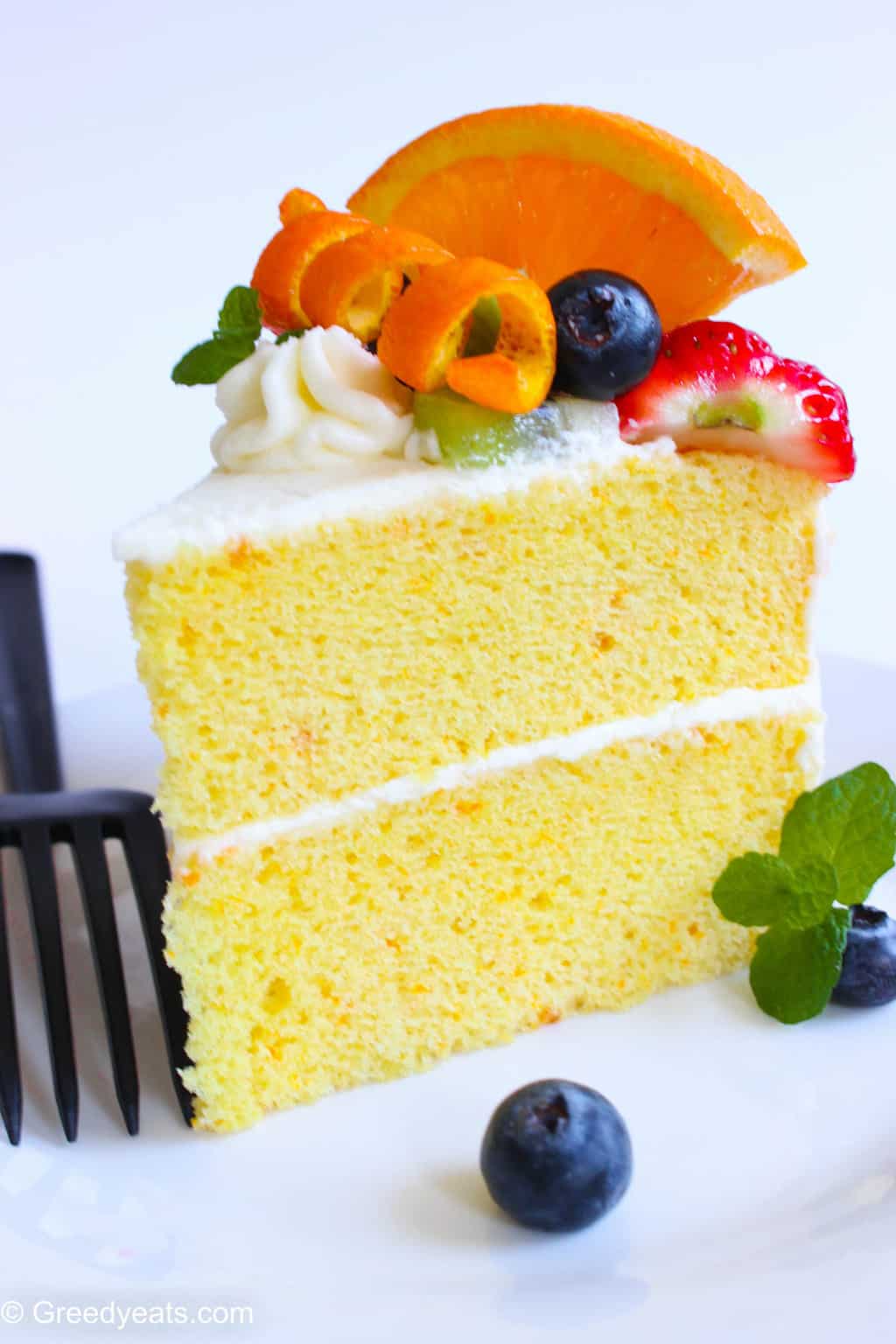 What was I thinking? Was I thinking at all? No cake is complete without four buckets of icing on it. Ever. Will never repeat that. You shouldn't too. Unless your stretchy bottoms deny to stretch anymore of-course.
Update: The chiffon cake still tasted all pillowy and velvety with less frosting too. All those juicy fruit toppings helped too. Pssst...give importance to only what really matters! Life lessons via orange chiffon cake recipe. 😉 😉 😉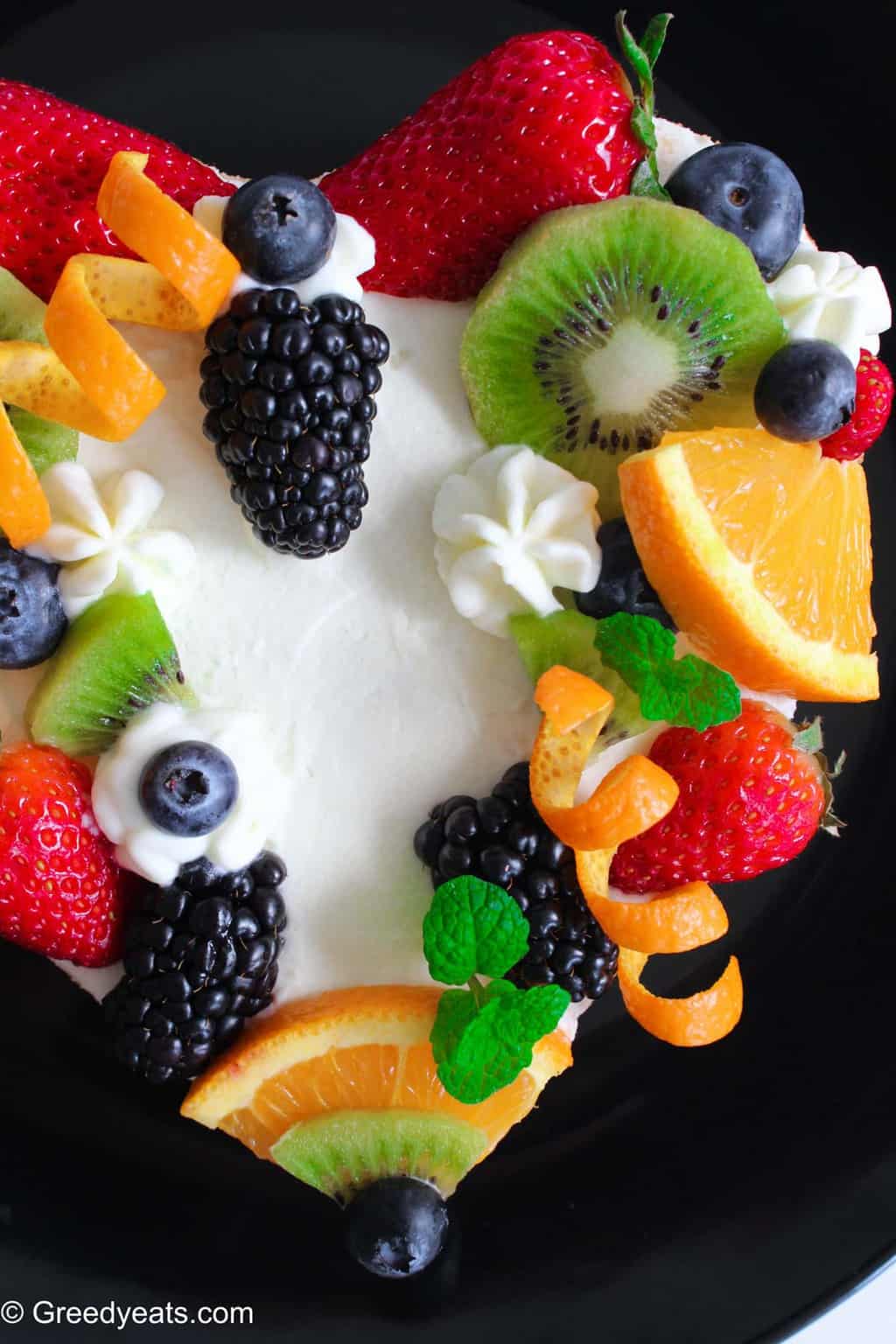 Orange chiffon cake recipe unfolded
Okay now back to real cake business. How are we making this cake business I mean!  My inspiration for this cake came from this orange chiffon cake from rasamalaysia.com. It looks so gorgeous, moist and ticks all the marks of a perfect chiffon. I developed my recipe adding some leavener (which is baking powder here) in the actual recipe. Used cake flour so that the end product isn't dense in the slightest. Cake flour ensures a truly light and light chiffon cake. Also baked mine as a layered cake.
What else do we do to make this so light and airy? We whip the yolks and egg whites separately. Mix all the wet and dry ingredients together(except egg whites and some sugar) and then fold that batter in the stiff peaked meringue. That's how this beautiful, orange scented and creamy batter comes into existence. Check it out. Also all those specs of orange zests in the batter. Pure joy!
Also remember to use freshly squeezed orange juice in the recipe. Big no to canned/tetra-pack stuff out there! Nothing beats the flavor from fresh orange juice and zest here.
Meringue decoded
We will whip our egg white adding some cream of tartar and sugar (1 tablespoon at a time) till it forms nice stiff and glossy peaks. You don't want to under whip or over whip your meringue. Under whipped one will sink your cake in the middle and it will taste all eggs. Ewww! You are baking a dessert not some omelette! And over whipped meringue may result into a dry and hard as bone bake. You don't want that either.
So we'll just whip it till we see the peak that stays on your whisk without falling. Just like this one here. ⇓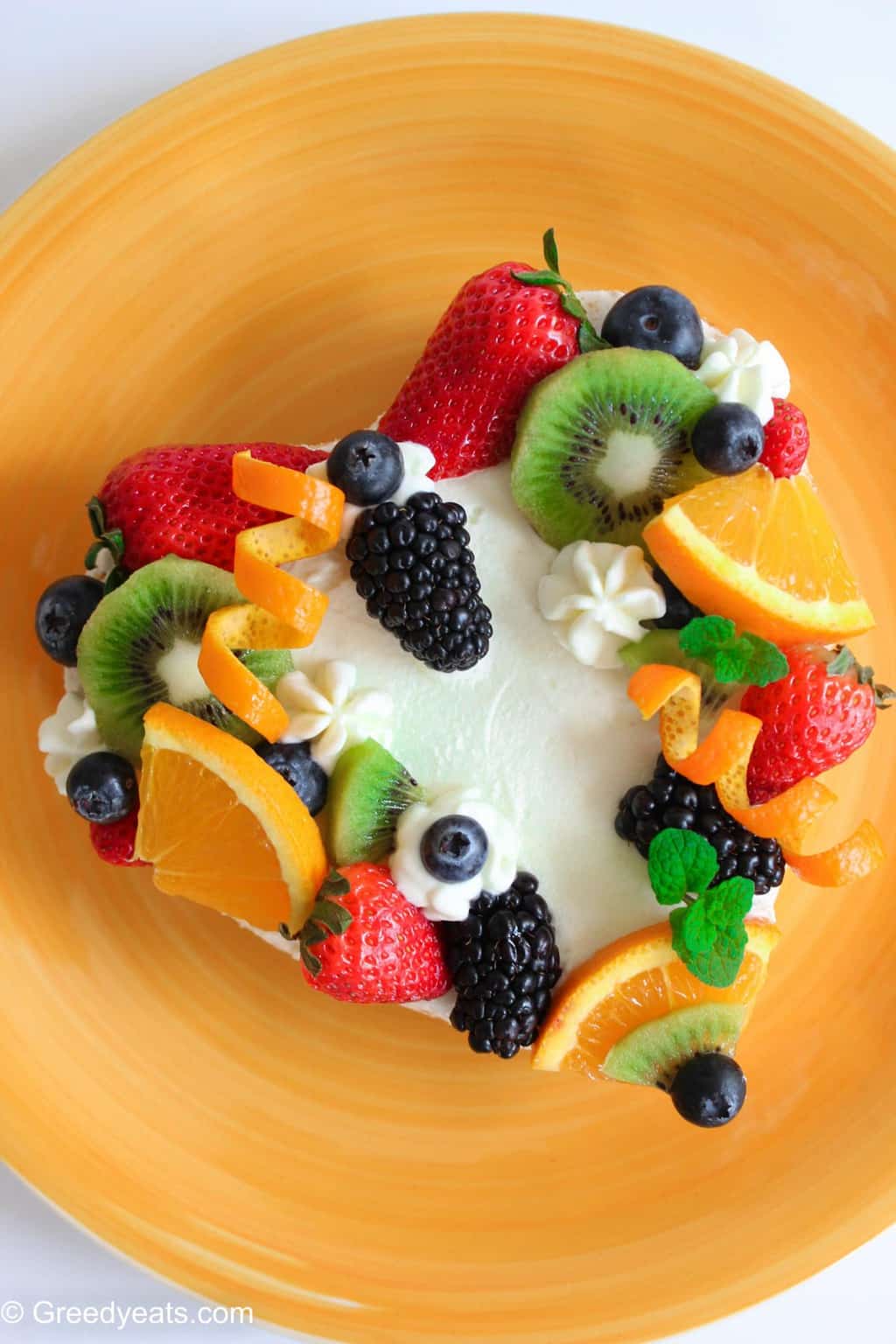 How beautiful this picture looks. I am obsessed with this those swirls. Silly me! The lemon cake post here uses this same meringue with stiff peaks. You can try it next. Its pretty much similar to this recipe with a few changes as lemons are fairly more acidic than oranges.
Chemistry lesson alert!
You can line your tin with parchment paper for this recipe. Usually for the chiffon cakes to rise it is recommended not to grease or line them. But we aren't aiming for much height here. Thus for a neater looking cake I'd suggest use parchment.
We will cool our cake upside down. And the reason behind this technique is we want the air pockets in the cake to settle then and there as it cools. Therefore our chiffon cake holds its shape and doesn't concentrate down into a sticky-lumpy mass.
Separate your egg whites and yolks while they are still cold. The yolks don't get mixed in the whites this way. And then bring your yolks and whites to room temperature.
Your mixing bowl should be dry and non greasy. You are sure to whip a perfect meringue this way.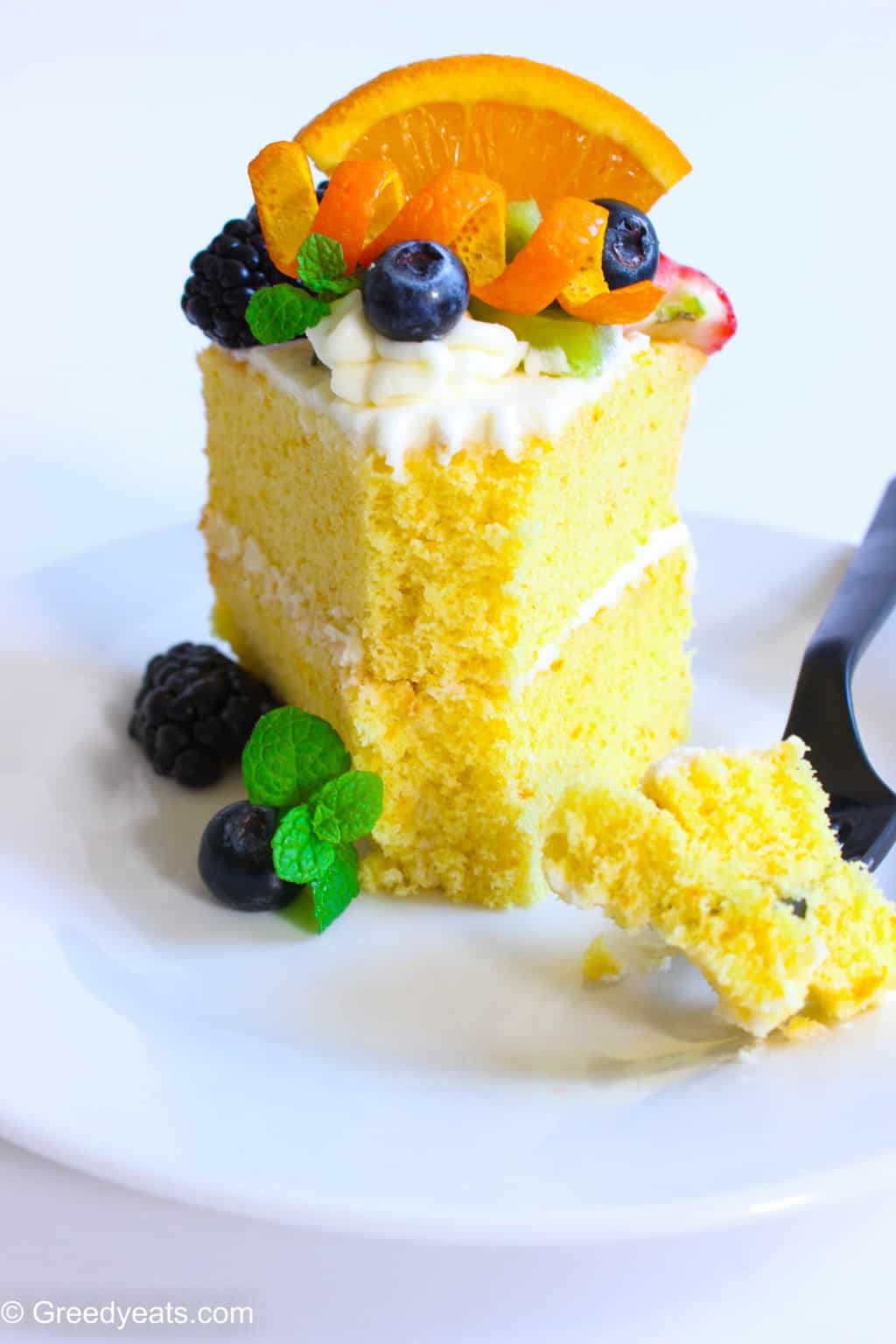 This orange chiffon cake recipe or any chiffon cakes I will say are laughably easy. Also it uses all your regular baking tins and ingredients. Bonus:You don't even need a bundt pan to bake this chiffon cake. 😉
Just take care of a few steps and you will be rewarded with the most moist, unsinkable and fluffy chiffon cake to flaunt!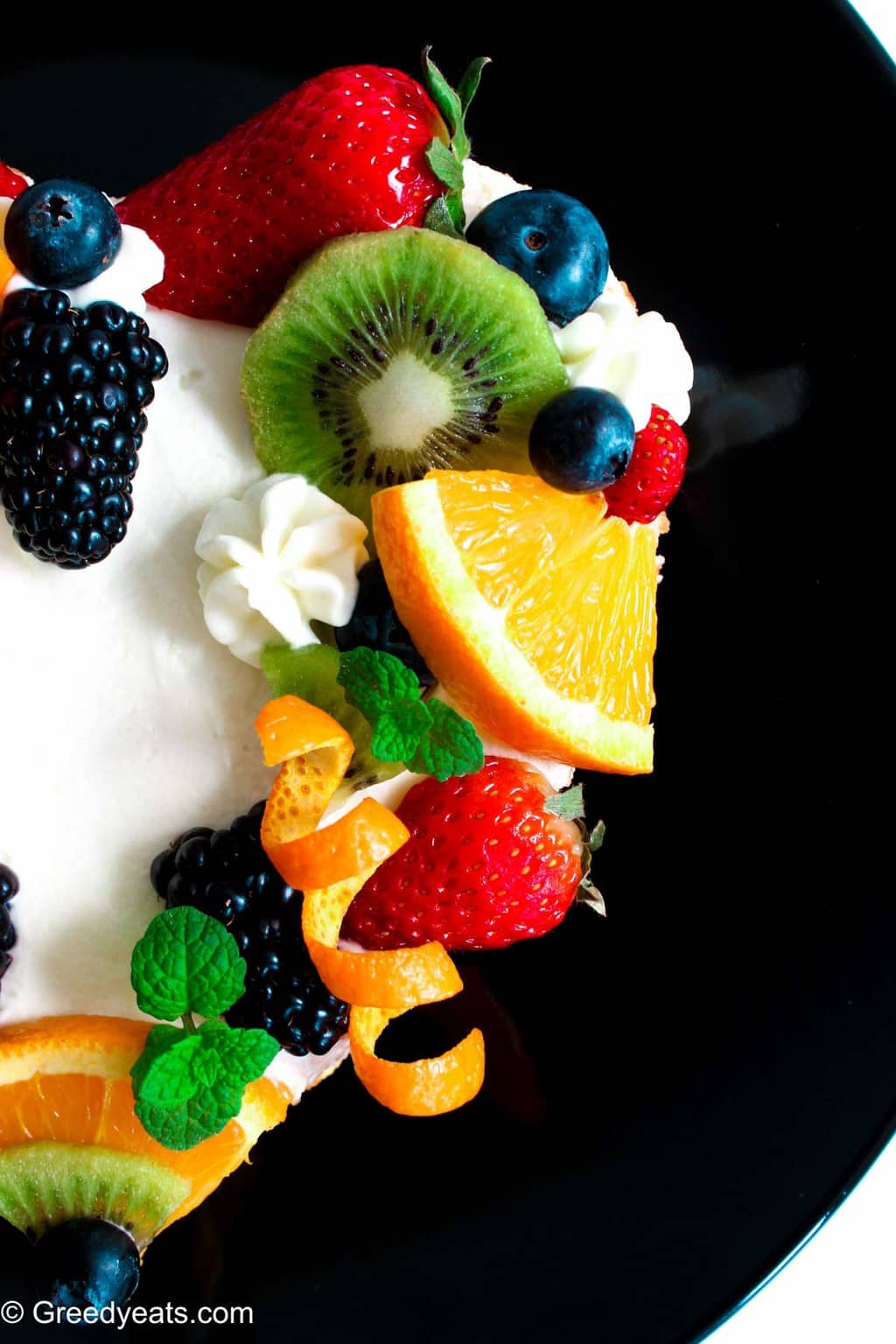 Try my blackberry swirled pound cake next!
Or if you love oranges, you are going to love these super high rising muffins!
Recipe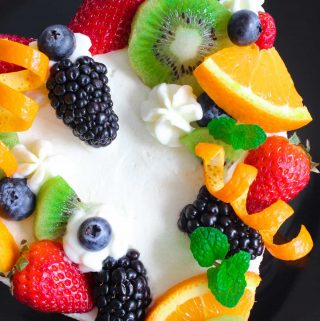 Orange chiffon cake recipe with fruits
Incredibly moist and velvety, soft and silky orange chiffon cake recipe to raise your spirits during these dull and gloomy winter days!
Print
Pin
Rate
Ingredients
75 Gms

Cake Flour

80 Gms

Egg whites

60 Gms

Yolks

100 Gms

Sugar

⅛ tsp

Cream of tartar

⅛ tsp

Salt

1 tsp

Baking powder

1 ½ tsp

Vanilla extract

40 ml

Orange juice

20 ml

Milk

1 Tbsp

Orange zest

40 ml

Flavorless oil
Instructions
1. Preheat your oven to 320°F (160°C) and line two (6-inches) cake tins( I used heart shaped) with parchment paper. Make sure all your ingredients are at room temperature.

2. Add egg yolks + 30 gms to sugar to a mixing bowl and beat for a minute. Add oil, vanilla extract, salt, milk, orange juice and zest to the bowl and mix in till everything gets combined well.

3. Now add in atleast three times sifted cake flour and baking powder to the mixture and fold it in.

4. In a separate clean and dry bowl, add egg whites (at room temperature only) and beat in for a minute. Now add cream of tartar to it and beat well. Slowly keep on adding the remaining sugar (a tablespoon at a time) and beating continuously until the egg whites form stiff peaks. This may take 5-6 minutes.

5. Mix egg whites in the orange cake batter in three batches. And fold in using a spatula.

6. Pour the mix in your cake tin and bake for 19-21 mins or until a tooth pick inserted in the center comes out clean.

7. Invert the cake tin, as soon as you take it out of the oven and let it cool down completely.
Notes
Its very crucial that your egg whites are at room temperature, else they won't get whipped to full volume.
Fold in the egg whites and the batter with light hands. You don't want the air bubbles to skip out of the batter.
Keep an eye on the cake after 19 mns. Oven temperatures vary sometimes. Over-baking may result into a dry bake.
You can make your own cake flour at home. Just take 1 cup all purpose flour. Replace 2 tablespoon out of it with cornflour/cornstarch. And sift it 4-5 times. There you have it.
Nutrition