This lemon sponge cake will directly transport you to those lemon lands where freshness, zing and yellow tinge know no end. It's lemon cake day my friends!!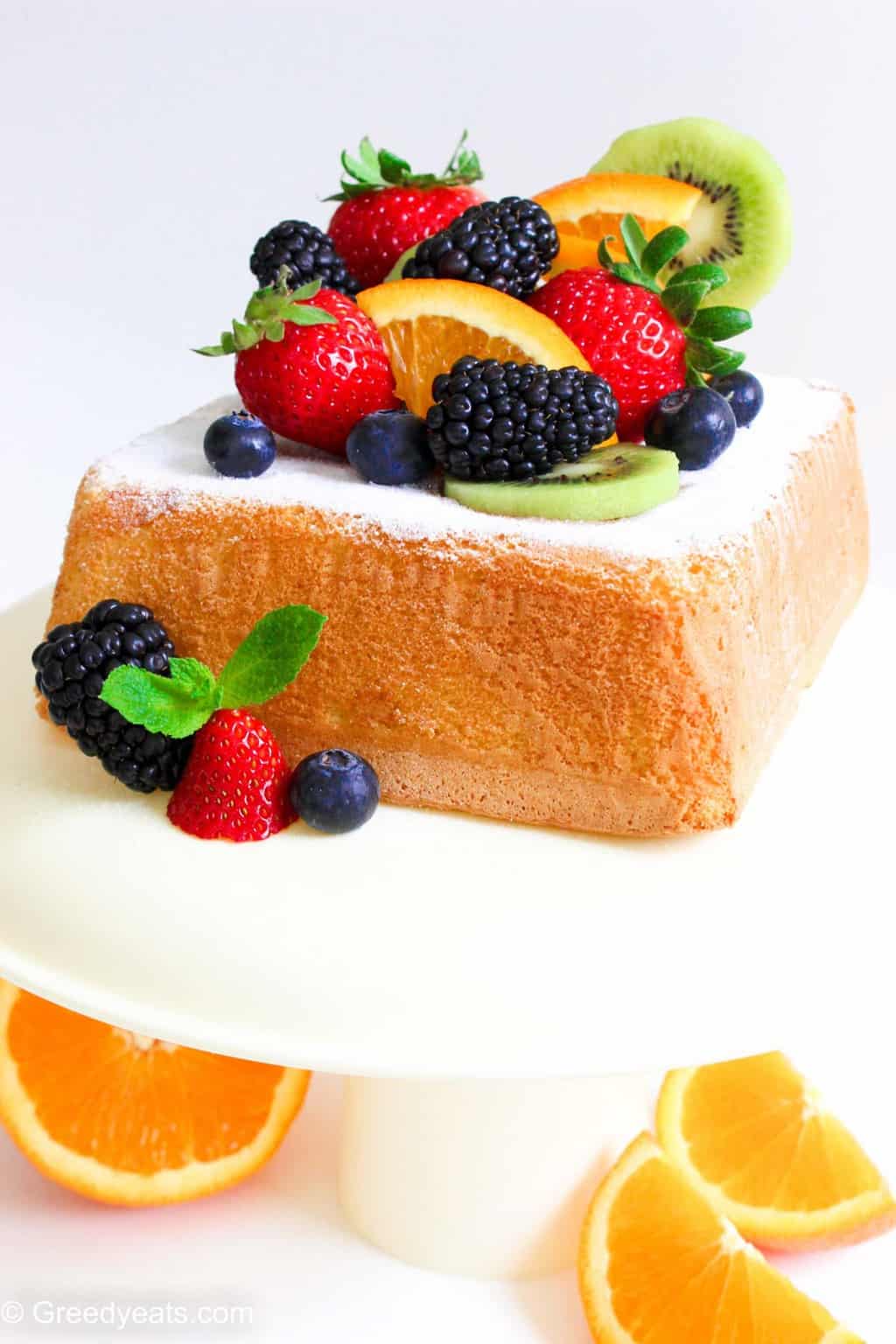 A piece of moist lemon sponge cake sits by my side as I type this. Honest Truth. I use no fork when I eat lemon cake. I love eating it this way. With bare hands. My fingers are covered in icing sugar dust. There are cake crumbs all over my keyboard. Wait let me take a bite and forget everything else.
Yep, I am back.
What was I saying??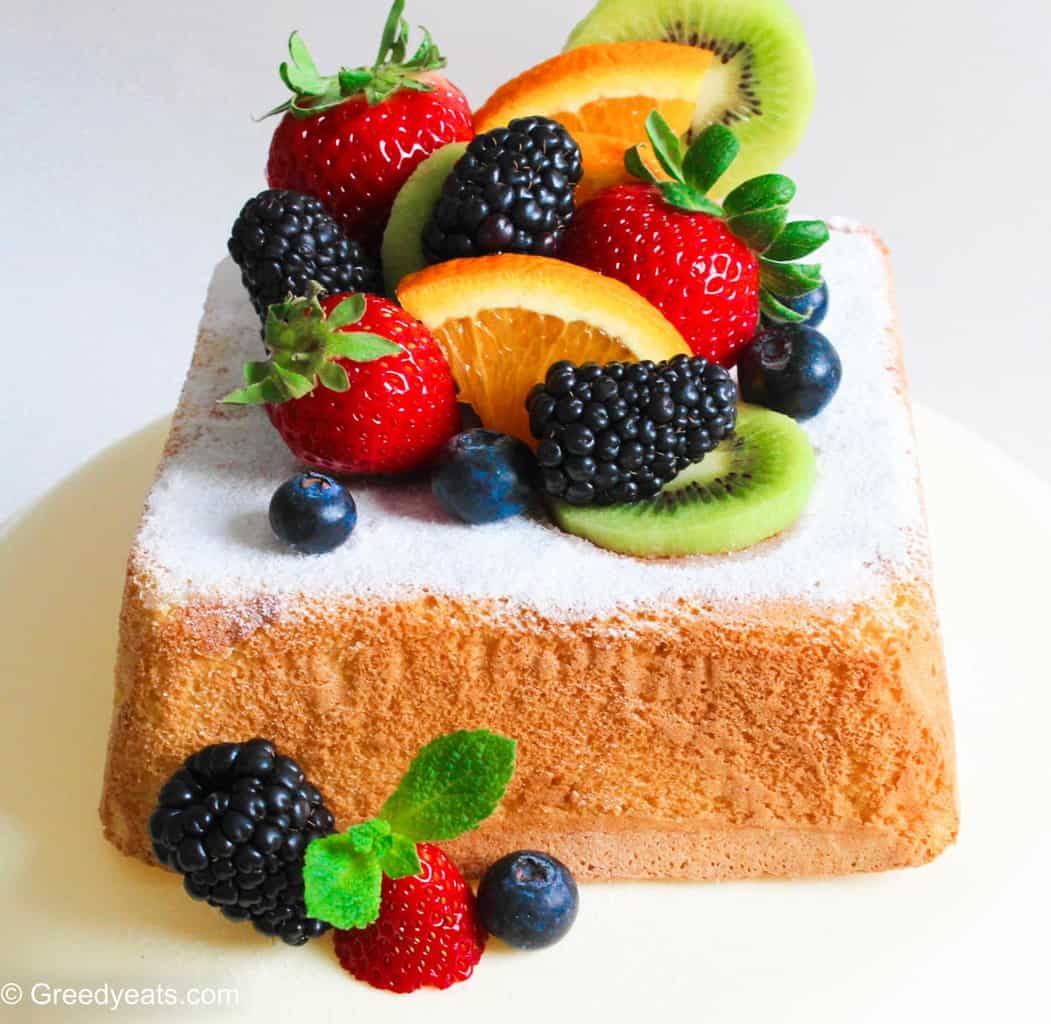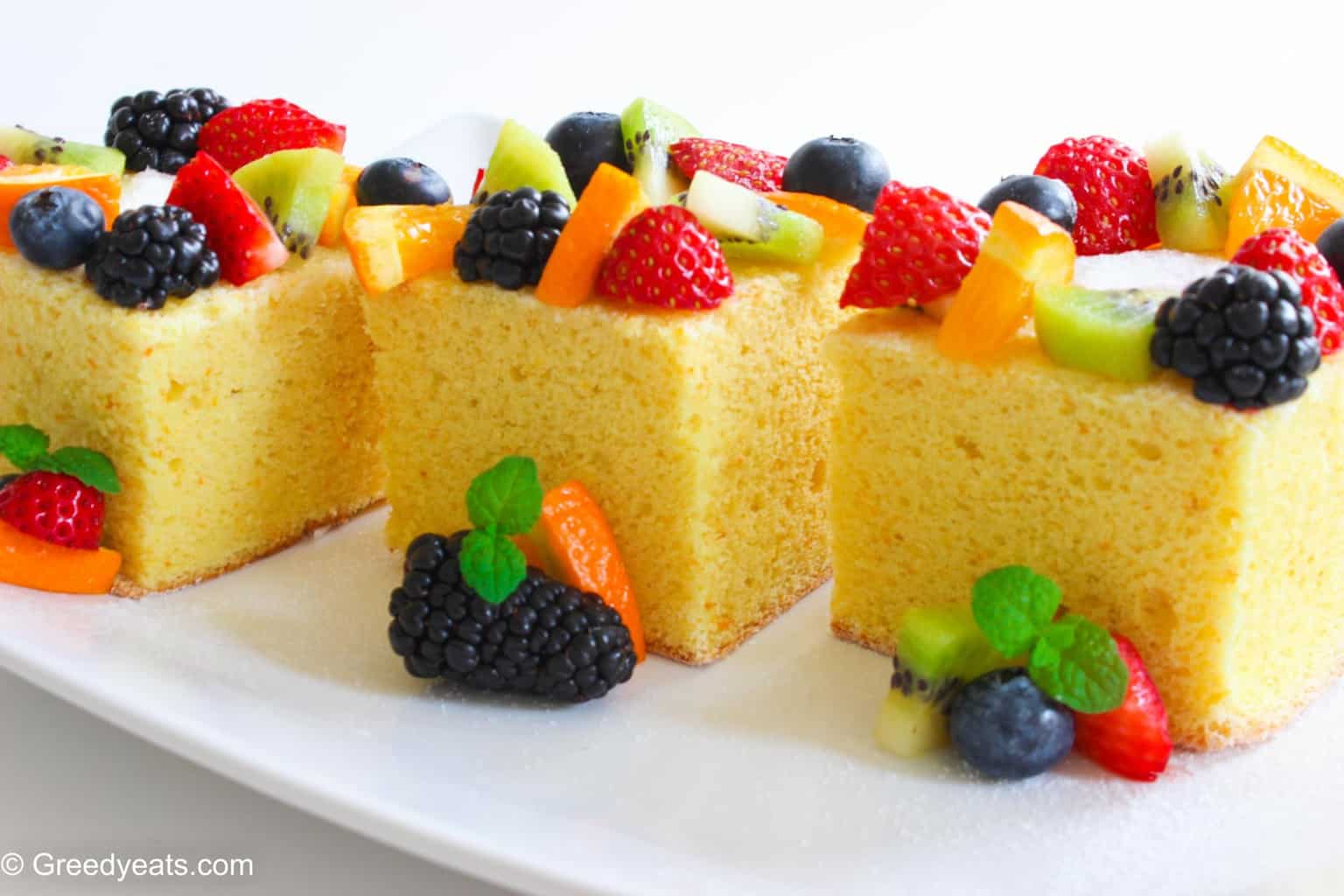 Before we dive deep in this pretty cake with fruits. I want to answer certain questions that might cloud your mind.
Is it too lemony to smack your lips?

Is there any cake better than a lemon cake?
Will this cake taste eggy if I used these many eggs?
Is this cake dry by any chance?
A sponge more pillowy than this one?
No, no, no, no and no!
WHY IS THIS MY FAVORITE LEMON SPONGE CAKE?
Let me explain a few more things about this cake to you! You are sighting a most soft, spongy, velvety textured dessert on your screen right now. You will ask me how is this cake any different from all the other sponges out there? Or how is this cake recipe any better than other ordinary lemon cakes?
My friends, I switched all purpose flour with cake flour in the original cake recipe to make it, what it is now. Cake flour gave my lemon cake that softest sponge you can never stop eating. I only used oil and no butter to keep the cake moist. And whipped egg whites separately to lift the sponge to the tippy-top!
DID YOU KNOW?
You can make your own cake flour at home? Take 1 cup all purpose flour. Replace 2 tbsp out of it with cornflour/cornstarch. And sift it 4-5 times. There you have it.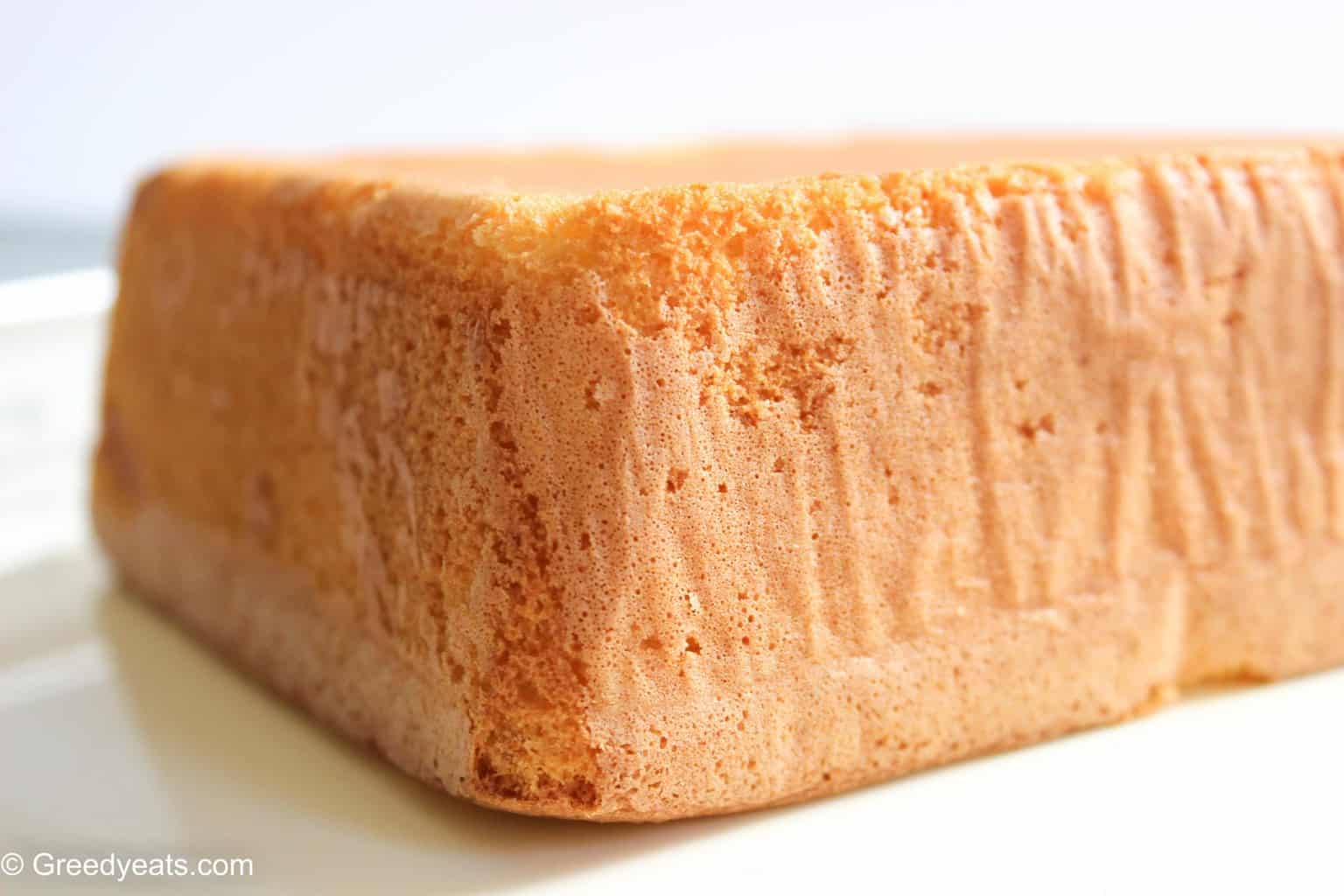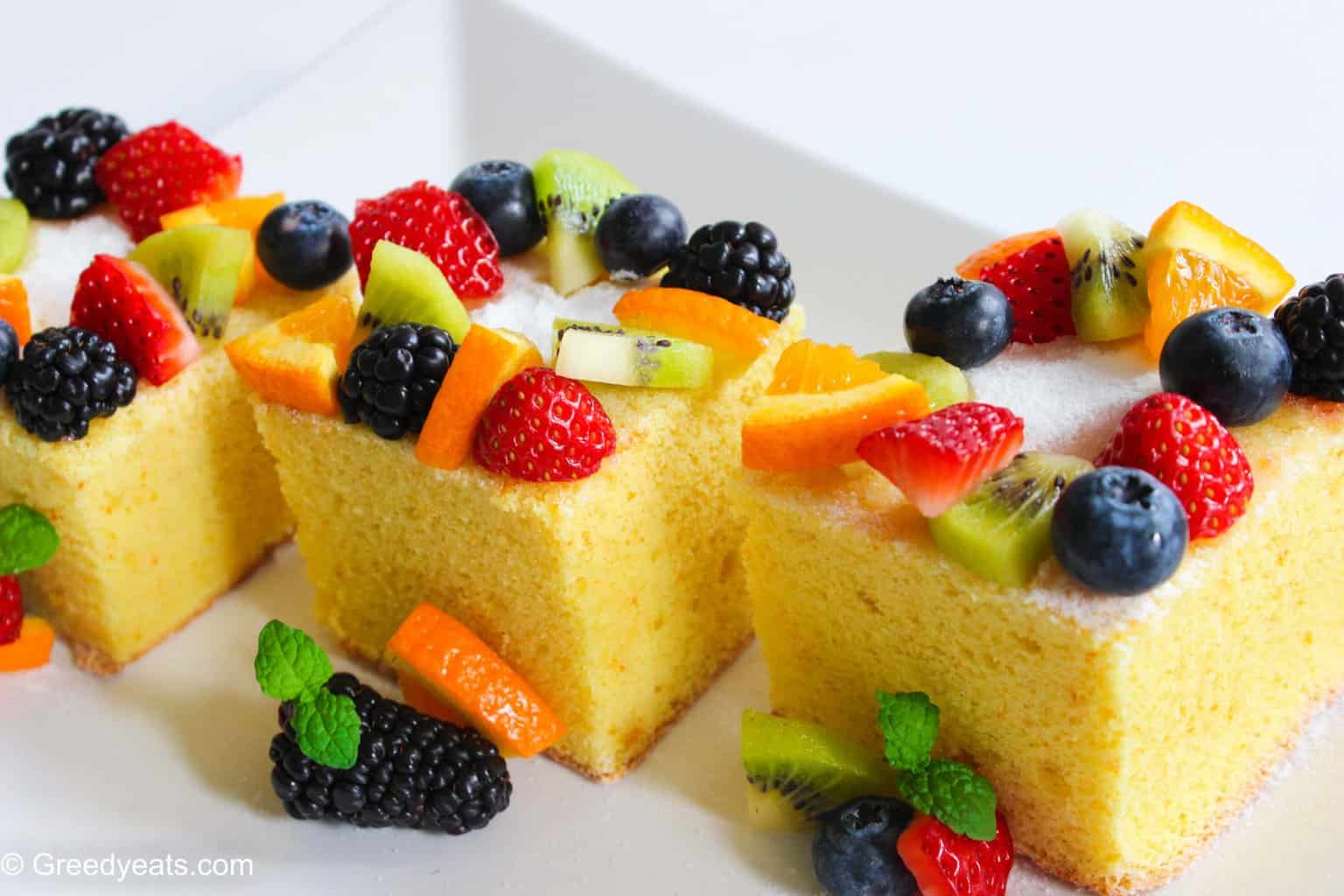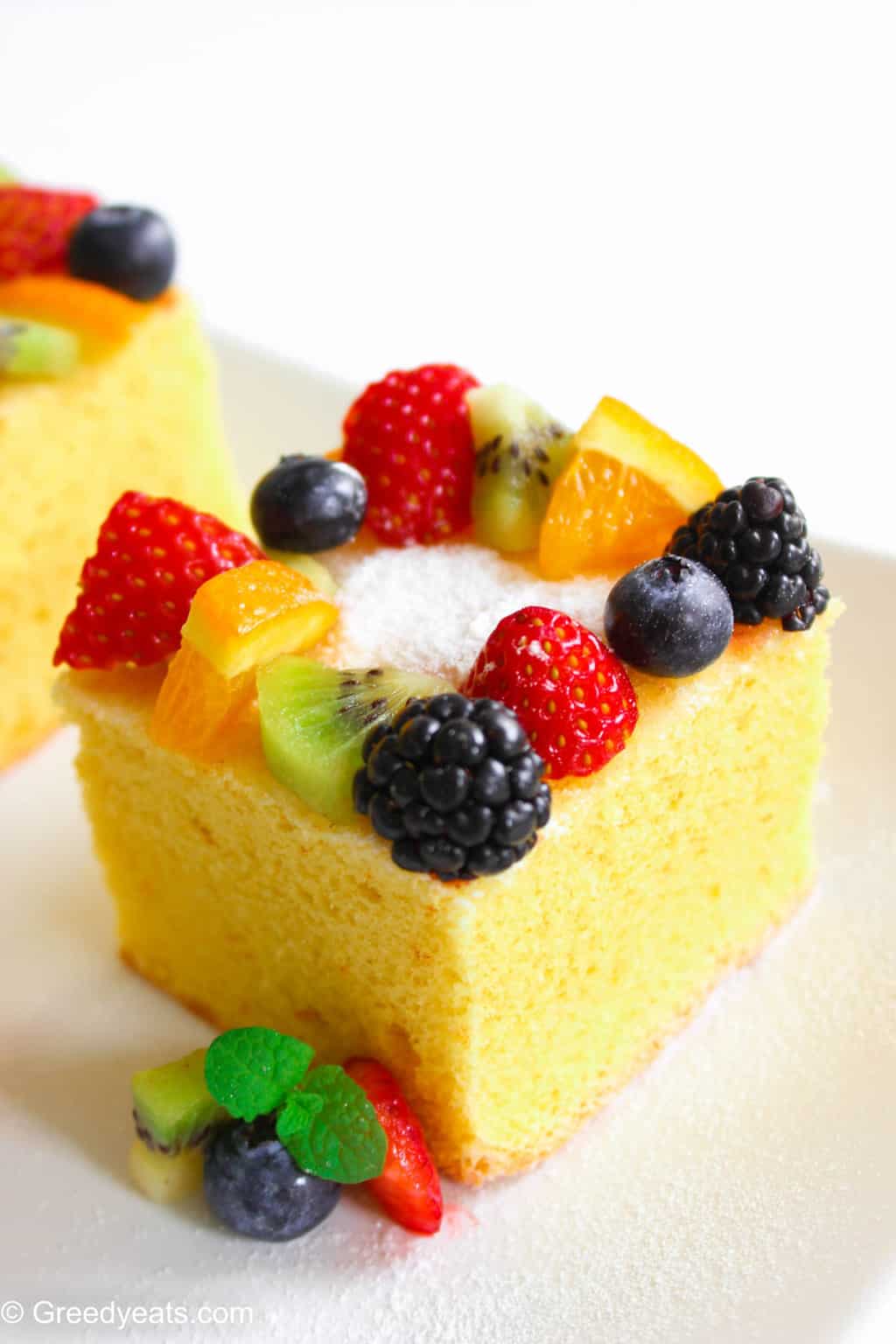 Look at the lovely texture of this cake. ⇑ ⇑ ⇑
HOW TO TOP YOUR LEMON CAKE
This cake is so moist on its own that it doesn't even need a frosting. I just topped mine with some icing sugar and fresh seasonal fruits. I suggest you do the same and save some empty calories from the buttery frosting! But a dollop of fresh cream? Smear it on my slice too please!!
This cake is even better after a few hours of baking. As all the flavors have a good time mingling, mixing and sorta partying with each other. And what happens to its texture then? It seems like some lovely angel casts a spell to make it so velvety, so pillowy, so soft that it puts clouds in the sky to shame!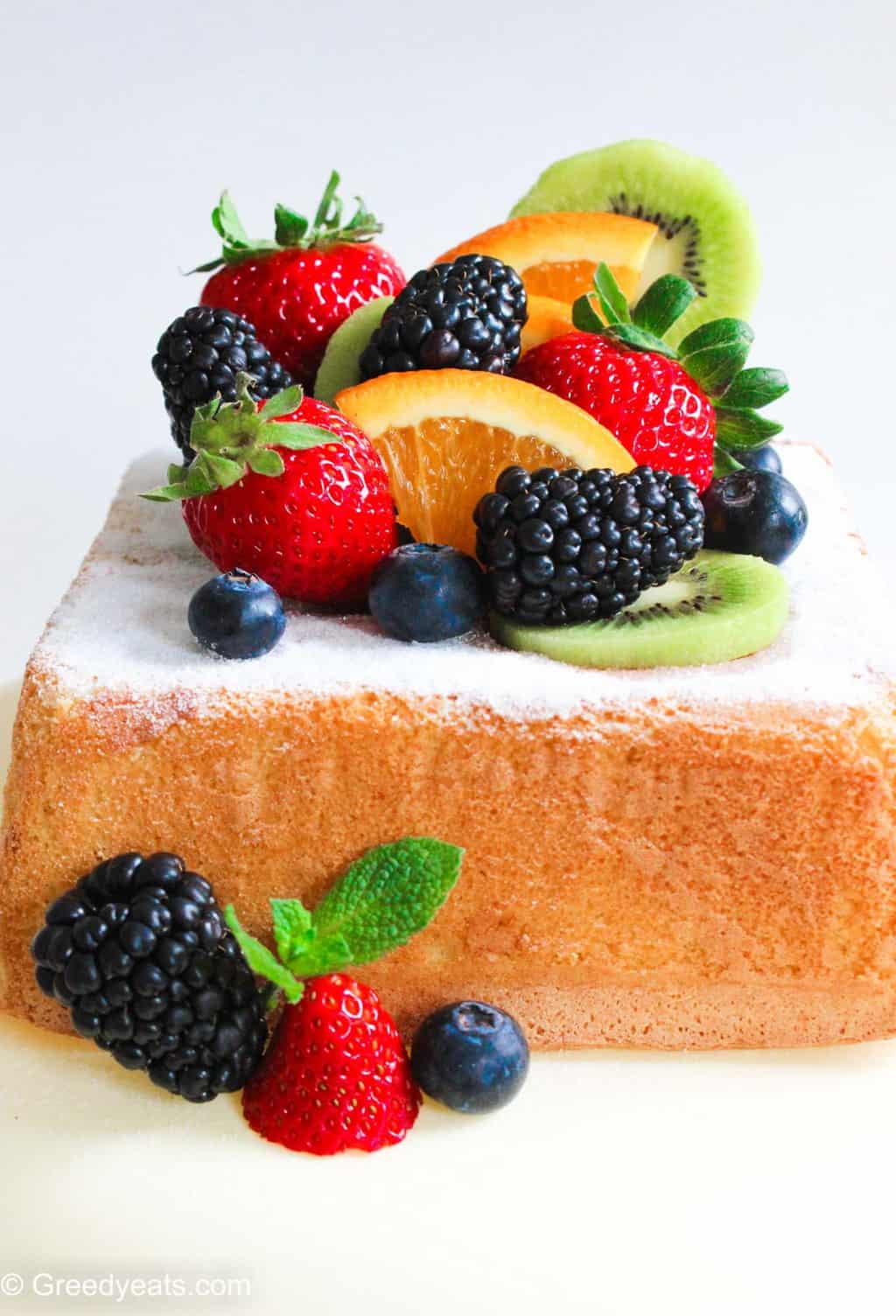 REMEMBER FOR A PERFECT RISE AND TEXTURE
 You don't want your sponge to deflate after it bakes. That way it might taste like you are biting into an omelette. All eggy. To prevent this, invert your cake tin right after it comes out of the oven.
 We will whisk the egg whites separately till it forms soft peaks. And fold it with extremely light hands using a spatula only.
 Don't skip to add cream of tartar or lemon juice to your egg whites. It ensures maximum volume to the whisked whites.
Greasing the cake tin is absolutely not necessary while baking this sponge. The batter climbs and rise on sides of the tin. If you grease the tin, the batter will slip through it and fail to rise.
Don't be intimidated by the recipe steps. This cake is extremely easy-peasy-lemon-squeezy!!All those weird sayings aside. If you carefully follow the instructions, your lemon cake will shine as bright as your faces.
Also this cake has no tart flavor to sour your teeth. Just a mild undertone of lemon, which when mixed with vanilla produces the most ultimate flavor I know till date. A little lemon juice makes everything taste better. Agree?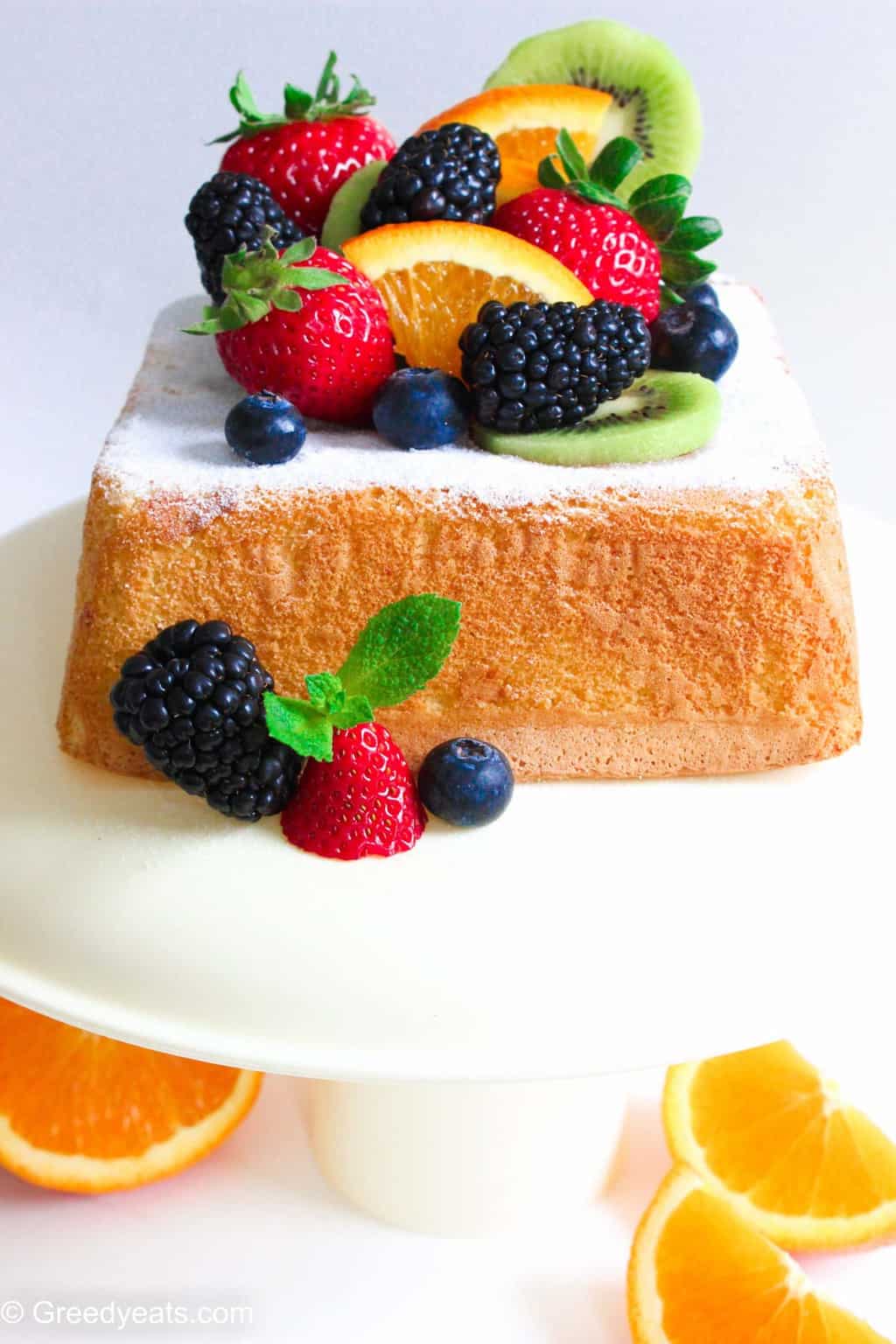 You are sure to think why have I displayed orange slices and not lemon in a lemon sponge cake recipe? Why???
Because,
Doesn't orange looks more contrasting in the photos with that lemon-colored lemon sponge cake.
You can eat orange slices with a lemon cake, but can you eat lemon slices with a lemon cake?
I know, I am so out of control!!!
When you miss gulping a tall glass of lemonade at a lemonade stand, bake this cake.
When you crave some sunshine in the cold winters, bake this cake.
Need I give you more reasons???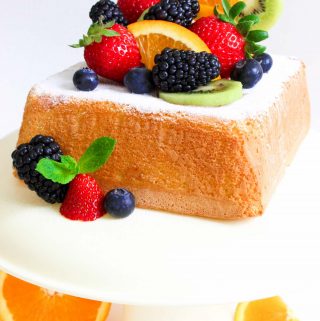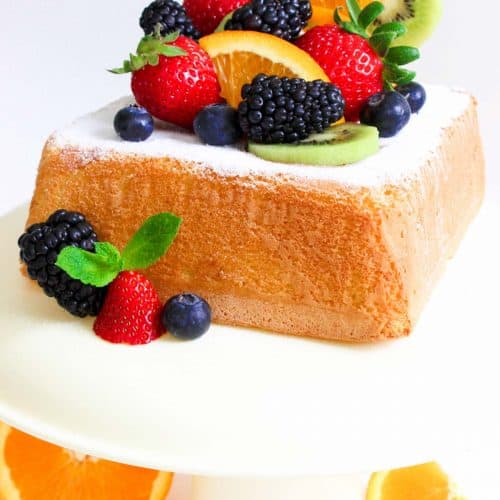 Lemon cake with fresh fruits
This sunshine dessert will directly transport you to those lemon lands where freshness, zing and bright yellow tinge know no end!
Print
Pin
Rate
Ingredients
75 gms (10 tbsp)

Cake Flour

80 gms

Egg whites

60 gms

Egg yolk

120 gms

Sugar

¼ tsp

Cream of tartar or ½ tsp lemon juice

⅛ tsp

Salt

1 tsp

Baking powder

1 ½ tsp

Vanilla extract

1.5 Tbsp

Fresh lemon juice

(mixed with ½ Tbsp water)

30 ml

Milk

1.5 Tbsp

Lemon zest

40 ml

oil
Instructions
1. Preheat your oven to 320°F (160°C) and line a 6-inch square cake tin with parchment paper. Make sure all your ingredients are at room temperature.

2. Add egg yolks + 40 gms to sugar to a mixing bowl and beat for a minute. Add oil, vanilla extract, salt, milk, water, lemon juice and zest to the bowl and mix in till everything gets combined well.

3. Now add in atleast three times sifted cake flour and baking powder to the mixture and fold it in.

4. In a separate clean and dry bowl, add egg whites (at room temperature only) and beat in for a minute. Now add cream of tartar/lemon juice to it and beat well. Slowly keep on adding the remaining sugar and beating continuously until the egg whites form stiff peaks. This may take 5-6 minutes.

5. Mix egg whites in the yellow cake batter in three batches. And fold in using a spatula.

6. Pour the mix in your lined cake tin and bake for 25-30 mins or until a tooth pick inserted in the center comes out clean.

7. Invert the cake tin, as soon as you take it out of the oven and let it cool down completely.
Notes
It's very crucial that your egg whites are at room temperature, else they won't get whipped to full volume.
Fold in the egg whites and the batter with light hands. You don't want the air bubbles to skip out of the batter.
Keep an eye on the cake after 19 mns. Oven temperatures vary sometimes. Over-baking may result into a dry bake.
You can make your own cake flour at home. Just take 1 cup all purpose flour. Replace 2 tbsp out of it with cornflour/cornstarch. And sift it 4-5 times. There you have it.
Nutrition