This post is sponsored by Left Field Farms but the content and opinions expressed here are my own.
Flavor and texture packed Cinnamon coffee cake recipe topped with buttery cinnamon crumb. It also hides a swirly chocolate layer inside!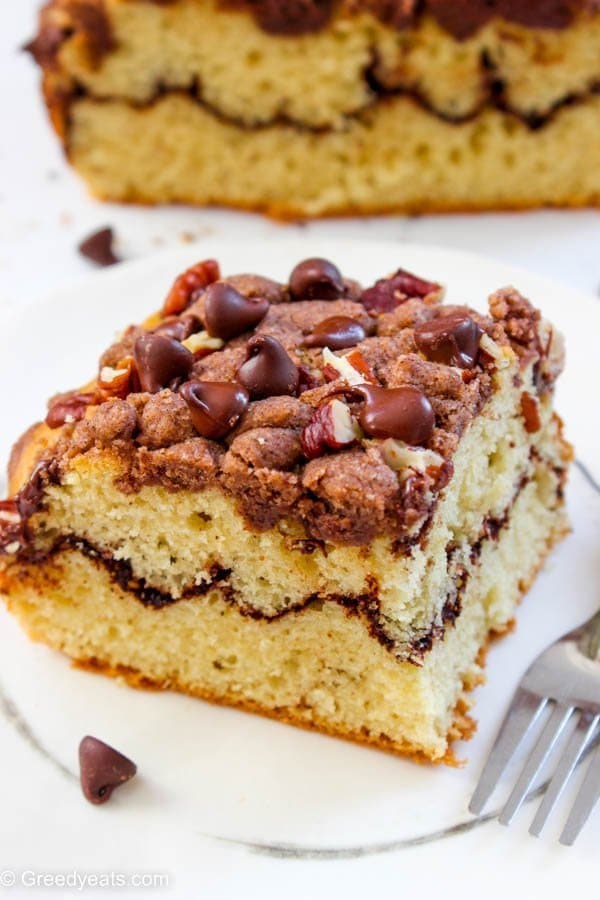 You bake this cinnamon coffee cake recipe when you have a huge flavor+texture craving! This ain't some boring coffee cake you get in your corner bakery.
This one is over flowing with a tender and buttery crumb that sits on a fluffy vanilla cake. The crumb is made with chocolate chips (of-course), some pecan chunks, cinnamon, a hint of ginger (so good!), and lots of butter!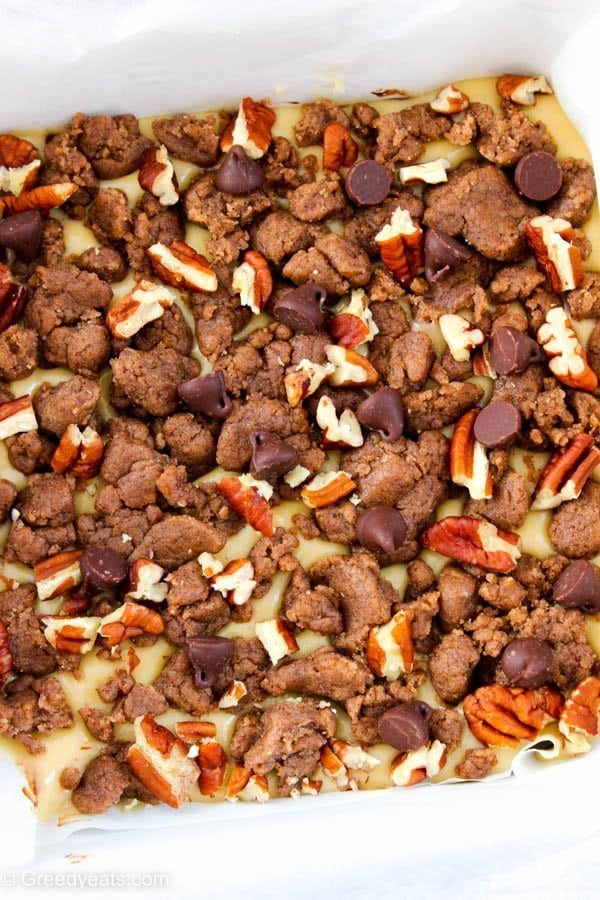 And that cake? Omg! It has over-the-top vanilla flavor and bakes super moist+ultra fluffy. What makes it happen???
Duo of milk and Left Field Farms creamer.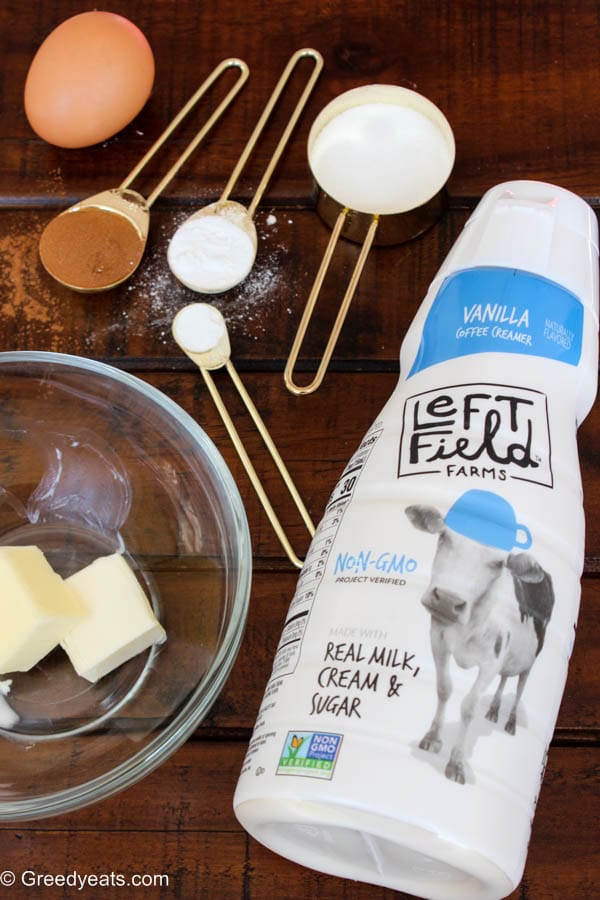 Left Field Farms Vanilla Creamer to be exact. I love adding Left Field Farms creamers to my coffee cakes. You see they are made with real cream, milk and sugar (and not much else). Also these creamers are Non-GMO project certified and have no artificial flavors!
Just the best ingredients that we need to make the most scrumptious coffee cake around!
Today we are using vanilla one to give our coffee cake a triple dose of Vanilla! Yes, triple.
Vanilla creamer + vanilla extract in the cake batter
Vanilla creamer in the chocolate layer
Glaze on top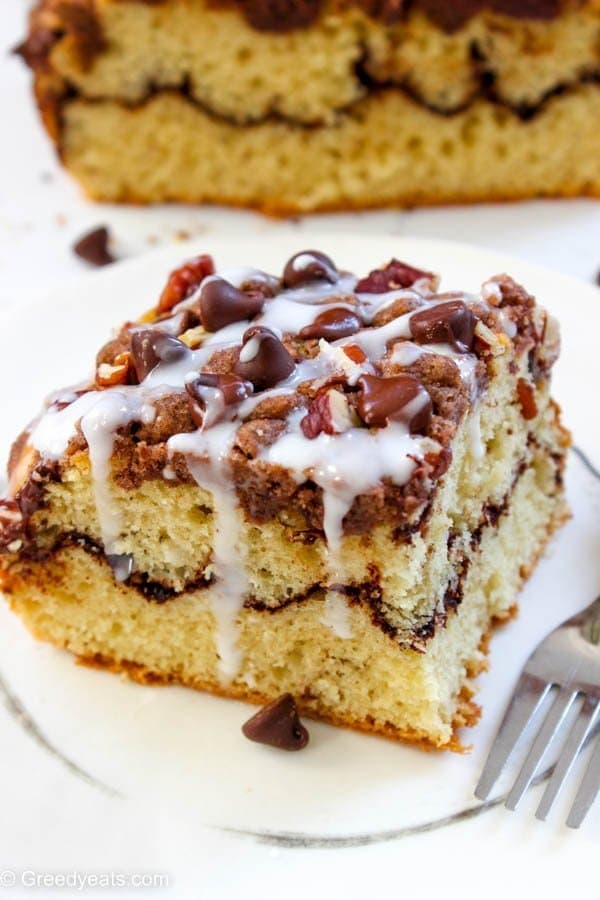 Cinnamon coffee cake recipe unfolded:
It couldn't get any easier than this!
Melt some butter, add and mix your wet ingredients together. Sift dry over wet. This is your vanilla batter.
Add some cocoa powder to your vanilla creamer for the chocolate layer.
Mix some sugar, flour and butter along with cinnamon (and ground ginger) to make streusel
Layer them all and boom!!! You are done!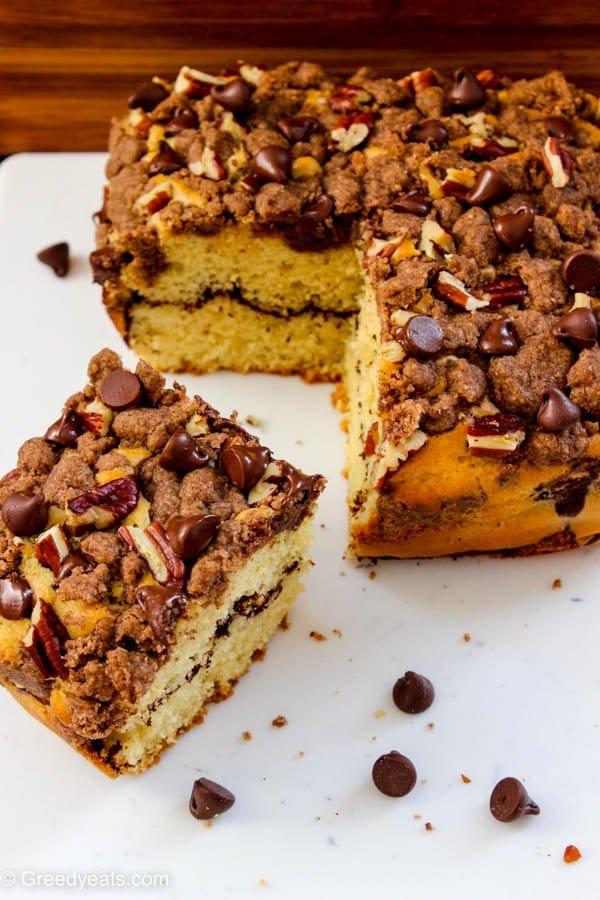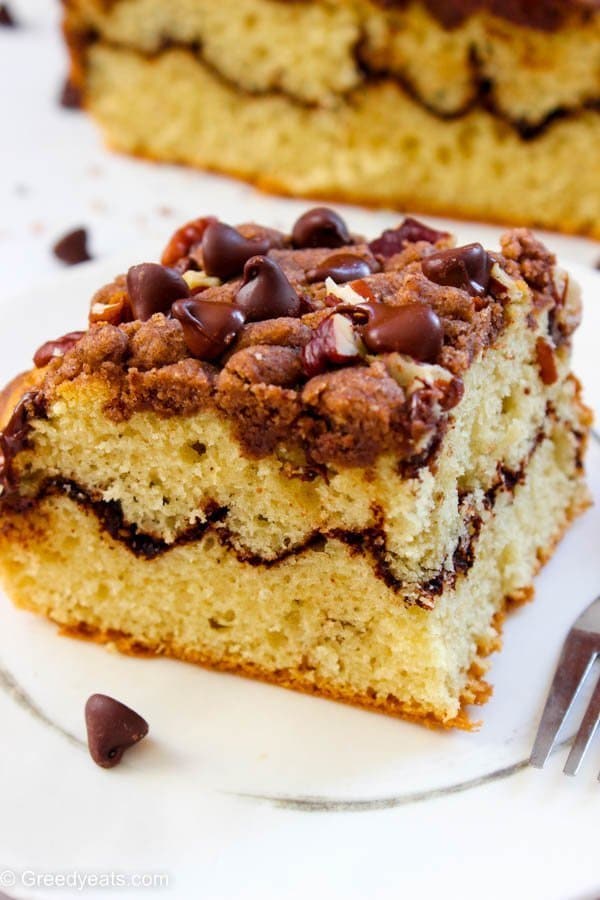 Look at that distinct layer of chocolate! You only need two ingredients. Cocoa powder and creamer. No extra sugar, cream or milk. Coz our creamer has it all.
Yay to convenience! And look at its texture.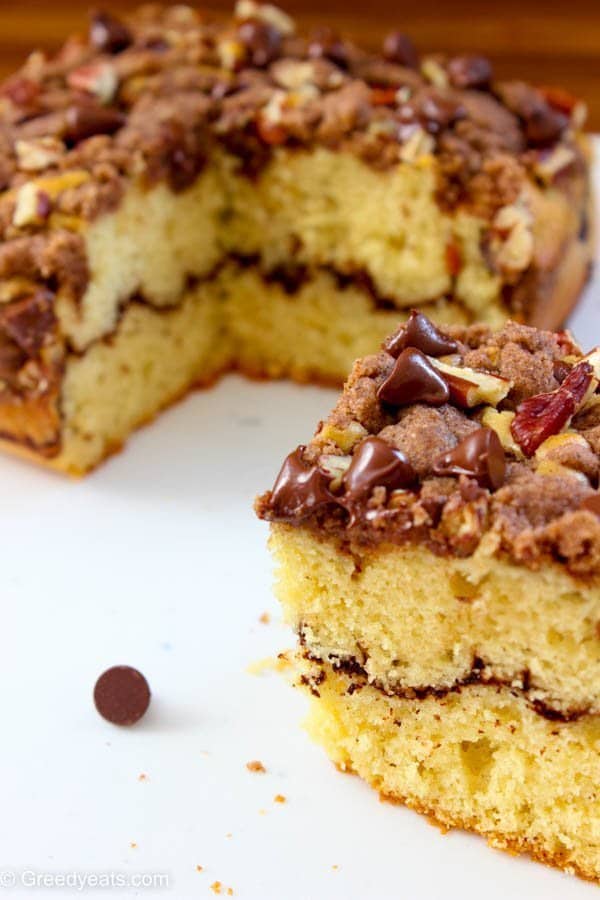 I found my creamer in the dairy aisle at Walmart!
A serious indulgence for your mornings.
⇓ ⇓ ⇓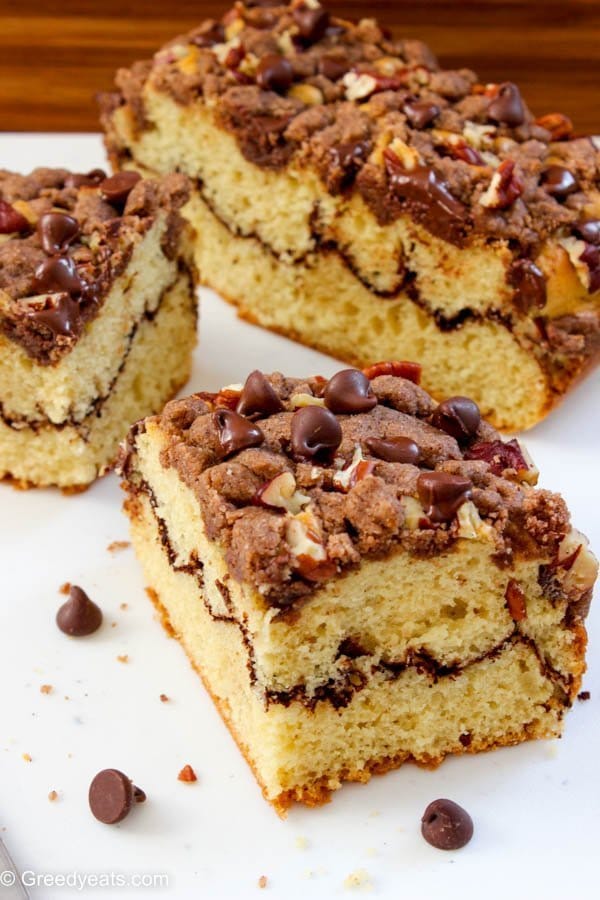 With a ton of buttery crumb, chocolate chips, some coffee and lots of creamer!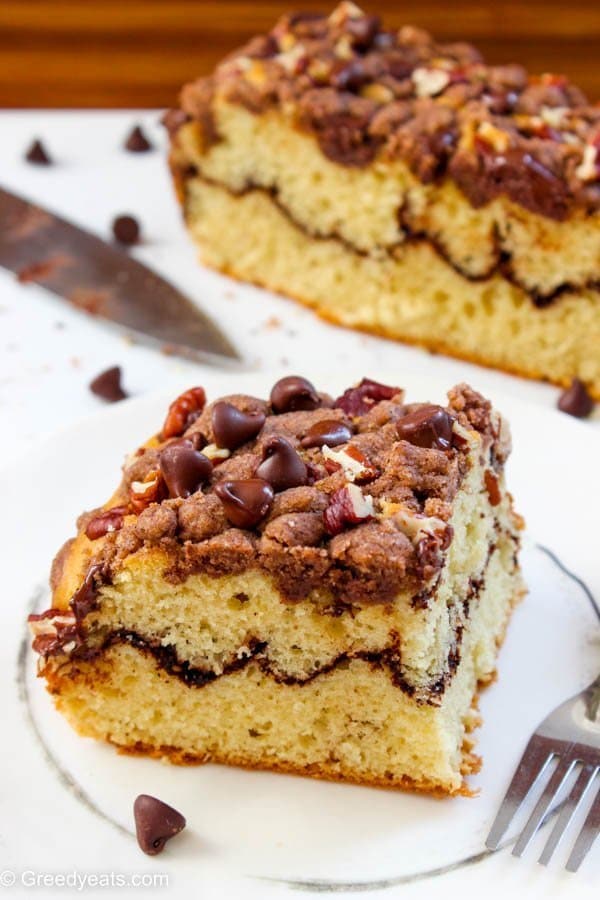 Adapted from Budget bites.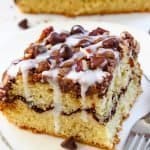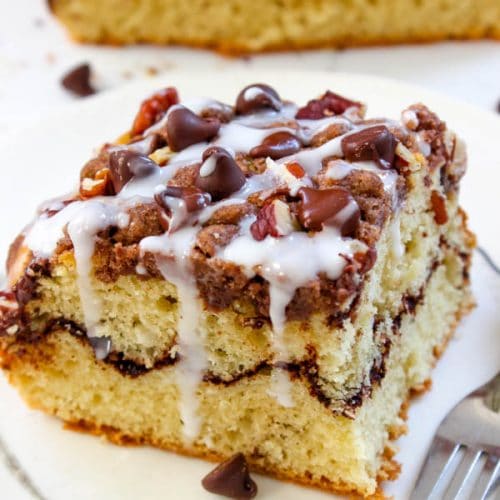 Cinnamon coffee cake recipe
Flavor and texture packed Cinnamon coffee cake recipe topped with buttery cinnamon crumb. It also hides a swirly chocolate layer inside!
Course:
Breakfast, Dessert
Keyword:
Cinnamon streusel coffee cake, Coffee crumb cake, Crumb coffee cake recipe,
Ingredients
1 Cup

All purpose flour

1/4 Cup

Sugar

1 1/2 tsp

Baking powder

1/4 tsp

Baking soda

1/4 tsp

Salt

1 Largs

Egg

3 Tbsp

Melted butter

1 tsp

Vanilla Extract

1/4 Cup

Milk

1/4 Cup

Left Field Farms vanilla creamer

2 tsp

Vinegar
For the chocolate layer
2 tsp

Cocoa powder (unsweetened)

2 tsp

Vanilla creamer
For the Crumb Topping
2 Tbsp

Butter

4 Tbsp

Granulated sugar

4 Tbsp

Flour

1 1/2 tsp

Cinnamon

3/4 tsp

Ginger

1/2 tsp

Vanilla Extract

1/4 Cup

Pecan chunks (optional)

1/4 Cup

Chocolate chips
For vanilla glaze
1/2 Cup

Confectioners' sugar

2-3 tsp

Vanilla Creamer
Instructions
Making the Crumb Topping:

Mix all the topping ingredients (except chocolate chips and pecans) together till these are well combined and a crumbly mixture forms.


For the Chocolate Layer:

Add vanilla creamer to cocoa and mix well using a fork till it get smooth and no lump remains.

For the glaze:

Slowly mix creamer in your confectioners' sugar and keep whisking. Add more creamer (if desired) to reach the desired consistency! Keep it covered, till ready to use.


For Vanilla Cake:


1.Preheat your oven to 350 deg F and line a 6 inches square cake tin with parchment paper overhanging on the side (for easy removal of the cake) and set it aside.

2. Sift flour, baking powder, baking soda and salt together in a medium mixing bowl and set it aside too.

3. In another bowl, mix well egg, sugar, vinegar, melted butter, vanilla extract, vanilla creamer and milk. Whisk till everything combines well.


4. Pour the wet ingredients over dry ones and fold until combined using a spatula.

5. Layer the pre-lined tin with half of cake mixture. Spread the chocolate layer. Pour remaining batter in the pan.

6. Top the batter with crumb topping, nuts and chocolate chips. Bake for 25-27 minutes. Or until your cake is baked well and bounces back when touched in the center.

7. Let it cool down a bit and take out of the pan using over hangs and cool down further on a wire stand.Drizzle with glaze.