Homemade Condensed Milk using three simple ingredients. Its texture is supremely creamy and thick. This stuff tastes just like milky caramelized sugar!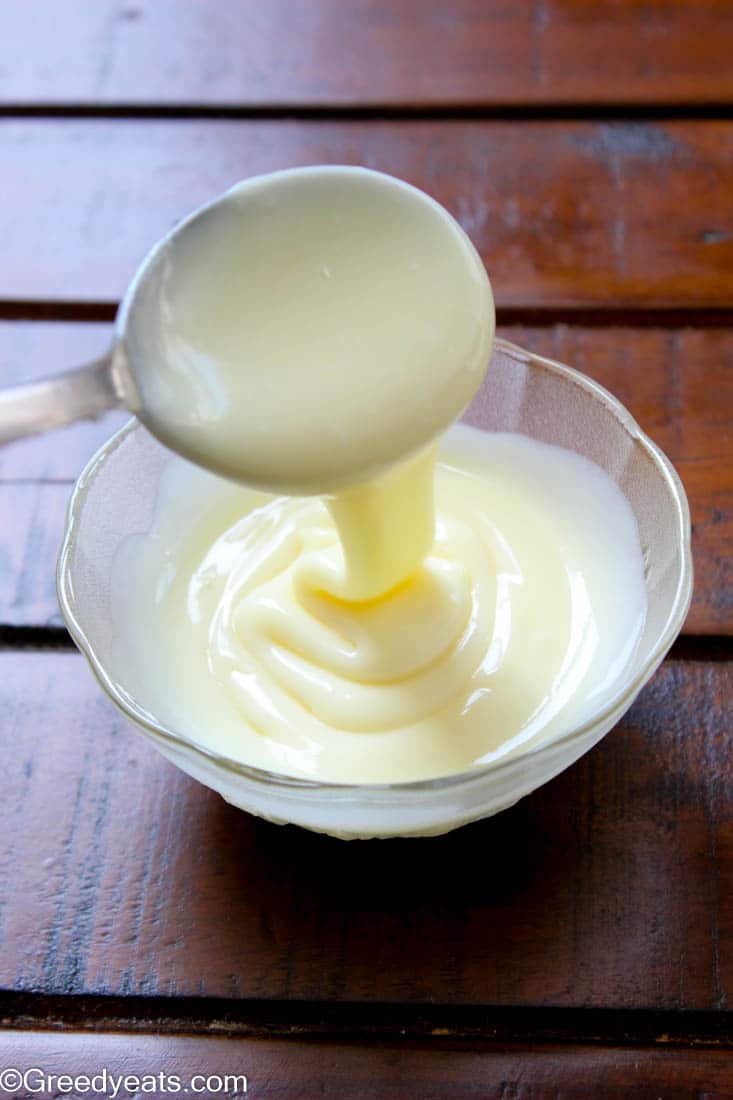 Have you ever tried making sweetened condensed milk at home?
If you answered no, you are in for a treat!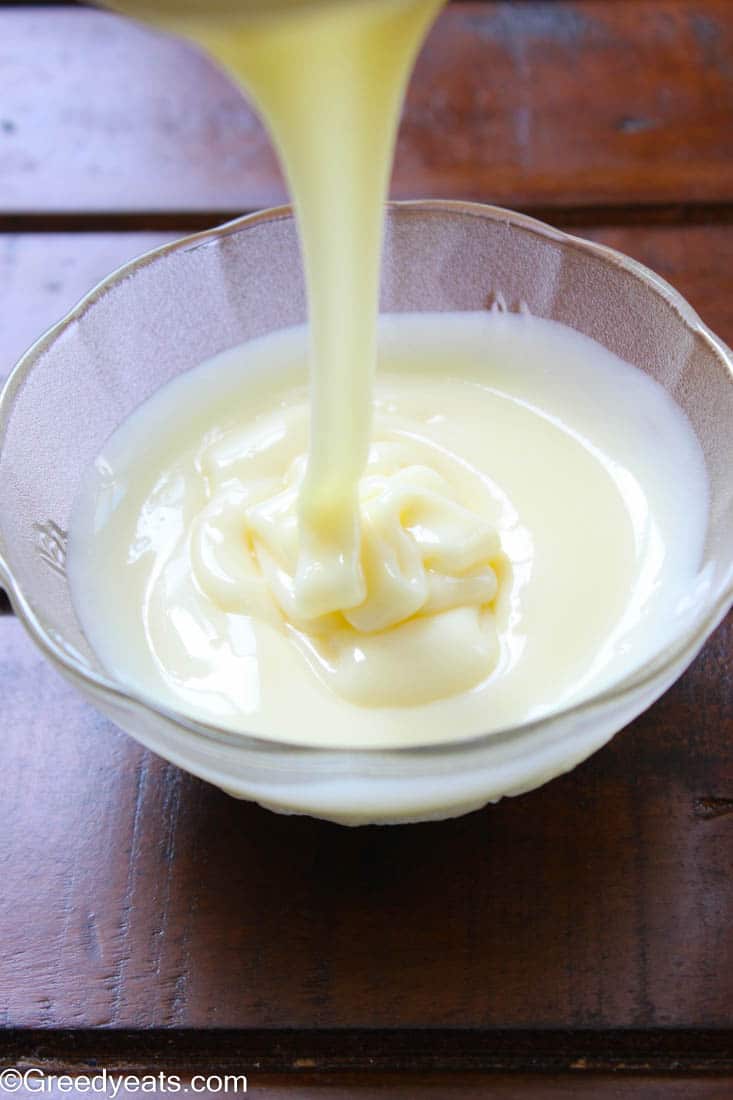 If you answered no, you are in for a bigger treat. You'd ask why!
Coz
Recipe PROs:
This recipe tastes so much better than that store bought can. (Heck did you ever notice the price tag on it?)
You will be immensely surprised at how creamy this recipe turns out. A pinch of a secret ingredient makes it happen.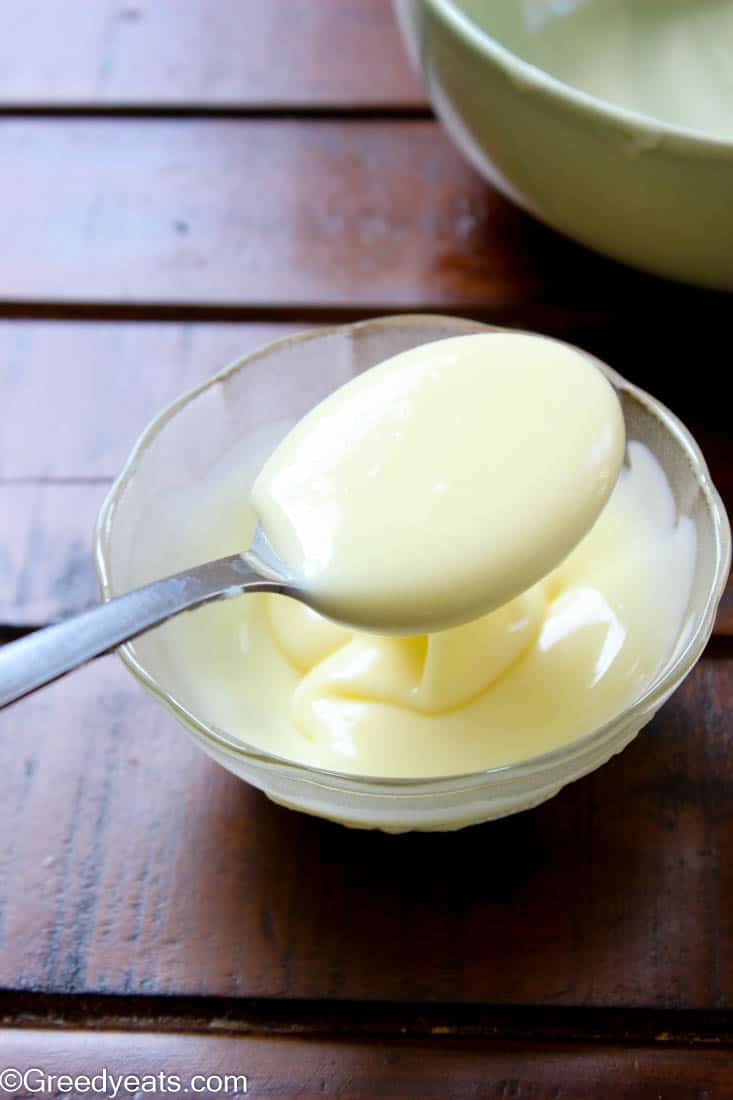 So stay tuned!!!
Recipe Ingredients:
Easy peasy! 3 ingredients you have right now in your kitchen. And I am 275% sure of this fact!
They are:
Milk: Any milk works. I like to use full fat. But seriously, 2 percent, or evaporated milk, even coconut milk can be used to make dairy free condensed milk.
Sugar: To sweeten the milk.
And a tiny pinch of Baking soda: Believe me, it is the game changer of this recipe. We will add it after we switch off the flame. Baking soda will instantly make your milk frothy and supremely creamy!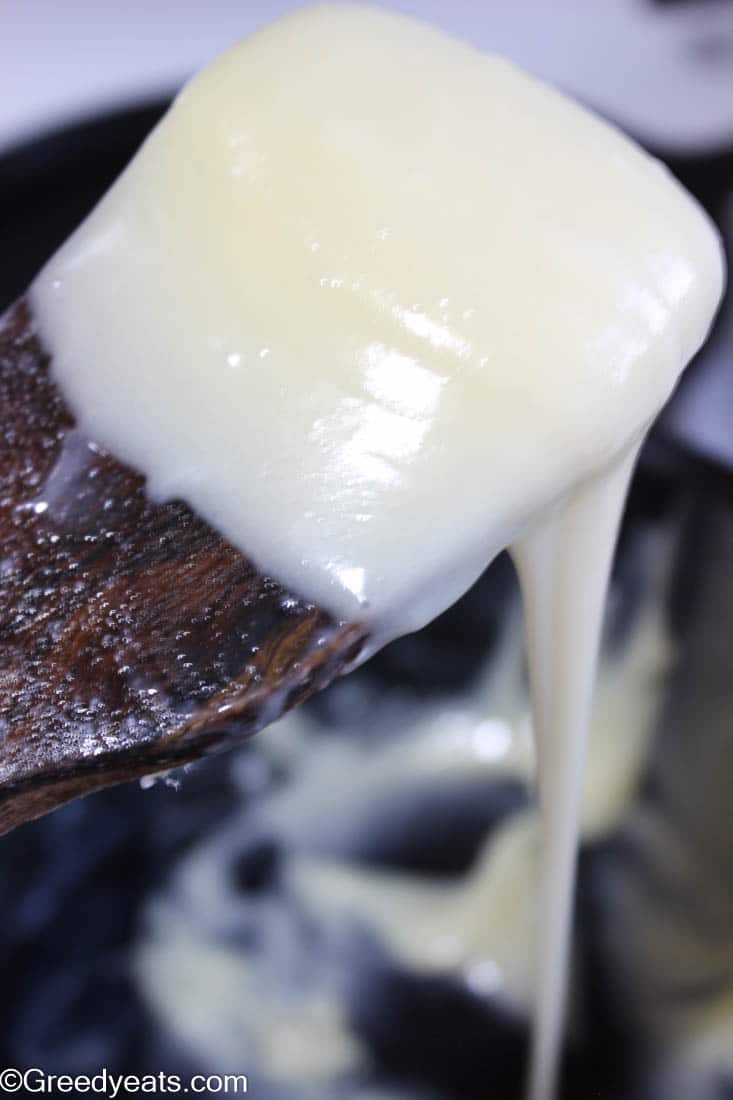 How to make homemade condensed milk
You can make this recipe at home in 3 easy steps!
Step 1: Add sugar to milk in a sauce pan.
Step 2: Boil the mixture till it thickens. Stir frequently in between. We don't wan't it to form lumps.
Step 3: Switch the flame off. Add a dash of baking soda and watch the magic happening in your pan!
Step 4: This step is entirely optional! If you notice any traces of lumps in your condensed milk, run it through a sieve.



Is Sweetened Condensed Milk supposed to be thick?
Yes, it is fairly thick and creamy in texture.
Which is thicker Evaporated milk or condensed milk?
Short answer is condensed milk.
How do you thicken sweetened condensed milk?
Boil milk and sugar on medium-high heat (stirring continuously) for about 15-20 mins. It will thicken. Add a pinch of baking soda after turning the flame off.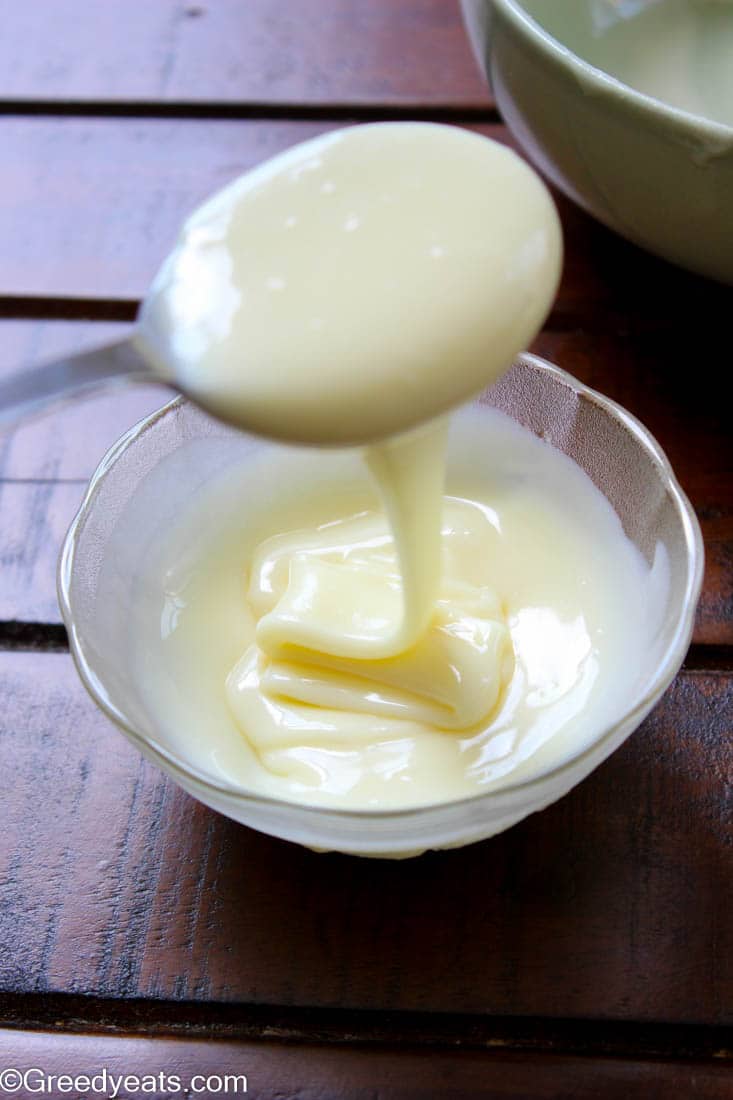 Can evaporated milk be substituted for sweetened condensed milk?
I'd advice against it. As evaporated milk is thinner than condensed milk, so it will affect the texture of your final product.
How much sugar do you add to evaporated milk to make condensed milk?
¾ cup for 1 can of evaporated milk . Boil it till the mixture thickens!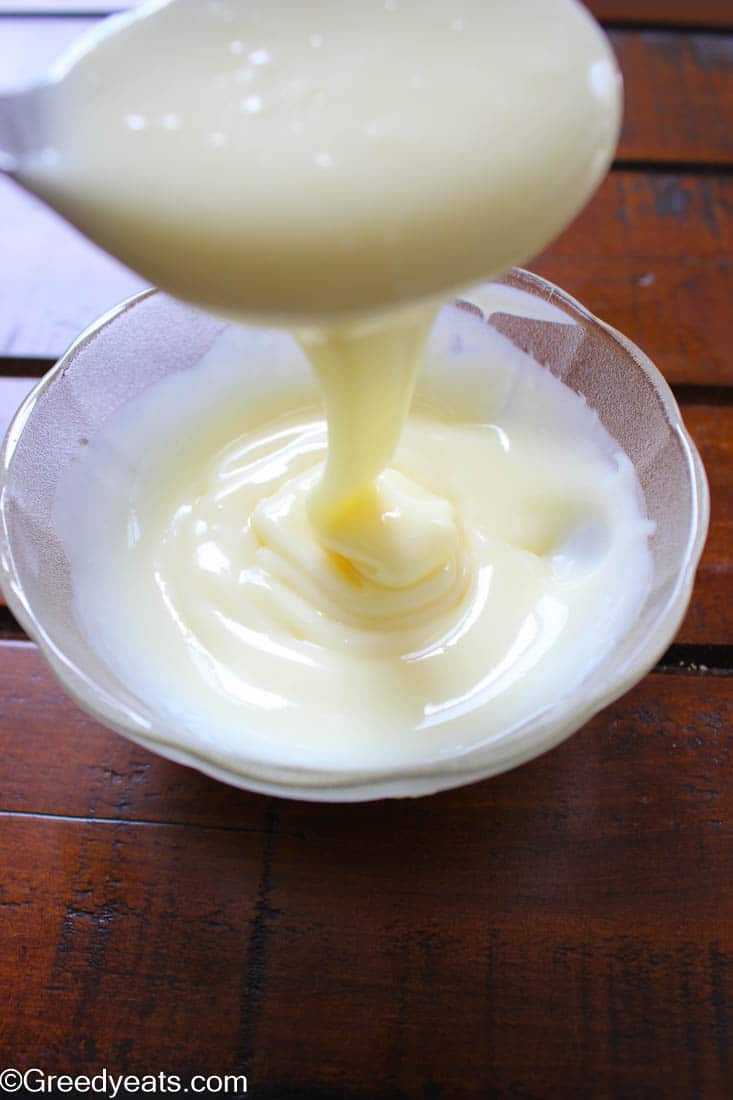 More from Greedy Eats:
Mini Chocolate Cupcakes with Chocolate Buttercream made with condensed milk and dark chocolate
If you liked this recipe give it a star review. Also, tell me in the comments below, how did this turn out for you! And don't forget to share your creations with me on
Instagram
at #greedyeatsblog Also follow me on
Pinterest
and
Facebook!
Recipe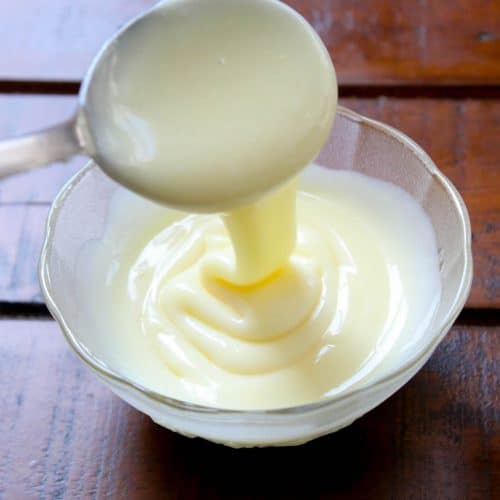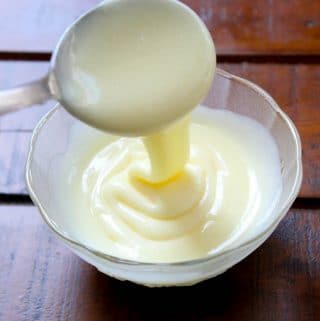 Sweetened Condensed Milk
Sweetened Condensed Milk using three simple ingredients. It's texture is super creamy and thick. This stuff tastes just like milky caramelized sugar!
Print
Pin
Rate
Equipment
1 Heavy bottomed Wide Sauce Pan

(I opted for a Ceramic one. Both non stick and stainless steel will work too!)
Ingredients
2 Cups (500 ml)

Full Fat Milk

(even 2% works)

1 Cup (200

gms)

Granulated Sugar

a pinch

Baking Soda
Instructions
Pour milk to a thick bottomed and wide sauce pan over medium-high heat. Wide sauce pan will help to reduce the milk faster. Add sugar to the milk.

Allow the milk to come to a boil. Whisk or keep stirring with a spatula at frequent intervals to avoid milk from sticking. After first boil, reduce the flame to medium for 2-3 minutes and stir continuously, so that the milk doesn't boil over.

Now you can turn the flame to med-high again. But take care to stir this mix continuously, so it doesn't stick to the bottom of your pan or doesn't boil over at any point of time. Never walk away from the pan and if you notice the milk is boiling a bit too quickly or is starting to stick to the bottom of pan, reduce the flame and continue to stir.

The idea is to allow the milk to boil till it thickens to form condensed milk. Milk should continuously be boiling and bubbling. This will take about 15-25 minutes. Milk will be fairly thick after 15-17 minutes time has passed (Mine took about 20 minutes).

Switch the flame off once milk has thickened and add a pinch of baking soda to it.

Keep stirring in intervals as the milk is cooling. This will prevent the condensed milk from forming a layer on top.

Allow to cool down to room temperature. It will thicken a bit more as it cools down. Store in a clean jar!
Notes
This recipe yields around 8 oz milk. You can easily double it if you wish to make 15 oz, that equals a can of condensed milk.
How long does homemade condensed milk last?
About a month in refrigerator and up to 3 months when frozen.
Can you freeze condensed milk?
Yes, homemade condensed milk can be frozen up to 3 months, bring to room temperature before using.
Will sweetened condensed milk Harden?
It will thicken a lot in the refrigerator, but will come back to it's thick and creamy viscosity at room temp.
QUICK FIXES:
Grainy Condensed Milk: If you notice milk solids have separated from your milk, give it a quick whirl in your blender and this problem will be fixed!
Consistency: 1. Too Thick- If you notice your condensed milk has gone too thick, you can stir a tablespoon of milk in it to reach desired consistency.
2. Too Thin- If it's too thin for your liking, heat and cook it a little more to thicken it.
Nutrition
Serving:
1
tablespoon
|
Calories:
62
kcal
|
Carbohydrates:
12.5
g
|
Protein:
1.1
g
|
Fat:
1.1
g
|
Sodium:
12
mg
|
Sugar:
12.6
g