Moist and decadent double chocolate zucchini muffins dotted with chocolate chips. This is the fluffiest and softest zucchini muffins you'll ever bake!
or try my soft, rich and tender Chocolate Bundt Cake next! Find all my breakfast recipes here!
I am guilty of not sharing this ultimate chocolate zucchini muffins recipe with you sooner! I mean do you see how rich and moist it looks?
Now I know what you are thinking! Veggies? In chocolate muffins?? Are you outta your mind!!!
But wait!! Zucchini is the best thing to have happened to chocolate muffins. It imparts a ton of moisture and zero flavor to muffins (Thank Goodness!).
You will never know there are veggies sneaking in your muffins! And look at that texture!
These chocolate zucchini muffins taste ever better than they look!
Oh-so-fluffy
Melt in mouth soft
Double chocolate zucchini muffins Ingredients
The regular gang of flour, leaveners, egg, granulated sugar and salt
Cocoa: I use Hershey's special dark, not the natural one
Grated zucchini, oil and brown sugar for a moist and flavor rich muffin
Coffee powder: To boost the flavor of chocolate
Chocolate Chips: You need to coat them in some flour. As the batter is thin, they might get sunk to the bottom as the muffins bake
How to make chocolate zucchini muffins
They are so easy that you can make them with your eyes closed. Not really! But you get my point! And they contain double dose of chocolate. Aka chocolate in the batter and melty pockets from chocolate chips.
Lets see how we bring the batter together:
Let your egg and zucchini come to room temperature.
Combine an egg, both sugars, oil, vanilla and coffee in a medium bowl.
Add in grated zucchini (removed of extra moisture.
Sift dry ingredients over wet.
Fold it all in with chocolate chips (dusted with some flour).
Pour in liners and bake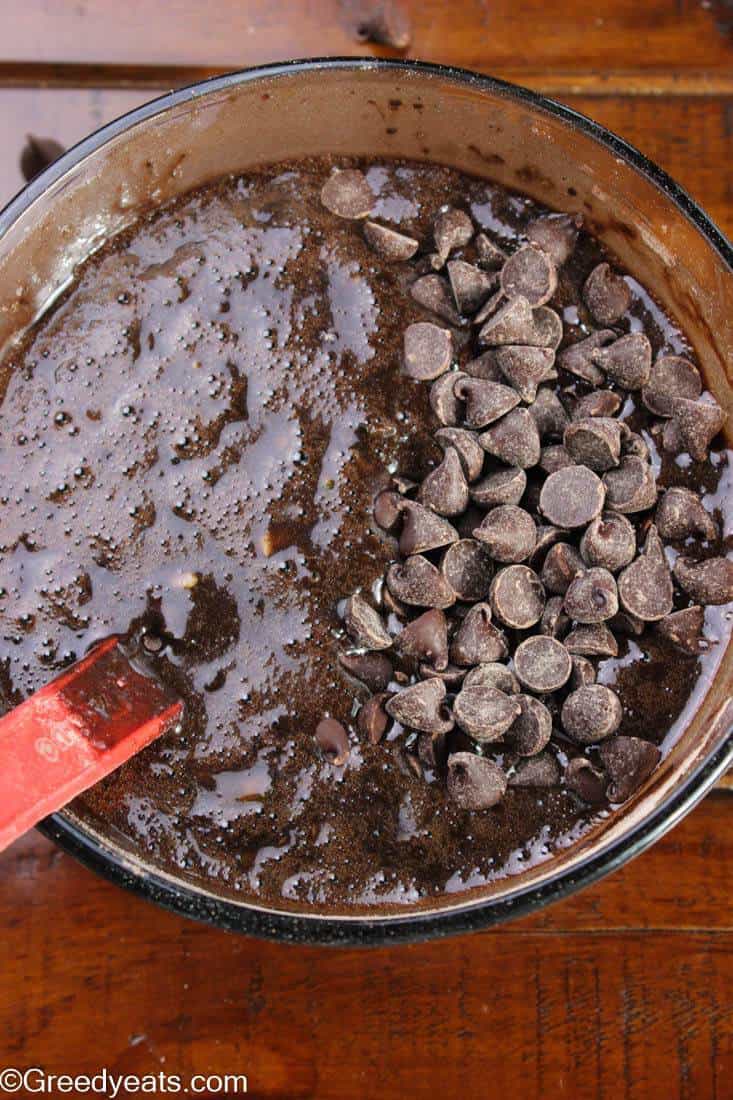 Top with more chocolate chips while the muffins are still warm.
Can you store muffins at room temperature?
Most muffins stay good at room temperature for 2-3 days. If you have leftover zucchini muffins after 2 days, store them in an air tight container in the fridge.
When ready to eat, you may warm one for 30 second in microwave. Muffin will taste like fresh again.
These are truly the best zucchini chocolate chip muffins I have ever made.
And trust me I have tried so many recipes! Double chocolate zucchini muffins with greek yogurt, with sour cream even apple sauce!
But the moisture that extra zucchini imparts to these muffins in unbeatable! 
You will want to eat these chocolate zucchini muffins every morning! Chocolate is the way to begin your day!
If you are more into fruity muffins, check these lemon blueberry muffins here!
Follow me on Pinterest for more such chocolatey updates!
Hungry for more? I got you covered.
Double Chocolate Zucchini Muffins
Moist and decadent double chocolate zucchini muffins dotted with chocolate chips. This is the fluffiest and softest zucchini muffin you'll ever bake!
Print
Pin
Rate
Ingredients
1

cup

All purpose Flour

1/4

cup

Dutch processed cocoa powder

1/2

tsp

Baking Powder

1/4

tsp

Baking Soda

1/8

tsp

Salt

1/2

tsp

Coffee powder

1

large

Egg

1/4

cup

Oil

(such as vegetable/avocado/canola/coconut/olive)

1/4

cup

Granulated sugar

1/4

cup

light Brown sugar

3/4

tsp

Vanilla Extract

3/4 cup + 2 Tbsp

Cup

Lightly packed Zucchini

(removed of excess liquid)

3/4

Cup

Chocolate Chips

lightly coated with flour
Instructions
Preheat oven to 425 deg F and grate your zucchini. Press it in a strainer to drain the excess liquid. Line a muffin pan with 5 liners and set it aside.

In a medium bowl whisk egg, sugars, coffee, vanilla and oil till combined. About 2-3 mins, using a beater.

Now add zucchini to it and mix in lightly.

Sift flour, cocoa, salt, baking powder and baking soda over wet ingredients and fold in only till flour disappears into the batter.

Add in chocolate chips, saving a few to top after the muffins are baked.

Pour batter in the prepared liners, all the way to the top. Leaving just about 1/8th of an inch.

Bake on 425 deg F for 9 mins then keeping the muffins in the oven, reduce the temp down to 350 deg F.

Bake for 7-9 mins or until they pass tooth pick test. Don't open the oven at this point. This will give your muffins a temperature shock and they might sink down a little. Let the heat drop naturally.

Remove from oven after 5 mins. Press the remaining choc-chips and remove them from muffin tin. Cool on wire rack. Enjoy warm!
Notes
Storage Info:
Muffins stay moist and fresh stored in an air tight container for up to 2 days. Store left overs in fridge for up to 5 days.
For longer storage, you can freeze the muffins, covered tightly for 2 months. Thaw overnight in the refrigerator, or on counter top for a few hours before enjoying.
Muffins can be re-heated in microwave till warm, straight out of freezer.
Nutrition