Meet my one of the most favorite chocolate desserts! Soft, decadent and super cute mini chocolate cupcakes. Pile them high with sweetened condensed milk frosting and you are in chocolate heaven!
This has been my favorite chocolate cupcake recipe since a long time. It produces the most perfect, fluffy and moist chocolate cupcake you will ever taste.
And this Chocolate frosting? Omg wait till you discover the ingredients in this frosting! Sink your teeth into it and you will be a fan!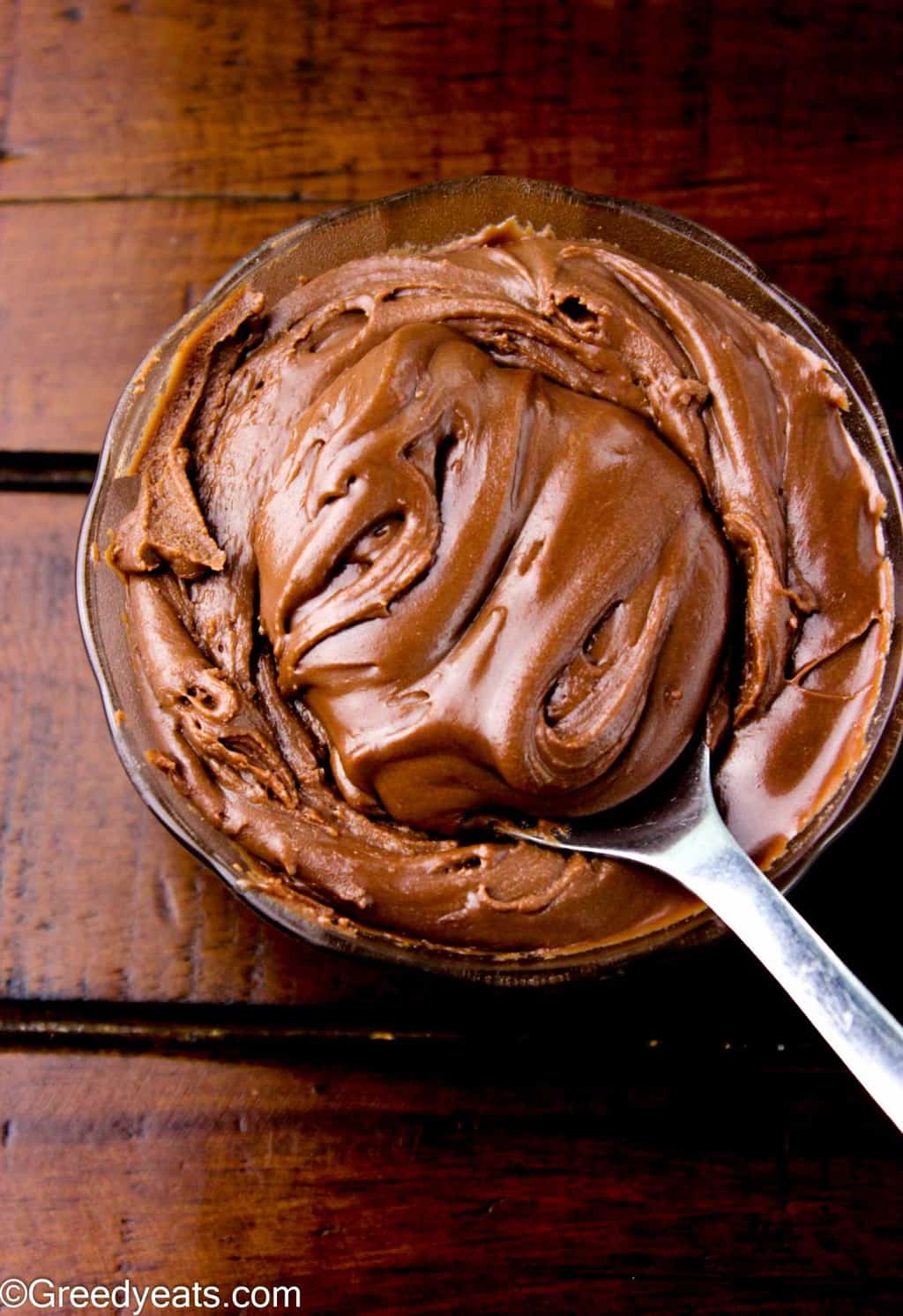 So creamy, rich and fluffy. Yet perfectly pipeable frosting and such a breeze to make! Can you ask for more?
Mini Chocolate Cupcake recipe
Made with simple ingredients and no special equipments. Heck you won't even need to break out a mixer for these cupcakes.
Oh and not even for the frosting (more on that in a minute!).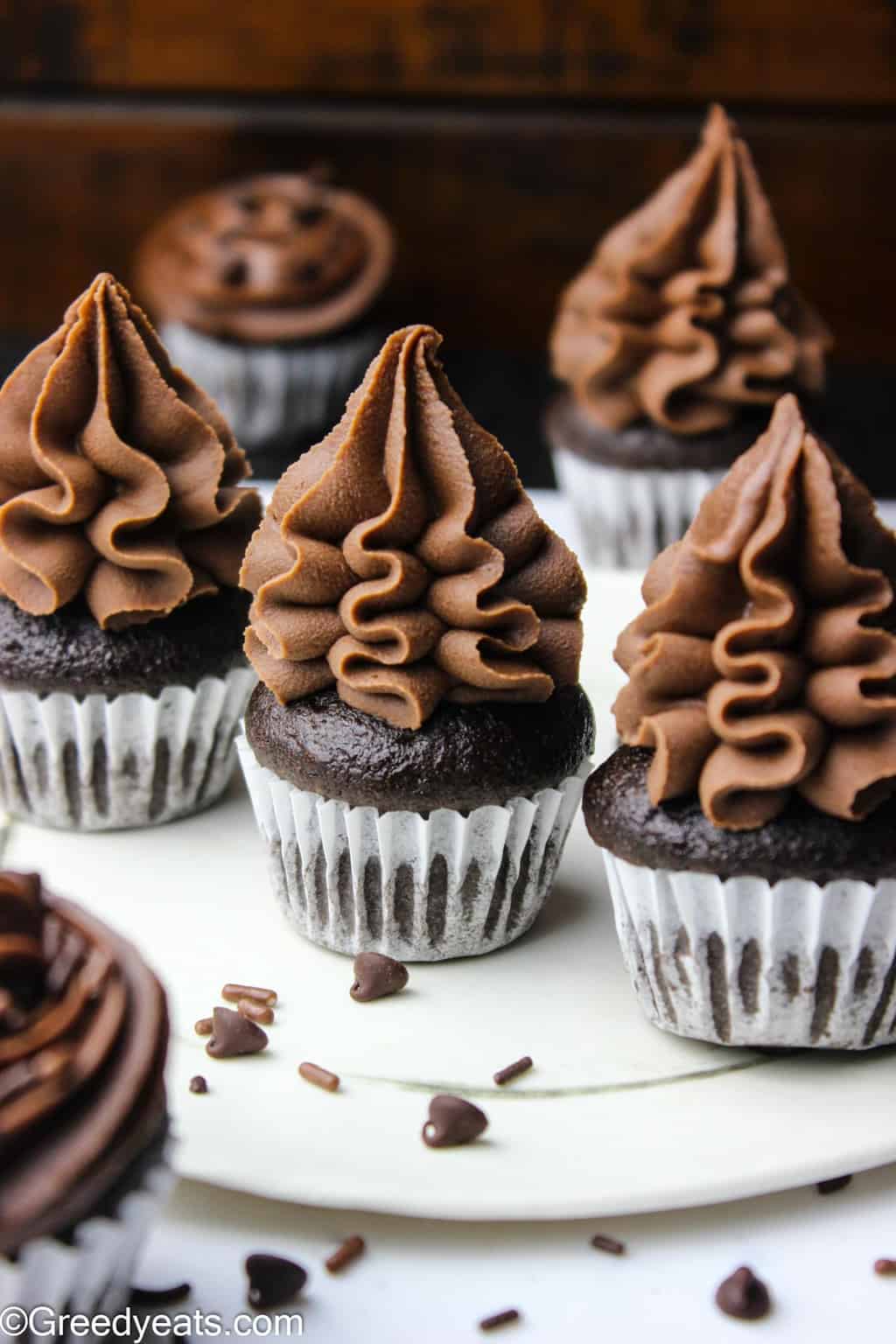 Mini chocolate cupcake recipe Ingredients
For making these easy chocolate cupcakes you will require:
Unsweetened natural cocoa powder (not dutch processed).
Granulated sugar and Light brown sugar (for extra moistness)
Leaveners and egg for lift, salt and vanilla for flavor and oil as fat
Also flour and buttermilk to make the batter
How to make mini chocolate cupcakes
Add all your wet ingredients in a mixing bowl and whisk them to combine.
Next sift in dry ingredient over wet. (That way you will only use one bowl to make your cupcakes. 😉
Fold them till the flour disappears in the batter.
Pour in prepared liners and bake.
Chocolate frosting ingredients
For making the chocolate frosting you will need:
A can of sweetened condensed milk
Some baking chocolate
A pinch of salt
And a teaspoon of natural cocoa powder (optional, if you wish to make a sturdy frosting)
Frosting made with Eagle Brand's Sweetened Condensed Milk and chocolate is cooked on stove top till it thickens. Cool it down and it is ready to be piped. Now this frosting pipes well on its own.
But if you want it to be sturdy and hold its shape better, add a tiny bit of cocoa powder to it and you are gold!
FAQs and tips for the Best Chocolate Cupcakes
Do mini cupcakes need liners?
Short answer is yes they do. For easy cleaning, better handling and hygiene. This way your pans will retain their non stick finish for a longer period.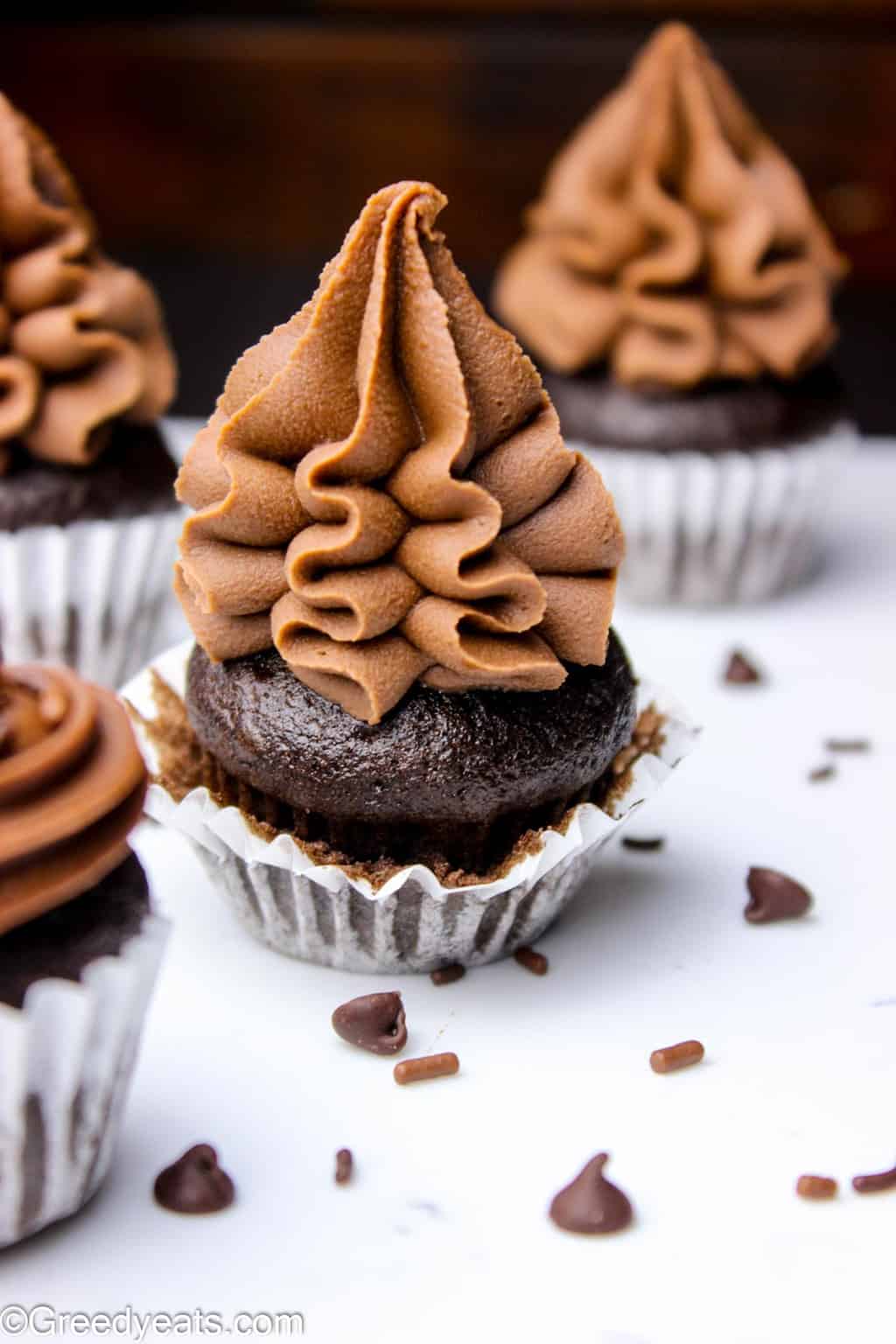 How full should I fill mini cupcake liners?
I'd say no more than ⅔ of the liners. Any more batter and the cupcakes will spread far too much to yield flattened and crunchy tops.
Why do my cupcakes deflate?
Over beating the batter
Baking the cupcakes in too hot oven
Opening the oven door while the cupcakes are baking
What is the cooking time for min cupcakes?
I'd say anywhere between 11-14 minutes. Or until they pass tooth pick test. It will never be more than 15 minutes.
How do you keep mini cupcakes moist?
Firstly by not over baking them. As the cupcakes are M-I-N-I, they take very less time to bake. So keep a close eye on them after 10 mns.
Secondly, always keep the cupcakes covered tightly. Frosted and unfrosted both!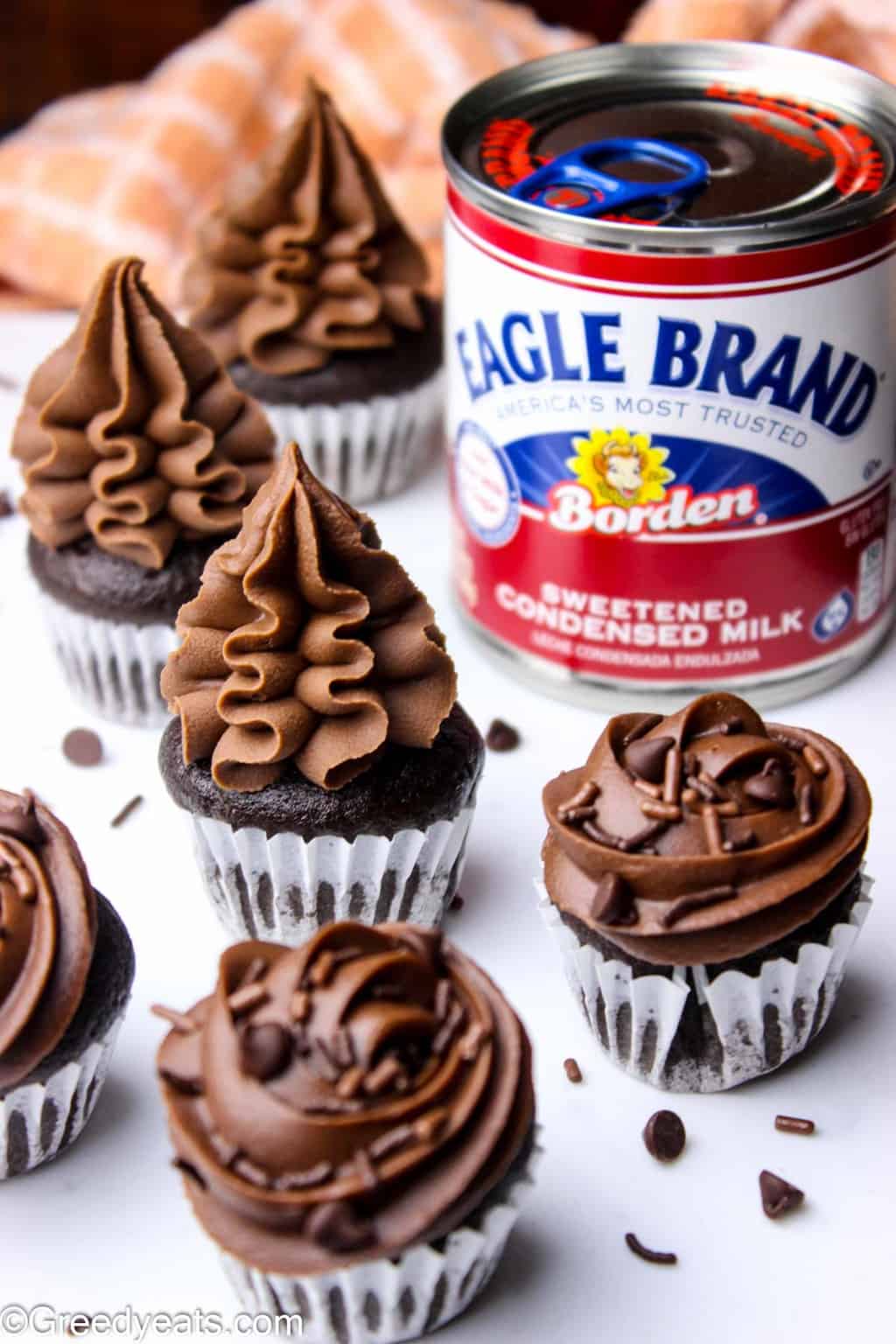 I am working with Eagle Brand's Sweetened Condensed Milk to bring you today's recipe. All the opinions stated here are my own!
Follow me on Facebook for more such cupcake updates on Greedyeats!
You obviously love chocolate, so give my chocolate bundt cake recipe a go!
And this giant cookie right here, hides a brownie inside!
You will easily flip for my MEGA thick and chewy choc-chip cookies!
Find many more easy and approachable desserts recipes here!
Recipe