Flavorsome  and moist Orange Poppy seed muffins are on the top of my Blog Menu today!!!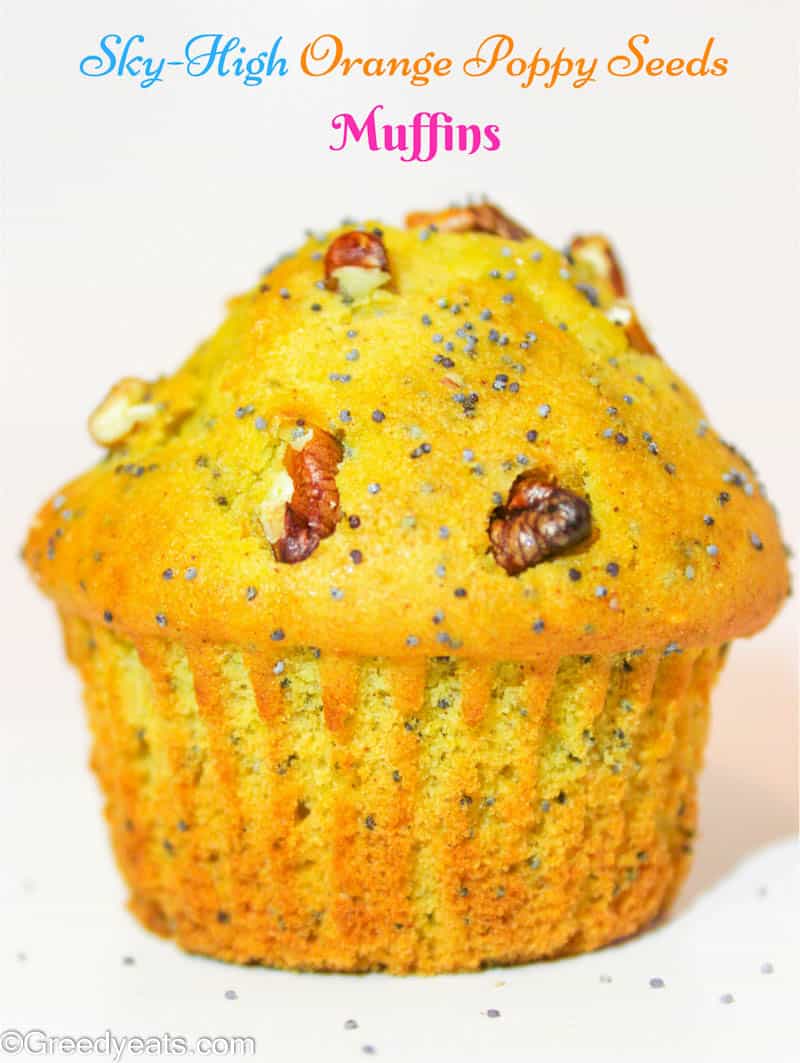 Today is my first post and I am opening the flood gate to dessert adventures. These bright and fruity muffins are bursting with orange flavor. And the occasional crunch from teeny-weeny poppy seeds is all you need to brighten up a dull winter morning.
What hides in Moist Orange poppy seed Muffins
My Orange and Poppy seed muffins are packed with bright orange zest and vanilla-A match made in heaven! Oil imparts ton of moisture to the muffins as opposed to butter.
I have also added butter extract to these muffins to give them that buttery taste without any added fat butter.Hell ya! No flavor compro here at all for that slim waistline. Also, this lightens up the muffins considerably.
Oil/butter to make moist orange poppy seed muffins
Now that you are convinced we can add oil in our muffins, let it be a good one? Yeah? How about some coconut oil? It has numerous health benefits which you can find here. Plus it is flavorless.
You aren't going to taste any coconut in the muffins, I promise. However if saturated fats aren't your concern, feel absolutely free to substitute oil with melted butter.
You will be sure that you are gonna make some magic as that fruity orange scented batter comes together. Your kitchen will smell like a basket of fresh oranges as these tiny-mountains like muffins bake.
Making the Orange Glaze
I have added some vanilla extract and orange zest to the glaze. You need this in your glaze too. For that little extra flavor kick, Oh and also for some natural orange color!!! You see, Sugar and Orange juice when mixed together are pretty dull to taste on their own. Does this ever bother you? I share your pain. I loathe that dull taste just as much as you do.
And to worsen things up, right after an hour or two, the glaze solidifies to a lumpy-bumpy-sugary mass. Also that little juice added, evaporates somewhere in the thin air. What a waste of effort having to eat little rocks of sugar that sit on your soft muffins!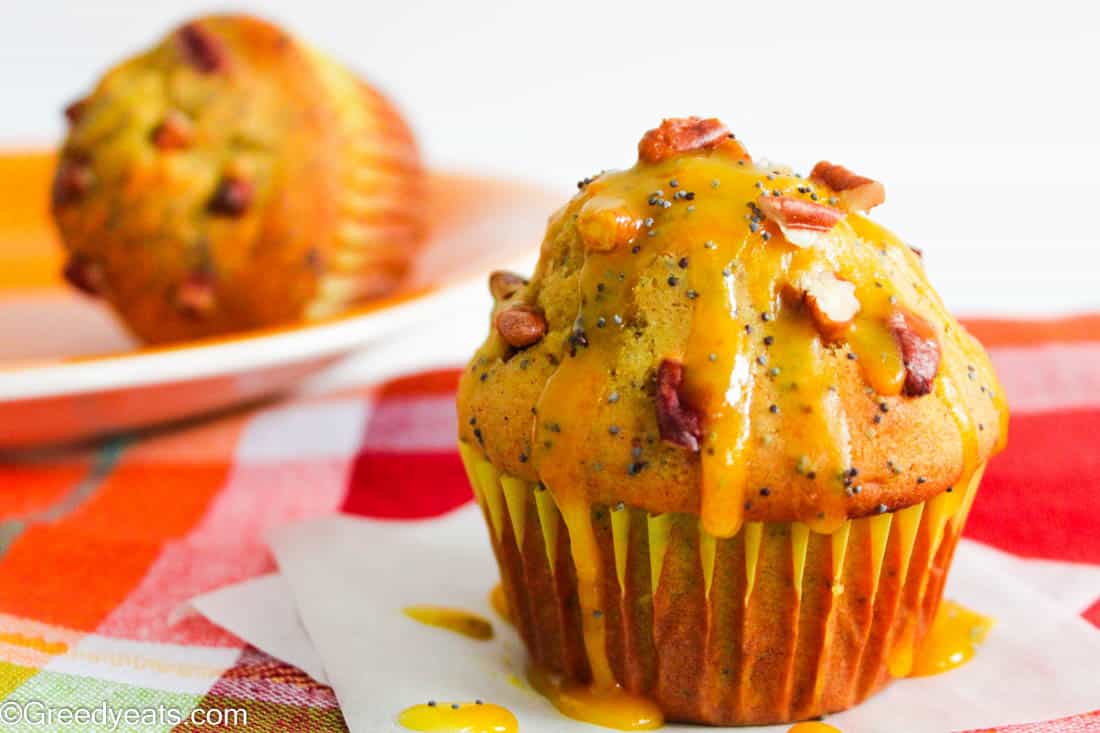 Orange and vanilla glaze for muffins
The vanilla-zest duo got you covered. It magnifies the traditional taste of orange glaze tenfold. Try it and rediscover for yourself. 😉
If you wish to make the glaze a little more viscous, feel free to add a teaspoon or two of confectioners sugar additionally. I repeat, add vanilla extract and orange zest to the glaze and you are gold! This is the only glaze your orange muffins desire.
I welcome all the bakers out there to indulge in some heart-warming bakes like these. And for those who don't bake, well have someone bake it for you! Now isn't a pleased tummy the only destination of any dessert, regardless of who bakes it? 😉 So, what do you wait for!
Moist orange Poppy Seed Muffins with a perfect Muffin Mushroom Top. 😀 ⇓ ⇓ ⇓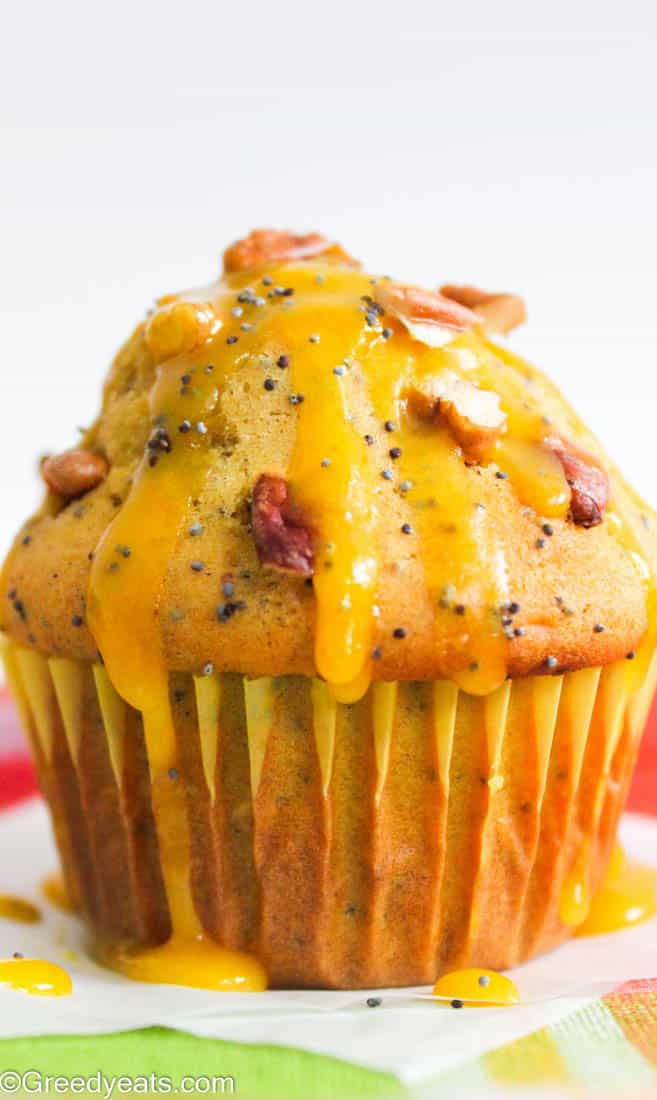 Can I substitute poppy seeds for chia seeds?
Yes you can. I'd suggest 1 to 1 Substitution if you are out of poppy seeds.
How many calories in an orange and poppy seed muffins?
There are 233 calories in my orange and poppy seed muffins. These will vary according to what you prefer to add as fat (butter/oil) in your breakfast muffins.
This citrus flavored, warm and moist Orange Poppy Seed Muffin with drippy-gooey and sweet Orange Glaze is the only treat your chilly mornings cry for!
Hungry for more muffins? Check them out here.
Recipe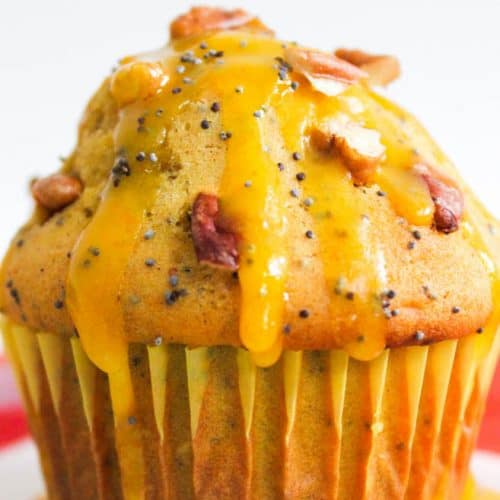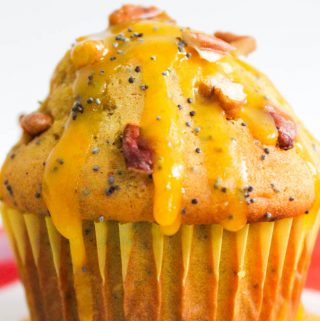 Moist Orange Poppy Seed Muffins
Moist and flavor packed moist Orange and poppy seed muffins are on the top of my blog menu today!
Print
Pin
Rate
Ingredients
1 cup+2 tbsp

All purpose flour

4.5 tbsp

Sugar

3 tbsp

Egg

(1 medium)

4 tbsp

Yogurt/Curd

4 tbsp

Coconut Oil

1.5 tbsp

Poppy Seeds

1 tsp

Baking Powder

¼ tsp

Baking Soda

1 tbsp

Orange Zest

3 tbsp

Fresh Orange juice

¼ tsp

Salt

½ tsp

Vanilla Extract

¼ tsp

Butter Extract
For the Orange Glaze:
1 tbsp

Orange juice

6 tbsp

Confectioners' sugar

1-2 tsp

Heavy cream or milk

½ tsp

Orange zest

½ tsp

Vanilla extract
Instructions
1. Preheat your oven to 420°F (215°C). Line a muffin pan with 6 liners.

2. Sift the all purpose flour with baking powder and baking soda twice and set aside.

3. Whisk egg and sugar in a large bowl with a whisk or hand-held beater until pale and fluffy. About 2 minutes. Whisk in melted coconut oil. Add yogurt, salt, poppy seeds, vanilla and butter extract to the mixture. Also mix orange juice and zest in the wet ingredients. Combine everything well.

4. Pour dry ingredients in the wet mix and combine with gentle hands using a spatula. Mix in only till the dry lumps of flour disappear. Take extreme care not to over-mix the batter as muffin batter is going to be very thick (And over doing the batter will result into hard muffins).

5. Divide the batter equally into 6 liners. This batter will be sufficient to almost cover the brim of muffin liners. Sprinkle with more poppy seeds if desired (optional).

6. Bake orange muffins for 7 minutes at 420°F (215°C) and then lower the temperature to 350°F(176°C) for 10-12 minutes or until a toothpick inserted in the middle of the muffin comes out clean.

7. Let your muffins cool slightly down in the pan for 5-10 minutes. Cool them down further on a wire stand. 
Making the Orange Glaze:
1. Mix all the ingredients together till incorporated. Add a little more cream if you prefer a thinner glaze.

2. Drizzle on cooled muffins. Enjoy!
Notes
• I have topped my muffins with walnut chunks for the added texture and appearance. You may add or leave them out if not desired.
• Full fat and non-fat yogurt works equally well in these muffins.
You may leave out butter extract completely if unavailable. Replace with the exact amount of vanilla extract.
This recipe is very versatile in terms of the fat utilized. You may use vegetable oil, canola oil, avocado oil or any other non-flavored oil, even melted unsalted butter instead of coconut oil to suit your preference and availability.
STORING INFORMATION
The muffins stay fresh at room temperature for 3 days in an air tight container. For up to 7 days when stored in the fridge from the day you bake them.
You could freeze the glazed or non glazed muffins for 2 months (again in air tight bags/containers) and thaw them for 7-8 hours in the fridge.
You could also grab 1 or 2 straightaway from the freezer and microwave them with 30 second increments to your need.
Nutrition
BONUS: Now your muffins don't need to sit in your freezers and occupy extra space. You can always make them fresh using these small size serving recipes. To make these muffins in smaller quantities, please refer the table below. Enjoy!
Orange Poppy seed Muffins Small Serving Recipe

INGREDIENTS
TREAT YOURSELF

(For 2 muffins)
FAMILY FIRST

(For 4 muffins)
All purpose flour
6 tbsp
¾ cup
Sugar
1 ½ tbsp
3 tbsp
Egg
1 tbsp
2 tbsp
Yogurt
1 tbsp+1tsp
2.5 tbsp
Coconut oil
1 tbsp+1tsp
2.5 tbsp
Poppy seeds
½ tbsp
1 tbsp
Baking powder
¼ teaspoon (heaping)
½ tsp
Baking soda
⅛ teaspoon (a pinch)
¼ tsp
Orange zest
1 tsp
1 tsp
Fresh Orange juice
1 tbsp
2 tbsp
Salt
1/16 teaspoon (a small pinch)
⅛ tsp
Vanilla extract
⅛ teaspoon (heaping)
¼ tsp
Butter extract
1/16 teaspoon (5-6 drops)
⅛ tsp
FOR THE GLAZE
Orange juice
1 tsp
2 tsp
Confectioner's sugar
2 tbsp
4 tbsp
Heavy Cream or Milk
½ to 1 tsp
1 to ½ tsp
Orange zest
⅛ tsp
¼ tsp
Vanilla extract
⅛ tsp
¼ tsp
RECIPE NOTES FOR SMALL SERVING SIZES
• Oven temperature, instructions and baking time are same for all the three recipes of orange muffins. Bake these for 7 minutes at 420°F (215°C) and then lower the temperature to 350°F(176°C) for 10-12 minutes or until a toothpick inserted in the middle of the muffin comes out clean.
• To measure egg: break an egg, whisk it and measure 1 or 2 tablespoon out of it (as the recipe calls).