Super moist and fluffy strawberry bundt cake with a thick, flavor packed and pretty strawberry swirl hidden inside!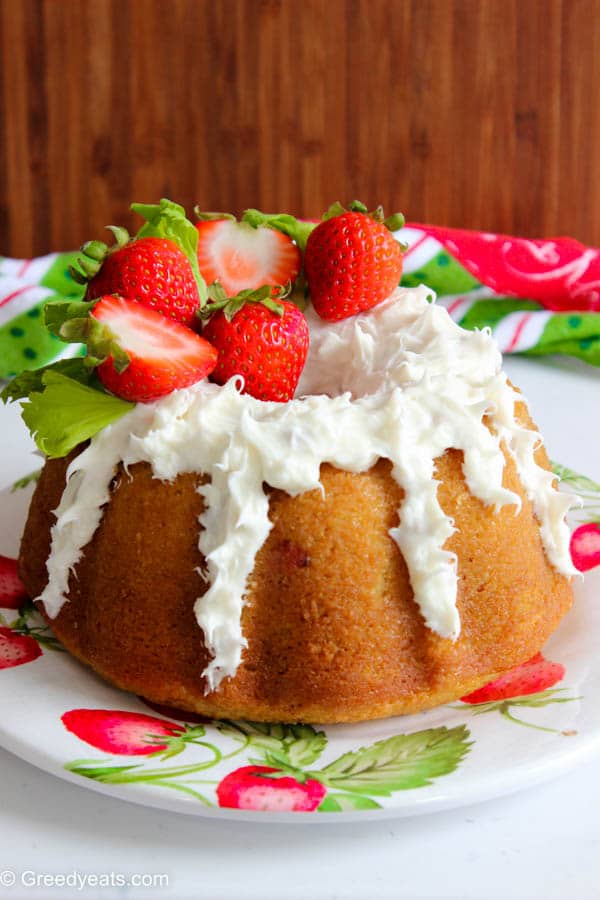 Another strawberry bundt cake recipe before we officially welcome fall! Need to put as many strawberries in our cakes as we can. Can't believe summer is almost ready to wrap itself up!
I can already feel fall in the chill of air. It's gonna be pumpkin time soon again! Yay!!! Tell me you too are a heavy pumpkin eater baker. Heavier than the largest pumpkin ever known! What? Are you not???
If you ask me about how I adore pumpkins. I baked and shot 5 pumpkin recipes in a matter of two short days. Told ya, I love pumpkins!!!
Okay but first, strawberry bundt cake. More specifically strawberry S-w-I-r-L-e-D bundt cake. Thick, sweet strawberry flavored swirl hiding inside a buttery, fluffy and not so dense bundt cake! Oh-so-delicious. My mouth is already watering!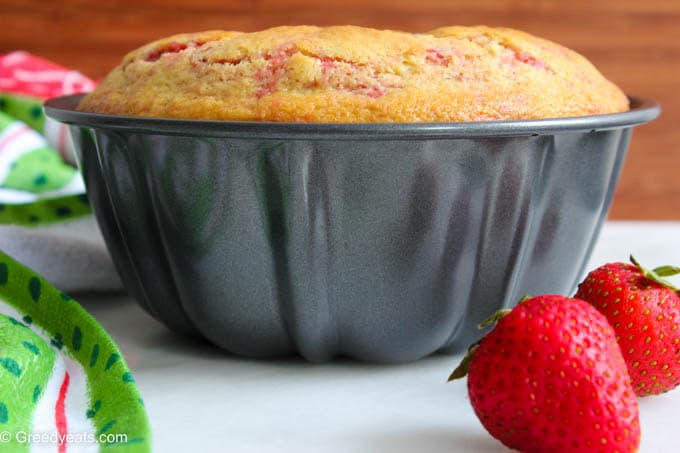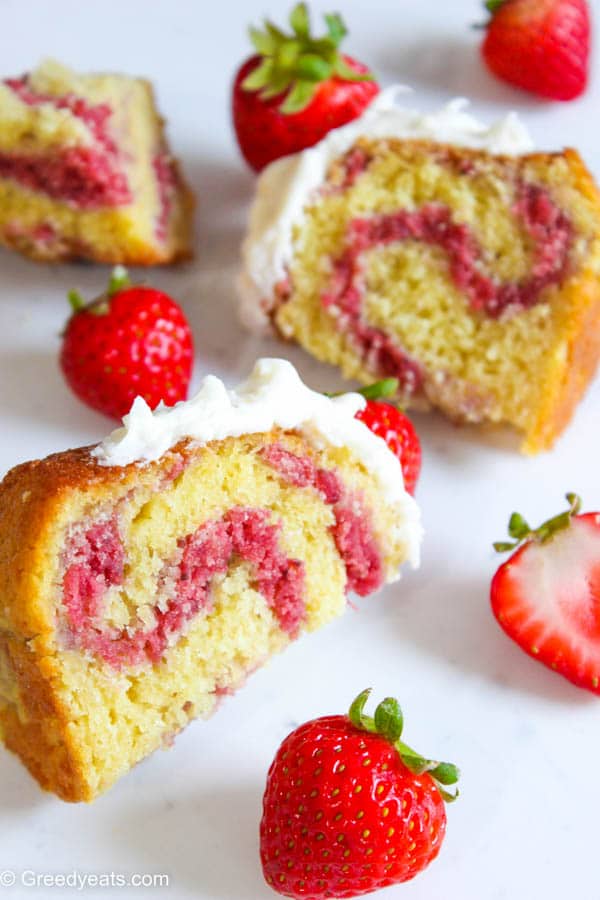 Strawberry bundt cake swirl
Did you check that swirl out? So neat, swirly and full of juicy strawberry flavor!
It didn't come out like this at all in my first try. I desired maximum strawberry flavor and numerous swirls like this in my cake. Now is it too much to ask for?
And in my quest I ended up using more strawberry batter swirls in that first try.
Result?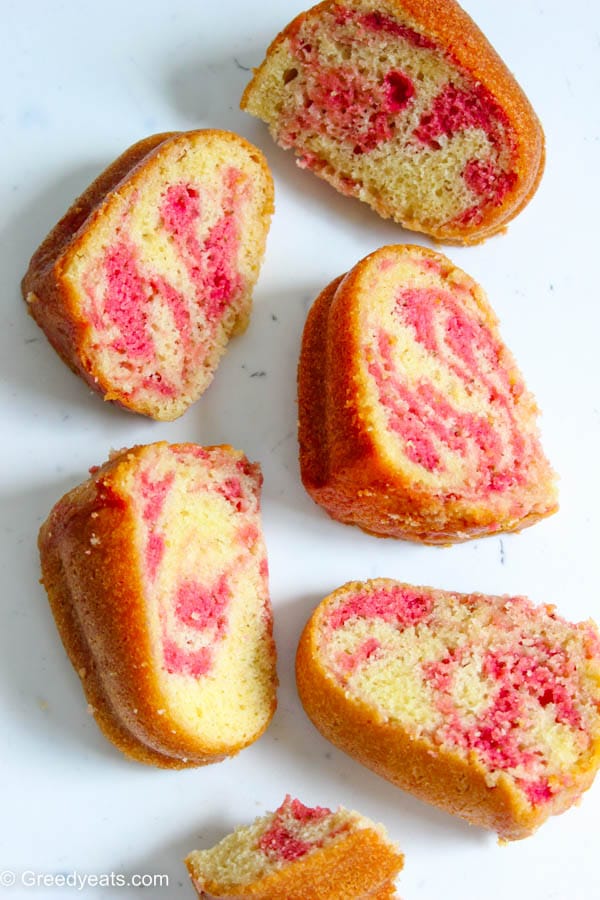 Strawberry packed, moist, fluffy and flavorsome bake. But the swirls? Not so neat. Still amazing to taste. ⇑
But I could not stop here. I mean how could I! I only wanted that thick perfect strawberry swirl of my dreams. Without any compro on the flavor of-course!
So, I reduced the strawberry jam and did only two strawberry swirls in the whole cake. Like this:
Layering vanilla batter
Strawberry batter
More vanilla batter
Then, I layered the remaining strawberry batter like so ↓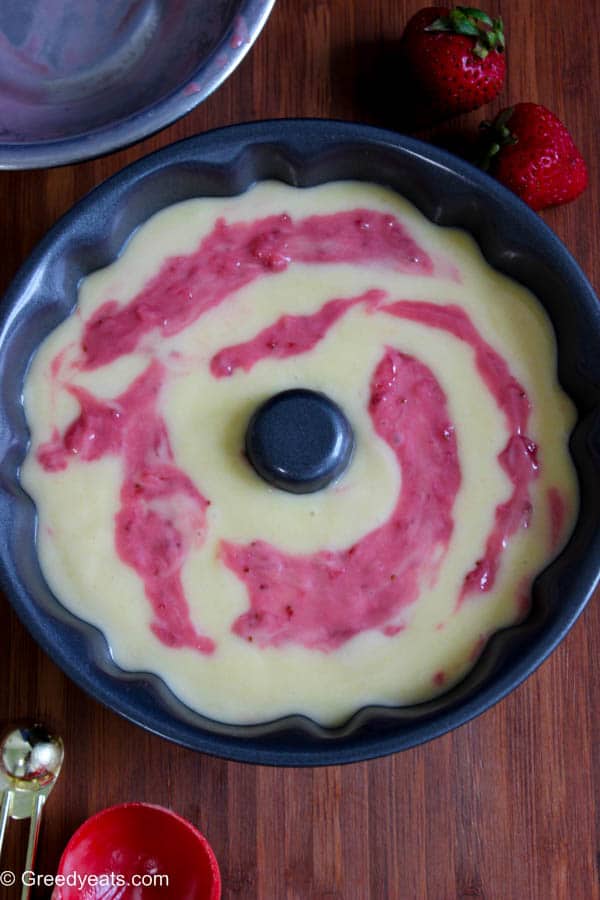 And finally poured the remaining vanilla batter. And bake. Believe me it is really this easy!
Speaking of which you don't even need to cream your butter and sugar. Super heavy, dense and a ton of creamed butter recipes move aside! Make room for a light, fluffy, buttery, swirly-twirly and super easy strawberry bundt cake. No mixers required!
Did you notice how up it rose? Look up! ⇑♥⇑♥⇑ That's how light this bundt cake is! Now if you are looking for a richer, denser and a pound cake like bundt with a ton of pretty swirls try my small batch berry swirled vanilla pound cake instead.
Love fruity cakes? Then trying this readers' fave peach-berry crumb cake is a must!
Recipe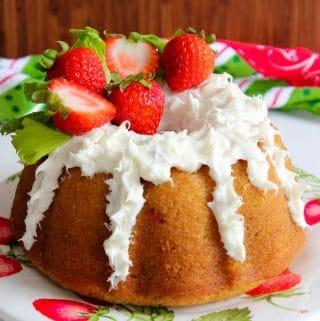 Strawberry bundt cake with swirl
Super moist, buttery and fluffy strawberry bundt cake with a thick, flavor packed and pretty strawberry swirl hidden inside!
Print
Pin
Rate
Ingredients
1 ½ Cup

All purpose flour

½ tsp

Baking soda (heaping)

2 ¼ tsp

Baking powder

⅛ tsp

Salt

½ Cup + 1 tablespoon

Granulated sugar

¾ Cup

Buttermilk

(6 Tbsps)2

Eggs (medium)

3 Tbsp

Butter melted

1 ½ tsp

Vanilla extract

1 ½ Tbsp

Strawberry Jam/preserves

2 Drops

Pink food coloring (optional)

½ Cup

Vanilla buttercream frosting
Instructions
1. Preheat your oven to 350°F (177°C) and grease/spray a 6 inches bundt pan with butter/oil.

2. Sift flour, baking soda, baking powder and salt together. Set aside.

3. In a mixing bowl whisk together buttermilk, eggs and sugar till combined. Remember to use everything room temperature only. Now beat in your melted butter, vanilla in the mix.

4. Slowly incorporate all the dry ingredients into wet and fold only till flour dissappears.

5.

Take about 3 tablespoons of batter out and add strawberry jam to it. Mix two drops of food coloring (if adding). Layer ⅓ of the vanilla batter first, then a strawberry batter layer, ⅓ of vanilla batter next, all the remaining strawberry batter (as shown in the pic) and finally the remaining vanilla batter.

6. Bake it for about 35-40 minutes. The cake is ready when it passes tooth pick test. Take care not to over bake this one. Cool it for 10-15 minutes in the bundt pan. Cool down further on a wire rack before frosting.
Notes
I frosted my cake with buttercream to look like a glaze topping. Then I created those little spikes using a tooth-pick.
You can frost the cake into your desired patterns. Or cover this cake with a vanilla glaze. So good! 
Nutrition
This recipe is slightly adapted from the quotable kitchen.