Skip that sugary coffee crumb cake from bakery this weekend and bake your own. A coffee cake that is so buttery yet very moist and light!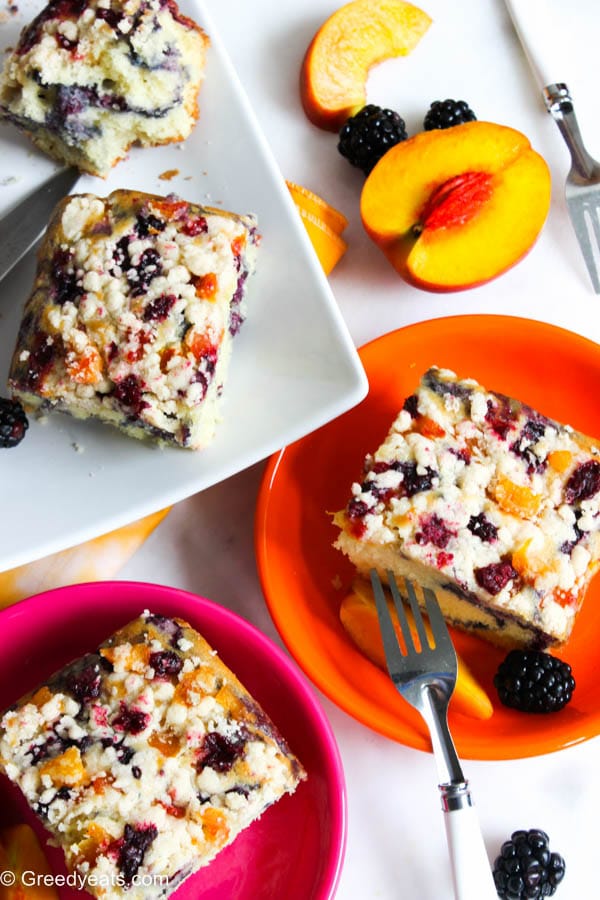 It's june 28th already? Where did this month go? I didn't even blink. I am trying so hard to balance my life between regular dessert intake routine (trying not to eat all that I bake) and working out! Food blogging demands great willpower. Why did not someone warn me before I opened a dessert blog!
I mean, how can you save yourself from eating a bite slice, when you almost cut it with fork to click this shot? ↓ ↓ ↓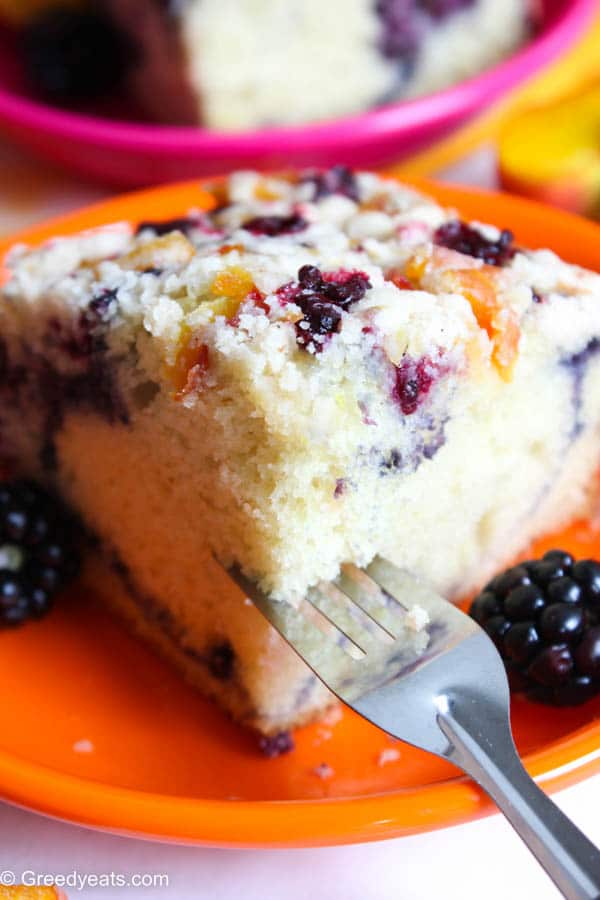 A cake that is so moist, so tender, so soft and light. Gobbled it all right after I snapped this shot! You would too. No? Can't blame dessert lovers. Not when this high rising, fruit filled crumb cake is on the menu!
What makes this coffee crumb cake rise so tall?
This fruity crumb coffee cake recipe is super balanced with the ratios of liquid to flour. And just the right amount of leavening agents to produced a tall and heightened cake. A pleasure to sight. Don't be alarmed if the batter seems a little too less. It is gonna rise up, up and up as it bakes!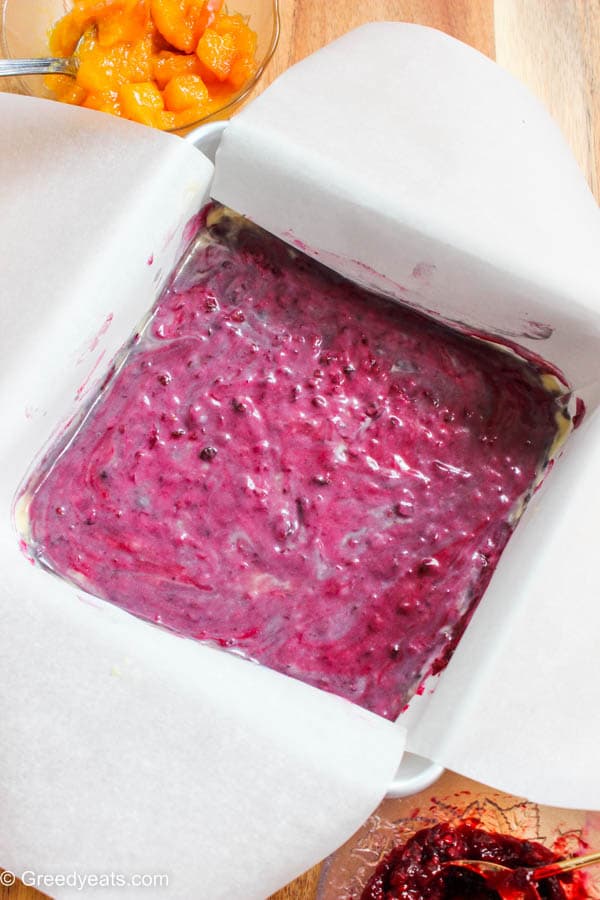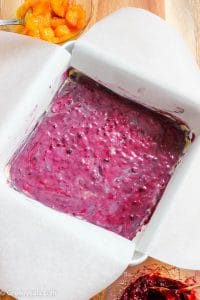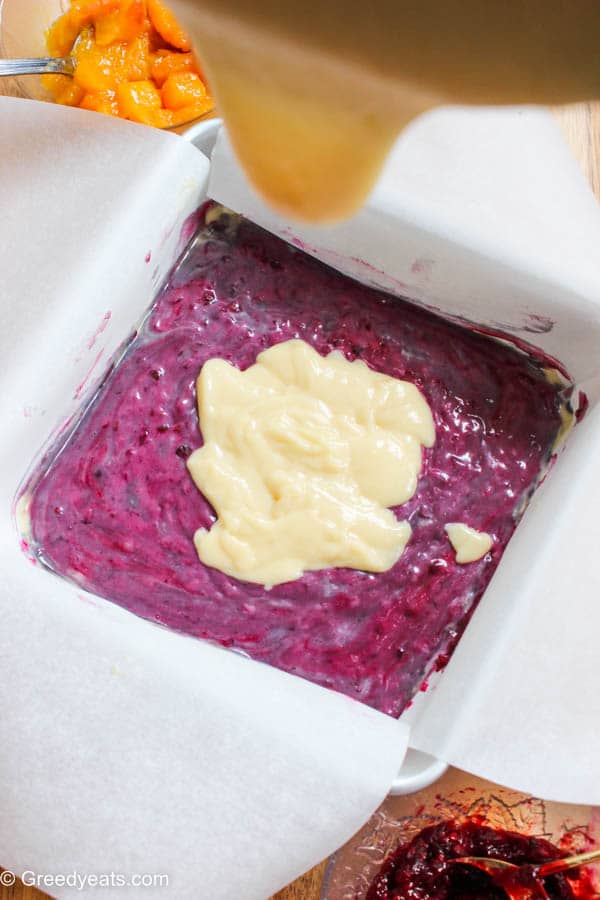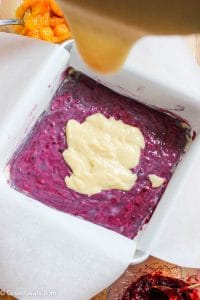 Important highlights to today's recipe
Let us take a minute to thank buttermilk to make this cake luxuriously moist and light. You can also make your DIY version using milk+vinegar or milk+lemon here. Works totally fine.
I don't like to use bigger chunks of fresh fruits in my cake recipes. They usually produce a soggy textured cake if aren't distributed well. Hate that lumpy solid mass of moist flour around those melty fruit inside my bakes! A fluffy, light, tender and fruity all the way is the only kind of cake I crave for.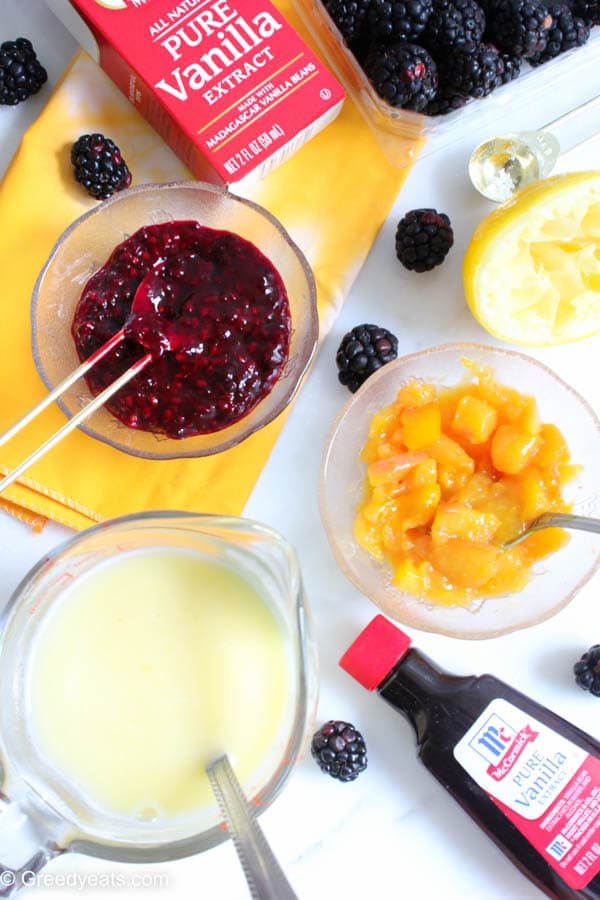 To avoid this, I dice my fruit (about half of an inch), add some lemon, sugar and cornstarch to it. Then reduce it in microwave (in small increments) to evaporate some of the moisture from the fruit.
This step is optional, if you don't mind those large fruity segments. But I highly recommend you try to bake with these reductions once. You'll be hooked. As you can see the fruit is still chunky and is holding itself well. I didn't smash all my berries either!
I layered some of the berry reduction as the second layer of my cake. This way the cake stays extra moist in the center. As coffee cakes turn out very dry sometimes at the bottom. This purple fruity layer in the center will prevent that.
Using room temperature egg and melted butter is crucial in this recipe. They mix really well with the flour when not cold, producing a uniform bake.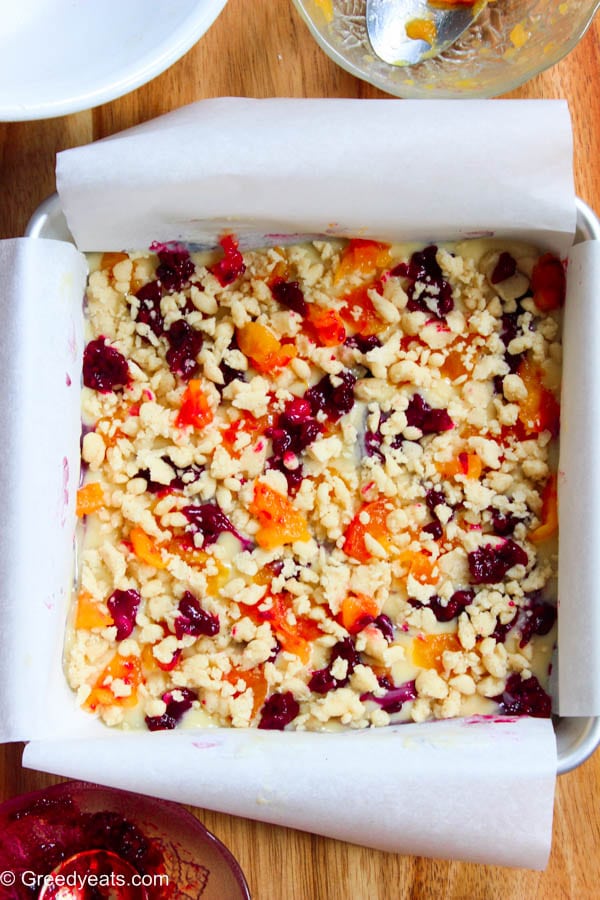 There aren't many ingredients in today's cake recipe. Just our plain old gang of dry ingredients- flour, sugar and leaveners. For wet you will need melted butter, some vanilla, one egg and buttermilk. Super simple to throw together. I still can't believe how such simple ingredients can bake up into something so fluffy and yummy like this!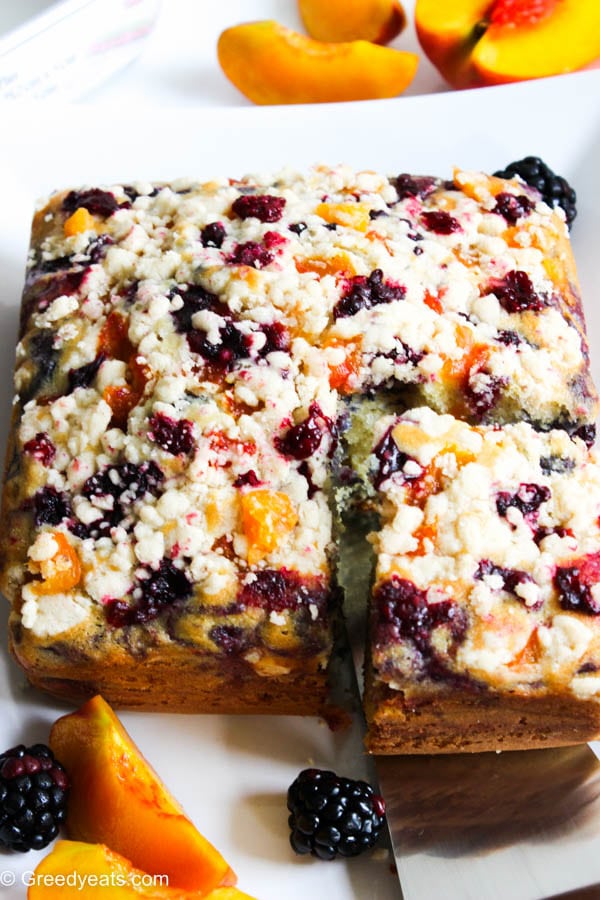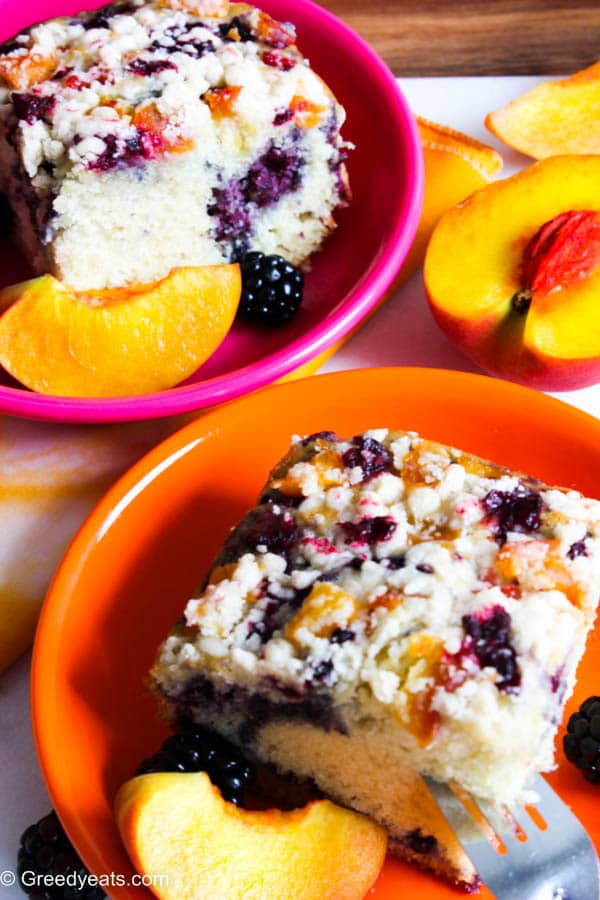 Crumb topping for coffee cake
Now comes the fun part! That pretty and indulgent crumb. The most loved part of any coffee cake. Buttery, rich, fluffy and delicious!
Crumb that is over loaded with moist and flavorful bits of peaches, blackberries, butter and some sugar!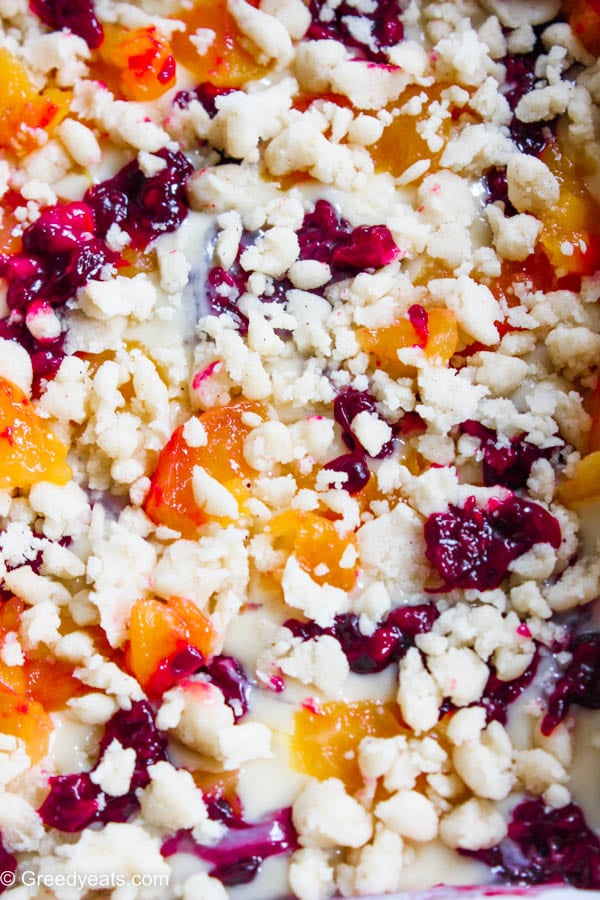 I went for vanilla flavor crumb in this cake with an hint of cinnamon. I did not want cinnamon to kill that fruity flavor. Feel free to increase cinnamon as and if you like. I used granulated sugar in the recipe. You can use light/dark brown sugar if you like a darker baked streusel.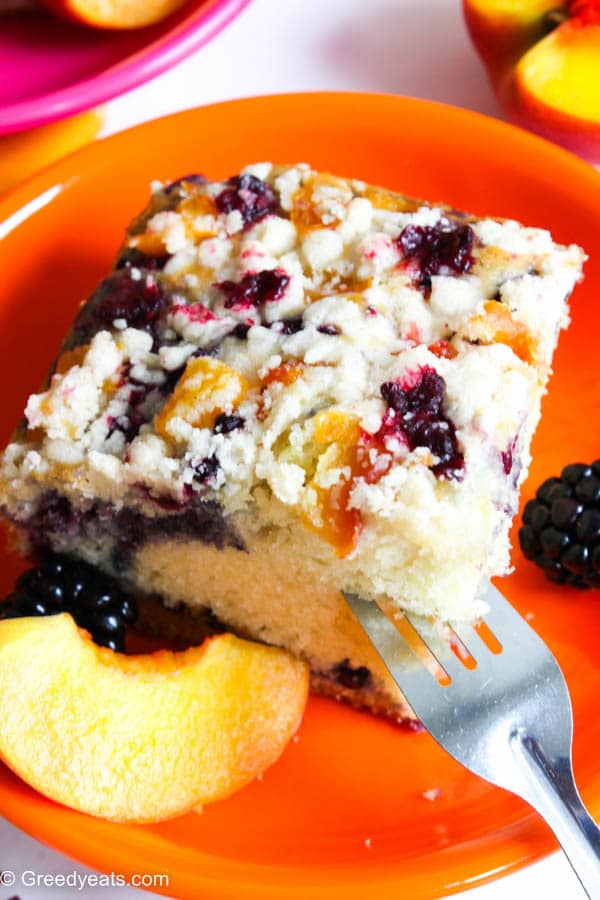 I can't wait for you to bite into this soft, sweet, buttery, peachy and blackberry flavored coffee crumb cake!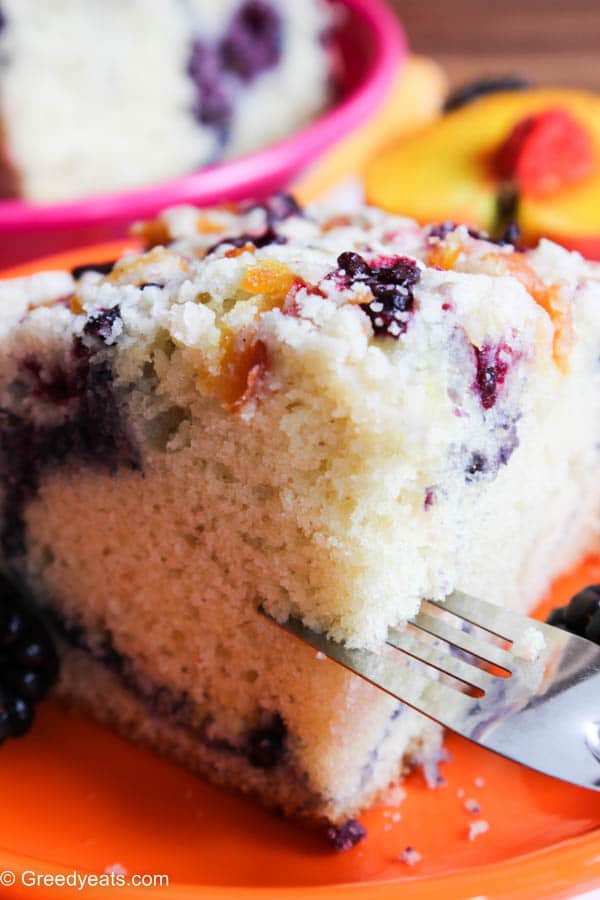 Loved today's coffee crumb cake? Then you will adore some more summer bakes like these. ↓
Blackberries marbled in a sprinkle loaded pound cake.
Want more swirls? Try this berry swirled bundt cake.
Desserts with more fruits? This strawberries loaded loaf got you covered. Not in a mood to bake? How about this no bake fruity layered cake with oreos?
You can never put these cherry filled healthyish chocolate muffins down. I dare ya!
Recipe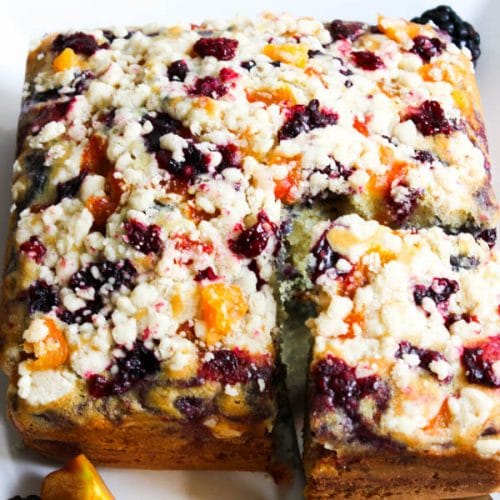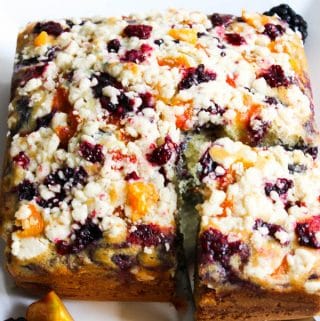 Peach and berry coffee crumb cake
Skip that sugary coffee crumb cake from bakery this weekend and bake your own. This cake is so buttery yet very moist and light!
Print
Pin
Rate
Ingredients
1 Cup (125 gms)

All purpose flour

6 Tbsp

Sugar

1 ½ tsp

Baking powder

¼ tsp

Baking soda

⅛ tsp

Salt

2 Tbsp

Butter (melted)

1 large

egg

½ Cup

Buttermilk

¾ tsp

Vanilla
For the crumb topping:
2 Tbsp

All purpose flour

1 Tbsp

Sugar

1 Tbsp

Melted butter

¼ tsp

Vanilla

A generous pinch

Cinnamon
For peach reduction:
⅔ Cup

diced fresh/canned peaches

1 tablespoon

water

1 tsp

Cornstarch

1 Tbsp

Sugar

7-8 drops

Lemon juice
For berry reduction:
⅔ Cup

Fresh/frozen Blackberries

1 Tbsp

Water

1 tsp

Cornstarch

1 Tbsp

Sugar

7-8 drops

Lemon juice
Instructions
1. For the fruit reduction:

a. Mix peaches, cornstarch, water, lemon juice and sugar together in a bowl and microwave in small increments till they are slightly thickened.

b. Do the same with berries in a separate bowl. I leave a few of my berries whole.

2. For the crumb topping:

Mix all the topping ingredients together till these are well combined and a crumbly mixture forms.

3. Cake:

a. Preheat your oven to 350 deg F and line a 6 inches square cake tin with parchment paper overhanging on the side (for easy removal of the cake) and set it aside.

b. Sift flour, baking powder, baking soda and salt together in a medium mixing bowl. Mix well egg, sugar, melted butter, vanilla and butter milk together. I do it in a liquid measuring cup.

c. Pour the wet ingredients over dry ones and fold until combined.

d. Layer the pre-lined tin with half of cake mixture. Make second layer using half of the blackberry reduction. Pour the remaining batter in pan. Top the batter with peach reduction, crumb topping and blackberry reduction. Bake for 25-35 minutes. Or until the cake is baked well and springs back when touched in its center.

e. Let it cool down a bit and take out of the pan using over hangs and cool down further on a wire stand.
Notes
You can triple this recipe at ease and bake in a 9 by 13 baking pan. Baking time should be somewhere between 30-40 minutes.
Nutrition