Tall and soft, flaky and buttery, infused with fresh herbs and garlic Cheddar Cheese Biscuits Recipe! They are ready in 20 minutes tops.
If you love sides as much as I do, you will love these Easy Dinner Rolls or these Readers' Fave Jalapeno Biscuits!! Check out all my Thanksgiving recipes for your next feast!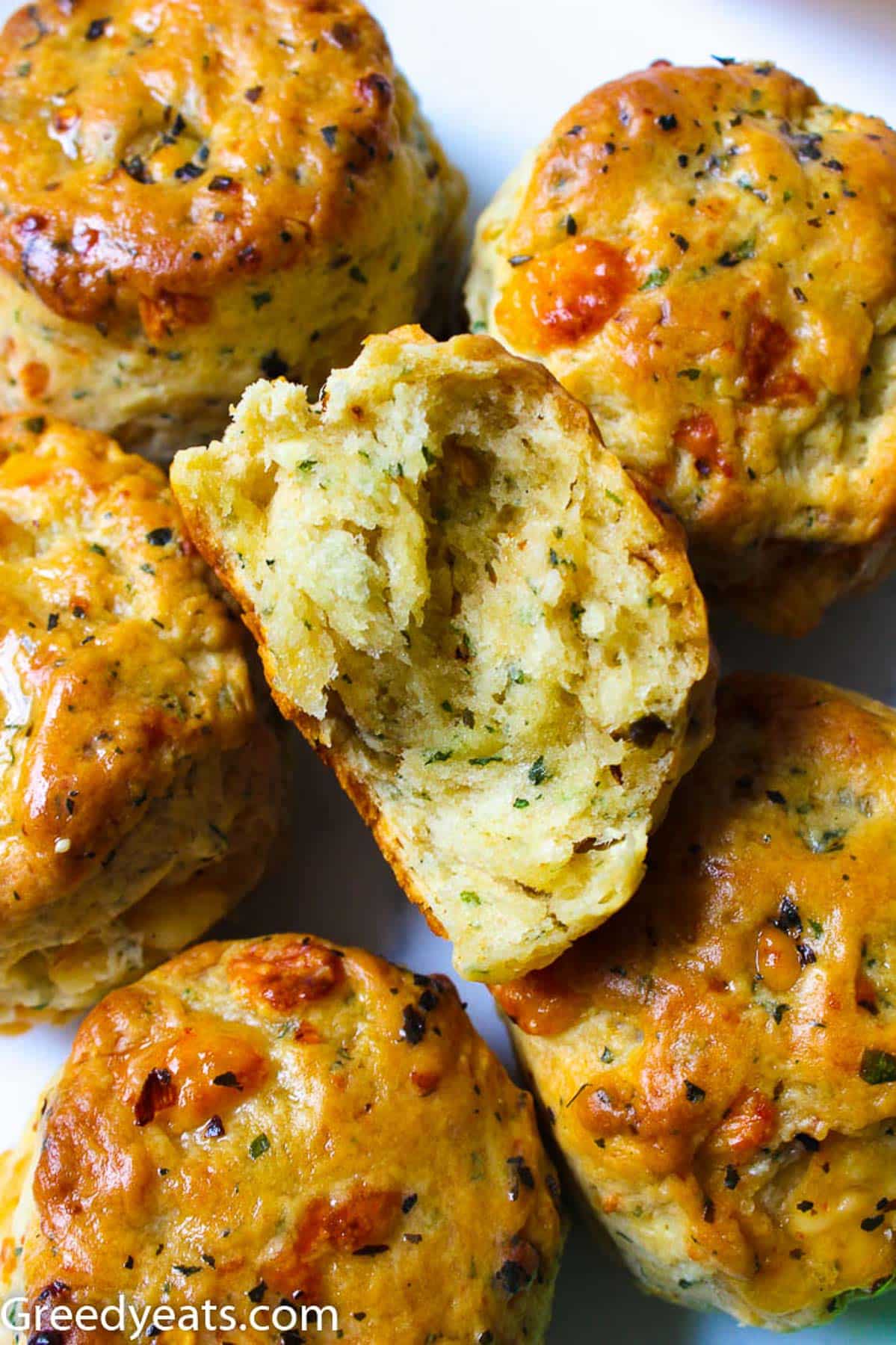 Sides are undeniably THE BEST things to ever happen to feasts! I mean who cares for the main course when you can have super flaky and flavor rich buttermilk biscuits instead. 😉
Jump to:
Biscuits that hide about a bazillion of buttery and flaky layers inside! Infused with fresh garlic, fresh parsley and red chili flakes. Oh! and dotted with melty cheddar throughout. Those perfectly golden brown and crisp exteriors. Now I need to warm one right away!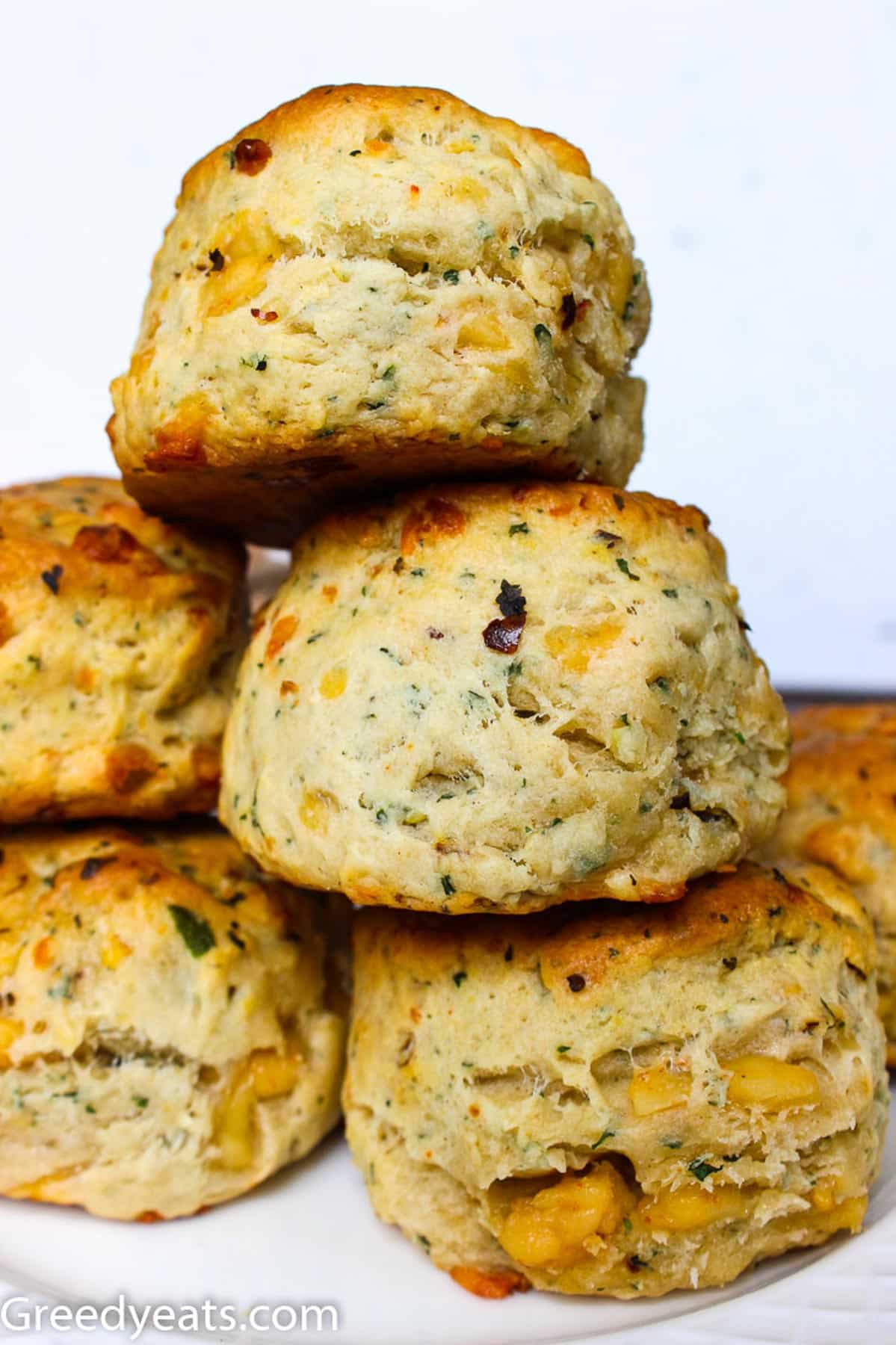 What is cheese biscuit made of?
There are only 6 ingredients required to form the base of this recipe. Full recipe is in the bottom,
Flour: We are using all purpose flour to make the dough for these biscuits.
Super COLD Butter: The colder your butter the flakier will be your baked biscuits. Cube your butter and freeze it for a few minutes before you mix it in the flour.
COLD Buttermilk: Cold buttermilk prevents butter in the dough from melting. Use chilled buttermilk for best tasting biscuits.
Salt: Use unsalted butter so that you can control the amount of salt in the recipe.
Baking powder: Required for that lift. Make sure to use fresh every time.
Little Sugar: Adds to the flavor, don't skip it!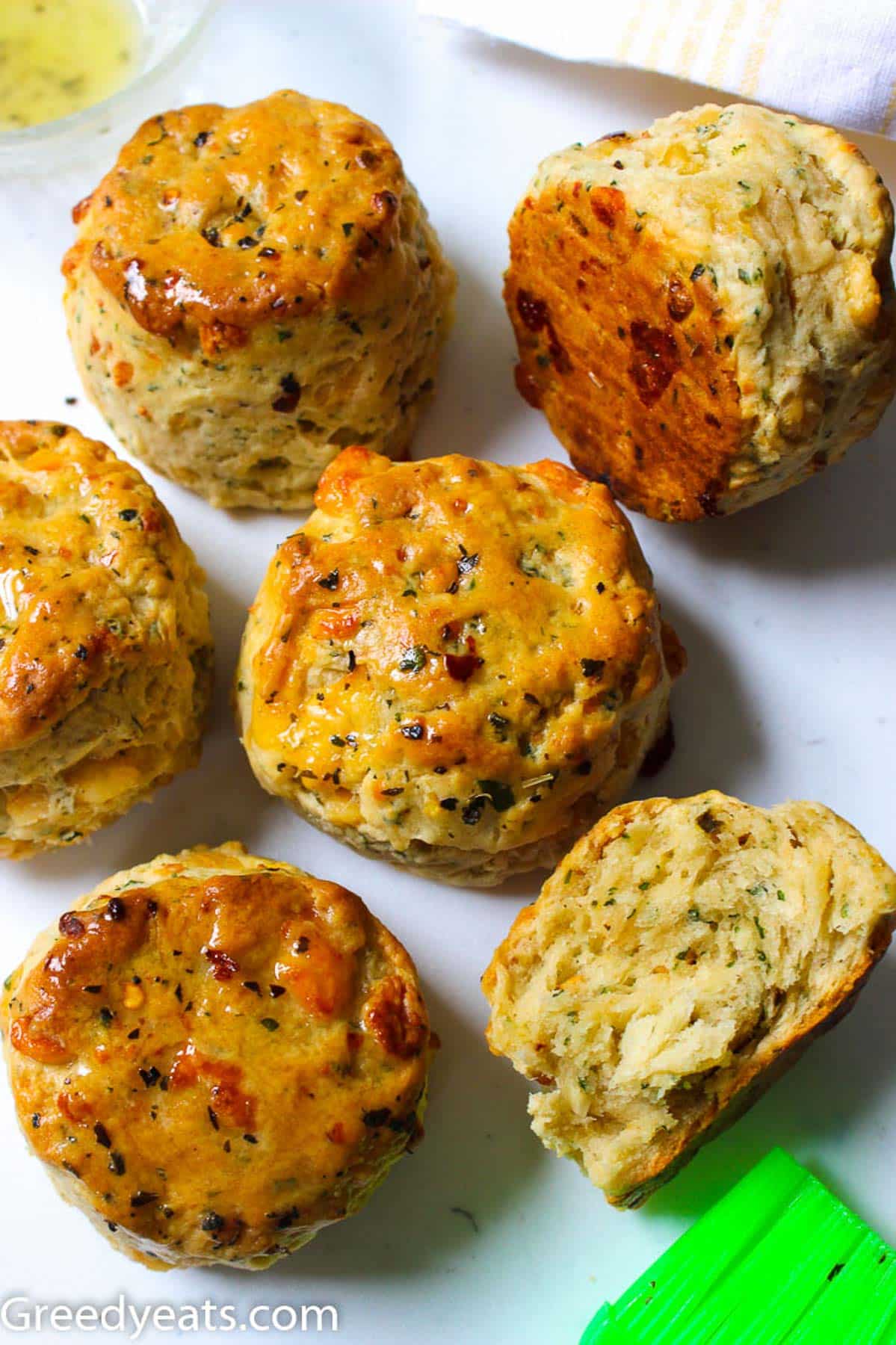 ADD ONS: And then, here is the fun part. About a ton of flavor combinations!
Today we are mixing our buttermilk biscuit dough with fresh garlic and garlic powder(believe me, you need them both). ¼ cup of fresh parsley. Some chili flakes (YOU WILL LOVE A HINT OF HEAT HERE).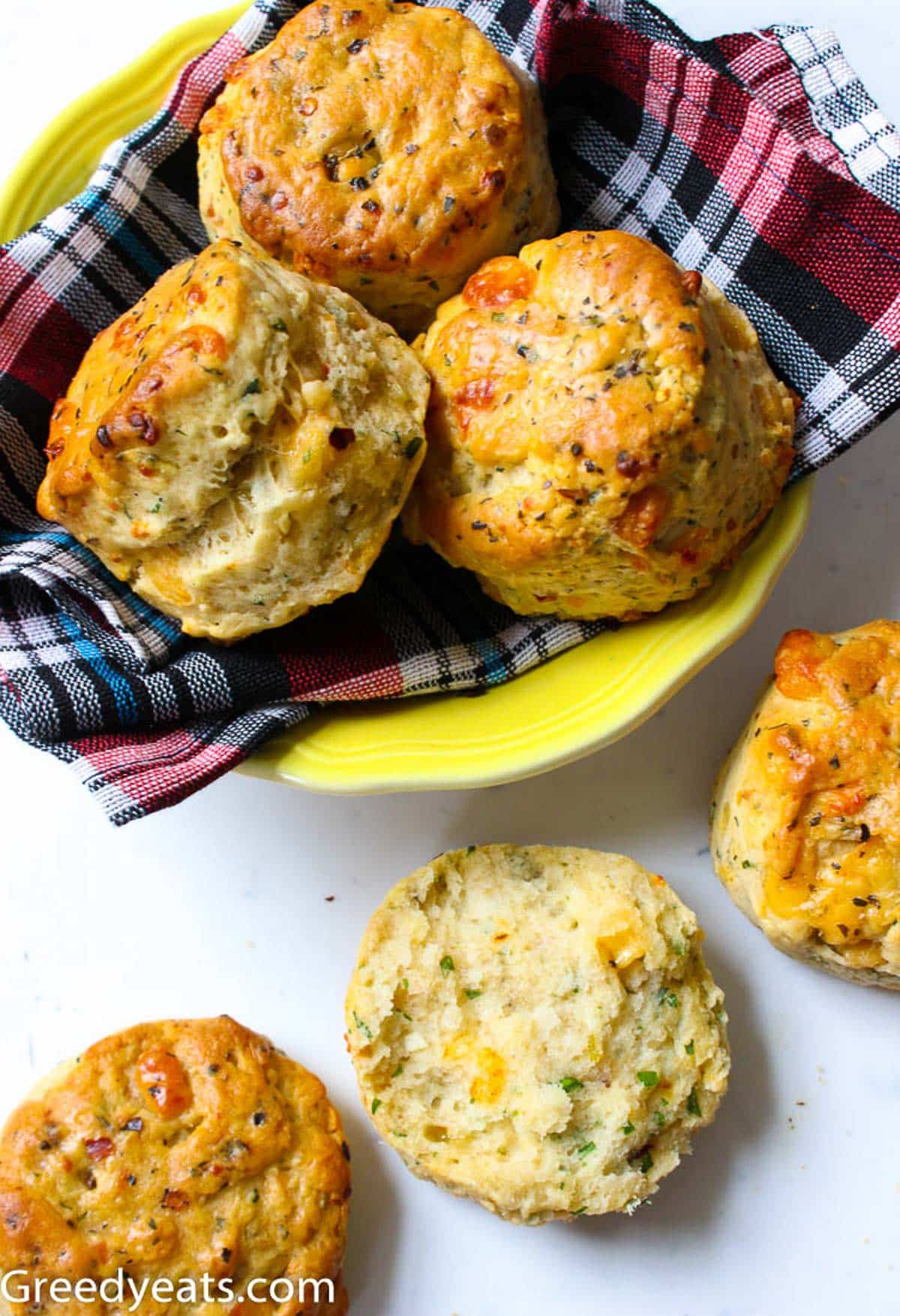 And small cubed cheddar cheese. I chose not to grate cheese in the dough instead I roughly chopped it in about a ⅓ inch size chunks and some a little smaller.
This little trick not only blends in the flavor of cheddar in the dough but also leaves the baked biscuits with slightly melty cheese post baking. Wait till you enjoy one straight out of oven!
Which cheese is best for biscuit?
Any hard cheese would work well in a biscuit dough. You don't want to use soft cheeses here. I like to use sharp cheddar cheese for this recipe.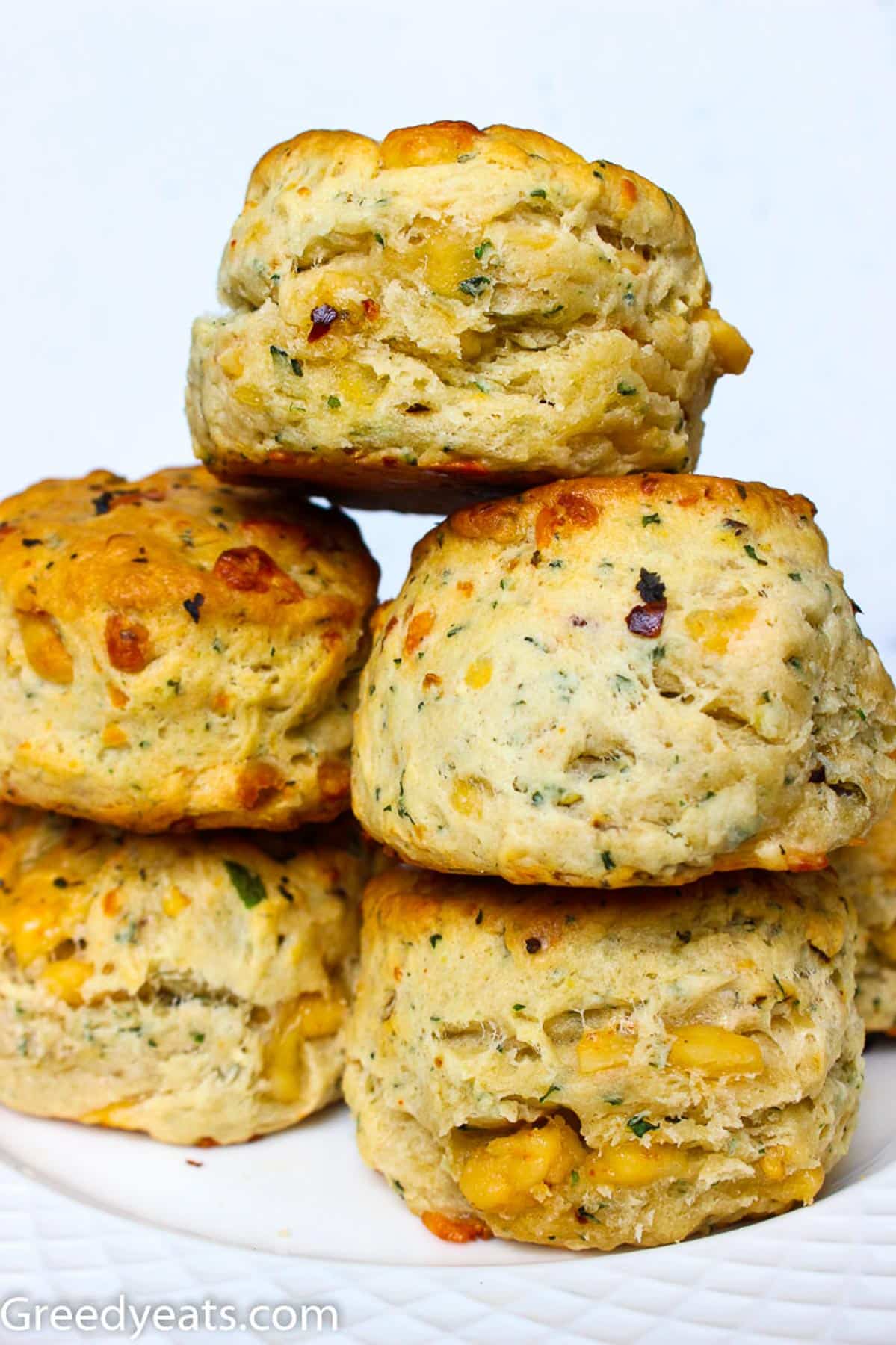 Step by Step Tutorial:
Work cold butter into dry ingredients to form pea size crumbs (flour, baking powder and salt)
Add cold buttermilk next
Add seasonings and form the biscuit dough
Fold in envelop style, three times (more on that in a min)
Cut into biscuits, brush with some buttermilk and bake
Top with melted butter once they are baked
How to fold dough for Flaky Biscuits:
Flattening and Folding technique works best for biscuit dough. This is how we do it.
Step 1: Flatten your dough in the shape of a rectangle.
Step 2: Fold it once from the short side and then fold the other side over the first fold (like in the pic below).
Step 3: Now flatten the dough into a rectangle again using a rolling pin.
Step 4: Then fold from both short sides again like an envelop and flatten.

Step 6: Repeat this folding and flattening step one more time.
Step 7: Cut into biscuits after flattening and folding the dough for 3 times. I used a glass to cut these, as I don't have a biscuit cutter yet, oops! But a sharp glass works wonderfully here!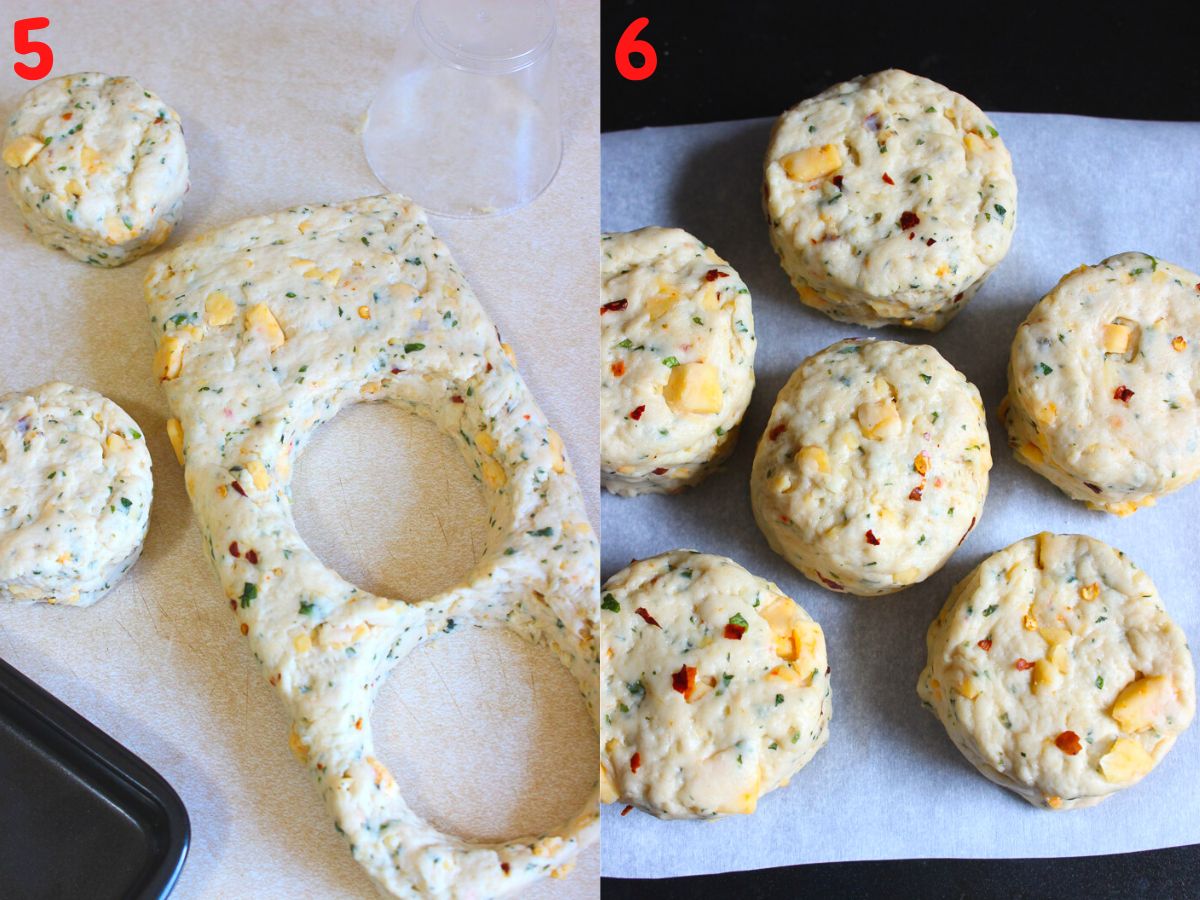 Step 8: Arrange them on a baking tray, brush with some buttermilk and bake!
Tips for perfect biscuits:
DO NOT over work your dough. It results in tough and dense bake with no visible flakes!
Use cold Butter and cold Buttermilk. When cold butter is mixed in the dough, these little chunks of fat melt as the biscuits bake. This process creates air pockets in the biscuit, resulting in 100s of flakes. Always remember Cold Butter + Cold Buttermilk=Flaky Biscuits!
Don't twist your biscuit cutter. Very important to create nice and tall bake. Just press the cutter/glass down with firm hands till you cut the biscuit.
Fold dough envelop style. Best technique to produce tall biscuits.
Bake them on a dark bottom tray or cast iron skillet. Dark bases lead to a golden brown crust and a crisp base.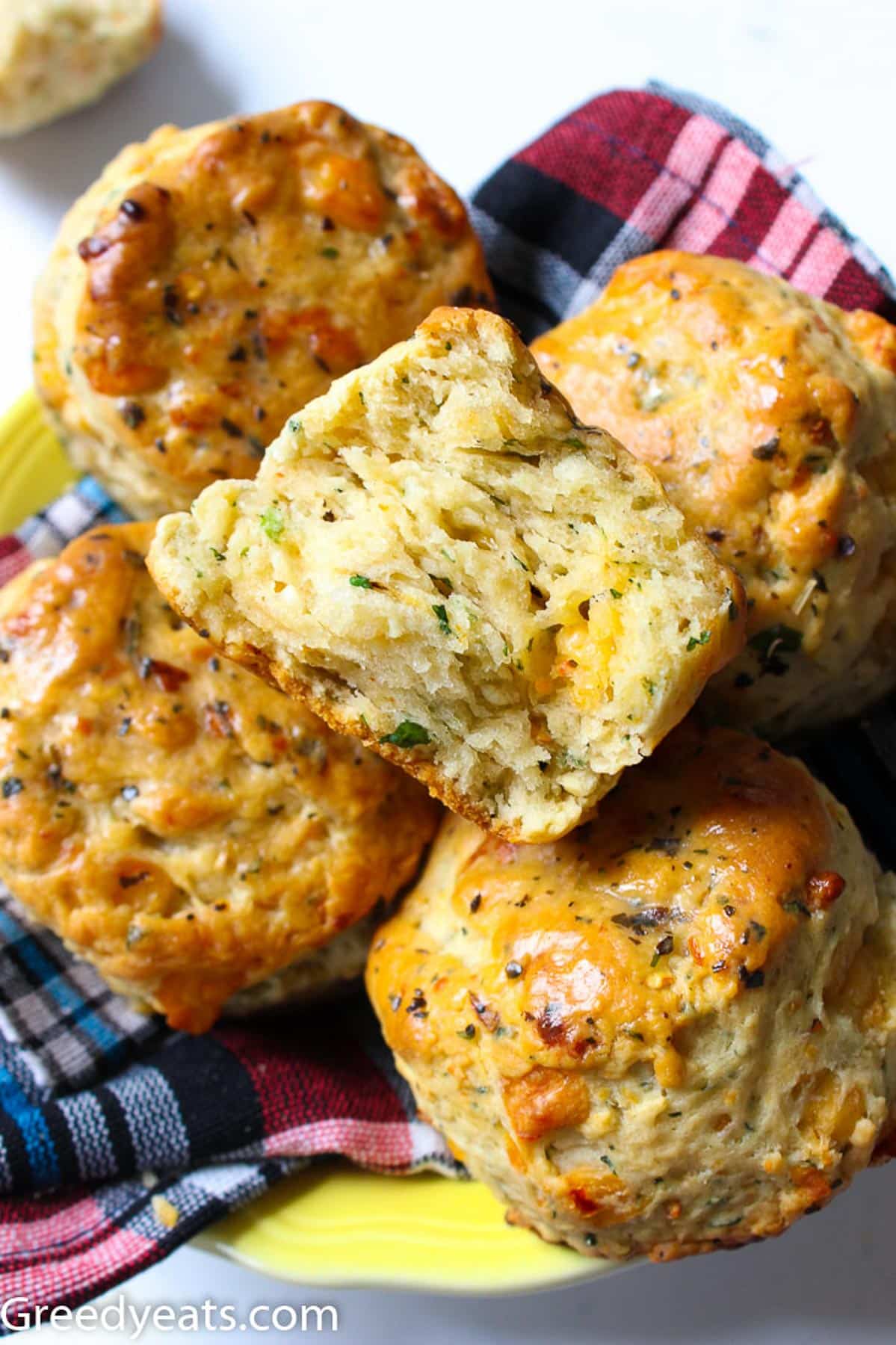 Save yourself the trouble of dunking that biscuit in gravy or spreading them with any jam!
Coz I am telling ya, these biscuits are super flavorful on their own. You only need a huge appetite and your hands (yep, no plate required)!
Easy to eat and even easier to put together! Simple pantry ingredients, only 15 minutes baking time and a dough that comes together in 5 minutes.
And when results look like "buttermilk biscuit perfection" every time, you don't need to wait till Thanksgiving to try them!
What makes a great biscuit?
Cold fat, cold buttermilk and folding the dough a few times in envelop style before cutting the biscuits.
What causes flaky texture in biscuits?
Cold butter in the dough helps biscuits to bake flaky. You can either cut butter into cubes or even grate it before adding to flour.
More Easy Recipes you'll love:
If you liked this Recipe, give it a star review. Also, tell me in the comments, how did these turn out for you! Don't forget to share your creations with me on Instagram at #greedyeatsblog Oh! and lets be friends on Pinterest and Facebook too. 😊😊😊
Recipe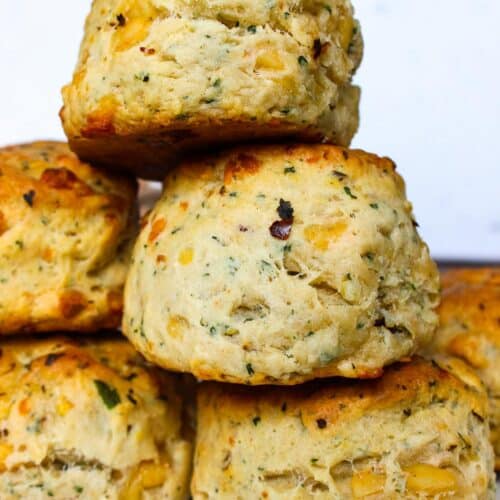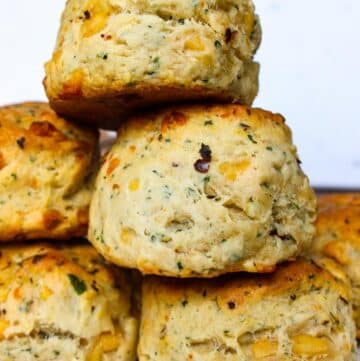 Cheese Biscuits Recipe
Tall and soft, flaky and buttery, infused with fresh herbs and garlic Cheese Biscuits Recipe! They are ready in 20 minutes tops.
Print
Pin
Rate
Equipment
1 Biscuit Cutter

Baking Tray/Cast Iron Skillet
Ingredients
2 ½

Cups (312 gms)

All purpose flour

2

Tbsps

Baking powder

1

teaspoon

Salt

2

tsps

Garlic powder

2

tsps

Chili flakes

2

Tbsps

Freshly chopped garlic

¼

cup

Fresh thyme

½

Cup (1 Stick)

Cold butter

(cubed, unsalted)

1

Cup + 2 Tbsps

Cold buttermilk, divided

2 tbsps will be used for brushing on top before baking

2

tsps

Granulated sugar

1

Cup

Cubed cheddar cheese

about ⅓ of an inch, shredded cheese works too
Instructions
Preheat your oven to 425℉. Line a dark baking tray with parchment paper. Alternatively, you can butter a cast iron skillet. Set it aside.

Place flour, baking powder, salt, both chopped garlic and garlic powder, parsley, chili flakes and sugar in a mixing bowl. Add cold and cubed butter to the bowl. Cut and mix butter into dry ingredients using a pastry cutter/fork. Combine till coarse pea sized crumbs form.

Add in cheddar cheese and add 1 cup of cold buttermilk. Stir it all together till all ingredients combine well. Do not over work the dough. It will appear very crumbly!

Turn the dough to a floured surface and form a rectangle out of the dough. Check out process pictures in the post above for reference.

Now using flatten and fold technique, flatten and fold your dough 3 times in envelop style.

Cut them using a sharp glass/biscuit cutter about 2-3 inches in diameter. Work with scraps till you have 11-12 biscuits and all the dough is used up.

Place on prepared tray/cast iron skillet and brush with remaining buttermilk. Bake for 15-17 minutes or until they appear golden brown on top.

Take them out from oven and brush with melted butter generously. Enjoy warm!
Notes
Storage Info:
Leftovers can be stored tightly covered at room temperature for up to 3 days. In refrigerator for 5 days.
These freeze well for up to 3 months. Thaw them overnight in refrigerator or at room temperature and warm to your liking.
Tips for recipe success:
Always use cold fat and buttermilk in the recipe for tall and flaky biscuits.
Don't be tempted to over work the dough, it is meant to look crumbly at first.
Don't twist your biscuit cutter while cutting them. This might seal the edges of biscuits preventing them from rising!
Nutrition
Serving:
1
Biscuit
|
Calories:
197
kcal
|
Carbohydrates:
40
g
|
Protein:
5
g
|
Fat:
1
g
|
Sodium:
202
mg
|
Sugar:
1
g
Tag @greedyeatsblog on Instagram when you make a recipe! Seeing your creations makes me so happy! 😉