An easy Mini Apple Pie Recipe made with butter crust, that yields a flaky and buttery pie with sweet apple pie filling glazed with caramel.
Try my Apple Caramel Cupcakes Next! Find all Fall and Thanksgiving recipes from Greedy Eats at one Place.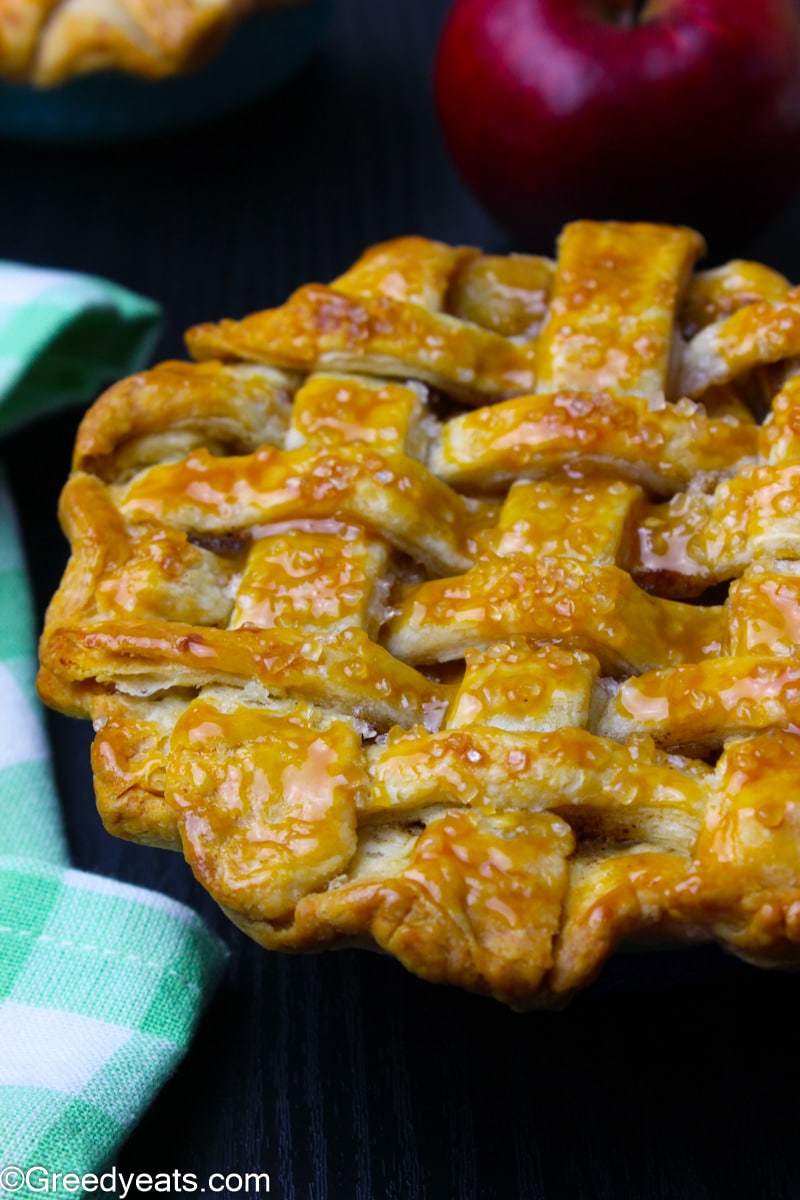 Taste and Texture:
Flaky and buttery crust
Filled with gooey warm cinnamon coated apples
Drizzled with ample of caramel
This recipe will make 2 mini Apple pies that are made with homemade all butter crust. We are also using some caramel inside the filling.
Then I chose to drizzle some more caramel on the the filling after the pie is made. I strongly suggest you do it too. It makes filling even more moist and caramel-y! So GOOD!!!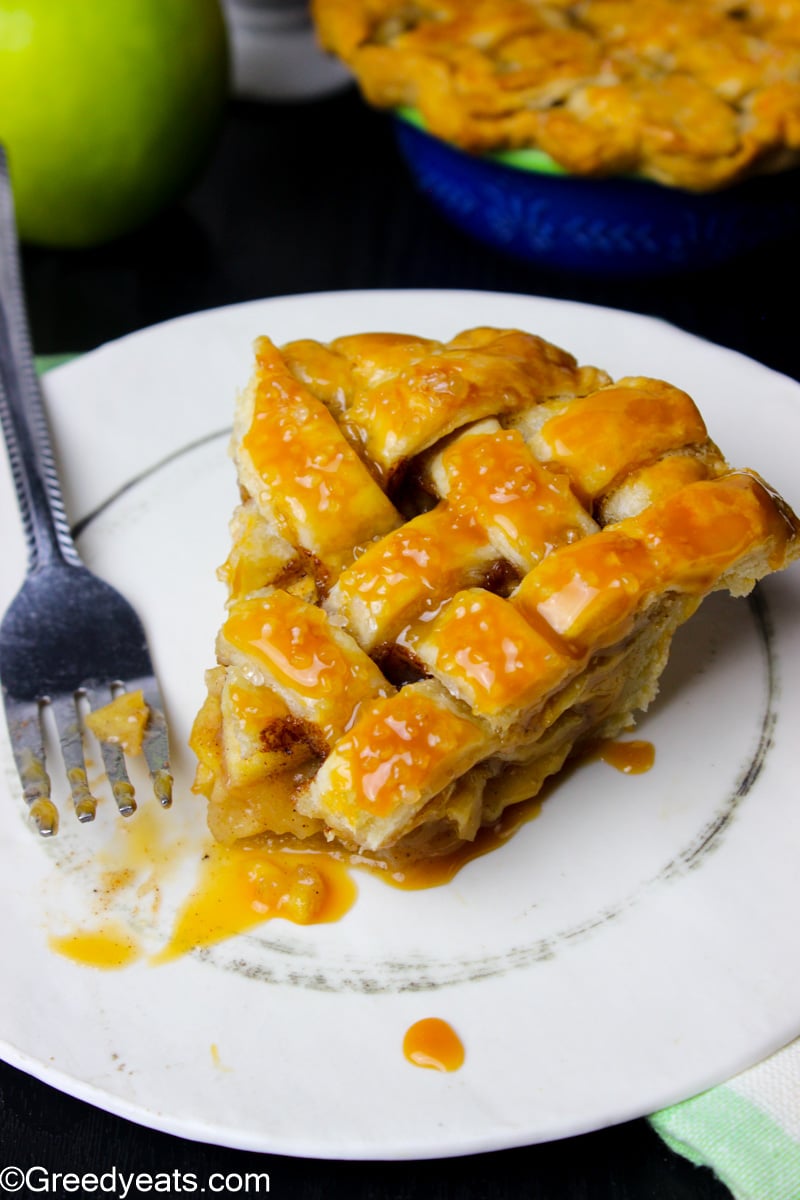 Apple Pie Ingredients:
For the ease of understanding let us divide this step into apple filling ingredients and crust ingredients separately.
To make Crust you will need:
Flour: All purpose flour is going to be the base of this recipe.
Butter: You will need very cold butter to make a perfect pie crust. I like to cut my butter into cubes and chill them for a few minutes in the freezer, so that they are extra firm.
Cold Water: Or should I say ice cold water. Yep, the colder the better.
Salt: To flavor the crust!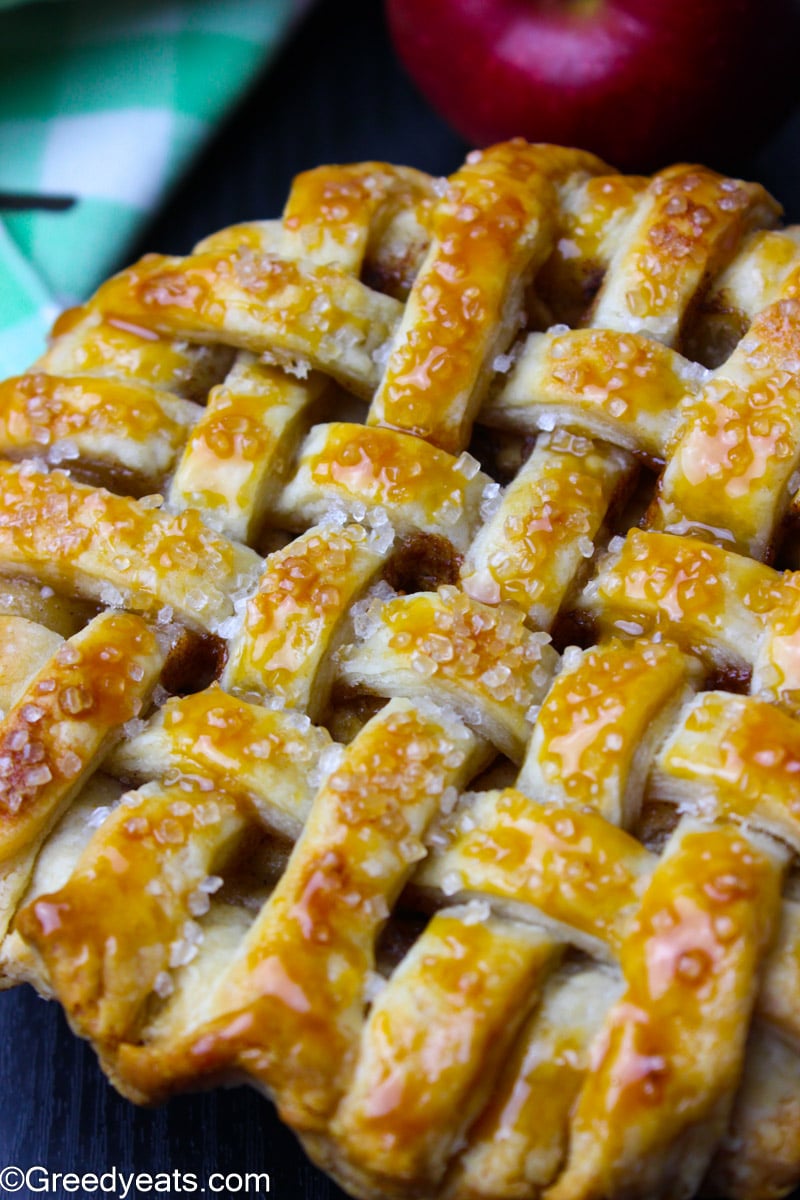 To make Apple pie Filling, ingredients required are:
Apples: I like to use a combination of sweet and tart apples to make this pie. You may select any apples that you'd like. I have used one Honey Crisp and one Granny Smith for this pie.
Sugar: You will need some sugar to sweeten the filling.
Lemon Juice: Will add more flavor to the filling. Don't skip it.
All Purpose Flour: A little flour will help to bind the filling together and will also prevent the crust from getting soggy at the bottom.
Spices: I have used a combination of nutmeg and cinnamon here.
And some Caramel Sauce to amp things up!!!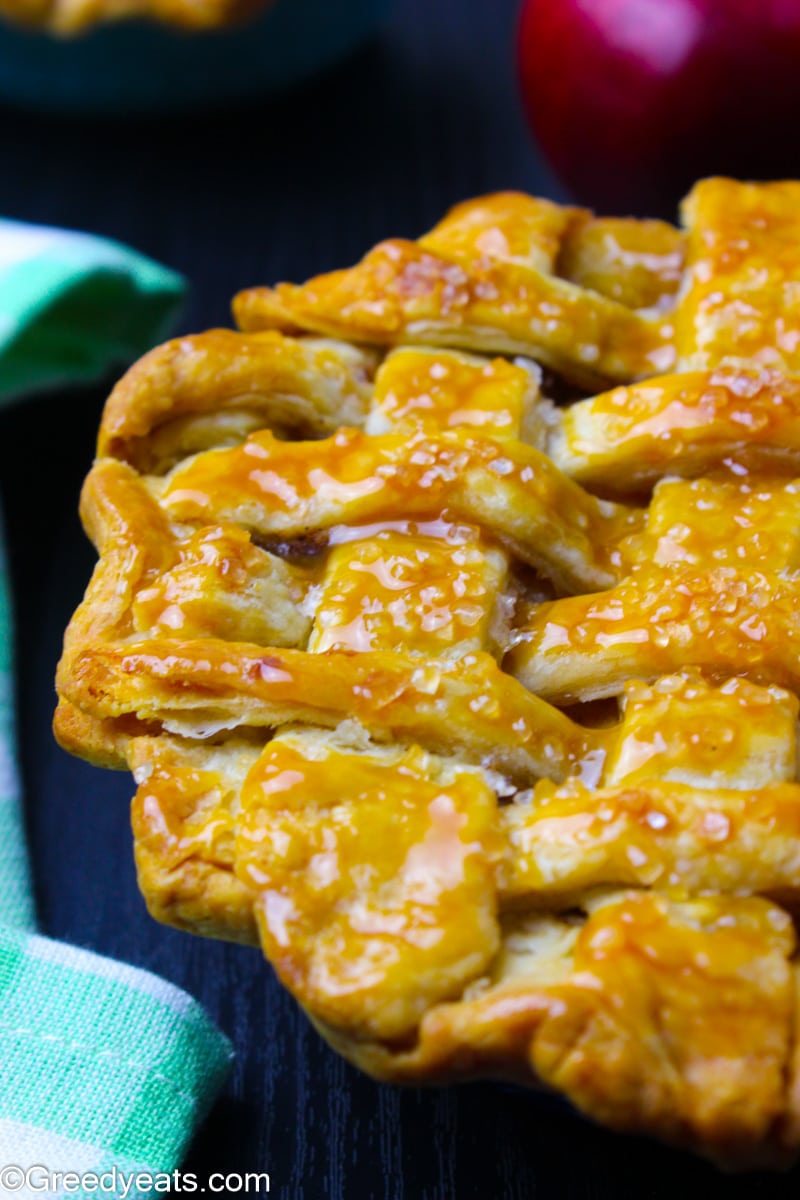 How to make Apple Pie Filling:
Add chopped apples in a mixing bowl
Add and mix in sugar, lemon juice and spices
Toss flour into this filling and set it aside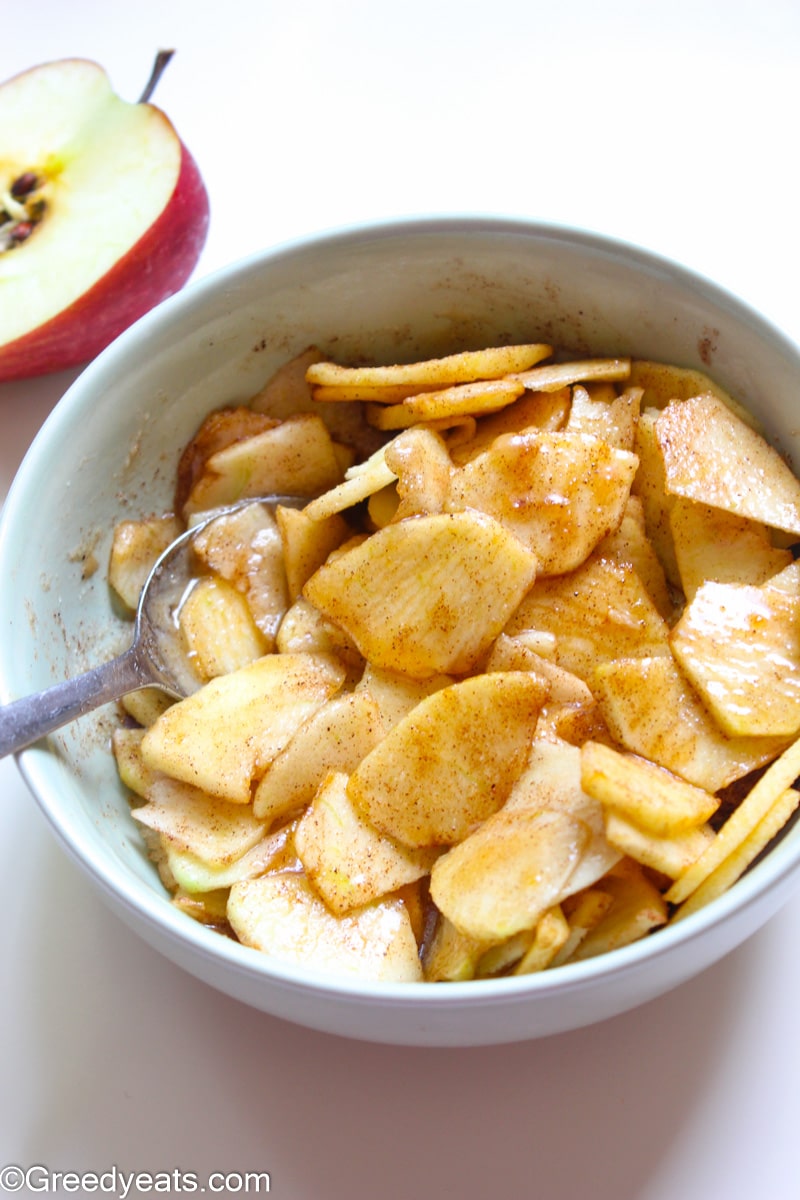 How do you make apple pie crust from scratch?






Add very cold butter cubes into flour and cut butter into flour till you see pea sized crumbs
Add ice cold water and form dough
Chill the dough, roll it and use to make pie
I went for a lattice top pie crust. You may decorate your pie as you like. But I'd suggest to go with lattice, since it looks the prettiest!
You may also use cutters in apple shapes and keep them over this lattice before baking.
Next Brush tops with egg wash/milk wash. Then sprinkle some coarse sugar over it. This step is optional but it adds life to the baked crust!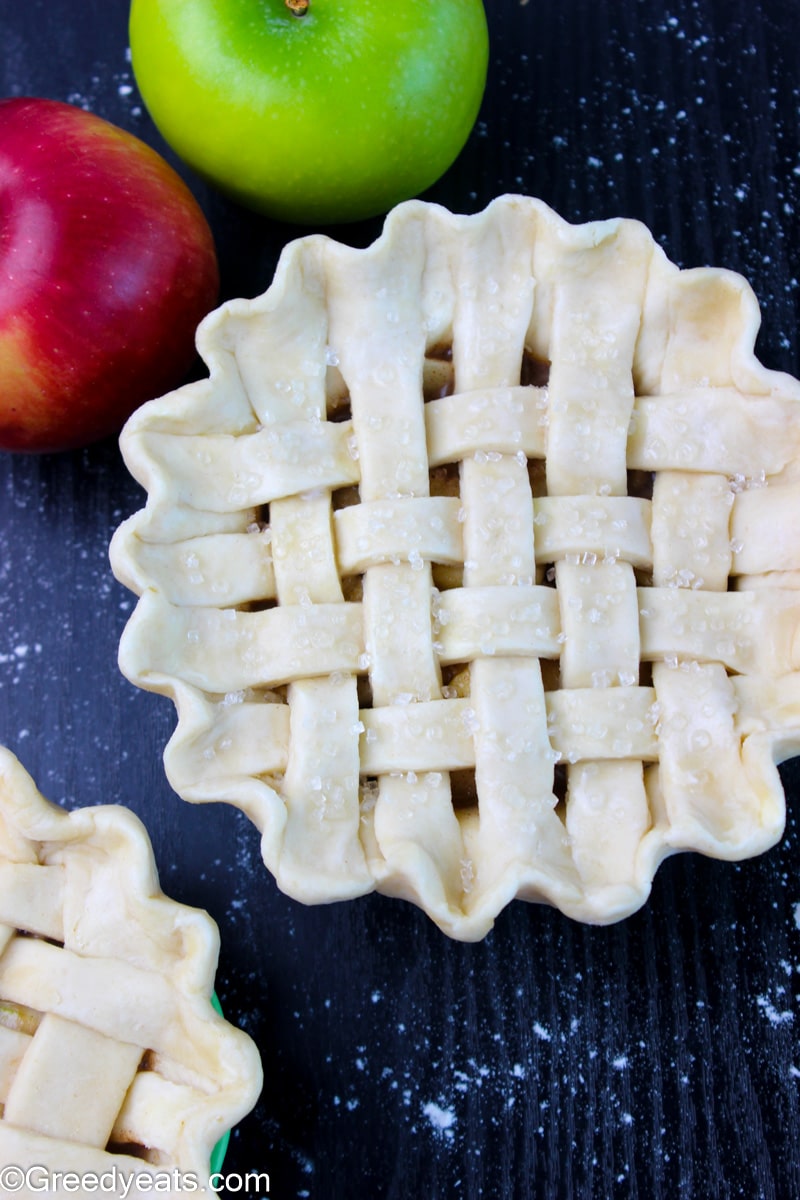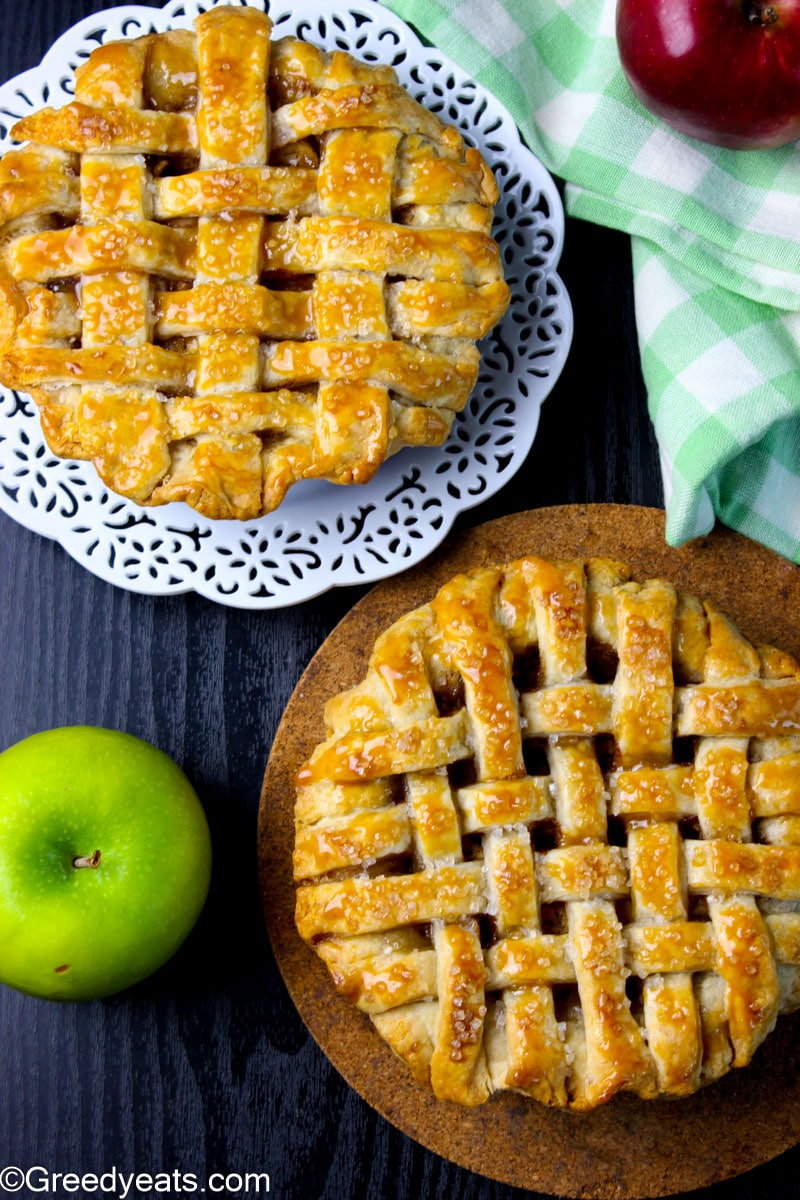 Perfect apple pie baking tips:
Always use cold fat and cold water to make dough.
Keep dough chilled at all times. The minute you feel pie dough is getting warm, stop and stick the dough in refrigerator, till this dough stiffens again.
Place mini pie dishes on a baking sheet to catch any oven spills.
If you notice the pie crust is getting brown too quickly, place an aluminum foil on top to cover it.
Allow the pie to cool down completely if you are planning to slice them.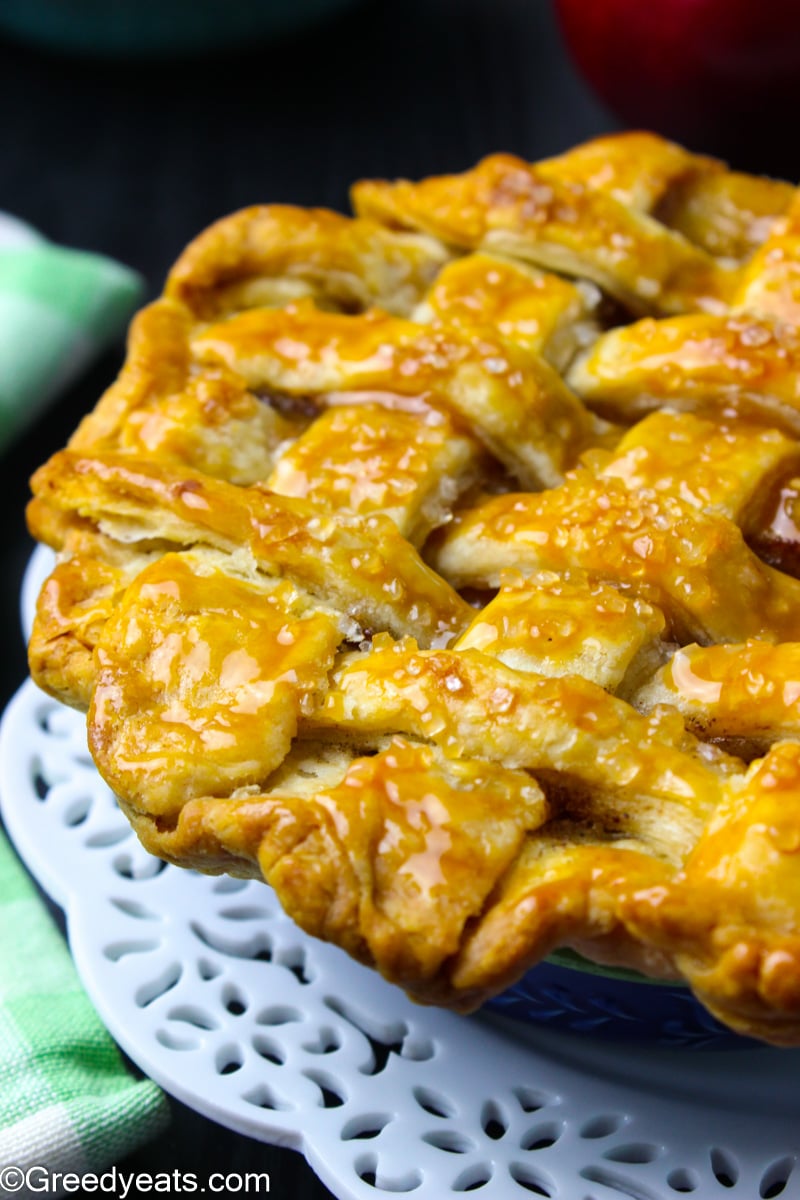 What apples are good for apple pie?
Any apples that are firm will do. Granny Smith, honey crisp, gala and Braeburn are some of the ones I prefer to bake with.
Does Apple Pie Filling need to be cooked?
No, we will just chop our apples thin, add flavoring to them and bake them along with the crust. You won't need to cook this filling separately!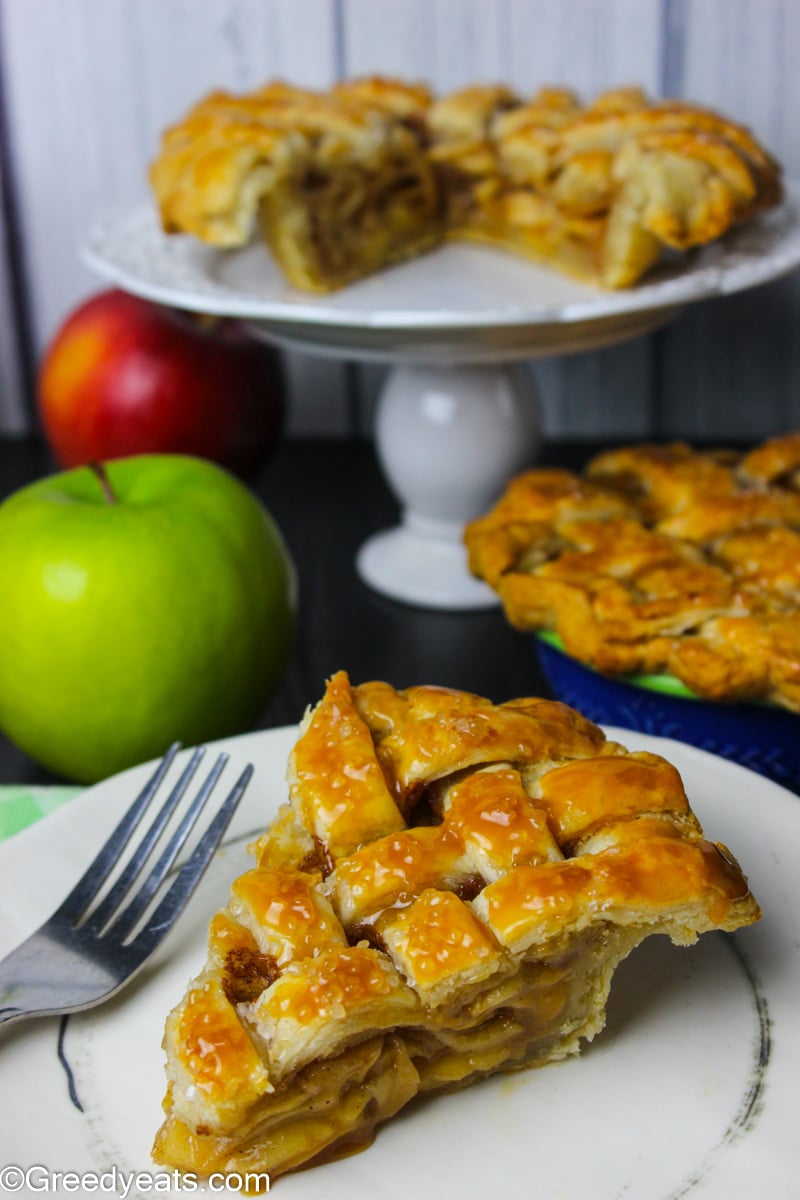 Should I Prebake my pie crust for apple pie?
No, not for this recipe you won't need to prebake the pie crust. I promise, you won't get a soggy bottom crust here!
More Thanksgiving Recipes for you: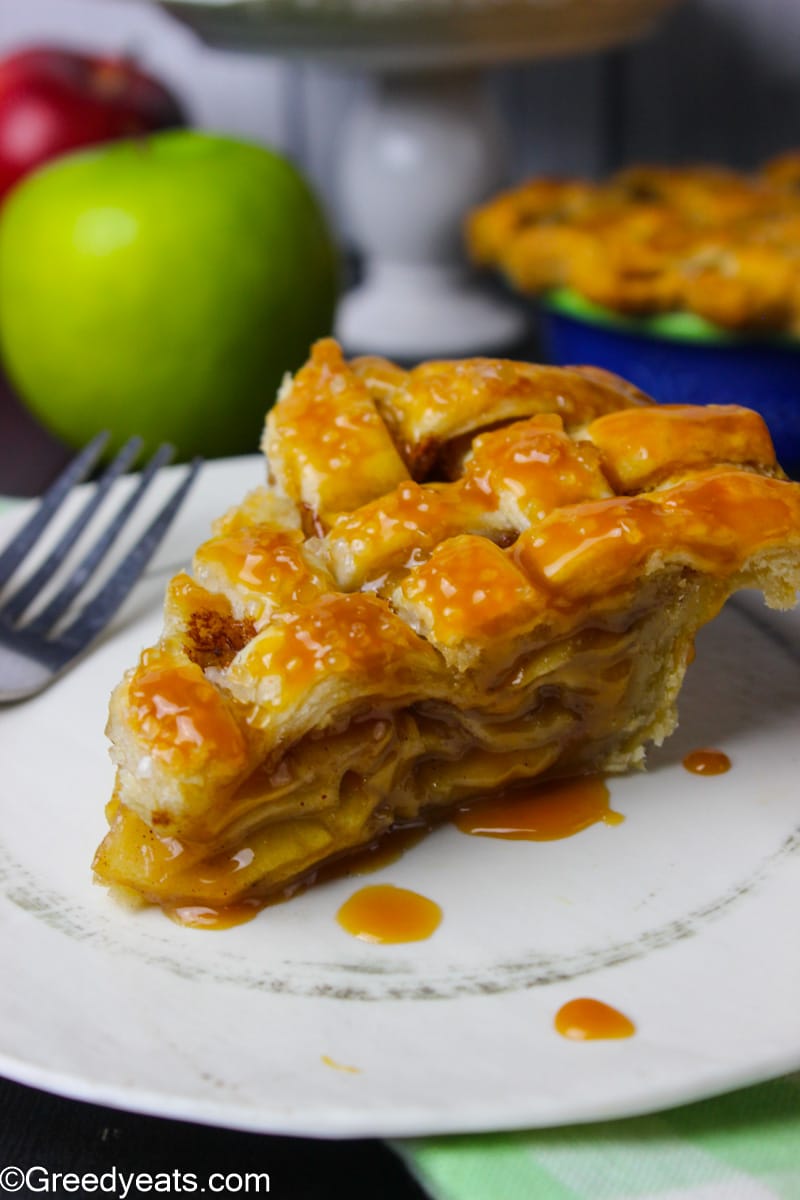 If you liked this Apple Pie Recipe give it a star review. Also, tell me in the comments below, how did this turn out for you! And don't forget to share your creations with me on Instagram at #greedyeatsblog Also follow me on Pinterest and Facebook!
Recipe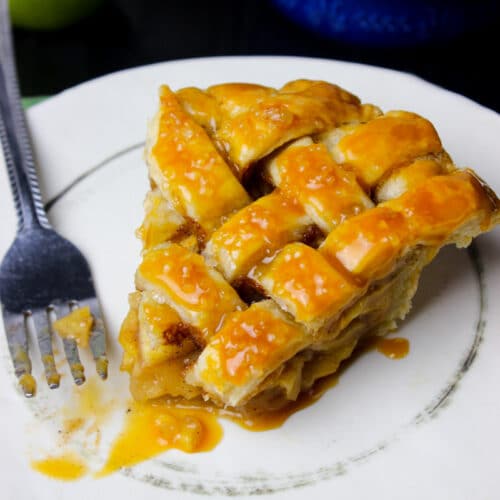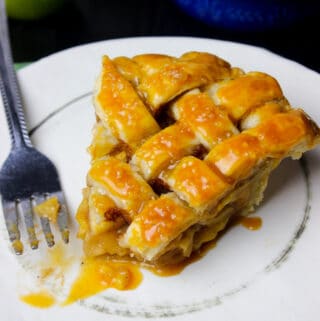 Mini Apple Pie Recipe
An easy Mini Apple Pie Recipe made with butter crust, that yields a flaky and buttery pie with sweet apple pie filling glazed with caramel.
Print
Pin
Rate
Ingredients
For Crust:
2 ½

Cups

All Purpose Flour

2

teaspoon

Sugar

1

teaspoon

Salt

1

Cup

Butter

(Chilled and cut into cubes)

½

Cup

Ice Cold Water
For Apple Pie Filling:
3

Apples

(Peeled, cored and thinly sliced into 1 ½ inches slice)

¼

Cup

Sugar

1

tablespoon

Lemon Juice

¾

teaspoon

Cinnamon

¼

teaspoon

Nutmeg

2

tablespoon

Flour

1

Egg for egg wash beat it with 1 tablespoon of milk

(or you can also milk wash the crust)

1

tablespoon

Coarse Sugar

(for sprinkling, optional)

⅓

Cup

Caramel

(More for drizzling on top)
Instructions
To make the Crust:
Add flour, sugar and salt to a large mixing bowl and throw in cold butter cubes. Using a pastry cutter, forks or a food processor. Cut butter into flour till you get pea sized butter coated flour. Also I like to keep a few larger bits of chunks.

Add chilled water slowly, till a dough is formed. It will be sticky but not wet. Take dough out on a floured surface and using floured hands fold dough and form into a ball. Divide the dough into 6 balls and allow to chill for atleast 2 hours covered, or up to 5 days in refrigerator.
To make Apple Pie Filling:
Add apple slices, sugar, lemon juice, spices and Mix them in lightly. Add flour and gently toss it in too. Set it aside.
Rolling out chilled pie dough:
Roll out 3 discs out on a floured surface, keeping the remaining 3 in the refrigerator. Carefully place them in pie dishes, tuck it in using your fingers making sure it is evenly spread. Trim off excess overhang of crust. Spread apple pie filling, you might feel these are a lot of apples, but trust me you need them all. Drizzle caramel evenly on all pies.
Make the Lattice Crust:
Now take remaining discs out one by one and roll cut into strips using knife or pizza cutter about ½ inches thick. Then thread them over and under one another and pull back them as required while weaving. Trim the excess strips off and crimp the edges of the dough using your finger with a fork. Lightly brush with egg wash or milk wash and sprinkle with coarse sugar. Repeat with the other 2 discs too. While you are making the last lattice crust, preheat oven to 400°F (204°C).

Place mini pie dishes on a baking tray and bake for 20 minutes. Keeping the pie in oven reduce temperature to 375°F (190°C) and bake for around 30 minutes. You can test the doneness of pie by poking it with a toothpick. Apples should be tender and not mushy!
Notes
Making ahead and freezing instructions:
You can freeze pie dough wrapped tightly, for up to 3 months in refrigerator. Thaw dough before continuing with rolling it out.
Baked pie can be frozen for up to 2 months too. Thaw in the refrigerator and allow to come to room temperature before serving!
Nutrition
Serving:
1
Slice
|
Calories:
405
kcal
|
Carbohydrates:
50
g
|
Protein:
5
g
|
Fat:
22
g
|
Sodium:
461
mg
|
Sugar:
19
g