Flaky, buttery, over loaded with cheese and a spicy kick from jalapeno, these Jalapeno Cheddar Biscuits are nothing like ordinary buttermilk biscuits!
Try my Easy Dinner Rolls recipe next! Here you will find must try Fall and Thanksgiving recipes (mostly sweet) on my blog.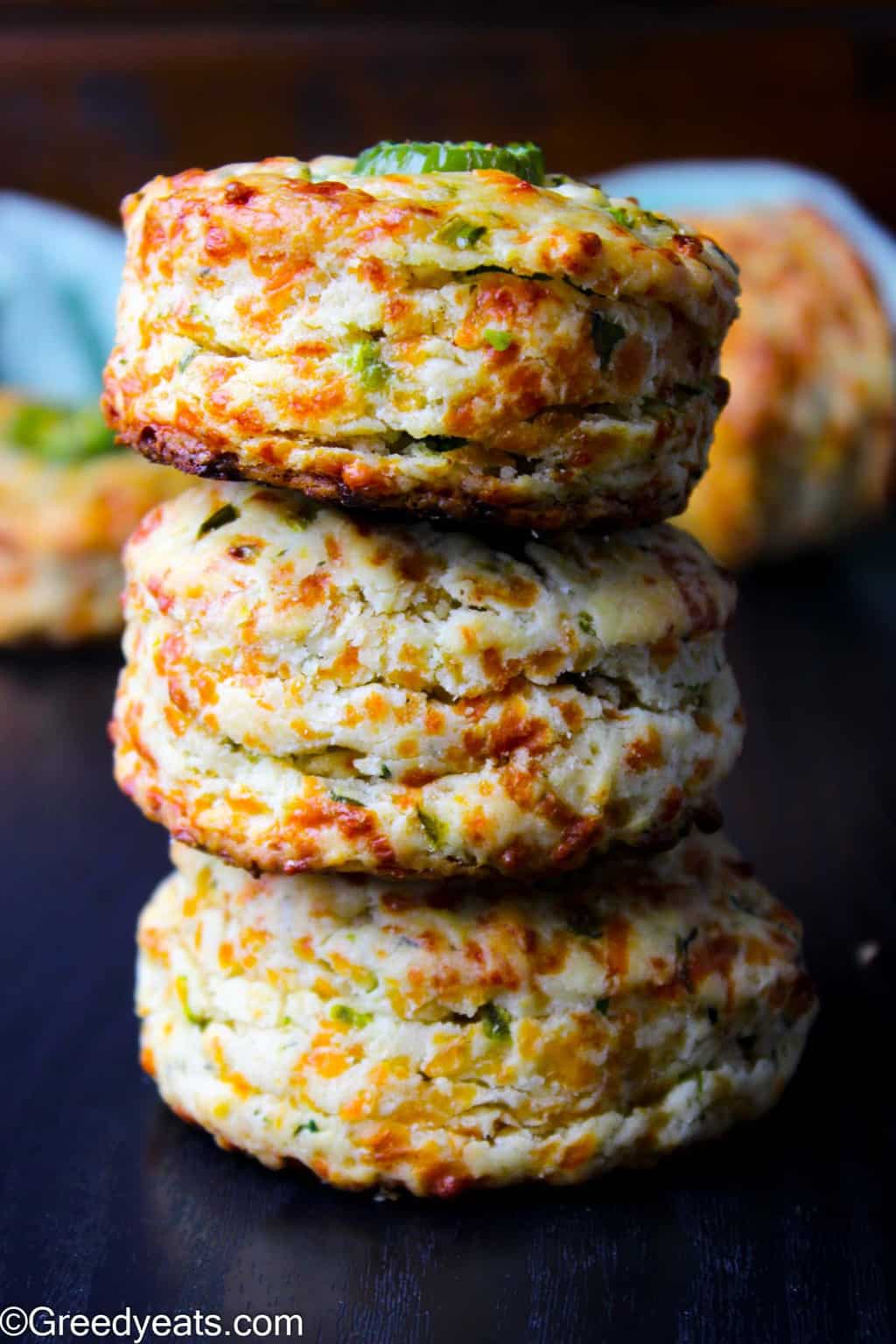 All set with your Thanksgiving menu? You need to squeeze this one in. You bet there is always room for sides!
The pepper and garlic flavors in these easy buttermilk biscuits will make you reach for seconds. Third and most likely a fourth one too!
Jalapeno Cheddar biscuits ingredients
Few basic pantry ingredients, 10 minutes prep time and you are ready to eat the most flavor packed and flaky biscuits on earth. I am talking mountains of flaky-cheesy layers in each biscuit!
Lets see what you'll need to make these jalapeno biscuits.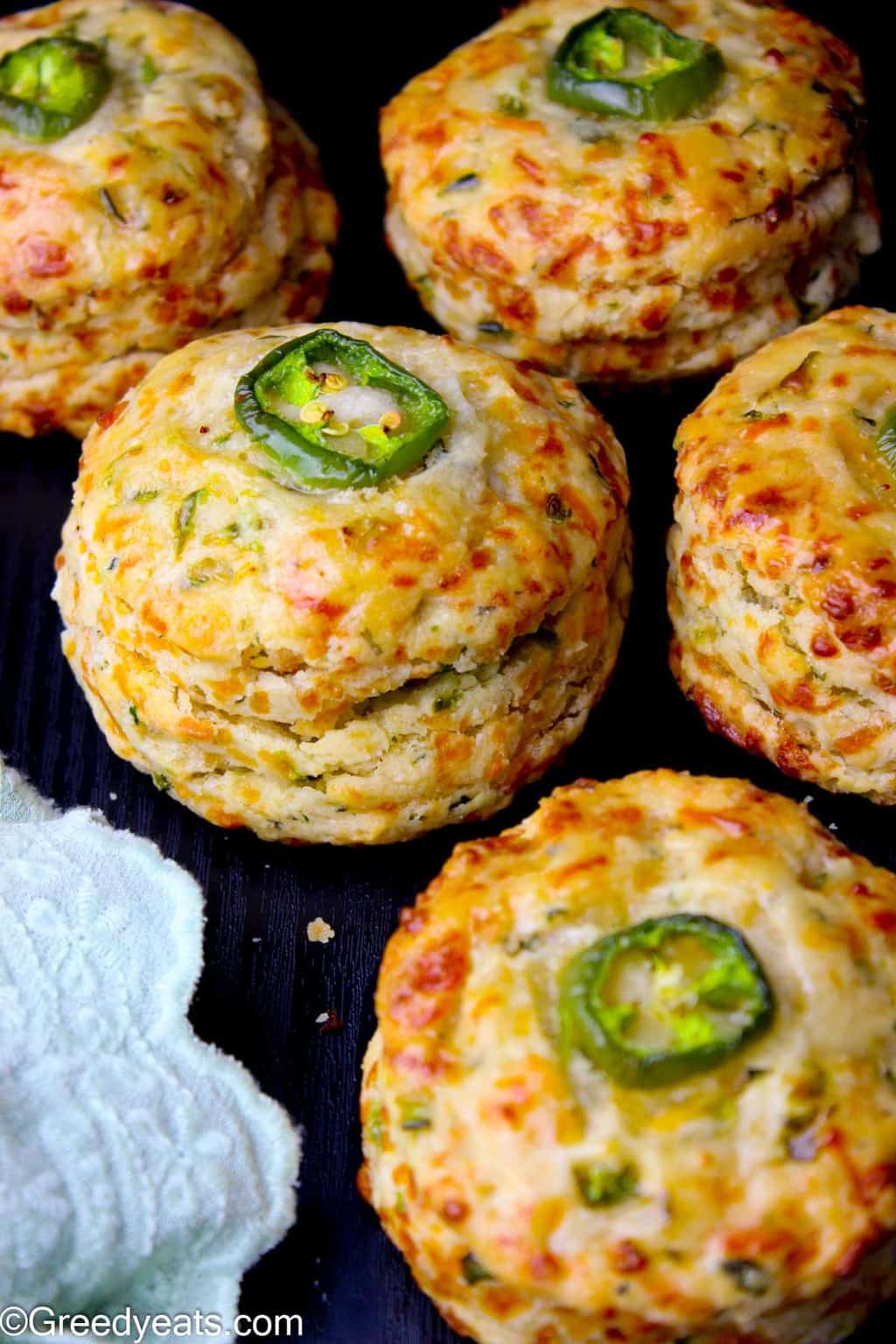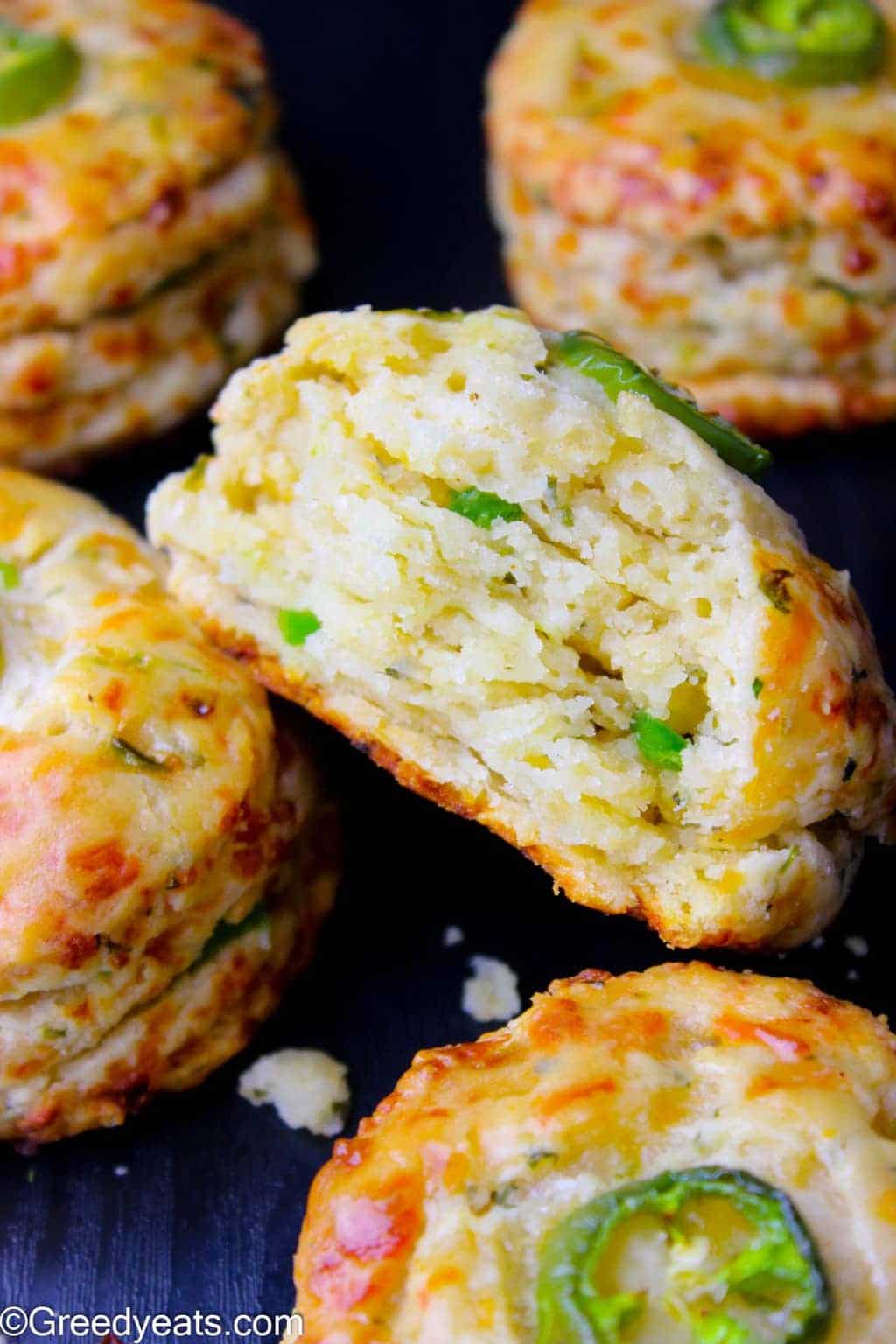 Jalapeno peppers: Obviously! 😉 I noticed finely chopped fresh peppers taste the best in buttermilk biscuit recipe. You may use canned jalapenos if you prefer though.
Cheddar Cheese: I sometimes add cubed cheddar to my biscuits. Result? The biscuits bake super flaky and there is a prominent taste of cheddar in each bite, yum! For this recipe I've used shredded cheese.
Very Cold Butter: We want cold fat in the dough to produce flaky biscuits. Never compromise on this step!
Buttermilk: Also cold. You can also use homemade buttermilk (milk+vinegar).
Flour: All purpose flour is the best flour to use in homemade biscuits.
Salt: For flavor.
Garlic powder: For more flavor! 😉
Baking Powder: For tall and risen biscuits.
How to make Jalapeno Cheddar biscuits
We will begin with very cold butter. I'd recommend sticking your cubed butter into freezer for 15 minutes before you begin.
Then work your flour into butter until pea sized crumbs form. Then add all your spices, leaveners and salt.
Next comes in buttermilk. Use it cold too. We don't want any warm ingredient in the dough to melt butter before we bake the biscuits.
Those cold butter chunks help to create super flaky and buttery layers we all adore!
Toss and fold in some shredded cheddar cheese in the dough.
Fold your dough in envelop style 5-6 times. This step helps in creating flaky biscuits.
Cut the biscuits using a biscuit cutter and bake!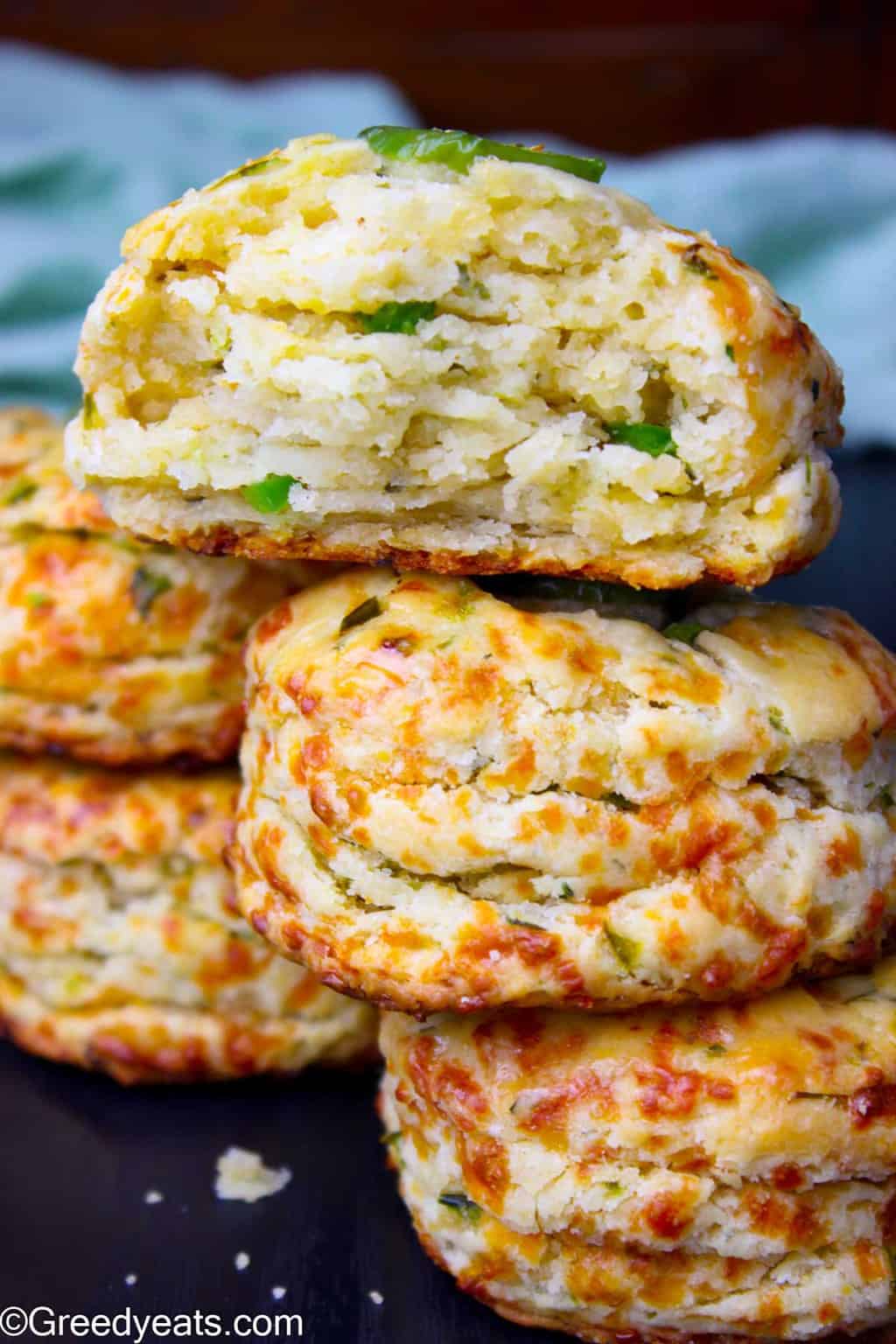 Enjoy these flaky biscuits as a side, with some jam or breakfast sliders? Oh! and with your gravy or on their own! You will simply love this flavor.
What does buttermilk do for biscuits?
The acids present in buttermilk react with leavening agents in the biscuits dough and help them bake nice and tall.
Why don't my biscuits rise?
There can be multiple reasons for tough and dense biscuits.
The butter wasn't cold enough.
Leaveners were stale.
Oven wasn't hot enough!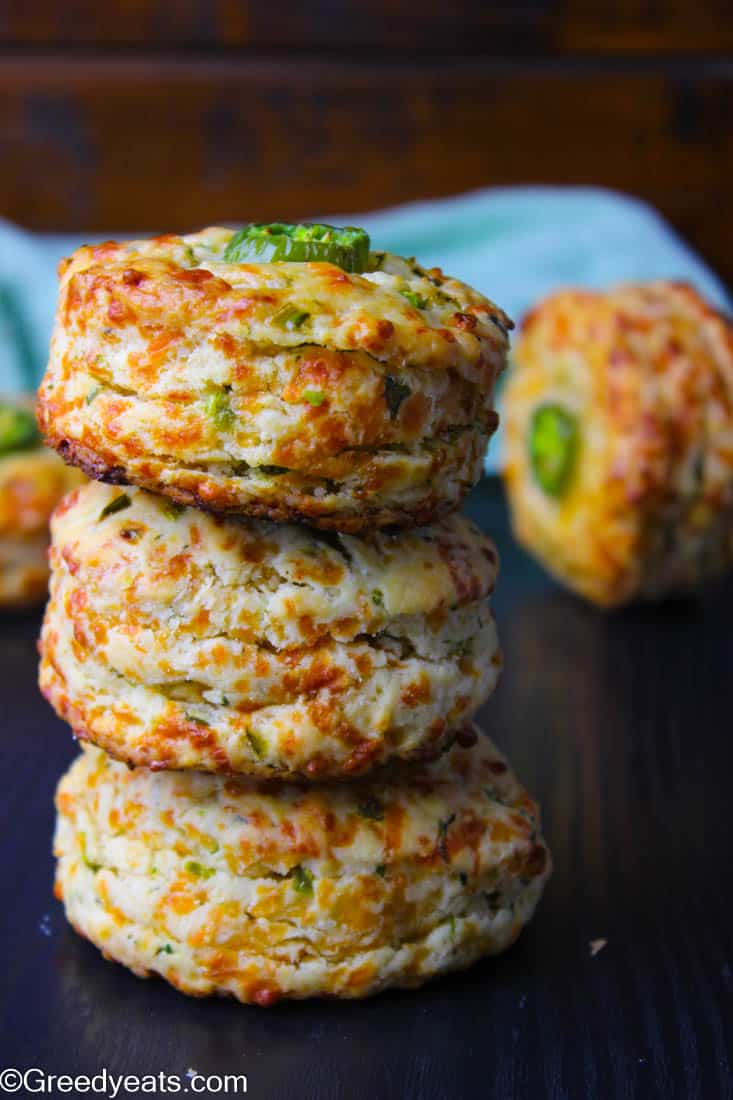 Why are my buttermilk biscuits crumbly?
If you accidentally add more flour in the dough, your biscuits might crumble. To avoid this, fluff your flour first and scoop out then. Eliminate all the guess work and use a weighing scale to measure out flour.
To ensure your biscuits rise well, bake them with their sides touching. This way the biscuits will cling to each other and bake taller
Looking for some Holiday Desserts Inspiration? Let me help out!
Cranberry Orange cake with cinnamon crumb topping
Glazed Apple Cinnamon Rolls with fresh apples
Pumpkin Bars from Simply Salted
My favorite Pumpkin Tart with Gingersnap Crust
Overnight Cinnamon Monkey Bread