This Overnight Monkey Bread combines several buttery balls of bread coated in cinnamon and brown sugar! There isn't a better way to greet yourself Good Morning!
Try my Moist Pumpkin Muffins next. Oh and these fresh Apple Cinnamon Rolls will make you jump outta bed! How about this Apple Crumb Cake? Find all my Easy Breakfast Recipes here!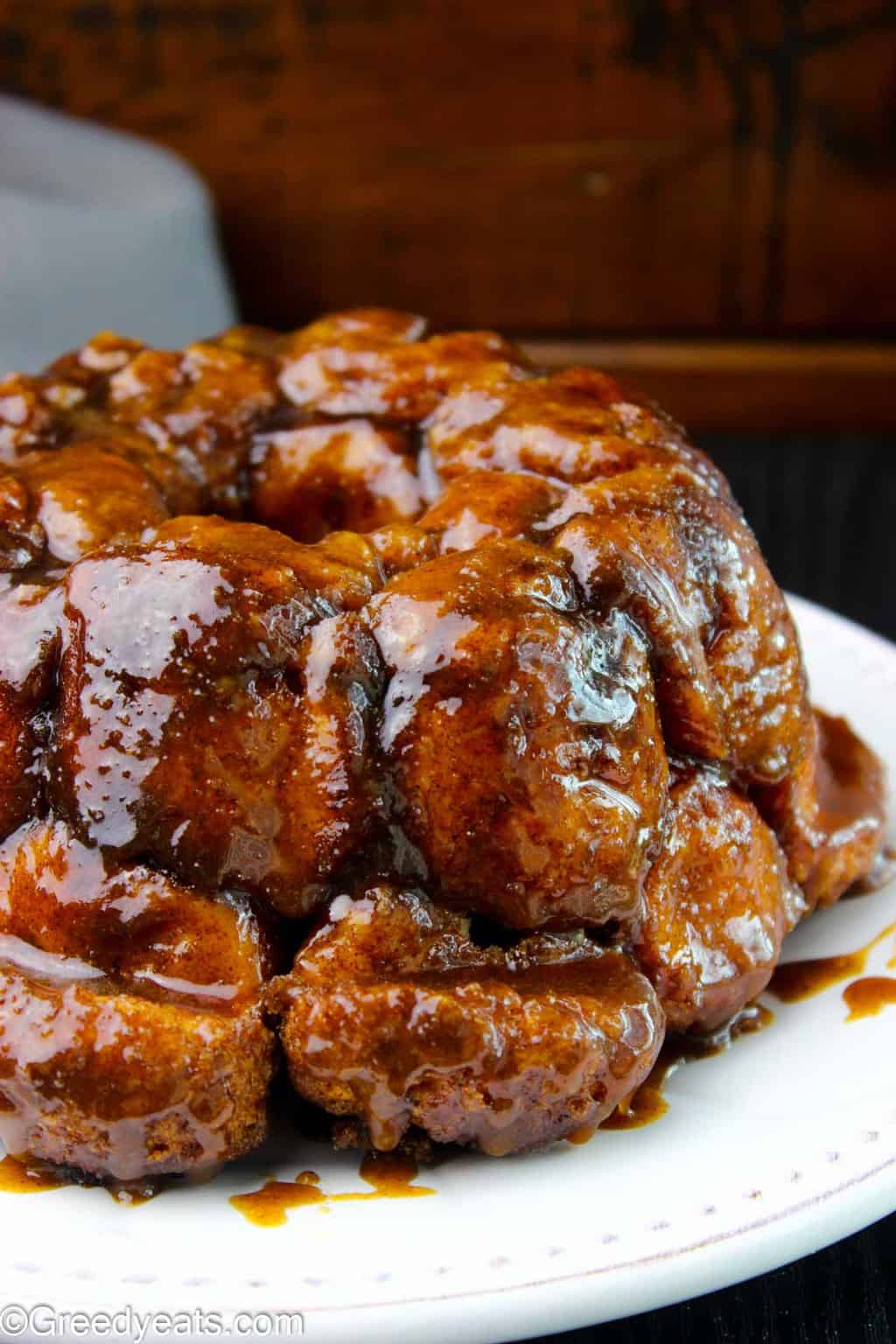 I was typing the title of this post (after sipping a tall cup of coffee) and I wrote "overnight Banana bread" instead of "Monkey Bread". What!!!
But I don't blame my brain one bit, as bananas go with monkey and all... 😉
But this got me thinking, why is it called Monkey Bread? And I found the answer very interesting! Because we tear and pull apart the bread like a monkey would, it is called Monkey Bread. So relatable! 😀 😀 😀
What is Monkey Bread?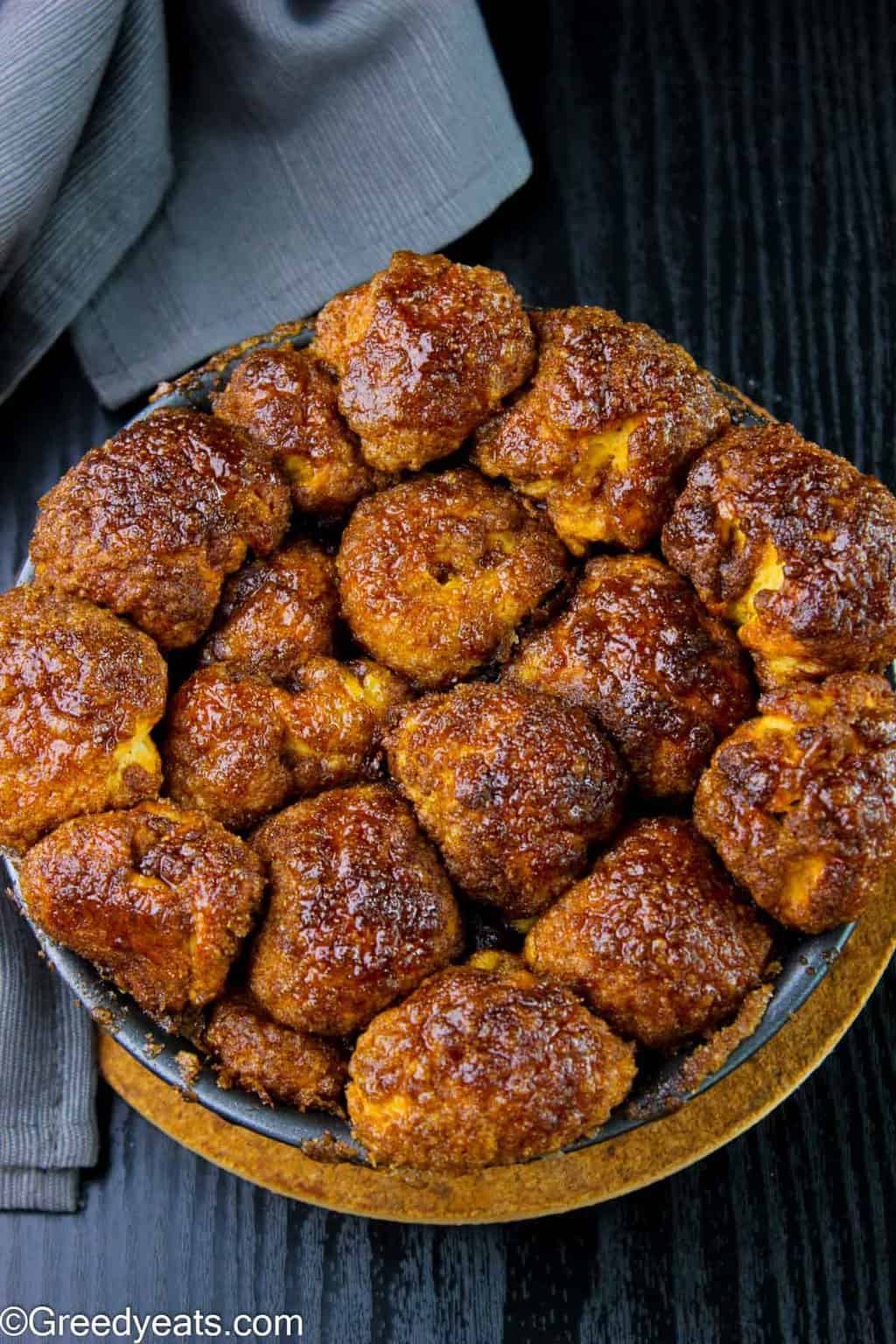 It is basically a pull apart bread that features tiny and sticky cinnamon rolls like balls, baked together in a bundt pan.
Homemade Monkey Bread dough is rolled in melted butter first, then cinnamon sugar and arranged in a bundt pan. We then top the bread with a brown sugar-butter sauce and leave this bread to rise overnight in the fridge.
That is why we call it overnight Monkey Bread!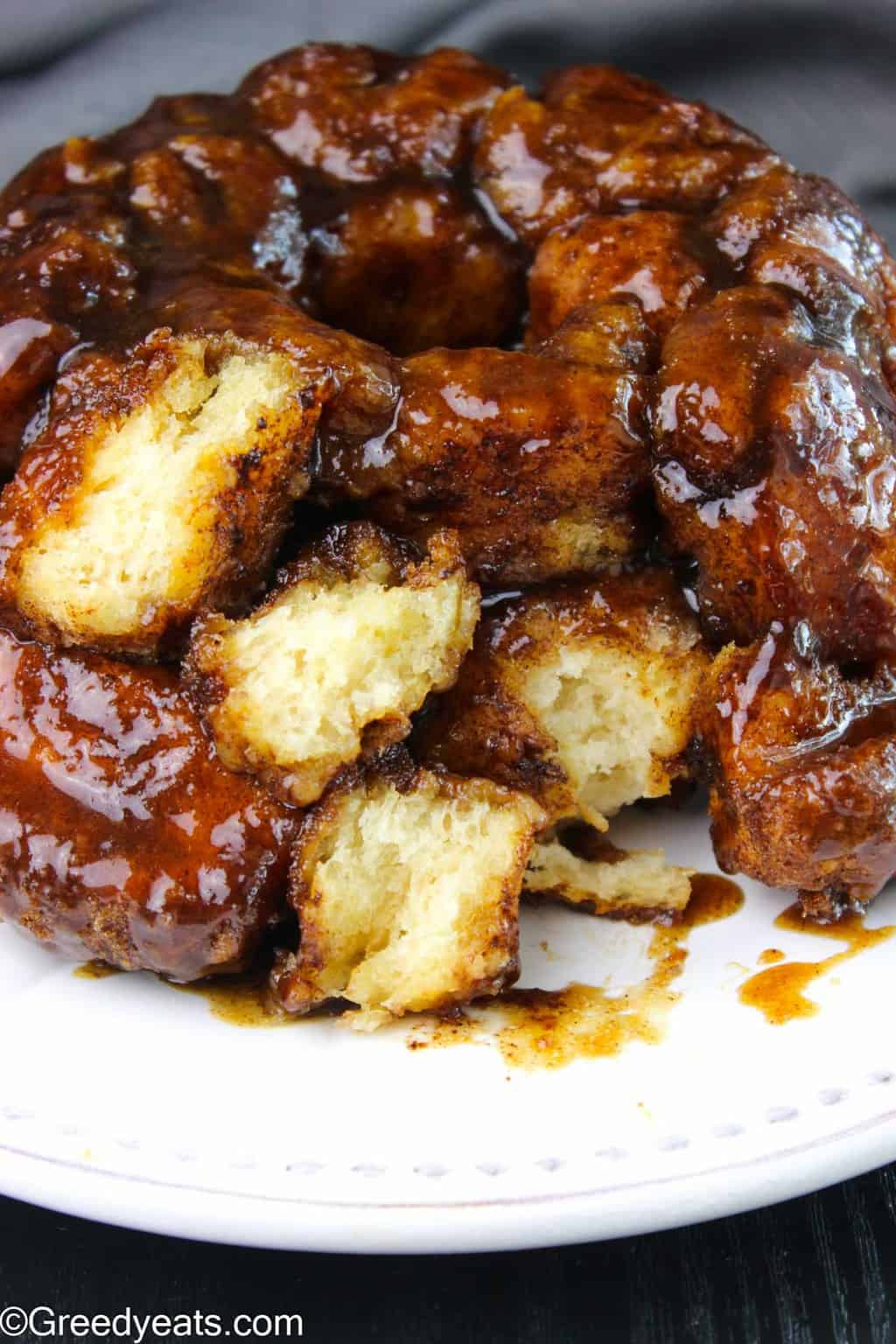 Bake it the next morning and you are ready to taste sweet and sticky mini cinnamon rolls (but better!) in every bite!
Monkey bread ingredients:
FOR THE DOUGH:
Milk: Use full fat milk to create a rich homemade bread dough.
Butter: Butter ensures a flavor rich bread
Sugar: Sugar feed the yeast and tenderizes the dough.
Yeast: You can use Instant yeast or active dry yeast. I added active dry yeast for a slower rise and better flavor. Dough with instant yeast rises quickly. Add it if you don't wish to wait overnight to enjoy your bread!
Flour: We are using all purpose flour to make our bread. Bread flour may be substituted here.
Salt: For sweet-salty flavor!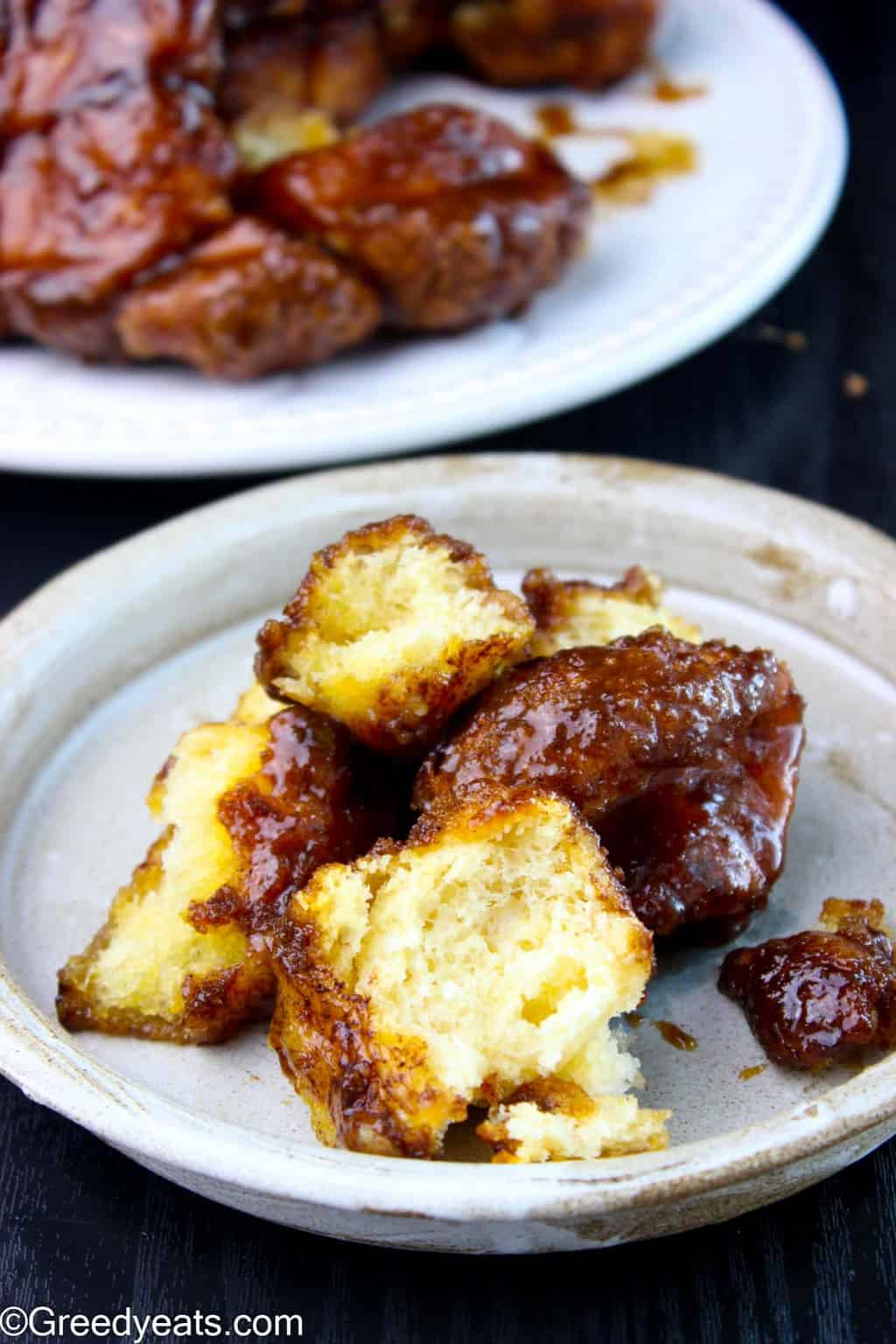 FOR COATING AND SAUCE:
Butter: For dipping the dough balls first and then using the left over for making sauce
Brown Sugar: For a deep flavor.
Cinnamon: Are you really looking for a reason! 😉
How to make Monkey Bread?
There are 2 parts to today's recipe. One is making the bread dough and other is making the coating. Let us see how this bread comes together.
Make the bread dough: Now dough can be made in a mixer or by hand. But remember you will need to knead it for 5-7 minutes to make a pliable dough if kneading by hands.
Prove the dough: Allow the dough to rise for 1 hour or till doubled in size.
Shape into balls: Now punch the dough down and divide it into 32 balls of equal size. Or alternatively, you can eye ball and form them.
Roll the balls in melted butter first and then into cinnamon sugar: The heavier you coat balls with cinnamon sugar the better will be the flavor of your bread. So go nuts and opt for a heavy coat! 😉
Arrange half of the balls in a bundt pan
Pour half of the sauce over
Arrange the remaining dough balls and pour the left over sauce: This additional step is to ensure an even spread of sauce throughout the bread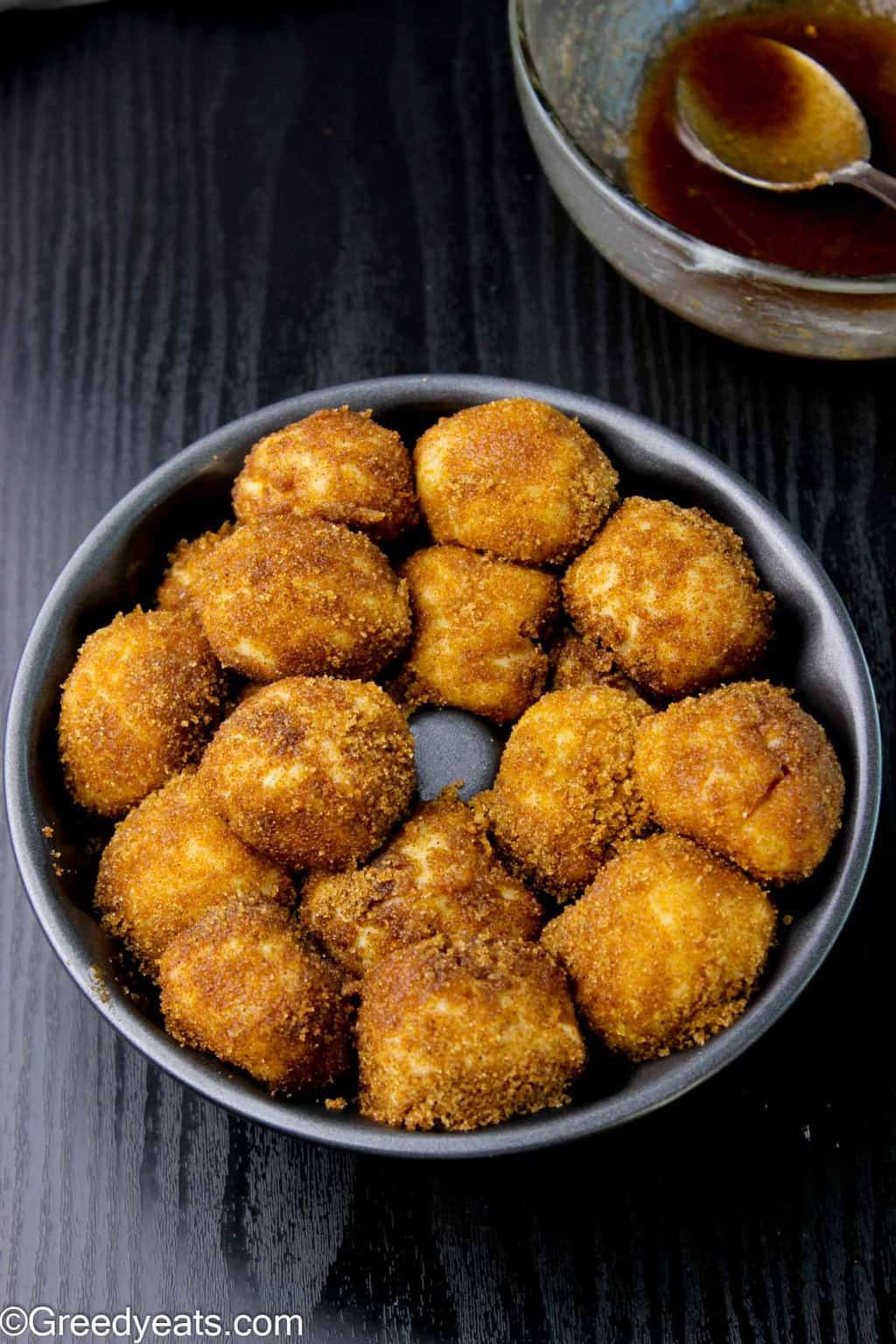 Let the dough rise overnight (covered) in the refrigerator: This step promises a better flavor profile of bread
Bake!!!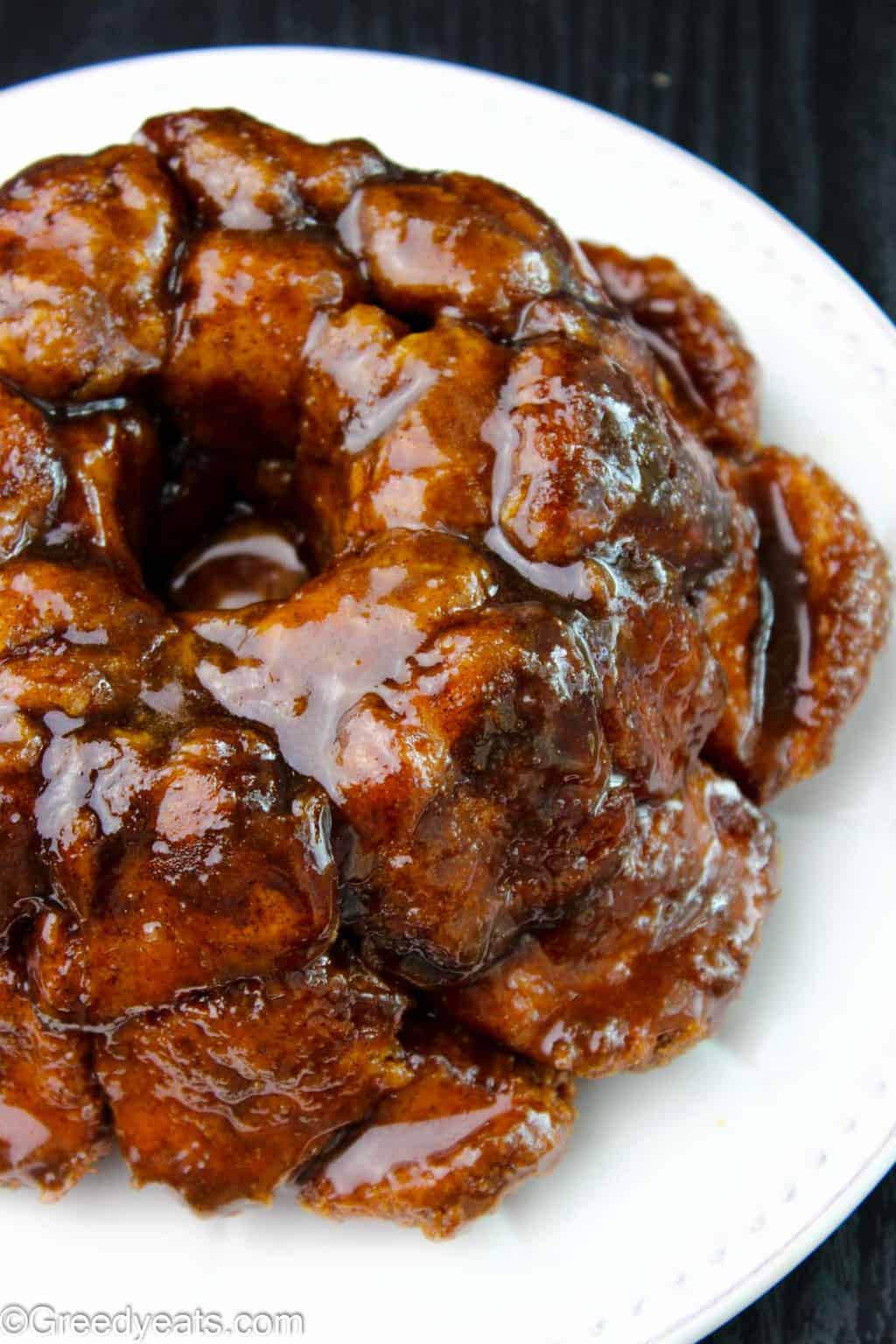 how to make monkey bread without a bundt pan
You can bake this bread in a bread pan. Alternatively, monkey bread can be baked in muffin pan. Stack 3 dough balls in each cavity. Baking time and oven temp will be same!
How do you keep monkey bread warm?
Leftover bread can be reheated in oven at 250 deg F for about 7-10 minutes or till heated through!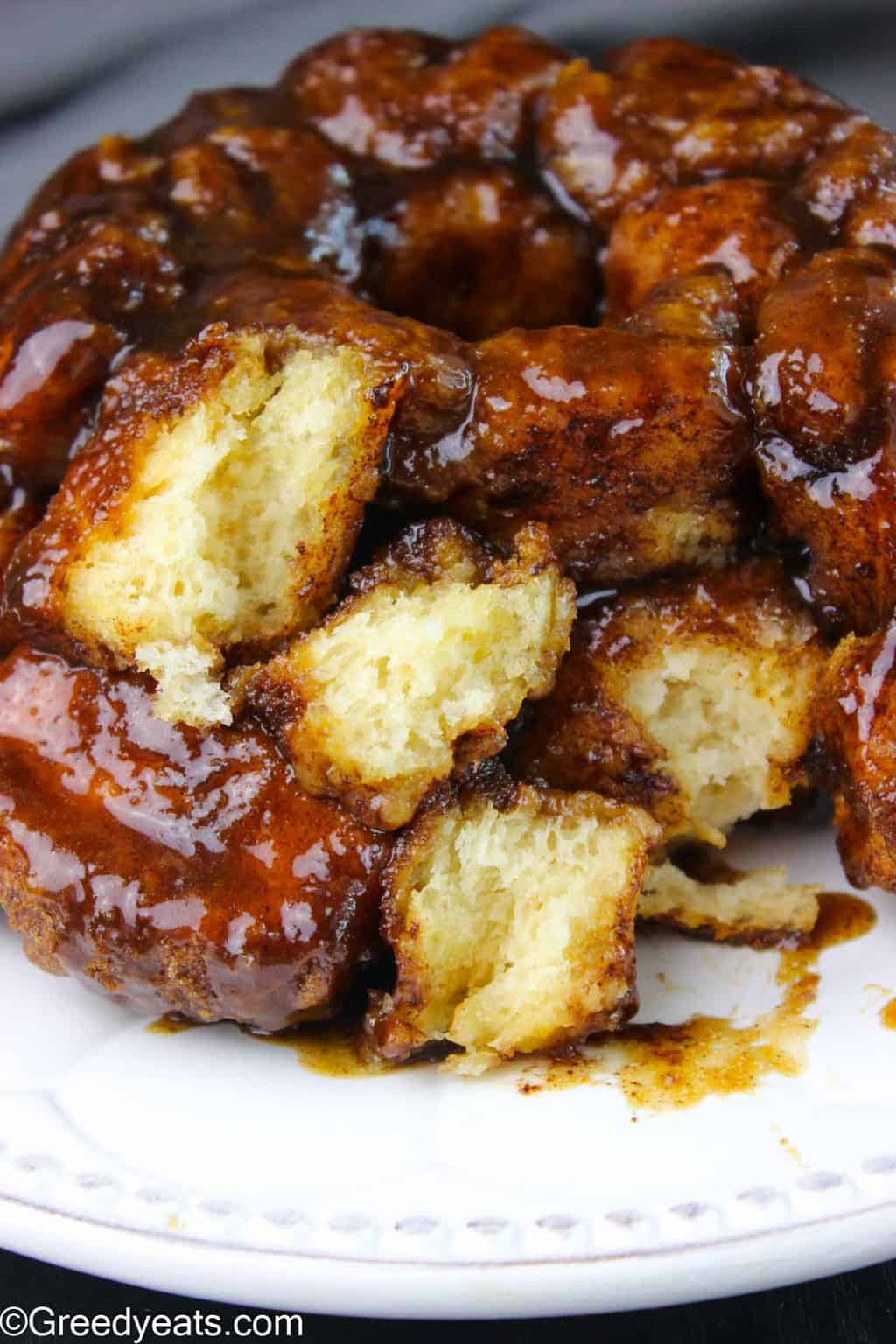 Can you use baking powder instead of yeast to make bread?
Baking powder would require an acid to make the dough rise, which this monkey bread recipe lacks. Yeast makes bread, bread! If you too are picky about the texture of your bread, I recommend yeast as opposed to baking powder.
What happens if water is too hot for yeast?
This could kill your yeast. The dough might not rise well, resulting into a dense and doughy bread. Water should only be warm at around 100 deg C not hot to touch.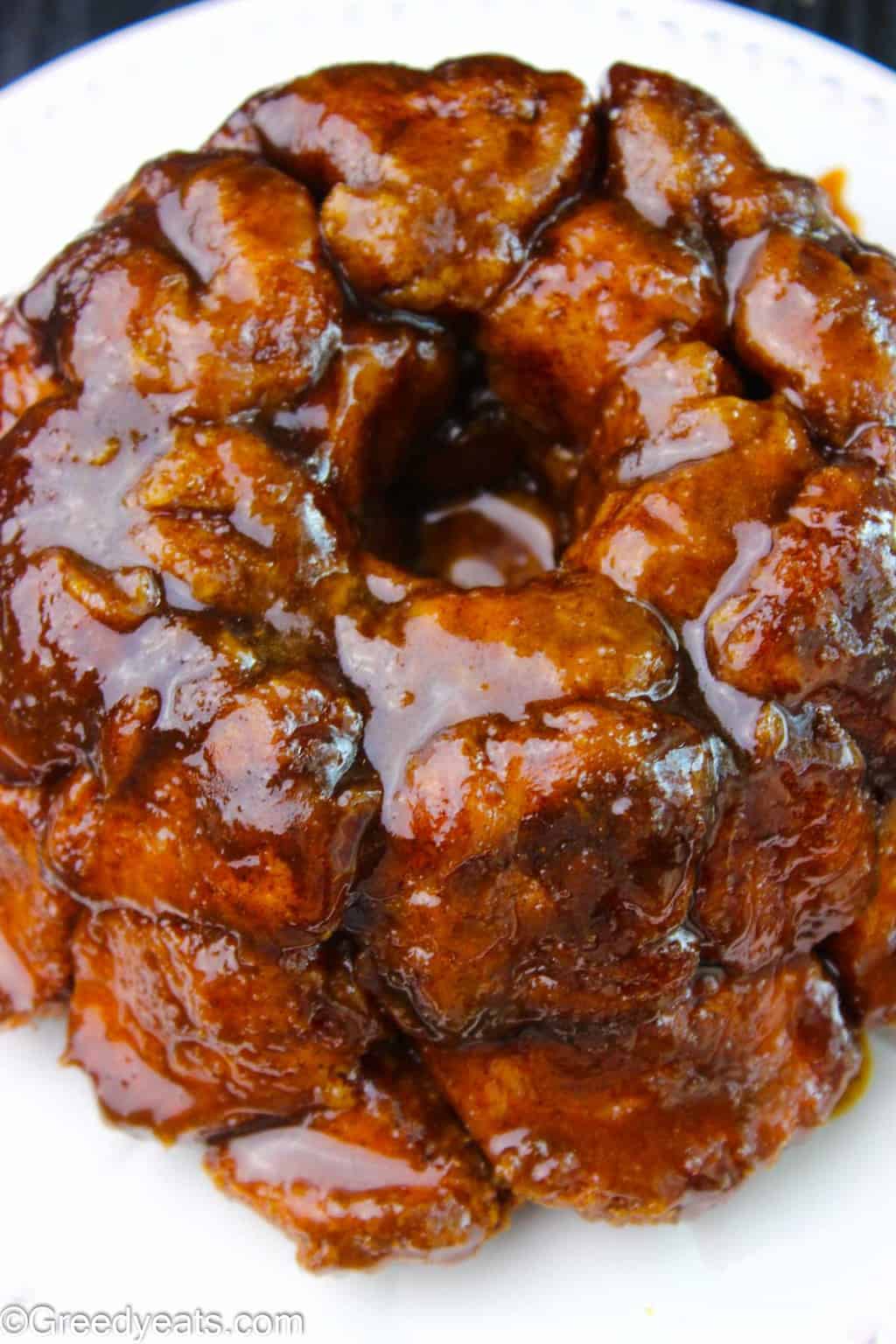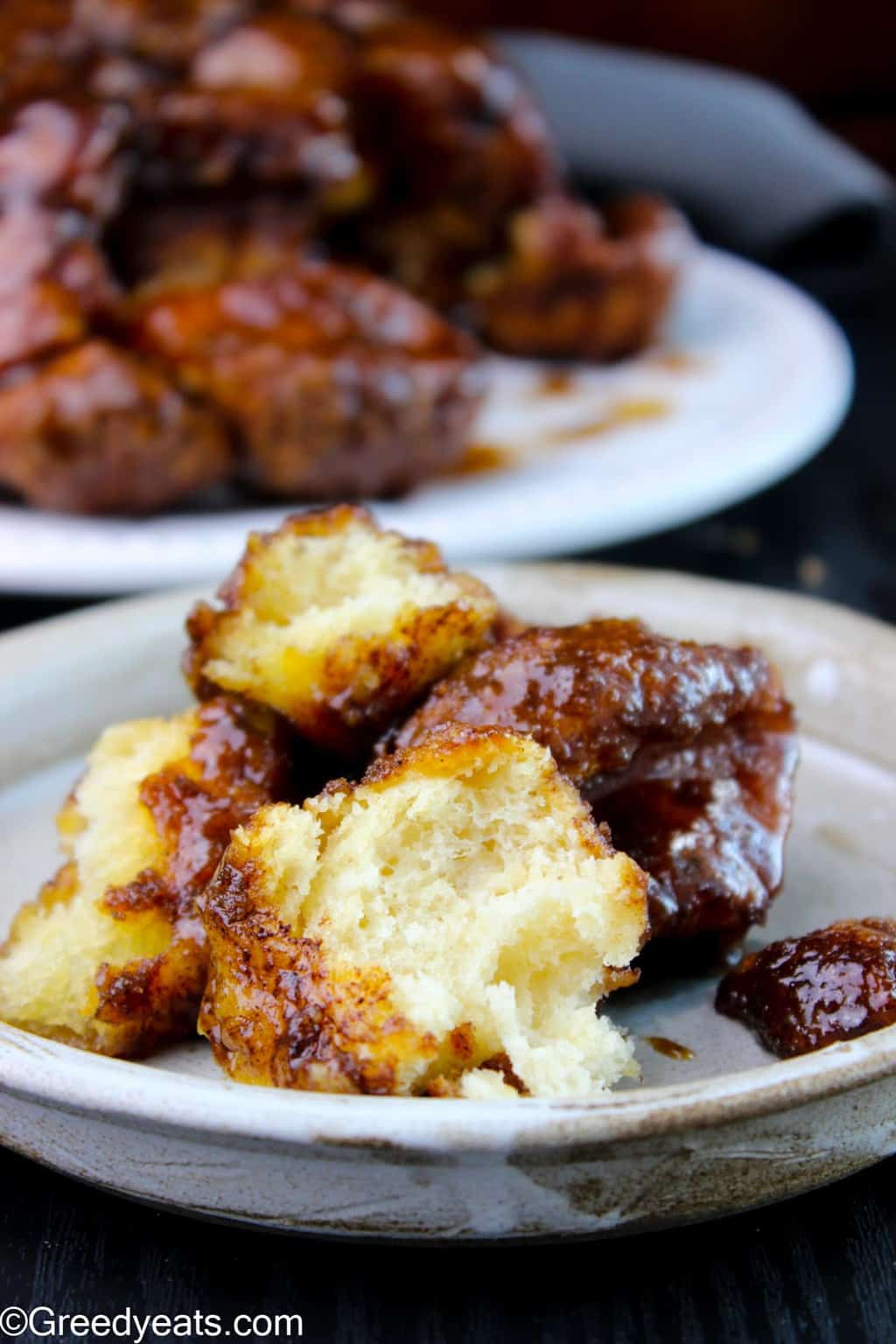 Now you could take a shortcut and make monkey bread with canned biscuits. But it tastes nowhere closer to a gooey, warm, buttery, sweet and cinnamon-y homemade monkey bread baked from scratch.
Wait till you smell this in your kitchen!
More Fall Desserts:
Sweet Potato Chocolate swirled Pound Cake
Apple Cupcakes with Cream Cheese Frosting
Recipe