Refreshing microwave lemon curd is made with 5 simple ingredients. This one's a super quick lemon curd recipe that is ready under 5 minutes.
Spread this Lemon Curd on this Ultra Soft Berry Coffee Cake! Find all my spring Dessert Recipes here.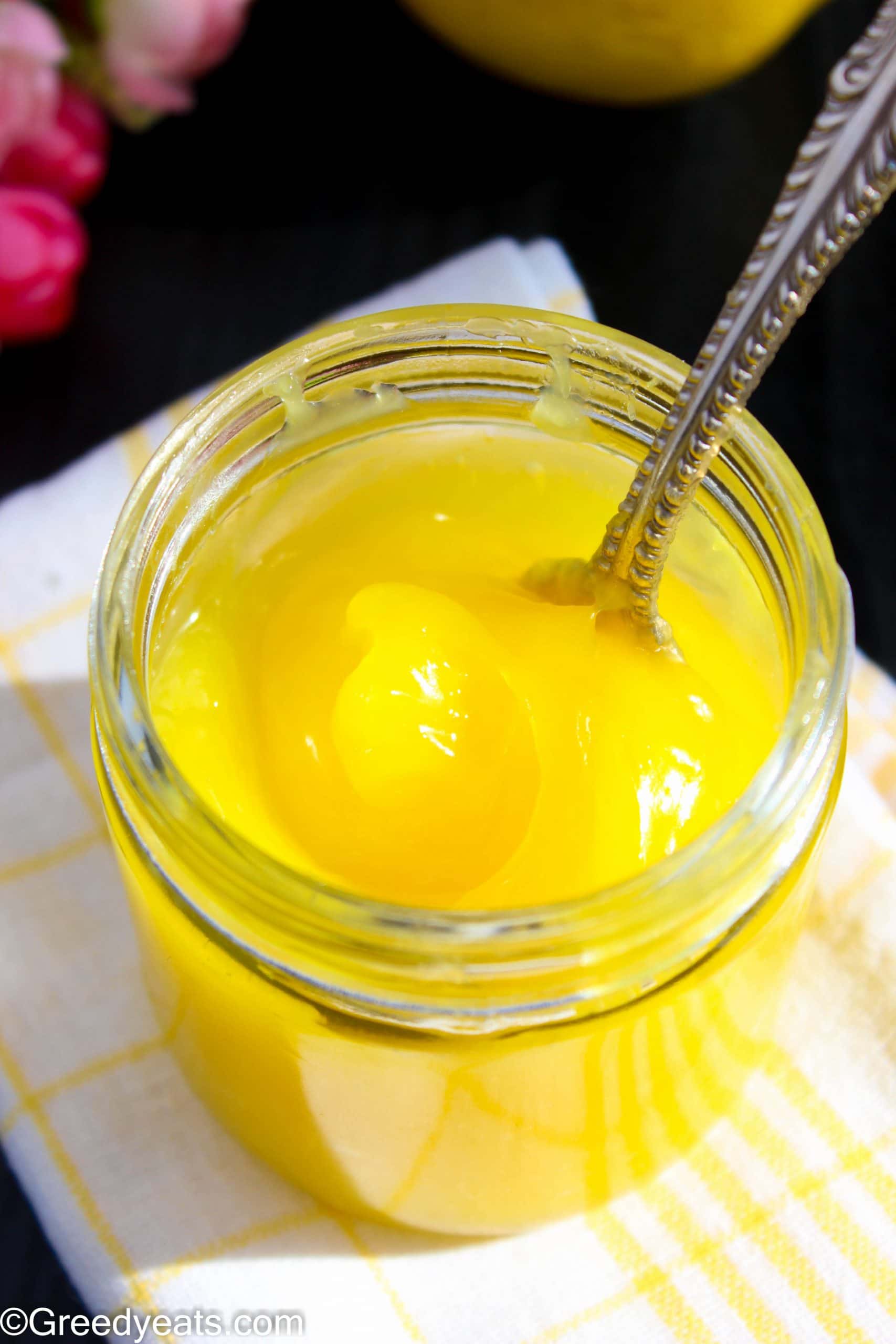 If you know me, you know how much I adore lemons and Summer desserts! Lemon Cake, lemon cupcakes, softest lemon muffins, more lemon cake. I bake with lemons all summer long.
And during cold days, I fix my sunshine craving with this Small Batch Cupcake recipe!
If you love lemons and you love jam, there is no way you won't be found licking this curd straight out of your refrigerator!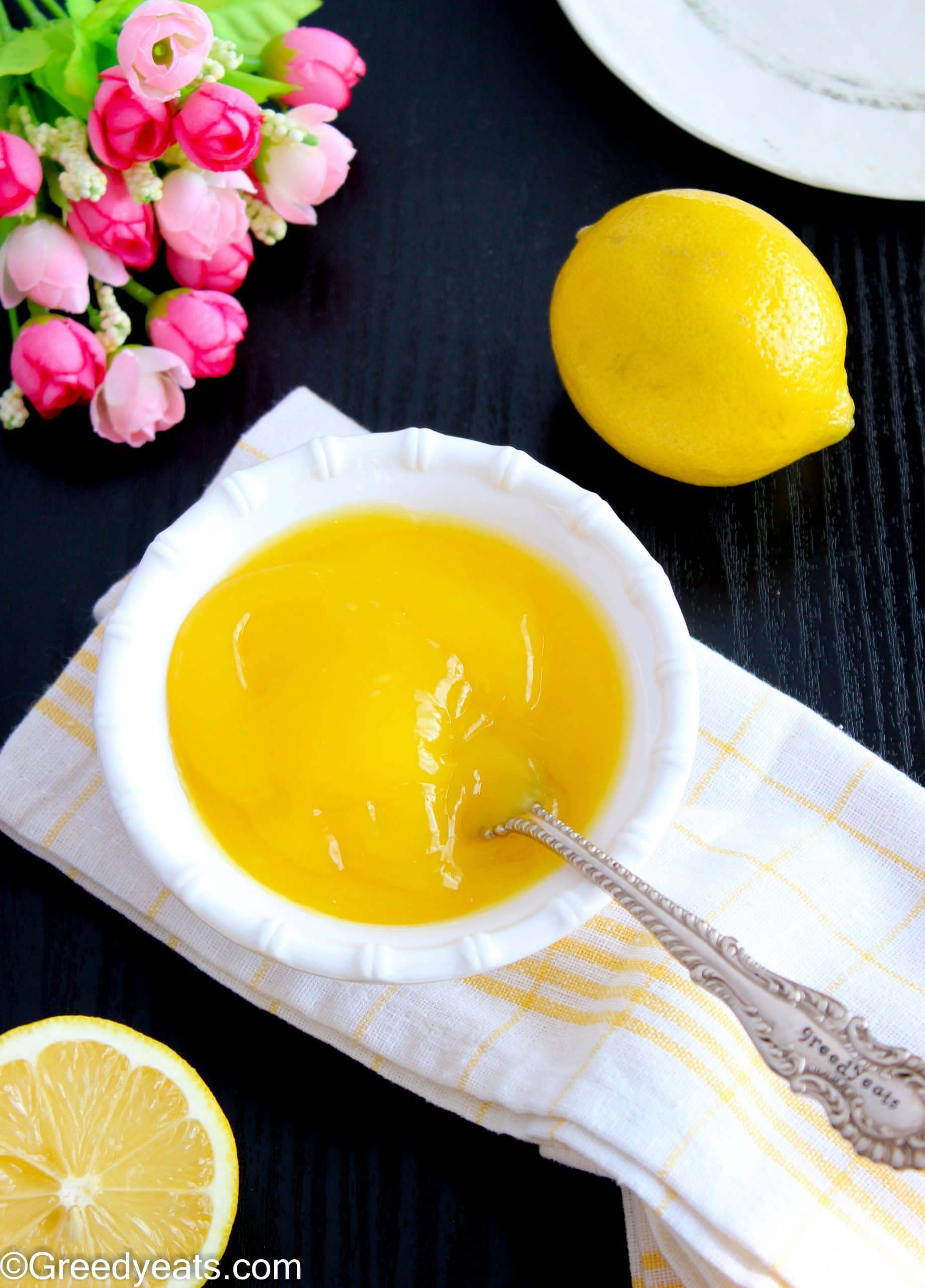 Top it on ice creams, cheesecakes, biscuits, scones or on your morning toast. A little lemons makes everything taste 100x better!
Recipe ingredients:
Egg: Whole Egg, egg yolk or a combination of both can be used to make curd. But I prefer yolks to make it creamy and smell free.
Butter: I used salted butter, so did not add additional salt. If you go for unsalted one, add a pinch of salt to the recipe.
Sugar: You can always add a little less to make a tart curd. Or a little more if you like it sweet.
Lemon Juice: Don't use more juice than the recipe states, it can make your curd runny!
Lemon Zest: You may strain your curd, if you don't like granules of zest in it. I don't.
How can we make curd in microwave?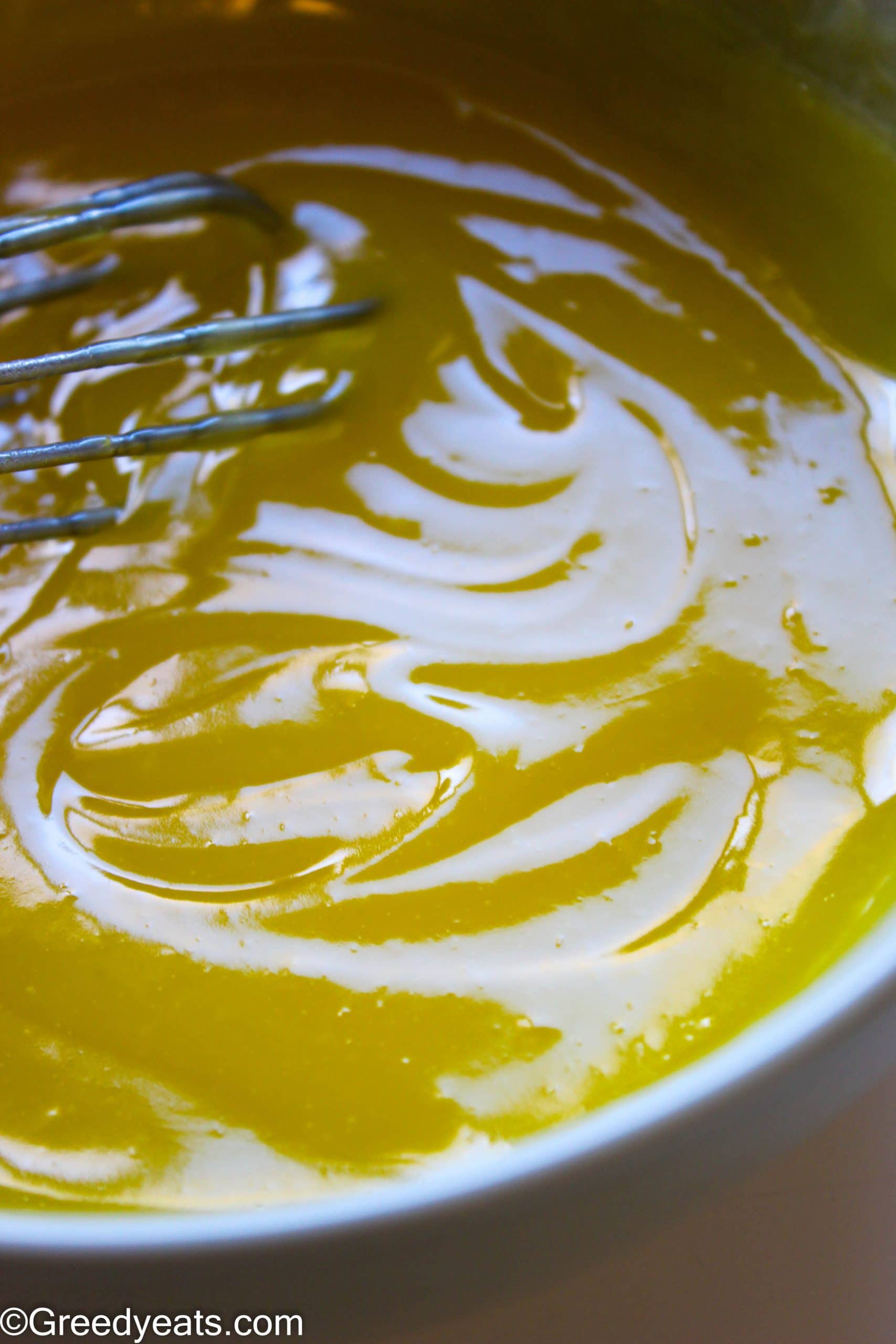 Lemon curd recipe is a very easy process of heating all the 5 ingredients. Traditionally it is made using a double boiler on a stove top. But making lemon curd in microwave is a breeze.
Just drop softened butter, egg yolk, sugar, lemon juice and zest (everything room temp) in a microwave safe bowl.
Heat them in 30 seconds increments till the curd thickens.
Why is my lemon curd not thickening?
Adding an extra egg yolk will help thicken your curd. Add the yolk, give it a stir and continue to microwave.
If still you find your curd to be thin, add a teaspoon of cornstarch to 2 tsps of cold water. Add it in all the ingredients and continue to cook until it coats the back of your spoon.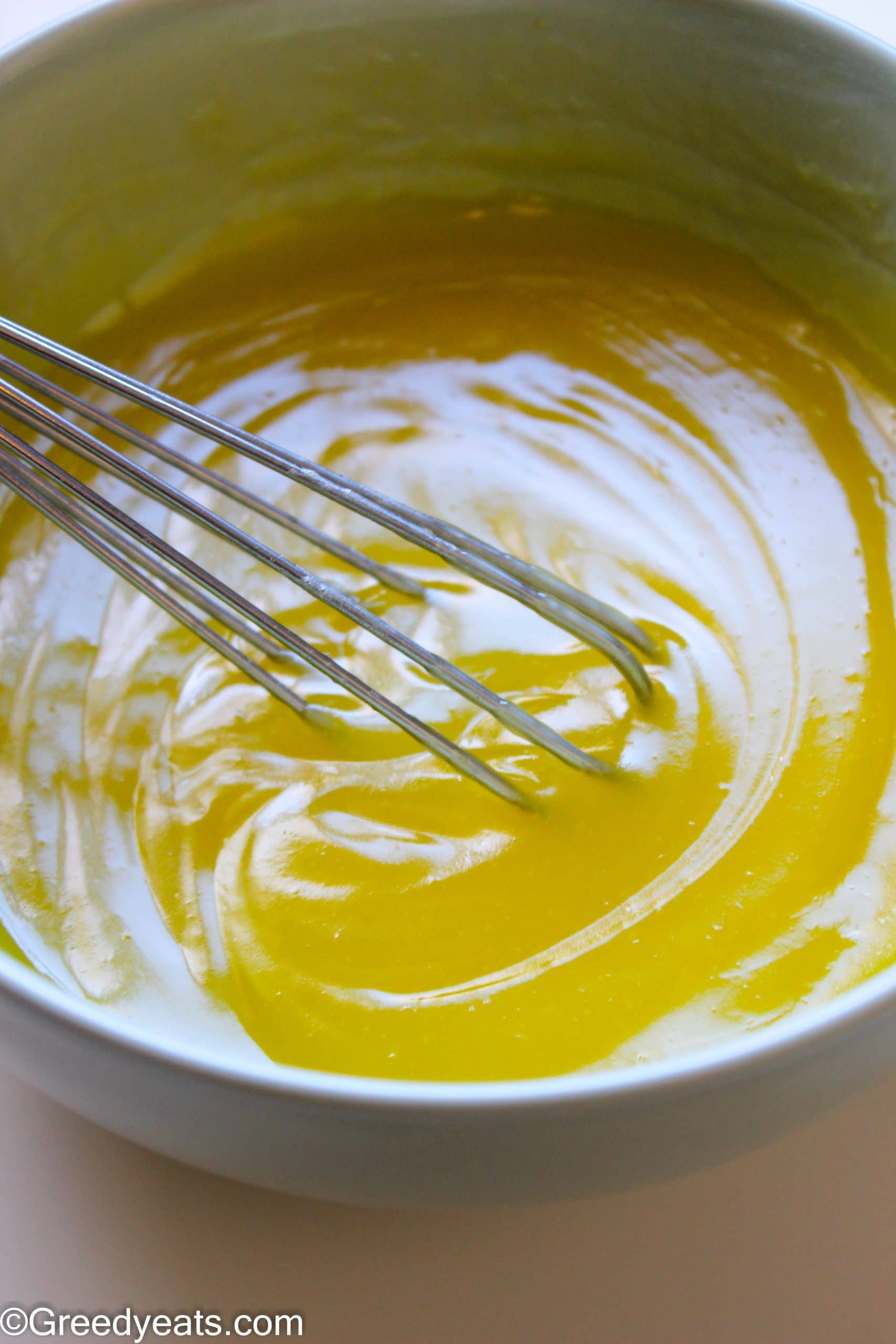 Why does my lemon curd taste eggy?
In most cases, (if you've followed the recipe to the T) egg whites are the culprit. I prefer to add yolks rather than whites to avoid eggy and scrambled lemon curd.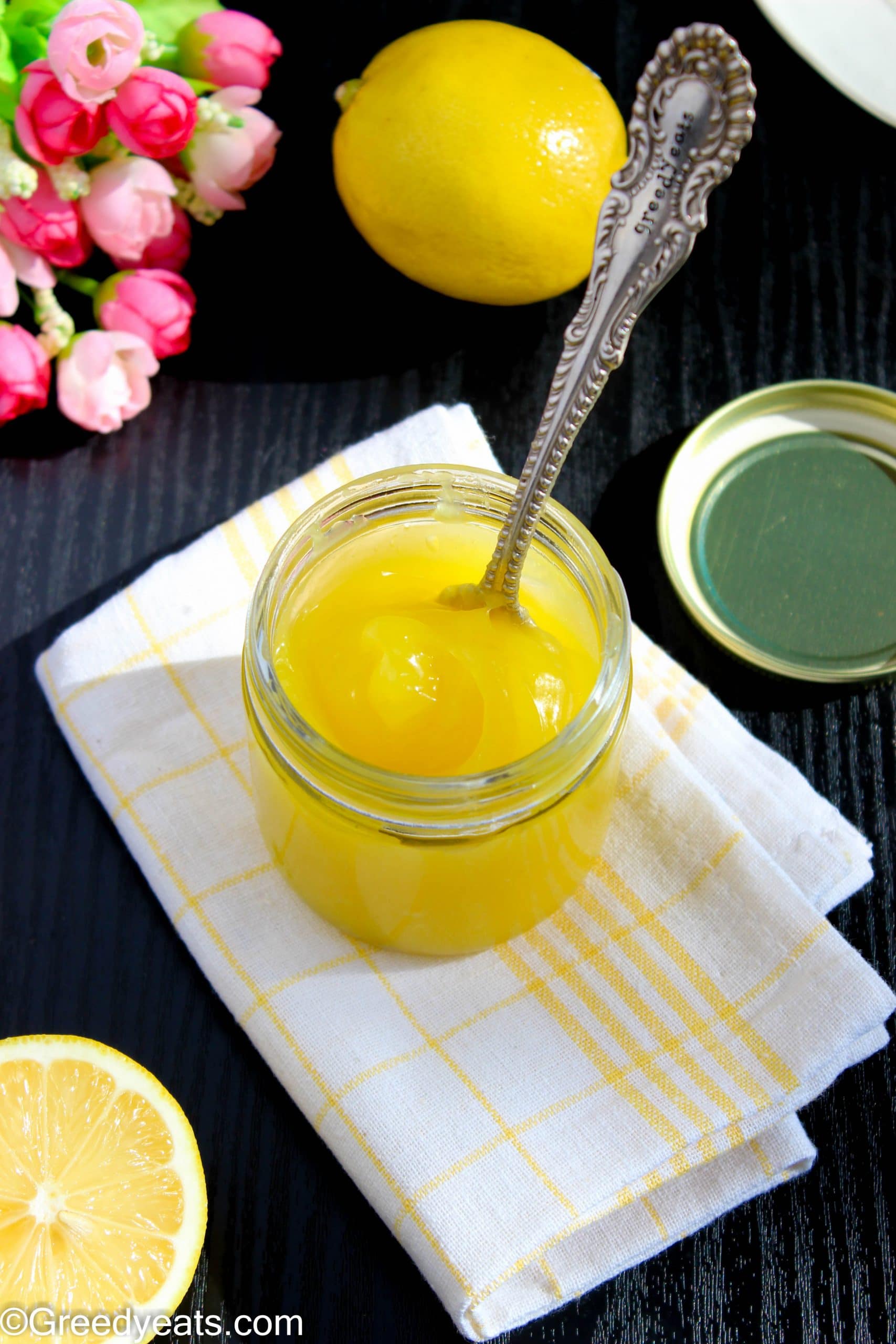 Will lemon curd thicken as it cools?
Yes the curd will thicken as it cools down. It will also thicken up in the refrigerator.
More Desserts for you to try:
Strawberry Cupcakes with Strawberry Frosting
If you liked this recipe give it a star review. Also, tell me in the comments below, how did this turn out for you! And don't forget to share your creations with me on Instagram at #greedyeatsblog Also follow me on Pinterest and Facebook!
Recipe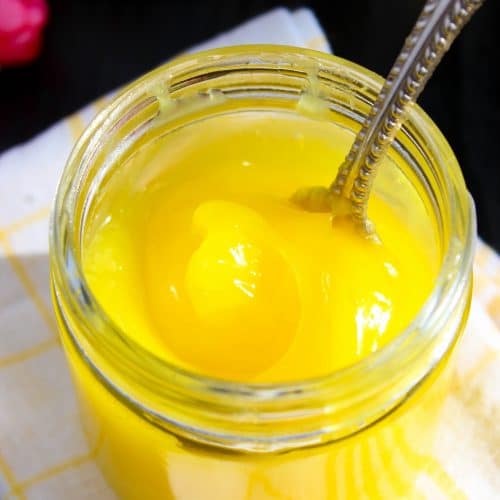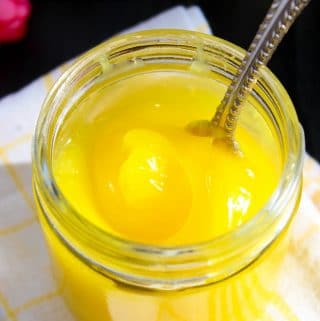 Microwave Lemon Curd
Refreshing microwave lemon curd is made with 4 simple ingredients. This one's a super quick lemon curd recipe that is ready under 5 minutes.
Print
Pin
Rate
Servings
4
Yields about ¾ Cup
Ingredients
3

Tbsps

Butter

(salted, Softened to room temperature)

⅓

Cup

Granulated Sugar

2 ½

Tbsps (40 ml)

Lemon Juice

(Room temperature)

1 ½

teaspoon

Lemon Zest

2

Large

Egg yolks

(Room temperature)
Instructions
Begin by whisking all the ingredients in a microwave safe bowl.

Then cook the curd on full power in 1 minute increments. Stir after every minute.

After about 3-4 minutes (depending on the heat/power of your microwave) the curd will begin to thicken.

Cook till the curd coats the back of a metal spoon. The curd will thicken some more as it cools.
Notes
Flavor substitutions:
Try orange, grapefruit or even berries instead of lemon juice. They all taste great in their own ways!
Storage information:
Store lemon curd in a clean glass jar or container for up to a day at room temperature.
You may store curd in refrigerator for a week.
Push lemon curd through a fine sieve to make it creamy and smooth before it cools.
To insure Thick Lemon Curd:
Mix a teaspoon of cornstarch in 2 teaspoon of cold water. Add this to your ingredients, mix well and microwave till the curd thickens. No you won't taste any cornstarch in your lemon curd! 
Nutrition
Calories:
170
kcal
|
Carbohydrates:
18
g
|
Protein:
1
g
|
Fat:
11
g
|
Sodium:
79
mg
|
Sugar:
17
g