Homemade mint chocolate bark swirled with mint flavored white chocolate. A perfect candy treat for St Patrick's day, Christmas or any other day! 😉
More best chocolate desserts from the blog!
I have a perfect no bake treat for you today. So simple to put together, way economical than store bought, festive and it involves chocolate! Convinced? No??
Okay, question. Do you love Andes mints?
Who am I kidding! Of course you do. Coz who doesn't!
This mint chocolate bark tastes exactly like a giant Andes Mint!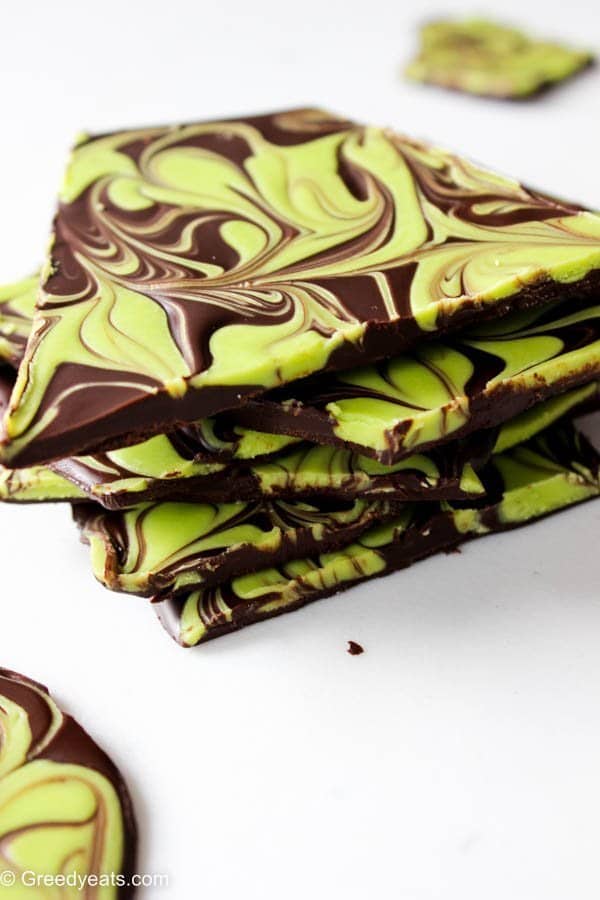 Chocolate Bark is one of my most favorite candy to make. You have so much room to play! Dark chocolate as a base will happily take swirls and crumbs of peanut butter, candies, cookies, marshmallows, sprinkles. You name it!
And all of them taste so unique, all delicious in their own ways!!!
Plus it hardly takes 10 minutes to make this most indulgent candy treat!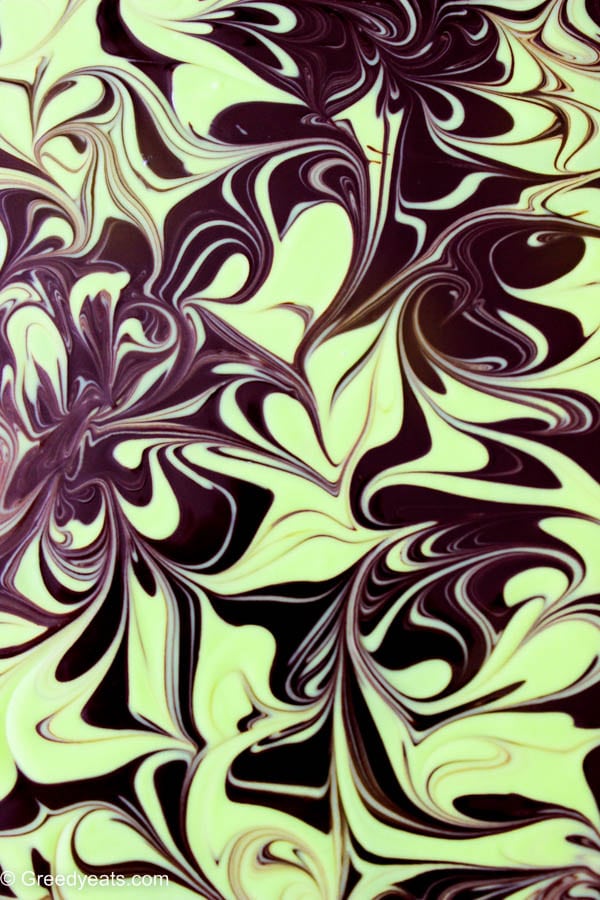 And look at those swirls!!! ♥♥♥
How to swirl chocolate?
So easy! Select two contrasting color chocolates.
Melt and spread one in rectangular shape on a parchment paper.
Spread second chocolate on it from a height (see image below for visual).
Then I create swirls  with a small toothpick. You can pretty much use any knife or even fork. Go creative!
Ingredients for mint chocolate bark
Chocolate.
And we need a lot of it. So it's crucial to use pure and quality chocolate in the recipe. No, chocolate chips will not work! Chocolate chips contain stabilizers, which prevent them from melting properly!
So once again!
Dark/semi sweet chocolate- We are using semi sweet chocolate as a base
White chocolate-Base for mint layer
Green candy melts- we are mixing a few in white chocolate
Peppermint extract- for mint flavor
Few drops of oil- to prevent chocolate from seizing because of the added extract
And that's all you need. Told ya! It is super simple.
Let me quickly run you through the process!
To make the mint chocolate bark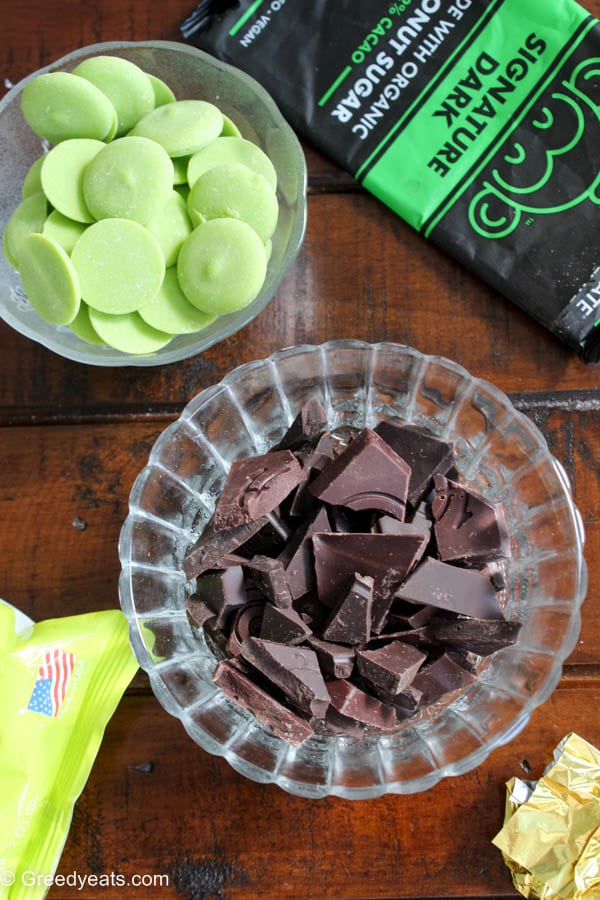 Melt dark chocolate and spread on a silicon mat/parchment paper.
Melt the white chocolate and candy melts together in microwave (in 20 sec intervals). Add in oil and extract.
Spread mint chocolate layer over dark chocolate.
Swirl them both together. Let set.
Cut the bark and devour!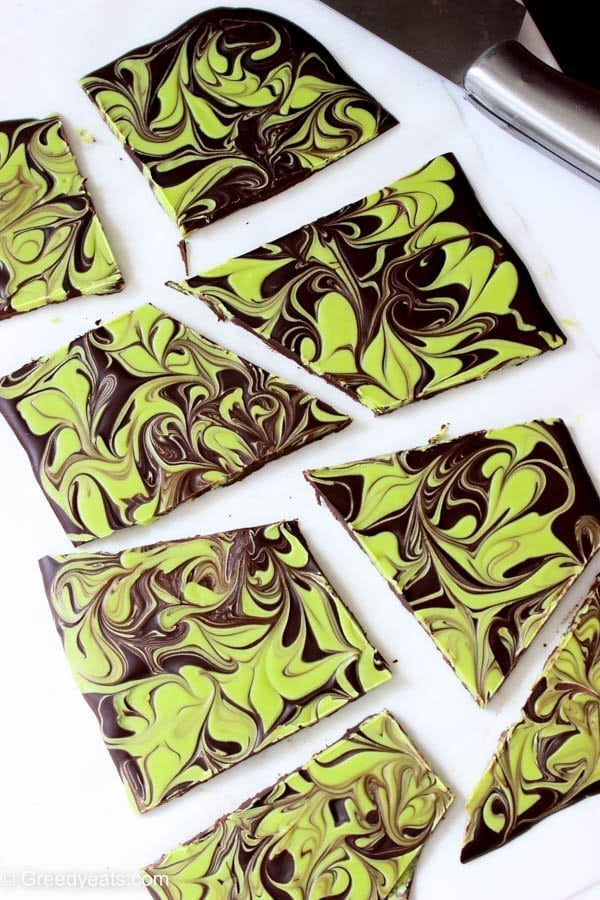 Follow me on Instagram and tag #greedyeatsblog so that I can see your mint barks! ♥
Looking for more 7 ingredient or less recipes? I have so many of them!
Oh and on a totally unrelated note, have you tried my small batch chocolate cupcakes with chocolate frosting (piled high) yet? One taste and you will bake them over and over again!
Recipe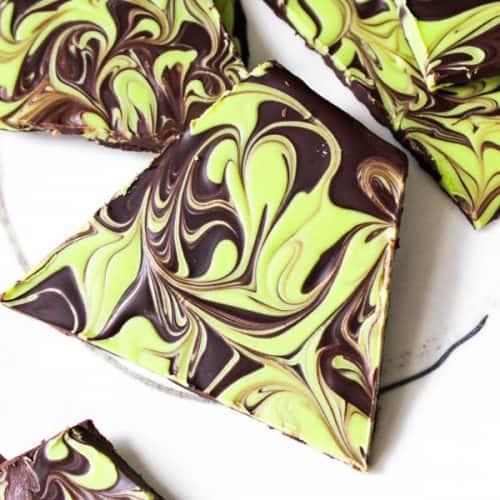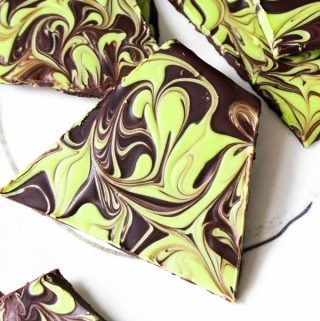 Mint chocolate bark
Homemade mint chocolate bark swirled with mint flavored white chocolate. A perfect candy treat for St Patrick's day, Christmas or any other day! 😉
Print
Pin
Rate
Ingredients
4 oz (100 gms)

Semi sweet chocolate (not chocolate chips, chopped)

2 oz (50 gms)

White chocolate (good quality, chopped)

2 oz (50 gms)

Green Candy melts

⅛ tsp

Oil (such as Canola)

¼ tsp

Peppermint extract
Instructions
1. Line a baking sheet with parchment paper/silicon mat. Set it aside.

2. Melt semi sweet chocolate (chopped) in microwave in 20 second increments. Stir in between. You can also use double boiler method.

3. Spread the chocolate on pre-lined sheet in a rectangle.

4. Now melt candy melts and chopped white chocolate together, just like you melted semi sweet chocolate. Add in oil and peppermint extract. Stir to combine.

5. Spread the mint chocolate on semi sweet chocolate rectangle in lines from some height. Check the procedure pics above for reference.

6. Swirl both the chocolates together using a toothpick or knife. Allow to set in a cool and dry environment, at room temperature.

7. If you wish, you can also firm your bark in the refrigerator. Once it sets, cut into pieces as desired.

Storage:

Mint bark stays good in a cool place (at room temperature) for 2 weeks, in refrigerator for upto 4 weeks, in an airtight container.

For longer storage, you may freeze your bark for 2 months. Thaw in the refrigerator before enjoying.

Notes
Instead of green candy melts, you can also use white chocolate plus a drop of green food coloring. Or leave the food coloring out if you don't care about the color.
Don't skip oil using only white chocolate.
I don't suggest using mint extract for this recipe. Mint chocolate bark recipe tastes best with peppermint extract.
Nutrition
Slightly adapted from chocolate chocolate and more!