Drum roll for a super quick vegan chocolate cupcake recipe please. So moist, fluffy and rich! I promise you will never get over it. 😉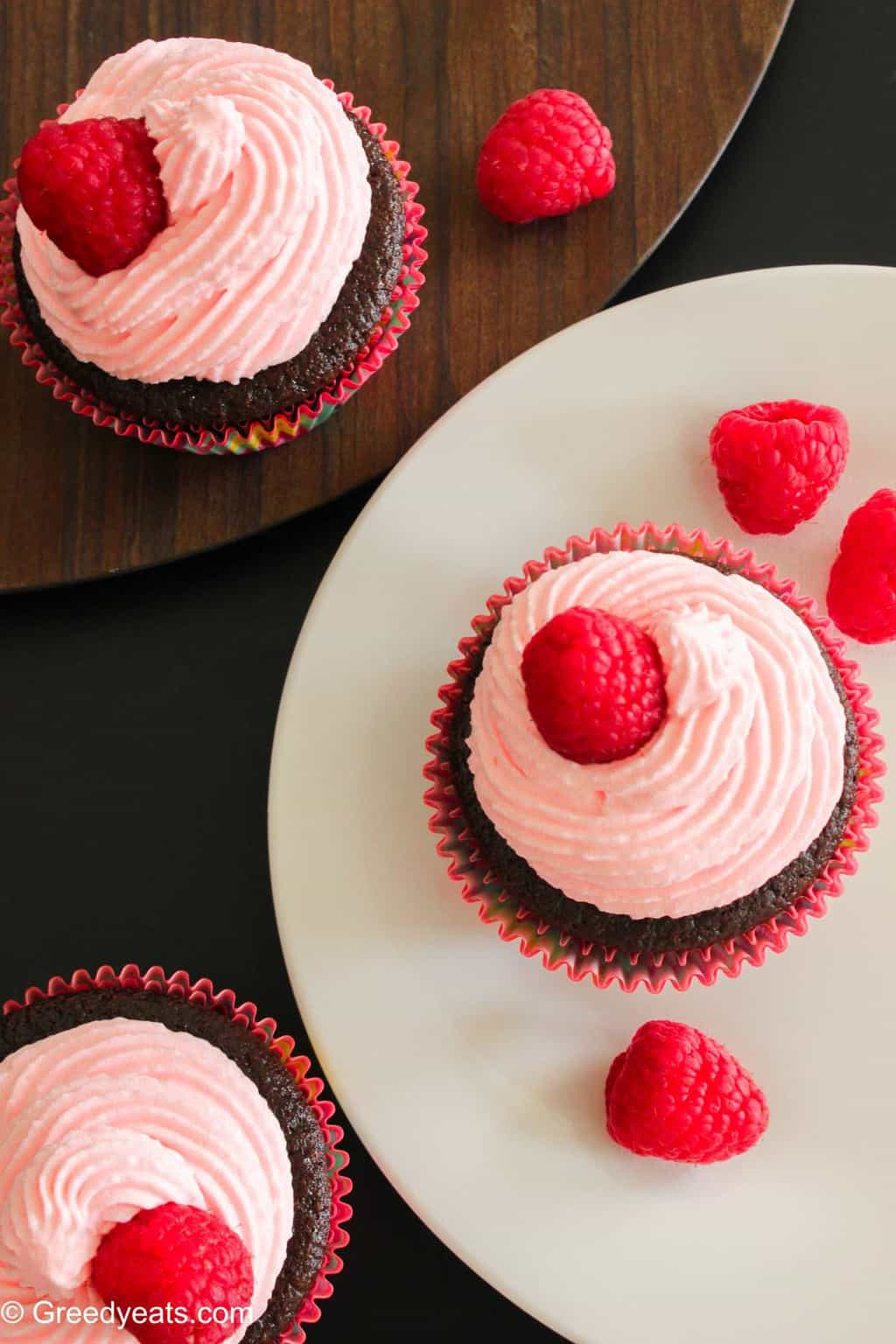 Do vegan bakes need an introduction these days? Heck No!
No eggs. Checked!

No dairy. Yup!
Dishes dirtied? Only two!
No mess. Absolutely!
Don't worry! I am not gonna get any further into this.
This is of utmost importance right now. ⇓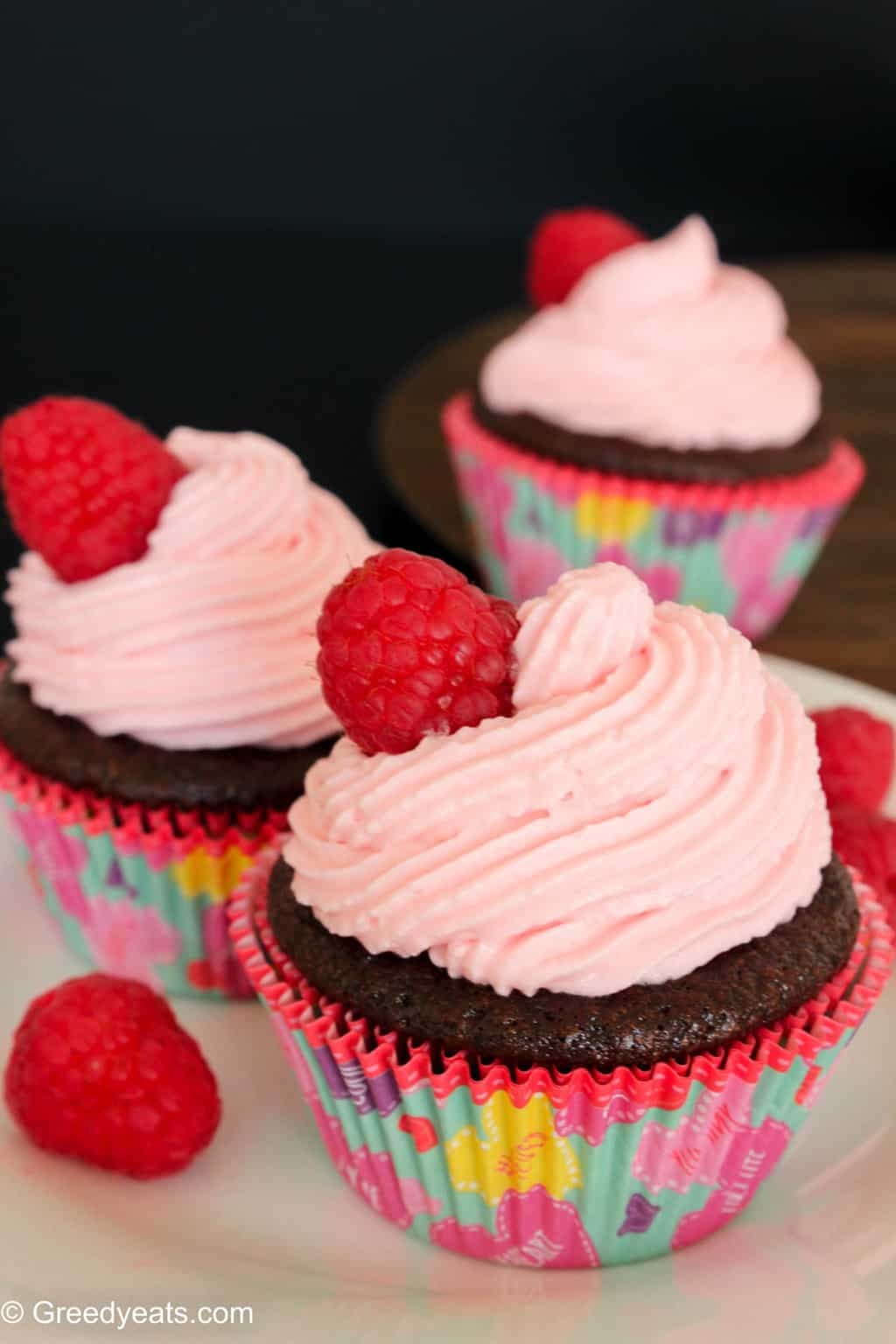 you wouldn't even know you are missing any of the above in the recipe today!
Yes, I had to type this in bold.
The vegan chocolate cupcake recipe today is not any ordinary one! It's switching the chocolate cupcake's gear to the next level delicious! Ticks all the marks of a rich, moist and spongy chocolate cupcake.
Look how flat and shiny those tops are!
We would never take these any other way either! 😉 Flat tops. Prime necessity to be able to pipe 4 buckets of frosting on each cupcake.
Nope! Any less and I am not your friend! 😀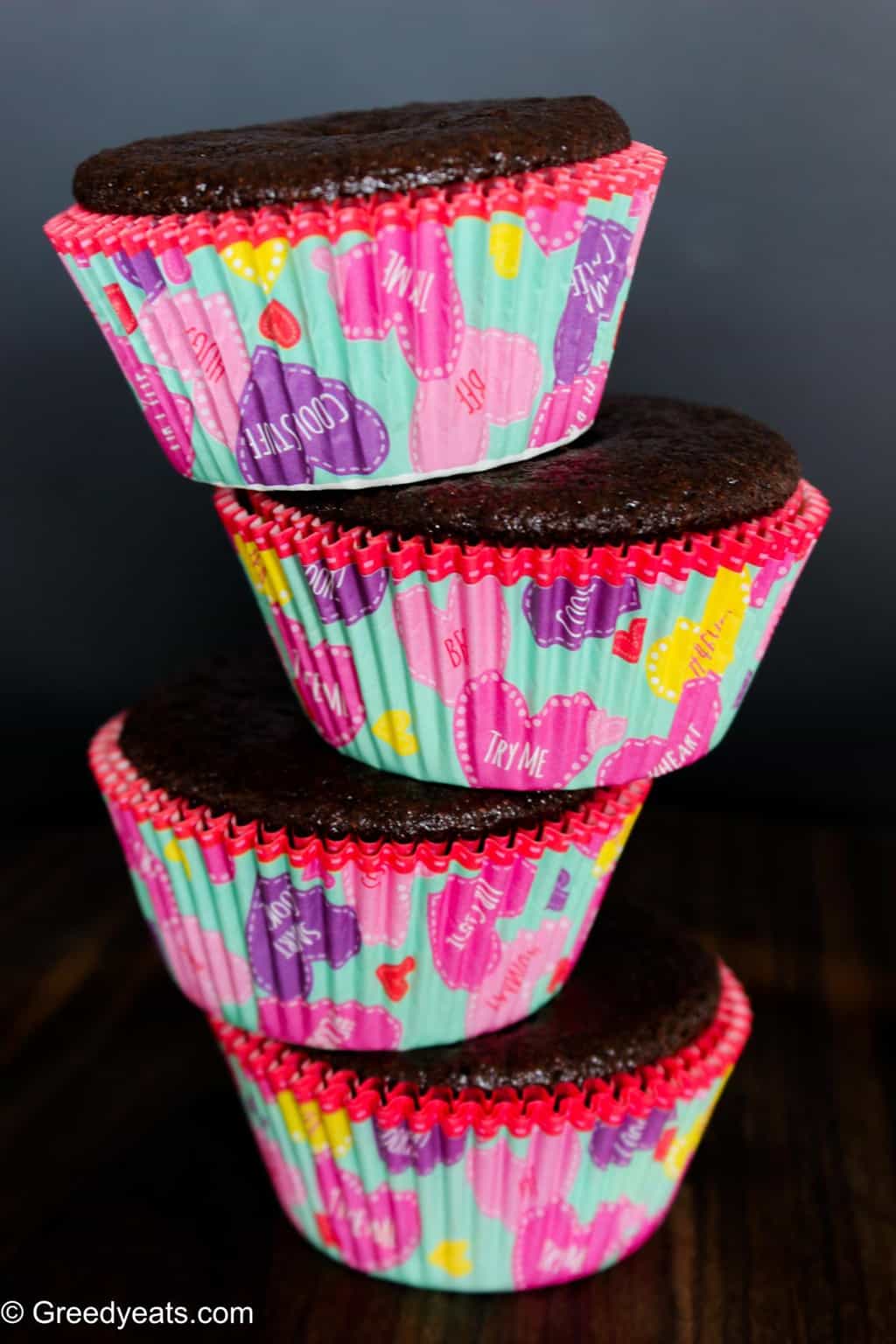 What gives this vegan chocolate cupcake recipe its texture?
Oil

Coconut milk (Don't worry. You wouldn't taste it)
Vinegar
This trio creates the world's most amazing, soft, moist and fudgiest vegan chocolate cupcakes that you will ever know!
These three combined together, bring in a ton of moisture in the cupcakes that I can't stop talking about! You won't too!
Check these out!!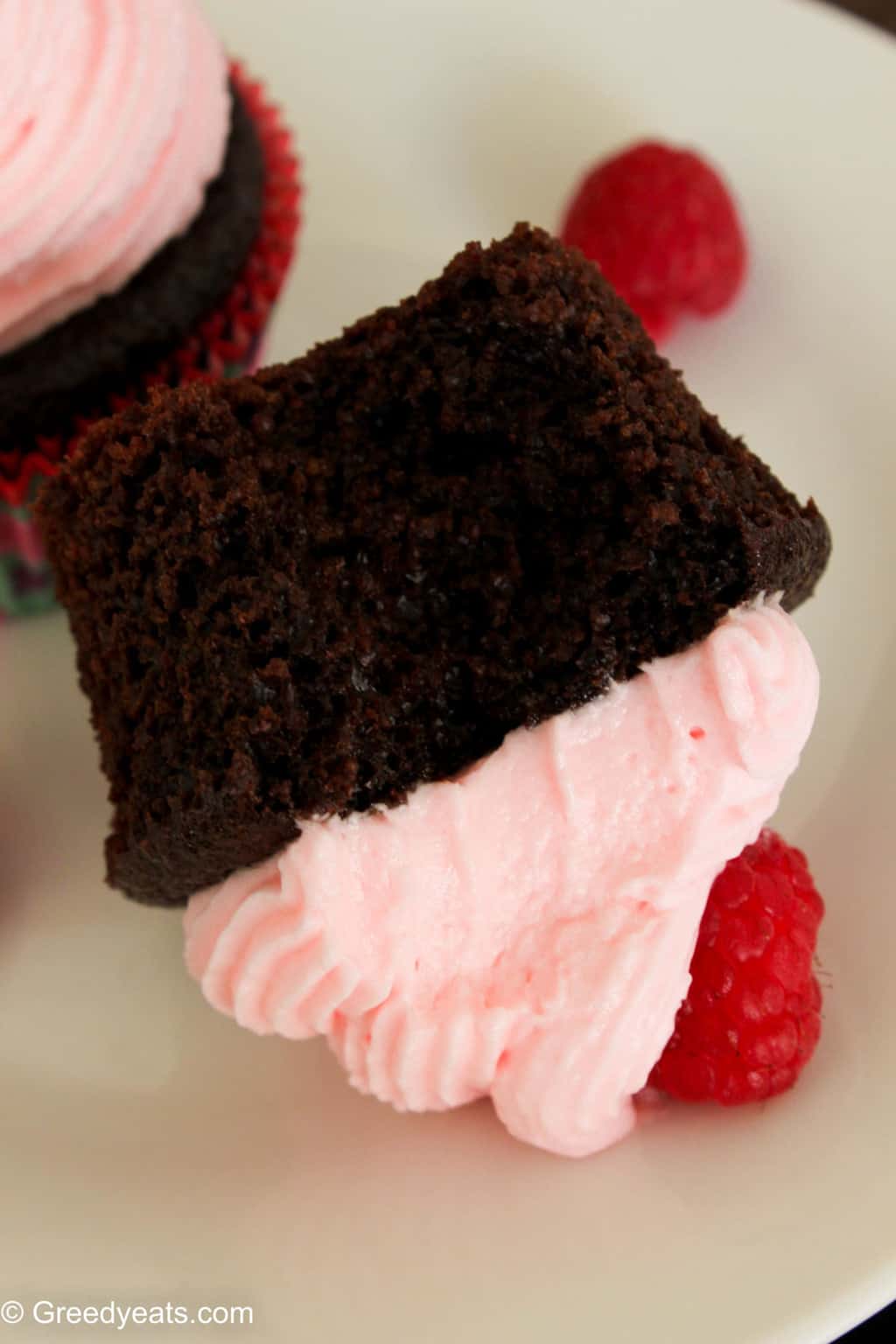 For the Raspberry buttercream Frosting..
I have used vegan butter today (Earth Balance). This buttercream is extremely simple. It uses a very few ingredients and is so soft, smooth, light and velvety. Oh and filled with sweet raspberries thickened puree and a hint of vanilla!
You may use regular butter, if not vegan! Equally delicious.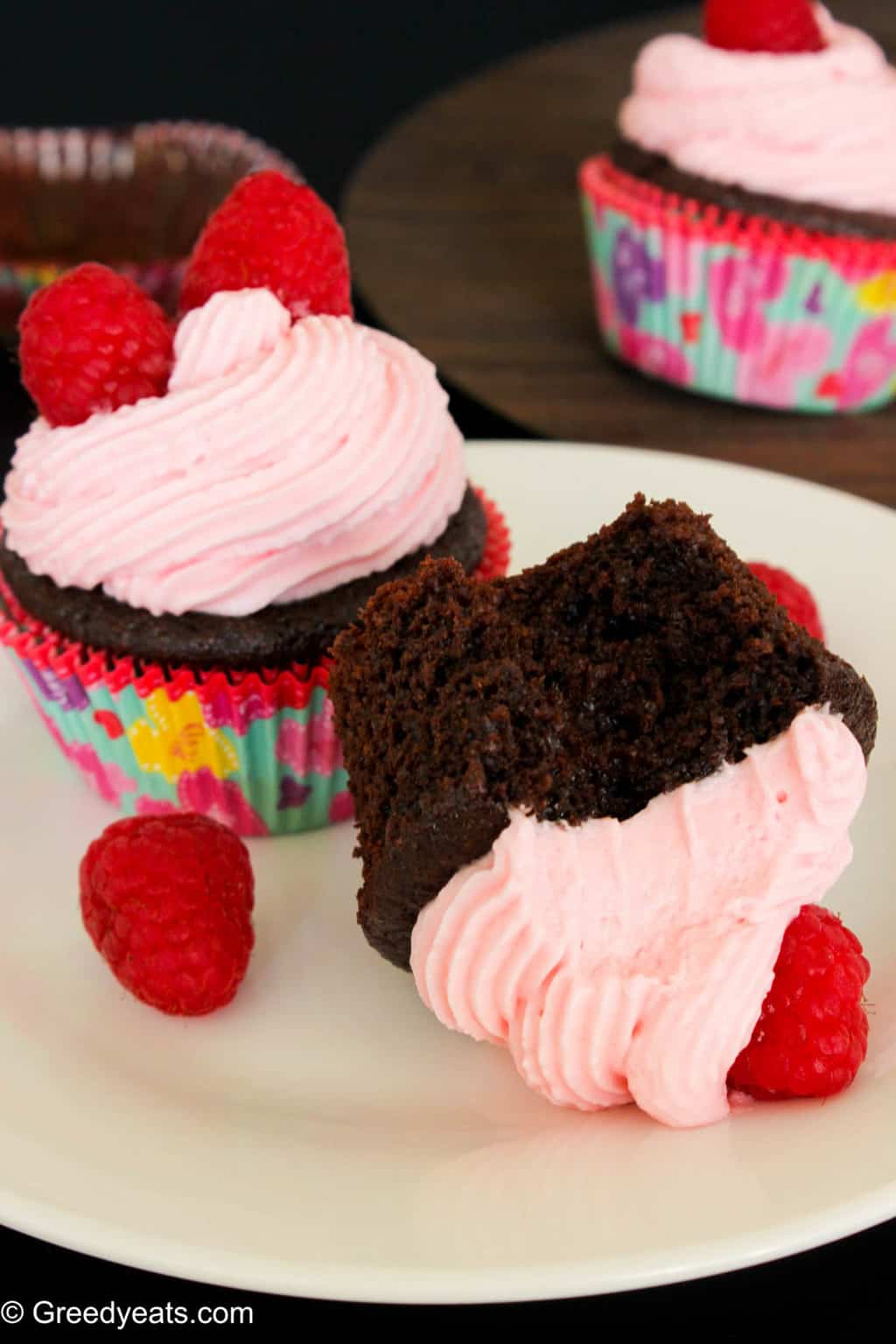 Wait! Did I tell ya? This frosting has got no funky artificial colors? Raspberries dye it in pretty pink. This is beautiful, but not very dark to sight. Feel free to add a tiny drop of food color if you want them more pink than they already are.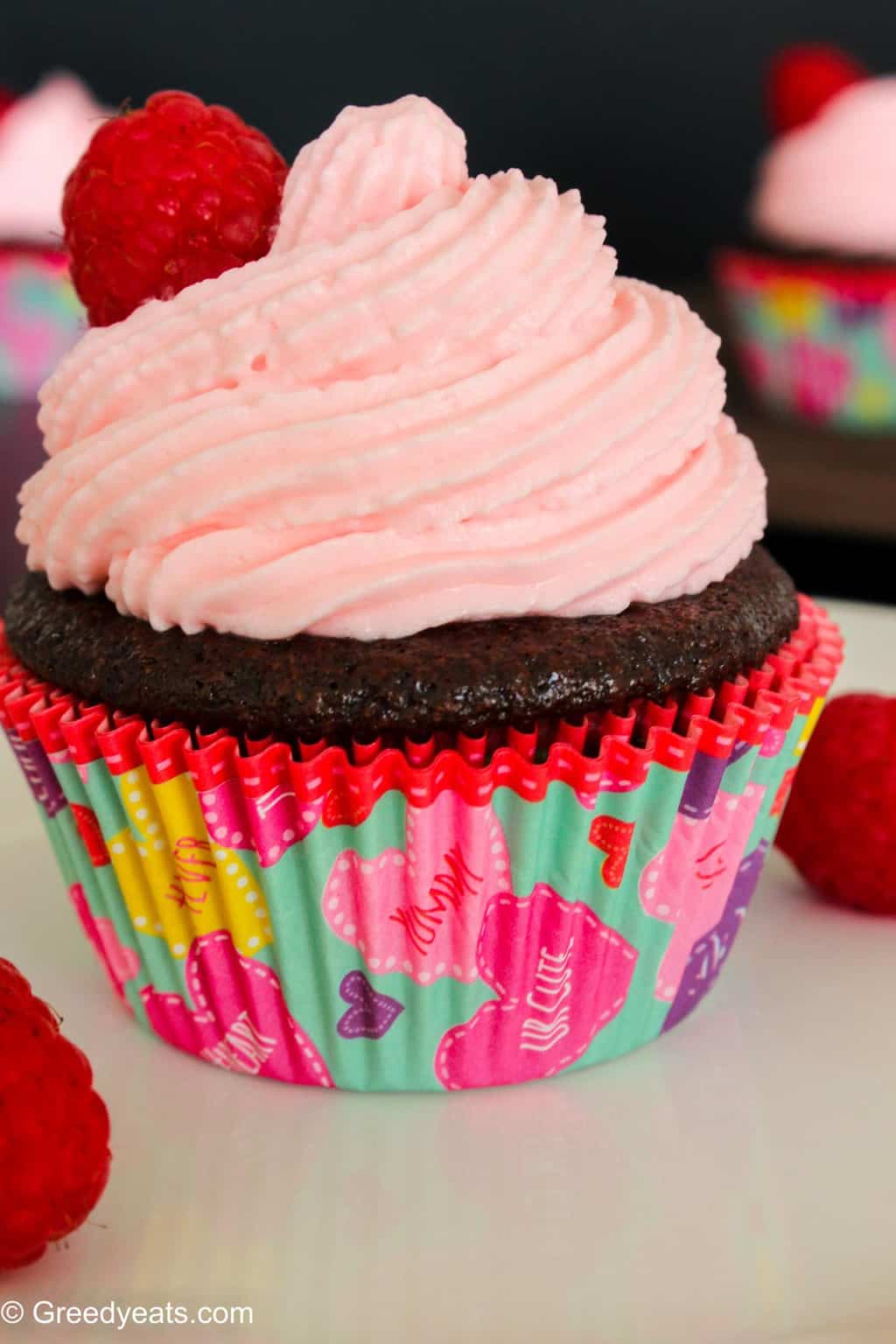 Also it frosts well as is quite sturdy!
Love pink cookies? These strawberry cookies got you covered!
Want another frosting? Try my strawberry whipped cream frosting over these cupcakes next. So flavor rich!
Love strawberries even more? You need to try my health filled strawberry oats cookies asap!
Another one of my favorite vegan chocolate cake right here for you!
What? Are you still here?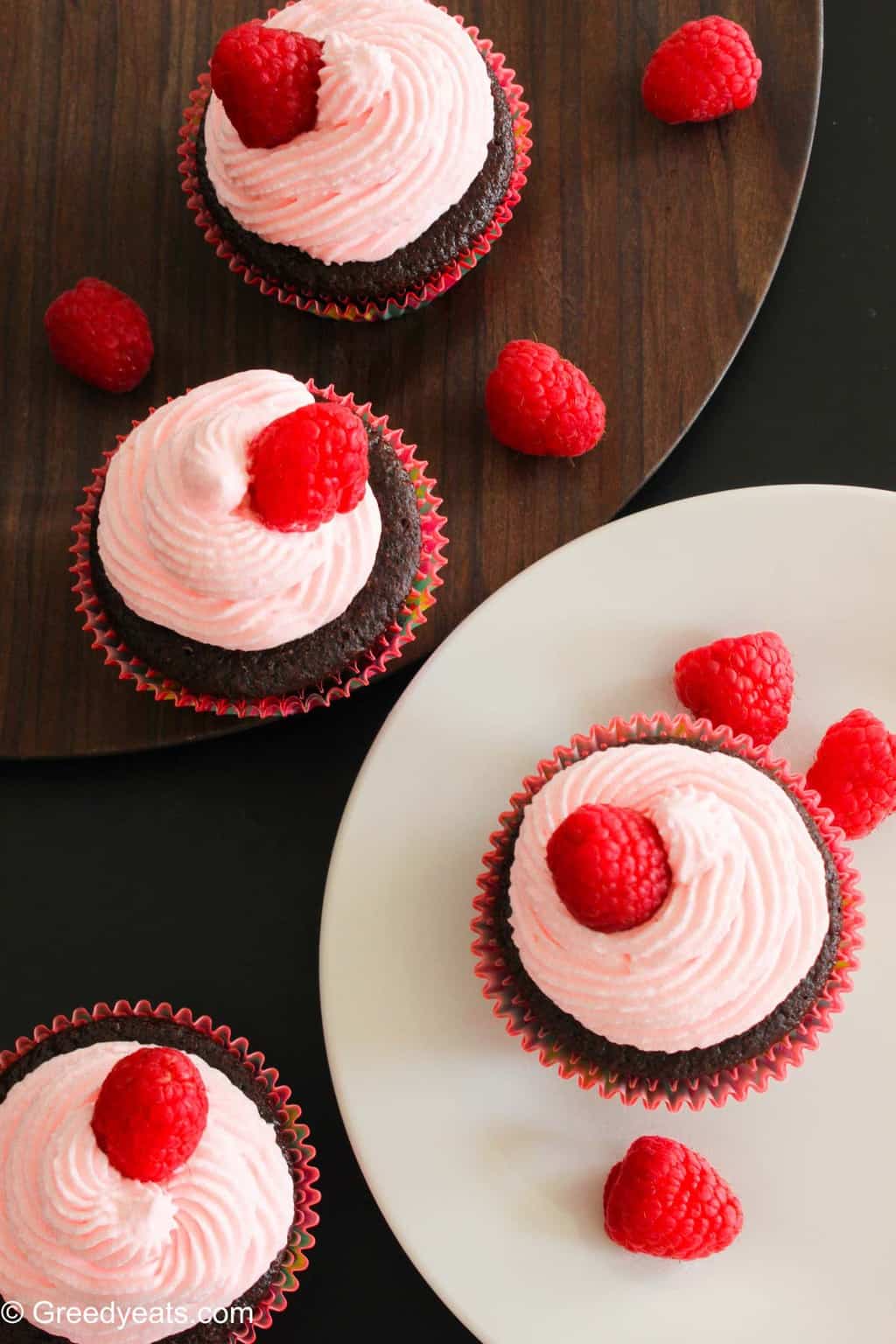 Go grab your mixing bowl, measuring cups and whisk. It's time for you to experience this vegan chocolate cupcake recipe right now!
Recipe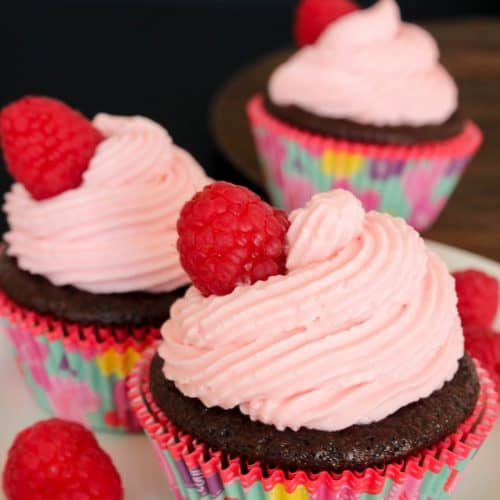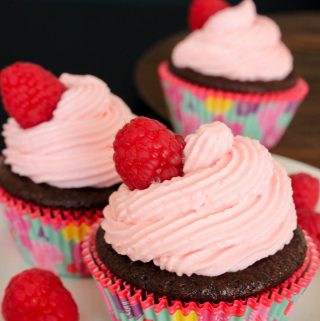 Vegan chocolate cupcake recipe with raspberry buttercream frosting
Drum roll for a super quick vegan chocolate cupcake recipe please. So moist, fluffy and rich! I promise you will never get over it. 😉
Print
Pin
Rate
Ingredients
1 ⅓ Cups

Vegan/regular Flour

½ Cup

Oil

6 Tbsp

Cocoa (unsweetened)

¾ + 2 Tbsp

Sugar

250 ml

Coconut milk

1 ½ tsp

Vinegar

½ tsp

Baking powder

¾ tsp

Baking soda

⅛ tsp

Salt
For the vegan raspberry buttercream frosting
1 Cup

Vegan butter

3 Cups

Powdered Sugar

3 Tbsp

Thickened raspberry puree (strained)

½ tsp

Vanilla Extract

A pinch

Salt

One drop

Pink gel food color (Optional)
Instructions
1. Preheat your oven to 350 deg F and line 12 cupcake liners. Set aside.

2. In a large mixing bowl sift together flour, cocoa, baking powder, baking soda and salt. Add sugar in and mix well using a dry whisk.

3. In a liquid measuring cup measure coconut milk and add oil, then vinegar to it. Mix well.

4. Add all the wet ingredients to the dry ones and mix just until combined.

5. Pour the batter in the cupcake liners and bake for 30-35 minutes or till they pass the tooth pick test.

6. Take out and let cool on a wire rack completely.

For the frosting

1. Make sure everything is at room temperature. Beat butter, salt and half of the powdered sugar till light and fluffy.

2. Add the remaining sugar and continue to beat until peaks are formed. Also add a tiny drop of gel food color if needed.

3. Beat in raspberry puree and vanilla, just until combined and the frosting is of pipeable consistency. Keep in the refrigerator for ten minutes or so(if needed) before frosting for those pretty swirls.
Notes
Also feel free to replace coconut milk with regular full fat milk, if you don't mind non-vegan cupcakes!
Make sure to add cooled and thickened raspberry puree to the frosting.
The frosted/unfrosted cupcakes stay fresh for 2-3 days in refrigerator.
It is easy to store the unfrosted ones in the freezer upto 2 months (if required). Thaw them and frost with fresh buttercream to enjoy!
Frosting can be stored separately in an air tight container in the refrigerator upto 7 days. Thaw for 5-7 minutes before piping. 
Nutrition