The best small batch chocolate cupcakes recipe ever! So fluffy, moist and decadent chocolate cupcakes piled high with rich chocolate frosting.
Try my easy Chocolate Bundt Cake next!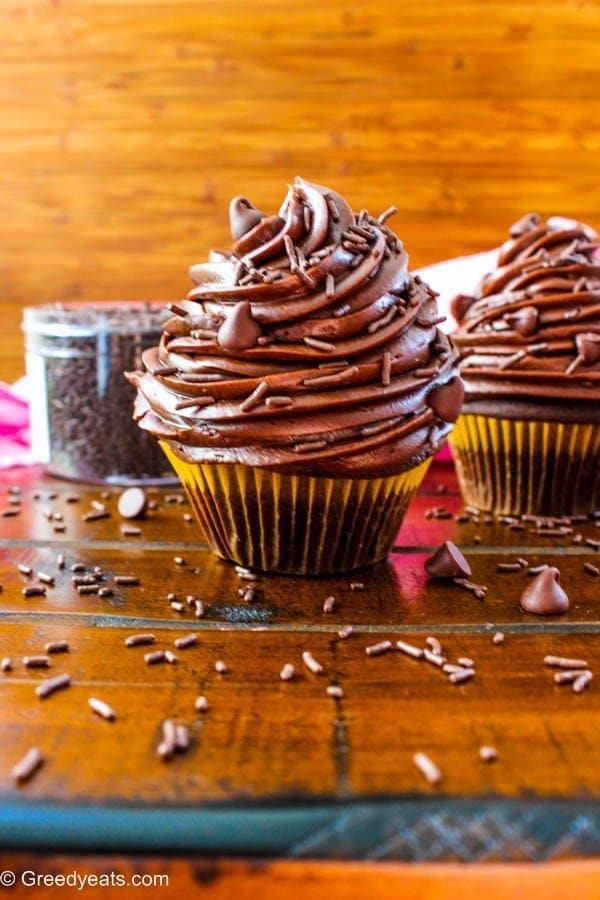 Chocolate on top of chocolate!. Topped with some chocolate chips and  more chocolate sprinkles. There is so much chocolate in this little wrapper!
ALERT-This small batch cupcake recipe with rich swirls of piped chocolate ganache is for extreme chocolate lovers only! 😉
Do you hide a bottomless love for chocolate desserts in your heart? Then these homemade chocolate cupcakes are for you!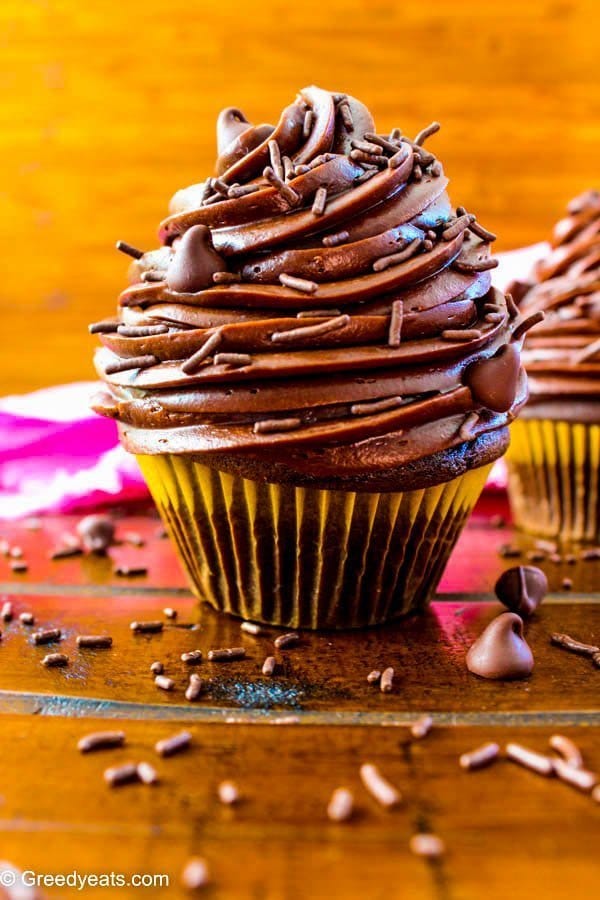 So these simply  are chocolate cupcakes swirled with pipeable chocolate ganache, right?
Wrong!!!
This small batch cupcake recipe also comes with a chocolatey surprise. We are filling their centers with more chocolate ganache!
Told ya. These beauties are ridiculously rich and over-flowing with chocolate!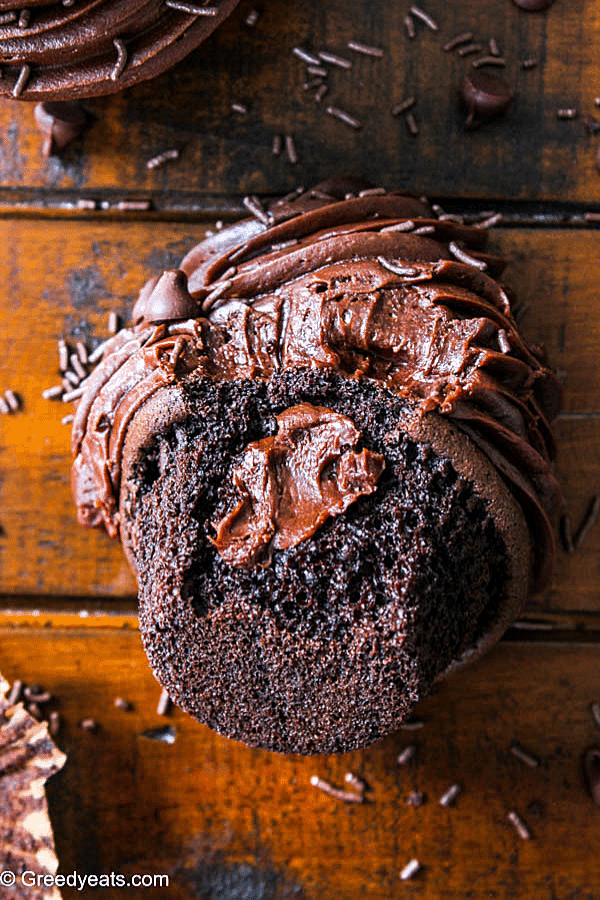 Small batch chocolate cupcakes-Texture
Seriously light and fluffy ⇑⇑⇑
Soft with a moist crumb
Oh-so-decadent
Topped with rich chocolate frosting (just the right amount of sweet)
I also want to share some tips to make super moist and perfect chocolate cupcakes every time!
What makes a cupcake moist
Adding OIL as fat as opposed to butter
Avoiding over-mixing the batter. Always fold the batter using a spatula, after adding your dry ingredients
DO NOT over-bake your cupcakes. I repeat, don't over bake your cupcakes. It is the number one reason for dry and dehydrated cupcakes. Eww! Bake just till your cupcakes are springy to touch. To ensure, toothpick test always works.
Always STORE your cupcakes in air tight containers to retain their moisture.
Have you checked my tips to bake best Cupcakes yet?
How to make the perfect cupcakes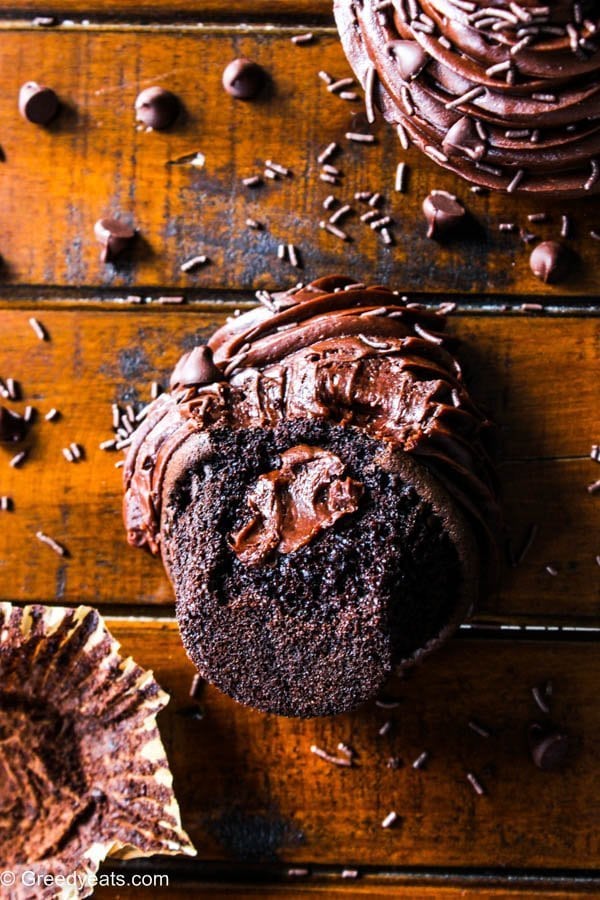 One small mistake can turn your cupcakes into a flop show! But trust me once you know the drill, you will always have winners coming out of your oven. And it so easy to follow, promise!
To make sure each batch of your cupcakes shine-
USE ROOM TEMPERATURE INGREDIENTS
Once again, DO NOT OVER Mix that batter. Mix just until flour disappears into the batter.
Keep your OVEN DOOR CLOSED throughout baking. Do not let that hot air escape out!
Always cool your cupcakes on a wire rack. Letting the cupcakes cool down in the pan allows them to continue baking. And this can dry the cupcakes out.
Keep a close eye on them, a min or two before the recipe states. Every oven is different. Over baking is sure to produce a parched cupcake! You don't want that to happen.
Here are my best cupcakes baking tips that you'll find helpful instantly!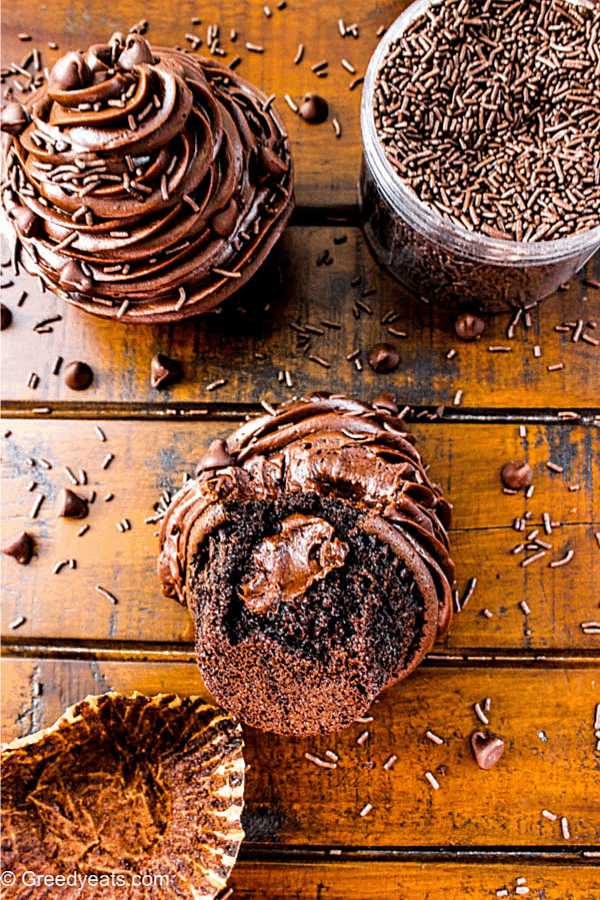 How to tell if cupcakes are done
To test for doneness perform a finger test. Gently touch the center of a cupcake with your finger. If it is springy to touch and bounces back, they are done.
If their centers are still wet or jiggly, they need more time in oven.
Okay, enough of lessons! And we've talked a lot about chocolate cupcakes.
how to make chocolate frosting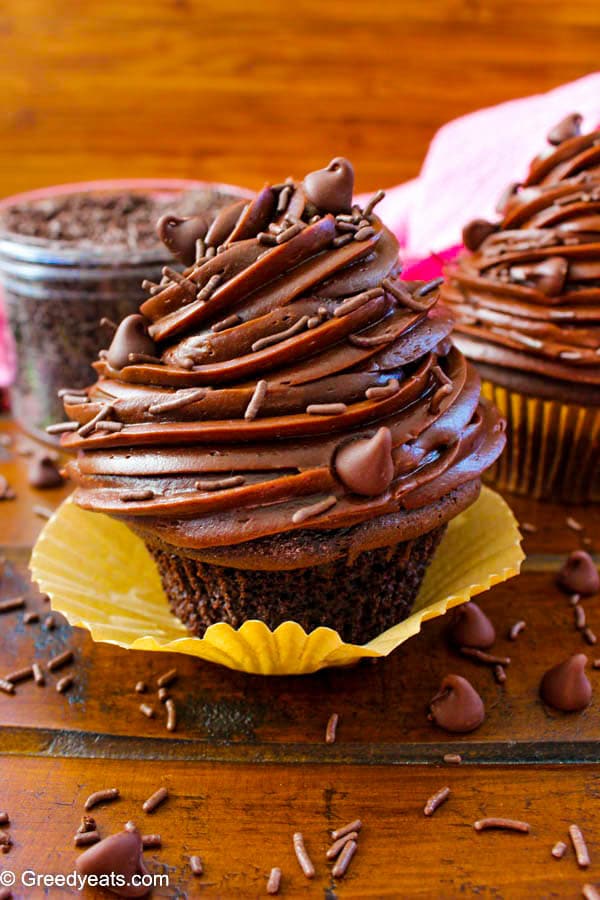 If you are thinking that's a ridiculous amount of frosting, I get you. You can easily reduce the recipe into half.
But you know what!
To get the frosting piled super high, I kept a giant strawberry in the center. 😉 Also, Strawberry+Chocolate= The most amazing flavor! Win win!!!
This is a very easy chocolate frosting recipe. Probably the easiest you will ever try. And the best thing is, using both milk chocolate and dark chocolate yields to perfect balance of flavor to sweetness.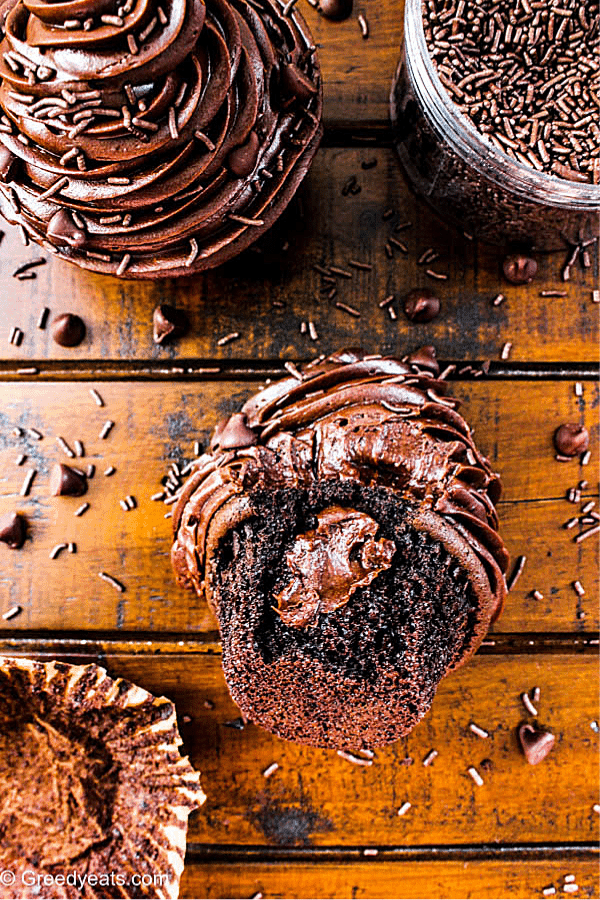 And did I tell ya, since it's a small batch recipe, it takes no time to come together. So you can have your homemade cupcake fix as soon as that craving arises. Follow me on Instagram and tag your chocolate cupcakes here⇒ @greedyeatsblog
Coz, seeing your creations makes my day!
Cupcakes recipe adapted from the best chocolate cupcakes in the world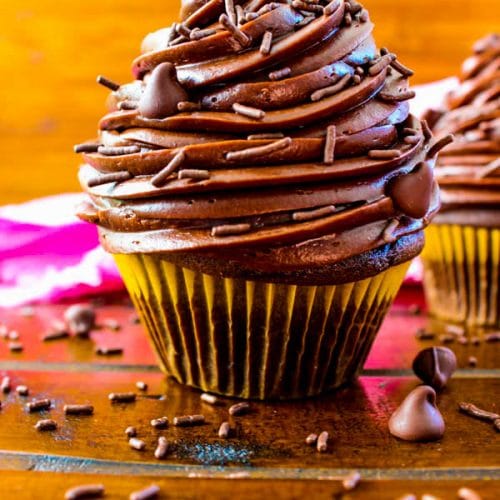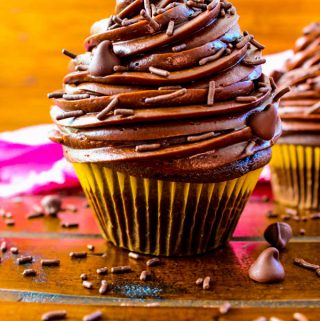 Small batch chocolate cupcakes
The best small batch chocolate cupcakes recipe ever! So fluffy, moist and decadent chocolate cupcakes piled high with rich chocolate frosting.
Print
Pin
Rate
Ingredients
6 Tbsp (47 gms)

All purpose flour

2.5 Tbsp (16 gms)

Cocoa powder (Natural, unsweetened)

1/4 tsp (heaping)

Baking powder

1/4 tsp (heaping)

Baking soda

1/8 tsp

Salt

1/4 Cup (60 ml)

Milk

1/4 Cup

Granulated sugar

1 tsp

Vinegar

1 Tbsp + 1 tsp

Oil of choice (I use avocado oil)

1/2 tsp

Vanilla extract

2 Tbsp +1 tsp (35 ml)

Hot water

1 tsp

Instant Coffee
For chocolate ganache frosting
12 oz (340 gms, 1 cup)

Good quality chocolate (I used half milk and half dark chocolate)

1 Cup (240 ml)

Heavy cream

1 tsp

Vanilla Extract (optional)
Instructions
1. Preheat oven to 320 deg F and line a baking pan with 4 liners. Set aside.

2. Sift flour, cocoa, baking powder, baking soda and salt together. In a separate mixing bowl, add oil, sugar, milk, vinegar, coffee and vanilla. Mix well with a whisk to combine.

3. Alternate flour and hot water in the cocoa mixture and mix just till all dry ingredients disappear into wet.

4. Divide the batter in prepared liners and bake for 23-24 minutes. My cupcakes are always done in 24 minutes.

5. Take them out of oven, cool for 2-3 minutes in pan. And allow to cool down further on a wire rack.

For Chocolate Ganache Frosting:

1. Heat your heavy cream on stove top/microwave till very hot. But don't let it come to a boil. Meanwhile, chop your chocolate into small chunks.

2. Remove cream from heat and add chocolate chunks in the cream immediately. Stir until completely mixed and glossy. Now add vanilla (if adding).


3. Give it another stir, cover with a cling wrap/foil and allow to rest till set (at room temperature). The ganache frosting thickens as it sets.

4. When you spoon the ganache and it holds its structure, it is ready to be piped.

To fill the cupcakes:

1. Using knife, cut a hole in cooled cupcakes (about 1" in diameter and 1" deep into the center of each cupcake. Then gently lift out the center.

2. This piece you removed will be some what like the shape of a cone. Slice off the pointy end of this cone so that it covers back the center of your cupcakes, without any frosting oozing out.

3. Repeat with all the cupcakes and set these round pieces aside.
4. Fill each carved hole with frosting (about 1 Tbsp) and place those round pieces back in the center of cupcakes.


Then pipe the frosting on cupcakes as desired.
Notes
Don't be tempted to open your oven at all here before these bake. Or the cupcakes may sink in the middle.

You may keep unfrosted cupcakes stored in an air tight container at room temperature. Or you may keep the frosted ones in fridge for upto 5 days.

Unfrosted cupcakes also freeze well for upto 3 months.
Thaw them overnight in the refrigerator or at room temperature before frosting.
Nutrition