Pumpkin will know no seasons with these soft and chewy oatmeal pumpkin cookies stuffed with chocolate chunks, golden raisins and pepita seeds!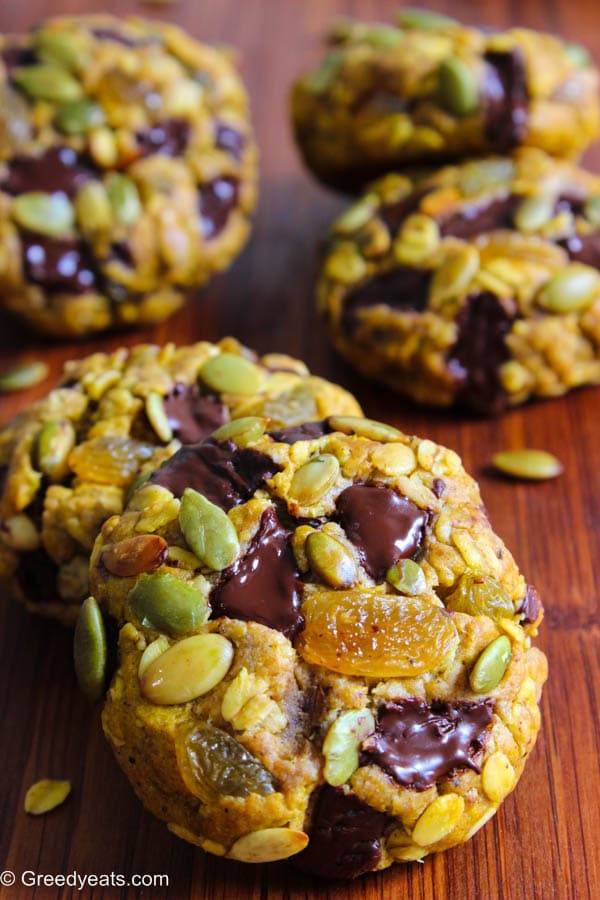 I'm tickled pink pumpkin to bring you today's pumpkin cookie recipe! Super thick but not cakey at all. Cakey is for cakes and cupcakes anyway! When it comes to oatmeal pumpkin cookies, a hearty bake, perfectly chewy texture and a soft center is what we are after.
These cookies are all of it and more! Studded with raisins, pockets of melty chocolate chunks, crunch from pepitas and that pumpkin spice aroma. Yes, these oatmeal pumpkin cookies taste just like your dreams!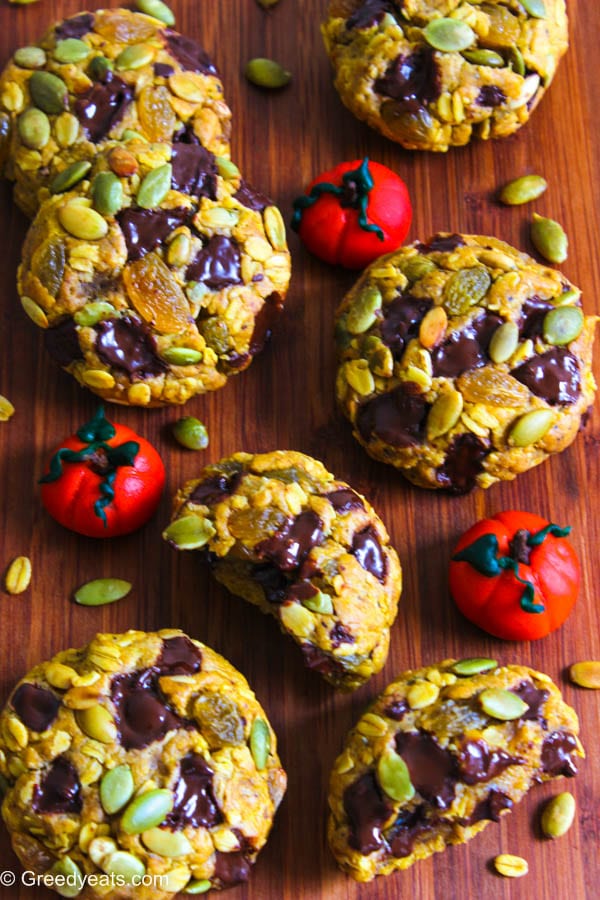 To top it all, you don't even need eggs in this recipe. This is what you need to do to avoid cakey pumpkin cookies problem.
Oatmeal pumpkin cookies: Cakey problem solved
You see, pumpkin puree is 90% water by mass. And adding egg will fluff our cookies in the oven a lot more than we desire. More liquid in the batter = cake like cookie!
To make our oatmeal pumpkin cookies even more chewier, heartier and thicker we are adding brown sugar along with oats. We'll rest the dough for sometime to make sure our cookies bake nice and thick rather than spreading wide!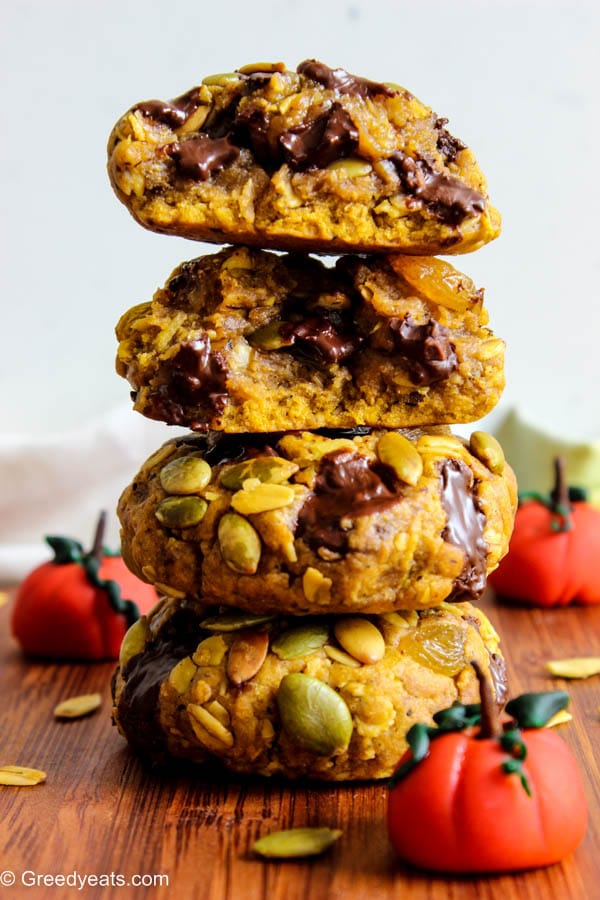 This is the kind of T-H-I-C-K I was talking about!
Now that you know how thick (sorry, for saying thick 100 times) these cookies bake, you also need to keep in mind that these don't spread much in the oven.
Have a look at the next image that shows an unbaked cookie ball on the left and a baked cookie on the right.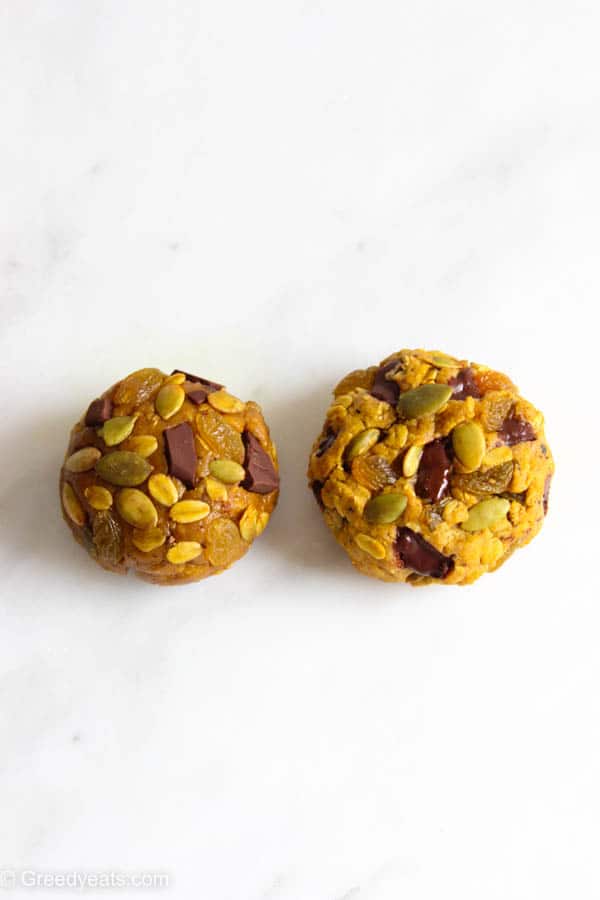 We will make cookie balls and then flatten them as shown above.
These pumpkin cookies won't rise or spread like crazy. If you like these to be a little less puffy, you will need to flatten them prior to baking.
Although they can also be pressed a little after these come out of oven. Delicious both ways!
Our oatmeal pumpkin cookies are-
Super thick!
Incredibly chewy (All those oats, brown sugar and melted butter)
Oh-so-soft. Thanks to all that gloppy (in a yummy way) pumpkin puree.
So hearty and filled with mega pumpkin flavors. I swear by all the melty pockets of chocolate chunks and those just baked centers!
Jam packed with raisins and pepitas. Did I tell ya? Pumpkin spice+raisin is my new favorite!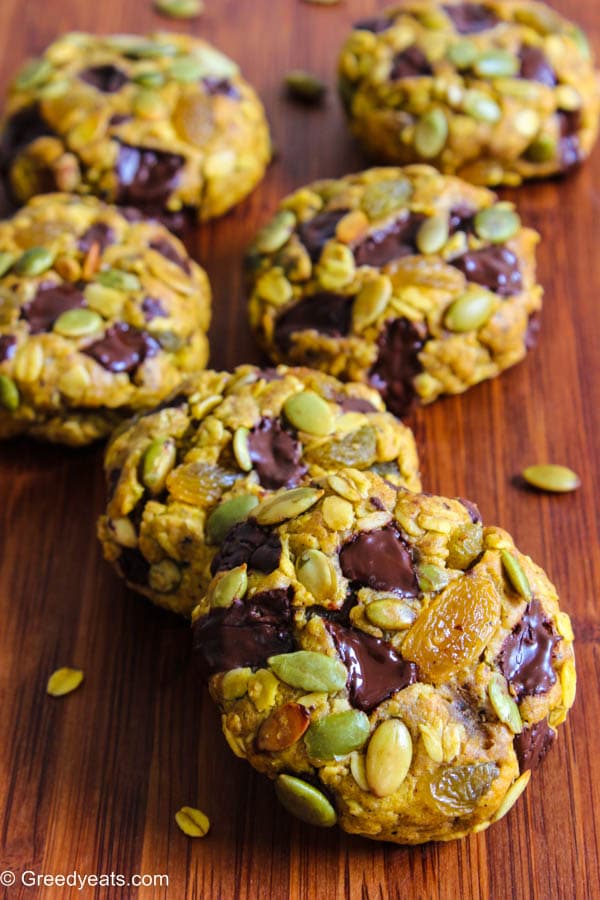 Oh and did you notice those little pumpkin toppers in my oatmeal pumpkin cookies picture. I made them with fondant.
It was so fun carving them. I probably ended up using hell lot of green food color than required. What ya think?
Looks like my pumpkins ripen way sooner before it's even fall! Lol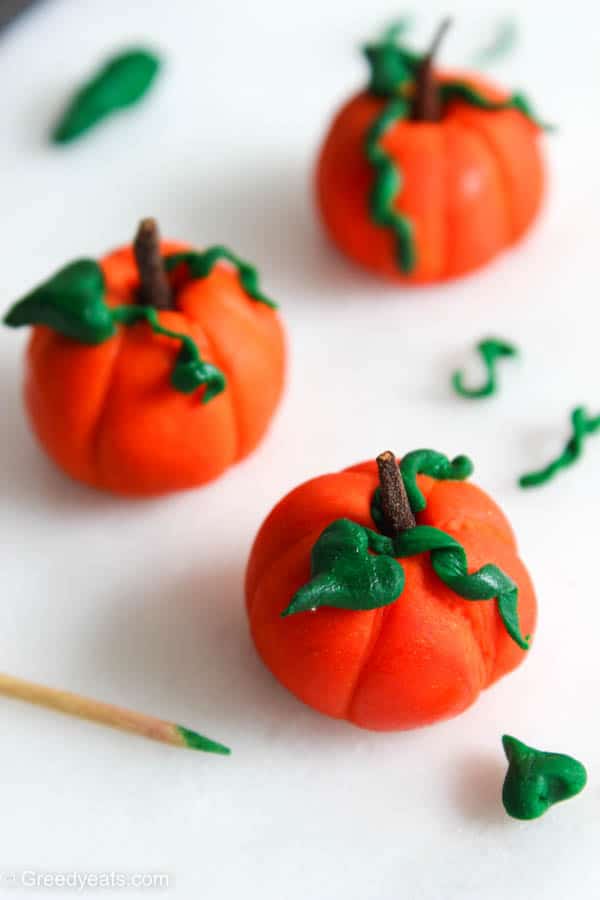 Recipe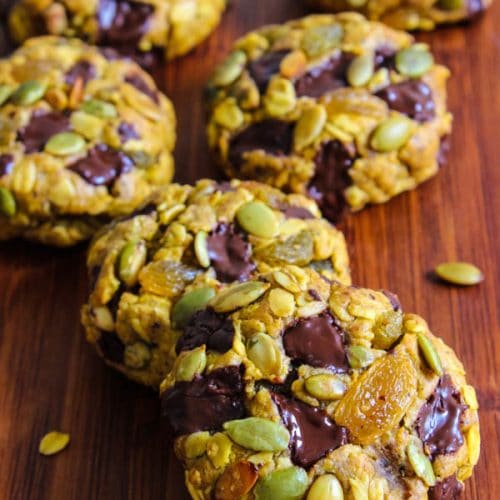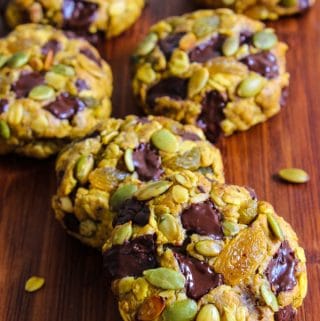 Oatmeal pumpkin cookies with chocolate chunks (Half batch)
Pumpkin will know no seasons with these soft and chewy oatmeal pumpkin cookies stuffed with chocolate chunks, golden raisins and pepita seeds!
Print
Pin
Rate
Ingredients
¼ Cup

Butter

¼ Cup

Canned pumpkin puree

¼ Cup

Sugar (Granulated)

2 Tbsp

Light brown sugar

1 ½ tsp

Maple Syrup

1 ½

Vanilla Extract

¾ Cup

Old fashioned oats

⅔ Cup

All purpose flour

1 tsp

All spice powder

1 tsp

Ground (Cloves+Nutmeg+Cardamom+Black pepper)

½ tsp

Cinnamon

¼ tsp

Baking soda

⅛ tsp

Salt

¼ Cup

Chocolate chunks

½ Cup

Raisins

¼ Cup

Pepitas
Instructions
1. Add melted butter, both sugars, pumpkin puree and maple syrup in a medium sized mixing bowl and whisk everything to combine. Add in vanilla.

2. Now mix in oats. Sift flour, spices, salt and baking soda over the wet ingredients and fold just until combined.

3. Fold in chocolate chunks, pepitas and raisins, saving a few to press on top.

4. Form 8 equal sized balls from the dough and and flatten them as shown in the post description image. Press the remaining raisins, chocolate and pepita seeds on them. Place them on a baking tray and chill for about 2-3 hours in the refrigerator.

5. Preheat your oven to 350 deg F when ready to bake the cookies, place the sheet in your oven and bake for about 10-12 minutes. They might look slightly undone in the centers, but don't over bake them.

6. Let them cool on the baking tray. The cookies taste even chewier the next day!
Notes
I love a lot of spices in my pumpkin cookies, you may adjust them to your liking.
The cookies will stay fresh at room temperature in an air tight container for 5-6 days. Baked/unbaked cookies can be frozen for upto 3 months. Bake the frozen cookies for an extra minute. No need to thaw.
Nutrition
Slightly adapted from Averiecooks!