One giant birthday cookie recipe filled with chocolate chips, stuffed with fudgy brownie and sprinkles. The only giant cookie recipe you will need!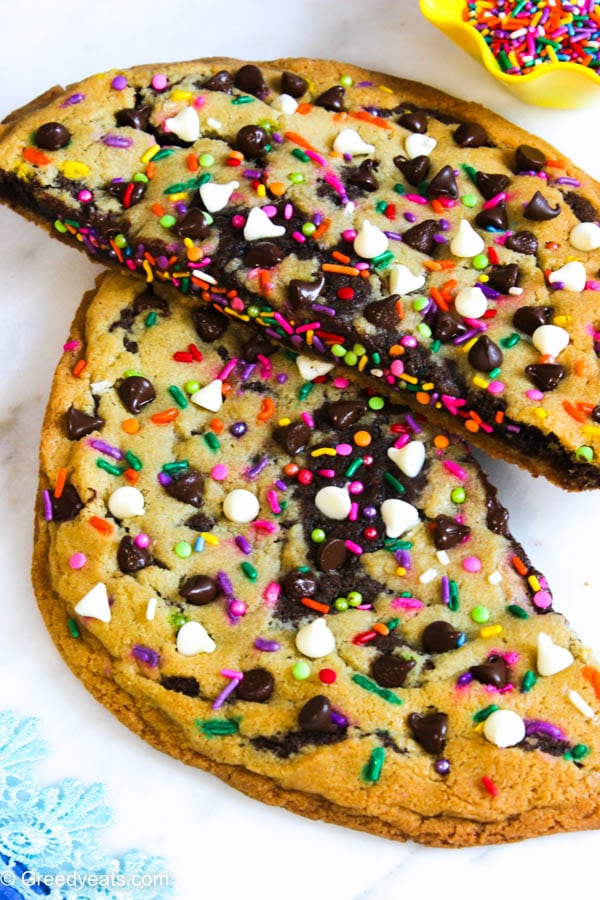 And it's about the size of a medium pizza! Way bigger than my head. 😀
Ridiculously oversized (in a good way), chewy edges, soft centers, hiding two surprises inside and plenty to share chocolate chip cookie it is my friends!
Count the bars I could cut from this cookie, will you! ⇓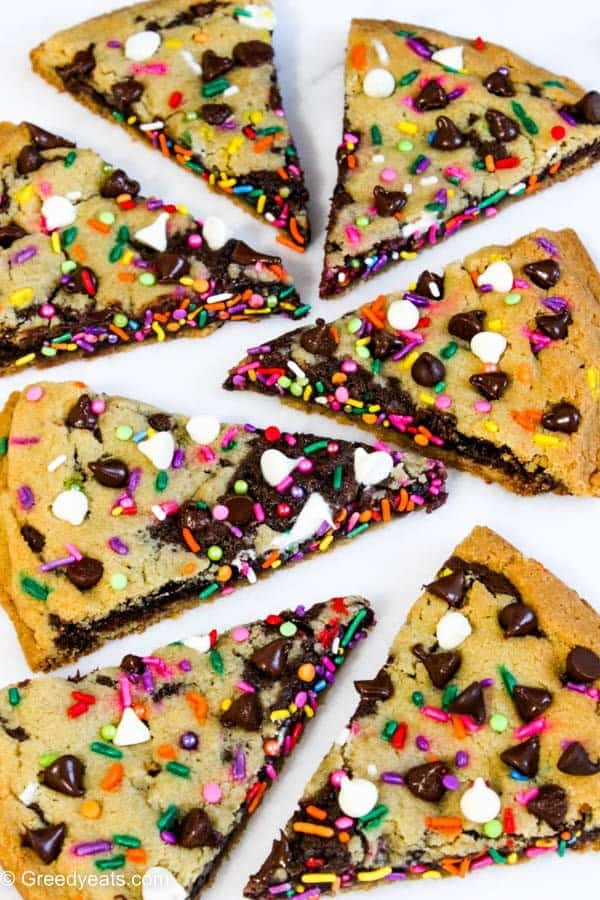 Seven? There is certainly one bar missing! How did you guess? Do you always cut your pizza into 8 slices? Well how patient of you!
Btw don't ask me where did that slice go before the shoot was over. 😉
Lets talk about those hidden treasures in this cookie instead! I know how much you love surprises for birthdays.
Well there are two. Peek-a-boo. I see you!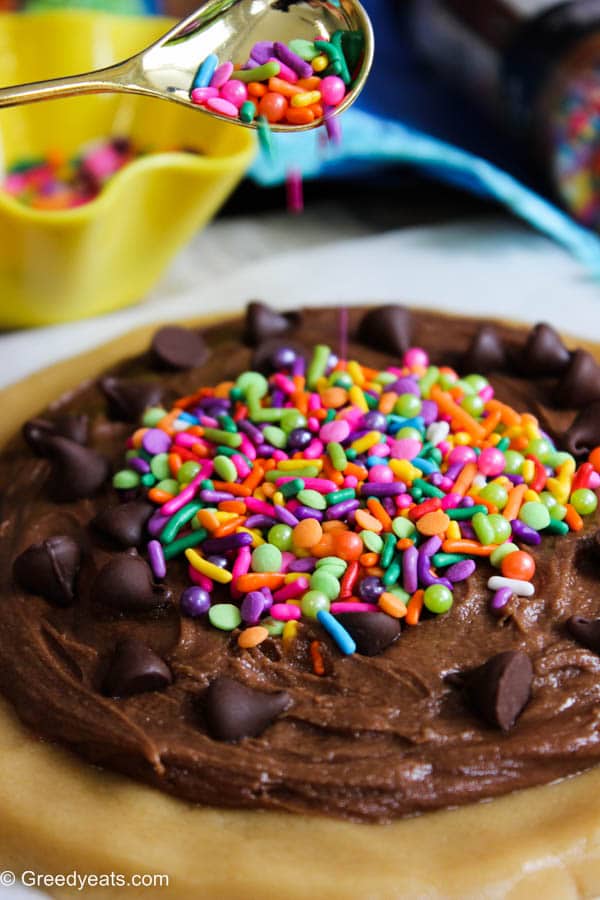 Okay! Weird rhymes aside. What we are doing is making two separate batters. One is chocolate chip cookie and another is brownie cookie.
Taking a disc of chocolate chip cookie batter we will stuff our brownie batter inside it. Next, put about ¾ a cup of sprinkles in the center. Seal it back with brownie dough and cover it all with chocolate chip cookie batter. Just like this. ↓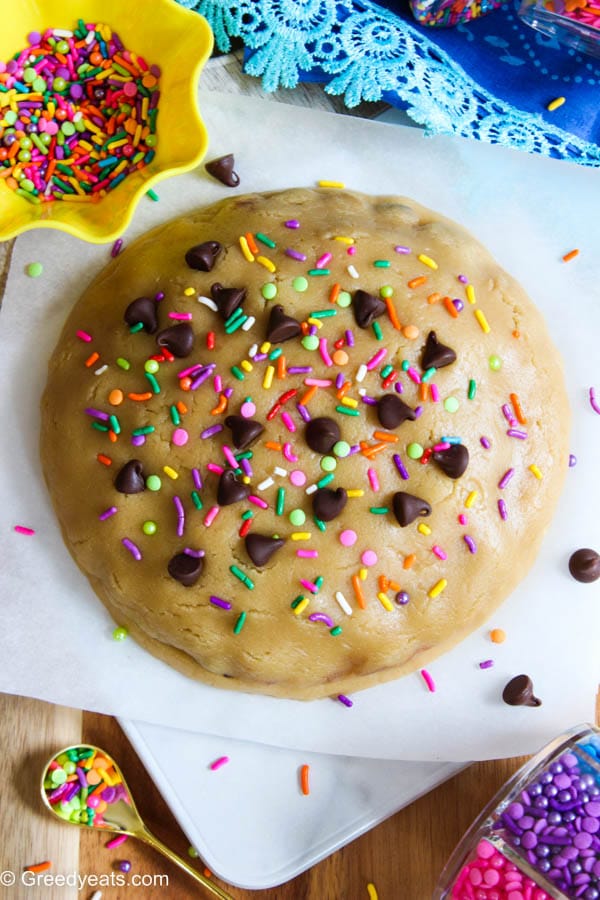 It isn't hard as it sounds. Trust me. You just need to make sure that you are working with cold (I mean not melty dough) batter. It makes all the difference.
So are you ready to bake the most fudgy, puffy, tender and over-sized cookie of your life?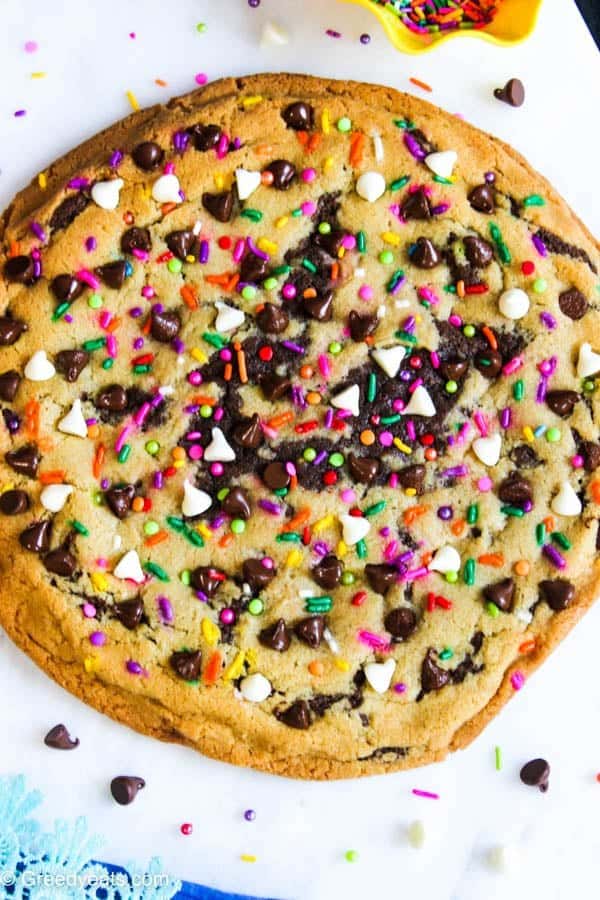 Try my Giant and super chewy Strawberry cookie recipe next!
Recipe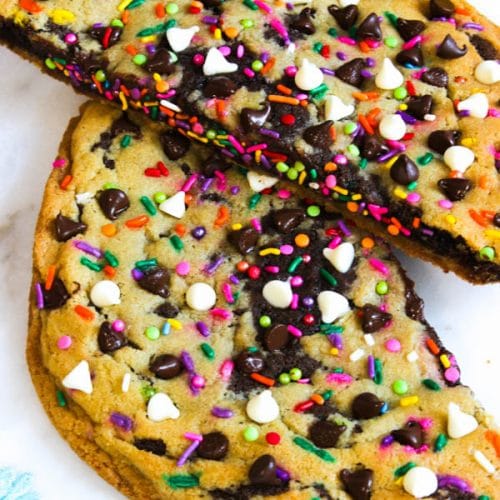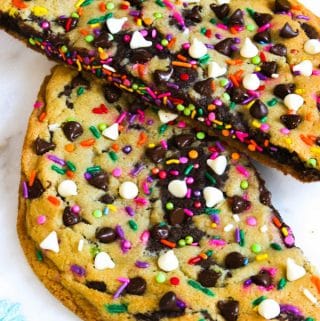 Giant birthday cookie recipe stuffed with brownie and sprinkles
One giant birthday cookie recipe filled with chocolate chips, stuffed with fudgy brownie and sprinkles. Soft and fudgy centers, chewy edges, ridiculously sized and a perfect birthday treat!
Print
Pin
Rate
Ingredients
For chocolate chip cookie
6 Tbsp

Butter, salted (room temperature)

6 Tbsp

Light brown sugar

2 Tbsp

Granulated sugar

2 Tbsp

Egg (room temperature)

1 tsp

Vanilla extract

½ Cup

Bread flour

½ cup

Cake flour

½ tsp

Baking soda
For brownie
¼ Cup

Butter, salted (room temperature)

6 Tbsp

Granulated sugar

½ Cup

All-purpose flour

3 Tbsp

Unsweetened cocoa powder

2 Tbsp

Egg (room temperature)

1 Tbsp

Baking chocolate

1 tsp

Vanilla Extract
For topping and stuffing
1 cup

Rainbow sprinkles

½ Cup

Milk chocolate chips

⅓ Cup

White chocolate chips
Instructions
1) For Brownie-

1. Sift together flour and cocoa in a small bowl and set it aside.

2. In a small sauce pan add butter, chocolate and sugar. Heat it on low (stirring continuously) till everything melts well. Cool it to room temperature.

3. Now beat egg and vanilla in this mixture. Add dry ingredients and fold only till combined.

4. Cover and chill in fridge (preferably for 4-5 hrs) or in freezer until very cold and the chocolate is set if in a rush.

2) For chocolate chip cookie-

1. Sift both flours and baking soda. Set aside.

2. Beat butter and sugar until light and fluffy, about 2-3 minutes with a hand beater. Add egg and vanilla and beat for another minute on high.

3. Now slowly add in the flours and mix only till combined.

3) Cookie dough assembly:

1. Take half of chocolate chip cookie dough, roll it into a ball and flatten it into a disc of about 5 inches. I do this on parchment paper. Makes it so easy to rotate and shape the disc. Create two such discs.

2. Spread half of the brownie batter on top of this disc. If you have chilled this batter, it should form into a dough ball. I baked my cookie within 45 minutes of making and so I chilled it in the freezer after spreading the brownie batter on the chocolate chip cookie dough disc. Either way make sure brownie batter is super cold and extremely firm to touch. This will be about 4 inches.

3. Now the fun part. Creating a concave area in the center, Pour your sprinkles on the brownie disc. Remember not to spread them too wide, instead create a heaping pile. Save about 3 Tbsps of sprinkles for topping on the cookie. Press some milk chocolate chips on the edges of brownie disc.

4. Seal with the remaining two discs, brownie first and then chocolate chip cookie dough. Pinch the cookie to seal well on the edges. Top with milk chocolate chips and the remaining sprinkles.

5. Chill for about 30 minutes and bake in a pre-heated oven at 350 deg F for about 20-25 minutes or until the edges appear set and golden brown in color.

6. Cool the cookie for 15-10 minutes on sheet before moving to wire rack. I press my white chocolate chips while the cookie is cooling on the sheet. This way they don't catch any color and appear all melty and pretty!
Notes
Chill the cookie for 1-2 hours in the fridge if not in a rush to bake. This step ensures a thick cookie.
If you don't wish to bake your cookie in 30 minutes, you may store it in the fridge for a few hours and upto 3 days. Cover it with a foil and bake when you are ready. Chilling them in the refrigerator enhances their flavor and texture considerably! And I can't recommend it enough.
Nutrition