Softest, moistest and fluffiest orange creamsicle cake ever! The cake is absolutely egg free too.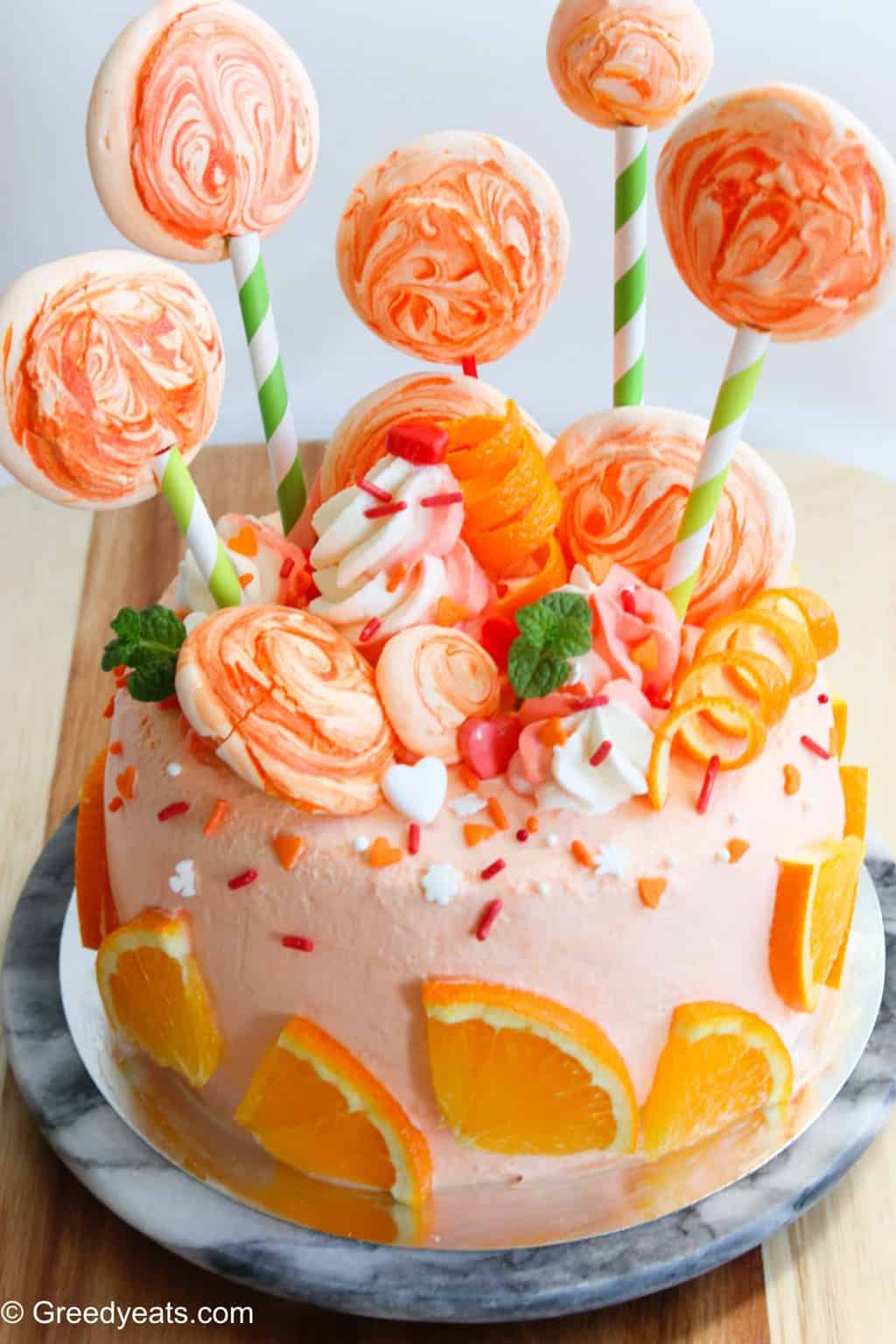 This cake today is a dream come true for all the non egg eaters. I bet you can't find the difference in a cake stuffed with egg whites and this one. 😉
No I haven't added aquafaba in this one.
This is the most requested recipe on my blog till date. When I posted this sponge cake and this chiffon one a few weeks back, you guys asked me to post an eggless version for these recipes.
So here I am today!
Lets jump right into the process of this recipe right away. We have a lot of ground to cover today!
INGREDIENTS FOR ORANGE CREAMSICLE CAKE
For the liquid ingredients we require so water, some oil, orange juice and vanilla extract.
For the dry ones we need our usual gang of flour, sugar, milk powder (milk solids) and some cornstarch.
I have used cake improver/cake gel also called as cake enhancer to attain that fluffy and moist texture without using any egg whites.
Believe me the recipe is so simple to make. Just follow the instructions and look what you are awarded with in the end! ↓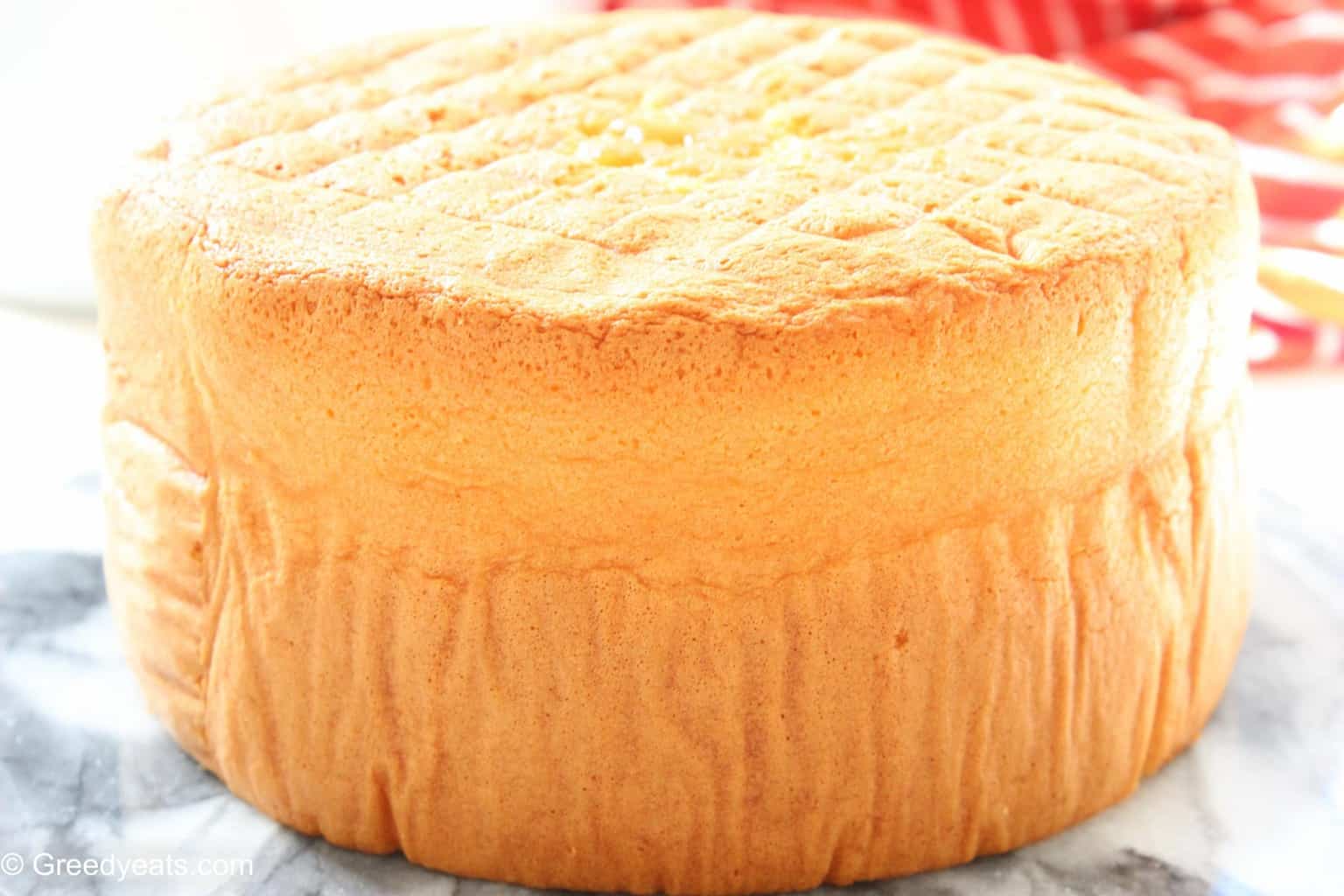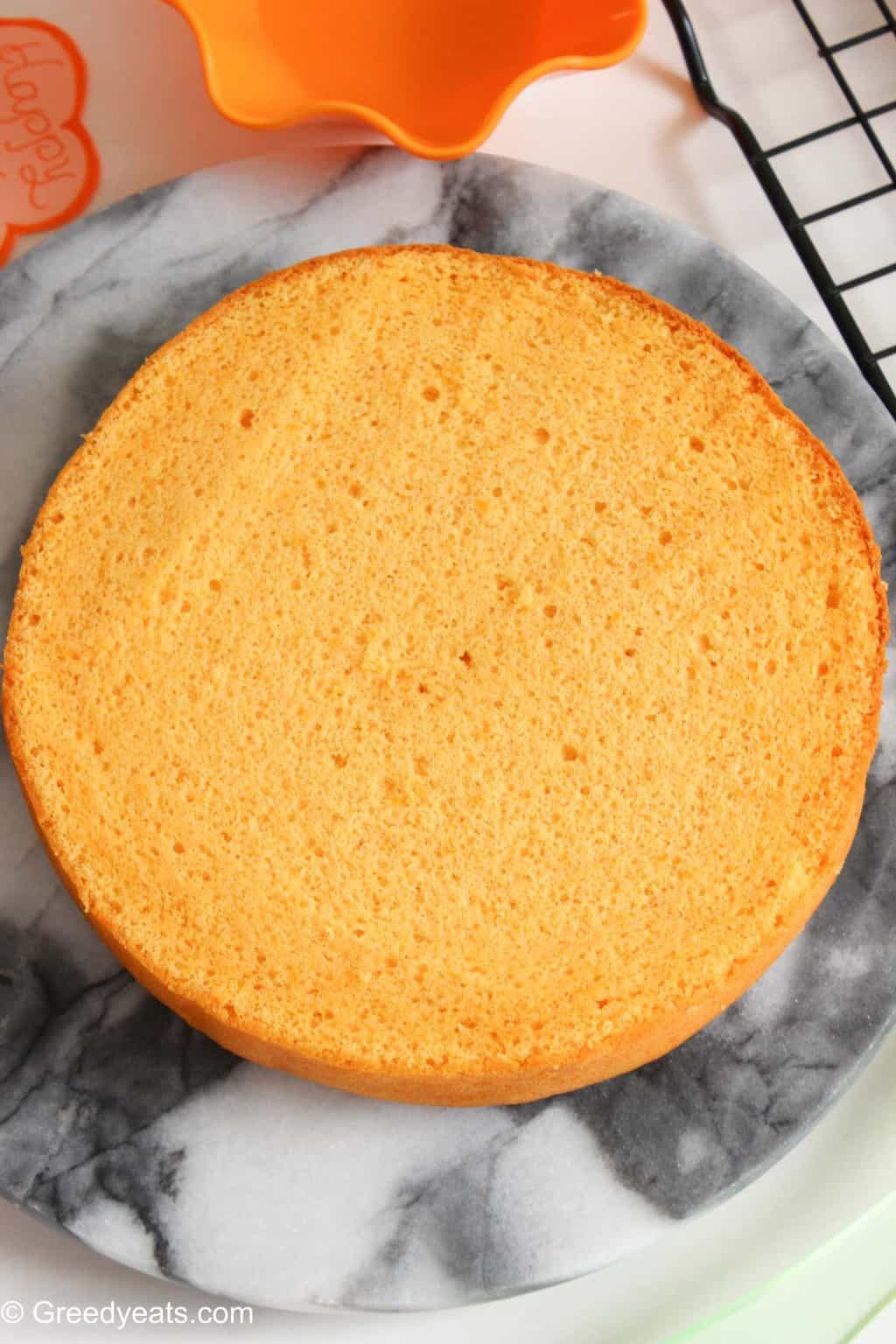 How to make creamsicle cake:
Picture above shows the cake improver gel. We are using a table spoon for our creamsicle cake recipe.
This cake gel added to water+sugar mixture, when beaten produces a thick white mixture with soft peaks. This mixture substitutes egg whites and create a soft and an extremely fluffy bake.
We will add oil to the batter in the last and without over beating the batter. And bake it at 350 deg F for about 20-30 minutes.
Orange creamsicle Frosting
Look how dreamy and fluffy this orange flavored frosting is. I couldn't take my hands off of mixing bowl the whole time. It tastes exactly like those orange creamsicles. I am sure you won't blame me now. 😉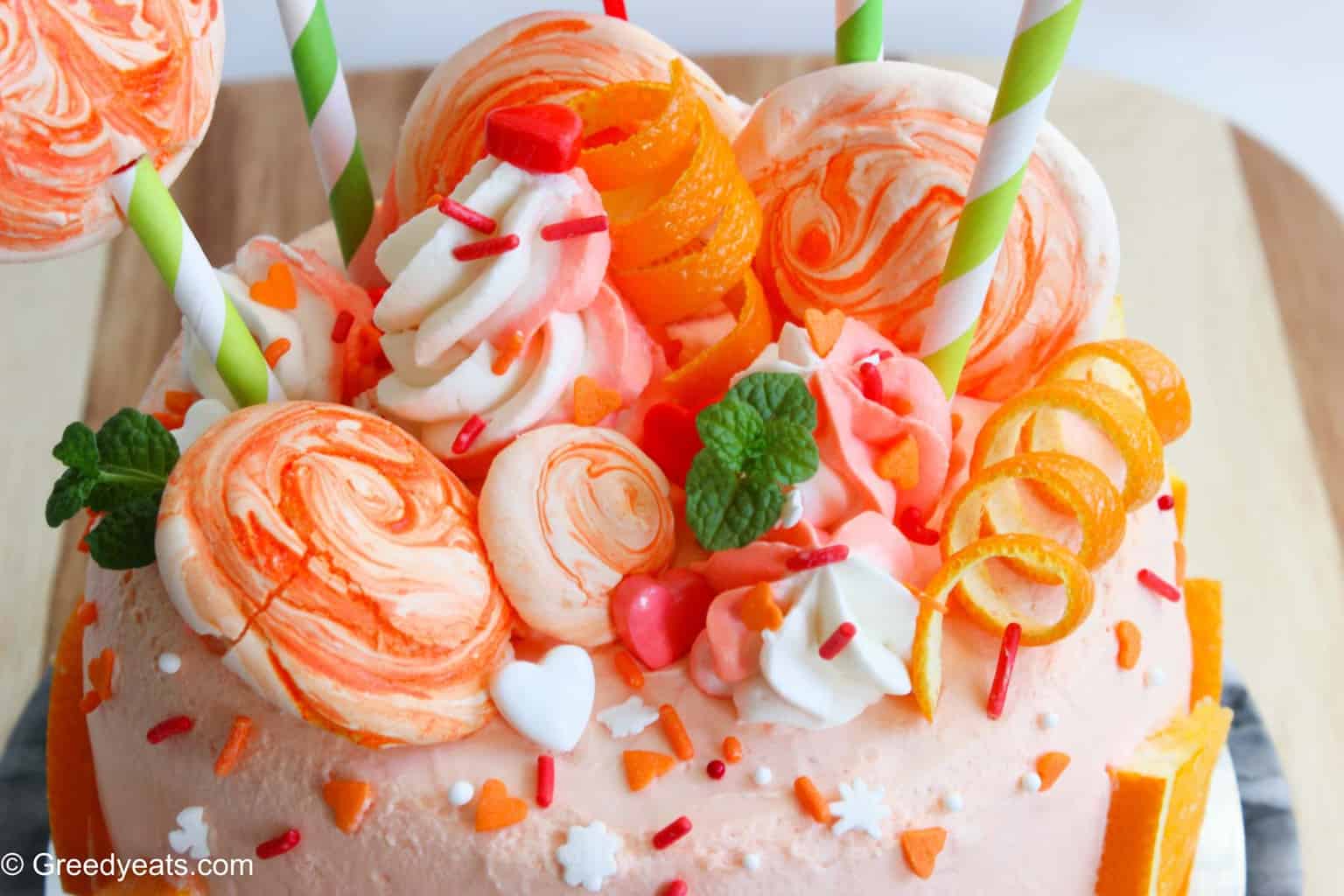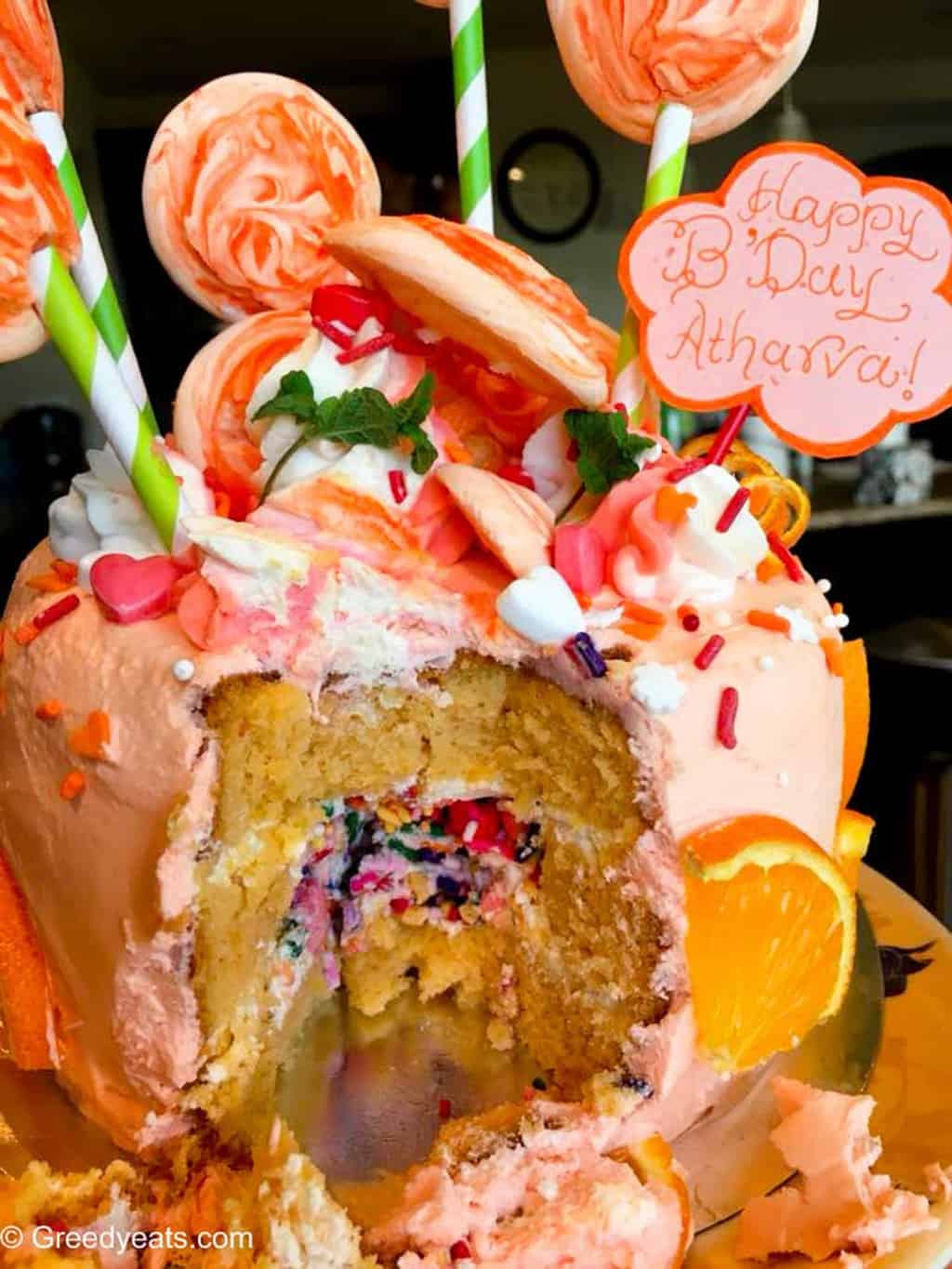 I decorated my cake with homemade (first try) swirled orange flavored meringue cookies. Tasted wonderful. But some got a few cracks on their top. Do you know why it happens?
Can it be because I added some orange juice and zest for natural flavoring to them? Is the meringue not a good friend to the added moisture? I am gonna find out.
And will most certainly update you and my blog with orange meringue cookies recipe when I perfect them.
Meanwhile, Orange creamsicle cake awaits you my friends!
Follow me on Pinterest for more such desserts!
Recipe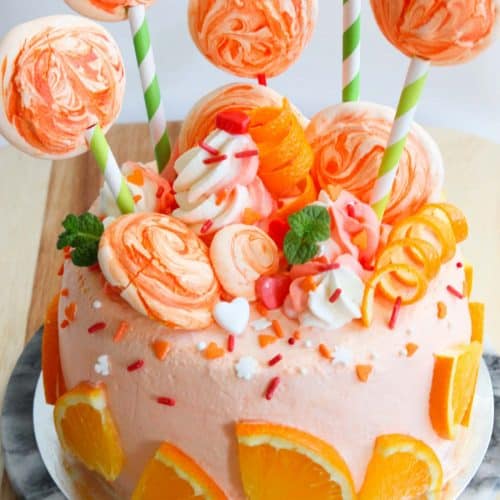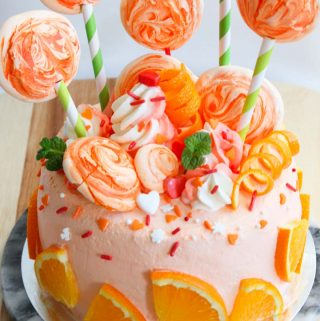 Orange creamsicle cake
Moist, fruity, flavorful and fluffy orange creamsicle cake frosted with sweet orange cream. This egg contains no eggs!
Print
Pin
Rate
Ingredients
75 gms

All purpose flour

20 gms

Corn starch

50 gms

Sugar

1 Tbsp

Cake improver/cake gel

110 gms

Water

40 gms

Orange juice

1 Tbsp

Orange zest

30 gms

Milk powder/ Dry milk

1 ½ tsp

Vanilla extract

3 Tbsp

Oil

½ teaspoon

Baking powder
Orange creamsicle frosting
2 Cups

Whipping cream

3 Tbsp

Orange juice

½ cup

Sugar

1 tsp

Vanilla

A few drops

Orange gel food color (optional)
For decorating
1 Tbsp

Sprinkles

A few

Orange slices

5-7

Orange cookies

A few

Mint Sprigs and orange curls (optional)
Instructions
1. Preheat your oven to 356°F (180°C) and line a 6-inch round cake tin with parchment paper. Make sure all your ingredients are at room temperature.

2. Mix water, orange juice and sugar together in a large mixing bowl. Mix till the sugar gets dissolved.

3. Add cake gel to this solution and beat for 2-3 minutes using a hand beater/stand mixer. Beat till soft but pointy peaks are formed. It will appear like meringue at this point.

4. Add Milk powder and beat well to combine. Then add corn starch and beat again. This batter is very delicate and we need to take care not to deflate it. So we will add dry ingredients one by one and beat well after each addition.

5. Now add orange zest, vanilla and half of the all purpose flour and beat well. Incorporate the remaining flour and put the beater away.

6. Add oil in the last and mix with a spatula to combine. DO NOT over mix at this point!

7. Pour the batter in the pre-lined tin and bake for about 20-30 minutes. The baking time depends on your oven. To test the doneness of the cake, perform the tooth pick test.

8. Take out of oven and let it cool down on a wire stand. Peel off the parchment when cooled completely.

For the orange creamsicle frosting

1. Pour cool whipping cream in chilled bowl, add sugar and whip until soft peak stage.

2. Now incorporate orange juice, food coloring and vanilla to the cream. Mix just until combined.

3. Keep the cream in fridge until ready to use, Frost as desired on a completely cooled cake.

4. Decorate with piped frosting, sprinkles, cookies of choice, mint, orange curls and orange slices. Or devour as is. 😉
Notes
Remember to add oil in the last. Or the batter will deflate resulting into a dense and not so well-risen cake.
If you are a little less experienced baking sponges, then bake this cake in two separate 6 inches tins to ensure the cake is cooked in the middle. 
For vegan, GF and dairy free cake- Use GF flour instead of the regular one. Substitute dry milk with vegan coconut milk powder. I use native forest brand.
For the vegan whipping cream frosting- Use coconut milk (full-fat) instead of whipping cream. Discard all the liquid by puncturing the cans and then scoop out the coconut fat. Whip the coconut fan in super chilled mixing bowl and whisk attachment.
Nutrition