Soft, light and buttery Pistachio Bundt Cake made with real pistachios and not Pistachio pudding! Finished off with fun and festive green candy melts topping.
You need to try my easy pistachio cupcakes recipe next. Find all my Bundt Cake Recipes here!
Pistachio is such an underrated dessert flavor! Pistachio pairs wonderfully with so many other flavors. Vanilla, Almonds, Strawberries, Coconut and Omg Orange!
Desserts taste THE BEST when Pistachio is the flavor in focus. Seriously, don't you love pistachio flavored ice-cream? Or pistachio and vanilla flavored cookies? Coconut-Pistachio layer cake?? Anyone???
I am getting super hungry, need to crack some pistachios open!!! And already getting dynamite ideas for my next post. ;D
Recipe Ingredients:
Pistachios. We aren't using any artificial pistachio pudding in today's recipe. We will ground our beautiful green shelled pistachios and add them in the cake batter. ⇓
A combination of oil and butter to make the pistachio bundt cake taste buttery and stay ultra-moist and tender for days!
An egg for binding and structure.
Greek yogurt for the added moisture and richness.
Almond and vanilla extracts. Because we aren't using any fake pistachio flavors in our cake, we certainly need to amp up the flavor of pistachio with almond extract. And pistachios pair supremely well with almond.
A few drops of Green food coloring to reach that light green pistachio color. You see, pistachios add a hint of green to the cake batter. But if you don't mind food-colorings, I recommend adding some drops for that prettiest pistachio green.
Cake flour as opposed to all purpose flour. Cornstarch present in cake flours produces very light textured cakes. If you want your cake to taste light, use cake flour.
Quick Tip: You can even make a DIY at home. Just measure a cup of APF, remove 2 Table spoons out and replace with 2 Tablespoons of cornstarch. Sift 3-4 times. And there you have it!
Rest is the usual gang of leaveners, some salt, sugar and milk. No brainer there!
How do you make this cake from scratch?
Beat butter and sugar together.
Add oil, egg, yogurt and mix it well.
Next add pistachios, extracts and food coloring.
Fold in dry ingredients alternating with milk and bake at 350 deg F.
Also that topping is so easy to do, pretty to look at and your cake tastes like pistachios and white chocolate cake! Win-Win-Win!!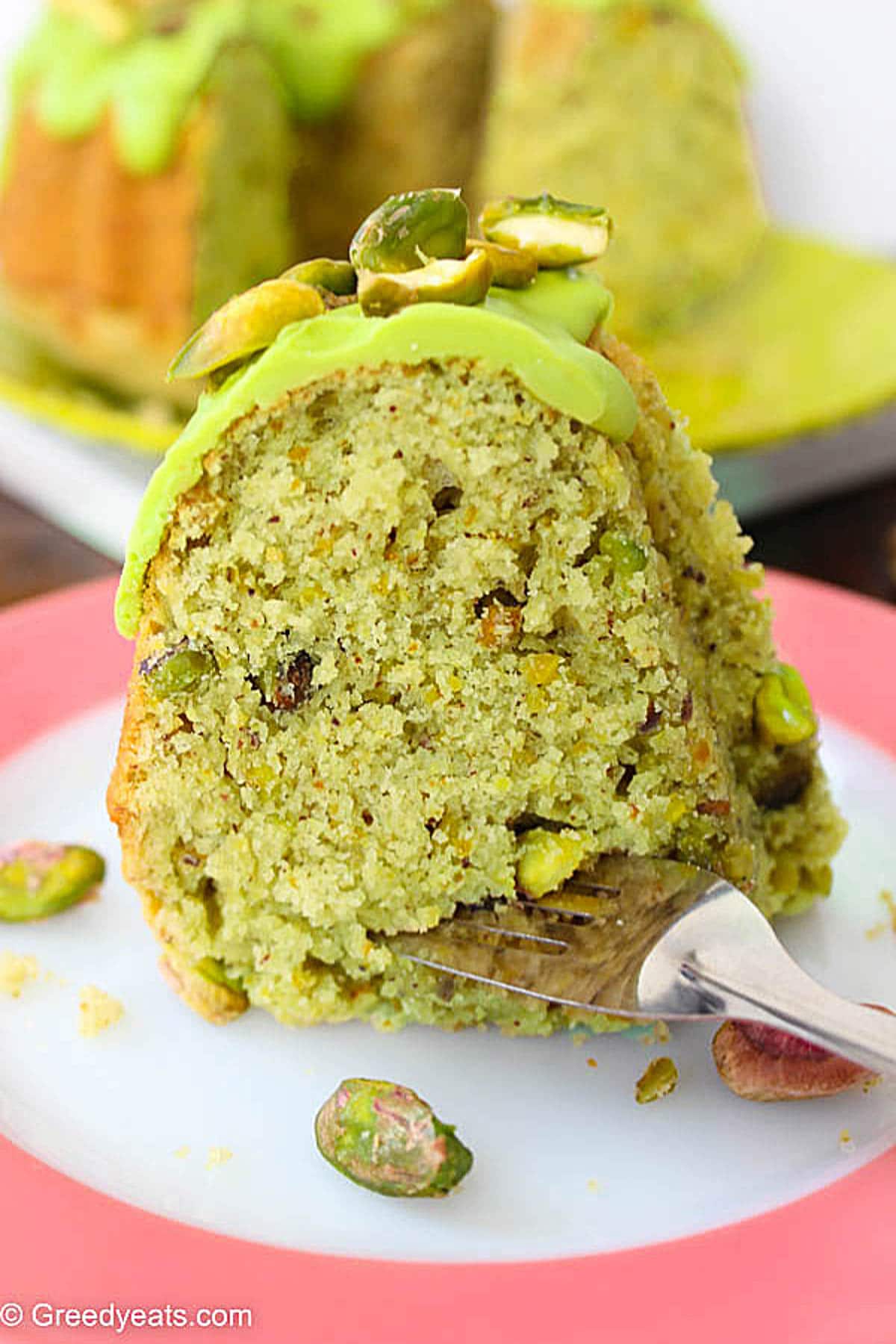 Pistachio Cake: Taste and Texture
Buttery and supremely moist
Flavored with pistachios, vanilla and almond flavors
Tastes like real pistachios and not ARTIFICIAL flavorings!
Topped with a green, vanilla and white chocolate flavored candy melts topping
You will taste buttery and sweet pistachio flavor combined with vanilla and just a slight hint of almond in every bite!
Such a lovely Easter tide bake! Or a perfect St Patrick's Day cake if you will. Oh come on do you even need a reason! 😀 😀 😀
What flavors go well with pistachio?
I'd say lemon, chocolate, pomegranate oh and even orange would go perfectly well with pistachio flavor. Of course it tastes so good with white chocolate as well. Try it!
How do you enhance pistachio flavor?
If you wish the flavor to be on the nuttier side, try dry roasting them for a few minutes before grinding. Also try adding orange or lemon extract to the batter before baking! They both taste so good here.
Can you bake with pistachios?
Of course! Pistachio nuts taste wonderful in muffins, cakes, cupcakes and breads. They pair wonderfully with lemon desserts too. For more inspiration, make sure to check out all my pistachio desserts.
More Pistachio Desserts:
Pistachio Chocolate Orange Cranberry Muffins
Readers Favorite Date Nut Bars
Pistachio Rose Rice Krispie Rolls
If you liked this recipe, give it a star review. Also, tell me in the comments below, how did this turn out for you! And don't forget to share your creations with me on Instagram at #greedyeatsblog Also follow me on Pinterest and Facebook!
Recipe
Pistachio Bundt Cake
Soft, light and buttery Pistachio Bundt Cake flavored with real pistachios and almond extract. Finished off with fun and festive green candy melts topping!
Print
Pin
Rate
Ingredients
1 Cup + 2 ½ tablespoon (125 Gms)

Cake flour

1 tsp

Baking powder

¼ tsp

Baking soda

¼ tsp

Salt

3 tablespoon (43 gms)

Butter

(unsalted, room temperature)

2 tablespoon (30 ml)

Oil

(I use avocado)

¾ Cup

Granulated sugar

1 large

Egg

¼ Cup

Greek yogurt

¾ Cup (98 gms)

Shelled and ground Pistachios

(unsalted)

1 ¼ tsp

Vanilla Extract

¼ tsp

Almond extract

⅓ Cup

Milk

(Room temperature)

Few drops of

green food coloring

(optional)
For the topping:
½ Cup

Green Candy Melts

Handful of

Shelled pistachios
Makes:
6
inch
6
x
6
inch
round
,
2
inch
height
Instructions
Preheat your oven to 350°F (177°C) and grease/spray a 6 inches bundt pan.

Ground the Pistachios: Ground your shelled pistachios in a food processor or a hand blender into fine crumbs.

Sift cake flour, baking soda, baking powder and salt together. Set aside.

Using a hand held mixer, beat butter and sugar together until light and fluffy. About 2 minutes. Add in oil and beat well. Now add egg and beat again to combine.

Now beat in yogurt, almond and vanilla extracts. Add the grounded pistachios in. Add half of the dry ingredients into wet and fold in. Add milk, green food coloring (if adding) and the rest of dry ingredients, fold just until combined.

Pour batter in pre-prepared pan and bake for 25 minutes or till a toothpick inserted in the center of the cake comes out clean. Allow to cool down for 5-10 minutes. Run a plastic knife around the edges of pan. Invert on a wire stand. Allow the cake to cool down completely before tapping and attempting to unmold.

Make the topping: Melt ½ cup of green candy melts in microwave (30 seconds at a time) and stir in between. Allow to cool slightly and drizzle on room temperature cake. Top with more pistachios to serve.
Notes
How to store Pistachio Cake:
Any left overs will stay good at room temp (covered tightly) for 2 days.
For longer storage, keep in refrigerator up to 5 days!
This cake can also be frozen for 2 months. Thaw in the refrigerator overnight or on counter top for a few hours before serving.
Quick Tips:
If you don't like candy melts you may use melted white chocolate for topping.
Or you can make ganache using white chocolate/white chocolate chips and heavy cream in 1:1 (½ cup cream and ½ cup white chocolate) ratio. Simply melt the chocolate with cream in 30 sec increments in your microwave (stir in between). Cool slightly and drizzle on room temperature cake.
Nutrition
Serving:
1
Slice
|
Calories:
142
kcal
|
Carbohydrates:
12
g
|
Protein:
3
g
|
Fat:
9
g
|
Sodium:
58
mg
|
Sugar:
1
g