Chewy and flavorful pistachios and rose flavored rice krispie rolls pin wheels, filled with gooey pink marshmallow fluff and wrapped in crushed pistachios and dried rose leaves!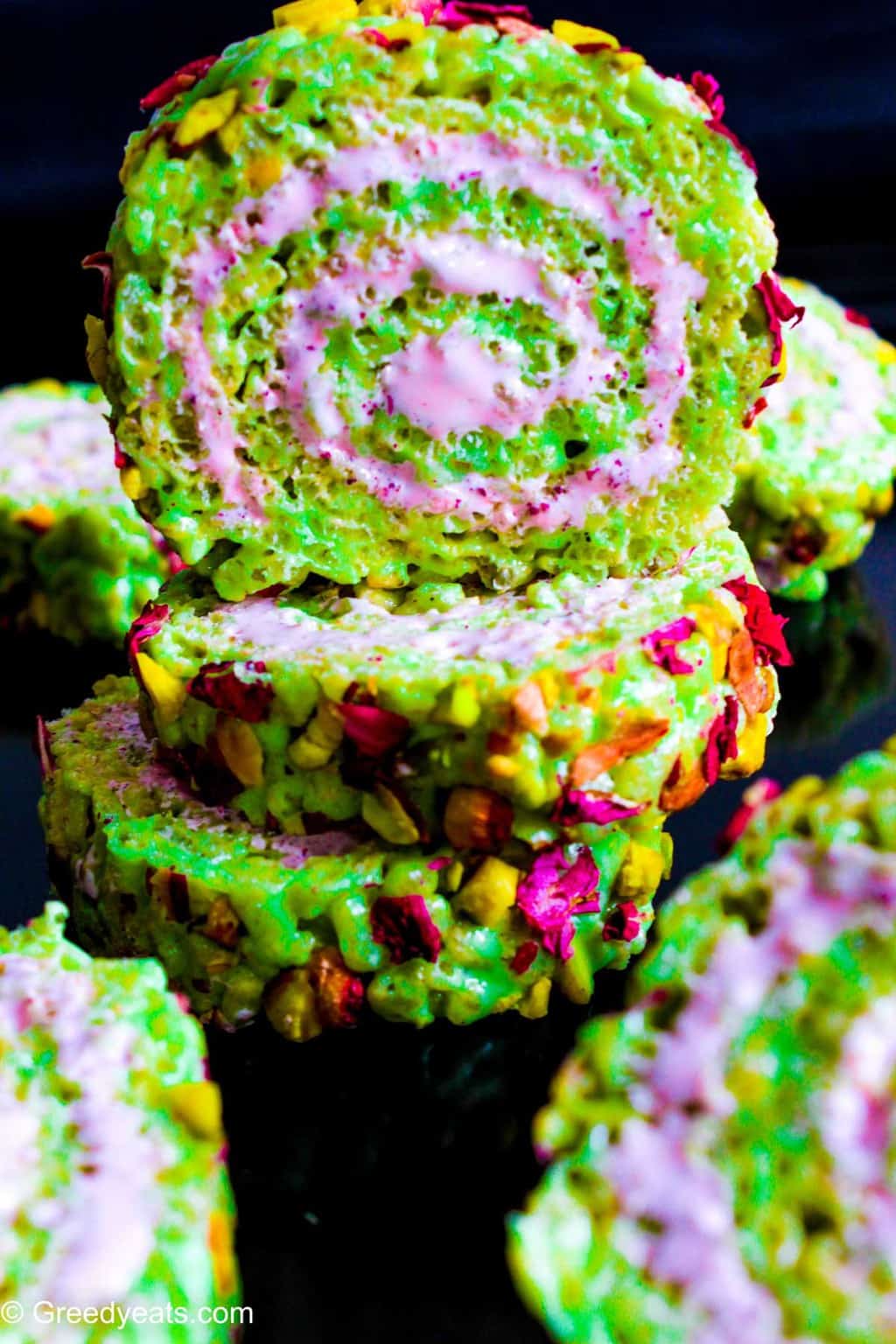 Are your eyes lost in the maze of these beautiful pink pinwheels? Shake your head quickly!
Great! You are back.
Worry not. This rice krispie rolls recipe isn't some spiral maze. Rather it is so simple, no bake and fuss free! I am high on sugar gobbling these treats throughout the day!
The rose and pistachio flavors are spot on in these swirly twirly treats!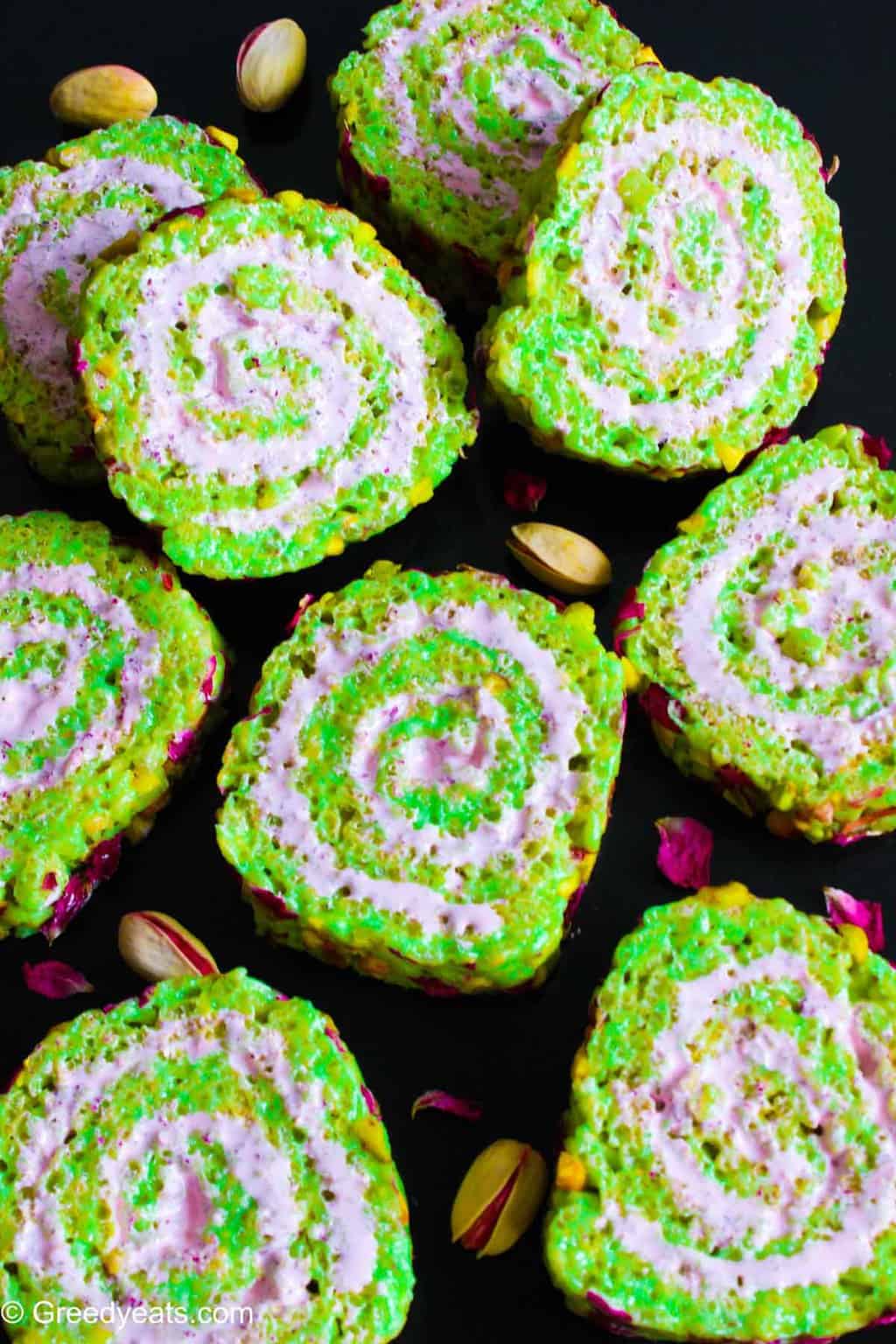 I just adore pistachios and rose together. When I thought of making this rolls sighting a pistachio jello lying in my cupboard, rose was my second thought!
And here we are!
I quickly decided to combine these two heavenly flavors together in a chewy rice krispy base filled with gooey-rosy-marshmallowy filling!
Rice krispie rolls in the making!
These rice krispie pinwheels are the easiest recipe to make. We only need a few simple ingredients and a jelly roll pan/cookie sheet to spread our rice krispies in. Roll them, spreading rose filling. Chill for some time and cut.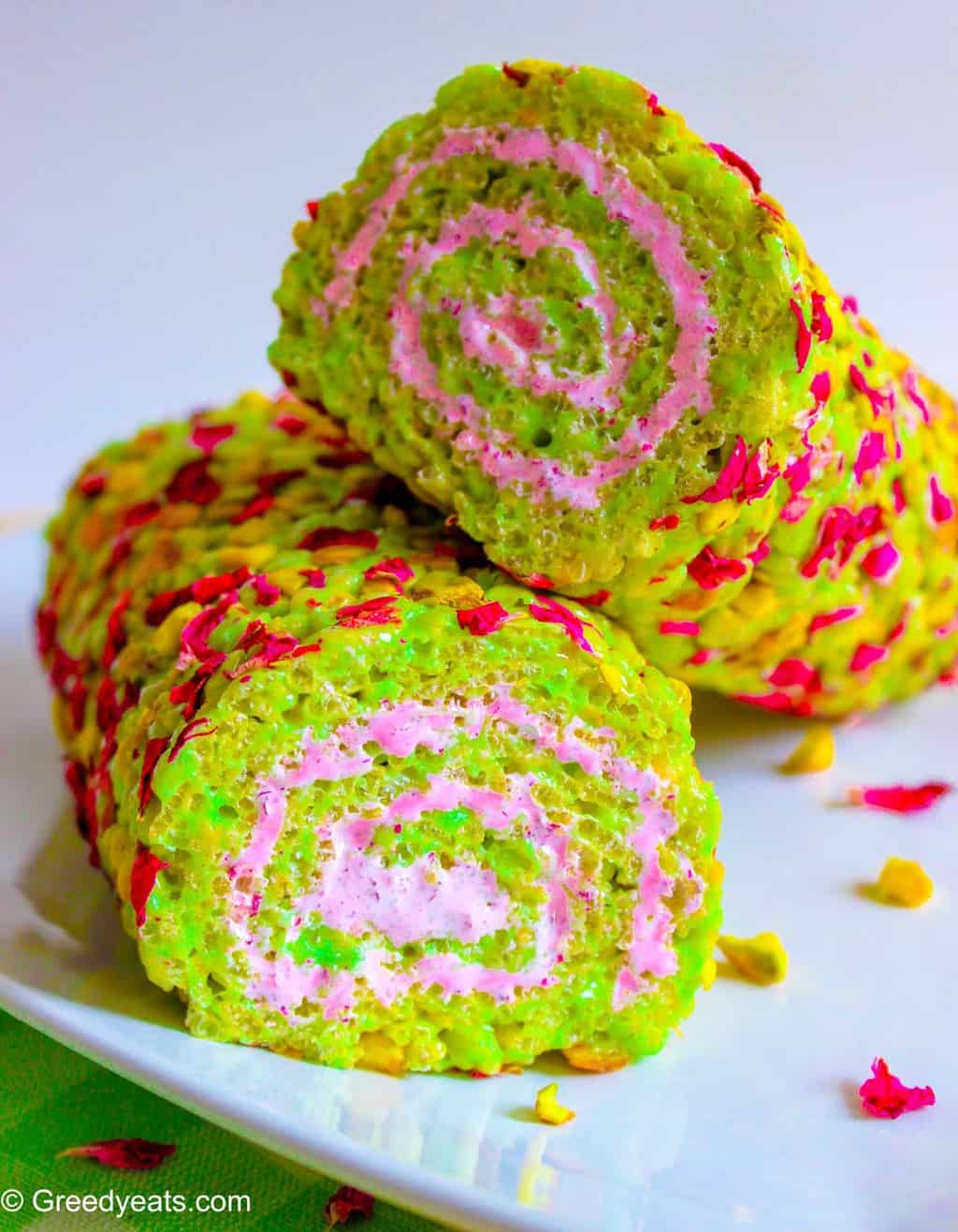 Beautiful spirals will be revealed in each slice as you cut these. This is the most fun part of this recipe. Plus these smell wonderful! You can't help yourself from licking the rose filling.
Ingredients for rose and pistachios rice krispie rolls
We will begin with melting mini marshmallows adding some butter in a pan. Add about 6 cups of cereal to it, once the marshmallows are melted completely.
Press these down firmly on the cookie sheet keeping a parchment paper beneath.
And roll these, after you spread filling as you would roll a cake roll. Wow! this is way too many rolls! But you get my point.
For rose flavored filling in the rice krispie rolls
Now for the filling, you may use any sturdy filling to go with these. I found the marshmallow one a bit too sweet for my taste. Given a chance again, I would most certainly pair this with some marshmallow+rose flavored (that is not as sweet as this!) butter cream frosting.
Though this one holds itself well and doesn't ooze out. It was pretty sticky(but easy to spread) at first and it firmed up when chilled before slicing.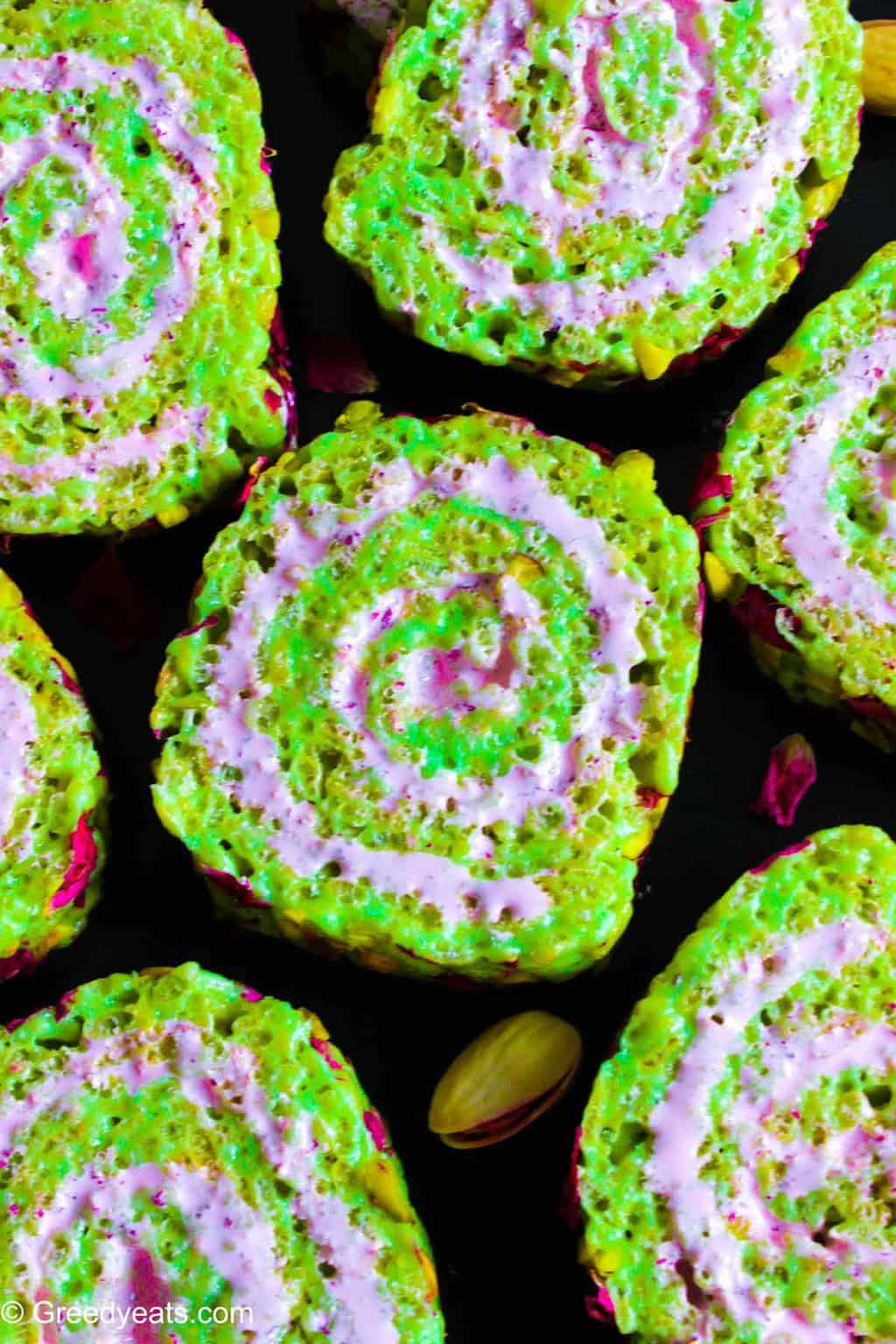 The rolls will reveal gorgeous contrasting spirals when you cut them. I know you can't wait to make these. So couldn't I!
I added a few drops of green and pink gel food colors to enhance the looks. And I suggest you do too. You've earned all that vibrance and cheer in your life!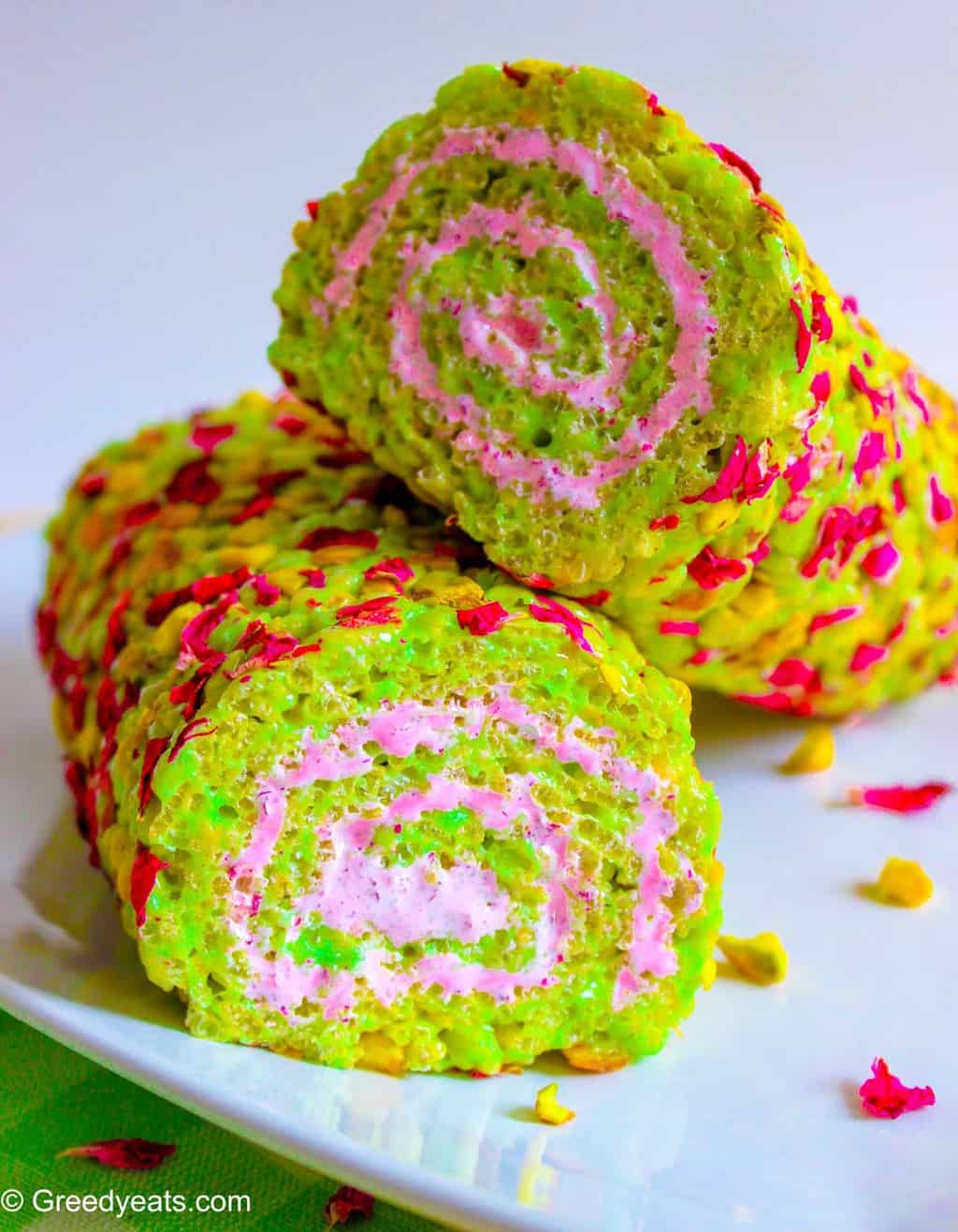 Want more quick and fun recipes like this one?
Try my wholesome bars next. So easy and quick to bake!
Love pink? How about this sparkly pinky frosting with healthier chocolate cupcakes?
You can't stay an inch away from these giant beauties in pink here!