Small batch recipe for cut out sugar cookie decorated as rose cookies. Super soft, buttery and chewy cookies to charm your valentine!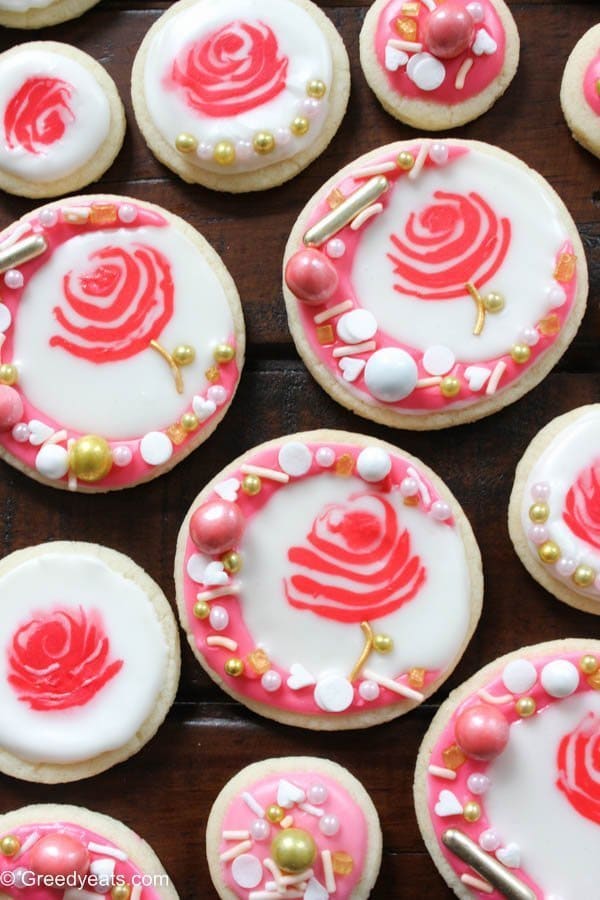 When sprinkles meet roses! Aren't these even better than real roses, for you can eat them?
What?? The idea of eating roses doesn't strike to you? What can I say! I love to eat sugar cookies!
Cookies that bake soft in the center, have slightly crispy edges, do not expand a lot while baking and have gorgeous flat tops.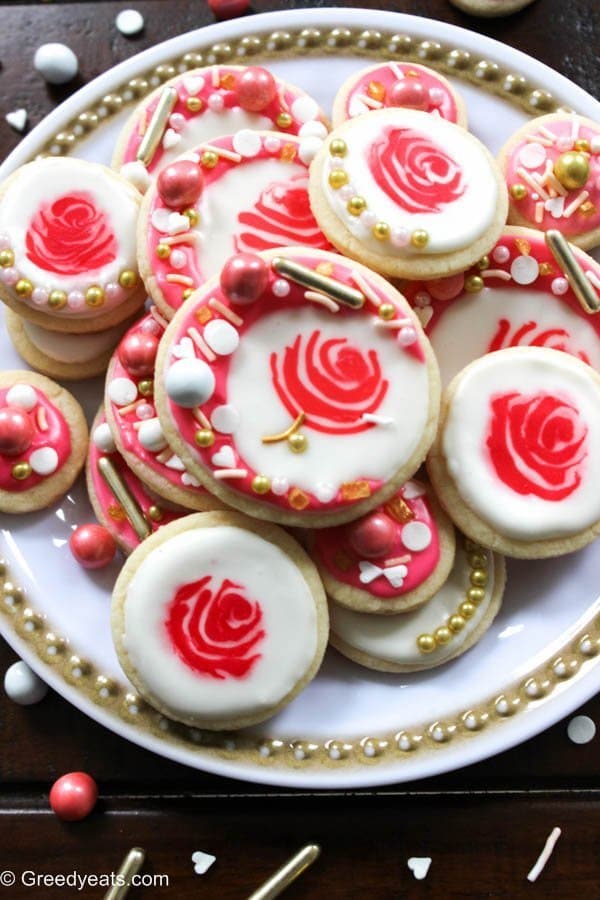 I know you will love a sugar cookie with all the above mentioned traits. I covered them all in my stockings sugar cookies(small batch) recipe that I posted a few days back! Also I shared a super easy icing to go with them.
So today we are focusing on royal icing. Furthermore, how to create those pretty roses using wet on wet technique (more on that just in a minute)!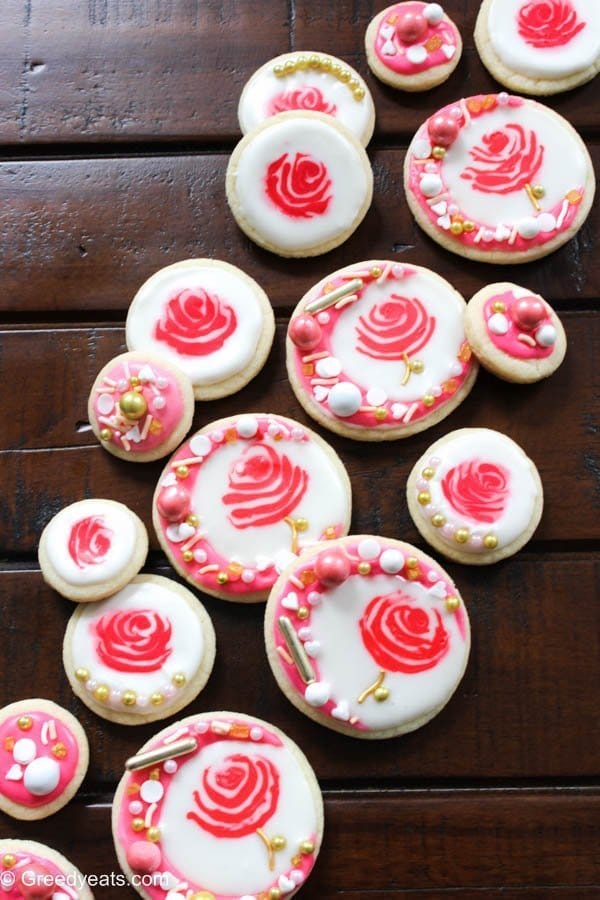 This icing isn't hard to make at all. No, I am serious. Thanks to SweetAmbs tutorial!
If you are careful with a few steps, your roses are sure to bloom!
How to Decorate Rose cookies:
You will need-
Flood consistency royal icing- This kind of icing is used to spread a first smooth coating on a sugar cookie. It is used to outline and fill the cookies.
Medium consistency royal icing- Royal icing that holds a soft peak and doesn't melt on it's own.
A few piping bags and a tooth pick or scribe tool to get rid of bubbles and smoothen the icing out
Wilton decorating tip #3 and Sprinkles of choice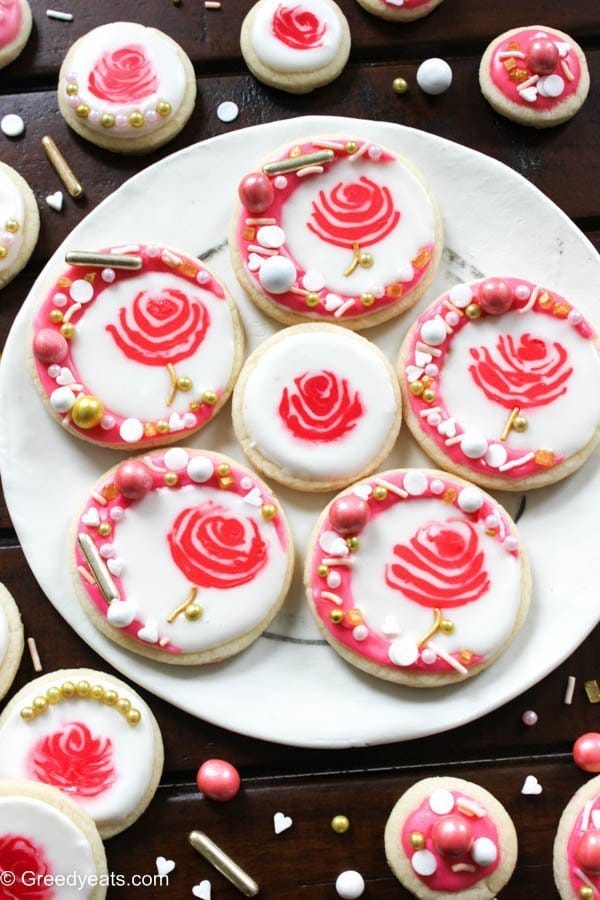 Wet on wet technique for rose cookies:
It is called wet on wet because roses will be carved while the base of our flooded icing is still wet. You will need to work fast here as royal icing tends to dry in the flap of a butterfly's wing!
Another tip to remember: Don't ever add too much water in your icing at once. You can always thin it out later!
I ditched heart cookie cutter this time and cut my sugar cookies out using a circle cookie cutter. As a result, I could make some room for sprinkles and add a cute color contrast! I used rose gold sprinkles from fancy sprinkles in these cookies. ♥♥♥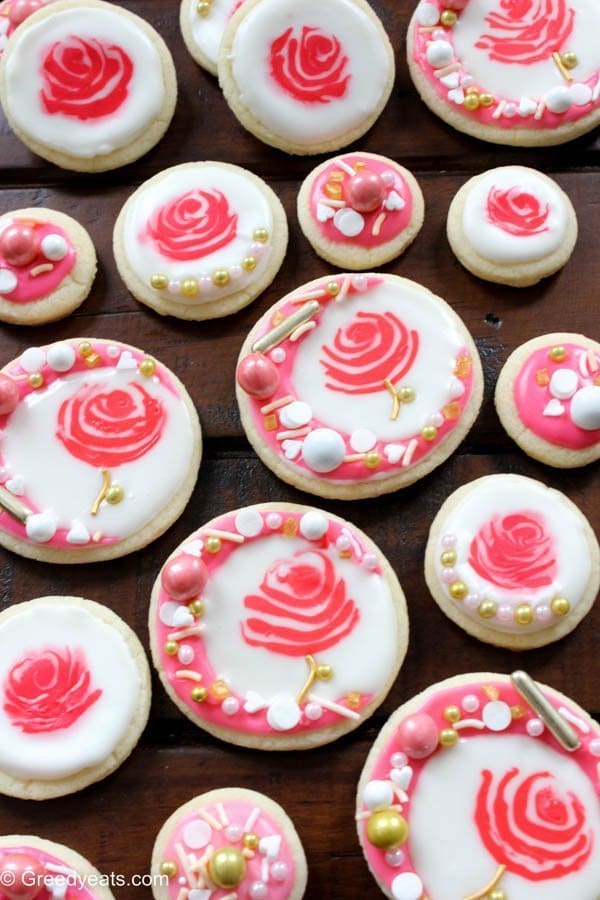 Now you can bake these in any shapes and sizes, my recipe will bake about 6 medium cookies, 6 small ones and a few extra small sugar cookies.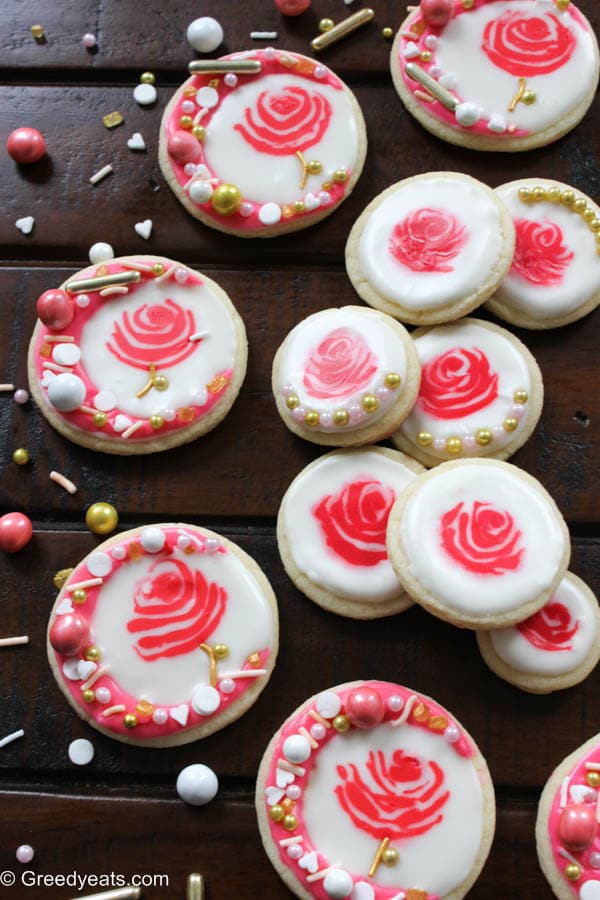 If you don't care about swirling a rose in their centers, a few pink heart sprinkles would look so good here! Decorate them anyway you like, I am sure you will love this tender, buttery cookie with a slightly crunchy (and beautiful) icing on the top!
I can't wait to see your creations. Follow me on instagram and tag @greedyeatsblog so that I can see all your sugar cookies dressed for Valentine's day!
Rose technique adapted from Sweetambs.com
Recipe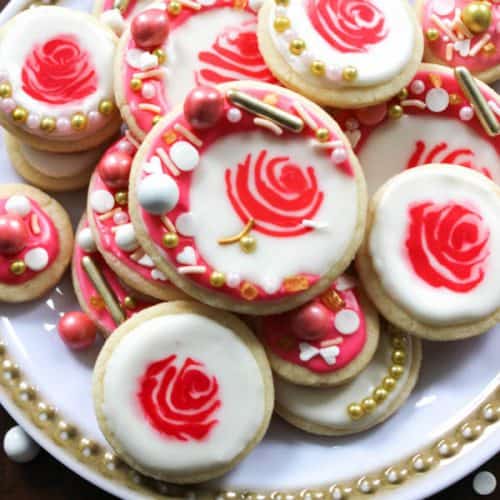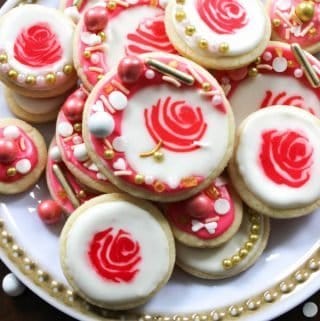 Rose cookies for valentines day
Small batch recipe for cut out sugar cookie decorated as rose cookies. Super soft, buttery and chewy cookies to charm your valentine!
Print
Pin
Rate
Servings
12
Medium cookies
Ingredients
1 Cup (120 gms)

Confectioners' sugar

divided

4 tsps

Meringue powder

divided

1 Tbsp

Water

plus more for thinning

A few drops

of coral red food coloring

12

medium

Sugar cookies

2

tablespoon

Sprinkles

of choice
Instructions
For Medium royal icing (to draw outlines and roses):1. Take ¼th (30 gms) of the confectioners sugar, add 1 teaspoon meringue powder to it. Add about ¼tsp of water, at a time to reach the desired consistency.
2. Don't beat the icing on high speed, you can even do it with a fork. It will only take about a minute or two at most! We don't want to incorporate a lot of air into the icing or don't want it to be too fluffy either.
3. Fill the icing in a bag and using wilton #3 tip draw out circular outlines on the cookies. Keep some icing aside to make roses.
4. Tint the remaining icing with food coloring to create roses. Fill it in a bag.
For flood consistency royal icing:

1. Mix the remaining ¾th (90 gms) of sugar with 3 teaspoon of meringue and add water slowly to reach flooding consistency. This icing when lifted at a height and dropped back, will dissolve back in the bowl in about 12-15 seconds.

2. Take care not to make it too thin. Fill the piping bag with about ⅔ of this white icing and color the rest with food coloring.
3. Keep the white icing covered or in a bag. Draw outlines and flood the outer base section in the shape of "C" with coral icing and top it off with sprinkles immediately.


3. Then flood inner white circles (one at a time) and quickly drop some medium consistency coral icing (that you previously piped) in the center, in circular shape. Then swirl it with a toothpick or scribe tool to create roses.

4. Top with a long golden jimmy and a sprinkle ball to create stem and leaf.

Nutrition