Ultra thick and so darn soft on the inside these Walnut Chocolate Chip Cookies are loaded with melty chocolate chunks and toasty walnuts in every bite!
If you love to bake cookies, you need to check out all the Cookie Recipes! I'd say begin with these Double Chocolate Cookies here and then try chewy Chocolate Chip Cookies next.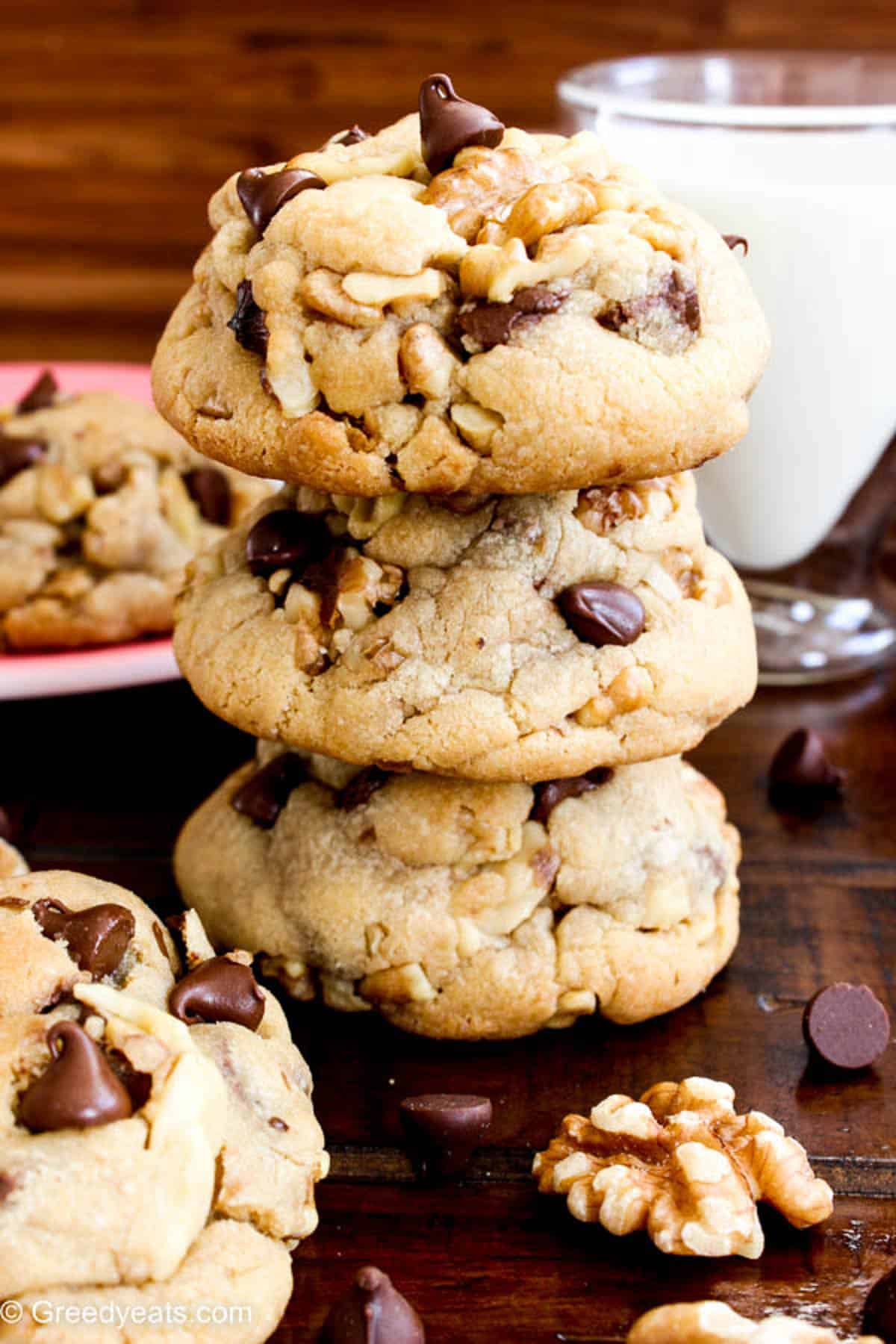 Because, it's weekend and we all deserve a cookie! A huge one. And certainly these are some of the best chocolate chip cookies I have made in a while.
Between the soft cookie dough, crunchy walnuts and about a million of melty chocolate pockets-this one easily beats other chocolate chip cookie recipes out there!
Best Chocolate Chip Cookie Recipe: Taste & Texture
Slightly crispy and golden on the outside
A ton of texture from chocolate chips and toasty walnuts
That remarkable thickness! Probably the thickest cookie you will ever bake
To die for soft in the centers
Most noteworthy, they tick all the marks of a perfect chocolate chip cookie.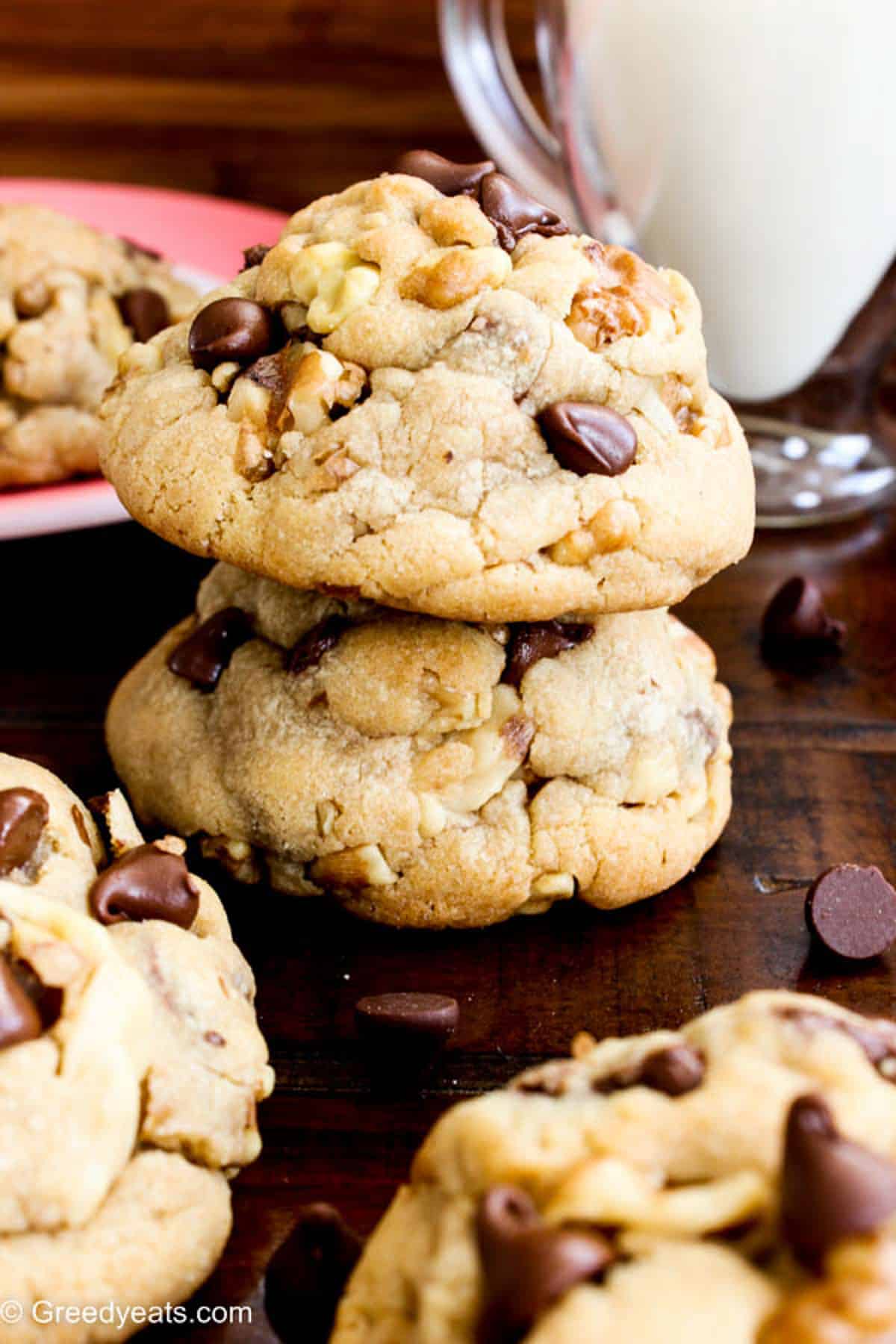 How to make soft chocolate chip cookies?
Cookies are super easy to make and are such quick treats if you pre-make the cookie dough. Bake fresh cookies whenever you have company or to enjoy on your own. Lets see how to make them!
Step 1
Make the chocolate chip cookie dough
To make cookies, first of all bring egg and butter to room temperature. Room temp. ingredients are crucial to uniform mixing and for best tasting cookies!
Forgotten to take butter and egg out of refrigerator and want to make cookie dough right now?
How to bring egg to room temperature quickly: Place egg in very hot water for about 5 minutes.
How to soften butter quickly: Cut butter into small cubes, place the cubes on a plate. Heat a microwave safe bowl filled with water in microwave . Discard the water carefully. Invert this bowl on butter plate. Let it rest a few minutes.
Or you can grate butter using a box grater and leave it for 5-7 minutes at room temperature. Butter will soften in about 5 minutes using both these tricks.
Make sure to not over softened the butter. If the butter begins to melt, your cookies won't bake thick and will be greasy!
Toast the walnuts: This step will give your nuts a beautiful aroma and will make the cookies taste two dozen times better.
You may toast walnuts on stove top or in the oven.
Stove Top Method: Place nuts in a pan over medium heat. Toast them till they get fragrant and get a slightly dark color. Keep stirring them to avoid burning. This should take about 4-5 minutes.
In oven: Place walnuts on a lined sheet. Bake them in a pre-heated oven for 5-7 minutes or till the nuts get nice and toasted.
Allow to cool before adding them to the cookie dough.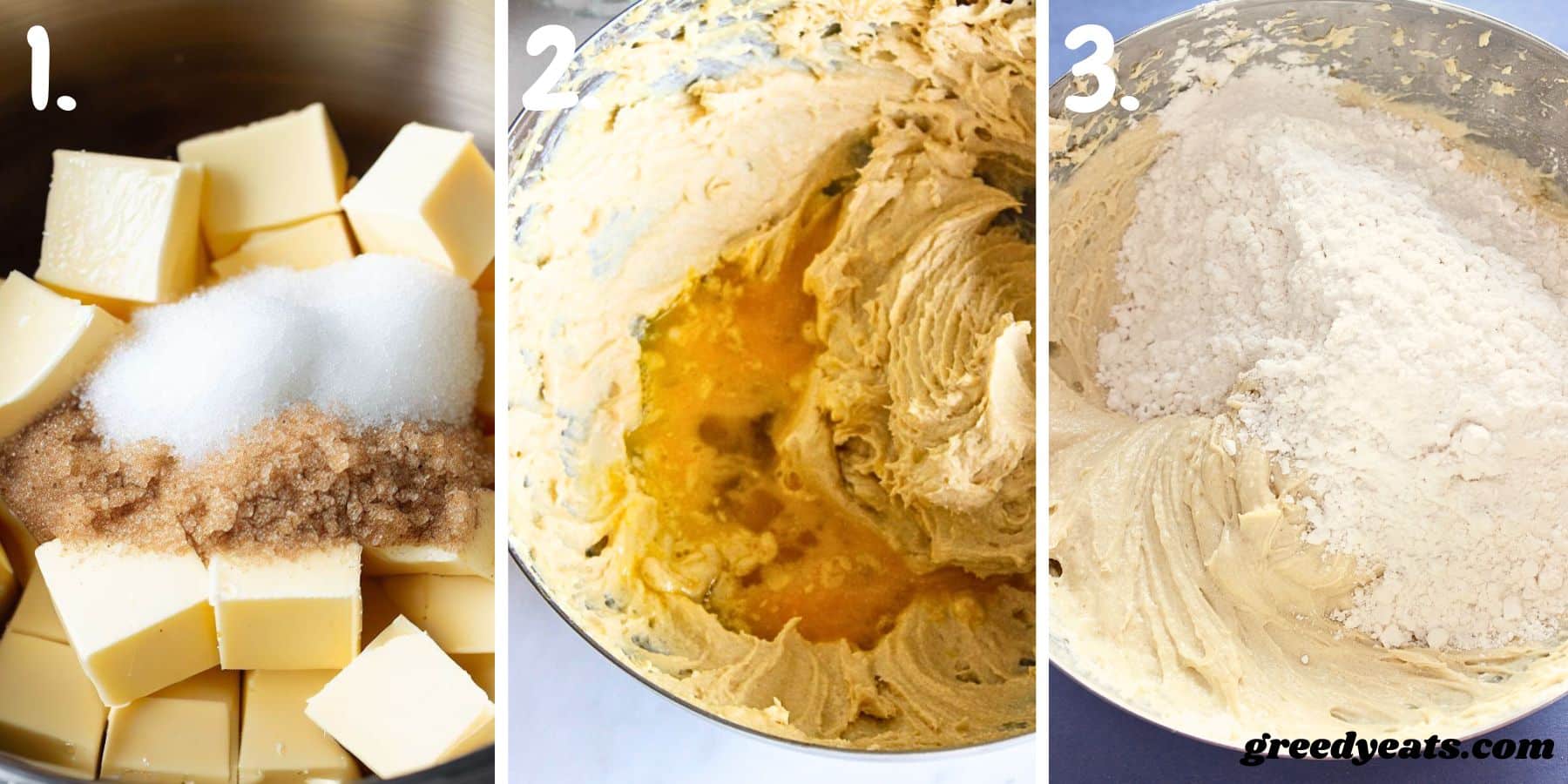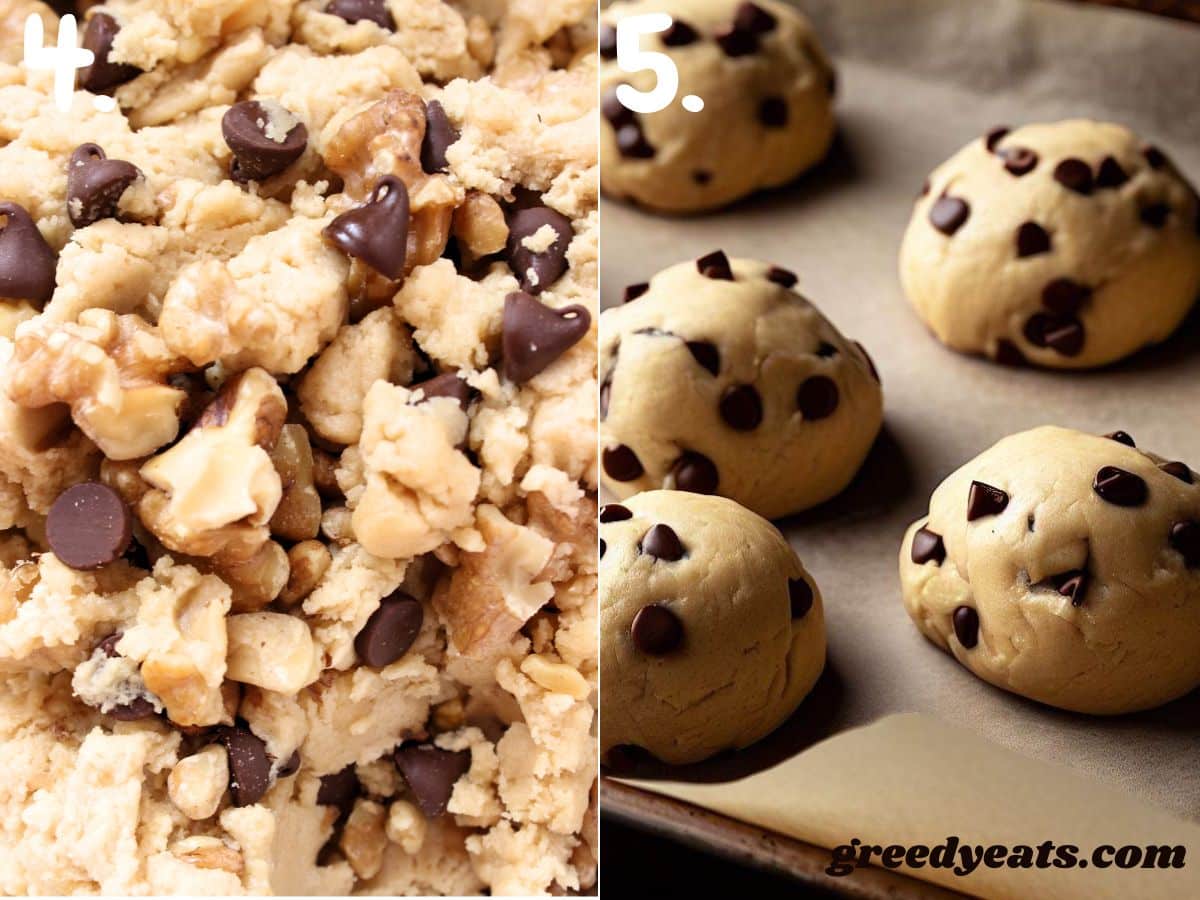 Next, Cream Butter and Sugars: In the bowl of a stand mixer or with a hand mixer, beat butter and both sugars till they get light and fluffy.
Next add in the egg and vanilla and beat till it's combined well. Scrape the corners and bottom of the mixing bowl as needed.
Add dry Ingredients: Now add in all purpose flour, leavener and salt to wet ingredients. After adding dry ingredients to wet, don't over beat the cookie dough.
Add nuts and chocolate chips: Fold in chocolate chips and walnuts (if adding). If you are not a fan of nuts, you may skip them. The cookies will still bake thick. You may add in ¼ cup more chocolate chips if not adding nuts.
Step 2
Rolling and shaping the cookie dough balls:
Divide the dough into 10 balls. Each ball will be about ¼ cup each. Don't flatten the balls. This way your cookies will stay perfectly thick!
Step 3
How to Chill cookie dough: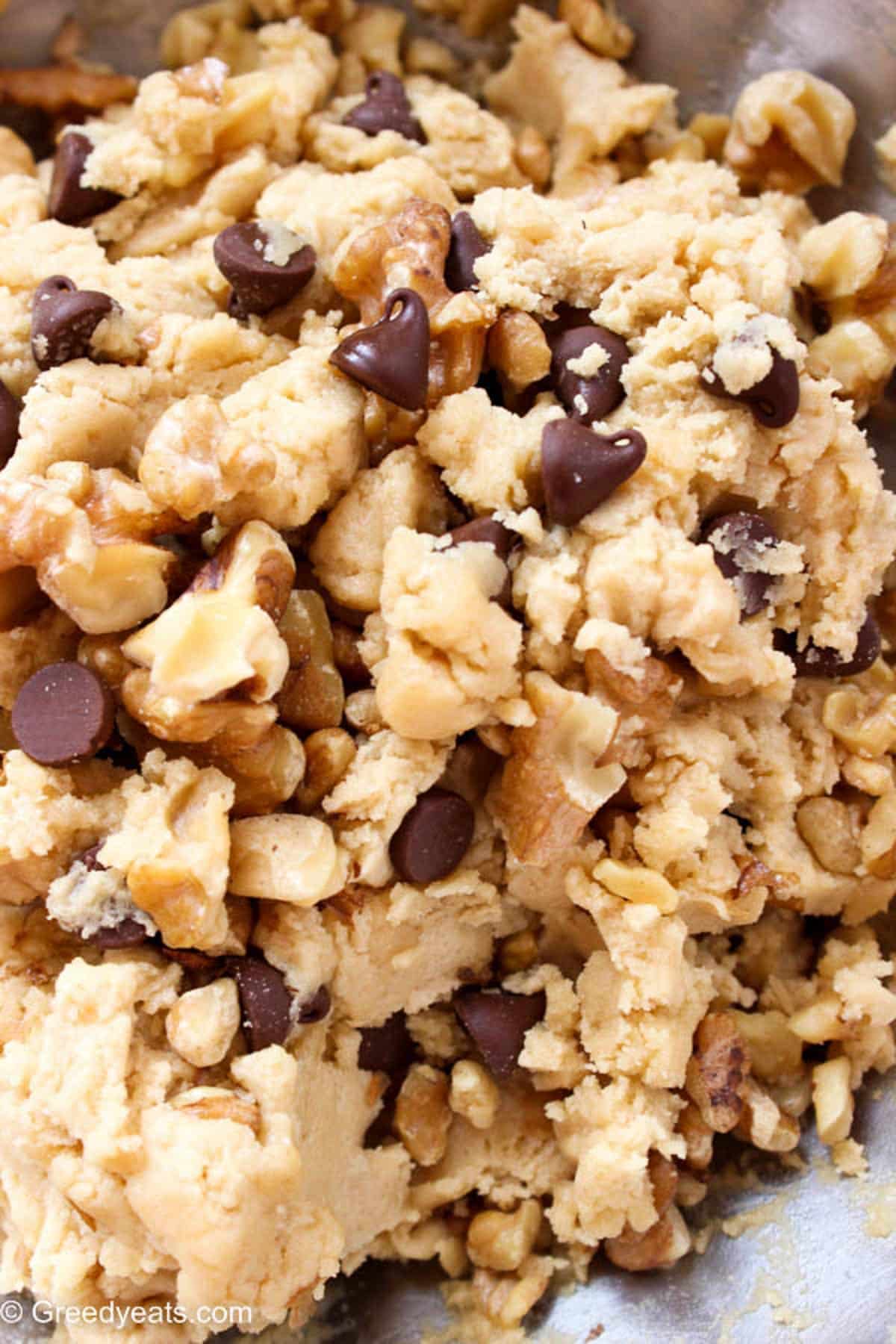 After making the cookie dough, you can either chill cookie dough/cookie dough balls in the refrigerator and bake them. Or you can freeze the cookie dough balls at this point to bake cookies later.
Chill the Cookie Dough: Chill your dough for a minimum of 2 hours before baking. If not in hurry you can chill the dough up to 2 days in refrigerator. Now divide and roll them into cookie balls and bake.
Chill the Cookie Dough Balls: After making the dough, you can scoop and roll it prior to chilling. Place cookie balls on a lined tray and set in the refrigerator for about 2 hours. Or till the dough balls are very firm to touch.Once chilled, put the tray directly in a pre-heated oven at 350 deg F and bake!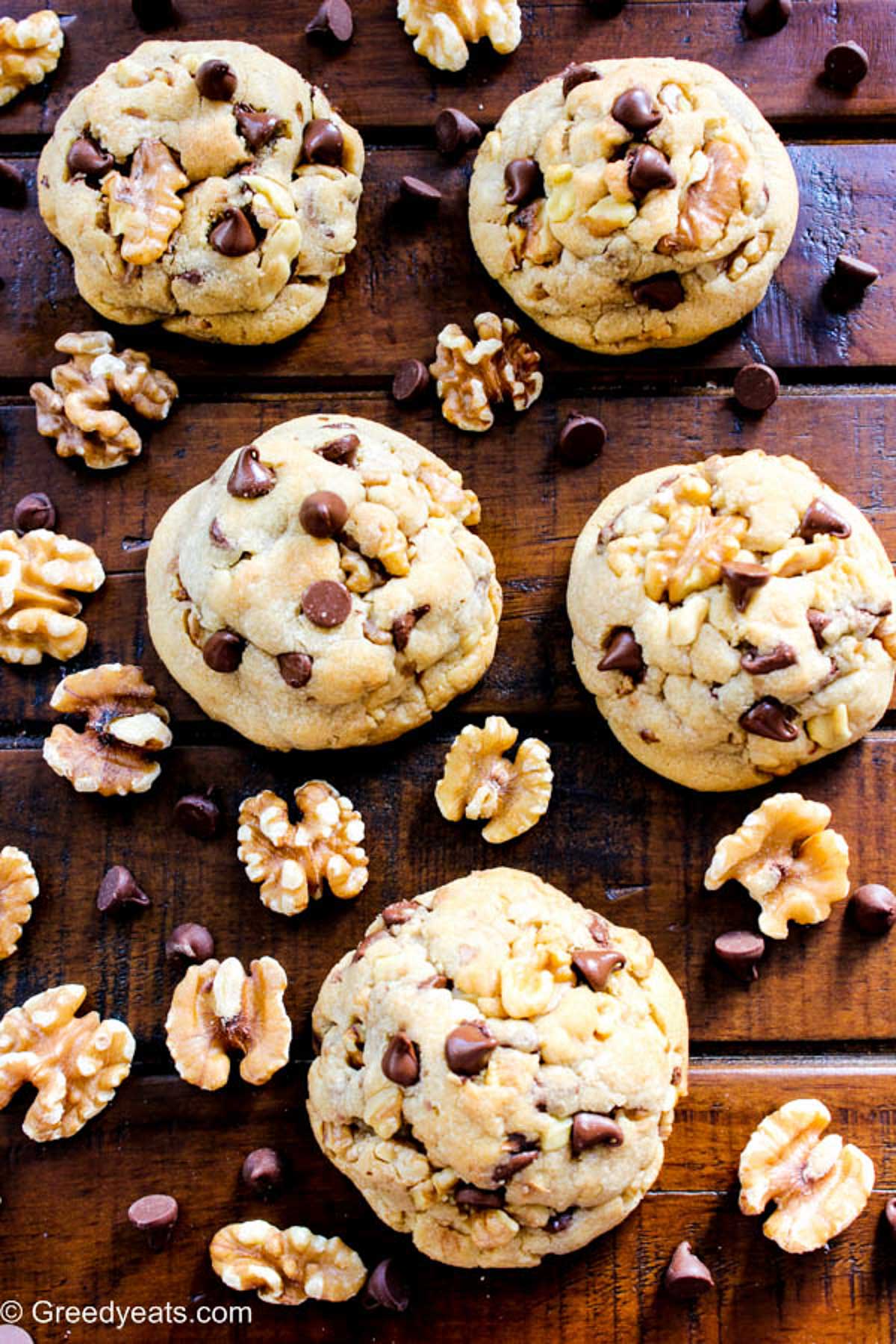 How to freeze cookie dough balls?
Place cookie dough balls on a lined large plate/baking tray. Set the plate/tray in freezer for 1 hour or until they solidify. Now put cold dough balls into zipped-top microwave safe bag. Cold balls won't stick to each other when stored in the freezer.
Label the bag with date, cookie name and baking temperature. Now place the bag in freezer. Cookie dough will stay put for 3 months in the freezer.
How to freeze cookie dough?
If you wish to freeze cookies dough as opposed to dough balls, it is doable. But you will need to thaw the dough first, to be able to roll cookie balls out of it.
In a freezer safe container/ziploc bag, place cookie dough and spread it all around the container. Idea is to take out as much air as possible out of the container.
Place the container/bag in freezer. It will last there for 2-3 months easily.
Step 4
Finally Bake:
When ready to bake, place dough balls a few inches apart from each other. I bake this whole batch in 2 trays. That way you bake 5 cookies per tray.
Bake these cookies for 11-12 minutes. My best tip would be to not OVER-BAKE these cookies. The cookies when done will appear light golden on edges and just set in the middle.
Cookies will set more on the baking tray after you take them out of oven. Allow cookies to cool down for a few mins on baking tray. Then finish cooling completely on a wire rack.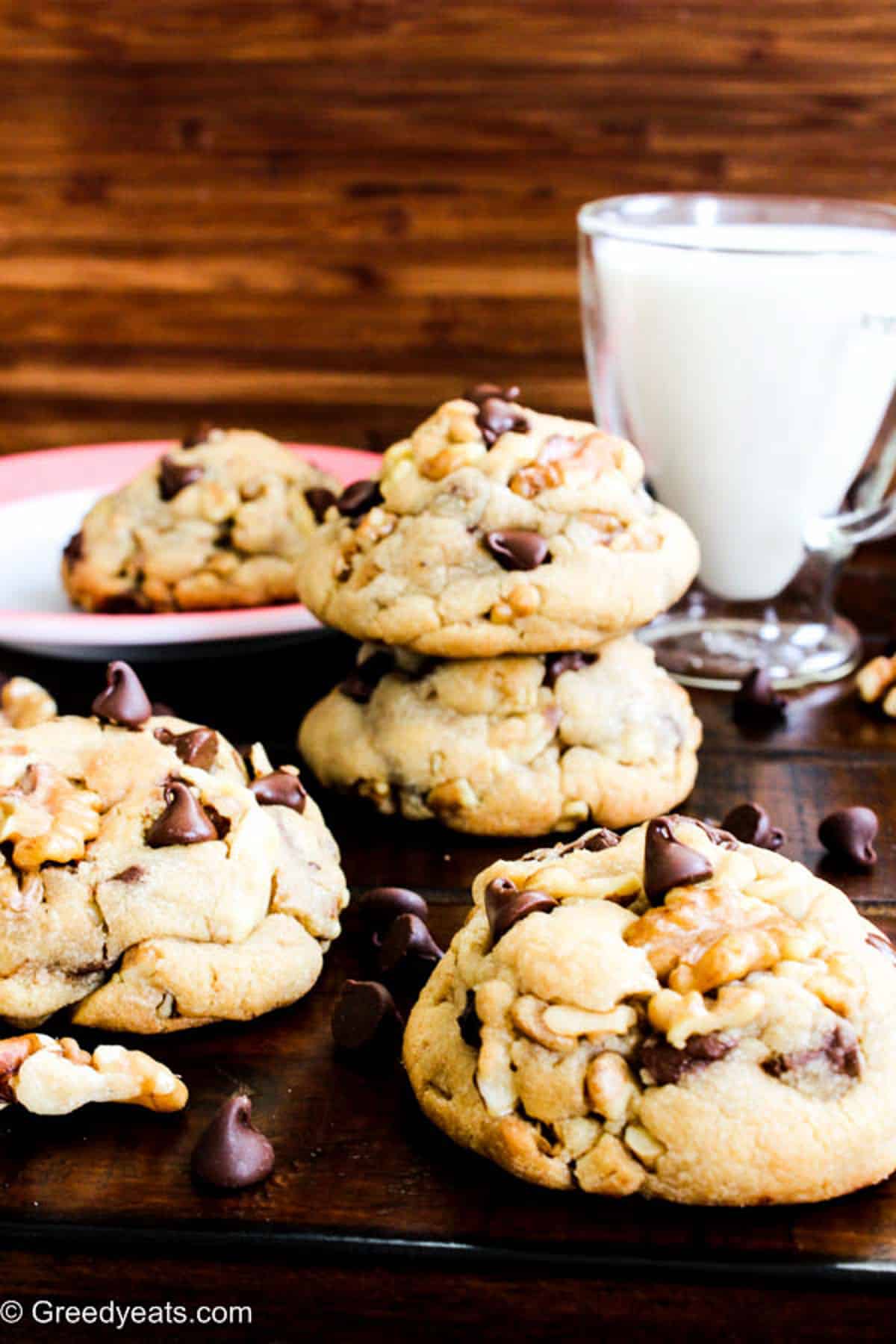 Thick chocolate chip cookies Ingredients
This recipe is created to produce 5 large sized cookies. It is based off of my Fluffy chocolate chip cookies. I increased the amount of ingredients used to produce even more thicker and chewier cookies.
We are adding more brown sugar than white for an ultimate chewy texture.
Cornstarch, to produce that ultimate thick cookie ever known.
Semi sweet choc-chips (I ain't a fan of cloyingly sweet cookies). You may substitute them with milk chocolate chips too. No judgments here! 😉
Room temperature butter and egg. One more time, room temperature only!
Walnuts, for a texture contrast to these mouth melting delicacies!
Use Quality ingredients to bake best cookies:
I must say what a difference high quality ingredients make! Make sure to use good quality chocolate chips and vanilla (in the amount I mention) too. And you will know what I am talking about.
Also walnuts are a huge help in producing super thick cookies. I swear by the love of cookies that you'll appreciate the crunch in these Chocolate chip Walnut Cookies.
Furthermore, chocolate and walnut flavor together in buttery soft cookies will blow your mind away!
Seems like you are about to attain Chocolate chip cookie Nirvana! I am so excited for you to experience it.
Easy Chocolate Cupcakes (small batch recipe)
Super Easy Chocolate Bundt Cake
These Valentines Brownies Cookies are a must try!
You will also love this Pumpkin Chocolate Chip Cookies Recipe
What is the secret to the best cookies?
Not over measuring the ingredients. Use fluff, spoon and sweep method to measure flour or invest in a good kitchen scale.
Don't over work the ingredients. After adding dry ingredients to wet, do not overmix the dough. You want it to stay light so that the cookies bake fluffier.
Do not over bake the cookies. Start checking them at 11th minute mark. Since every oven is different. Keeping an eye on the cookies after 11 minutes takes the guess work out.
How do you keep chocolate chip cookies soft and moist?
Don't overbake them. Over baking the cookies is the number 1 problem why cookies don't soft after baking. Also take care to measure the flour correctly. More flour in the dough can lead to tough and doughy textured cookies.
Never skipping adding cornstarch to the cookies, if you want them to bake soft and stay soft for days!
Are semi sweet or milk chocolate chips better for cookies?
Both these chocolate chip work well in chocolate chip cookies. Depending on the sweetness you prefer from the chips, pick your chocolate chips.
If you like not-so-sweet cookies, choose semi sweet chips. If you like sweeter cookies, pick milk chocolate.
A combination of both will be a nice touch to the cookies too. 😉
If you liked this recipe, give it a star review. Also, tell me in the comments below, how did this turn out for you! And don't forget to share your creations with me on Instagram at #greedyeatsblog Also follow me on Pinterest and Facebook!
Recipe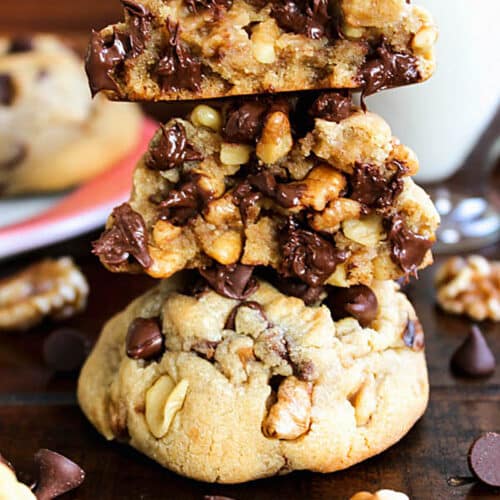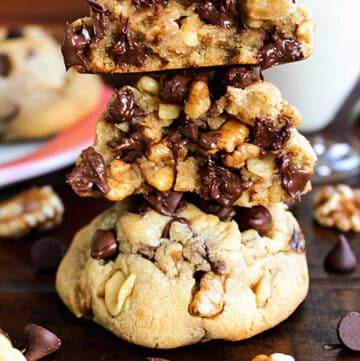 Chocolate Chip walnut Cookies
Ultra thick and so darn soft on the inside these Chocolate Chip Walnut Cookies are loaded with melty chocolate chips and toasty walnuts in every bite!
Print
Pin
Rate
Servings
10
Large Cookies
Equipment
1 Hand/stand Mixer

1 Mixing Bowl

Measuring Cups and Spoons

2 Baking Sheets
Ingredients
2 Cups (250 gms)

All purpose flour

2

teaspoon

Cornstarch

1

teaspoon

Baking soda

¼

teaspoon

Salt

¾

Cup

Butter

(Softened to room temperature)

1

Large

Egg

(at room temperature)

¾

Cup

Light Brown sugar

¼

Cup

Granulated sugar

2

teaspoon

Vanilla extract

1

Cup

Chocolate Chips

(semi-sweet)

1

Cup

Walnut chunks

(toasted)
Instructions
To toast Walnuts:
Line a baking sheet with foil and preheat oven to 350 deg F.

Spread walnut pieces in an even layer and toast for about 7-10 minutes or until fragrant. Keep flipping and turning them every now and then to avoid burning. Allow to cool.
To make the cookies:
Beat butter and both sugars together on medium speed using a stand mixer or hand beater until creamy and fluffy, About 2-3 minutes. Add in vanilla and egg. Beat on medium high to combine for about a minute.

Sift flour, cornstarch, baking soda and salt on the creamed mixture and combine just until flour disappears in the dough.

Now gently fold in the walnut chunks and chocolate chips. Chill the dough for 2 hours or up to 2 days in the refrigerator. You can also freeze cookie dough balls, to bake for later.

When ready to bake, preheat the oven at 350 deg F and line 2 baking sheets with silicon mat or parchment paper.

Divide the dough into 10 equal sized portions. Each cookie will be about ¼ cup. Form balls out of these portions and bake for 11-13 minutes, rotating the baking sheet halfway through.

Let the cookies cool on the sheet for 10 minutes before transferring on the wire rack to cool completely.
Notes
Storage Information:
The cookies will stay fresh for about 3-4 days at room temperature, covered tightly.
Both baked cookies and unbaked cookie dough balls can be frozen. Thaw baked cookies on the counter top for a few hours before serving. No need to thaw unbaked cookie dough balls. Just bake them for an extra minute.
Brown Sugar: I have used light brown sugar for these cookies, but dark brown sugar can be replaced just in a pinch.
Cornstarch: Cornstarch helps make super thick and soft cookies, if you don't have it on hand, just leave it out. Don't sub it with anything else.
Quick Tips:
My number 1 tip would be to use a kitchen scale to measure ingredients.
Do not over mix the cookie dough after adding dry ingredients.
While baking a second batch of cookies in the same tray, don't put cookie dough balls on hot tray.
Allow the cookie dough to chill for a few hours before baking. This will enhance the texture and flavor profile of your cookies and they won't over spread.
Nutrition
Serving:
1
Cookie
|
Calories:
326
kcal
|
Carbohydrates:
70
g
|
Protein:
7
g
|
Fat:
17
g
|
Sodium:
301
mg
|
Sugar:
33
g