Easy to make, so chewy, flavor packed and healthy homemade trail mix Granola Recipe. A texture lovers paradise!
This granola mix lies on my kitchen counter, computer desk, coffee table, and on my couch's arm!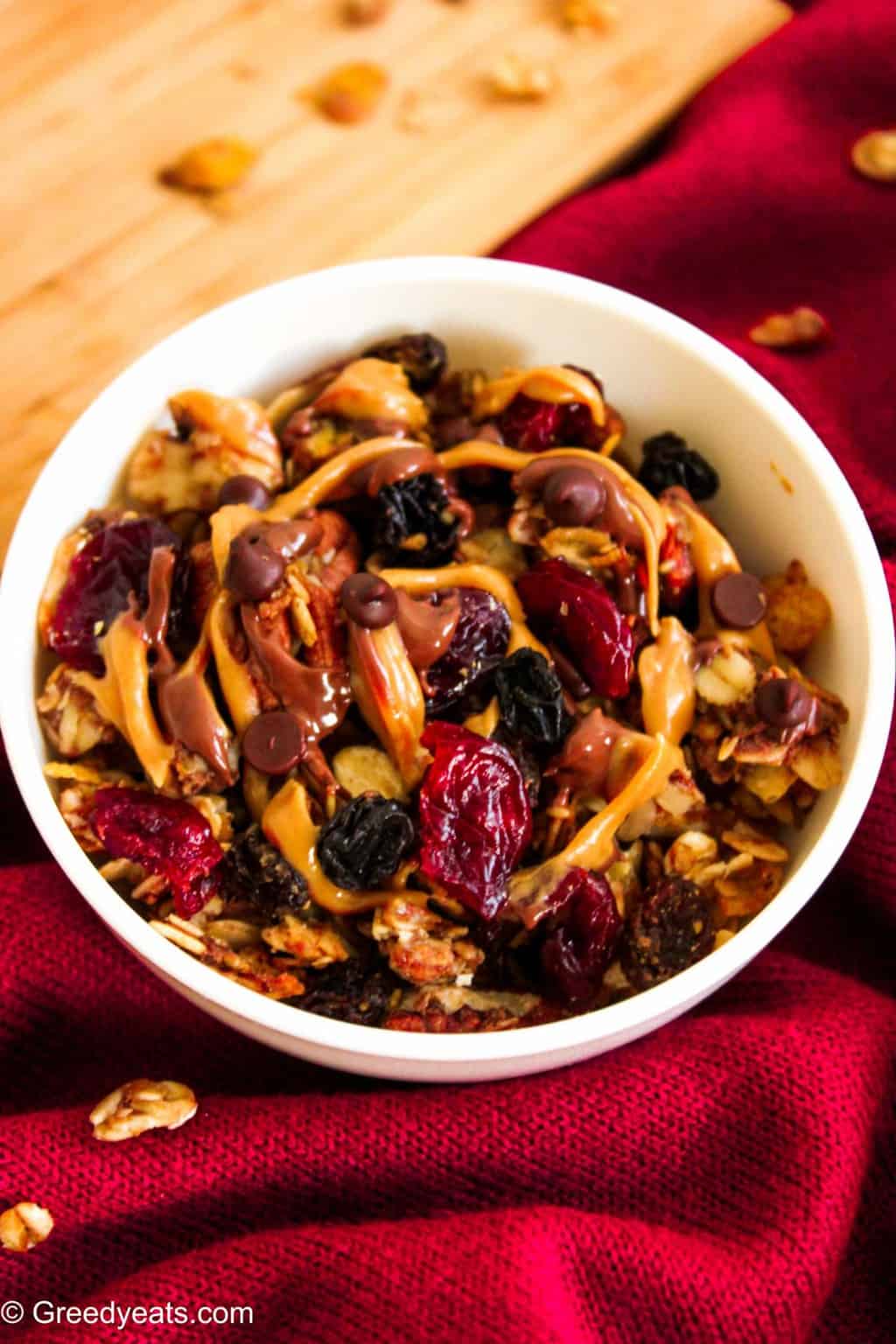 Now you can eat your butter loaded, sugar packed and giant nutty oatmeal cookie with spoon. Yeah, you read it right.
This healthy homemade trail mix granola tastes just like an indulgent oatmeal cookie. With only one difference. It doesn't stuff any extra fat or processed flours or sugars in them.
But only good for you stuff! Best granola mix ever. ⇓
hEALTHY HOMEMADE Trail mix ingredients
Nuts (I use walnuts+almonds)
Berries of your choice
Raisins
Chocolate chips (can't help it)
Nut butter (I prefer peanut butter for this recipe)
a little honey to sweeten it all.
On lazy mornings, this baked granola is the only sight to my sore eyes.
It's like munching on your fave. oatmeal cookie without all the pesky calories and also without dirtying your hands! All the lazybones around here get me?!?
I top it on my fruits, smoothies and on Greek-yogurt, you name it. Sometimes this granola gets topped with nut butters or even Nutella. You sure know those dessert stuffed mornings, don't ya!
This trail mix baked granola recipe is so versatile. Not only you can eat it any time of the day or you can add whatever ingredients you have available, but also you can munch it the way you want.
Like a snack? Go for it.
Topped on your Smoothie bowls? Yum yum!
Over yogurt? You bet!
On your ice creams? Serve me some too!!
Just wherever you need some chewy-crunch in your bowl. This granola is the answer!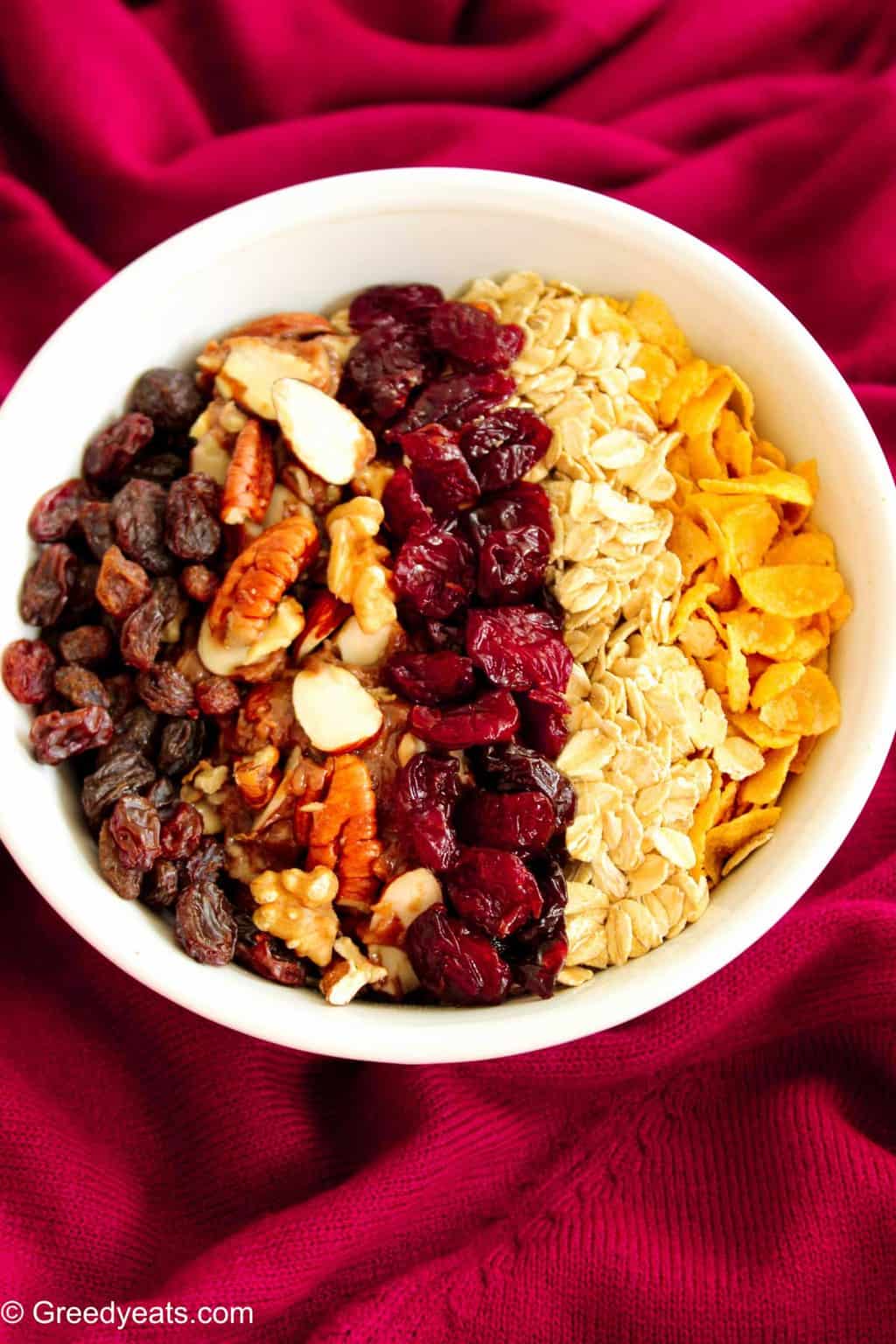 How to make trail mix
Oh you don't need much here!
Just mix all the dry ingredients in a large mixing bowl.
Pour in the wet mixture comprising of honey+nut butter+coconut oil
And bake.
There you have it. Told'ya. It's laughably easy!
The most flavorsome, texture rich, can't stop munching-trail mix baked granola recipe baked and cracked!
Seriously, it's that easy to make. If you can mix wet and dry together you can make it.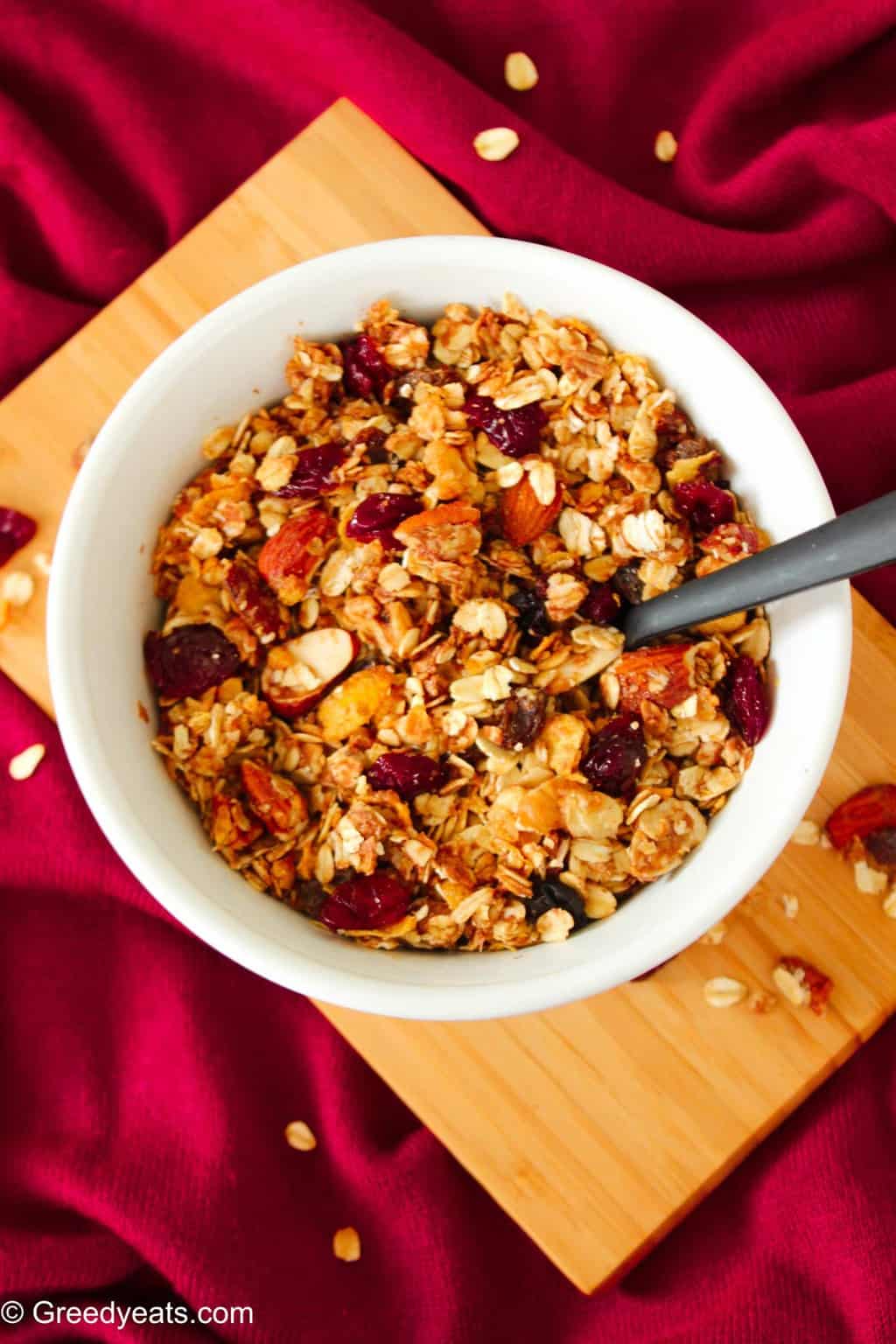 This one here is all set to be baked. Look how pretty and done (I mean baked) it already looks. ⇑ ⇑ ⇑
I feel you. But please make sure to save some for baking too! 😉
Healthy homemade trail mix ideas
You can use any nuts combinations you like!
Any dried berries that you prefer.
Any nut/seed butters you have on hand.
Some other sweeteners (like maple syrup, brown rice syrup) if honey ain't your thing.
Substitute any other oils if you don't wanna add coconut oil.
Add, omit or substitute as your little heart pleases. Just stick by the ratios of dry to wet and the choice is all yours!
Let me give you some more ideas.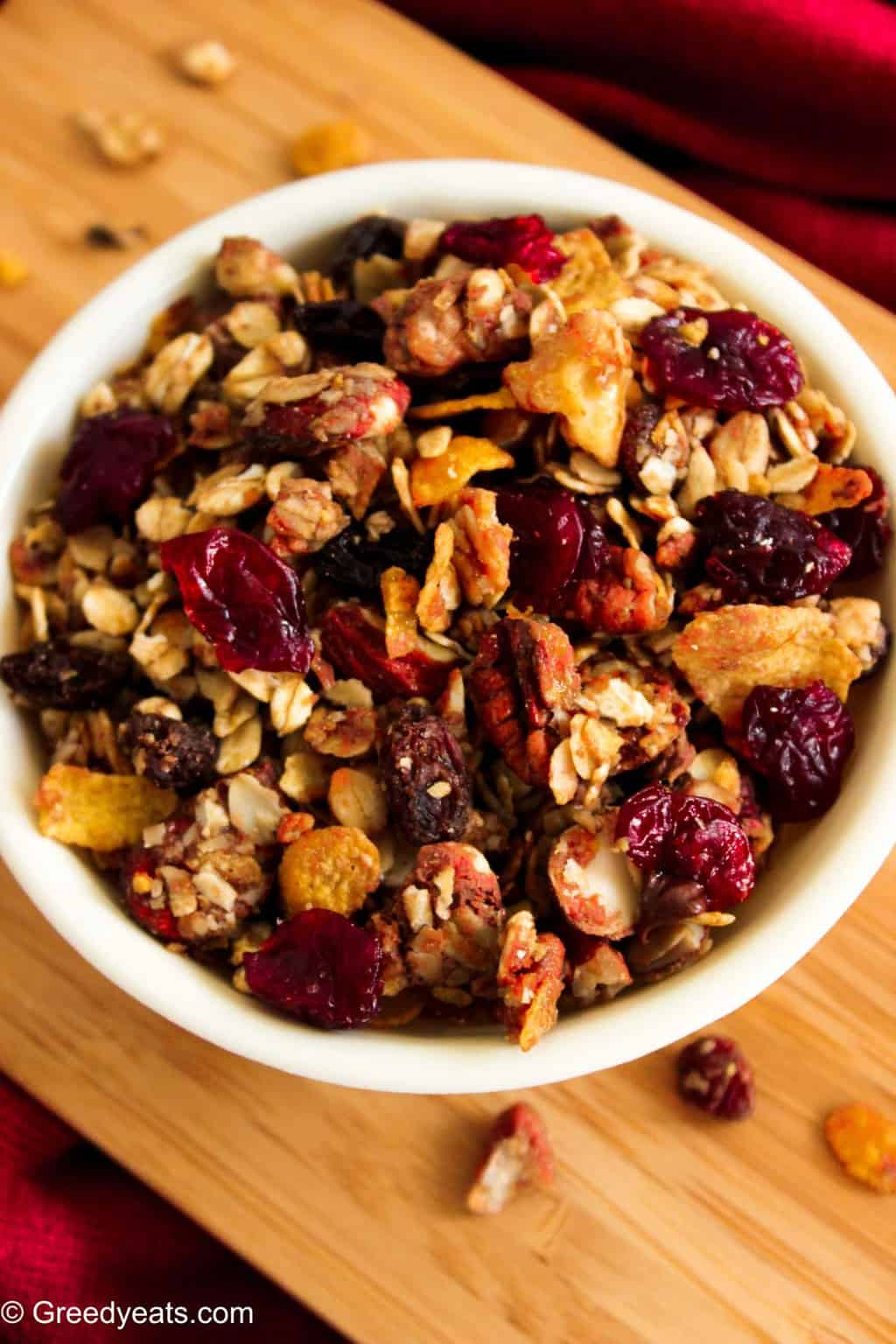 Try adding cashews, pecans or peanuts, dried pineapples, apricots or how about some coconut flakes?
If you have any nut allergies try seed butters. You wouldn't be disappointed!
Even try adding some pretzels or other cereals that you love instead of rice krispies/cornflakes.
Let your imaginations run wild. Your energy won't get wasted!
Speaking of energy, need an instant boost while hiking? This delicious trail mix baked granola recipe got you covered. Munch on this granola, it can never weigh you down! 😉
Other quick breakfast ideas
If you too struggle with breakfast options every morning like me, try these healthy snack bars or my whole wheat banana muffins or even these fruity muffins. These all are perfect make ahead, grab and go options and are storage friendly.
I got the inspiration for my trail mix baked granola recipe from these bars here. I just converted the recipe from bars into baked granola. Also changed some ingredients and flavors to suit my palate. Which you too can do at ease!
Bake this trail mix baked granola recipe once and you too will be guilty for all the mess. Opened jars, empty bowls here and there, everywhere!
Recipe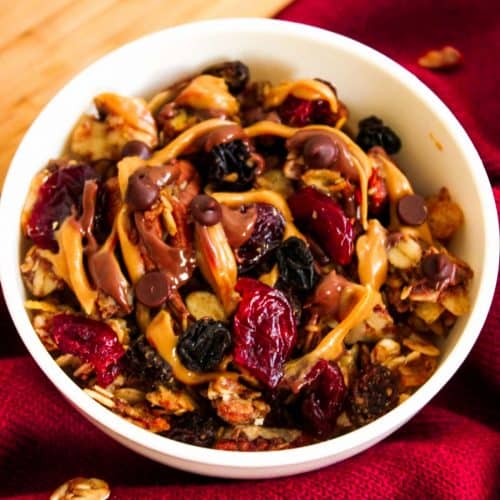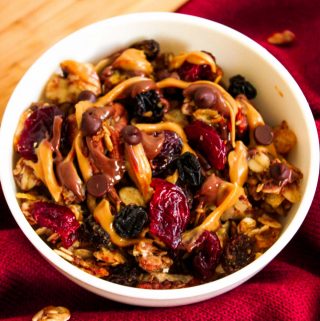 Healthy Homemade Trail Mix Baked Granola
Easy to make, so chewy, flavor packed and healthy homemade trail mix Granola Recipe. A texture lovers paradise!
Print
Pin
Rate
Ingredients
1 ½ Cups

Oats ( Old fashioned)

½ Cup

Cornflakes

1 Cup

Rice Crispies

1 Cup

Walnuts

½ Cup

Almond (halves or roughly chopped)

½ Cup

Cranberries

¼ Cup

Raisins

¼ Cup

Chocolate chips

¼ Cup

Peanut butter

1 tsp

Vanilla Extract

5 Tbsp

Coconut Oil

½ Cup

Honey

⅛ tsp

Salt
Instructions
1. Preheat your oven to 325 F degrees and line a baking sheet with parchment paper.

2. Mix all the dry ingredients- oats, cornflakes, rice crispies, almonds, walnuts, cranberries, raisins and chocolate chips together in a large mixing bowl.

3. Take a small bowl. Put in peanut butter, honey and coconut oil and microwave for 30 seconds. Add in salt and vanilla extract. Then stir the mixture well until melted well.

4. Quickly add this wet mix to the dry and mix well until everything is well combined.

5. Transfer the mixture on the baking sheet and bake for 15 minutes. Let cool completely and store it in an air tight container.
Notes
You can use any kind of nuts or berries you prefer, substitute peanut butter with the nut/seed butters of your choice, same with oil used. All in the same amount as the recipe states.
The granola stores well for up to two weeks at room temperature. If it lasts that long.
Nutrition