Get ready to experience strawberry explosion in your mouth with the first bite of this giant sugar cookie recipe. Dotted with chocolate chips of 2 kinds! ♥♥♥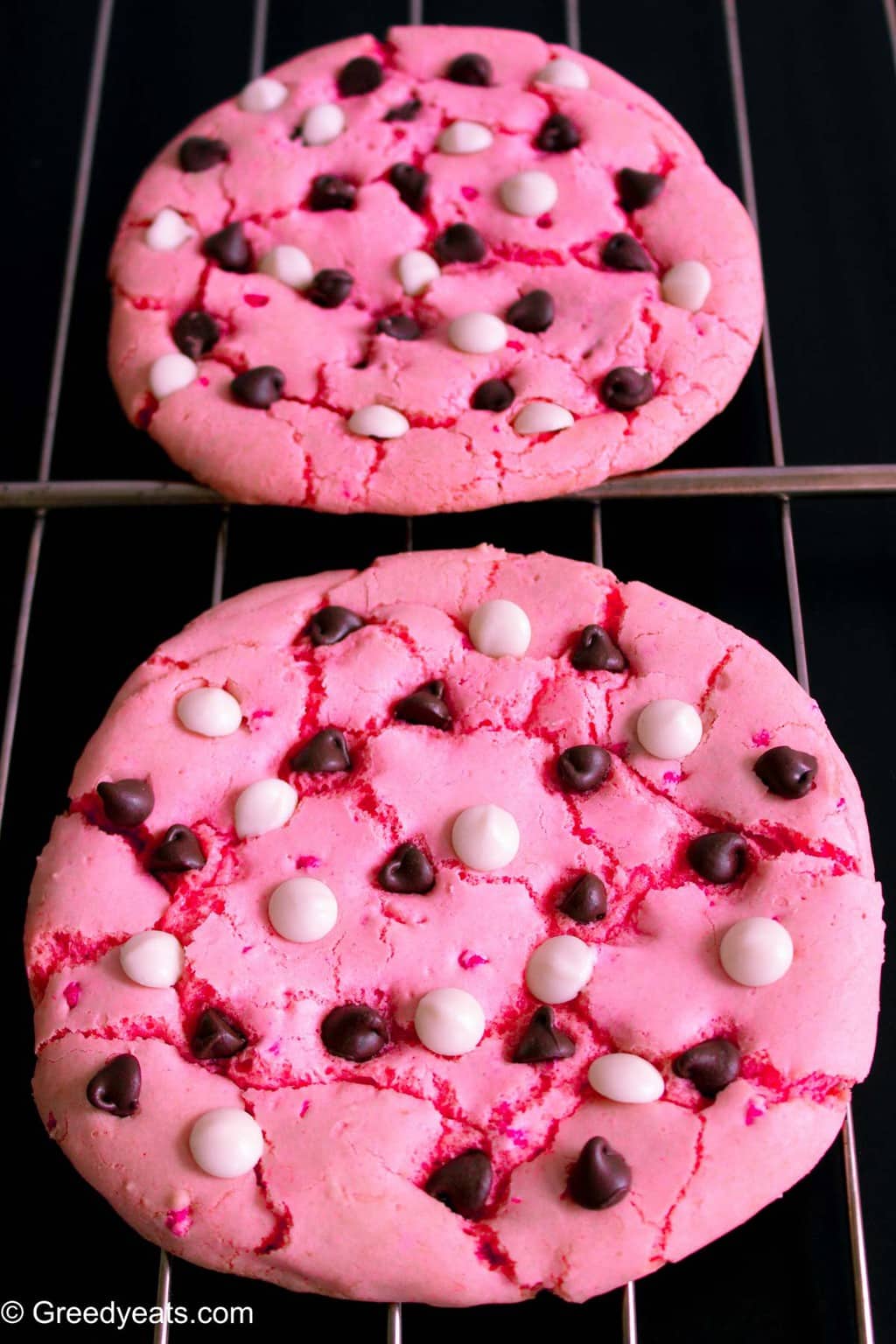 Ever wonder why mini cupcakes taste so much better than the standard ones? Or why you fancy teeny-tiny cake-pops over a big boring cake?
Is it because mini cupcakes and cake-pops are so fun and super cute! There is nothing exciting about standard sized cupcakes! Regular is always dull. And Boring! No?
That's why this giant sugar cookie recipe is so different. 1000x better than all other dwarf cookies.
Also when you can have only one cookie, it has to be giant! Hello Slim legs! 😉 😉 😉
And when that giant cookie tastes strawberry and is colored Pink, can you help inhaling two at a time? Well I don't know if you can, I couldn't (Shameless gal stands here)!
Giant sugar cookie recipe unfolded 
I suggest you only bake these cookies when you have someone to share these with you. Else don't come back complaining, I didn't warn you earlier!
Rest you don't even need to break out your mixers or any baking tools to whip these cookies. And these come together in less than 25 minutes, start to finish! Takes additional 30 seconds to polish them off! Burp. Excuse me!
Giant sugar cookie process:
Can it get any easier than this?
Add a little egg, some oil and leavener to some strawberry cake-mix. Whisk it to combine.
Freeze for a few minutes, stud with some chocolate chips of choice.
and bake.
Then wait for ten until a big fluffy, extra chewy, crinkly, melt in mouth and loaded with strawberry flavor cookie appear in front of you.
How do ingredients behave (chemistry wise) in the recipe!
Baking Powder- Lifts the cookie up
Oil- Prevents cookie from drying out
Egg- Binds the cookie
Why does everything look so pink to me today? Is it just me?
I used both dark and white chocolate chips in the recipe for taste and added appearance. You can top them with absolutely any candy that your heart desires.
You can easily press down a few more chocolate chips after they come out of oven for some more added beauty. The chips will melt slightly, as the cookies will be warm. Heavenly!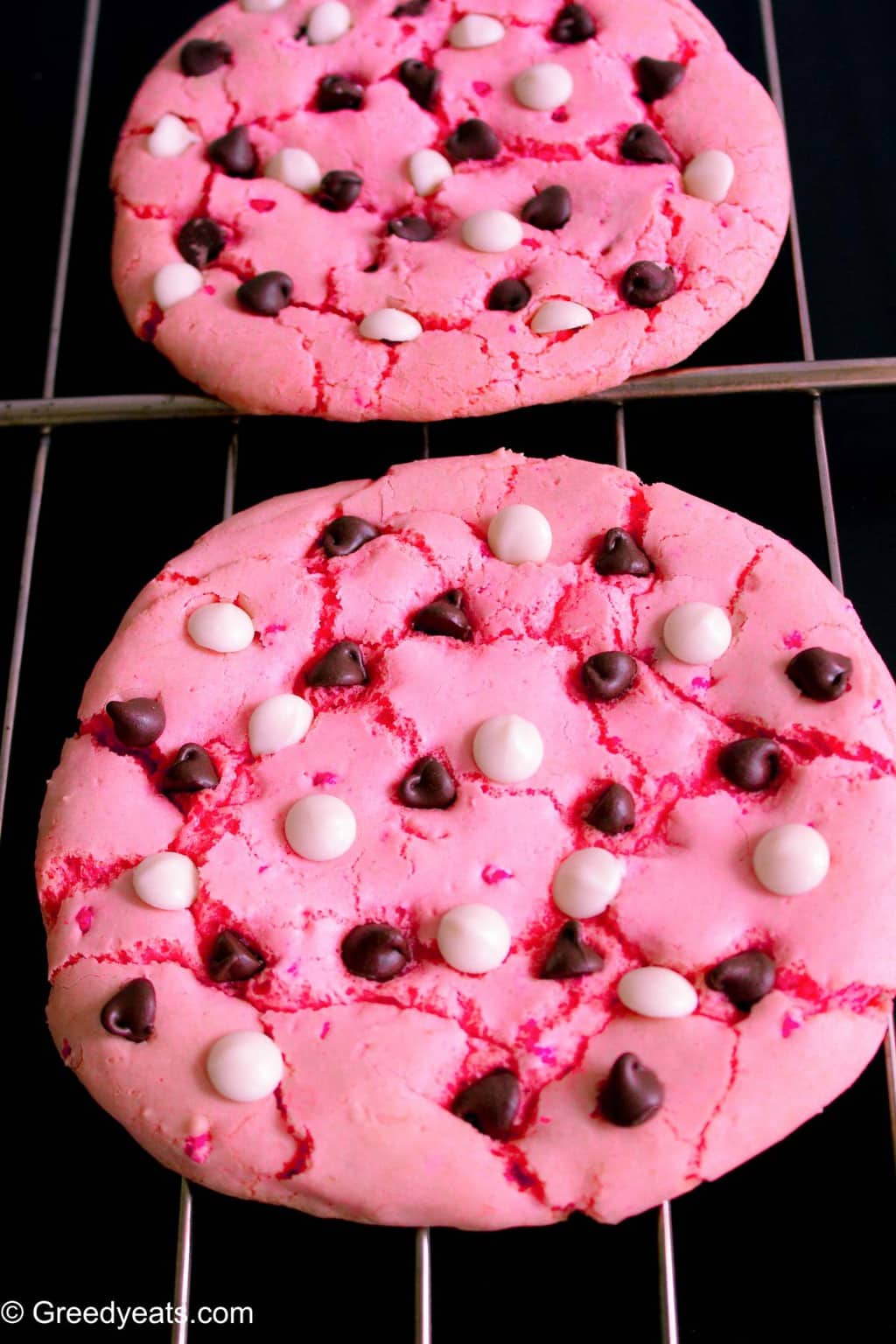 All my Ladies and my Men (if any male reads this at all! :D) who have never baked before, charm your loved ones. Bake these ridiculously sized pink colored cookies! And forget not to bake a minimum of two.
Taste test and treat yourself with one and give away the other if you can!
I won't judge if you ate both in one sitting too. Promise!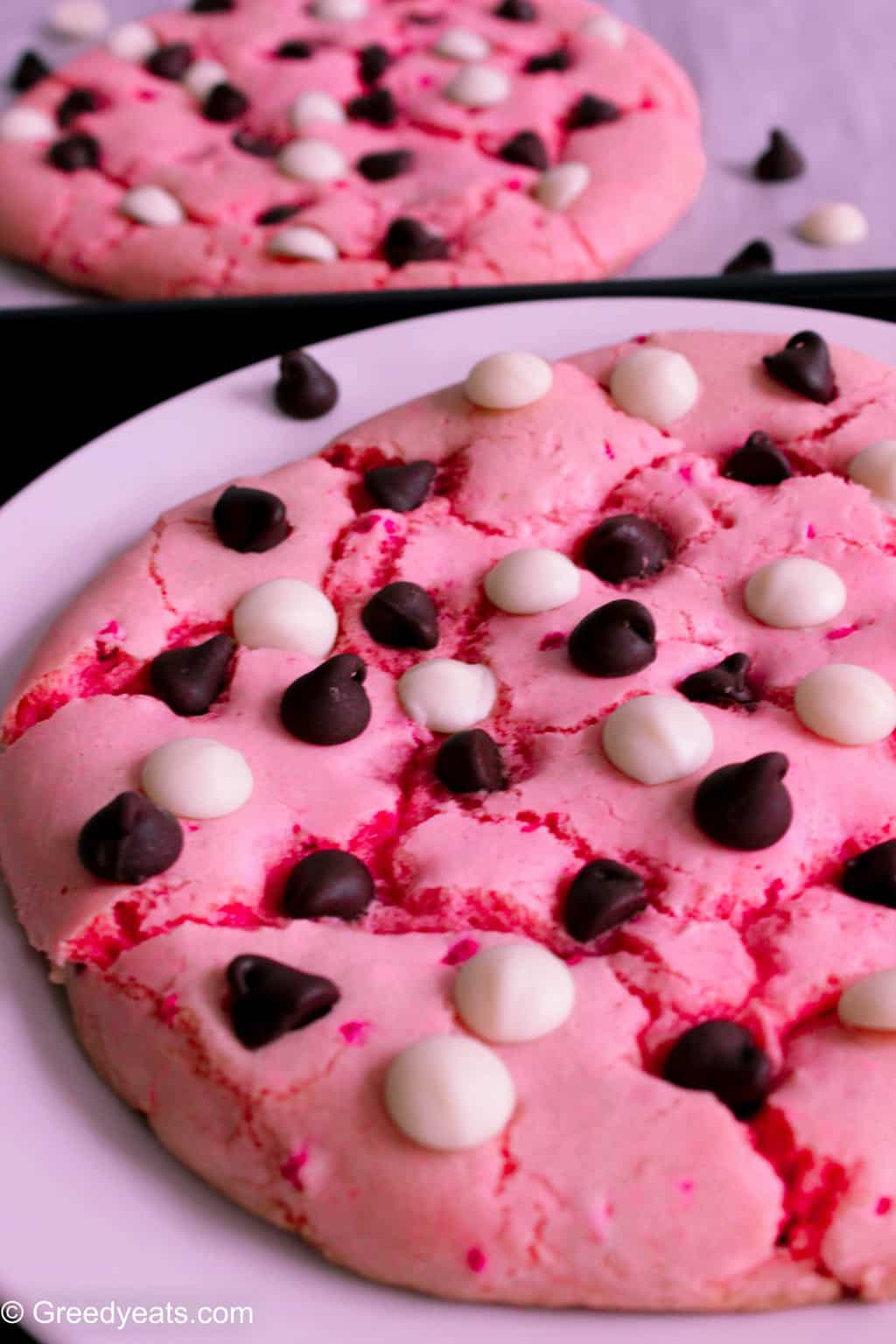 Just look at how thick and puffy this cookie is. Strawberry cake-mix does most of the job for us here.
Wait, what did you say? YOU ARE PLANNING TO WAIT TILL VALENTINES TO BAKE THESE!!! Have you lost I get these are pink and all. But why wait for some occasion to bake cookies, when these are so quick to bake and even quicker to finish? Isn't it valentine everyday with these giant strawberryyyy treat in both of your hands? One in both? What???
Don't ask me!
Also, if your eyes are all dyed in pink after goggling at this post here are some non-pink posts for you!
How about some purple?
Or this baked hit-the-trail granola? You would not put it down when any time can be snack time with this granola in your cupboards!
Recipe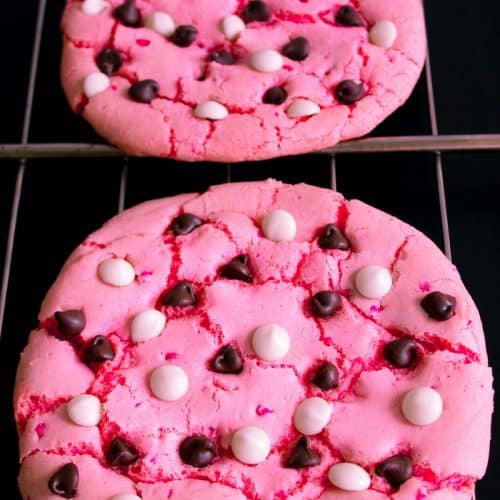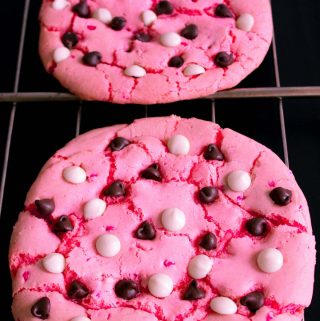 Giant Sugar Cookie Recipe
Get ready to experience strawberry explosion in your mouth with the first bite of this Giant sugar cookie recipe! Thick, chewy, fluffy and strawberryyyy yummy!
Print
Pin
Rate
Ingredients
1 ¾ cups

(234 Gms)

Strawberry cake mix

1

Egg

2

tablespoon

Oil

½

teaspoon

Baking powder

¼

cup

Dark chocolate chips

2

tablespoon

White chocolate chips
Instructions
1. Preheat your oven to 350 F and line a large cookie sheet with parchment paper/silicone baking mat and set aside.

2. In a mixing bowl put in your cake mix, add oil, baking soda and egg (everything at at room temperature). And mix well with a spoon/spatula to form a dough.

3. The dough will be very sticky at first. But worry not. This will produce the chewiest cookies you will ever taste. Add in dark chocolate chips( save a few for decoration) and freeze for 3-4 minutes or until the  dough is firm enough to handle.

4. Take the dough in your hands and make 2 balls. Press this ball on your lined cookie sheet to form a circle as shown in the picture above. Press in a few more chocolate chips(Optional). Bake one cookie at a time.

5. Bake the cookie for 9-10 minutes and check for doneness. Take the cookie out if it has got a pale color on the edges. Else bake for another minute. The cookie will appear soft in the center but will set as it cools down.

6. Take out of oven, let it cool further down on the sheet. This is the perfect time when you can press in a few more chocolate chips for appearance and Hello! Extra chocolate chips. Repeat the process for second cookie.

7. Devour the fruit (or shall I say fruity cookie) of your toil. 😉 
Notes
These giant strawberry cookies are famous for catching color quickly. So keep an eye on them. Every oven is different. So, I'd say baby sit them for that gorgeous color. And turn the tray (halfway through) if you see them browning too soon on one side.
I don't like how white chocolate chips catch color if pressed in the cookie before baking. Therefore, I decorate my cookies with white chips when they are cooling down. I suggest you do the same.
The cookie might appear soft in the center, but it sets well as it cools down.
Nutrition