Step up your breakfast and snack time gear with these chewy almond bars jam packed with blueberries and vanilla flavor! Super thick, nutty, chewy, filling and hearty!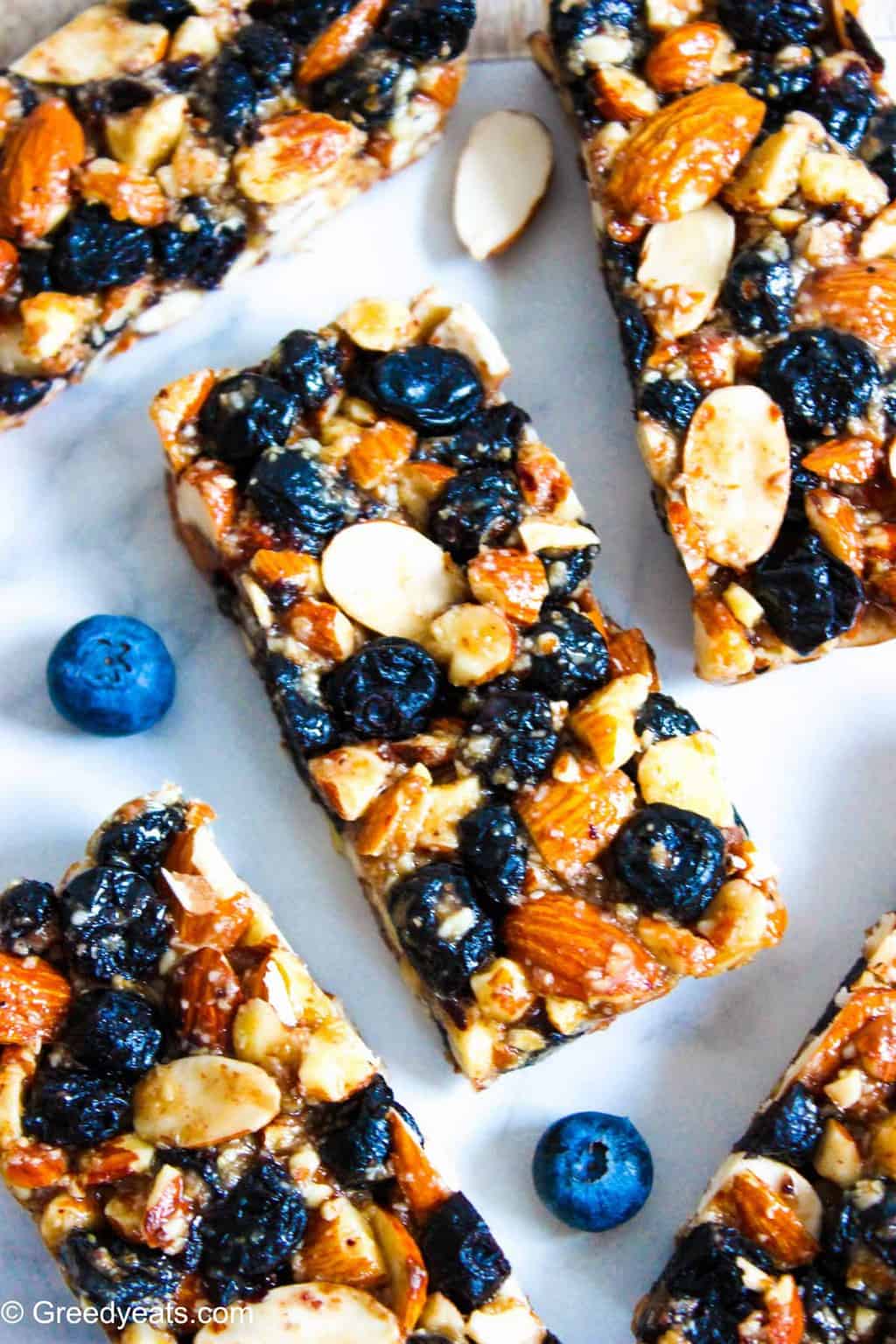 These almond bars are packed with health, protein and blueberries. Made with simple, delicious and wholesome ingredients!
And the flavor?
Oh! you wouldn't want to stop eating these.
I made 12 protein bars to eat throughout the week. Hurray! Breakfast covered for six days. Hugh sigh of relief for those busy mornings where a king size breakfast is such an unrealistic goal .
These lasted for two days.
I had one for breakfast, one for lunch and one for dinner for straight two days.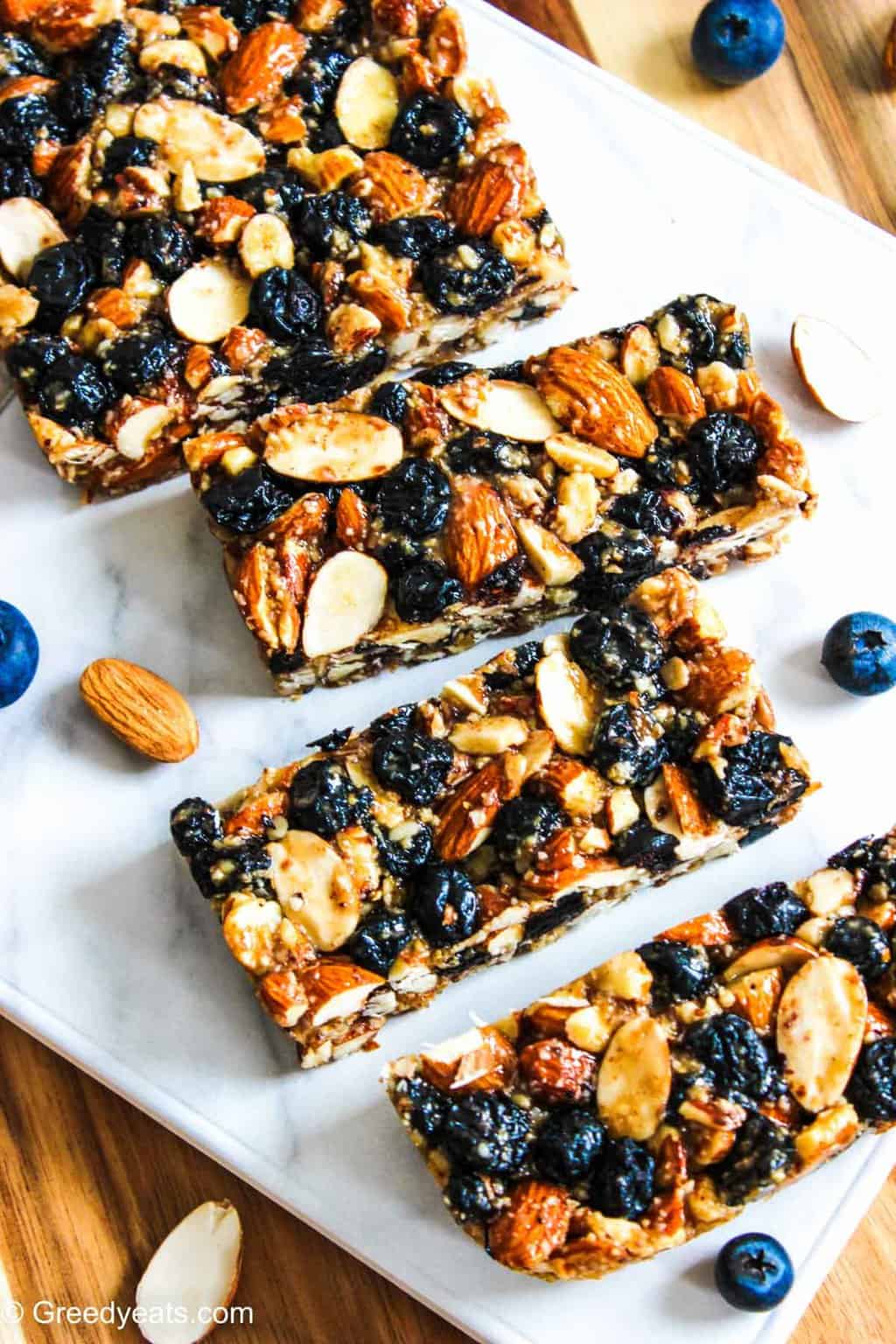 Had to leave the remaining 6 for Pranay. Even he liked these so much. And kept saying I'd love these breakfast bars even more if they had some rice krispies added in. Crunch lover he is!
If you too love crunch in your snack bars, try substituting ⅓ cup of almonds with rice krispie cereal. Tastes so good.
Or try my perfectly chewy-crunchy bars instead!
What do these chewy almond bars contain?
Protein rich ALMONDS
Antioxidants rich BLUEBERRIES (Substitute with any berry/raisins)
Goodness of HONEY
Fibrous OATS
Instant energy boost from all the feel-good and pantry friendly ingredients.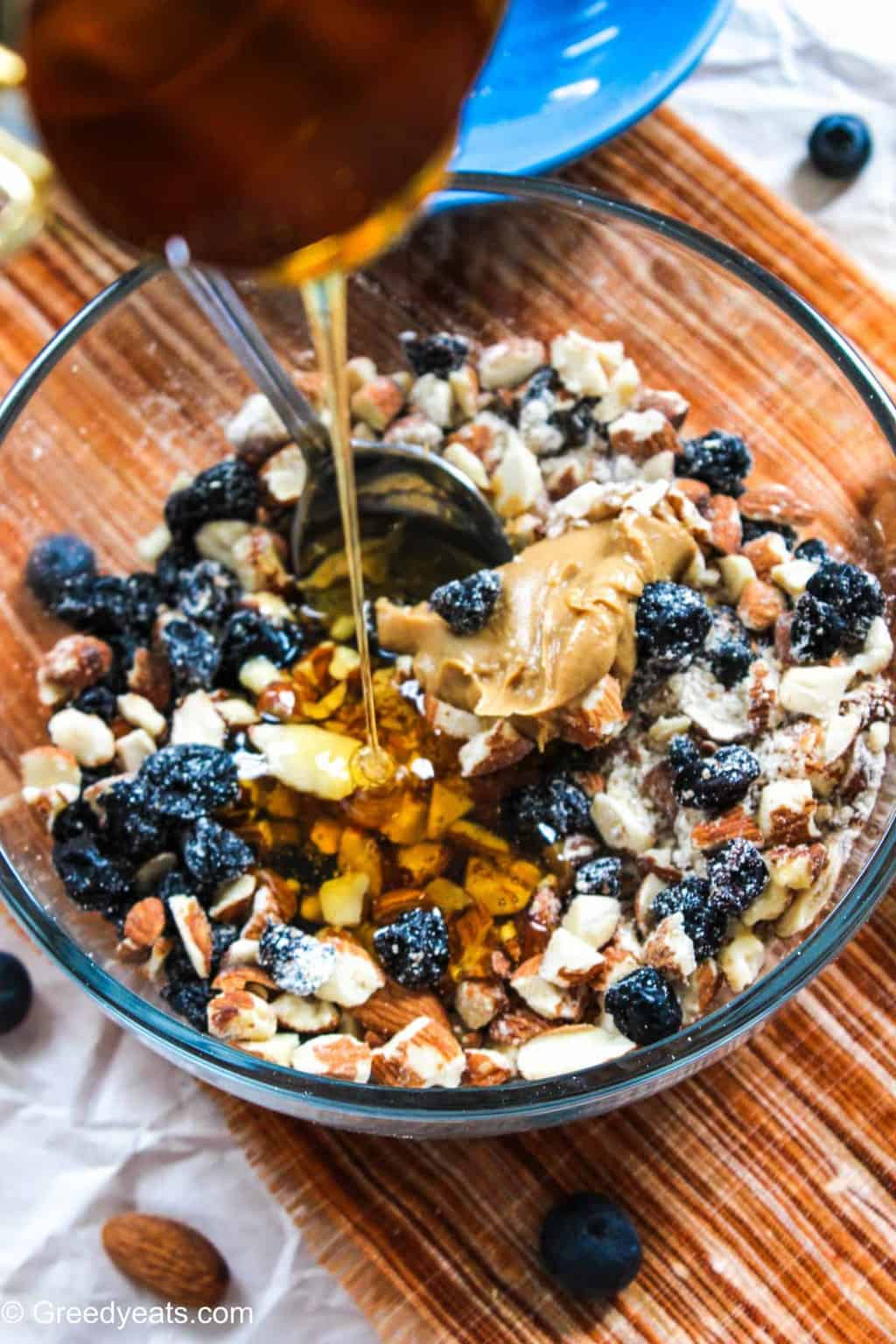 Only 7 simple ingredients. One bowl. And 20 minutes. You need nothing more. These are the ingredients you have in your pantry right now. Don't you? Perfect for a grab and go breakfast. Also did I mention these breakfast bars contain no processed sugars? Your mornings will thank you, if you had one. Good luck not eating another for lunch though. 😉
Not a long list of contents (that's tough to spell) is involved here. Lets leave all of that for over priced sugar filled ready-made bars!
Our almond bars are way healthier, economical and texture filled than most store bought snack bars.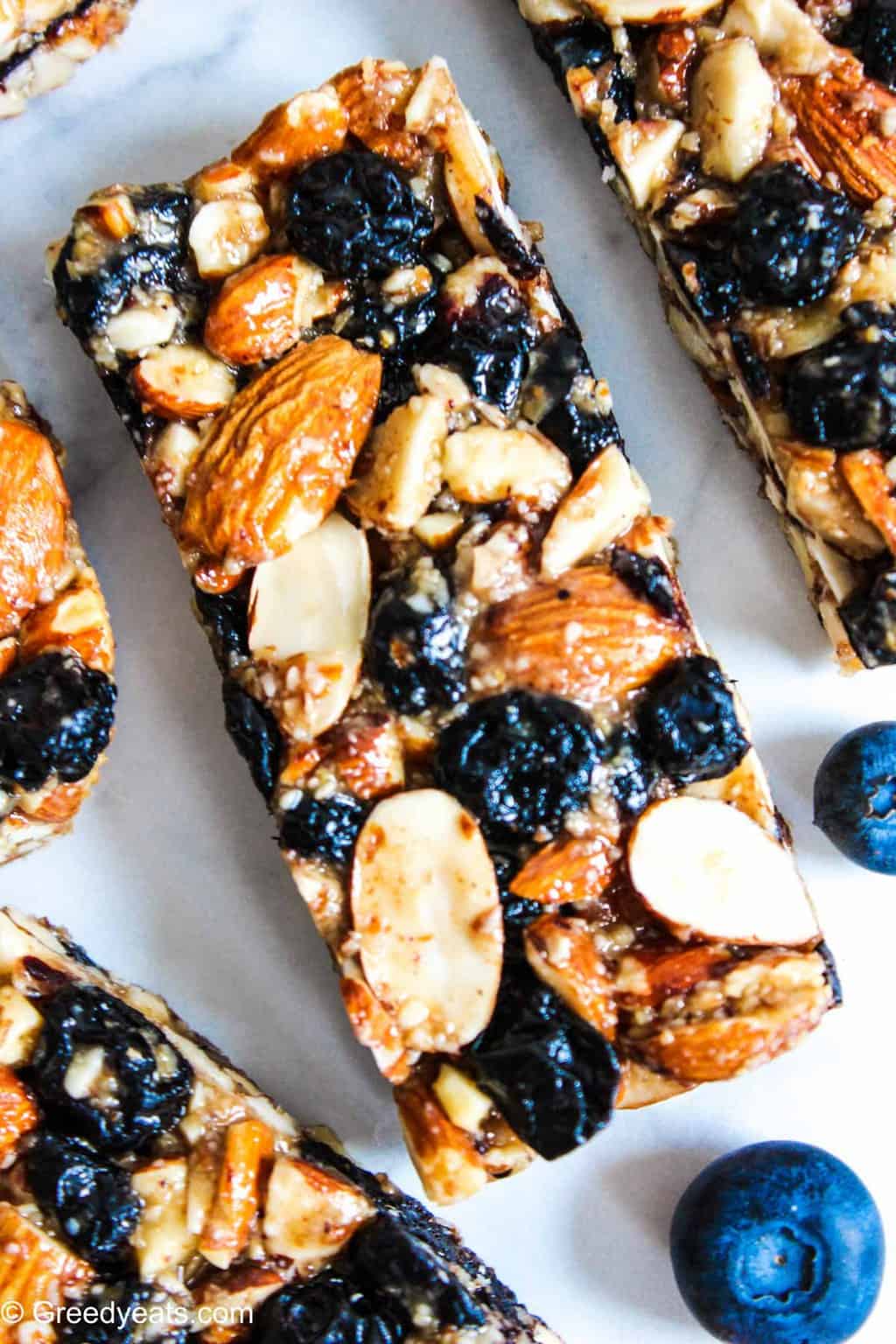 These blueberry almond bars can be easily made vegan if using brown rice syrup instead of honey.
Want these healthy bars gluten free? Add almond or any coarse textured meal like flax seeds/sunflower/hemp seeds meal to these and exclude oats.
Or even substitute regular oats with gluten free oats!
Easy snack bars with a dozen of possible variations, if you please!
Try replacing half of the berries with chocolate. You will be amazed with what you baked. 😀
How do we make these chewy almond bars?
You will need a few broken chunks of almonds to bind these breakfast bars well. Like so. ⇓
Add, almonds, blueberries, oats, salt in a bowl and mix well. Add nut butter, vanilla and honey.
Mix and press into a baking pan tightly and bake.
Texture and taste test!
Before I even utter a word, look at these!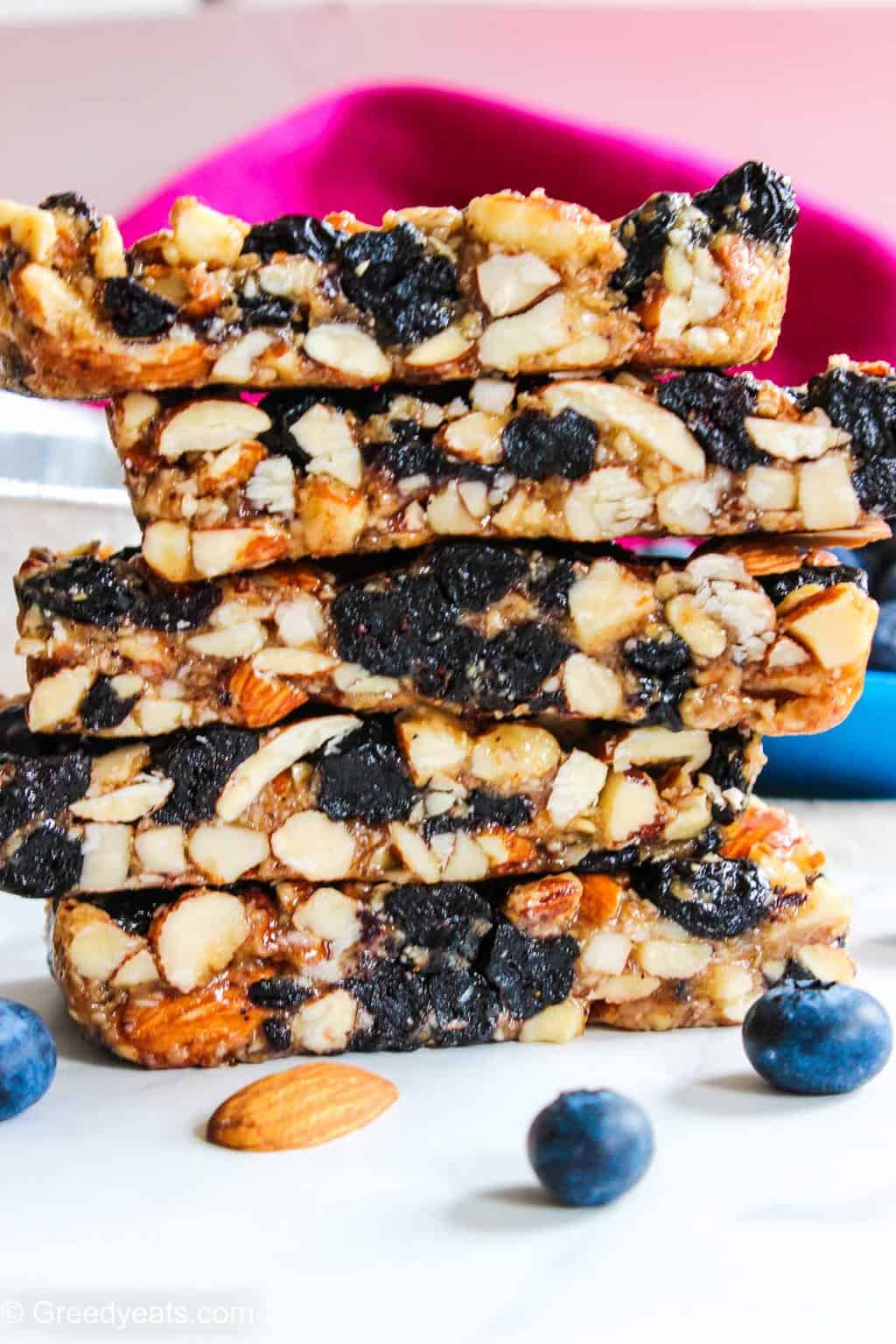 Can it get any thicker than this?
Nutty from oats and almonds, chewy and a great texture contrast from plump blueberries, Flavorful, sweet and gooey from honey and vanilla. So fulfilling in every bite!
Can't you already taste these in your mind?
Please don't alter the quantity of wet and dry ingredients in these breakfast bars. Both are imperative just in the amount mentioned for binding/holding these.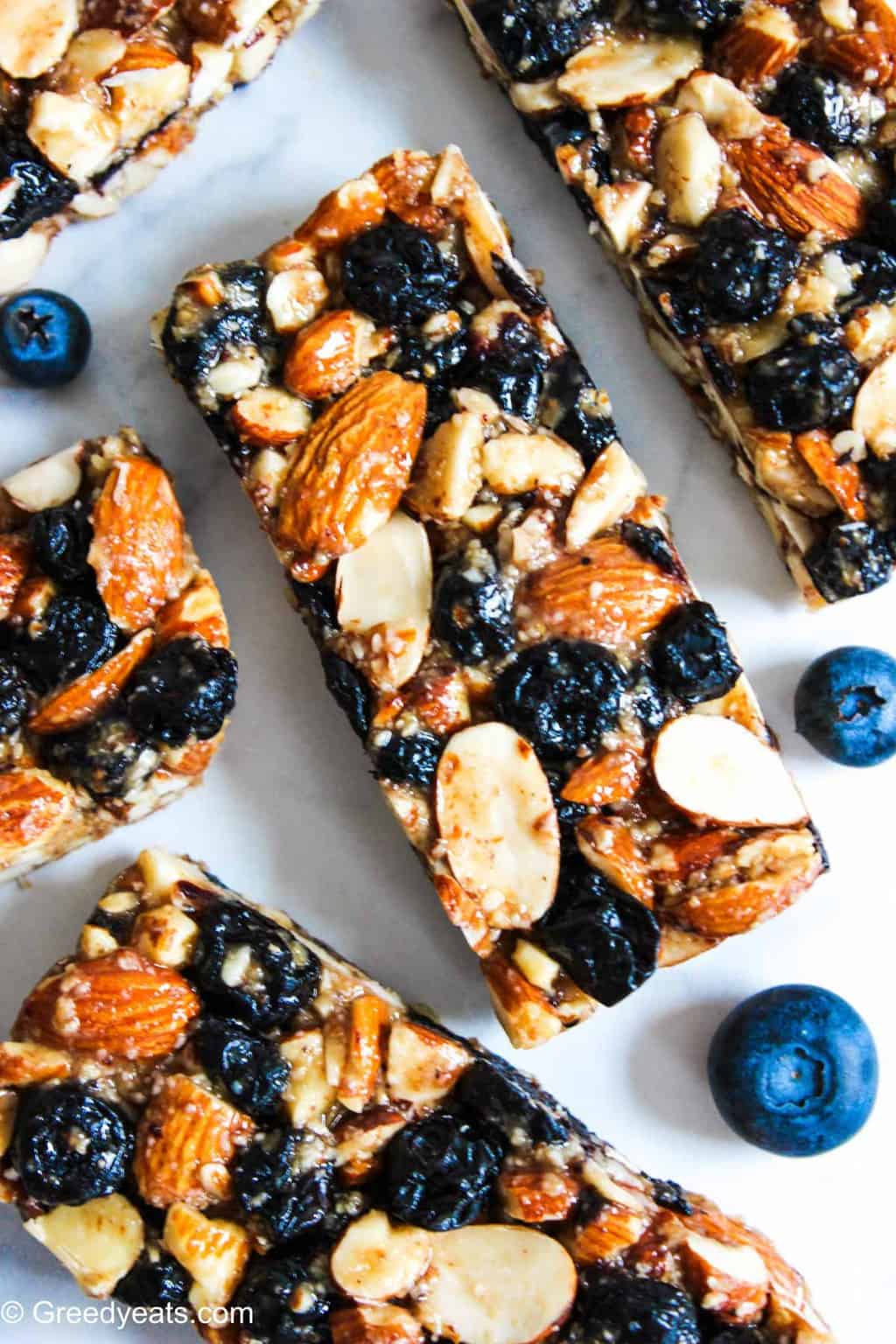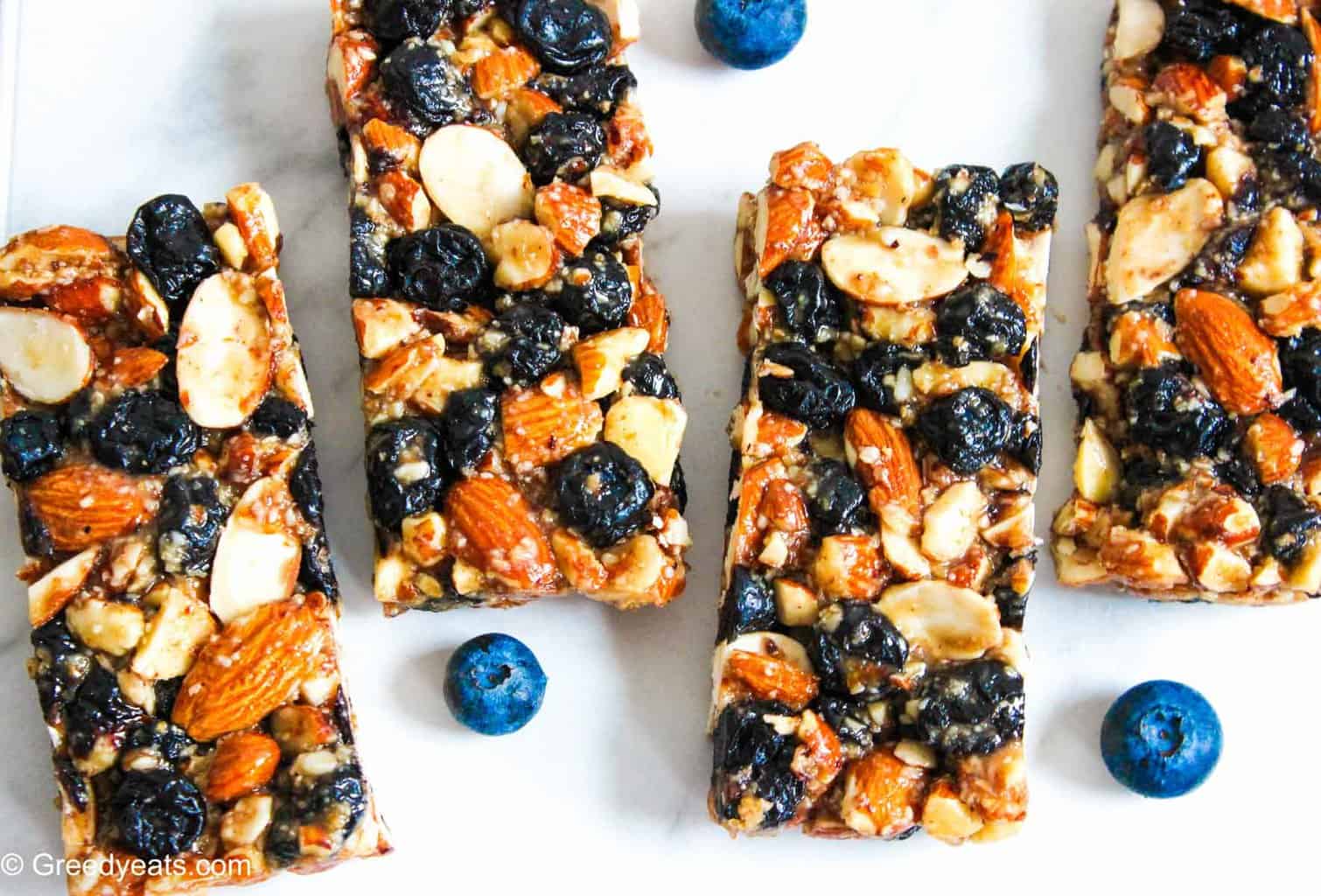 You can at ease replace one dry ingredient with the one of your choice though. Go creative. Would love to see how you baked these!
Want options?
Replace half of the blueberries with cranberries/chocolate or even raisins.
Add brown rice syrup instead of honey.
Substitute half of the almonds in the recipe with a cereal you love. I suggest rice krispies, hands down.
Get innovative, get baking!
Want to eat a wholesome snack with spoon? Try my nutritious oats and nuts granola next!
Recipe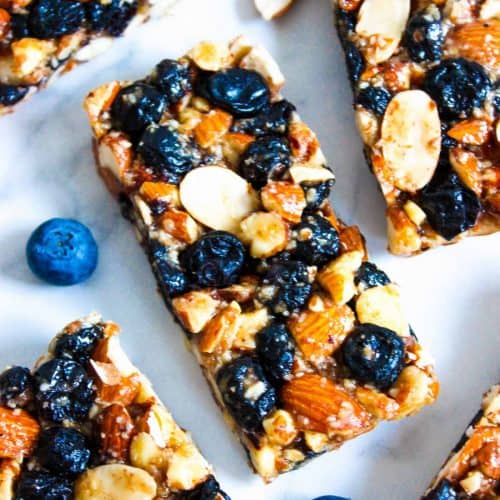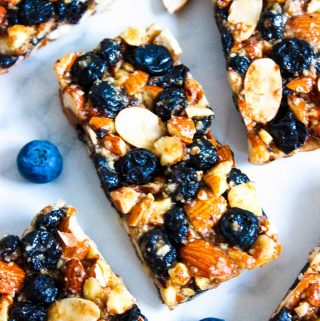 Chewy almond bars with bluberries
Step up your breakfast and snack time gear with these chewy almond bars jam packed with blueberries and vanilla flavor! Super thick, nutty, chewy, filling and hearty!
Print
Pin
Rate
Servings
6
Rectangular/12 square bars
Ingredients
¼

Cup

Oats

(powdered)

1 ¼

Cups

Almonds

½

Cup

Blueberries

(or any other berries like cranberries or raisins)

¼

cup

Honey

1

tablespoon

Almond butter

A generous pinch of

Salt

1

tablespoon

Vanilla Extract
Instructions
Line a bread pan (8 x 4 inches) with parchment paper over hanging on the sides. (It makes easy to pull out baked bars from the pan) Not needed if using foiled baking pan. Just spray with a butter spray. Just like shown in the pictures.

Preheat your oven to 300°F (149°C). Pulse lightly ¾ cup of the almonds into chunks.

Add almond halves, almond chunks, oats, salt and blueberries in a large mixing bowl and mix well. Next add peanut butter, vanilla and honey. Mix to combine.

Transfer this mix into the baking pan. Press it all firmly. You may use greased back of a spoon/spatula to press the mix down evenly.

Bake these for about 20-24 minutes. Or until they appear golden-brown on top. Mine were done in 22 minutes. The bars may appear sticky. Don't be tempted to continue to bake these. They will firm up further in the refrigerator.

Take them out of oven and let cool on a wire rack for some time and place in the refrigerator for an hour or so. It will help them to firm up.

Remove them from pan using overhangs. Cut into desired shapes with a sharp knife.
Notes
Keep these stored in the refrigerator as they tend to be sticky when stored at room temperature. The snack bars stay fresh for upto 10 days in the refrigerator.
Also these breakfast bars are freezer friendly. Store them wrapped in parchment paper individually for upto two months. Thaw before devoring.
Use gluten free oats if wish to make the bars gluten free. You can even substitute oats with almond/sunflower seed/ hemp seeds meal.
Replace honey with brown rice syrup for vegan options.
Nutrition
Serving:
1
bar
|
Calories:
158
kcal
|
Carbohydrates:
17
g
|
Protein:
7
g
|
Fat:
11
g
|
Sodium:
2
mg
|
Sugar:
10
g