Easy chocolate cupcakes that are egg free and are so moist, light and chocolatey that this one is sure to be added to your "chocolate family'' recipes! Also these are frosted with pipeable whipped strawberry cream frosting!!!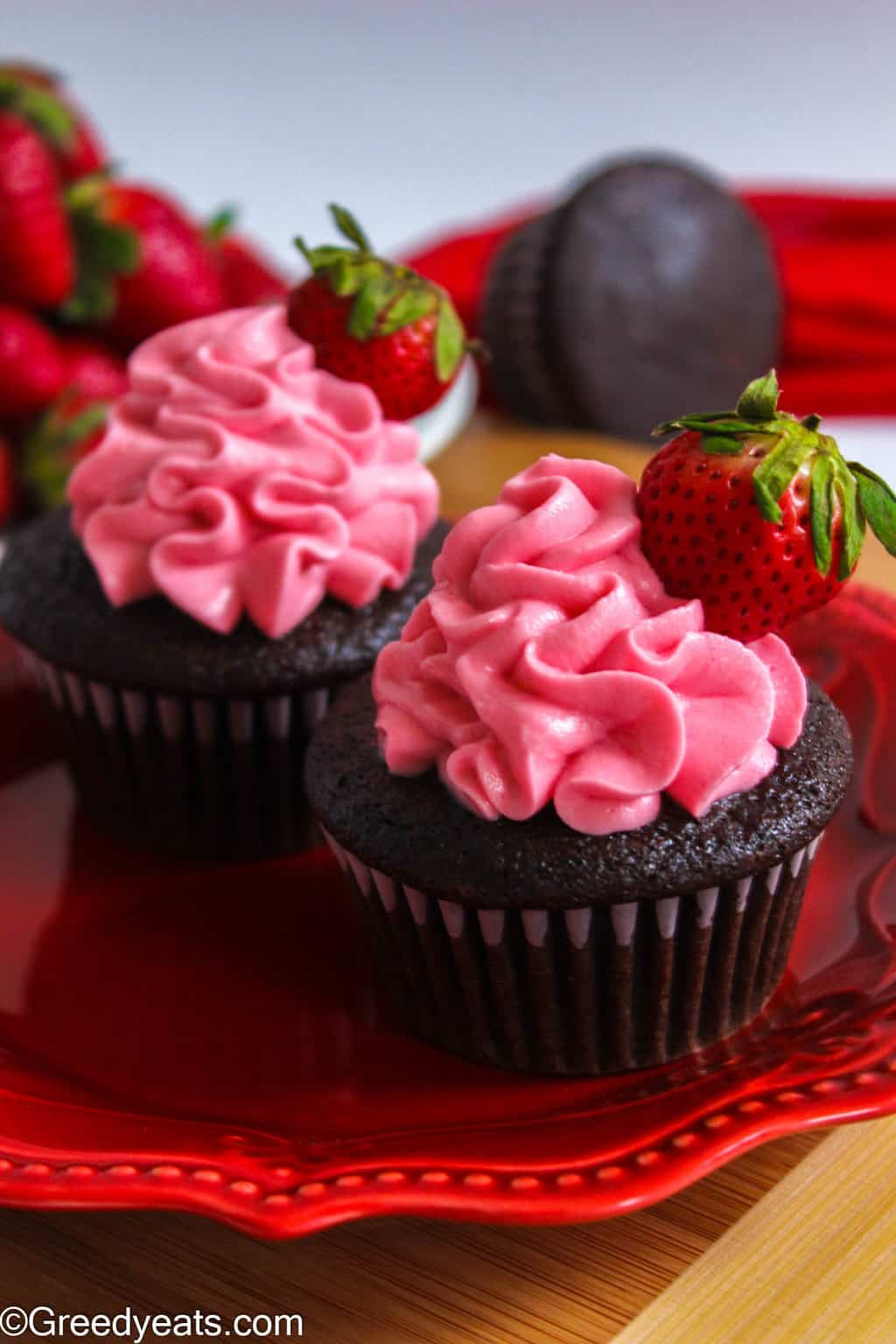 I have a confession to make! It's been more than two months of blogging and I don't have a single chocolate recipe on my blog. Oh dear chocolate and my readers (for the love of chocolate), please don't be mad at me!
Here I am with one today. And I am back not with any mediocre chocolate recipes out there. Recipes that uses apf in abundance or that depend on eggs for their texture and binding. Nope! Nope! Nothing like that is happening here this fine morning!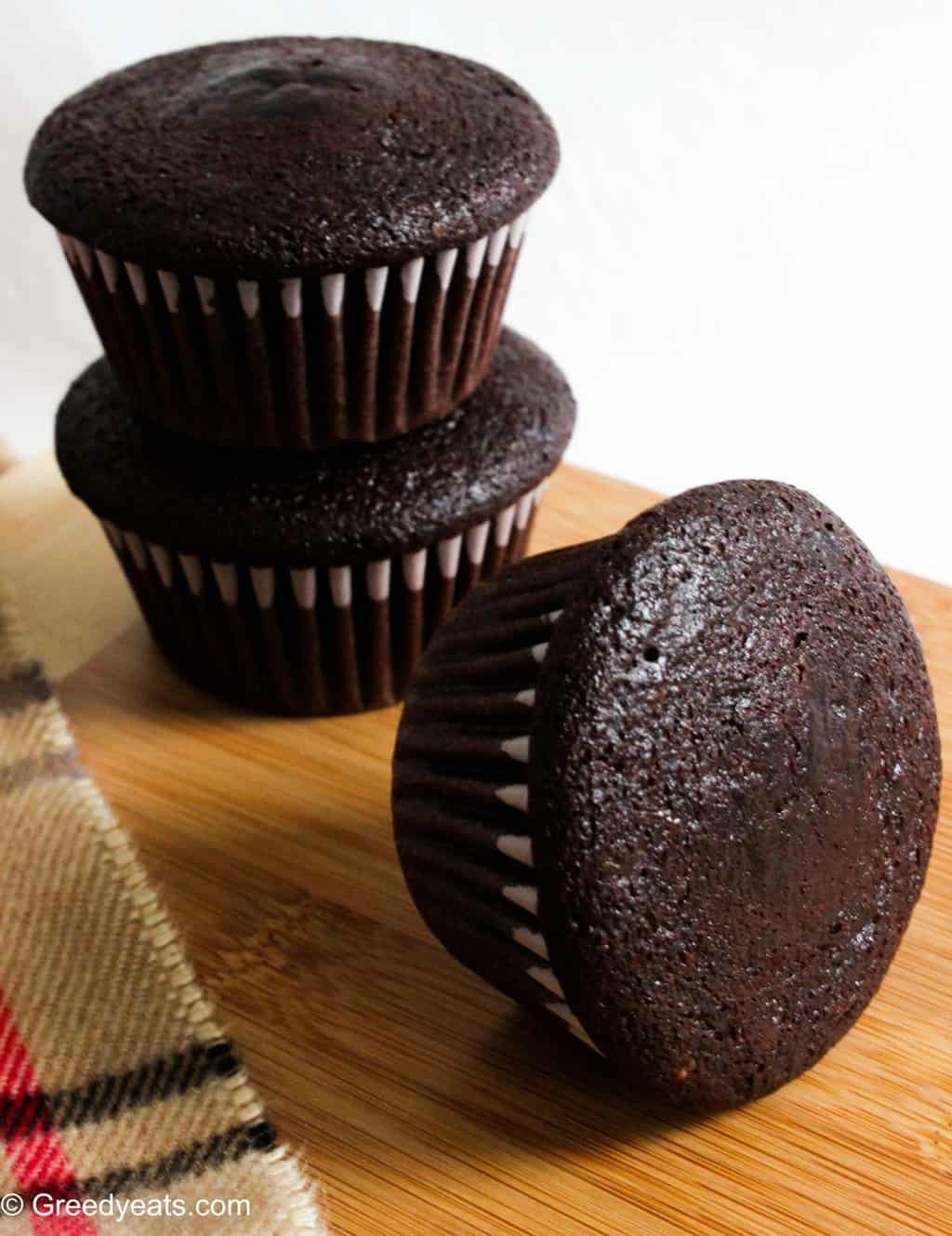 Also did I tell you these are the most easy chocolate cupcakes you will ever make! You don't need any special ingredients, not even a mixer. Just your two good old hands, a mixing bowl and a spatula. And you are all set.
How this most moist, light and easy chocolate cupcakes recipe was born!
Two days ago, thoughts in my chocolate obsessed brain- I desperately want a chocolate cupcake Neha!! A soft, moist, fluffy and a rich one. I don't want it to be fudgy ( fudgy is for brownies!) or dense for heaven's sake! Mind if you don't add eggs in it today? What if the bake is a healthier version than the usuals.
Okay now stop it you silly brain of mine. Have you lost it! That's being too ambitious for a single bake. Also the one that involves chocolate! Go away you crazy thoughts!!
Can you guess what might have happened next? Did I stop there? No I din't. How could I! Everything aside where chocolate is involved. I just want best of the best recipes in my archives. So I flew to my kitchen and took some semolina out. Soaked it in some buttermilk and the rest is history my present and the future of my chocolate craving brain! ↓ ↓ ↓
Okay enough talking. Lets get to work!
Recipe Dissected!!!
I love my cupcakes light, moist and flavor rich by all means. To achieve this with semolina and no eggs wasn't some child's task. I had to try, test and re-test the recipe several times to get here. Some bakes were hard, sometimes the batter was too thin and the cupcakes ended up way to moist. Phewwww. But here I have it in the fourth try!
A perfect balance of liquids to semolina+cocoa powder for these lovely and rich, flat top cupcakes.
We will begin with soaking fine semolina in the butter milk with some salt so that all the graininess disappears. Just like this. ⇓
And did you know? 
You can make your own butter milk at home? In this recipe we will add 1 tbsp of flavorless vinegar to 2/3 cup of warm milk. And that's your buttermilk substitute.
The mix shown above will be very thick. Don't mix it too vigorously and let it rest for 15-20 mns. I know. That's the hard bit. But remember no apf cupcakes? 😉 Then goes in oil, sugar, cocoa, leaveners, some vanilla.
We will add hot coffee in the last to finish off our batter. It will be a smooth, runny and flowy batter like some chocolate river. Worry not. It is going to yield super moist eggless cupcakes you will ever taste. Ever! Have a peek inside this bowl. ⇓
We will bake the cupcakes at a lower temperature comparatively, so that all the liquid batter does not ooze out of the liners.
Take care:
Do not fill your cupcakes more than 2/3 of the liners, else the batter will overflow while baking.
Don't be tempted to open your oven at all here before these bake. Or the cupcakes will sink in the middle.
Let the cupcakes cool down a little bit inside the oven with door closed. This will prevent the cupcakes from sinking.
Just take care of all the DOs and DONTs. And you will be rewarded with beautiful cupcakes, I bet!
Texture of these fluffy and easy chocolate cupcakes
Take it from me you can not even know that these are healthy or not made with all purpose flour. Or even that these have no eggs in them! Just have a look here.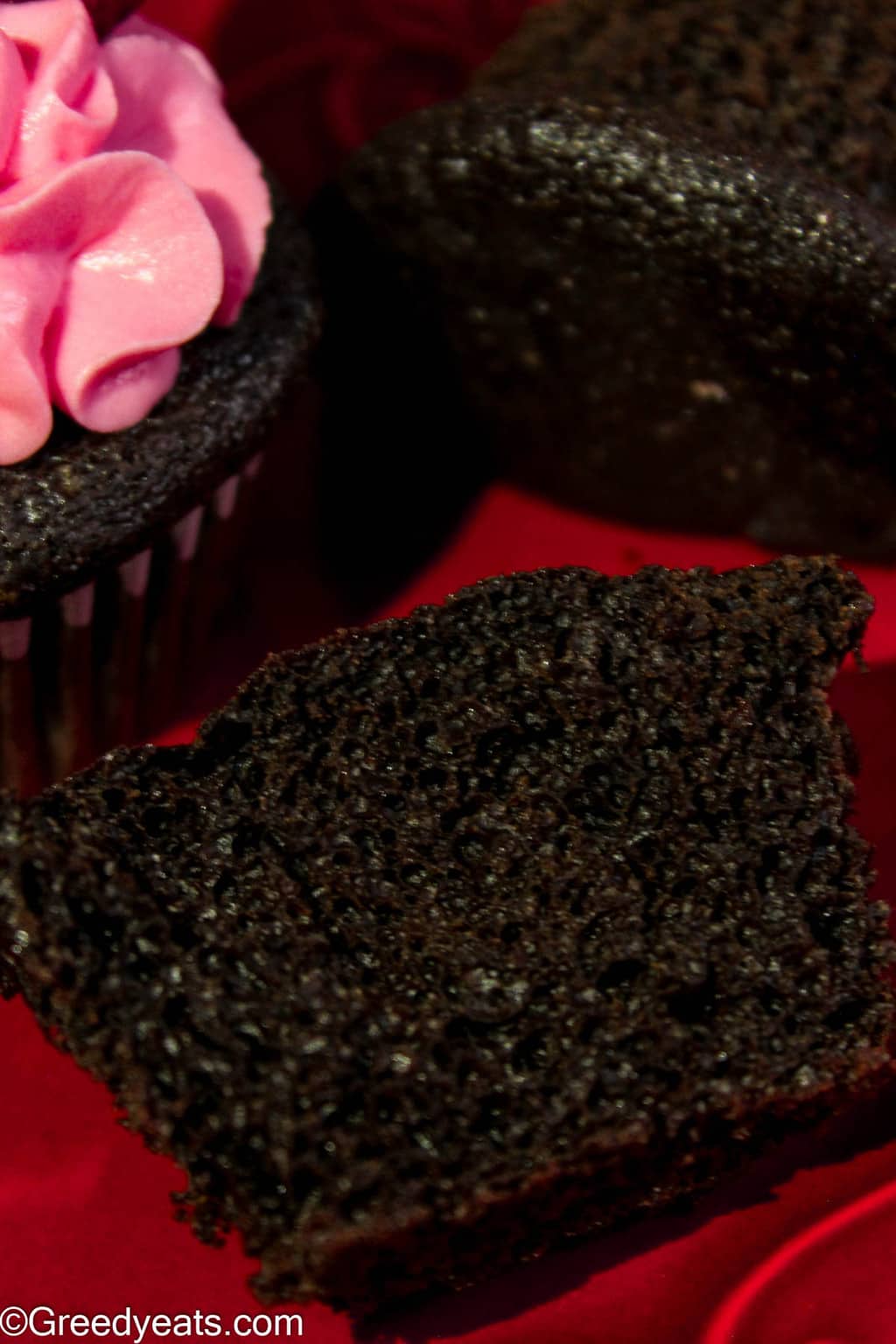 Can you see all those wonderful air pockets? Semolina did not make the cupcakes dense or hard. Infact it helped with that lift of these cupcakes.
Strawberry Frosting Time
Now you can have these cupcakes on their own. Shhh, I did not say this! But topping them with this frosting is a complete dessert meal. 😉 We will begin with a cup of whipping cream. Add some sugar to it and whip the cream till soft peak stage. Mix in some homemade strawberry jam or even market bought one. Chill it and frost. Strawberry heaven it is! I would strongly suggest you make homemade fresh strawberry jam for this frosting if you can spare sometime. It tastes the best.
Suggestion: Make the strawberry jam a day before. So that you aren't rushed to make the frosting. Also your jam will have plenty of time to come to room temperature this way.
Caution: We need to use ONLY cooled jam here!
Just puree your strawberries and reduce them on a gas stove till it thickens to a jam like consistency. Cool it down and add to your cream. You will need about 5 tablespoons for this recipe. No need to strain the puree.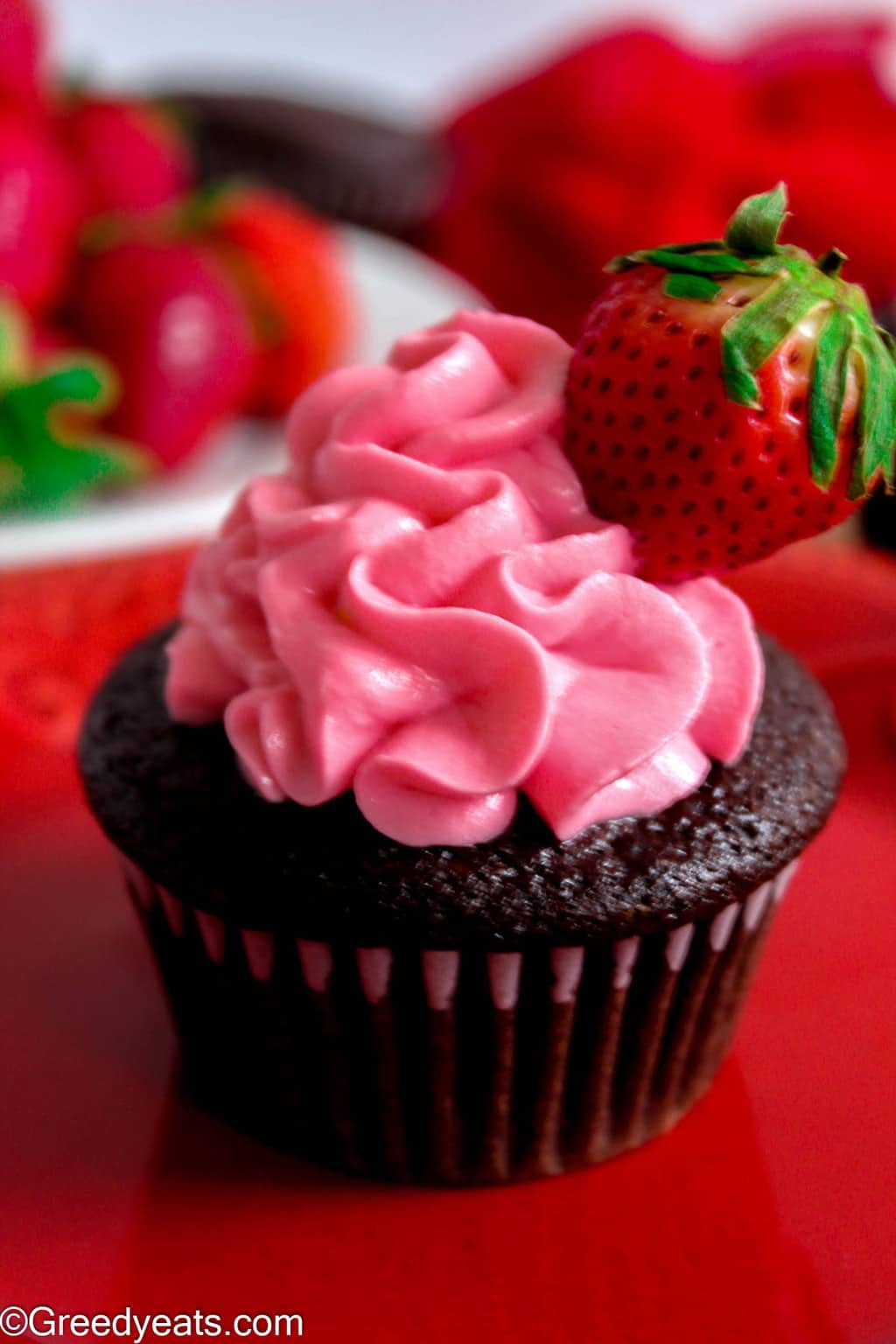 Looking for more bakes to frost this luxurious and shiny frosting on?
Try it on this lemon flavored cake here. Or how does the idea of orange strawberry cake sound to you? Yum!
Love Strawberry??? Try my ridiculously sized strawberry cookies next!
So are you ready to bake the most amazing and playfully easy chocolate cupcakes on earth?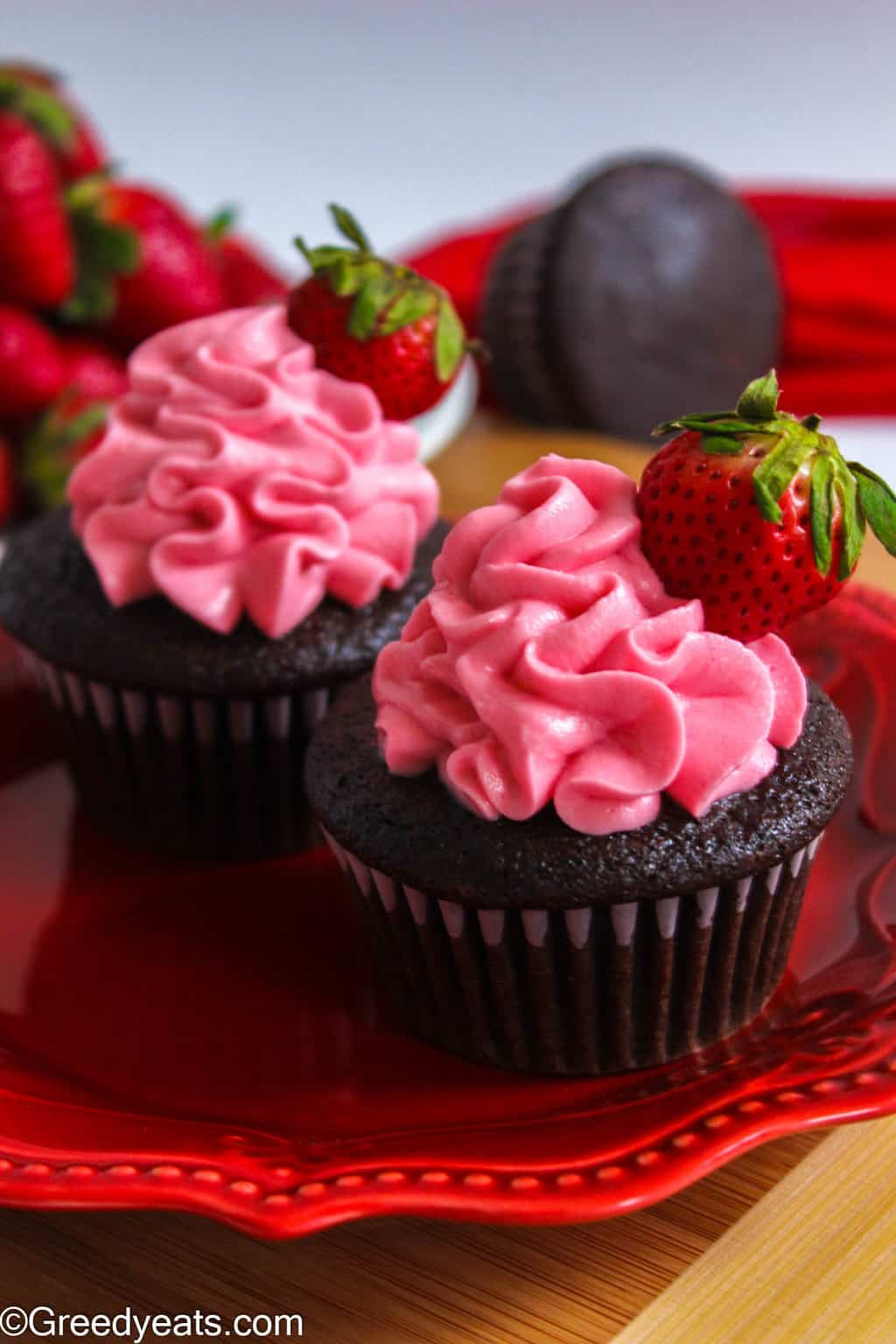 Ingredients
1 Cup + 2 Tbsp (186 Gms)

Semolina (Fine) (see note 1)

3/4 Cup (180 ml)

Milk

1 Tbsp

Vinegar

1/4 Cup (60 ml)

Oil

3/4 Cup (150 Gms)

Powdered Sugar

1/8 tsp

Salt

1/2 Cup (50 Gms)

Cocoa powder (I used hershey's natural unsweetened)

1 tsp

Baking powder (Scant)

1 tsp

Baking Soda (Scant)

1 tsp

Vanilla

110 ml

Water

2 tsp

Instant Coffee
Strawberry whipped cream frosting
1 Cup

Whipping Cream

5 Tbsp

Strawberry Jam

4 Tbsp

Sugar (confectioners)

Pink gel food color (as needed, optional)
Instructions
1. Preheat your oven to 320 deg F and line a baking pan with liners. Set aside.

2. Warm the milk and soak semolina in it. Add vinegar and salt. Mix lightly and keep aside for 15-20 minutes.

3. Meanwhile sift cocoa, baking powder and baking soda together. After 20 minutes, add oil, powdered sugar and vanilla to the semolina batter and mix. If you find it tough to mix, you may add 1-2 tbsp of the measured 2/3 cup water. I usually am able to mix it without any water.

4. Add sifted cocoa+baking powder+baking soda to the semolina batter and mix well. Add instant coffee to water and heat it. Mix this hot coffee solution to the batter. Mix well until smooth.

5. Pour the batter into liners. Fill only 2/3 of the liners. No more please. Bake these for 24 minutes. And let them cool down in the oven only, doors closed!

6. Take them out after 10 minutes. And allow to cool down further

.

7. For the frosting, pour cool whipping cream in cool bowl, add sugar and whip until soft peak stage.

8. Slowly incorporate jam to the cream and food coloring(if adding). Mix just until combined.

9. Keep the cream in fridge till ready to use, Frost as desired.

Storage-

You may keep unfrosted cupcakes stored in an air tight container at room temperature. Or you may keep the frosted ones in fridge for upto 5 days.
Notes
You can replace semolina with all purpose flour at ease. Results in super soft and moist cupcakes that you will bake again and again.
Do not fill your cupcakes more than 2/3 of the liners, else the batter will overflow while baking.
Don't be tempted to open your oven at all here before these bake. Or the cupcakes will sink in the middle.
Let the cupcakes cool down a little bit inside the oven with door closed. This will prevent the cupcakes from sinking.
Nutrition