These quick and easy pancakes are super fluffy and perfectly soft. Or lets say this is the best homemade pancake recipe that doesn't even need buttermilk.
This post is sponsored by Left Field Farms but the content and opinions expressed here are my own.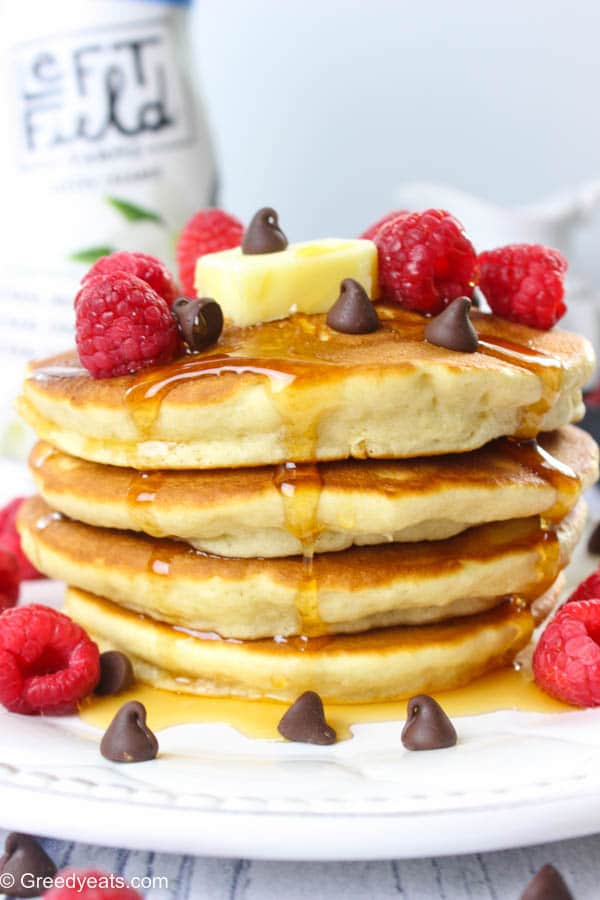 What would you prefer more first thing in the morning? Healthy berry muffins? Overnight Oats? Pancakes?? ⇑
More wholesome muffins??? Muffins that taste like dessert? Thought so. 😉
If you ask me, I mostly desire a huge stack of fluffy pancakes dunked in maple syrup. And healthy Chocolate Muffins all the time!
Okay, enough of my blabbering. Lets focus on why you are here! Pancakes. Easy and quick pancakes to be precise.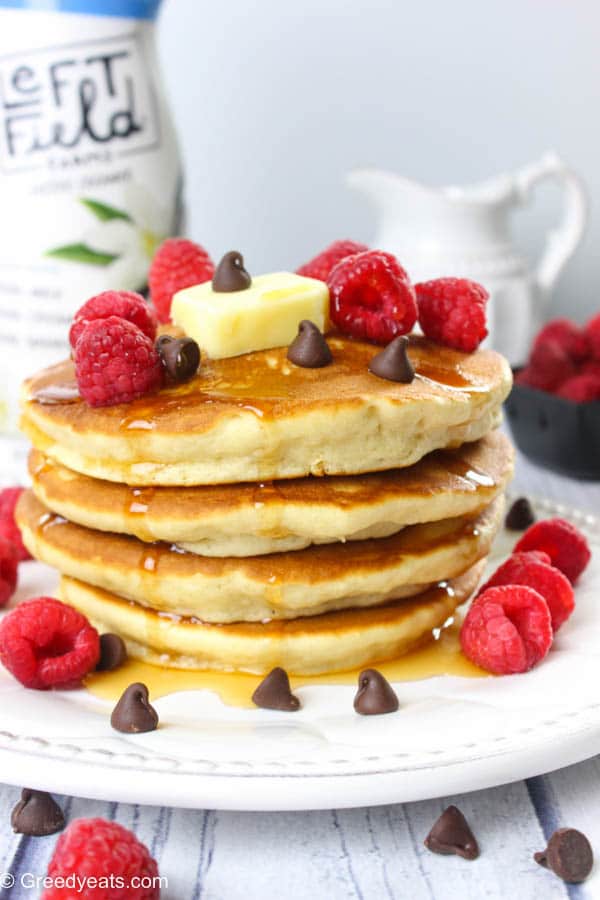 Yep, this homemade pancake recipe is super quick and uses only six ingredients. You heard it right. Just six. And one of them is not buttermilk! You are welcome.
Pancakes for times you don't have buttermilk on hand. And of course we are not compromising on taste. Not one bit! Keep reading to find out how!! 😉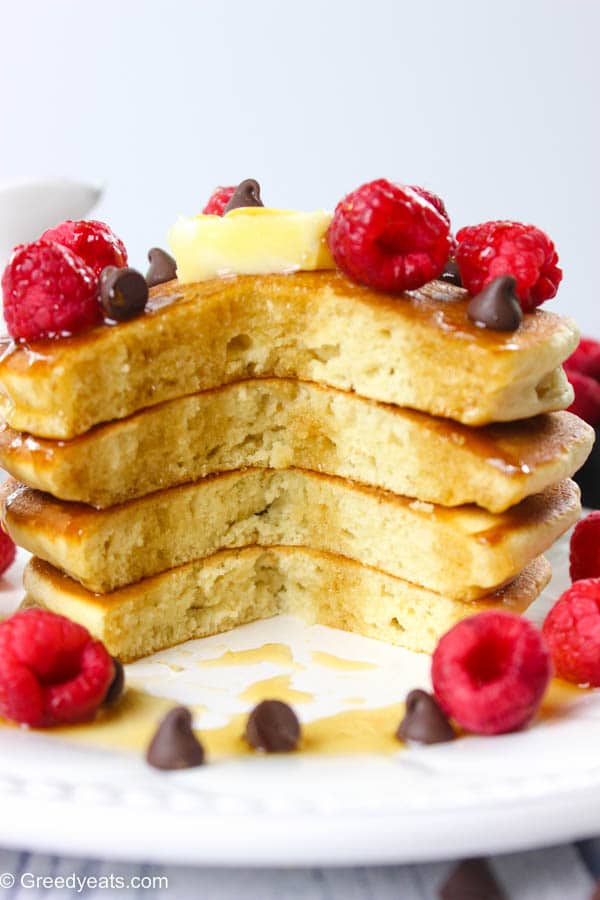 How to make quick and easy pancakes?
Let us take a quick look at what is pancake batter made of-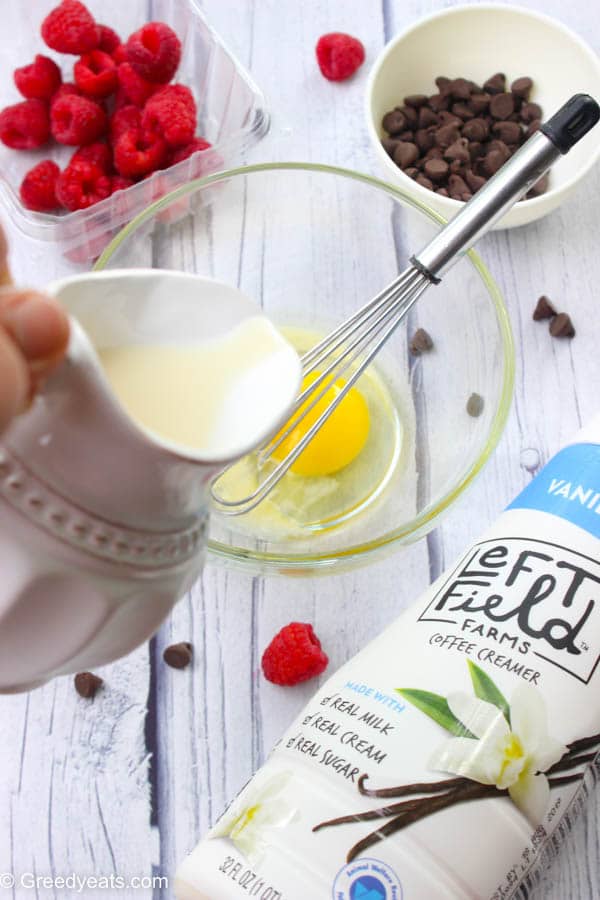 Flour- We are using all purpose flour. You may use a combination of whole wheat and all purpose flour. Even gluten free flour works well in this soft and fluffy pancake recipe.
Egg- One large egg to make 7-8 good sized pancakes. To substitute egg, you can use flax egg. Just soak 1 tablespoon of ground flax seeds in 2.5 tablespoon of water. And use this mix in your batter in place of egg.
Butter/oil- Now oil is well known for making baked goods moist. I love to replace oil for melted butter in my pancakes. You can use melted butter if you want yours to taste buttery.
Creamer- Here comes the star of today's recipe. I use Left Field Farms Vanilla Creamer. It not only substitutes for milk in the recipe, but also vanilla and sugar.
Salt- For flavor. If you plan to use salted butter in the recipe, you will need less salt than what the recipe states.
Baking Powder- We will use baking powder to leaven our pancakes. It makes pancakes super fluffy and well risen.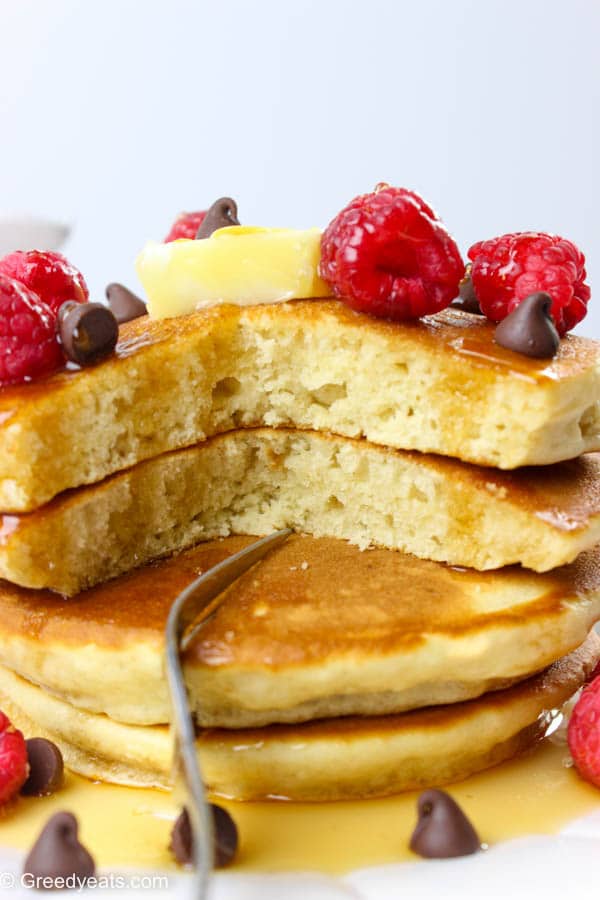 How do you make pancakes step by step
Sift/whisk all your dry ingredients (Flour+baking powder+salt) together.
Crack a room temperature egg, add oil and creamer to it. Whisk it well.
SECRET TO FLUFFY PANCAKES: Combine wet and dry ingredients together only till the flour disappears. A few lumps in the batter are PERFECTLY okay!
Cook pancakes on a hot and greased griddle/pan on both sides.
Drizzle with syrup, top with butter or your favorite toppings.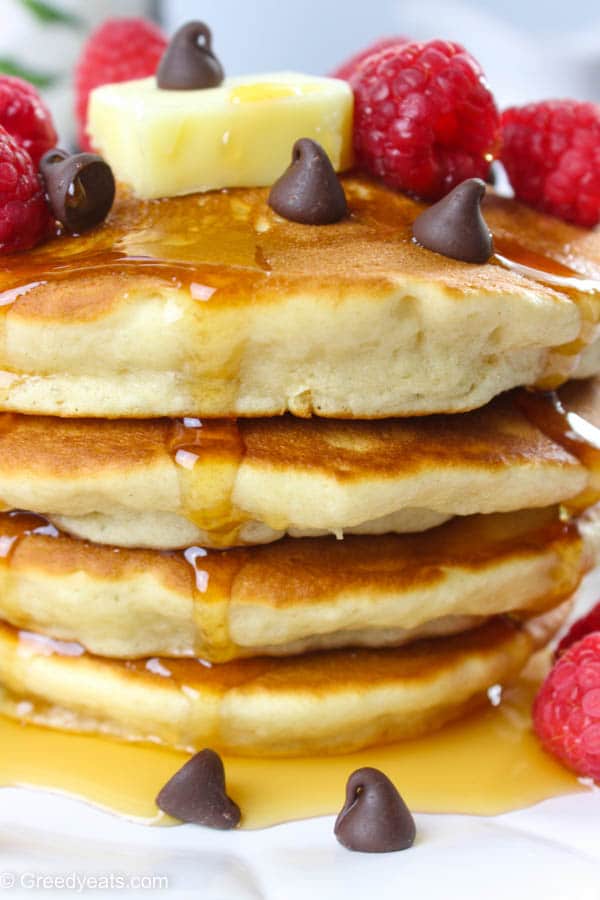 PANCAKE TROUBLESHOOTING GUIDE:
Why are my pancakes not fluffy?
Added less leavener.
Baking powder/baking soda were stale.
Added too much liquid.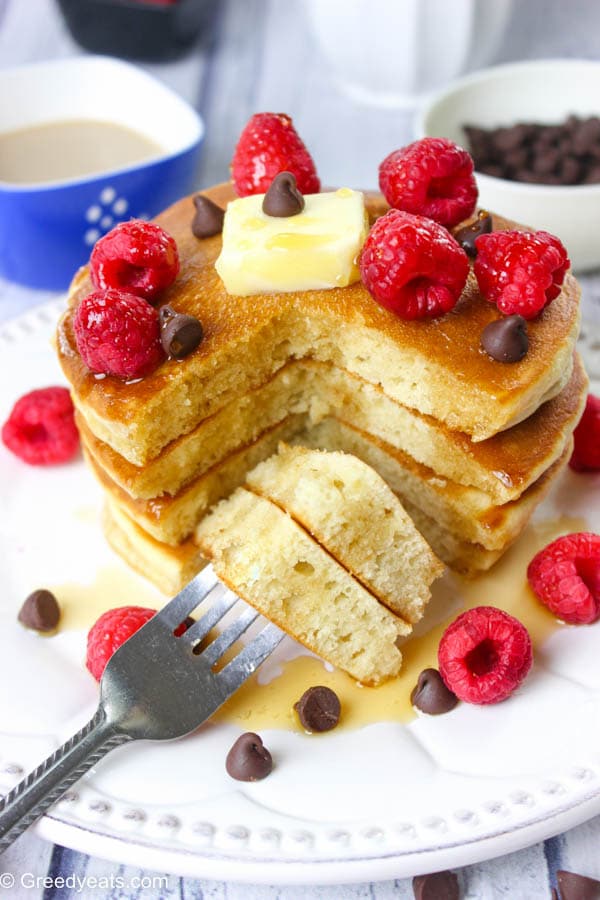 How do you know when to flip a pancake?
You flip a pancake when you see air bubbles pop and create holes on the surface of your pancakes. And the sides of pancakes are not raw anymore.
Why are my pancakes sticking to the pan?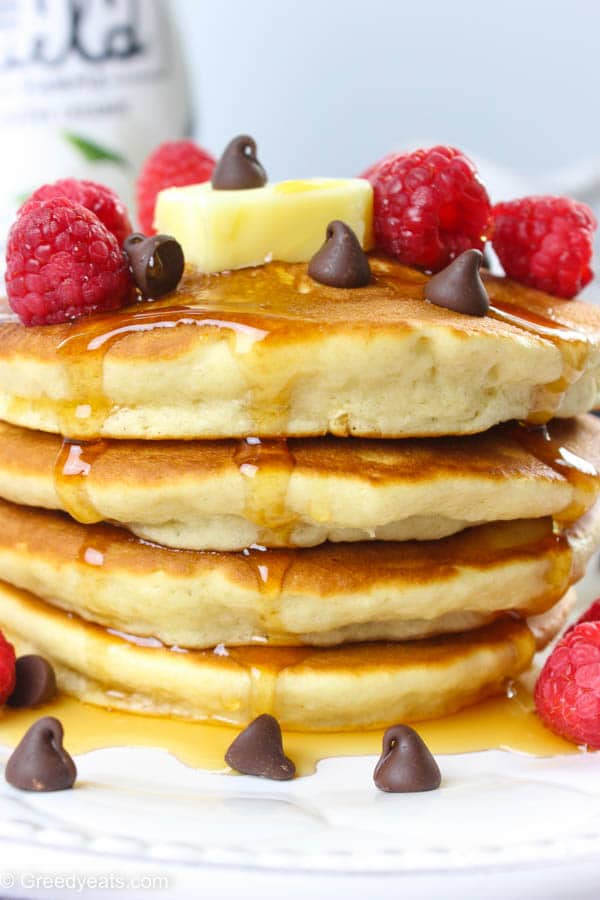 You are using light bottom pan as opposed to heavy bottom ones.
The pan is not greased well.
The batter is way too wet.
Left Field Farms Vanilla Creamer makes pancakes so rich, just the right amount of sweet and so flavorful. Thanks to all the cruelty free and real ingredients in it. Got to keep Breakfasts real!

Oh and don't eat your pancakes without topping with a ton of fresh/frozen berries and chocolate chips! Alongside of syrup of course.
Recipe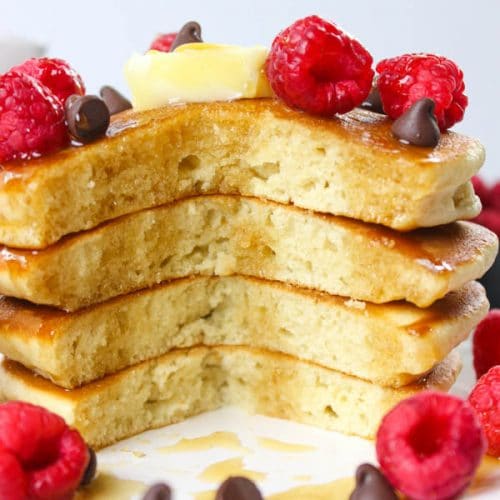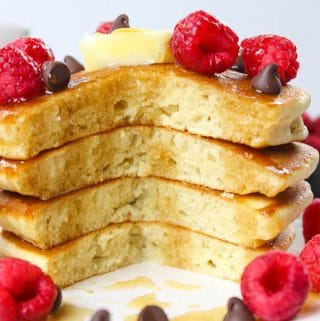 Quick and Easy Pancakes
These quick and easy pancakes are super fluffy and perfectly soft. Or lets say this is the best homemade pancake recipe that doesn't even need buttermilk.
Print
Pin
Rate
Ingredients
1 ½ Cups

All purpose flour

¼ tsp

Salt

1 Tbsp

Baking Powder

1 Large

Egg

2 Tbsp

Oil/melted butter (I use Avocado oil)

1 to 1 ¼ Cups

Creamer
Instructions
1) Sift or alternatively whisk flour, baking powder and salt in a mixing bowl.

2) Crack a room temperature egg and mix oil and creamer to it. Whisk all these wet ingredients together. I don't add any extra sugar and vanilla as the creamer has it. If you wish you can add ¼ teaspoon of vanilla and upto a tablespoon of sugar if you desire a sweeter pancake.

3)Add wet ingredients to dry and fold with a spatula/fork only till the flour disappears. A few lumps in the batter are okay. Over mixing the batter will result into hard and dense pancakes.

4) Heat a griddle/skillet to medium heat. Spray or brush it with butter. Spoon ¼ cup of batter on skillet for one pancake. Gently spread into a 4 inch circle. You can make 3 4 pancakes at a

5)Flip the pancakes when air bubbles start popping and holes form on the surface of pancakes. The edges will look dry. This might take 1-2 minutes.

6) After you flip them, cook for another minute or two. Or till the middle is cooked and the pancakes appear golden brown on top. Repeat with the remaining

7) Serve immediately with butter, fresh fruit, berries, chocolate chips and syrup.
Nutrition