Clean eating goals got a lot more yummier with these healthy blender banana oatmeal muffins. Easiest to make, gluten free oh-so-tender and big on flavor!
Try my Healthy Banana Nut Muffins next!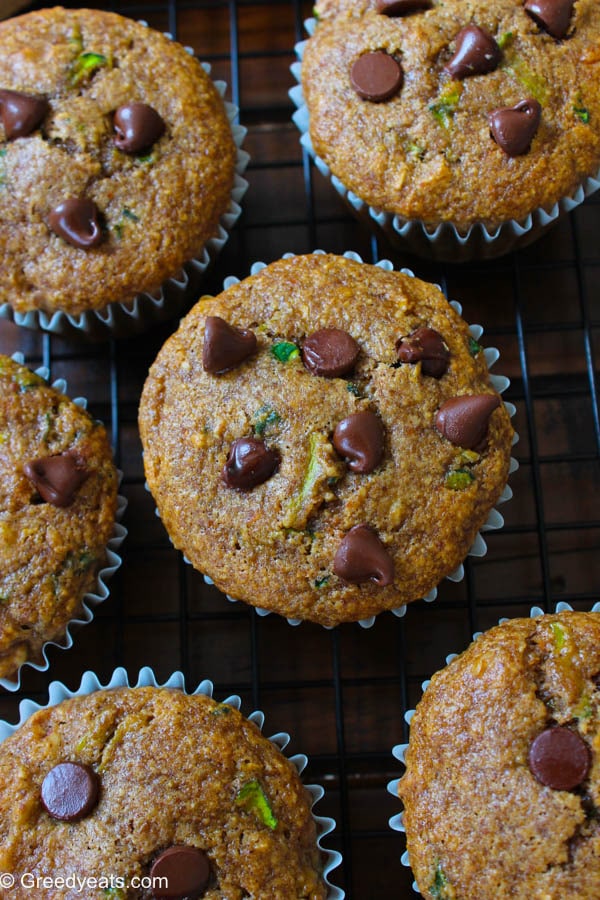 Have you ever had blender muffins? If yes, you are sure to love this quick version. If not! You are in for a fab snack treat.
There is no pleasure like biting into muffins first thing in the morning. Bonus points if they are healthy (but don't taste like one)!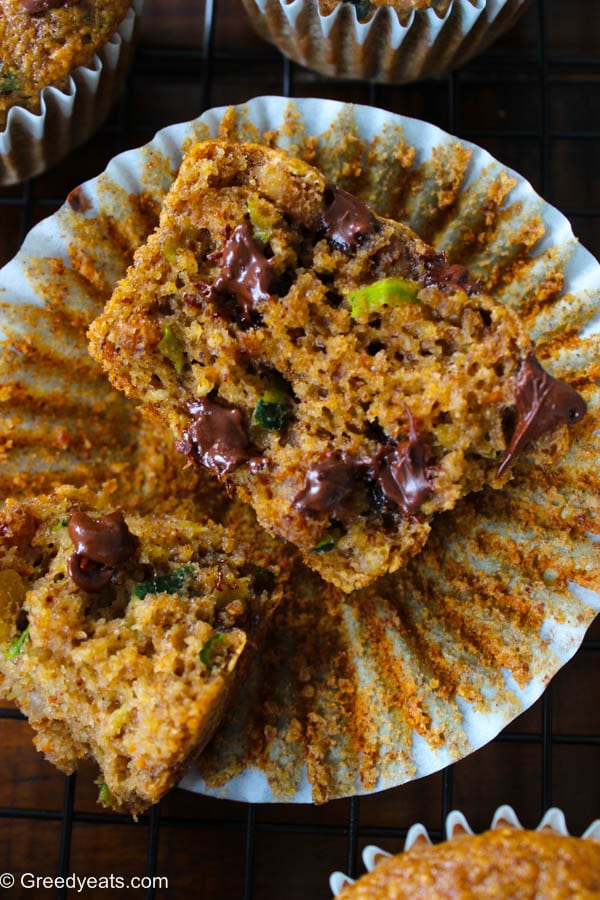 Our Blender Banana Oatmeal Muffins today are no different. Naturally sweetened, flourless, no oil, zero refined sugar. But you can never guess it, I bet!
Lets find out what hides in them!
Blender Banana Oatmeal Muffins ingredients
Zucchini: Makes blender muffins so moist. So I went for it for this flourless muffin recipe. I do have healthy banana muffins on blog with no zucchini. And you can't taste vegetable in these muffins (just in case you are wondering).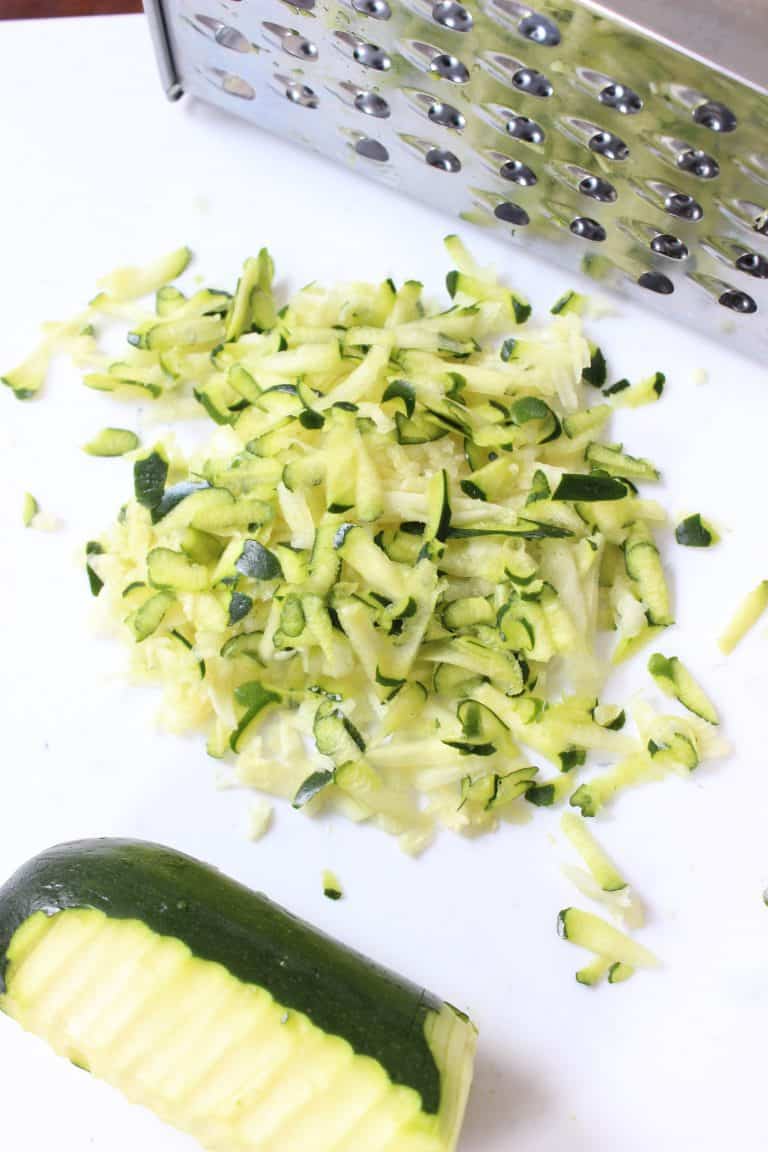 Oats: Powdered to make oats flour. Use certified gluten free oats if gluten sensitive.
Honey: To sweeten the muffins.
Almond Butter: Adds a ton of goodness to them. Also eliminates the need to add extra fat.
Ripen Banana: For lift, flavor and moisture.
Egg: For binding and structure.
Flax seeds: For added goodness.
Chocolate Chips: Do you really need a reason?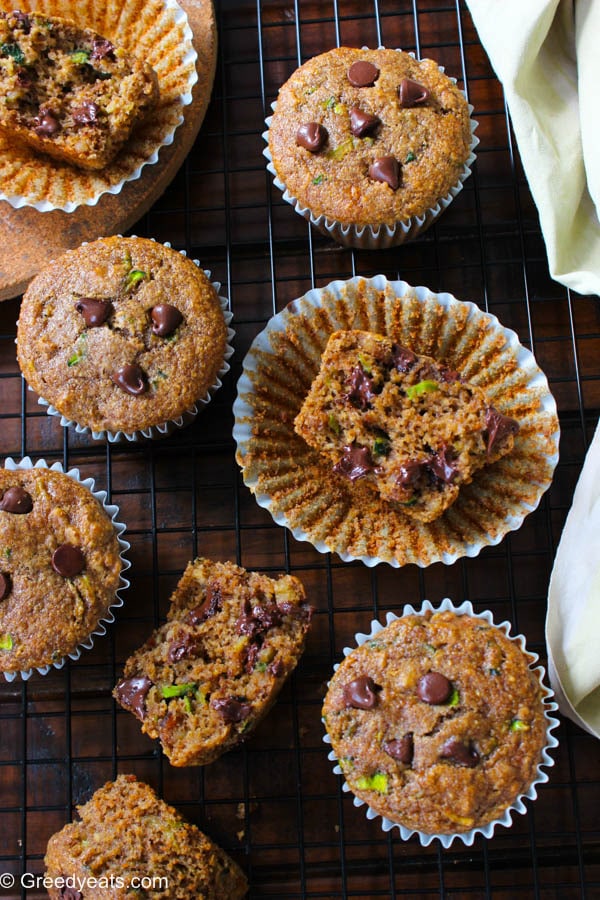 How to make Blender Muffins?
Before we get into the process, let me tell you these are the simplest muffins ever. And yield a tender, fluffy and moist bake! I also love flourless blender muffin ideas from Cream de la crumb.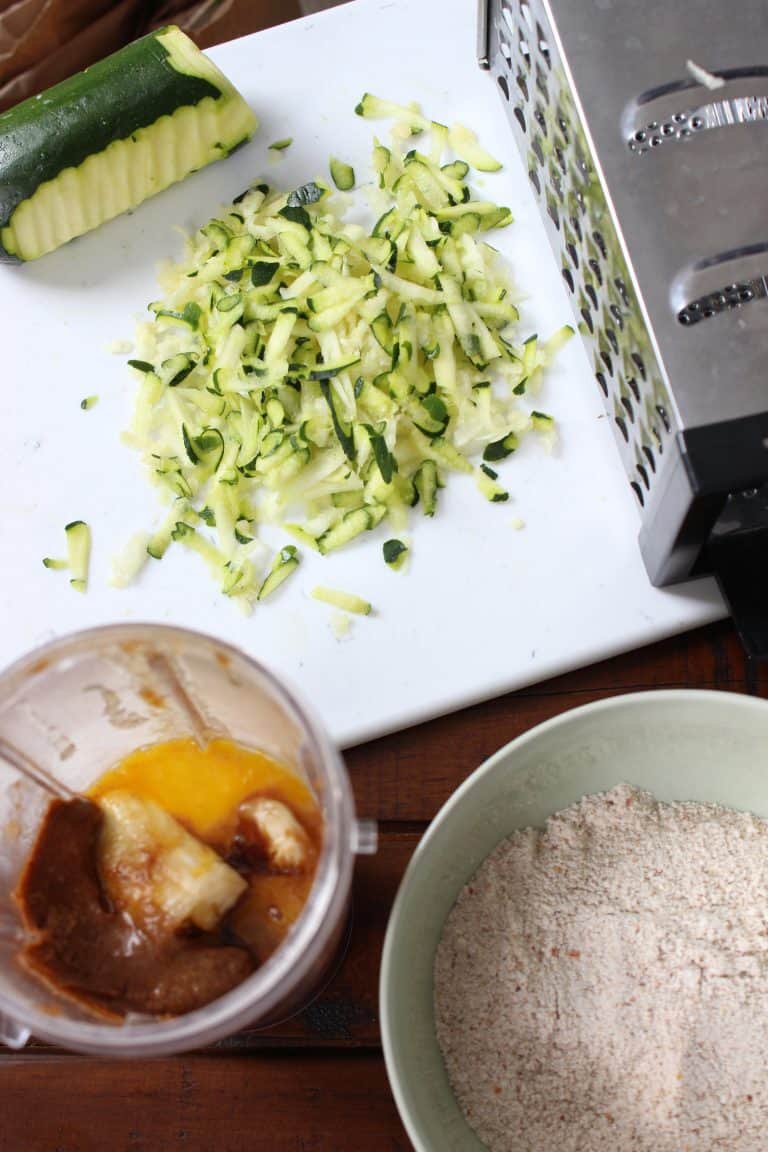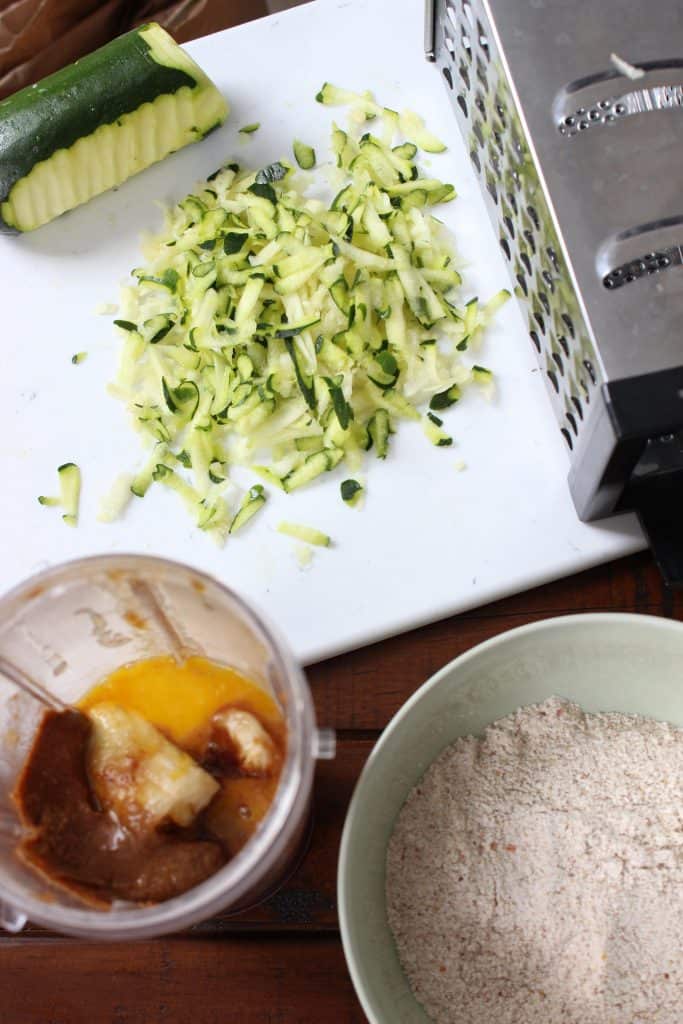 All you need to do is blend all your ingredients using a high speed/regular blender. Pour the batter into liners and bake.
Yep it is that easy!
But if you don't have ground oats flour on hand. You can blend dry ingredients first and add wet ones to it then.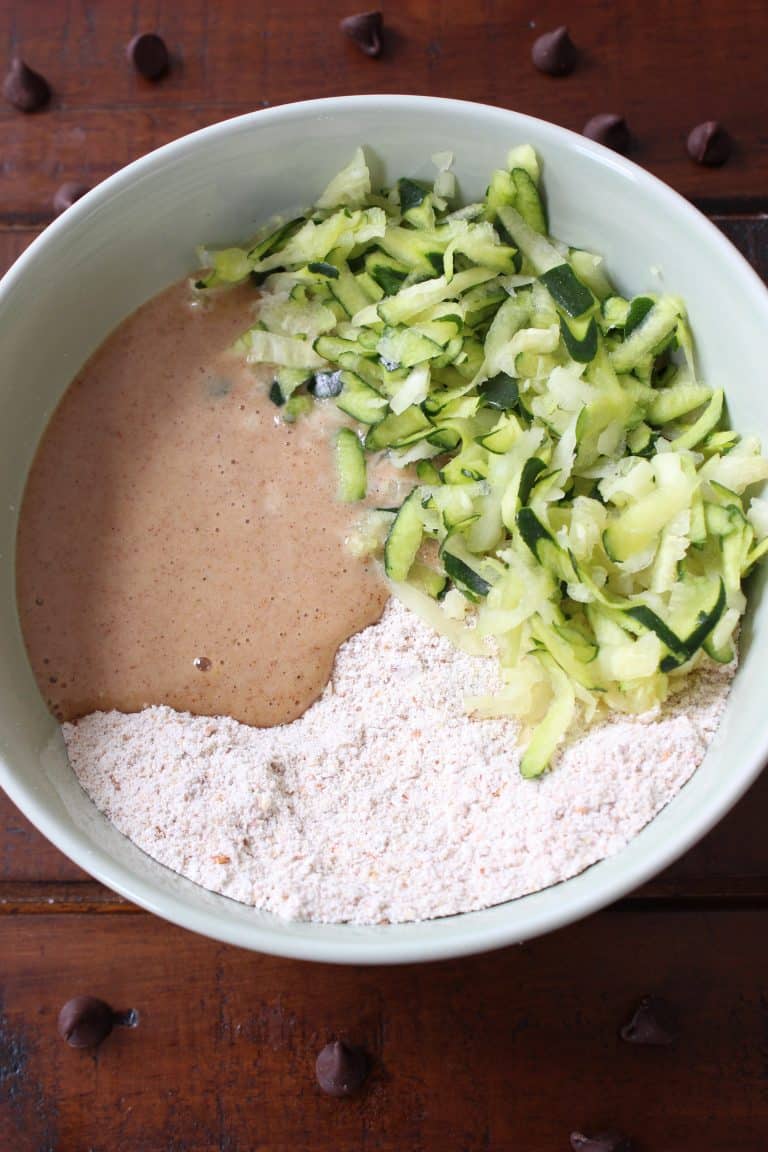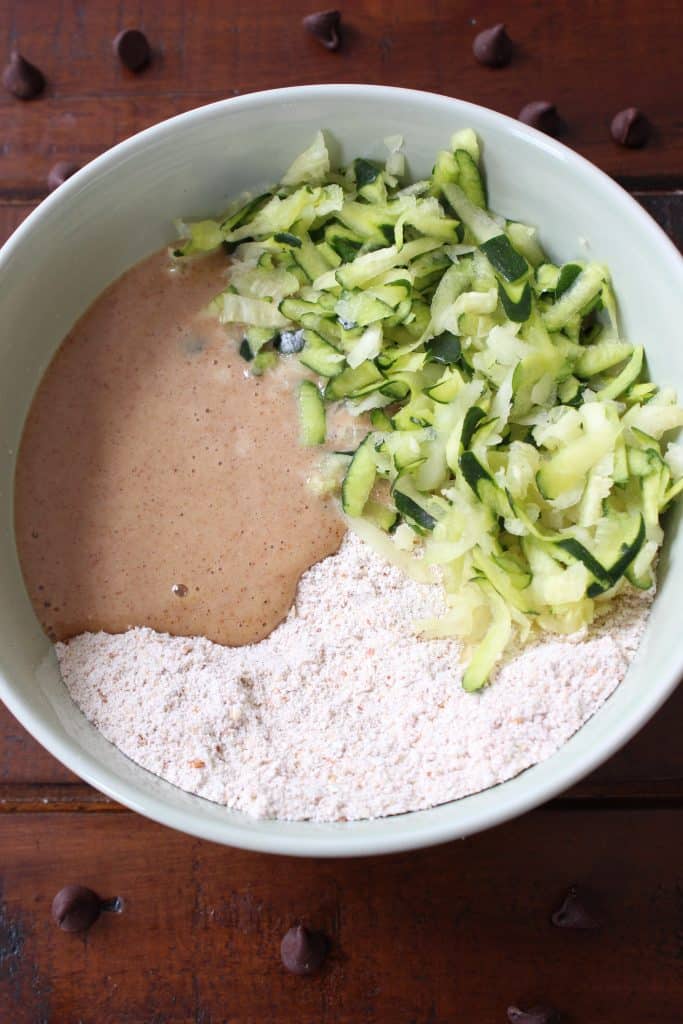 What if I don't want to use a blender at all?
No problem. Simply sift your dry ingredients together.
Then stir in your wet ones, grated zucchini and you are all set.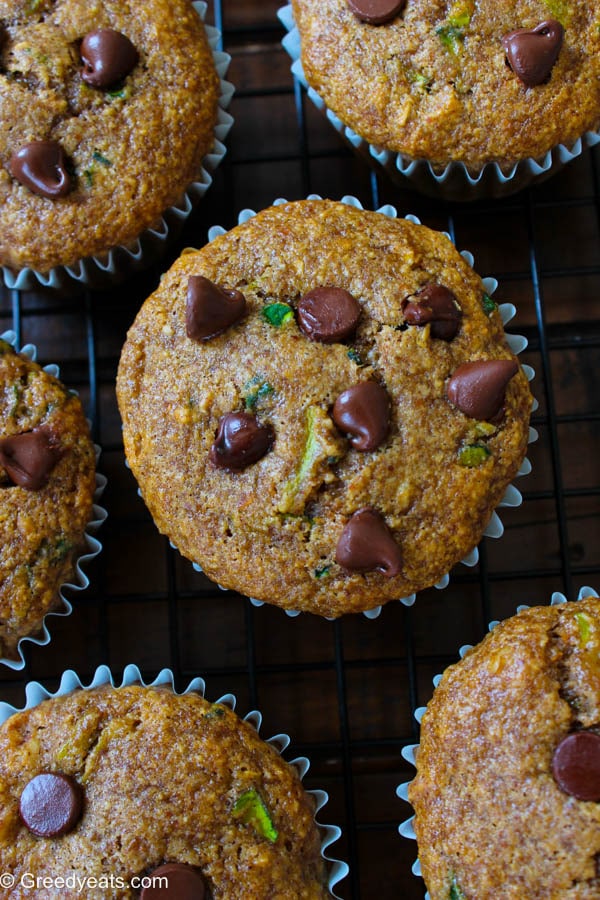 These healthy blender muffins have a tendency to stick to the liners. Remember no oil? 😉 I recommend using parchment paper liners or greasing your muffin pan well.
Or you can spray regular liners too, does the job!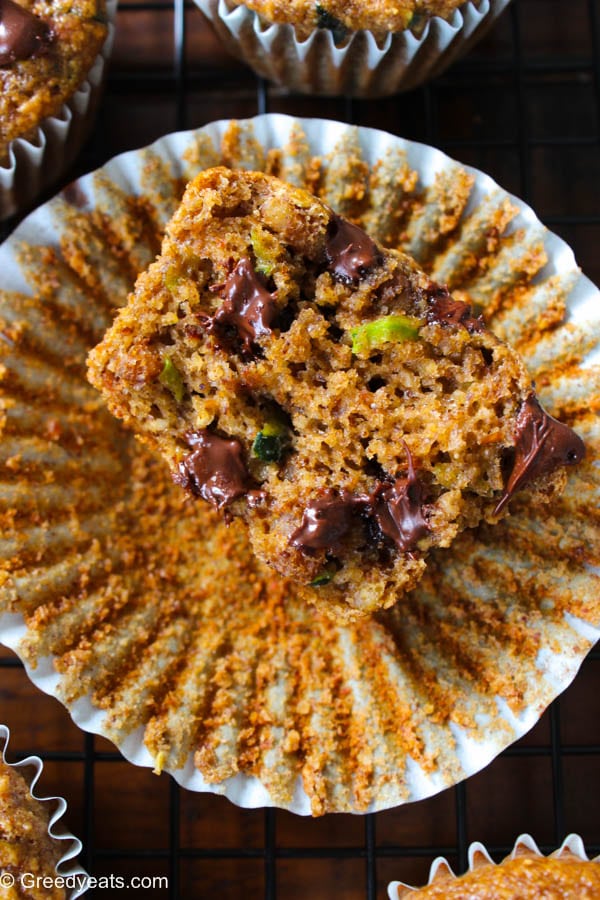 Are you ready to bake this guilt free snack that tastes like a moist banana-zucchini cake? It's exactly like having your healthy bowl of oats in muffin form!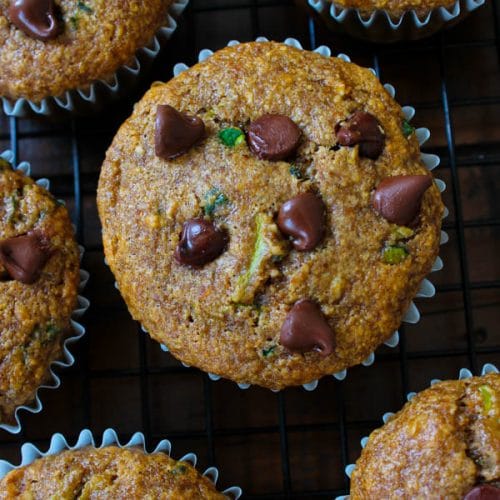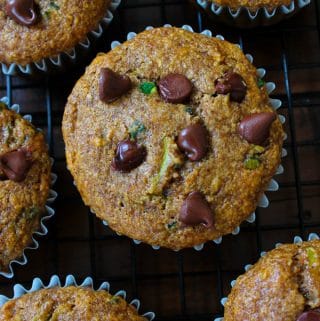 Blender Banana Oatmeal Muffins
Clean eating goals got a lot more yummier with these healthy blender banana oatmeal muffins. Easiest to make, gluten free oh-so-tender and big on flavor!
Print
Pin
Rate
Ingredients
3/4

Cup (60 gms)

Oats (Ground to fine flour)

1

Tbsp

Flax seeds

1

tsp

Baking powder

1/4

tsp

Baking Soda

1/8

tsp

Salt

1/4

tsp

Ground cinnamon

1

Large

Egg

3

Tbsp (47 gms)

Almond Butter

3

Tbsp

Honey

1

tsp

Vanilla Extract

1

medium (100 gms)

Banana (ripened)

1/2

Cup (57 gms)

Zucchini (Shredded, Excess liquid drained)

1/4

Cup

Chocolate chips (I used dark)
Instructions
1. Preheat oven to 350 deg F and line a muffin tin with parchment paper liners. Or grease the cavities with some oil. Alternatively you can coat regular liners with cooking spray

2. Add oats, baking powder, baking soda, salt, flaxseeds and cinnamon powder in your blender and pulse till you get a fine flour

3. Now add all the wet ingredients except for shredded zucchini and blend until a smooth batter forms. Scrape sides if

4. Fold in zucchini (removed of excess liquids) and pour batter in the pre prepared muffin

5. Bake for 18-20 minutes or till a toothpick inserted in the middle of muffins comes out clean

6. Allow to cool for 5-10 minutes in the tin and place on a wire rack to cool down further

7. Enjoy!
Notes
You will need to squeeze some liquid from zucchini by pressing it between 2 paper towels. As this extra liquid will make the muffins dense and soggy!
STORAGE INFORMATION:
1. Store your muffins covered at room temperature for 2-3 days. These muffins stay good in refrigerator for 7 days
2. These blender muffins are also freezer friendly. You may store them in the freezer for 2 months. Thaw in the refrigerator before devouring.
Nutrition