Is this really the best eggless chocolate cake (that is vegan and dairy free) that you will ever taste? Lets find out.
Or try my moist and easy chocolate cupcakes baked in small batch!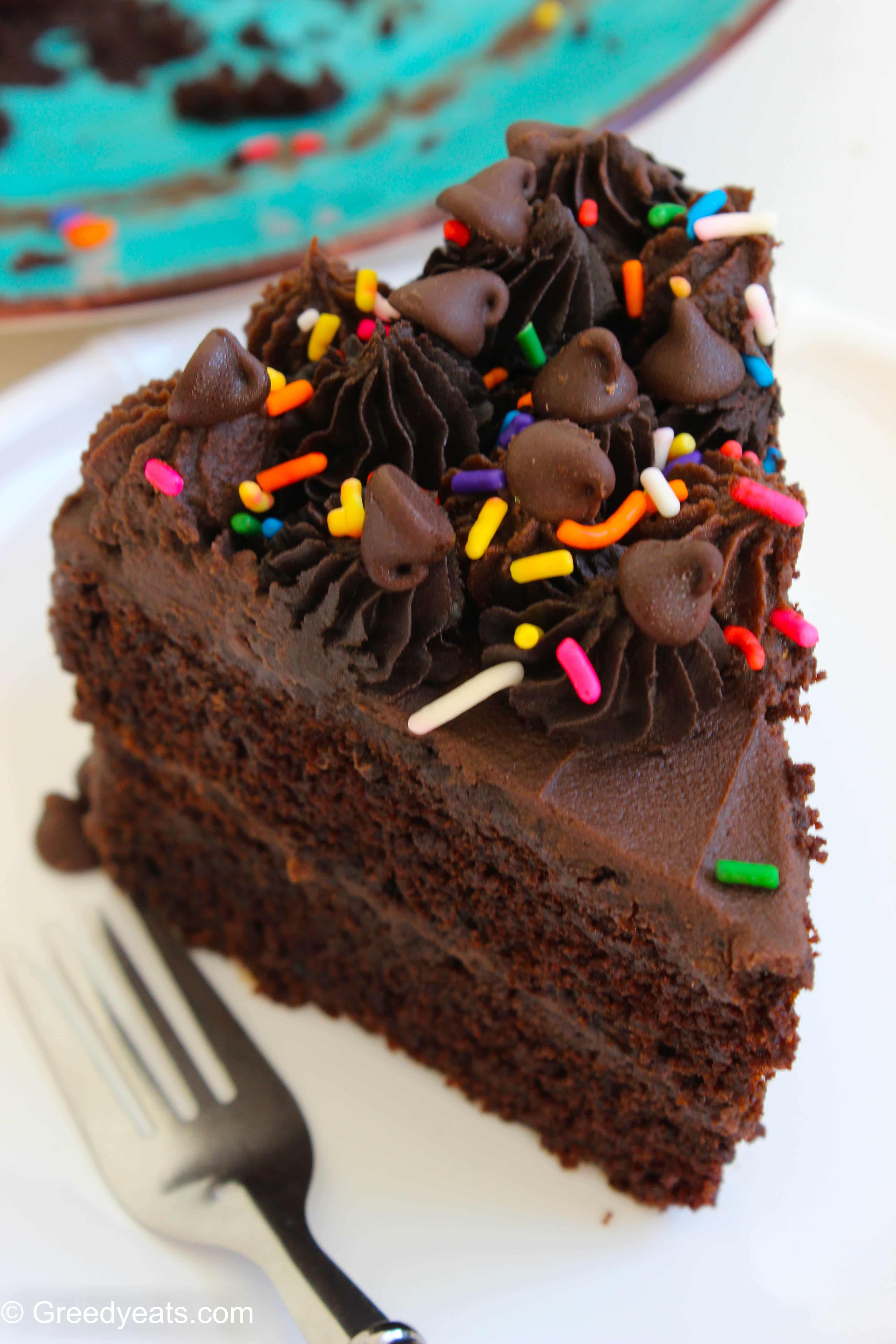 I know what you are thinking right now. Doesn't look health food from the pictures! No it is not. But do you know what it is?
Moist
Spongy
Light in texture
Fudgy
Melts in mouth
Also when it has no dairy? No eggs? Yes and yes!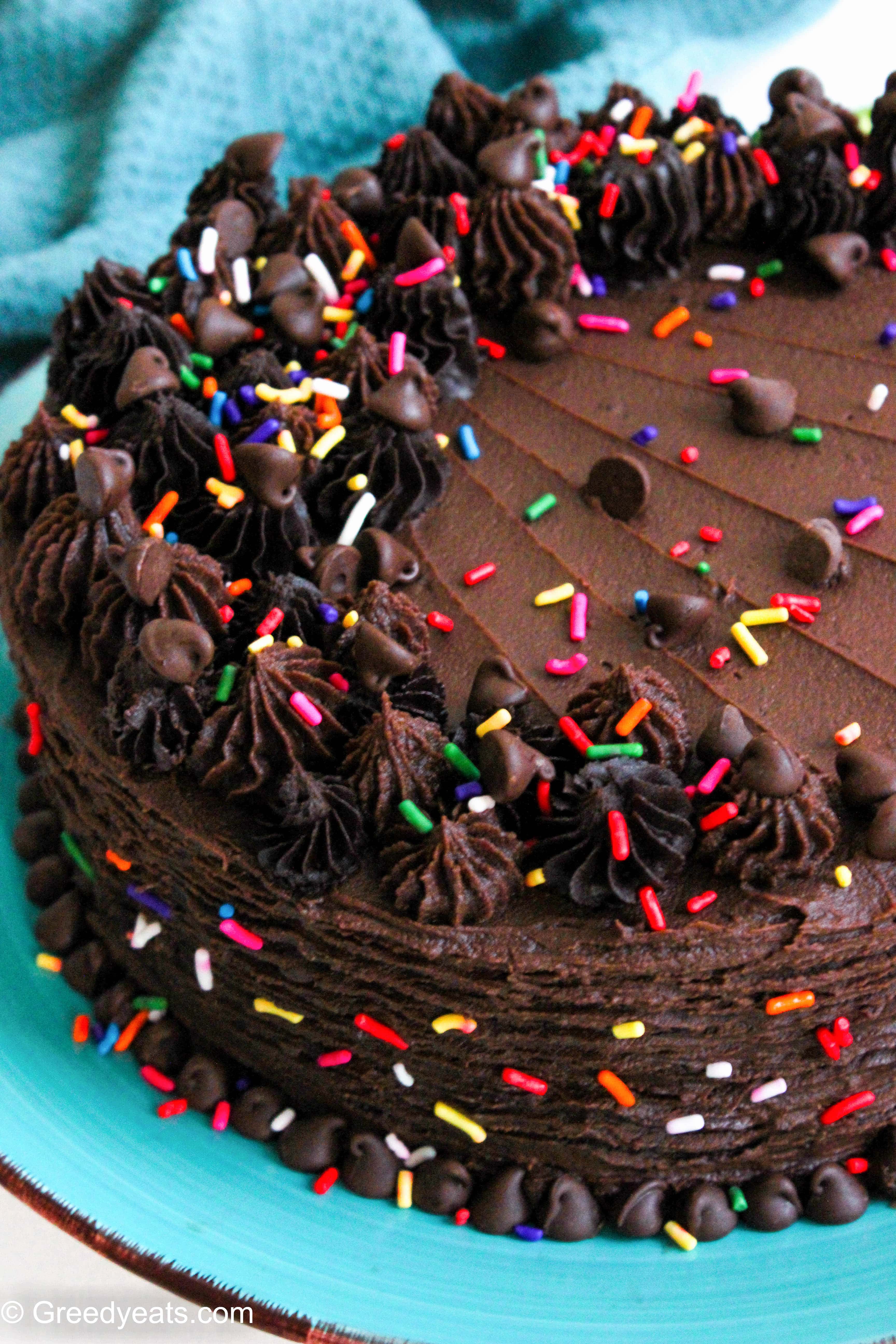 Why do I call it best eggless chocolate cake?
What makes this cake so good? The wonderful duo of vinegar+baking soda that reacts together, balancing the acidity of cocoa powder. This eggless cake recipe has a gorgeous light texture, rises wonderfully, is so moist and spongy. Also it isn't bland or flavorless.
I increased cocoa powder in the original recipe to gain this. And reduced some flour to balance it all. No, You can't smell/taste vinegar in it.
I have a dear friend who is vegan and wants chocolate cake for her birthday every year. I never found a good eggless cake near me. This recipe comes so handy and easy for such occasions!
This cake right here is not only egg free, but also contains absolutely no dairy and uses oil instead of butter. These additions take our cake to tippy-top from all other eggless cake recipes out there.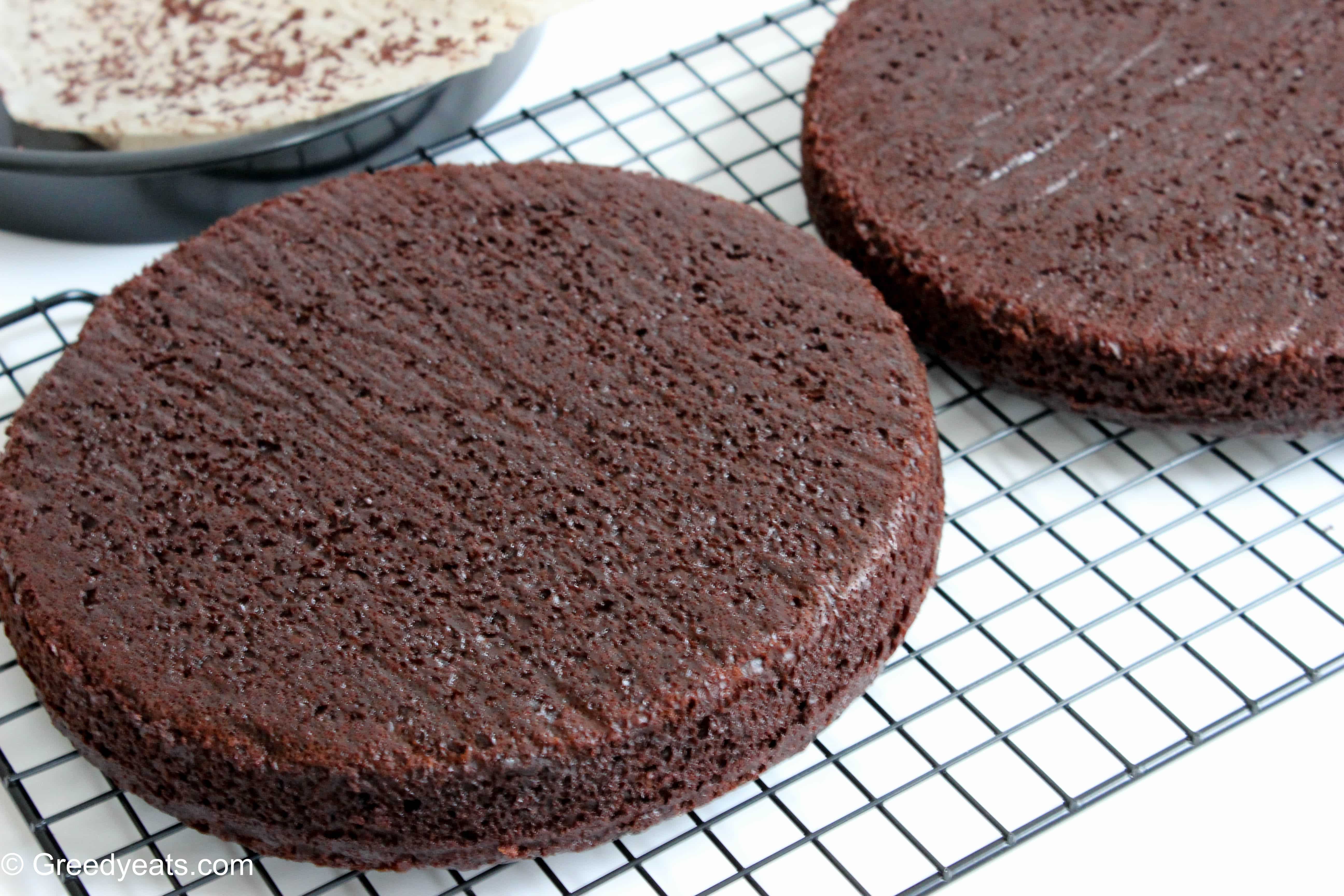 It rises absolutely well with large air pockets. As I told you this cake has no dairy to weigh it down. So making it dairy free adds to the lightness of this cake. Did I hear you saying-hitting two birds with a stone? Yes we are! 😉
What are we waiting for! lets jump right into the process.
What are we doing to prepare our batter?
Nothing!!
Wait. did I just say it out loud?
But really feels like we really are doing nothing to bake this cake. It's ridiculously easy to put together. Just remember to use quality cocoa and fresh baking soda. Two keys to today's recipe success lock!
You will only need one large bowl. A few common baking ingredients and a whisk. And Boom!! We have our batter all ready.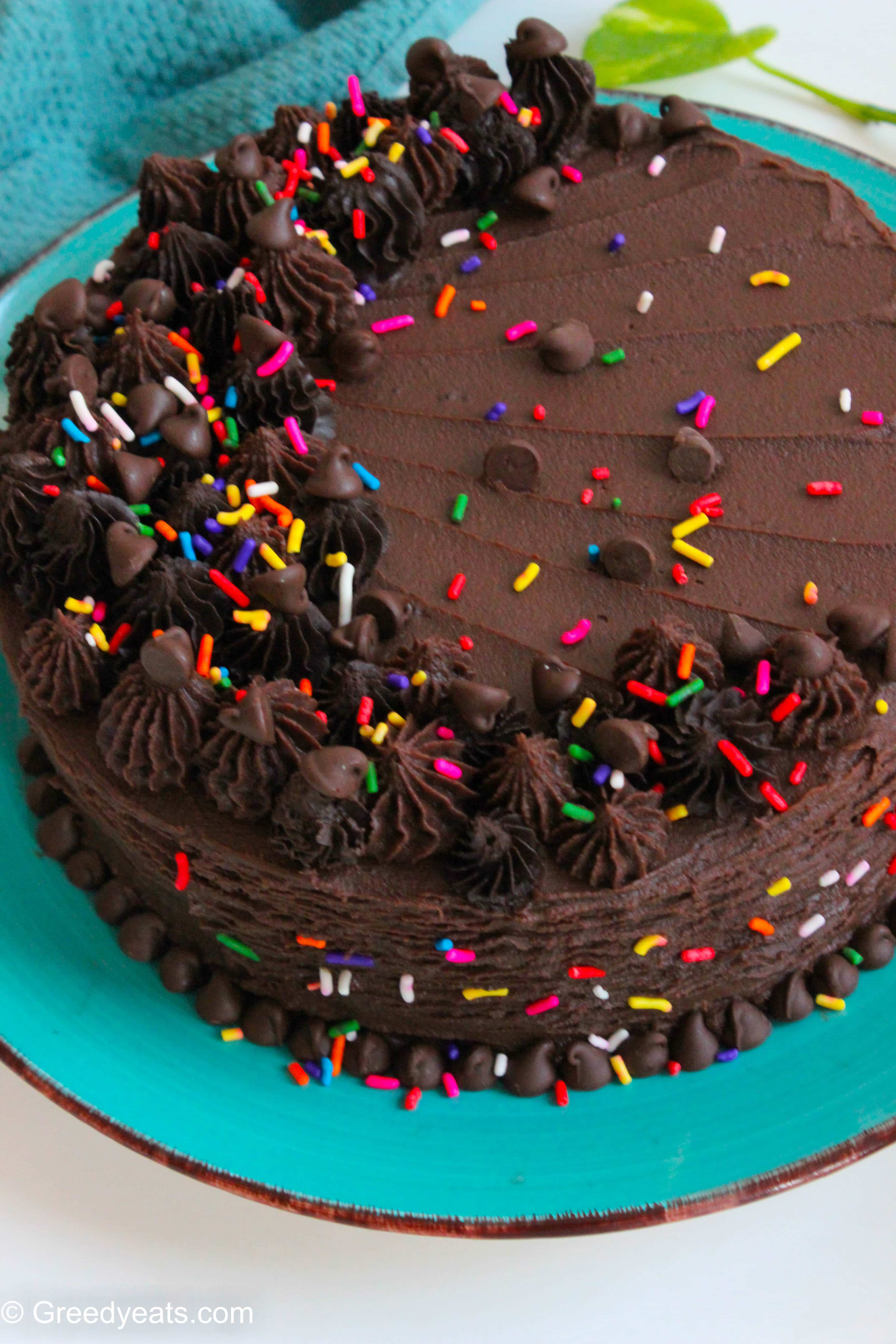 Behind the scenes!
I wish all things in life were this easy. Can't even begin to tell you how I struggled clicking this cake late in the eve after frosting it for new year's party. It was getting darker by each passing second. And I still had to frost my cake.
Had no choice but to shoot it right then. This cake had to get butchered as the clock struck midnight! I felt like Cinderella that whole day. 😀
Struggling for three freaking hours to finish my shoot. Baked this cake early in the morning. Left it to cool. Went to Walmart. Bought groceries. Prepared taco fillings. Made dark chocolate and vegan butter cream frosting(More on that in a minute). Left it to set. Made guacamole dressing by then (for my favorite lime tortilla chips). Decorated this black beauty. Shot it. And partied till 4 am!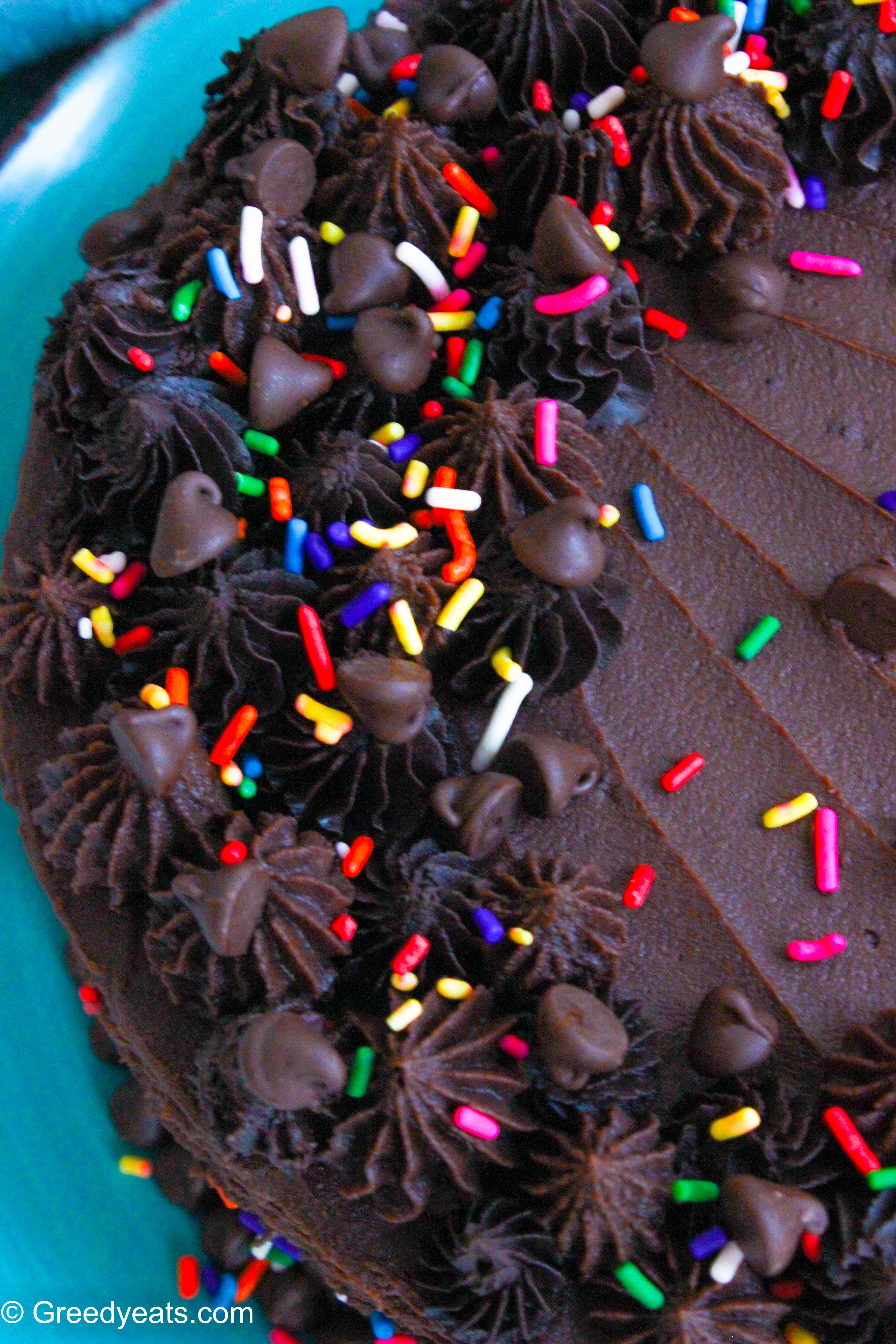 Thank goodness I had Pranay and this cake by my side. Also the year disappeared on that same day. By the way Happy New year! <3
Some of my pictures are dark. But I am no less than a war hero. I managed to save a fat slice to shoot for the next day for you to see the real color of this bake. I know you are having to stress your eyes to sight the images here and all. But my struggle was real (saving this beautiful, frosting topped, chocolate chips loaded slice)!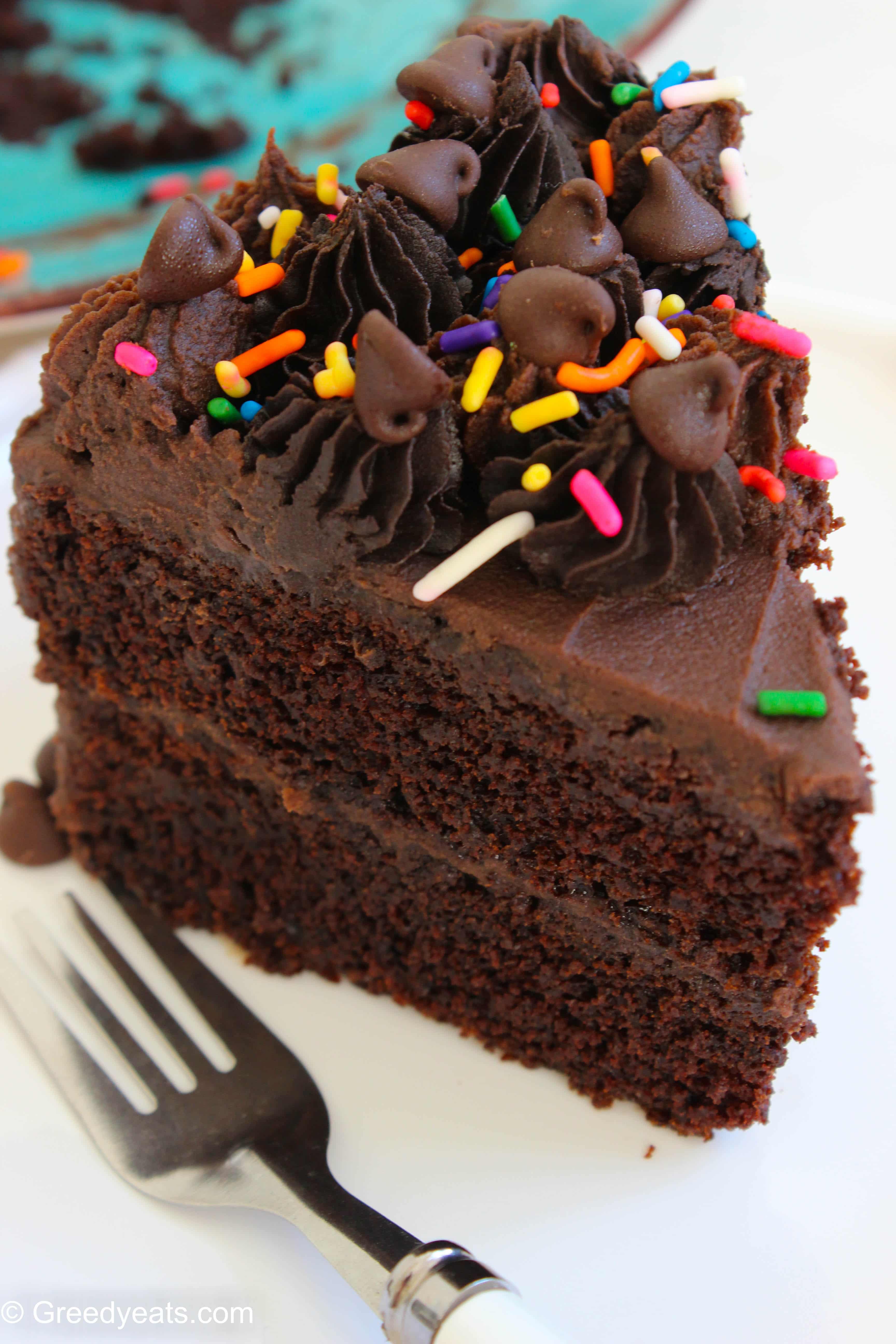 Do you see the difference in colors? My God! I talk so much. And we have a lot to focus on. Lets dive deep in our frosting.
Vegan frosting for the best eggless chocolate cake on planet!
Now you don't have to use vegan frosting if you aren't vegan. Why am I telling this to you? duhh! This frosting here is so versatile. I will mention substitutes in the recipe. Even using chocolate frosting on this chocolate cake isn't necessary. Try my blackberry frosting from this cake recipe over this cake. So yum! This cake is so tasty even without any frosting at all!
Someone needs to punch pinch me. I need to get serious in life.
So for this frosting, you will need butter vegan/regular, some powdered sugar, dark/milk chocolate and a few table spoon of almond milk/regular milk.
I also made a pipeable stiff ganache frosting using equal amount of whipping cream and chocolate. For added light and dark chocolate shades to decorated on top. Skip this if vegan.
Love eggless chocolate cupcakes? Try these ones here. You won't bake any other cupcakes after these. They are so moist, light and decadent.
Love all things chocolate? Try my chocolate topped oats bars next!
Oh and I almost forgot! Don't forget to tell me that you agree this is the best vegan and the best eggless chocolate cake you ever made. 😉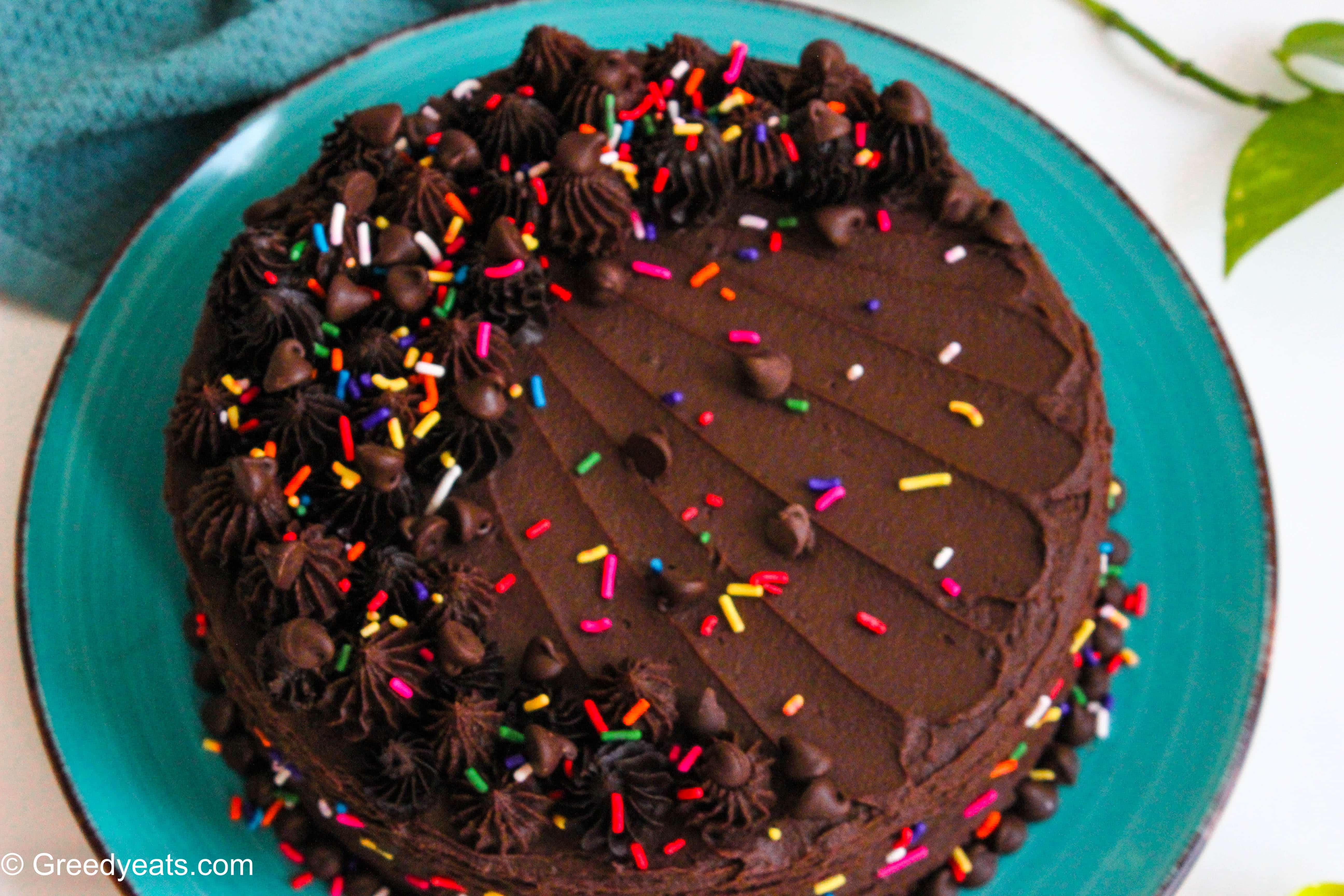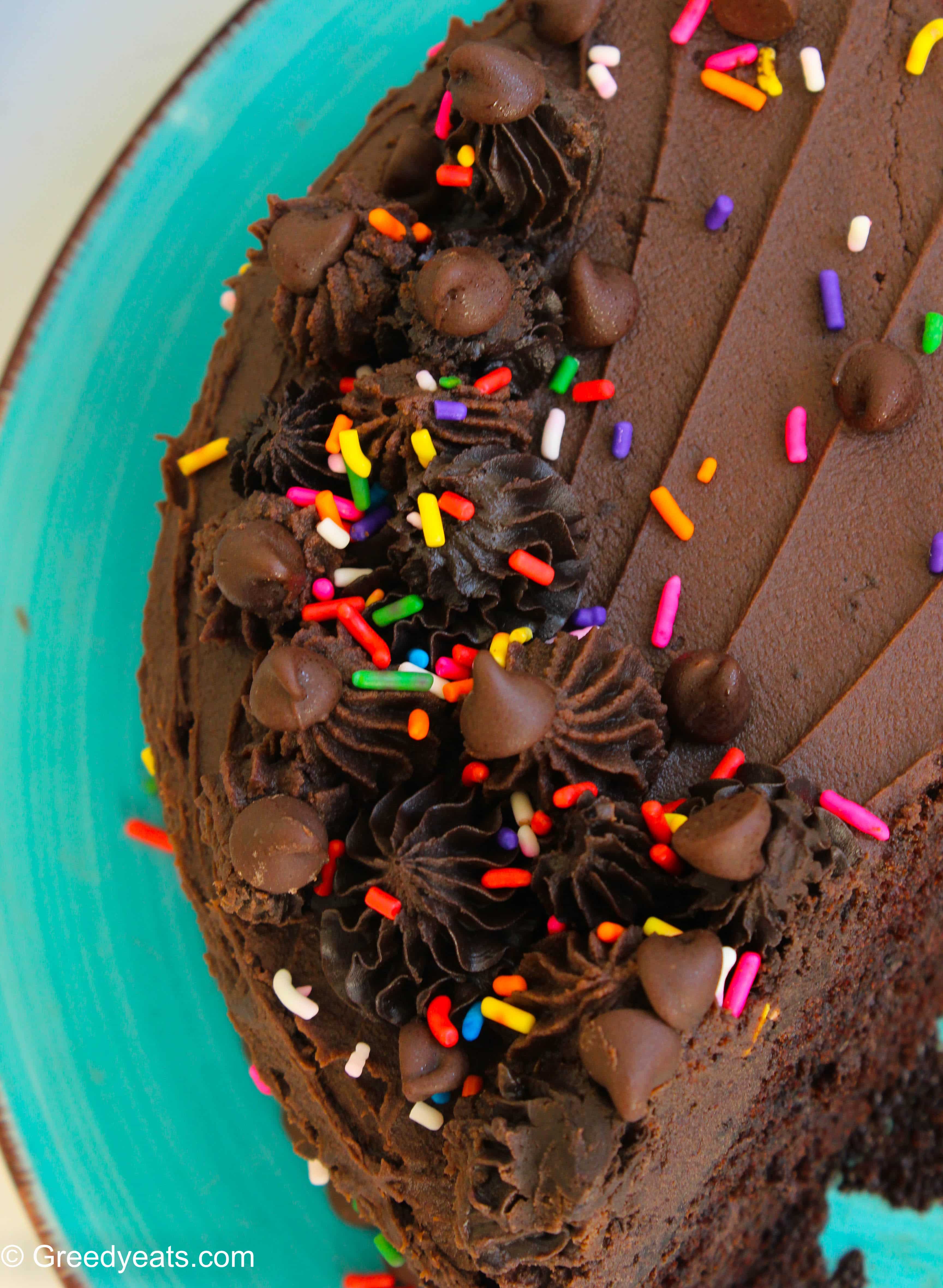 More drool worthy chocolate desserts for you!
Recipe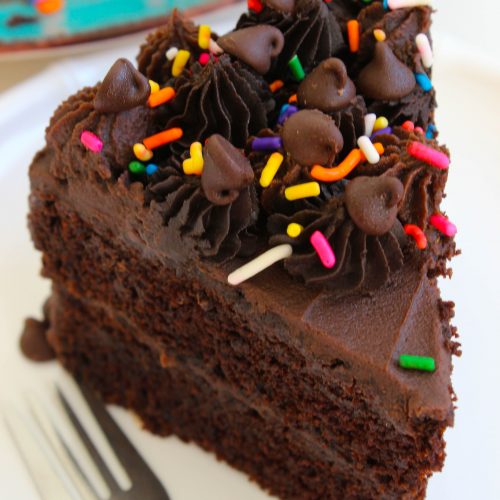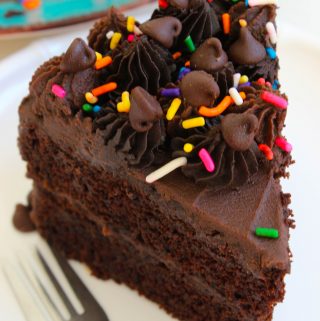 Best Eggless Chocolate Cake
The best eggless chocolate cake (that is vegan-dairy free, butter free, extra-calories free) that you will ever taste. This chocolate cake is ultra moist, flavorful, spongy and so soft that it will just melt in your mouth!
Print
Pin
Rate
Ingredients
2 ⅔ cups

All purpose flour

¾ Cup

Cocoa (natural, unsweetened)

2 Cups

Sugar

2 tsp

Baking soda

¼ tsp

Salt

2 tsp

Vanilla Extract

2 Cups

Water

1 tsp

Instant Coffee(Optional, but I strongly recommend)

⅔ Cup

Oil

4 tsp

Vinegar
For the Frosting:
2 Cups

Vegan Butter (I used Earth balance) See notes

4 Cups

Powdered sugar

280 Gms (Little over 1 ½ cups)

Chopped Bitter sweet chocolate (Good Quality)

2-4 Tbsps

Almond Milk (See Notes)
For decoration(Optional):
½ Cup

Chopped Bittersweet chocolate

½ Cup

Whipping cream

1 Cup

Dark chocolate chips

Handful of

Sprinkles
Instructions
1. Preheat your oven to 350 deg F and line two 8 or 9 inches round cake tins with parchment paper. Set aside.

2. In a large mixing bowl, sift flour, cocoa, baking soda and salt together. Add sugar and mix everything well.

3. Mix coffee in water(if adding) and pour over the dry ingredients. Do not mix this yet. Add oil, vinegar and vanilla to the bowl and mix everything well until combined. Divide the batter in the prepared tins.

4. Bake for 30-35 minutes or until a tooth pick inserted in the center of this cake comes out clean. Cool the cake completely before frosting.

For the vegan butter cream frosting:

Take room temperature butter in a bowl, mix in sugar and beat well. Beat in melted chocolate and add just enough almond/milk of choice to get a firm consistency, good enough for spreading.

Frost both the cakes with the chocolate frosting. Save some frosting for decorating on top of the cake.
For dark chocolate frosting decoration:

1. Heat the cream in a small sauce pan and bring to a boil. Add chopped chocolate to it and let it stand for 5 minutes, covered. Stir vigorously till it turns smooth and silky.

2. Allow to chill to a pipeable consistency. Pipe into desired patterns using both dark chocolate frosting and vegan chocolate buttercream. Decorate with chocolate chips and sprinkles. 
Notes
Please use good quality chocolate in the frosting. It really makes a difference.
Make sure you are using fresh baking soda. Stale one may lead to a disastrous bake. No it did not happen with me, if you are curious. 😀
You may use regular butter and full fat milk/ cream in the recipe if not vegan.
Nutrition