I present you this phenomenal strawberry cookie cup recipe with a ton of flavor and health from oats, honey, coconut oil, nuts and peanut butter. Hiding inside these, is this thick and gooey strawberry filling. Also million of smiles from nutella and chocolate chips!! 🙂 🙂 🙂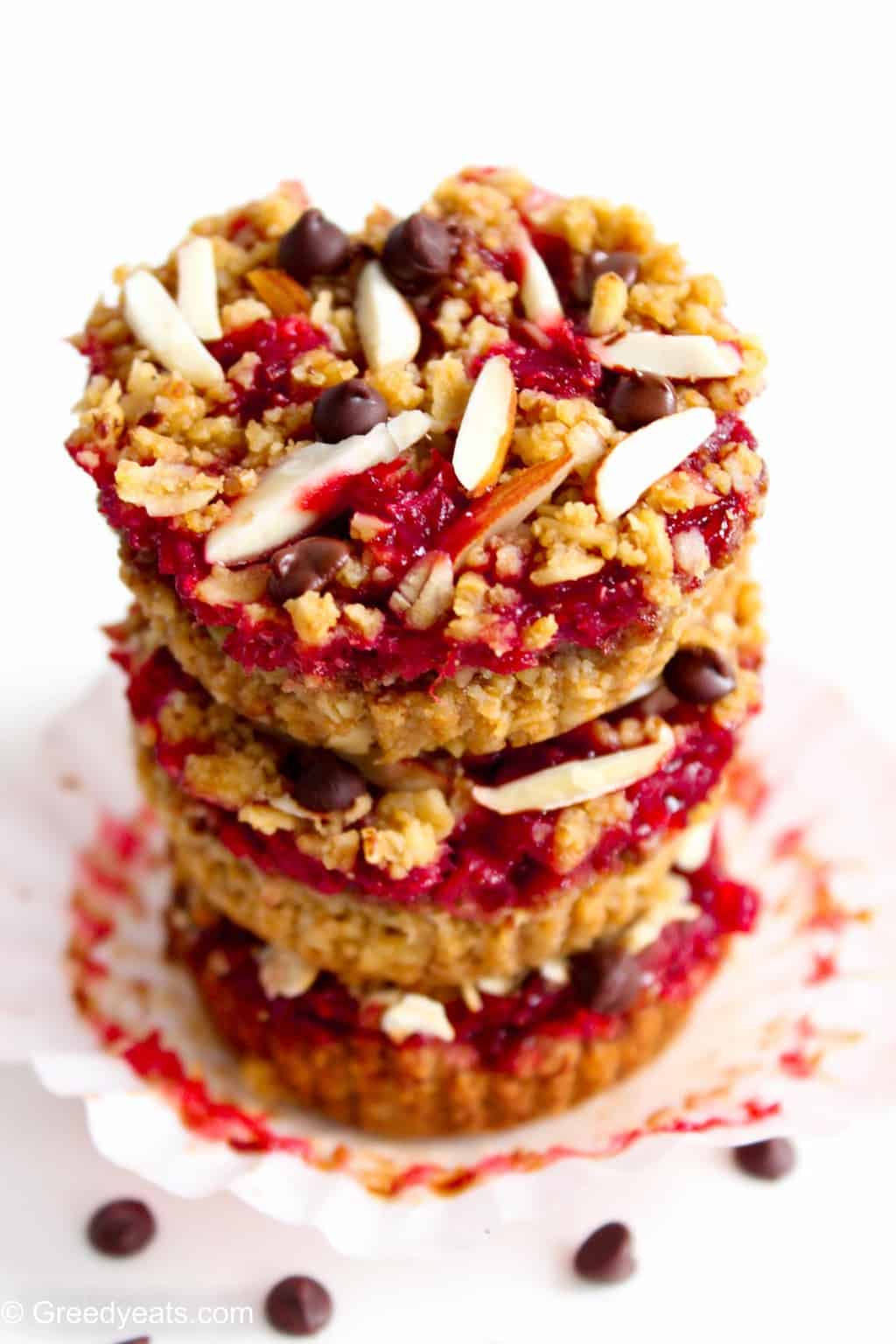 I am slightly confused about what to call these cookies. A dessert? My breakfast? Some snack? Or a healthy treat?
These cookie cup are all of the above and more to me. These are so yum that these barely feel healthy. Did I ever talked about how I want my healthy bakes to taste like? I don't permit them to taste healthy. That can't happen in my world, ever!
No one likes to eat a healthy food that tastes all dry wood and dead leaves. Or is brick hard to break your teeth! I will have a butter loaded, sugar packed dessert instead and die 10 years early. No. I am serious!
The cookie cup recipe today is so chewy from oats, so jammy from the strawberry filling and are perfectly crunchy from nuts that your belly is sure to dance as the first bite goes in! Oops, sorry for the run on sentence I just typed. Catch your breath.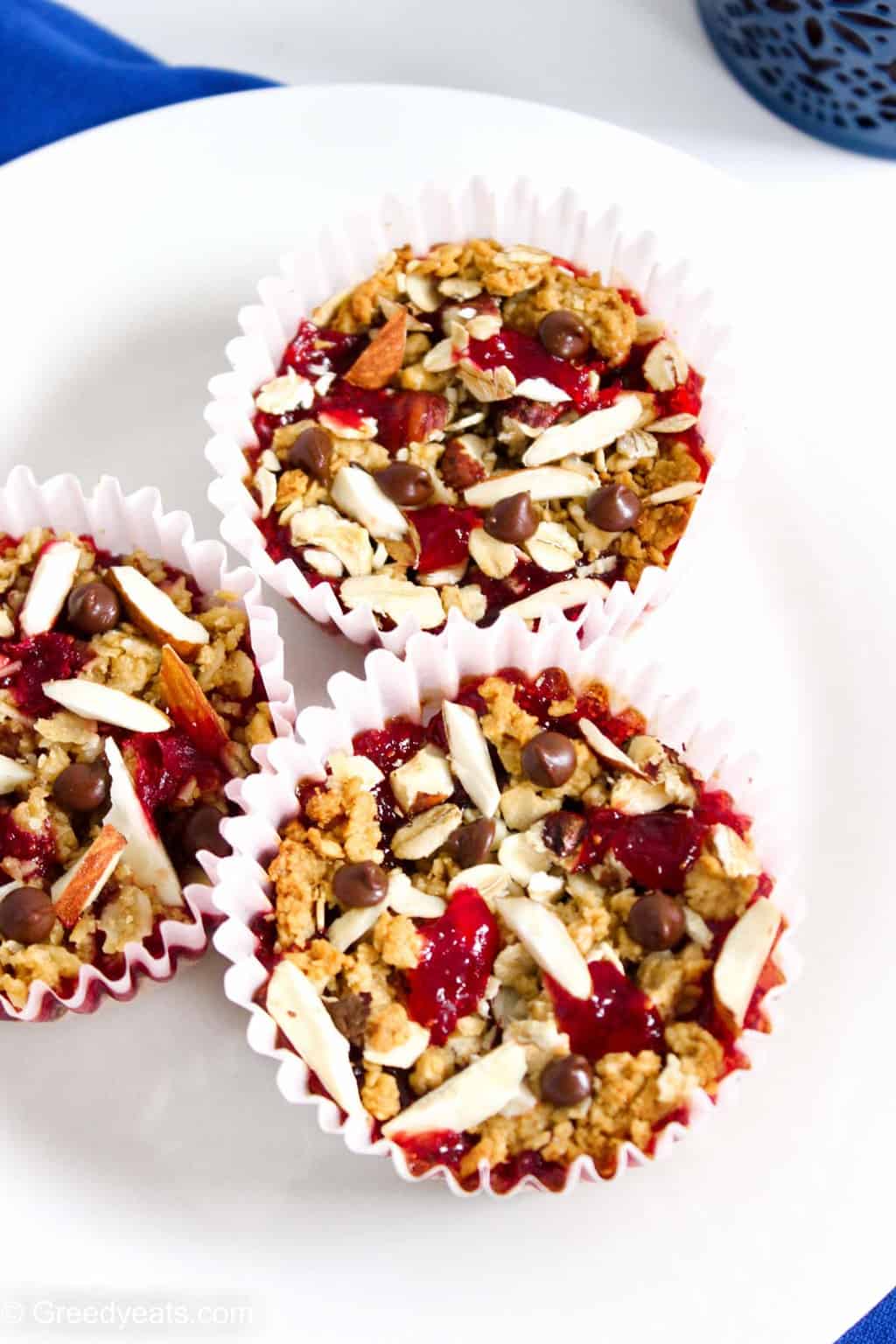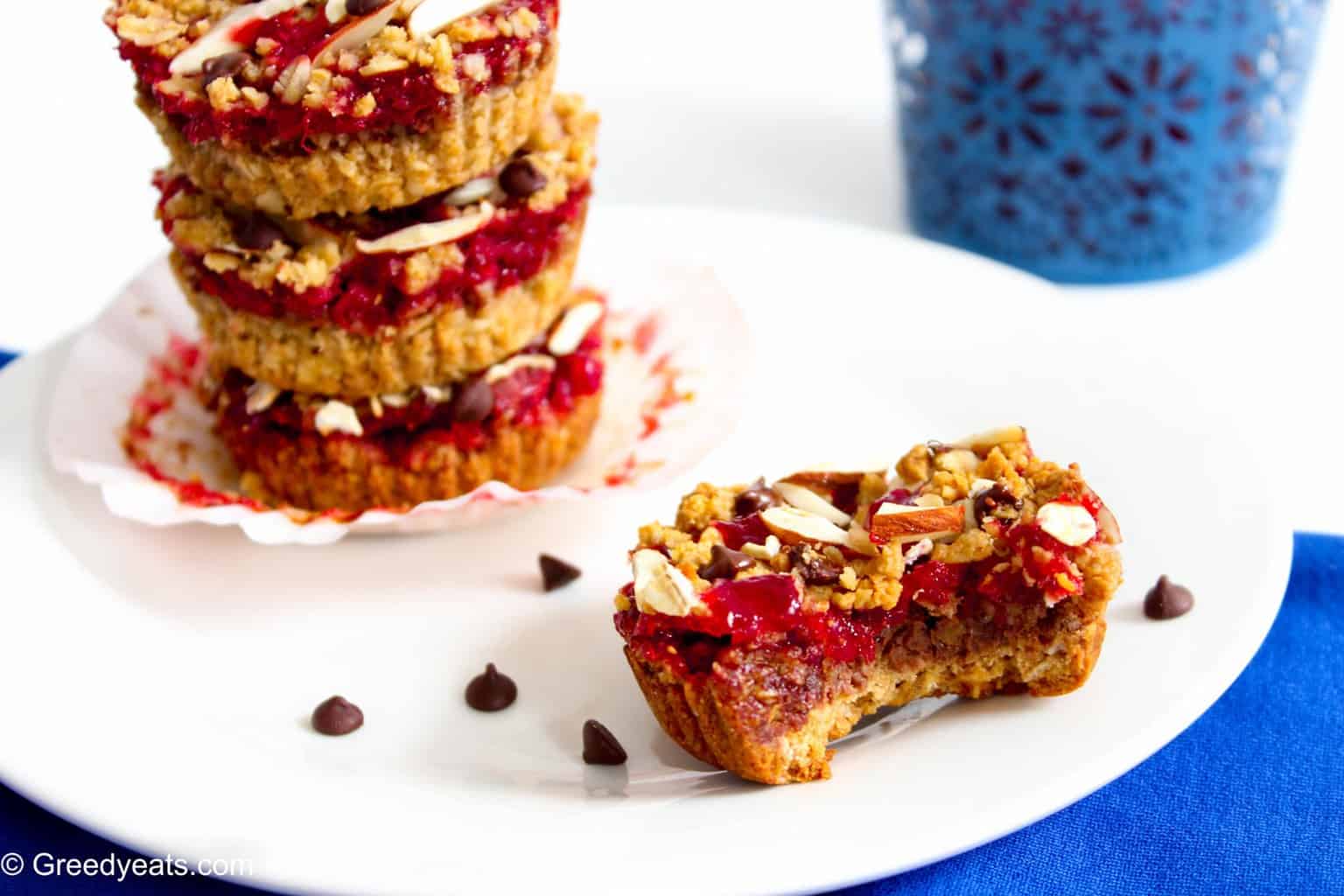 Shining flavors in our cookie cup
You have got an awful lot of strawberry taste in each bite. Come on valentines is around the corner. Also there is truck load of flavors and textures going on from nuts and chocolates combined.
All of the flavors above have bonded with fibrous oats, coconut oil for moistness and honey for sweetness in the cookies. This cookie has got it all. All things good! Call this a faultless, guiltless and indulgent cookie cup recipe if you please.
How to form layers in strawberry cookie cup
Our cookie cup has four layers in total. And every layer is serving a unique purpose in the cookie. The bottom one has an added nuttiness to it from peanut butter. Next one is the chocolate layer where we add some nutella in the base layer.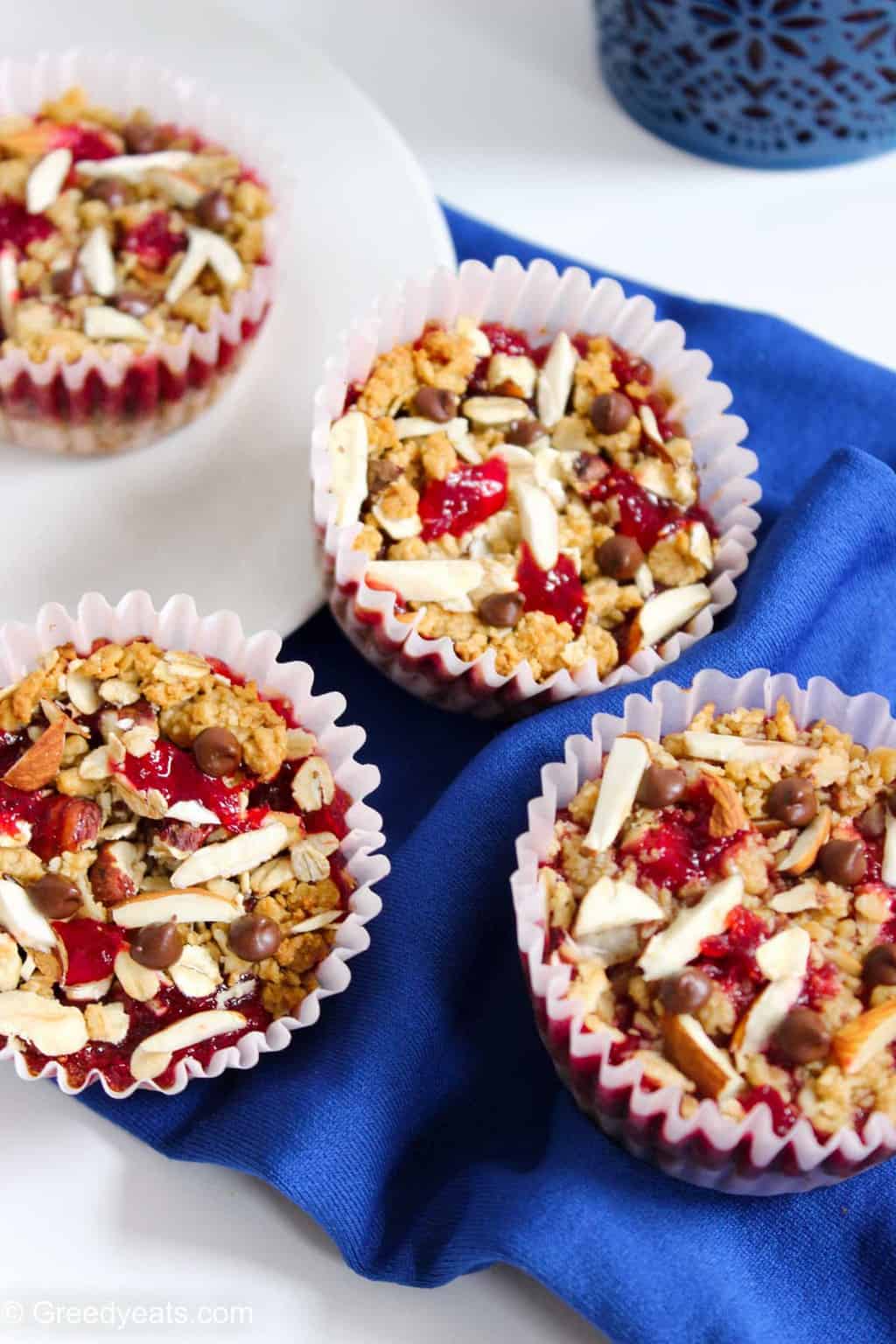 The third layer is the most praise worthy. It takes away all the attention. It has a gooey strawberry filing that contrasts well with the chewy texture of the cookie. Love strawberry? Here are some more strawberry treats for you! These strawberry cookies would be perfect for valentines. So quick and easy!
Okay. Back to our cookie cups!
Final layer in these is just a crumble of remains from the base layer combined with nuts and chocolate chips!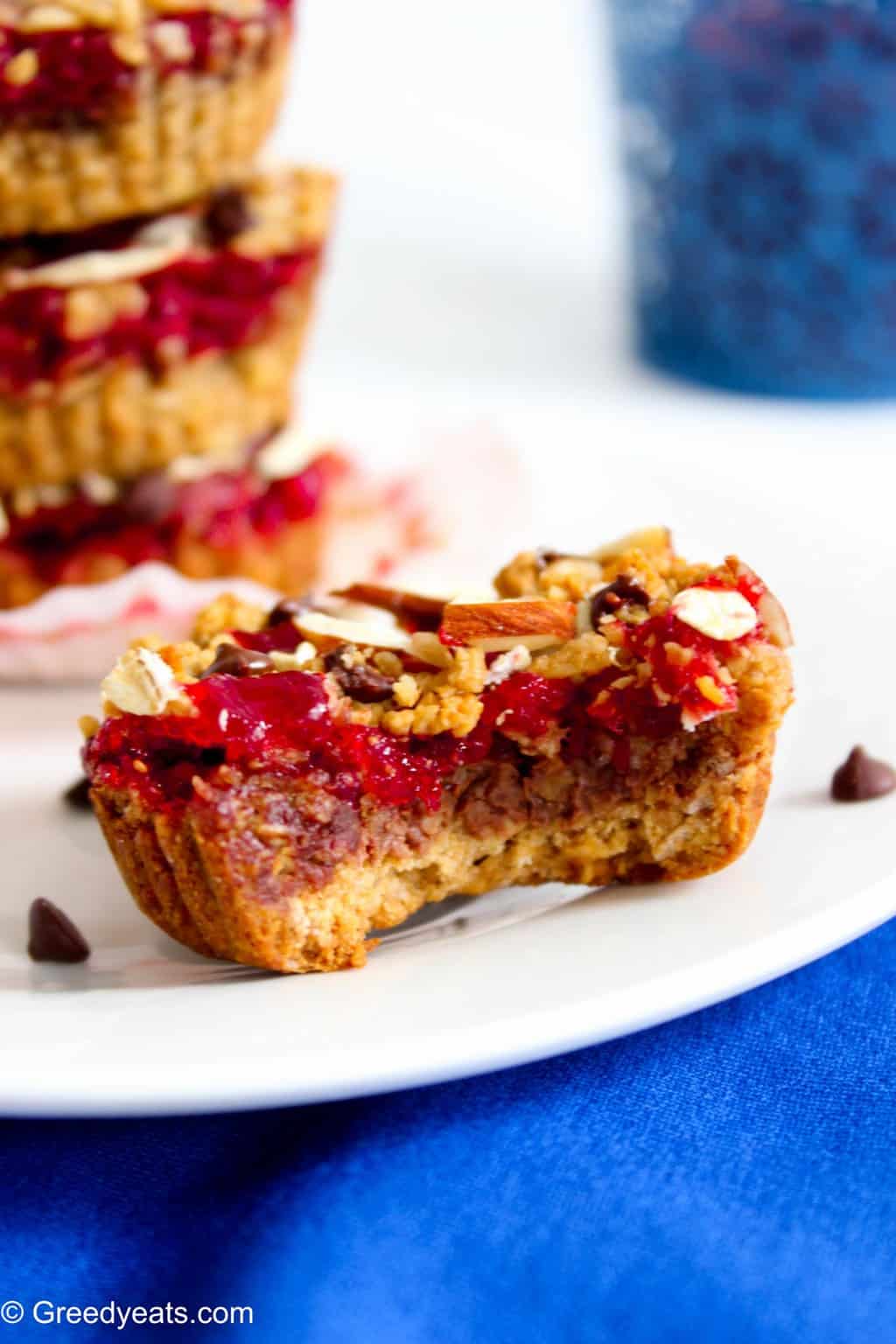 I have baked eight of these. You may double the recipe at ease if you wish. Also feel free to replace the brown sugar used in the recipe with honey in equal amount.
Just look at how fancy this cookie cup with all those layers appears! ⇓ ⇓ ⇓
But I tell you it's laughably easy to put together. And so many ingredients are common in every layer. And it's sure to please everyone who sights eats this.
Process to assemble the cookie cup
We will press the peanut butter-oats mixture in the liners first. Then comes nutella-oats mixture. Take your time to press in these layers firmly. So that these form beautiful cookies with ruffles when taken out of liners.
Spread strawberry filling next and sprinkle the crumbs of remaining oats mixture with nuts. And it's time to bake these cups!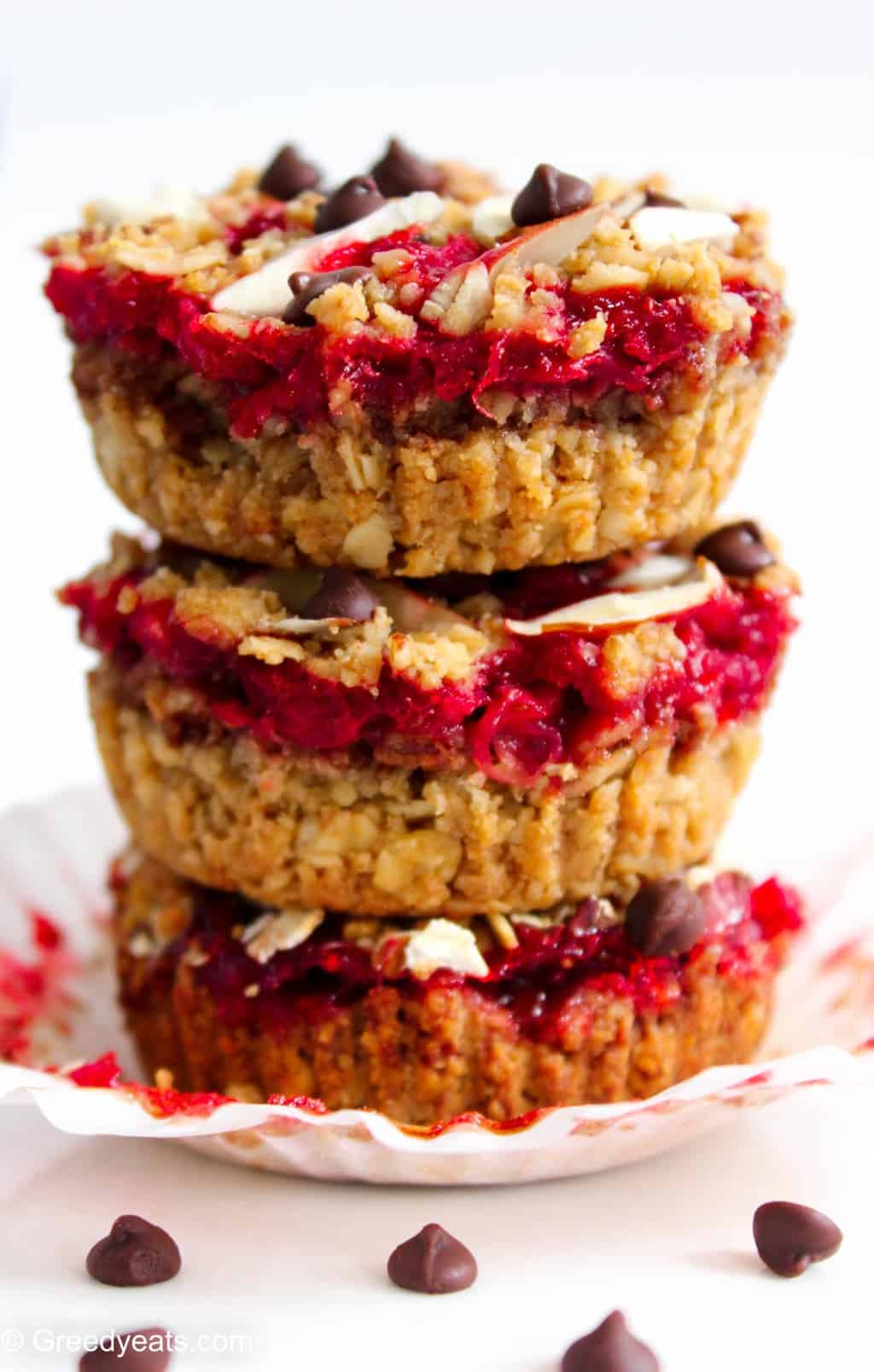 Quick Tip:
If you feel a little lazy to form so many layers, you may mix the first two layers together, spread strawberry filling, some crumbs and nuts for decoration and put these in oven. They will still taste the same and look wonderful. 😉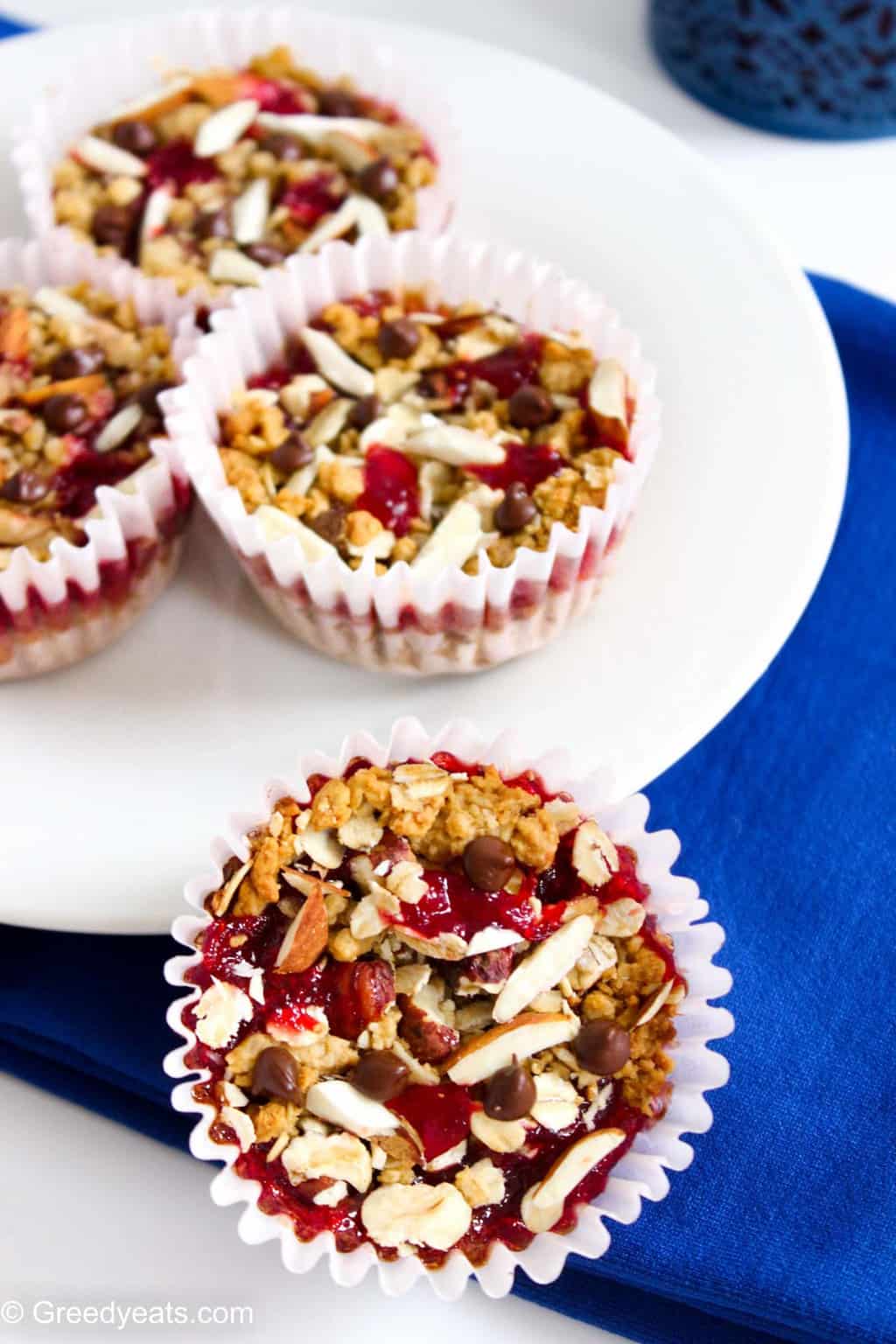 Some of my recent bakes-
Yummiest vanilla pound cake that is light in texture.
My favorite cake on planet- Lemon sponge
Another citrus flavored chiffon cake in orange flavor
Perfect for snacking these healthy bars
Or these cookie tasting granola to eat with spoon
Oh and my breakfast today-healthy whole wheat muffins with banana and nuts!
What would you like to see me post next??
Recipe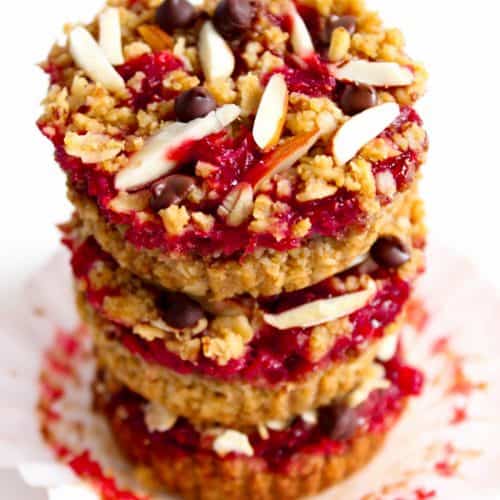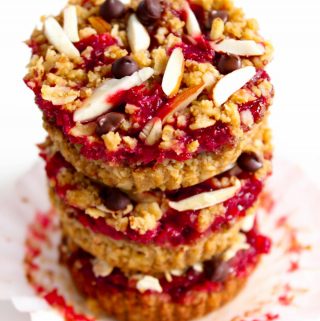 Cookie cup with strawberries filling
I present you this phenomenal cookie cup recipe with a ton of flavor and health from oats, honey, coconut oil, nuts and peanut butter. Hiding inside these, is this thick and gooey strawberry filling. Also million of smiles from nutella and chocolate chips!
Print
Pin
Rate
Ingredients
2 Cups

Oats

4 Tbsp

Brown sugar

4 Tbsp

Honey

4 Tbsp

Coconut oil

4 Tbsp

Peanut butter

2 Tbsp

Nutella

1 medium

Egg

⅛ tsp

Salt

4 Tbsp

Chopped Nuts (of choice) +mini chocolate chips
For strawberry filling
8

Strawberries (medium sized)

2 Tbsp

Honey

1 ½ tsp

Cornstarch

(dissolves in a teaspoon of water)
Instructions
1. Preheat your oven to 325°F and line 8 cupcake liners in a muffin pan Set aside.

2. Chop strawberries, add honey and cornstarch to it. Microwave in small increments of 15 seconds until thickened to a jam like consistency. Keep stirring in between.

3. Coarse grind oats. Add melted peanut butter, coconut oil (I love this one), salt, honey, egg and brown sugar to them. Keep 6 tbsps of this mix in a separate bowl for crumb topping.

4. Now add nutella in the half of remaining oats and mix. This will be our second layer of chocolate.

5. Press peanut butter oats mix into all the 8 cups. Now press the chocolate oats layer in the cups.

6. Spread cooled strawberry filling in the cups. Sprinkle with the remaining 6 tbsps of oats, nuts and chocolate chips.

8. Bake for about 17-22 minutes. The tops of strawberry cookie cups will appear golden and the jam will be slightly jiggly. This is when you know these cups are baked.

9. Let them cool completely before unwrapping from the liners
Notes
Use strawberry jam instead of homemade filling when in a hurry or strawberries are unavailable. For homemade jam frozen strawberries can be used.
Replacing brown sugar with all honey to make these even more healthy is a breeze. I make it using only honey all the time.
Nutrition