You only need 7 simple ingredients to create the most fluffy, buttery, tender and the best homemade dinner rolls!
Try my Other Bread Recipes next!
I am a sides loving person. I mean who can resist the comfort of warm and fresh from oven dinner rolls! Our easy dinner roll recipe today easily outruns the main dishes on table.
Buttery, soft and oh-so-puffy in the centers!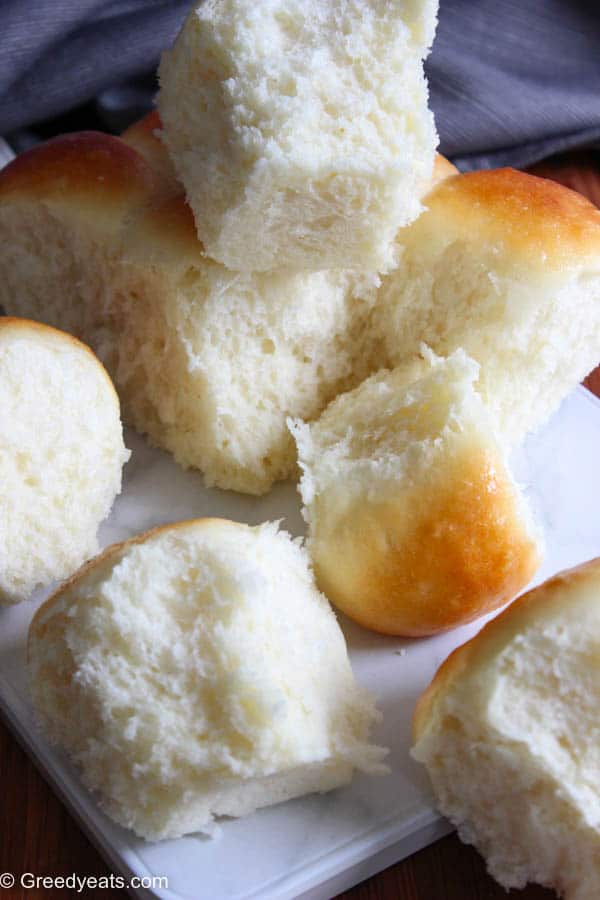 Does the thought of baking bread from scratch haunts you?
Seems like you are about to feel super confident after baking these rolls.
Even if you are a beginner. These best homemade dinner rolls are that easy. I guarantee!
Dinner rolls ingredients
Flour- All purpose flour. You can also use bread flour, it will produce chewier rolls
Yeast- You can use Active dry yeast or instant
Milk- Full fat milk works best in dinner rolls and it creates a rich dough
Sugar- To lightly sweeten the rolls. It also feed the yeast and increases its capacity to work
Butter- To create soft, tender and flavor rich rolls
Egg- To give structure to the dough
Salt- For flavor
These are truly the simplest and super easy dinner rolls. No mixer, few pantry ingredients, easy to follow steps. And you are rewarded with the most flavorful and texture rich dinner rolls in under 2 hours.
Most of which is resting and baking time by the way! You will only be active for 20 min tops!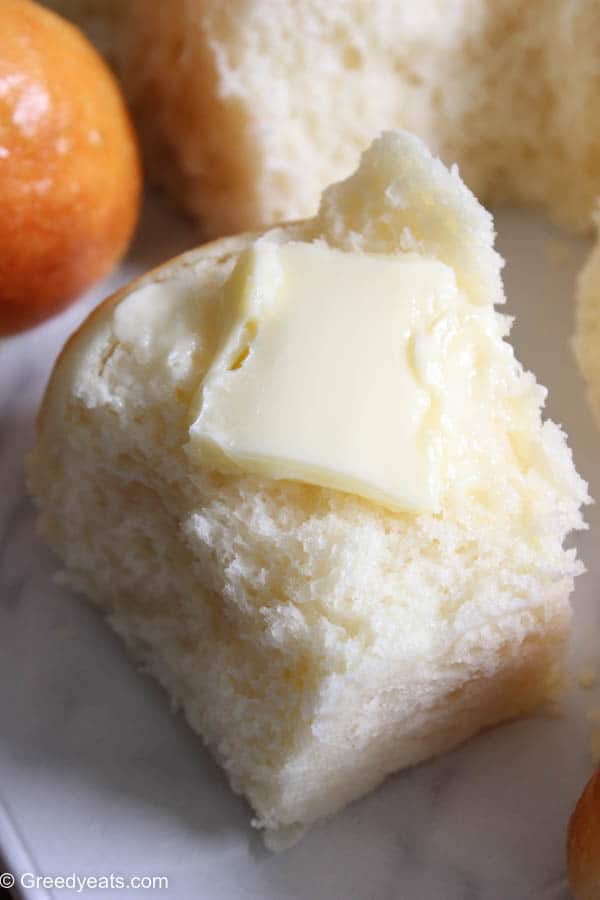 How to make dinner rolls?
Let the yeast activate by adding it in warm milk and sugar

Knead the dough
Cover your dough and let it rise until double in volume


Punch it down and shape into rolls
Let the rolls rise to double again and bake till golden on top. Or till they sound hollow when tapped
Top the rolls with melted salted butter
Pan to make dinner rolls

If you want your rolls to have crust on all sides, use a glass pan. A light colored pan works best for soft and golden crust rolls. I had dark colored ones, so ended up baking these in Chipotle lid! 😀
It worked so well! Love Mexican food and their lids. Oh and also Tres Leches!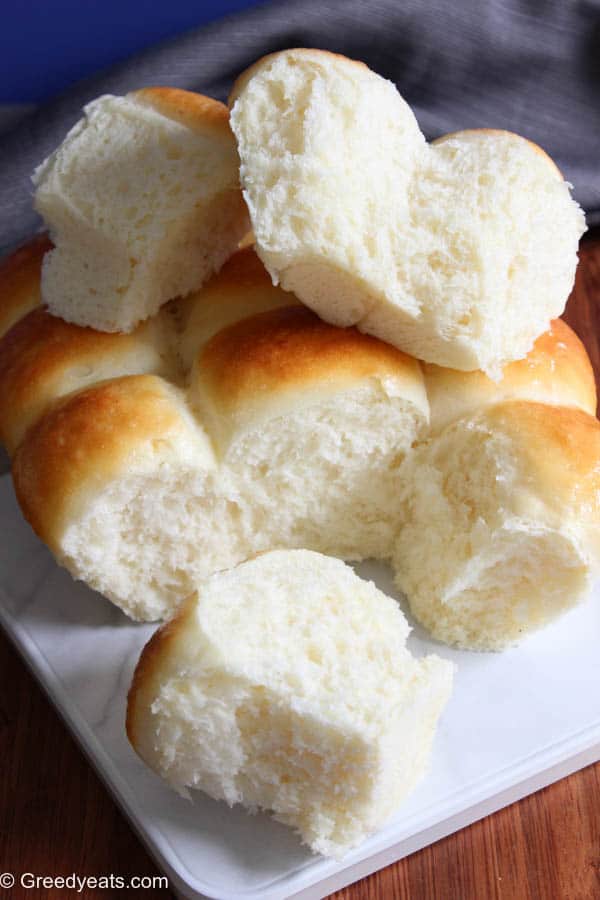 How long do you knead yeast rolls?
About 6-8 minutes with hands. You can also make your dough in a stand mixer, bread machine or even a food processor.
What happens if you over knead dough?
Because dough will develop unnecessary gluten, the outcome of your bread can by dry. And not so fluffy on the inside. In case you over work the dough, let it rise for a longer period of time.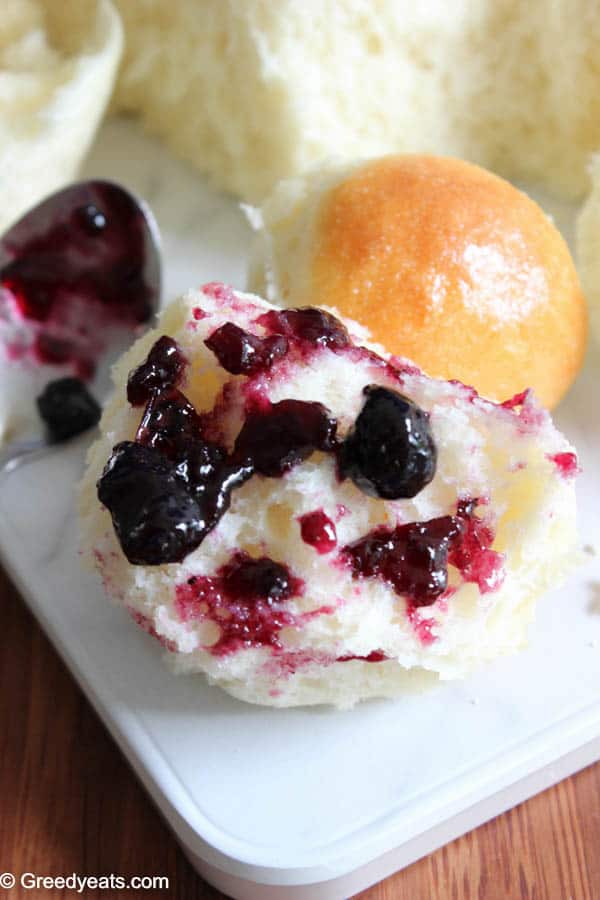 Dinner rolls need not be limited to dinner, enjoy them as breakfast, lunch. Or slathered with some blueberry jam. Yum!
How do you make dinner rolls rise faster?
By using the WARM OVEN METHOD. Heat your oven at 350 deg F for 2 minutes and turn it off. Place your oven proof dough bowl (covered with a damp towel) in the oven and close it. The dough is sure to rise quickly this way!
More recipes from Greedy Eats:
Vanilla Glazed Apple Cinnamon Rolls
If you liked these Soft Dinner Rolls, give it a star review. Also, tell me in the comments- how did this turn out for you! And don't forget to share your creations with me on Instagram at #greedyeatsblog Also follow me on Pinterest and Facebook!
Recipe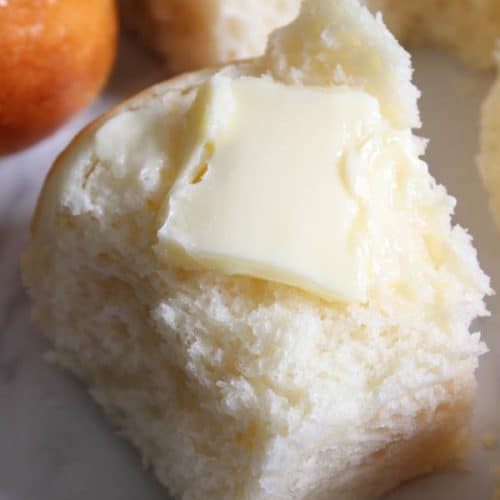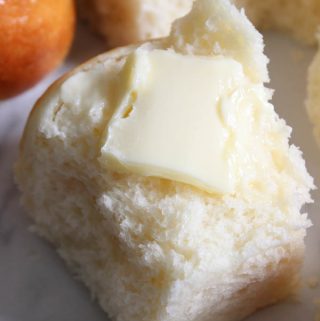 Best Homemade Dinner Rolls
You only need 7 simple ingredients to create the most fluffy, buttery, tender, so easy and the best homemade dinner rolls!
Print
Pin
Rate
Ingredients
1 ½

Cup

Milk

(warmed to about 110°F)

4

tablespoon

Sugar

1

tablespoon

Active Dry Yeast

(I used Red Star)

6

tablespoon

Butter

(melted)

1

Large

Egg

(room temperature, lightly beaten)

1 ½

teaspoon

Salt

3-4

Cup

All purpose flour

1

tablespoon

Butter

(for brushing on top)
Instructions
PROVING THE YEAST:
Mix warm milk, yeast and 2 tablespoon sugar in a large mixing bowl and set aside for 5 minutes or until foamy.
MAKING THE DOUGH:
1. Melt and cool the butter completely. Add the remaining sugar, egg, butter, 3 cups of flour and salt to the bowl. Mix them all to combine well and develop gluten for 3-4 mins.

2. Now knead the dough and add flour in small increments as required to form a soft and pliable dough. The dough shouldn't be sticky but still be moist to touch. (You can make the dough in a stand mixer on medium speed, if you own one for 5-6 minutes, or until it comes together and pulls away from the sides.)
FIRST RISE:
1. Coat the dough in some oil, also oil the sides of bowl. Cover it with a kitchen towel or foil and let it rise in a warm environment until double in size.

2. Grease a baking 9x13" pan or 2 9 inches square/round pans and set them aside.

3. Punch the dough down after it is doubled.
SHAPING THE ROLLS:
Divide the dough into 12-14 portions eyeballing it. Shape them into balls using your hands until smooth.
SECOND RISE:
Place them in the prepared pan and cover with a damp towel. Again let them rise until double for about 30-45 minutes) in some place warm.
BAKING THE ROLLS:
When you notice your rolls have risen halfway, preheat your oven to 375°F. Bake the well risen rolls for 25-30 minutes or until they are golden on the outside and sound hollow when tapped on top with a spoon/spatula.

Remove the rolls from oven and brush with butter. Serve warm!
Notes
Dinner Roll Tips:
How do you store dinner rolls overnight?
Cover leftover rolls in a foil and store in an air tight container at room temperature. Never store rolls in fridge. 
How to freeze Dinner Rolls?
Both baked/unbaked rolls can be frozen.
Baked rolls can be frozen in a plastic bag foiled individually for upto a month.
Unbaked rolls can be frozen after rolling individually. Place rolled balls in greased baking tray for 2-3 hours in freezer. Now you can store them in a freezer bag for 2 months.
When ready to bake, thaw and let them rise in baking pan and bake as directed.
How do you unfreeze a roll?
You can thaw dinner rolls in the refrigerator overnight or on the counter top. Serve them after re-warming.
How do you reheat bread rolls?
Bread rolls are best re-heated in oven. Place rolls on a baking dish/tray, cover it with a foil. Place some water in a ramekin along side the baking dish. Re-heat rolls in a 300 deg F pre-heated oven for about 10 minutes.
How do you moisten dry dinner rolls?
Soak a paper towel in water, squeeze out as much as possible and cover your roll in it tightly. Place it in microwave for 10 seconds.
Nutrition
Serving:
1
Roll
|
Calories:
214
kcal
|
Carbohydrates:
29
g
|
Protein:
5
g
|
Fat:
8
g
|
Sodium:
370
mg
|
Sugar:
6
g