Just the right amount of moist strawberry bread recipe, that comes together in a snap. This bright bread is sweetened with a fresh and fruity strawberry glaze!
Do you love to bake with strawberries? Do you manage to save some for baking? If you ask me, I want to eat them to my heart's content first. Throw some in my morning and evening smoothies next. Hello summer! Then bake with them if I have any left.
Don't get me wrong. It's not like I don't love to bake with berries and so I eat them all. Neither it's like I am obsessed with berries. It's just I can't stop thinking about them. And eating them. Or drinking them. Also folding them in my desserts!
So how many strawberries do I need in a day? I am very poor in mathematics. Plenty?? You guessed it!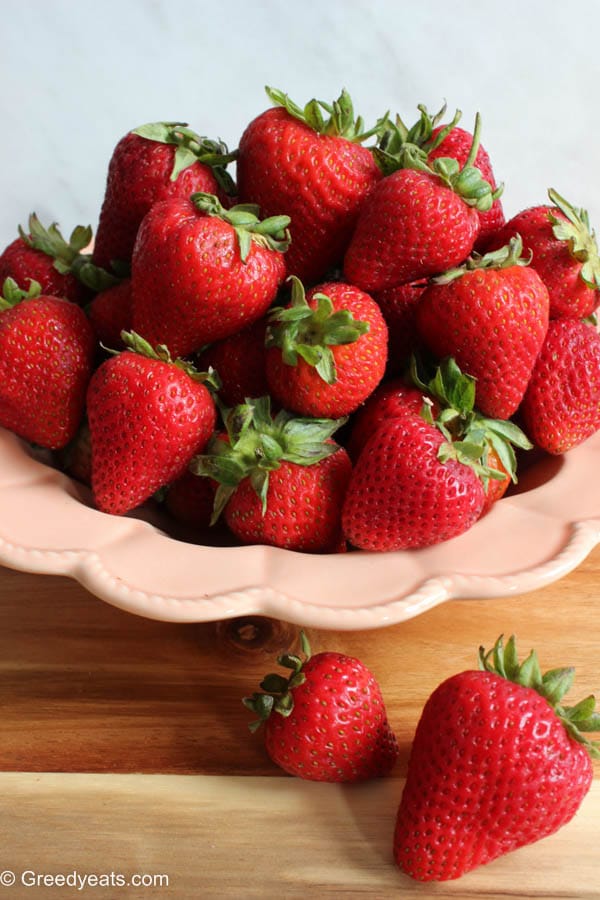 Nothing screams berries summer like strawberries! I have my refrigerator jam-packed with them right now. Whipping up this fresh strawberry frosting for my easy lemon cupcakes next!
Alright! Let's focus on our strawberry bread recipe today. The bread you see here is loaded with juicy strawberries, filled with vanilla and fruity flavors and has a very tender crumb! ♥
STRAWBERRY BREAD RECIPE DECODED
You see when a batter is stuffed with fresh fruits, these chunks release juices as the cakes/breads bake. This results in an over moist, dense and blah outcome. Not delicious at all!
This bread won't let you down with an over moist crumb! How do we achieve it?
This is how!
• We will not over stuff our bread with strawberry chunks. Just the right proportion of batter to fruit for that delicious flavor without making the bread wet.
• We are patting our strawberries dry after washing them to ensure no additional liquid/moisture finds a way in our batter.
• And generously coat our diced strawberries with additional flour. This will not only prevent them from sinking, but will also absorb most of the moisture that the fruit will release during baking.
• We won't cut our strawberry pieces too big. Just about 1/3 of an inch. That way the chunks wouldn't leave a bigger dent in the batter as the bread bakes. Neither it will make the surrounded batter way too soggy. Small chunks will prevent sinkage as well. 😉
• Oh and also I did not mix all the fruit chunks in the batter. I saved about a half of them to use as a topping. So now strawberries won't release that juice in the batter. Some of it will evaporate too. Makes sense? Plus it looks so pretty, if you plan not to glaze the bread. Shh! I didn't say that.
WHAT DO WE NEED TO GET THE BATTER IN OVEN?
This is the most easy and quick bread to bake. No intricate techniques or special equipments are involved.
Just mix your wet and dry ingredients together. Fold in diced strawberries, bake, Cool, Drizzle with fruity pink glaze and indulge!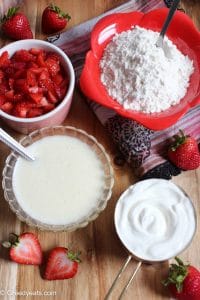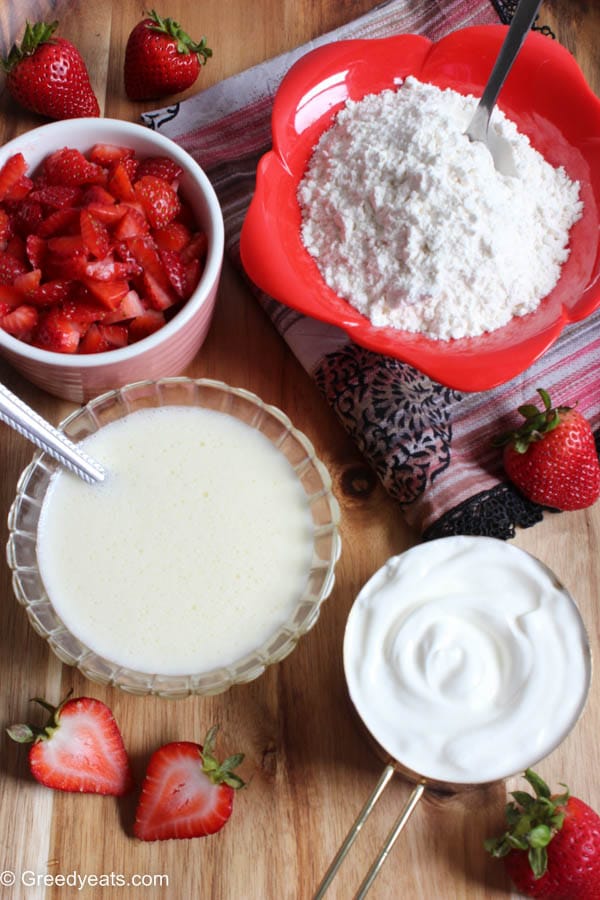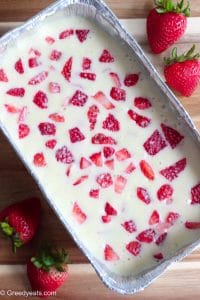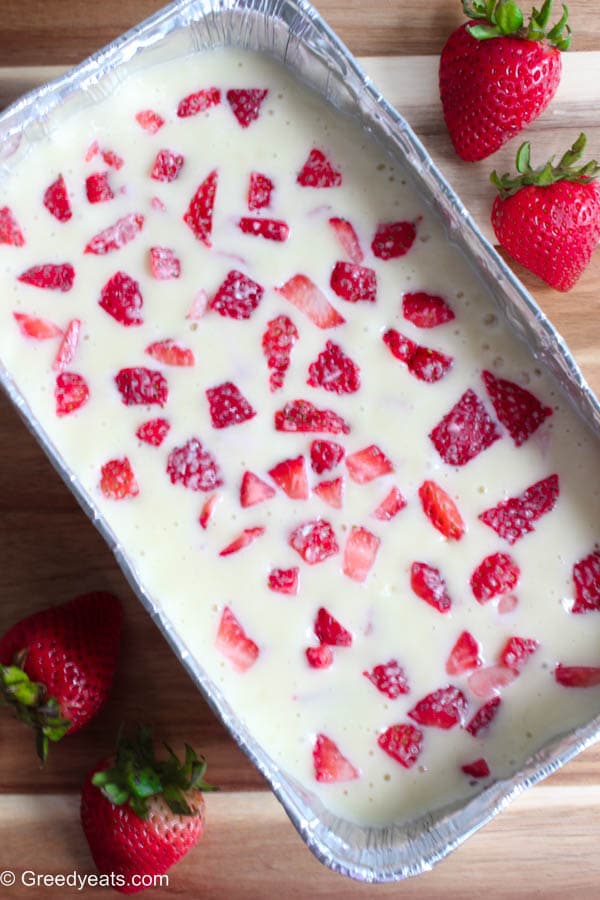 Oh I almost forgot we are using greek yogurt, some sour cream and oil in the recipe. This trio takes our strawberry bread recipe to the tippy-top!
Soft, moist, tender and mouth melting. Those fresh strawberry chunks will burst in your mouth. With all that fruity gooey glaze sipped into the bread, you will fall in love with the first bite!
THAT FRUITY SHINY AND NEVER HARDENING GLAZE
Bummer! I don't like how the glazes made with icing sugar set and harden in a matter of minutes. Loathe the hardened sugary crust that sets on the top of bread. Are you with me?
Using marshmallow fluff and no icing sugar solves this problem. Result? Deliciously flavorful, Super thick, fluffy, pretty in pink and fruity glaze! And you won't even taste marshmallow here. Strawberries steal most of the show!
A glaze that doesn't harden even the next day. ♥♥♥
QUICK TIP
You can intensify the strawberry flavor of this strawberry bread recipe in two ways.
Use red, ripen strawberries.
Save some bread for the next day.
The strawberry flavor and texture of the bread multiplies ten folds after a few hours. You sure need some patience. And you need it immediately! 😉
Love berries? Then you need to check out these bright and summery muffins bursting with berries! Oh and my berrilicious pound cake with mesmerizing swirls is a must to bake!
Also try my giant strawberry cookies next. Or their dwarf twins!
Strawberry bread recipe with fresh strawberry glaze
Just the right amount of moist strawberry bread recipe, that comes together in a snap. This bright bread is sweetened with a fresh and fruity strawberry glaze!
Print
Pin
Rate
Ingredients
1 1/2 Cups (188 gms)

All purpose flour

1 tsp

Baking powder

1/2

tsp

Baking Soda

1/4 tsp

Salt

1 Cup (200 gms)

Sugar

1/2 Cup (140 gms)

Greek yogurt

1/3 Cup (81 gms)

Sour cream

3 Large

eggs (at room temperature)

1/3 Cup (80 ml)

Oil

1 1/2 tsp

Vanilla Extract

3/4 Cup

Strawberries (rinsed, dried, diced-1/3 of an inch and tossed in a tbsp of flour)
For the strawberry glaze
3/4 cup

Marshmallow fluff

4

Medium chopped strawberries (ripen and red)

2 tsp

Water

Few drops

red food coloring (optional)
For the decoration
2 Tbsp

Marshmallow fluff (melted in microwave)

2

Strawberry fans
Instructions
1. Preheat your oven to 350°F. Grease/spray an 8 or 9 inch loaf pan. I used a light colored pan as I din't want my bread to get over brown on the sides. 

2. In a large bowl, sift together flour, baking powder, baking soda and salt together and set it aside. Beat eggs, oil, sugar, yogurt and vanilla together in a medium bowl until combined. Add sour cream and mix it in.

3. Now slowly pour wet ingredients into dry and fold until no lump of flour is visible. Try not to over mix. Fold in half of the strawberry chunks.

4. Pour in the greased pan, top with the remaining strawberries and bake for about 50-60 minutes or until a tooth pick inserted in the center comes out clean. My bread took exactly 57 minutes in oven.

5. Cool the bread in pan for 5-10 minutes. Cool down further on a wire rack completely before glazing/slicing.

To make the glaze:

1. Add water to diced strawberries and cook on stove/microwave stirring in between to form a liquid-y reduction. Cool and strain it.

2. Add this reduction to marshmallow fluff (add in the food coloring, if using) and mix till fluffy and well combined. Glaze as needed.

For the white stripes:

Melt marshmallow fluff in small increments, pipe it and draw the lines to form pattern of choice. Decorate with strawberry fans.

Note: To make strawberry fans, take a medium strawberry and make a few cuts (as thin as you can) through the length of the fruits. Be careful not to cut all the way through the stem. Apply a little pressure on the stem and the fruit will fan out. It is super easy!
Notes
the bread tastes super yum on the day 2. As all the flavors get time to know each other well. You can store this bread at room temperature in an air-tight container for 2-3 days.
Any left overs can be kept in refrigerator for upto a week. This also freezes well for 2-3 months with/without the glaze on. Thaw in the refrigerator for a few hours before serving.
Nutrition