Super thick, oh-so-gooey in the center Soft chewy chocolate chip cookies made with m&m eggs, mini marshmallows, chocolate chips and sprinkles!
Or try readers fave unbelievably thick and and extremely soft chocolate chip cookie recipe next.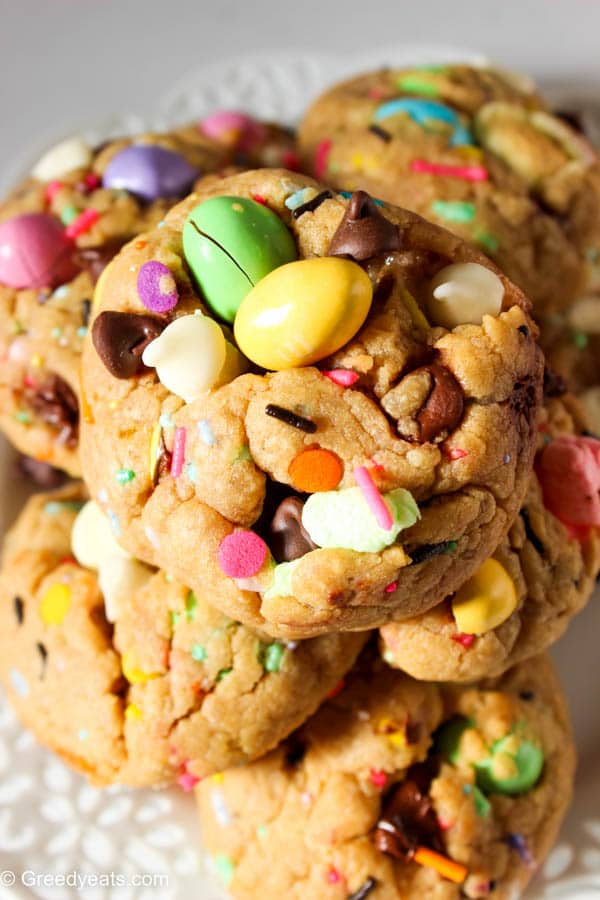 aka The MOST perfect Easter cookies!
Why? Coz these chocolate chip cookies are probably one of the BEST Easter cookie recipes that you will ever taste!
Yeah, but why is that!!!!!
This is why. ⇓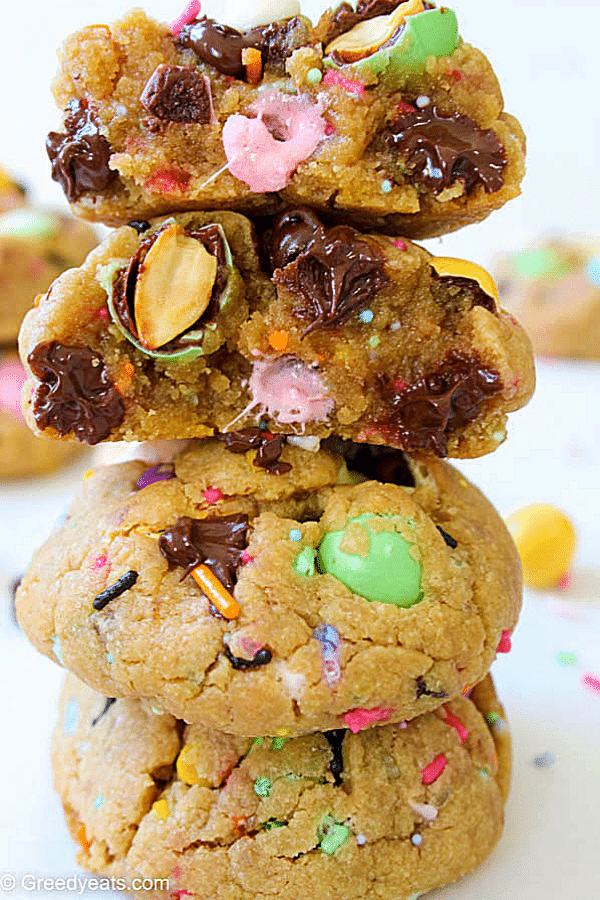 Did you see? See the little Easter party going on inside these super soft chewy chocolate chip cookies?
If you love chocolate chip cookies that are-
Thick and puffy
Gooey in the center
So soft and chewy on the edges
Packed with flavor
Then you my friend have come to the right place.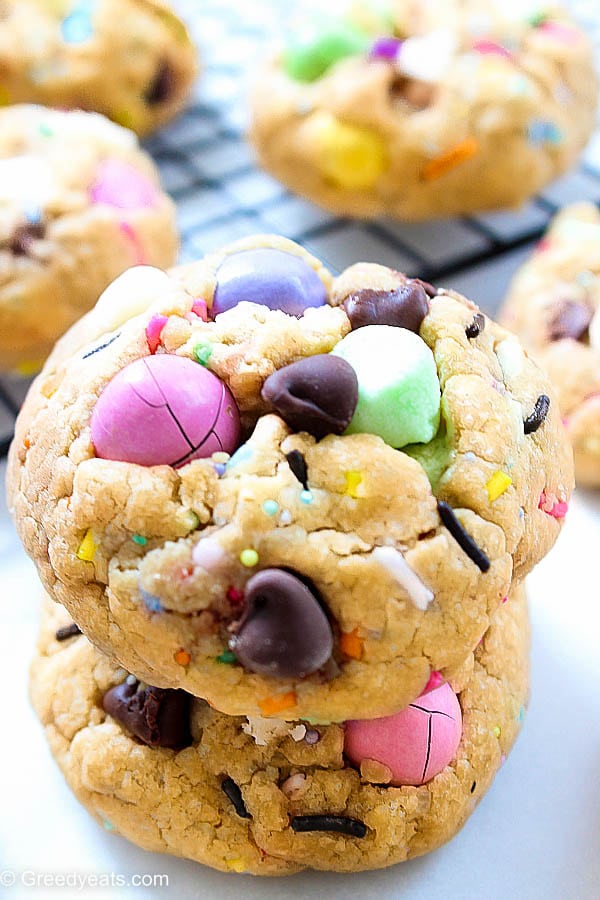 Soft chewy chocolate chip cookies
Tips and tricks
Use more Brown Sugar than regular
Add a little Cornstarch to your cookie dough
Measuring every ingredient precisely
Taking care not to add too much butter or flour
Chill that dough after making the cookie balls
Don't over work your cookie dough.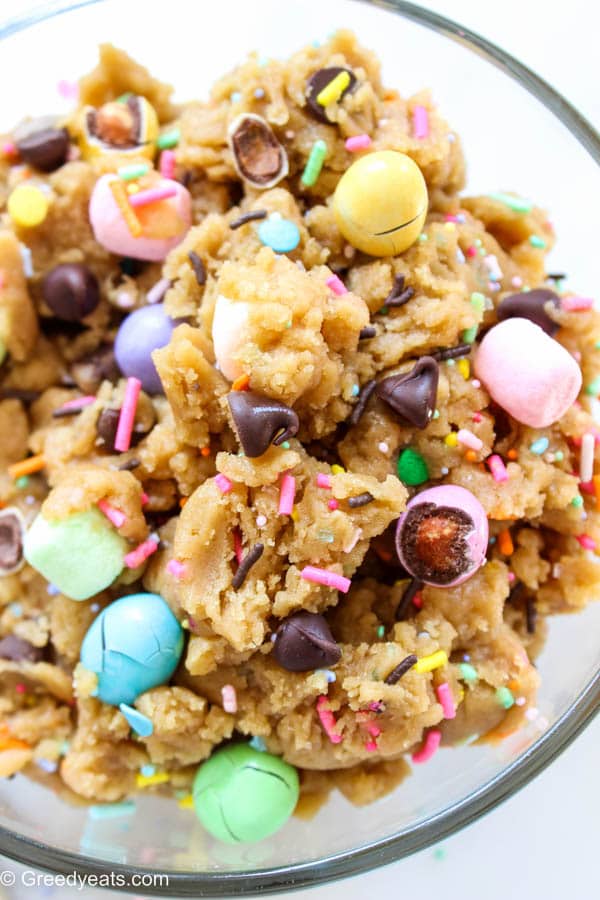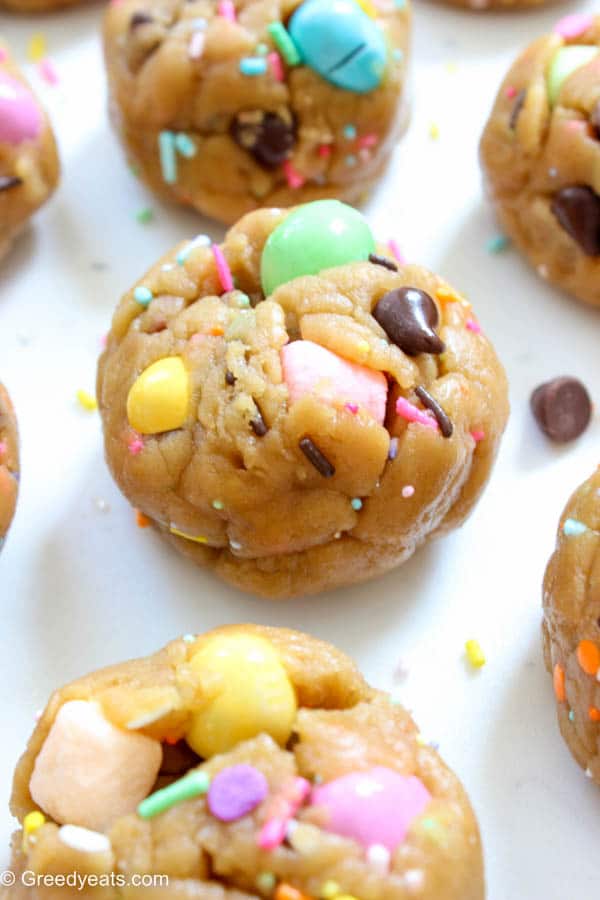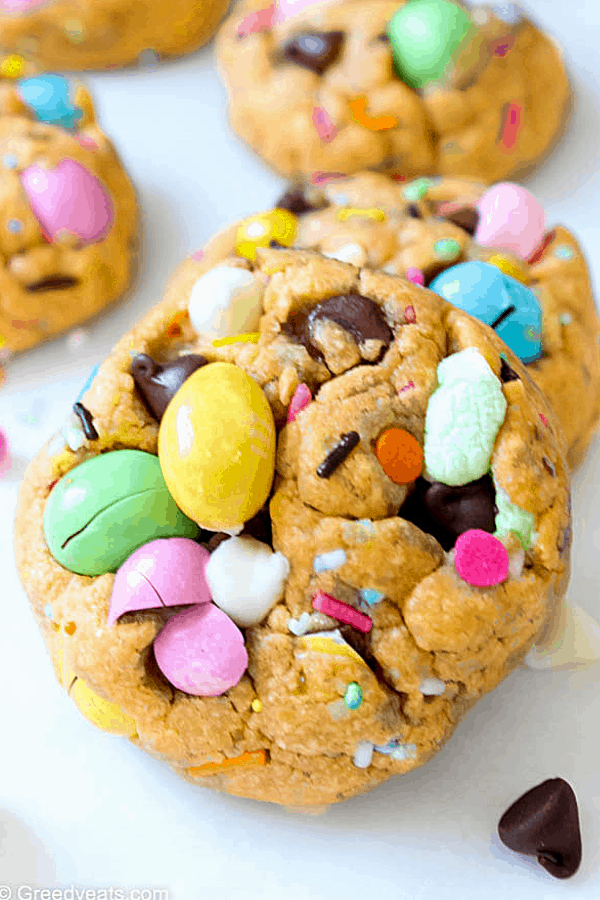 Chocolate chip cookie ingredients
Apart from the usual gang of flour, butter, egg, salt, vanilla we are using more brown sugar than granulated to produce softer and chewier cookies.
A little cornstarch in the dough bakes the cookies super soft and puffy.
We are also adding baking powder instead of baking soda to make cookies soft. Baking soda bakes crispier/crunchy cookies. We want them to bake soft. So baking powder it is!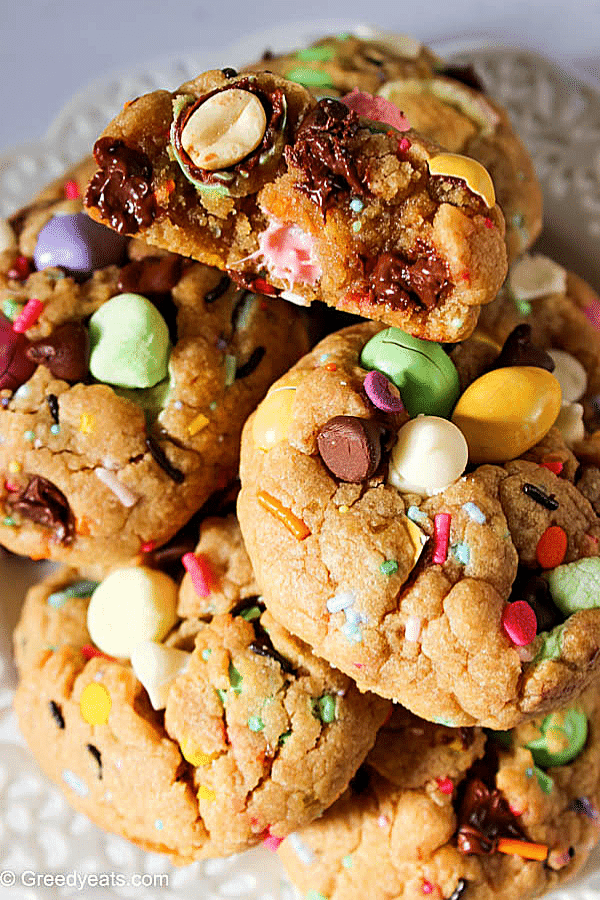 Why are my chocolate chip cookies flat?
Admit it. No one likes to bake tough, crumbly and flat cookies. No one likes to eat a cookie that is tough, super crispy and hard like a taco!
To avoid baking taco like cookies, you must-
Always chill this dough after you shape the dough into balls.
Add a teeny-tiny bit of cornstarch to the dough.
Don't keep the butter out for too long that it starts to melt. Start working with it as soon as when pressed with a finger, you see an indent but butter holds its shape.
Do not ever add too little flour. This will bake your cookies like pancakes, super FLAT!
Adding too many add-ins. This one weighs down the cookie dough as it bakes.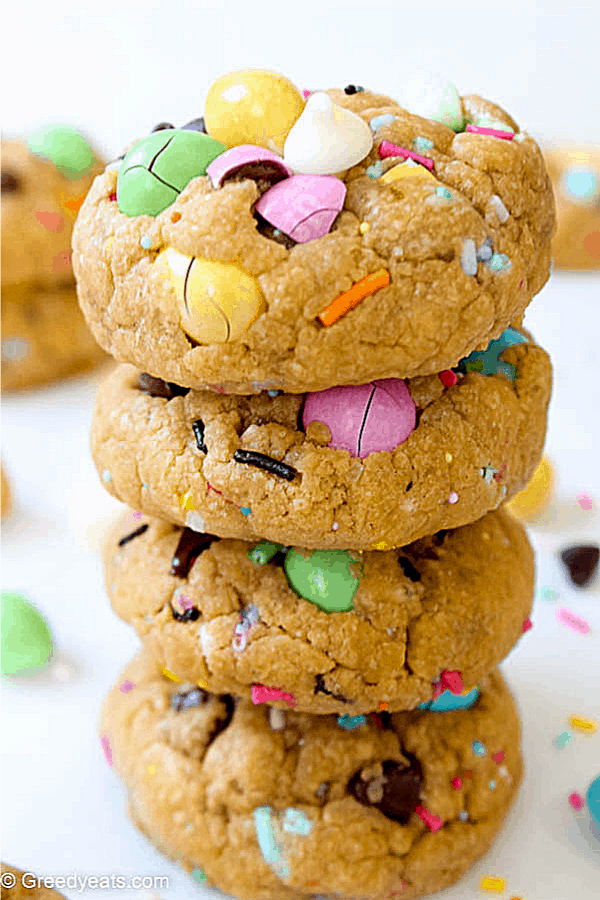 One thing I absolutely love about chocolate chip cookies is we can bake it for almost any occasion and still they never get boring!
Thanks to a ton of add-in options we have. M&MS? Mini M&Ms? Love those pastel Easter candies! Nuts, peanut butter chips, Oh and chocolate chunks!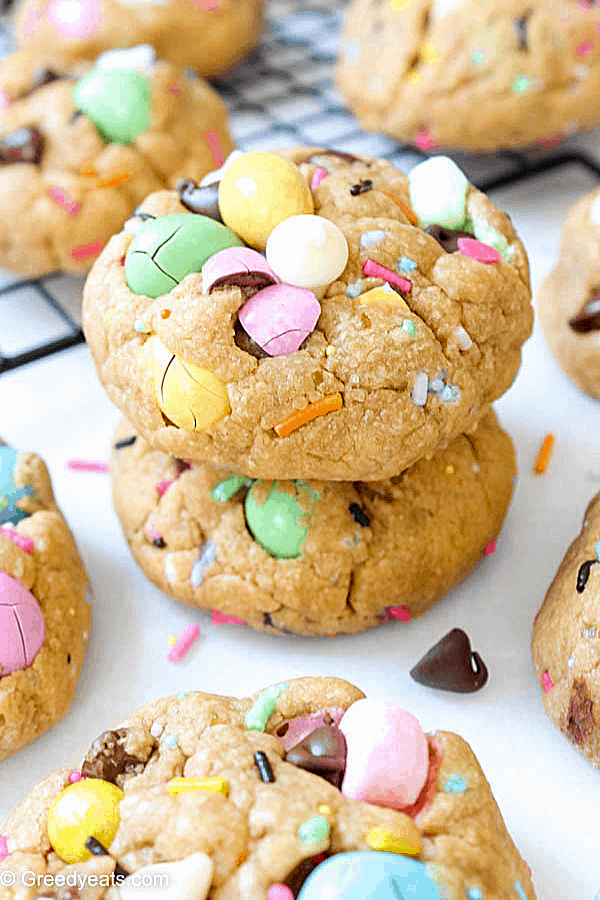 Add or replace the add-ins as you please. These cookies are sure to come out super thick, unbelievably soft and always a winner!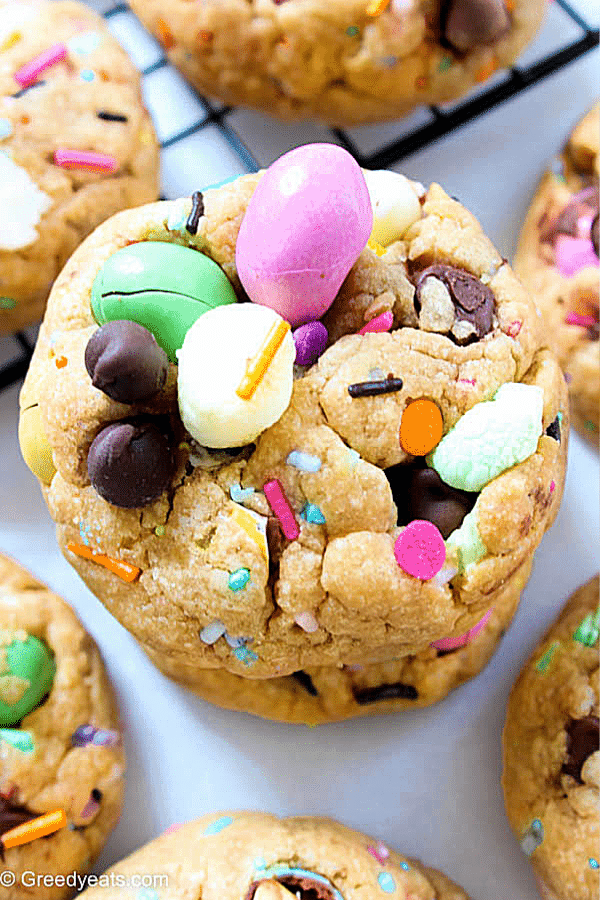 Recipe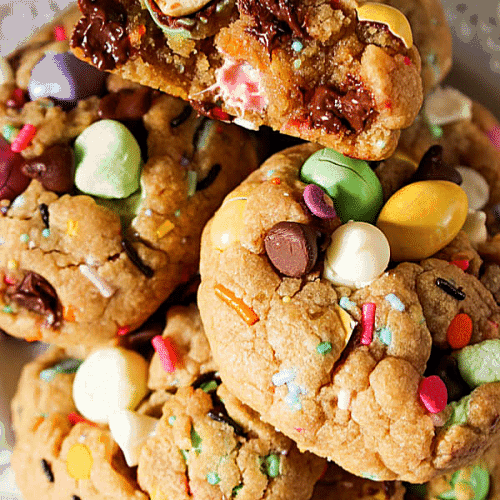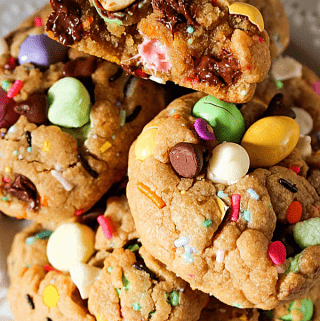 Soft chewy chocolate chip cookies
Super thick, oh-so-gooey in the center Soft chewy chocolate chip cookies made with m&m eggs, mini marshmallows, chocolate chips and sprinkles!
Print
Pin
Rate
Ingredients
½

cup (1 stick)

Butter

(unsalted, room temperature)

½

Cup

Light brown sugar

(Dark brown works too)

¼

Cup

Granulated sugar

1

Large

Egg

½

tablespoon

Vanilla Extract

¼

teaspoon

Salt

1

teaspoon

Baking soda

1 ½

Cups (250 gms)

All purpose Flour

¼

Cup

Chocolate chips of choice
Other Add ins
⅓

Cup

M&M eggs

¼

¼ Cup

Mini marshmallows

¼

¼ Cup

Sprinkles

¼

¼ Cup

White chocolate chips
Instructions
1. Beat butter and both sugars together on medium using a stand mixer or hand beater until creamy and fluffy. Add in vanilla and egg. Beat on high to combine for about a minute.

2. Sift flour, baking powder and salt on the creamed mixture and combine just until flour disappears.

3. Gently fold in M&M eggs, marshmallows, sprinkles and both chocolate chips. Save some add-ins to top on baked cookies. At this point you can chill the dough for up to 3 days in the refrigerator. (See recipe notes)
4. When ready to bake, preheat the oven at 350 deg F and line your baking sheet with silicon mat or parchment paper. I like to bake 6 cookies in a batch.
5. Divide the dough into 10 equal sized portions. Don't squish the dough in your hands too much. Chill till the mounds are firm to touch (about 30 minutes). Bake for 10-11 minutes. Or till they appear golden on the outside.
6. Let the cookies cool on the sheet for 10 minutes before transferring on the wire rack to cool completely. This is the time to press saved add-ins to your cookies.


7. Enjoy warm!
Notes
MAKE AHEAD TIP
Cookie dough can be stored in refrigerator for 3 days, bring to room temperature and divide into 10 portions to proceed ahead with step 4 of recipe instructions.
Unbaked cookie balls stay well in freezer for 3 months. Freeze them for a few hours on cookie sheet and then store them in zip locks. There is no need to thaw cookie balls before baking. Just bake them for an extra minute.
Baked cookies stay good in freezer for 3 months. Thaw in the refrigerator, or at room temperature. You can also re-heat them in microwave for 15-20 seconds.
These cookies when reheated, taste very close to a freshly baked cookie, try it!
Nutrition
Looking for more Easter treats? Try me super pretty and chocolatey cake pops.
You will also love this mint bark, tastes just like a giant Andes mint!
Slightly adapted from A Bountiful Kitchen.