Buttery, filling, healthy and easy banana bread muffins that wait to sit on your breakfast plate. Muffin treat just got way more delightful than it ever was!
I have a special treat for you today. A treat you can gobble up guilt free any time of the day. Health food is never allowed to taste healthy, is it? Also, there is no pleasure in biting into a muffin that's healthy but tastes like cardboard.
This easy banana bread muffin recipe is a far cry from dry, dense and heavy(All things that some healthy muffin usually is). They are so flavorful and hearty that you can never guess these are whole wheat or lack any of the white poison sugar.
Recall times when you only desire to eat a moist, soft and sweet muffin without adding even a slightest bit of all purpose flour, white sugar or extra fat? And still be able to taste your muffin in its most buttery, softest and lightest form?
I got you covered today. Finally, we have an indulgent banana muffin recipe that is secretly healthy!
WHAT hides in your easy BANANA bread MUFFIN???
Unrefined dietary fibers from whole wheat flour
Nutrients packed raisins
Metabolism improving honey
Protein rich eggs
Fiber boost from oats and banana
Antioxidants rich walnuts
Walnuts addition also makes these muffins a brain health food. As we have got plenty in there. 😉 Just one muffin will make your brain rock and dance all day! 😉
How to make banana bread muffins
Begin by mashing a dull, pale and extremely ripe looking banana.  You only need a banana with as many brown spots as on a giraffe! Furthermore a banana that has no yellow color left in it will be the best.
Sounds gross?
Believe me. The ripen the banana, the merrier will be your muffin)!
Quick Chemistry lesson ALERT!
Banana is single-handedly, the star of this muffin show today. Our creamy banana does a lot to muffins besides adding a fruity scent to them. It also moistens, softens and lightens the baked goods. Helps in rising them above and beyond our expectations. Even when we are adding 100% whole wheat flour to the batter.
So much is going on inside a small innocent muffin…phewww!!!
Moving on, mix all the wet gang of ingredients (mashed banana, egg, honey, oil and extracts) together. Add this to the dry mix of wheat flour, salt and baking soda. And your batter is ready. Dust your nuts with some flour. As a result, they don't sink in the bottom as muffins bake. Mix nuts in muffin batter. And bake!!!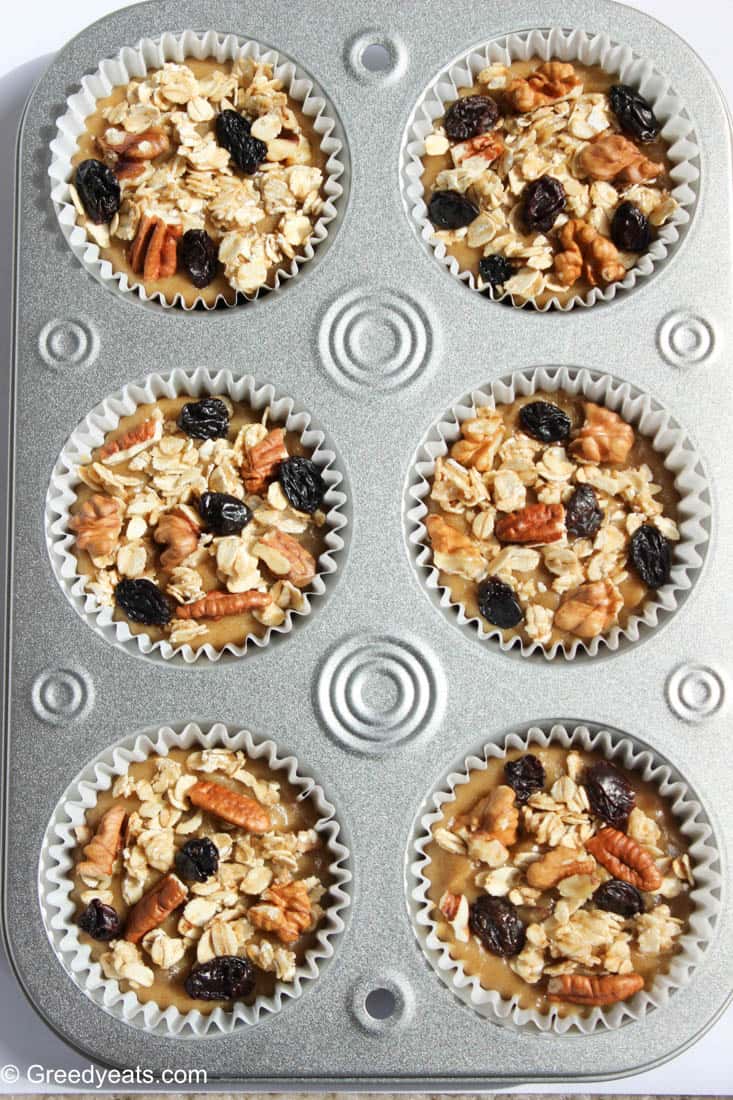 I know you are salivating. Don't wait any further. Lets jump right into the process of making them. These are so easy to whip up. You don't even need a mixer. All you need is two bowls. One for your dry ingredients and the other for wet ones.
Sprinkle the remaining toppings and bake!
QUICK TIP TO FLAVOR PACK YOUR UNRIPE BANANA
My bananas were not as ripe as I needed them. And undoubtedly, I did not wanna wait for another minute to bake these lovely muffins. So what did I do? I quickly poked them with a fork and baked them for 15 minutes at 350 deg F. in a preheated oven.  Mashed these after they cool down slightly.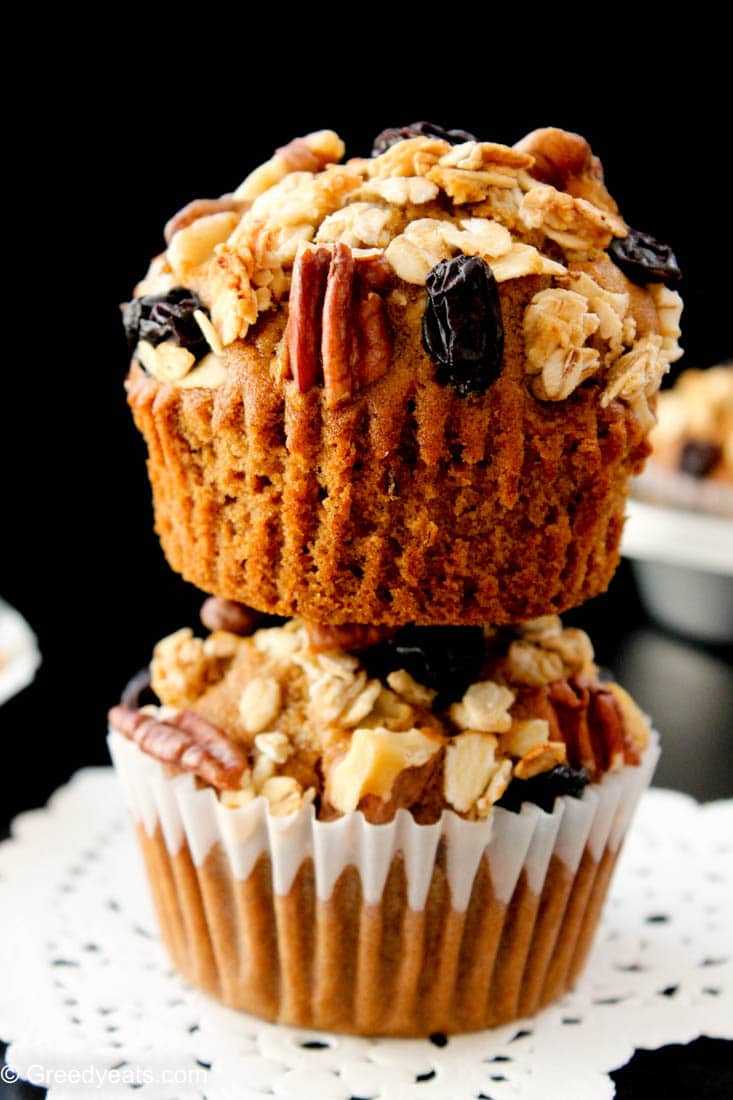 TEXTURE AND FLAVOR
Not only these banana muffins are flavor rich, but also are extremely moist, fragrant and everything that a banana bread is. I topped them with some nuts and a sprinkle of fiber (oats). Certainly, when chewy-crunch from walnuts and mild sweetness from raisins when gets mixed with banana and a hint of vanilla, you reach muffin oblivion!
TOPPINGS FOR OUR Easy BANANA BREAD MUFFINS
For an ultimate texture contrast, slight crunch and added beauty, we are topping our muffins with a mix of oats, walnuts and raisins. The topping adds a little extra to these muffins. It is totally optional. But a must for my texture loving folks out there. You can very much replace nuts with chocolate chips. As a result you got chocolate for breakfast!
Look at these baked banana beauties!!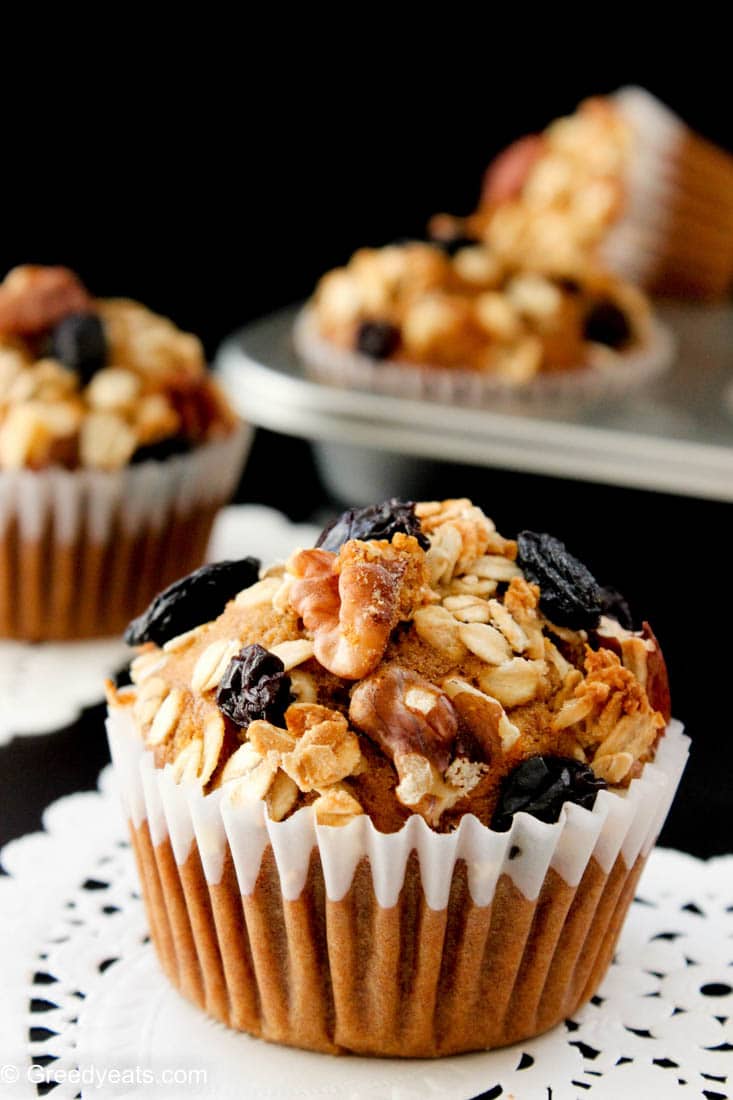 Inspite of all healthy ingredients inside, the muffins haven't forgotten to be-
 Well-risen
 Ultra Moist and light (yes at the same time!)
 Flavorsome to the core
 Buttery and fluffy
Crunchy and sweet from walnuts and raisins
And most importantly their domed tops! ♥♥♥
Once again, there is no processed sugar involved in today's Banana muffins recipe. I can't stress it enough. Because they get all their sweetness from honey, natural sugars from banana and a hint of brown sugar. However, all these ingredients also render the moistest muffin your palate would ever experience! These muffins are even better the next day (if you manage to spare any).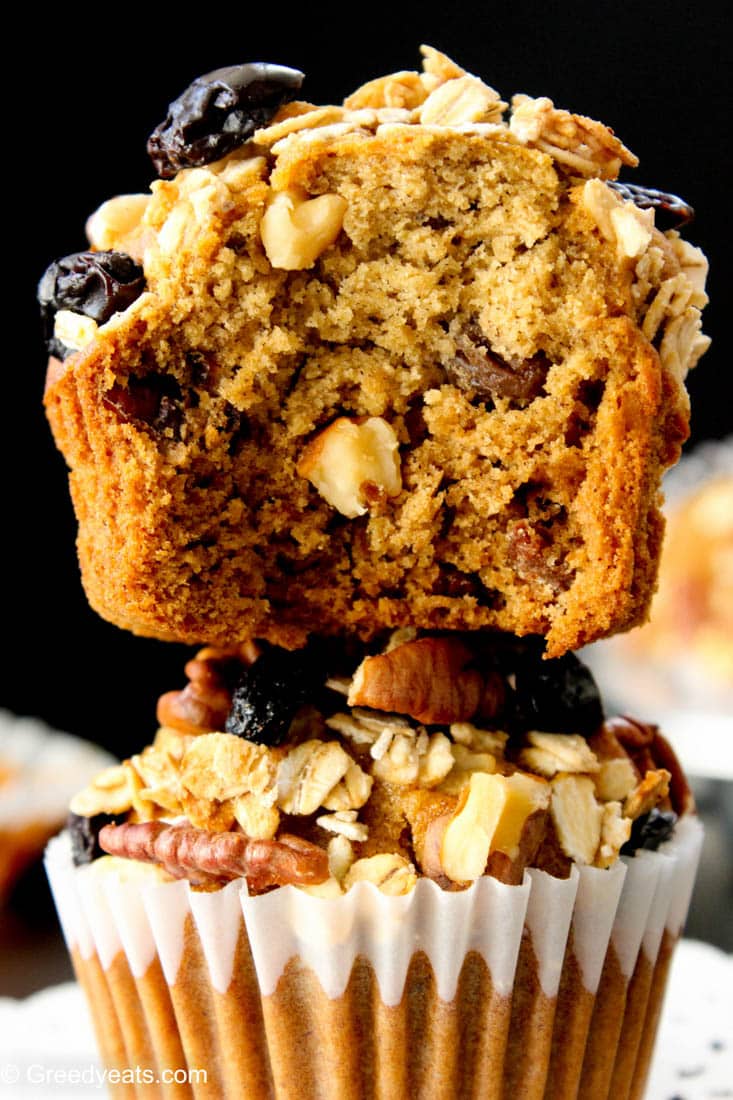 Substitutions
Vegetable/Canola oil can also be substituted for coconut oil here. And for that buttery taste I have added butter extract to my muffins. If unavailable at your end, you may substitute half butter(melted)+half oil of the total oil used. So much goodness from whole wheat, banana, honey, walnuts, oats and raisins would open-heartedly accept little butter. Right? Right??
Take a moment to soak it all in. Because you are about to bake some mighty muffins which are so filling that only one is all you need to combat the world!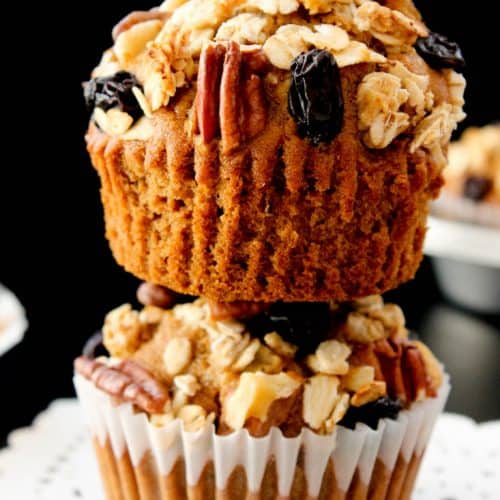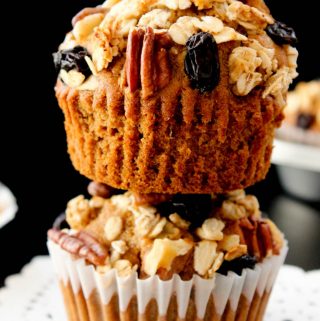 Whole wheat Banana Bread Muffins
Buttery, filling, healthy and easy banana bread muffins that wait to sit on your breakfast plate. Muffin treat just got way more delightful than it ever was!
Print
Pin
Rate
Total Time:
1
hour
10
minutes
Ingredients
1 3/4

Cups

White whole wheat pastry flour

1/3

Cup

Coconut Oil

1

Cup

Mashed Banana

(very ripe)

3/4

Cup

Honey

1

tsp

Baking soda

2

large

Eggs

1/4

tsp

Salt

1

tsp

Vanilla extract

3/4

tsp

Butter extract

1/4

Cup

Milk

(any kind of milk works)

1 1/2

Cups

Walnuts+raisins
Instructions
1. Preheat your oven at 350 deg. F (177 C). Line a muffin tin with paper liners. Set aside. Also, coat your nuts in some flour.

2. In a large mixing bowl bowl mix mashed banana, honey, brown sugar, eggs(slightly beaten), coconut oil, vanilla extract and butter extract, Mix it all well.

3. Sift wheat flour, baking soda and salt together over wet ingredient and fold lightly. Add milk and mix well. Take extra care while folding the batter, don't over mix. This can result into hard and rubbery muffins. Fold in the nuts.

4. Pour batter in prepared liners.

5. Bake Banana Bread muffins for 22-25 minutes minutes. They should springs back when touched in the middle. Also a toothpick inserted in the middle of muffin will come out clean.

6. After about 5 minutes, transfer them on a wire rack to cool down completely.

Notes
Take care not to over-mix the batter. Mix in only till no lumps of flour appear in the mixture.
You may store muffins at room temperature in an air tight container for up to 3 days. In fridge for upto 5 days. Also they are freezer friendly and store well for up to 2 months. Thaw before enjoying.
Nutrition