Three ingredients, No sugar, Gluten free, No bake and Healthy Date Bars Recipe that is loaded with antioxidants, fiber, good fats and protein. Perfect snack bars to snack on any time of the day!
Try my Almond Blueberry Bars  Healthy Breakfast Cookies and this Trail Mix Granola next. oh and you will love this whole wheat Apple Coffee Cake and these Soft and Fluffy Banana Chocolate Chip Muffins (Healthy) too!
Find all healthy-ish recipes from Greedy Eats in one place.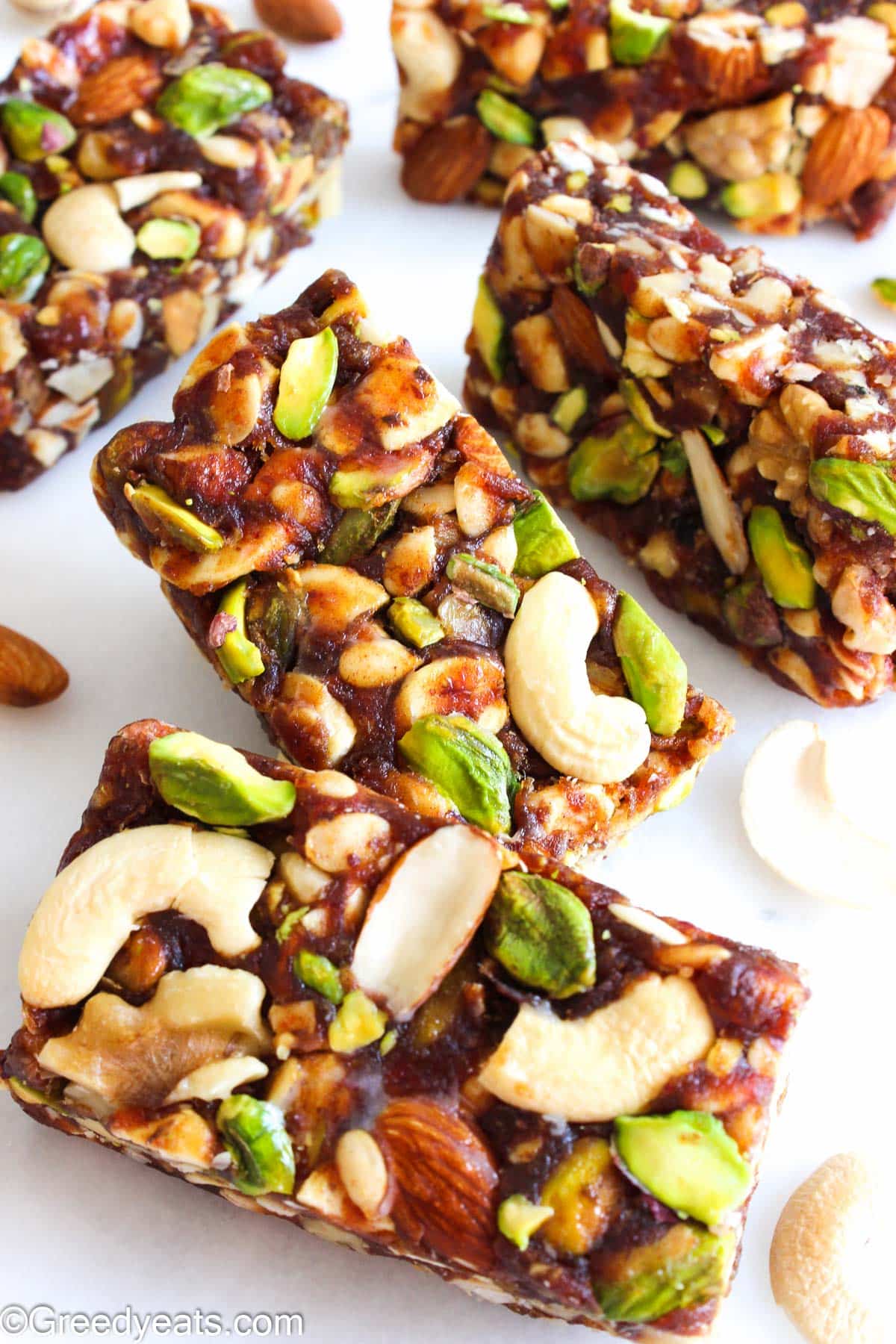 Why you will love this Healthy Date Bar Recipe:
It is naturally sweetened (no sugar added)
Packed with wholesome ingredients
These are no bake date bars, such a fuss free recipe!
So easy to put together and is ready in no time
Highly customizable- any nuts or seeds of choice can be substituted
These are gluten free bars and they can also be made vegan friendly by subbing butter with coconut oil
Suitable for people with dietary restrictions
Perfect as Breakfast Bars, Travel Snacks, After Workout food, Grab and Go Snack or Dessert 😉
Date Nut Bars ingredients:
Dates: I love to use medjool dates in these dates bar. They are so soft, larger in size and I just like their taste so much. However, you can use any type of dates you have on hand.
Nuts: A combination of walnuts, cashews, pistachios and almonds (in equal amounts) tastes so good here,
A tablespoon of butter: You may also replace it with regular butter or even coconut oil. But clarified butter gives these bars an unbeatable flavor.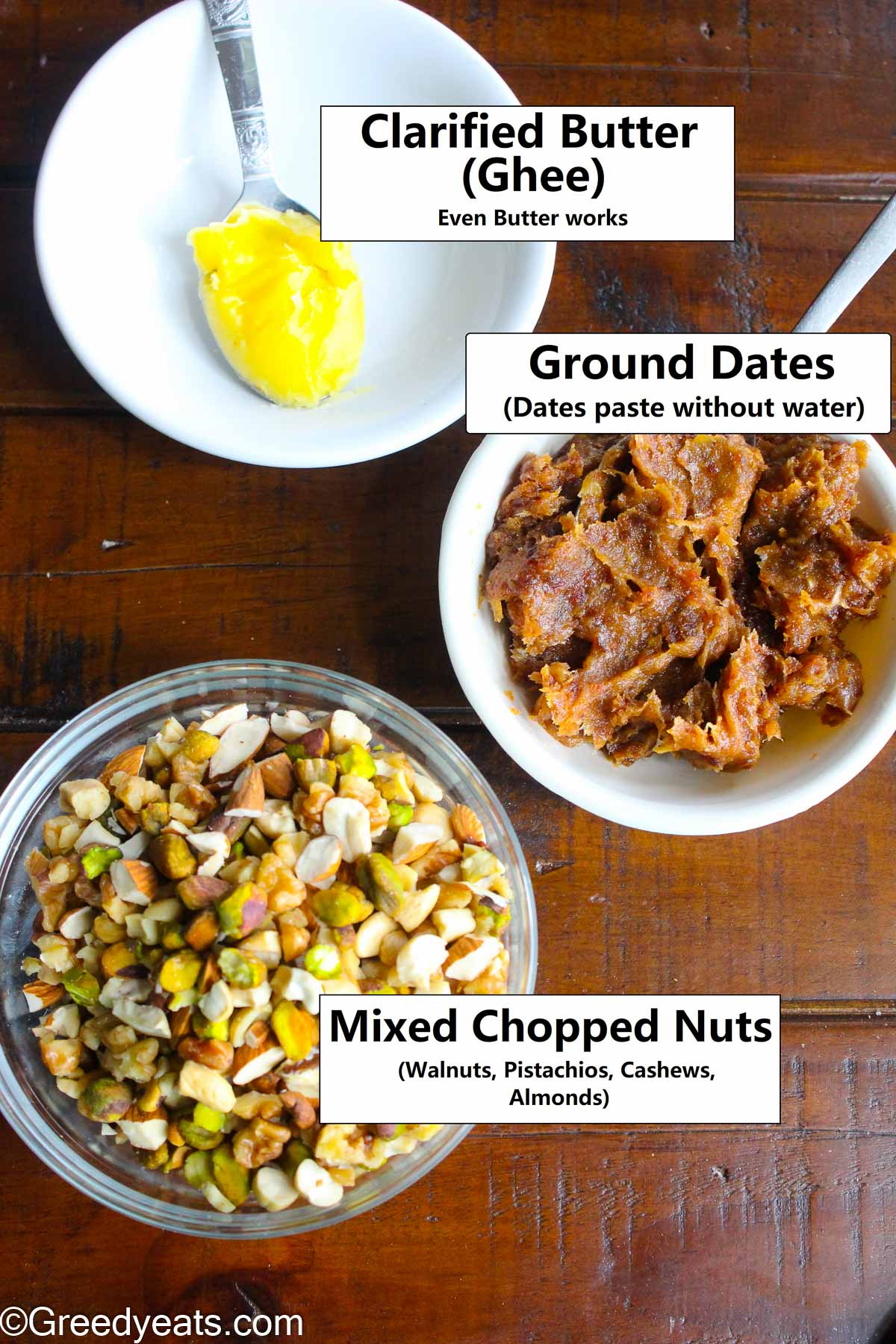 As dates are very sweet to taste, these bars require no extra sugar at all. And the stickiness in them helps to bind nuts with ease!
This is such an easy breakfast bar recipe to put together. Keep them refrigerated as they taste so good right out of fridge. Grab one in the morning and out the door you go!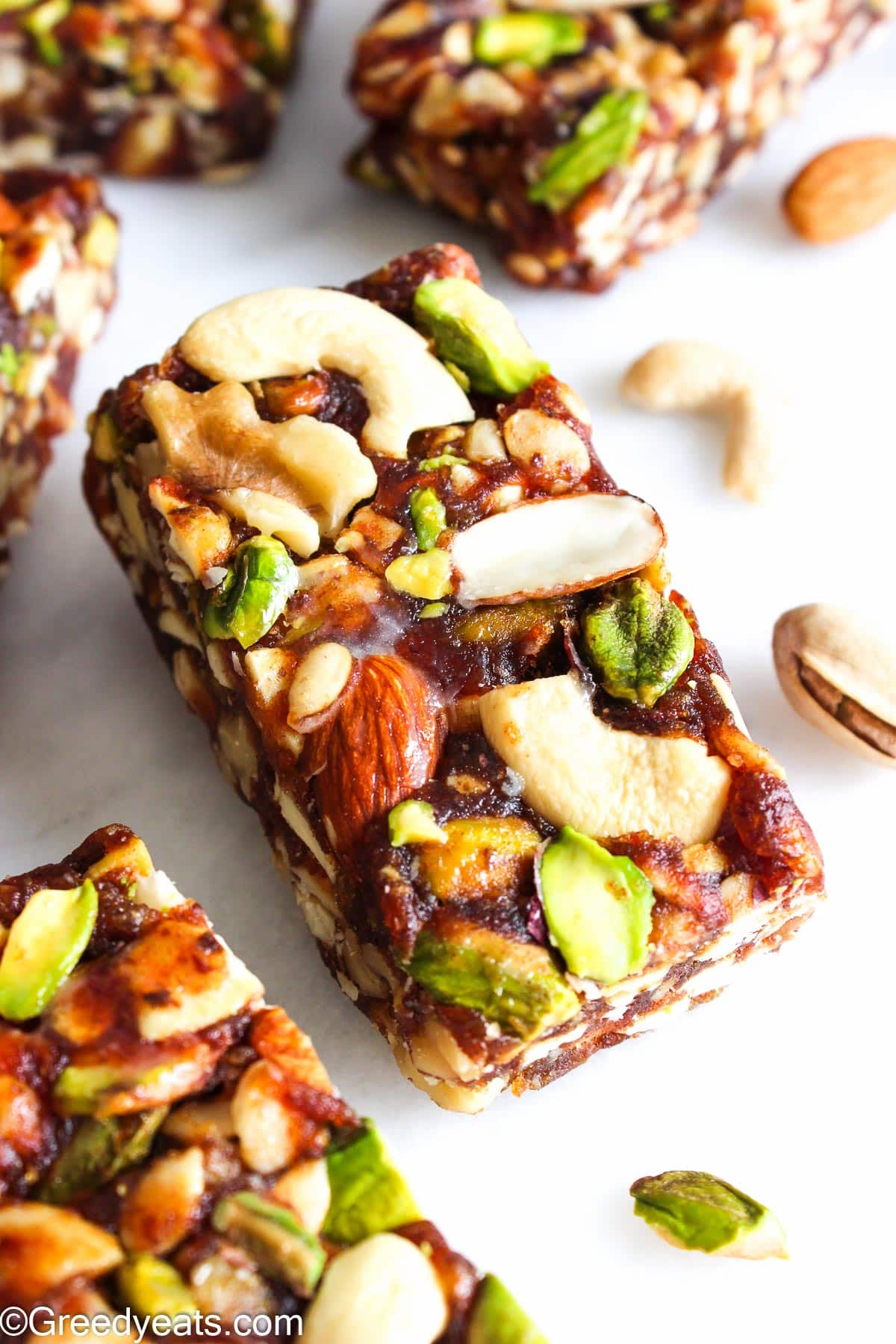 How to make these Healthy Bars (Step by Step Instructions):
These energy bars are super easy to make and are sure to provide a healthy energy boost!
You will need a blender or a food processor to process dates. You can even use it to roughly chop nuts or you can do it on a board with a knife.
Rest you just are blending the dates, chopping the nuts, quickly roasting and mixing them together, setting them in a pan and cutting them into bars!
Lets see how we are making these bars step by step!
Step 1: Make dates paste by blending them in a blender/food processor. Roughly chop and roast the nuts in a pan. I used walnuts, cashews, pistachios and almonds in equal quantity.
Step 2: Now take a tablespoon of butter and quickly add in dates paste and nuts.
Step 3: Mix them together till everything gets well combined and all the nuts are coated in dates paste.
Step 4: Quickly transfer the mix to a pre lined pan with overhangs and allow the bars to set.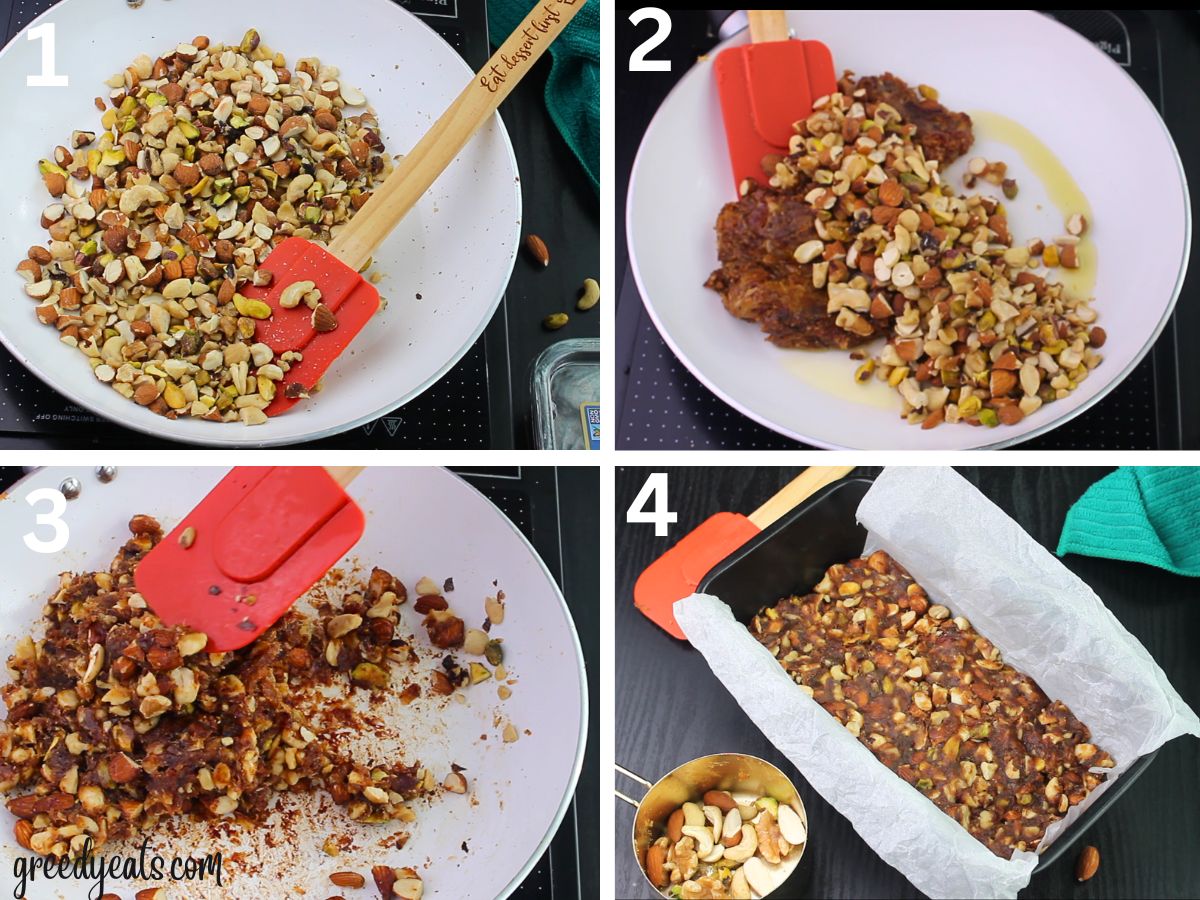 Step 5: Now top this mix with a few walnuts, pistachios, almond halves and cashew halves.
Step 6: Press and stick the nuts well on these bars. This step is optional and purely for decorative purposes. But these sure add to the beauty of these bars. Allow to set in refrigerator/ or freeze if you want them to set quicker.
Step 7: Cut into desired shapes. You can also form date squares out of these by further cutting each rectangular bar into two.
Step 8: Enjoy!! Store left overs (if any) in the refrigerator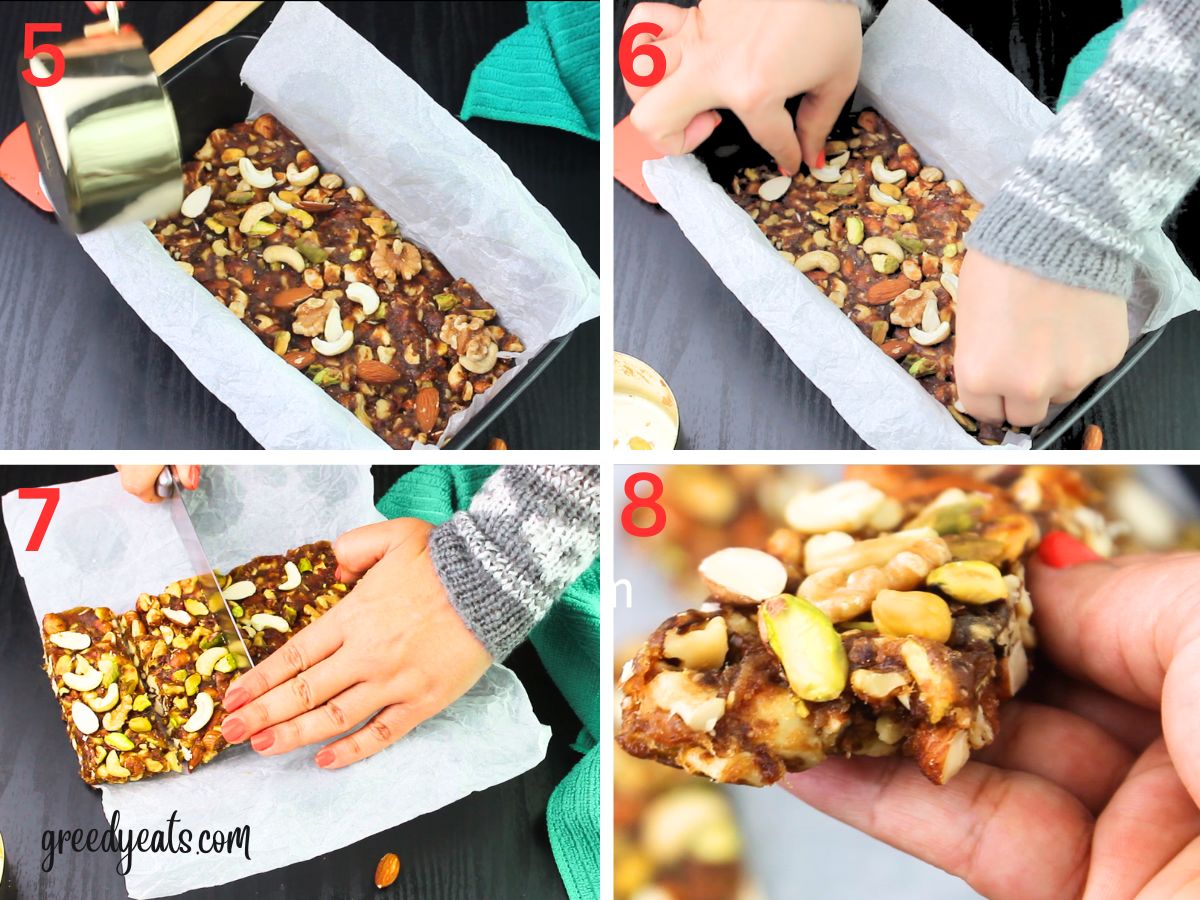 What are medjool dates?
Medjool dates are a variety of dates that is super soft, has caramel like taste and is packed full of fiber and nutrients.
They are also called as "The Fruit of  Kings". These dates are naturally sweet and are often used as a substitute for sugar in desserts.
Coat them in chocolate, throw them in your smoothies, use them as caramel substitute, fill them with nut butters. Choices are endless!
How long are date squares good for?
Date squares/bars will last for 2-3 days at room temperature. For 7-10 days in refrigerator. Store them in air tight containers at all times.
For longer storage, you can always freeze them. Place them on a baking tray and allow to chill for about an hour in the freezer. Then stack them in freezer safe containers/ziploc bags.
Variations to these bars:
This is such a versatile recipe. As long as you keep the proportion of dates to nuts as the recipe suggests, you can put in almost any add-ons of your choice here.
Swap the nuts I have added with nuts that you like- hazelnuts, pecans, peanuts etc.
Nuts can be swapped with seeds like- chia seeds, sun flower seeds or pepita seeds.
Some of the nuts/seeds can also be subbed with oats flour, almond flour or coconut flour.
Mini Chocolate Chips and Coconut Flakes can also be great add ins.
You can also coat these bars in some melted chocolate(I'd prefer dark).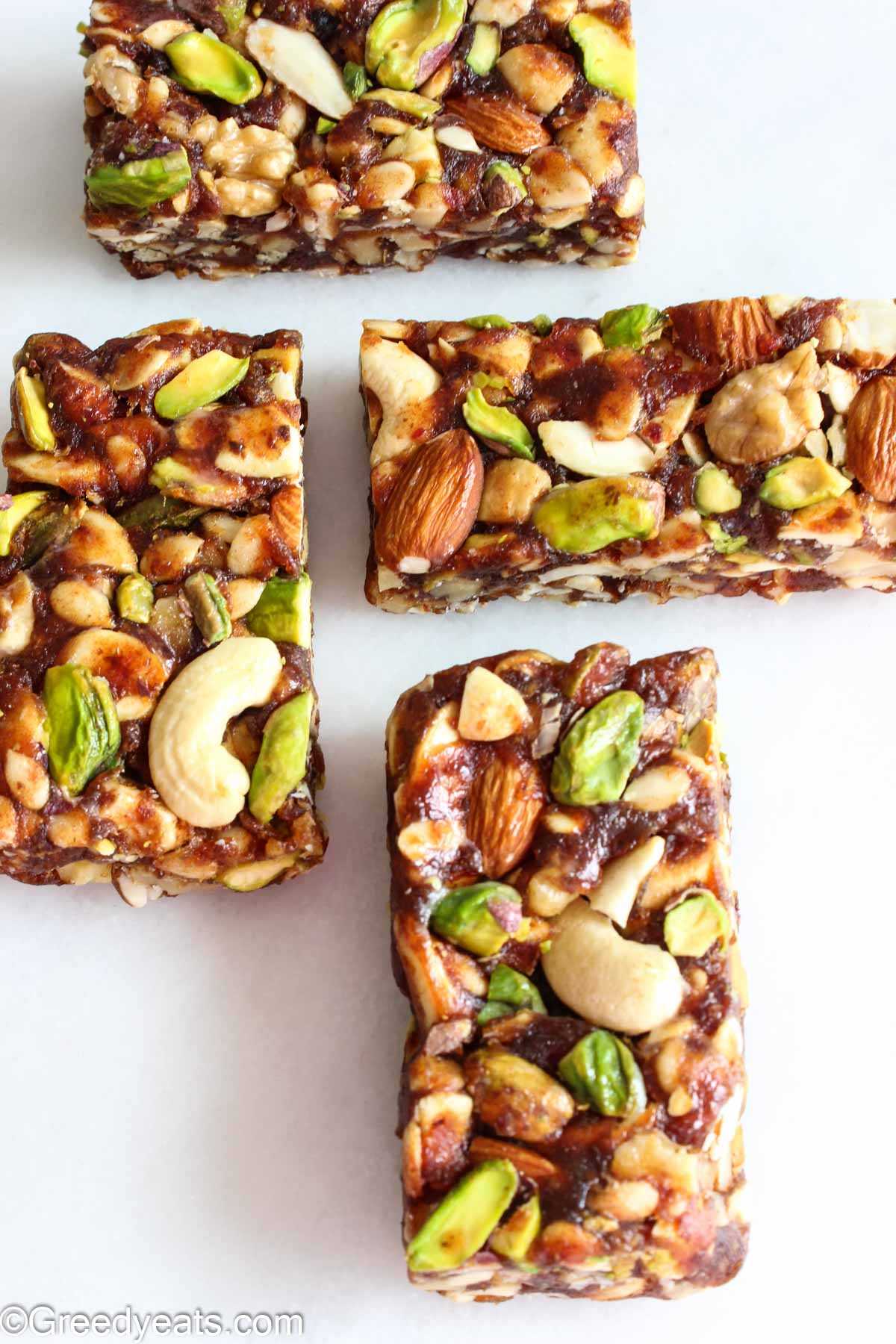 Tips to make best date bars:
Dates: Buying Pitted dates saves a little time, but pitting dates at home is very easy too. Just rip the fruit in half by holding it with both your hands in your thumb and forefinger. Then remove the pit.
Dates Paste: A quality blender or food processor will be real help here! You will not need any water to make this paste.
Medjool dates are very soft in texture. But if you are using any other dates that have firm flesh, soak them in hot water for 30 minutes. Pat them dry and blend the dates into a fine paste then.
Chopping Nuts: Nuts can be chopped using a board and a knife. You can also make use of a food processor to chop the nuts.
Salt: Add a pinch of salt to your bars if you too are a lover of sweet and salty treats just like me.
EXPERT TIP:
If you don't want to wait around for two hours to cut into these bars, you can quickly chill them in the freezer. Set the pan in freezer for around 30 minutes or till the mix gets cold and very firm to touch. Then cut them with a sharp knife and devour!! 
Can I replace Medjool dates with regular dates?
Yes you can use normal dates, if you don't have medjool ones. Since regular dates would be little smaller in size you will have to take a few more.
Also regular dates can be a little dry in texture. You can soak them in hot water for about ½ an hour. After ½ an hour take the water out, Pat them dry and blend then.
These bars are:
Gluten Free: These bars are gluten free since no flour is used to make them. You can replace half of the nuts with almond flour, coconut flour or even gluten free oats flour if you wish to.
Can be easily made Vegan: Instead of butter use coconut oil to make these bars vegan friendly.
Naturally Sweetened: We aren't using any processed sugar to make these healthy bars. The sweetness from dates fruit is just enough to sweeten them.
These are just the best treats made with clean ingredients for guilt free snacking.
No bake recipe: I am sure you will appreciate the fact that there is no baking involved in making these bars. No turning the oven on, no heating up the kitchen.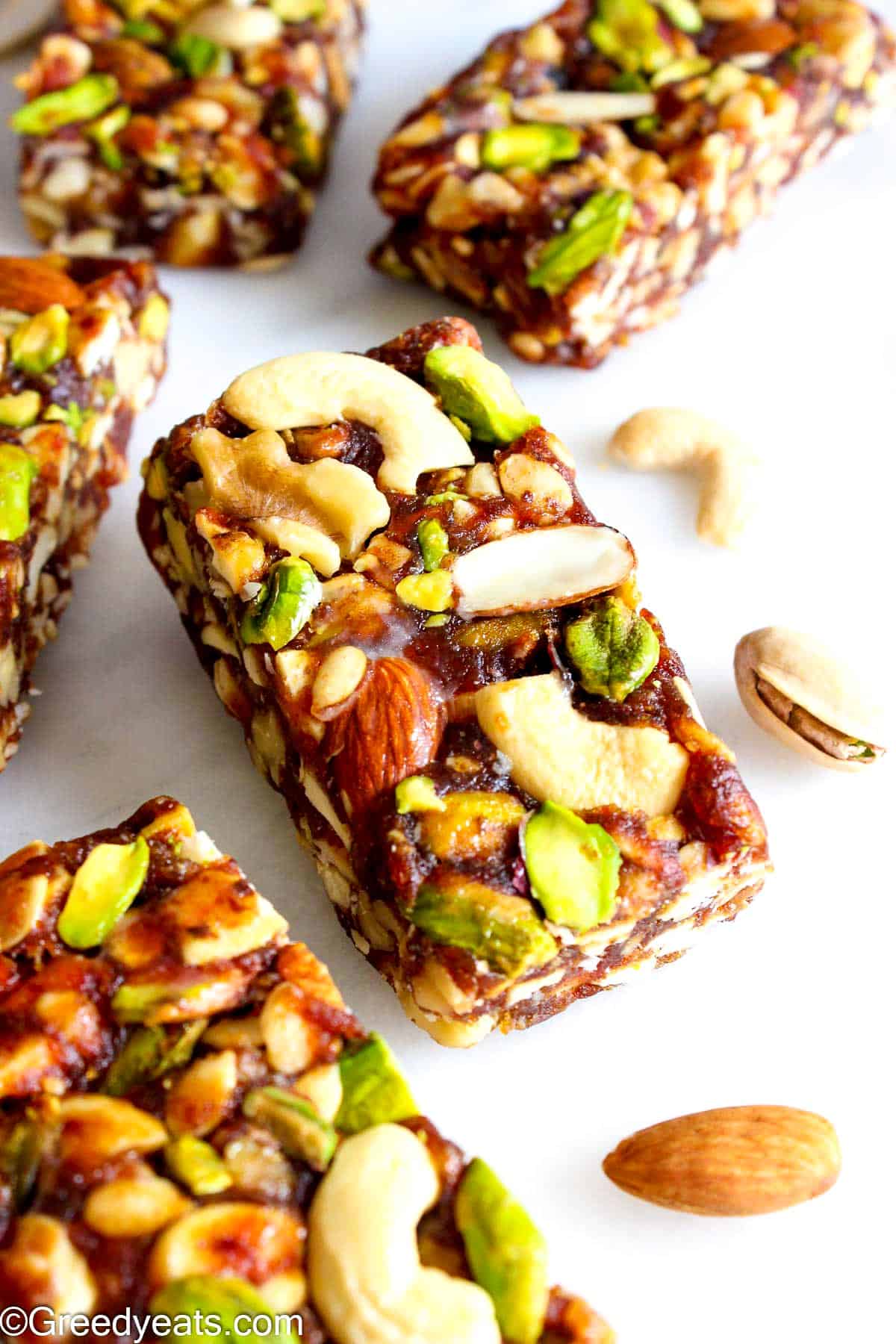 Do dates need to be refrigerated?
Date fruits are needed to be stored in refrigerator since they are prone to losing moisture. Keep dates covered tightly to help them retain their moisture content.
Are dates a healthy snack food?
Undoubtedly! This humble sweetener and a great snack on its own, contains a lot of minerals like potassium, magnesium etc. Also they are fibrous and are known to fight fatigue and give a quick energy burst!
What flavors go well with dates?
Dates pair well with any kinds of nuts, nut butters and seeds
A splash of vanilla imparts them a great taste too
Spices like ginger, cinnamon and cardamom taste so good with dates
Sweeten your fruity smoothies with dates
More fun and sweet snack recipes for you:
Vegan Oatmeal Bars (Butter and refined sugar free)
Chocolate Cherry Muffins (made with healthier ingredients)
If you liked this recipe give it a star review. Also, tell me in the comments below, how did this turn out for you! And don't forget to share your creations with me on Instagram at #greedyeatsblog Also follow me on Pinterest and Facebook!
Recipe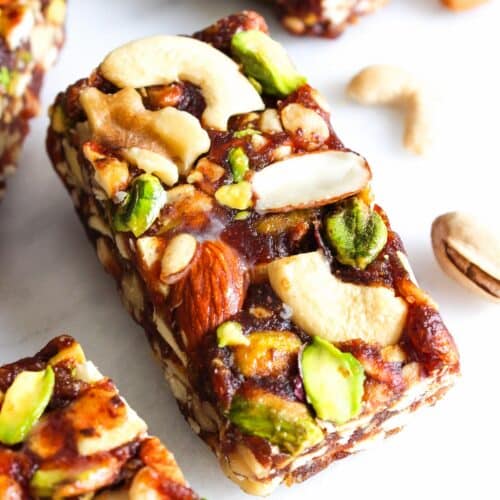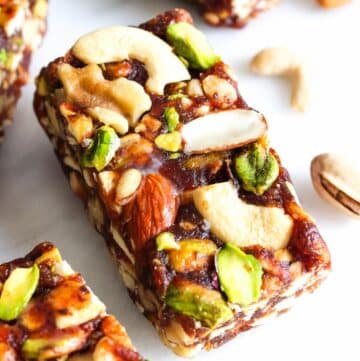 Healthy Date Bars
Three ingredients no bake Healthy Date Bars are loaded with anti oxidants, fiber and protein. Perfect snack bars to snack on any time of the day!
Print
Pin
Rate
Ingredients
1

Cup

Mejdool Dates

(grounded)

¾

Cup

Mixed Nuts

(Chopped, I used walnuts, cashews, almonds and pistachios)

1

tablespoon

Butter

(Or clarified butter, also known as ghee)

a pinch

Salt

(Optional but tastes so good here)
Instructions
Lightly roast all the chopped nuts for 2-3 minutes on medium flame.

Now add grounded dates in the pan and add in a tablespoon of butter.

Stir and mix dates with nuts for another 2-3 minutes over medium-high heat. Or till all the nuts are coated in dates paste.

Invert the mixture in a parchment or foil lined square/rectangle pan. Press it using a spatula/back of a spoon or with your hands to set the mixture, covering whole pan. Garnish with a few chunks of nuts like- almond, cashews and pistachio halves or walnuts etc (optional but pretty!).

Cover the pan and allow to set in the refrigerator for 2 hours minimum. QUICK TIP: To speed up this process freeze the bars for 30 minutes.

Cut using a sharp knife. Left overs can be saved at room temp. or in the refrigerator (Covered at all times).
Notes
Storage Information: You can store these date bars at room temperature for 1-2 days. In the refrigerator they will last for about 7-10 days. Make sure to store these in an airtight container. 
For longer storage, opt for freezer. Bars will stay good in the freezer for about 2 months. Freeze in freezer safe containers. Thaw over night in the refrigerator before enjoying!
Dates: If you notice that the dates you bought have firm flesh, soak them in warm water for 30 minutes. Drain the water and pat them dry before making a paste out of them.
Variations and add-ons:
Just make sure to keep these add-ons to ¾ cup in total to make 8 bars.
Nuts can be subbed with other nuts like pecans, hazelnuts etc.
You may use seeds like chia seeds, pepitas and sunflower seeds.
Coconut flakes and chocolate chips taste so yum in these bars.
The bars can also be coated with dark chocolate (I prefer 70% dark since dates are already on the sweeter side). Melt and spread a layer of chocolate on the mix before chilling and cutting them into bars.
You can also top these bars with sea salt, skip mixing salt in the mix in that case.
Try adding a teaspoon of pure vanilla extract to the mix (before setting the bars).
Nutrition
Serving:
1
Bar
|
Calories:
146
kcal
|
Protein:
4.8
g
|
Fat:
4
g
|
Sugar:
5
g