Squeeze the best out of your day with my Lemon Blueberry Muffins Recipe. So soft. Unbelievably moist. Bright and cheerful!!! You only need- One Bowl, 5 minutes of prep time for this recipe and you will be feasting on them in under 30 minutes.
Try these Soft Banana Blueberry Muffins  and Blueberry Muffins with crunchy streusel next!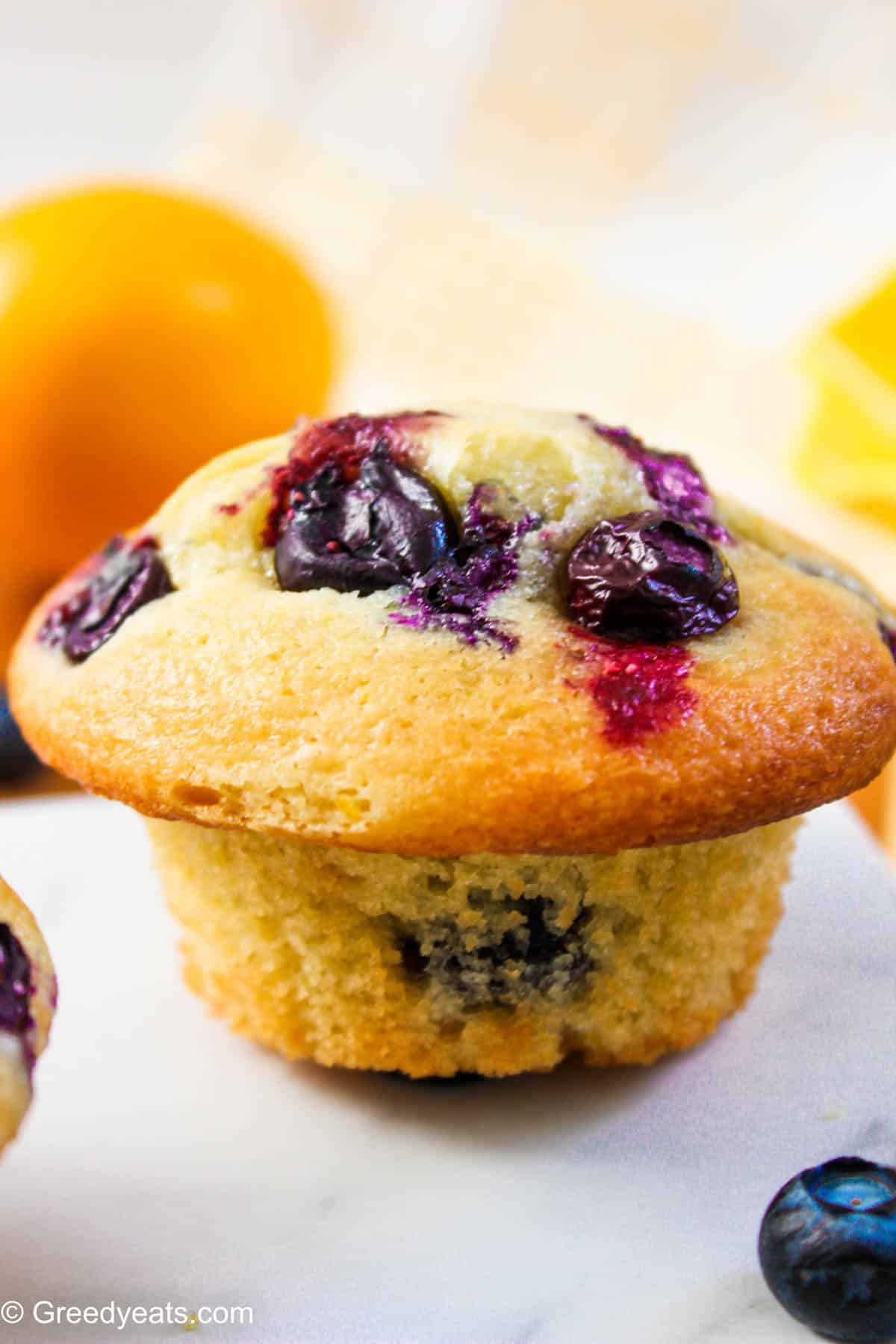 Hello lemon lovers! How was your weekend?
If you know me, you know for sure how I feel for lemon desserts. They are my second love. This is first! Even I never thought I'd say that.
Also I am a sucker for summer time muffins! You need to check out all my easy muffins recipes!
Now when you mix some berries in muffins, you are probably gonna have to hide your muffins from me. Or else don't blame me later!
You will Love this Blueberry Lemon Muffins because:
These are super quick and easy to make
The crumb is super soft just like a cake
Yogurt in the muffin batter keeps them so tender and moist
You can use either fresh or frozen berries (Love me all the options!)
Bursting with the flavors of summer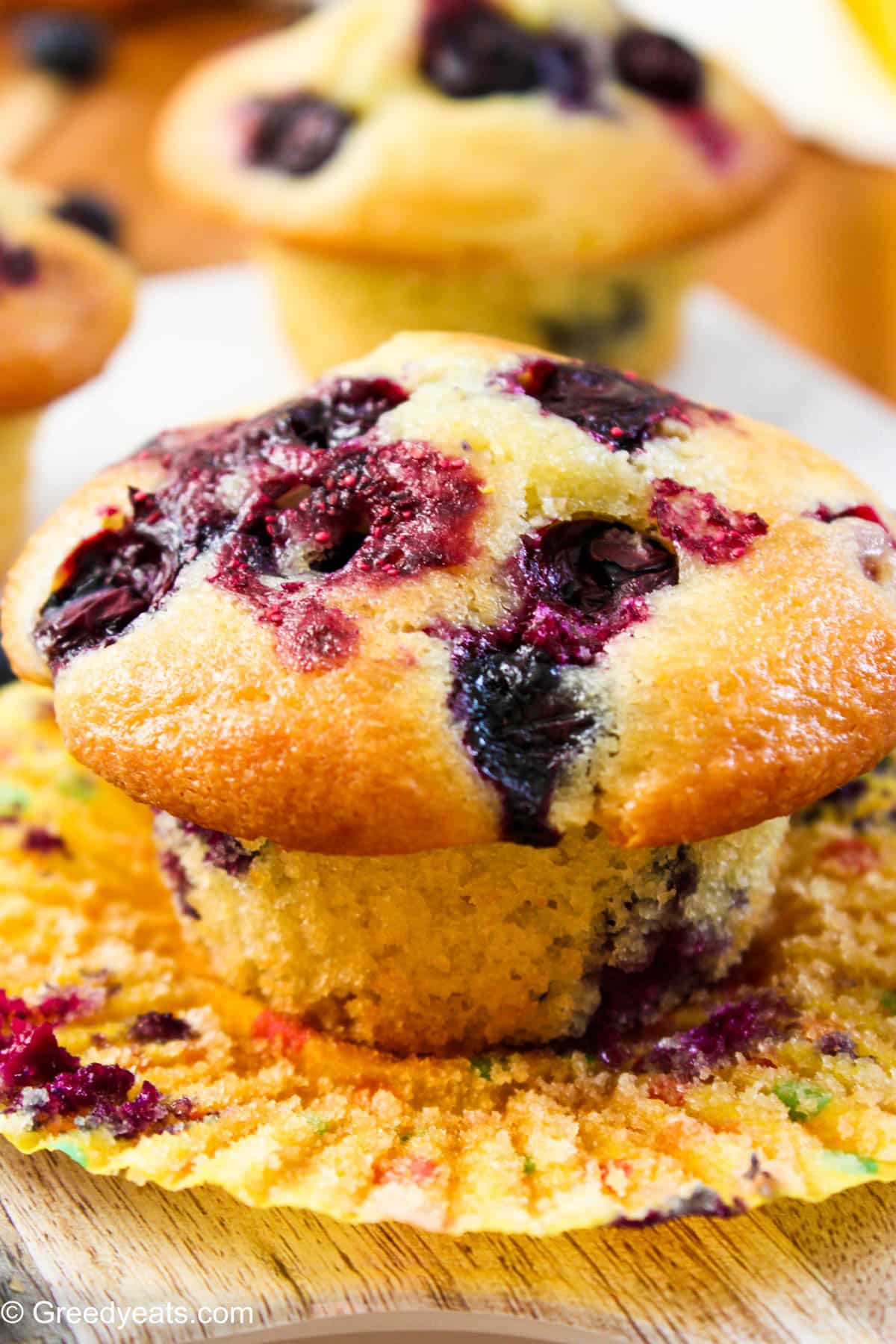 Recipe Ingredients:
Here is a quick list of the ingredients that you will need to prepare this batter-
Blueberries: I just love how the blueberries change color and get all shiny after they bake and burst. You may use fresh/frozen berries for this recipe. Blueberries even get sweeter and their fruity juices get mixed in the lemony muffins as they bake! Certainly, nothing beats this combination on the planet.
Yogurt: Yogurt makes your muffins super soft without adding too many calories like sour cream does.
Oil: Oil will make super moist muffins. And you won't even miss butter in these lemony muffins.
Dry Ingredients: You will require all purpose flour, salt and leaveners for this muffin batter.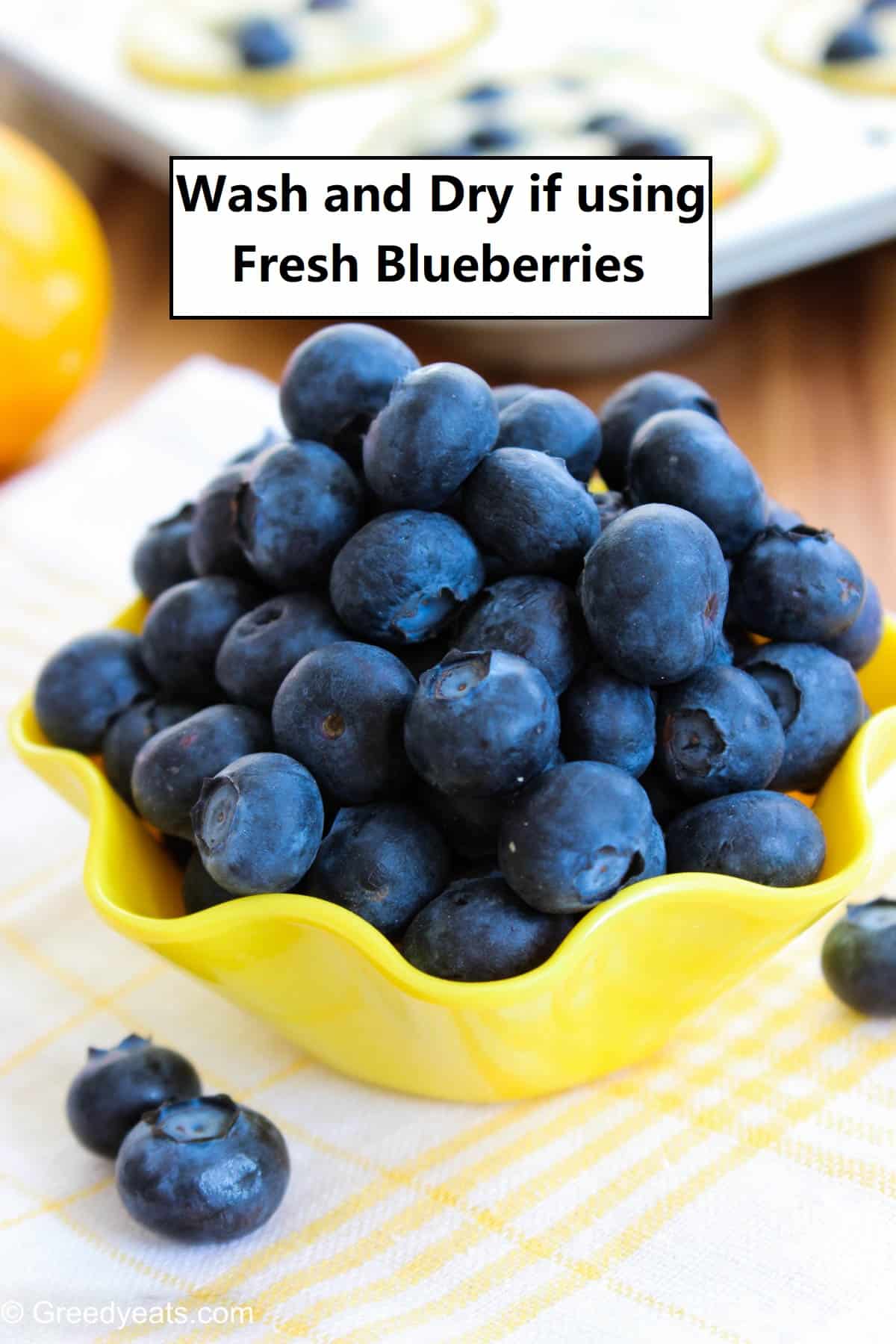 How to make lemon muffins:
These lemon and blueberry muffins are so easy to make. No complex tricks involved! Very few simple ingredients. Also just one mixing bowl and 5 minutes preparation from that busy day of yours! There you have it.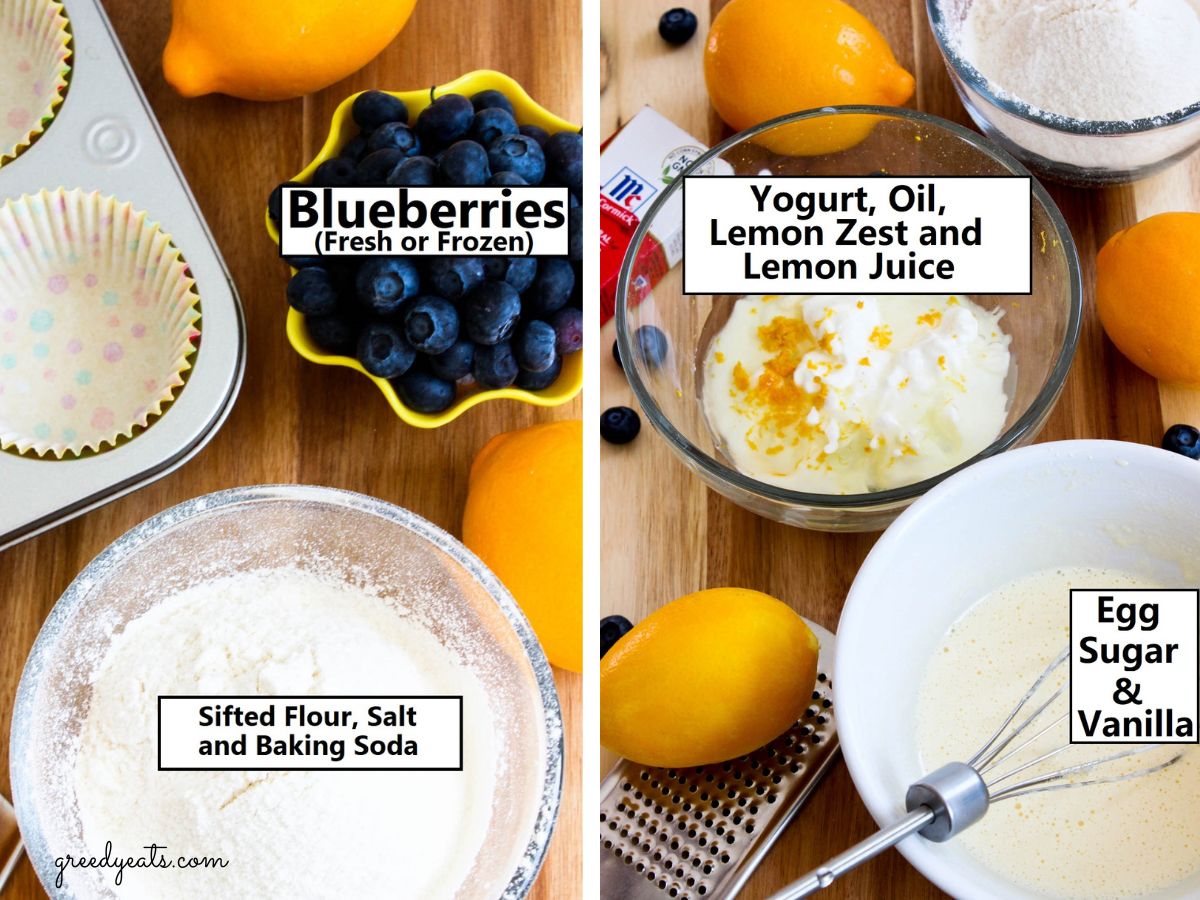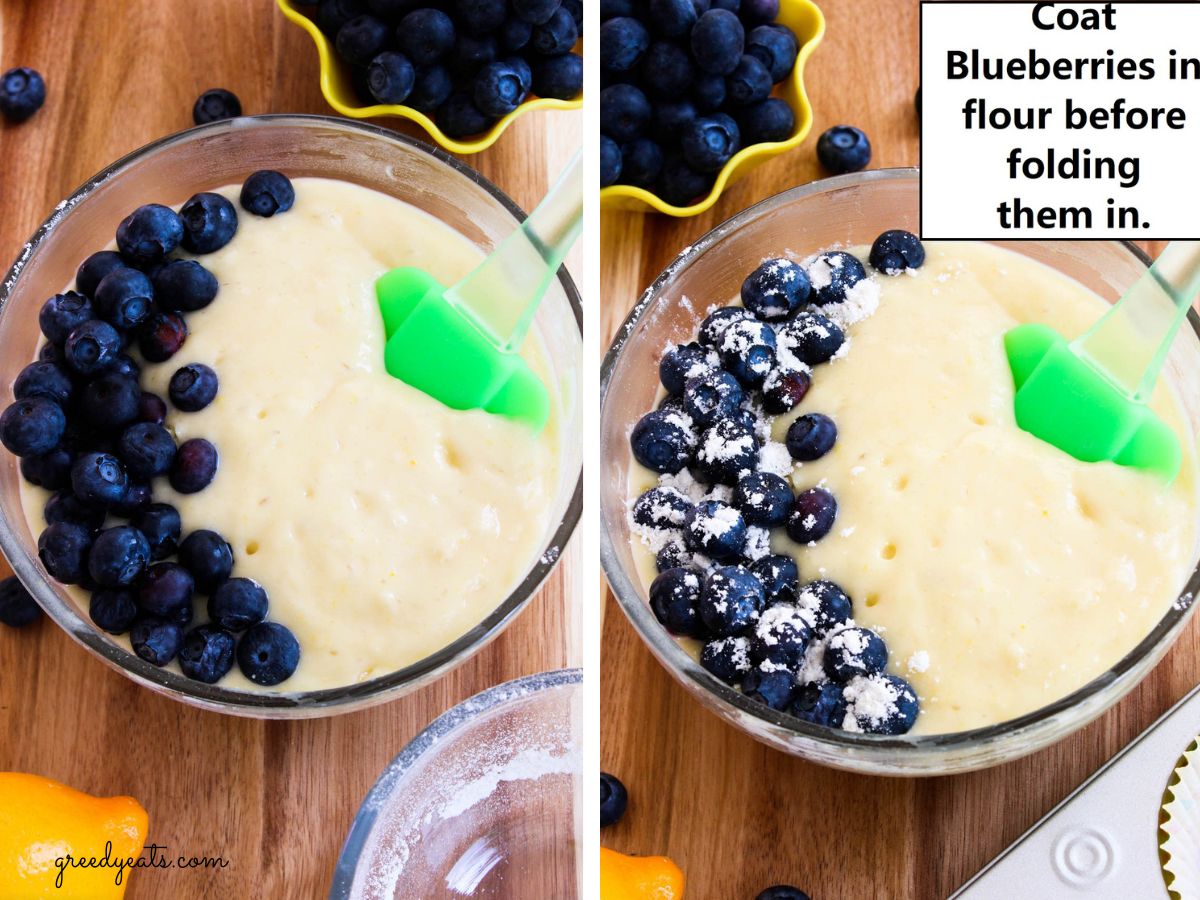 So, how do we do it?
First off, combine all the wet ingredients in a mixing bowl.
Then sift your dry ingredients over wet ones, fold in with a spatula.
Now quickly coat blueberries in some flour. This step is to prevent berries from sinking in and collecting at the bottom.
Fold them in gently. If you plan to use frozen blueberries, don't thaw them first.
Finally, bake!!!
Don't you want to pop some into your mouth right away? ♥
Taste & texture of this Lemon Blueberry Muffin Recipe:
So before I say anything else, look at this! ↓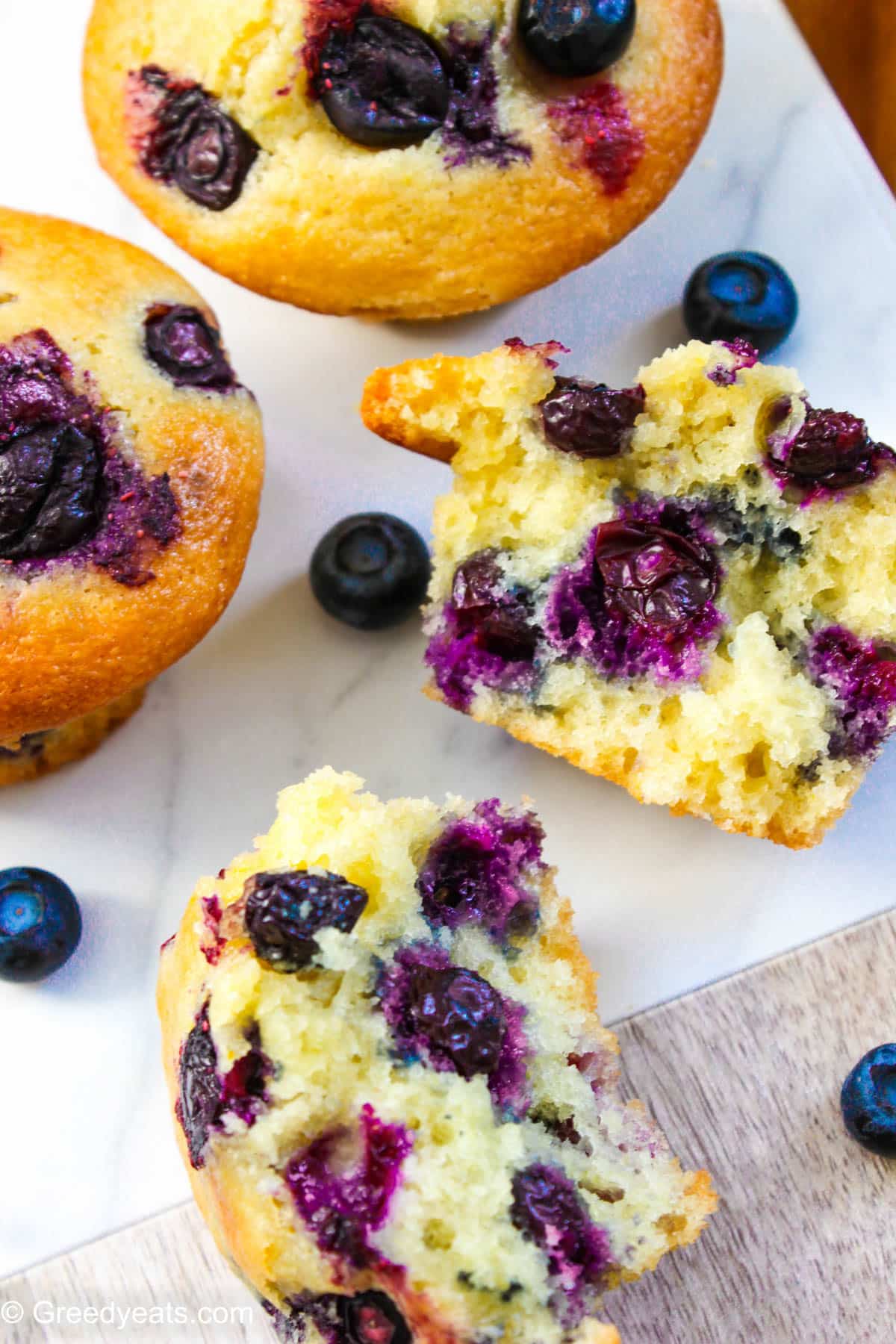 It is not a lemon blueberry muffin, if not a ton of blueberries explode in your mouth. Yes, I meant in almost every single bite.
Well distributed juicy blueberries in a bright and refreshing sweet citrusy lemon muffin! These lemon and blueberry muffins are so soft, moist and light that you might call these cupcakes. But these aren't missing their muffin component either. They are so hearty!
We are making lemon muffins with yogurt and oil to make them extra moist. So there is no dry crumb in sight!
Also just enough lemon zest and juice for that balanced sweet-tart flavor. Not too tangy to wrinkle your eyes. Just enough for that light, fresh and sweet citrus taste.
Do not use lemon bottle from the juice, it is just not the same as using fresh lemon juice.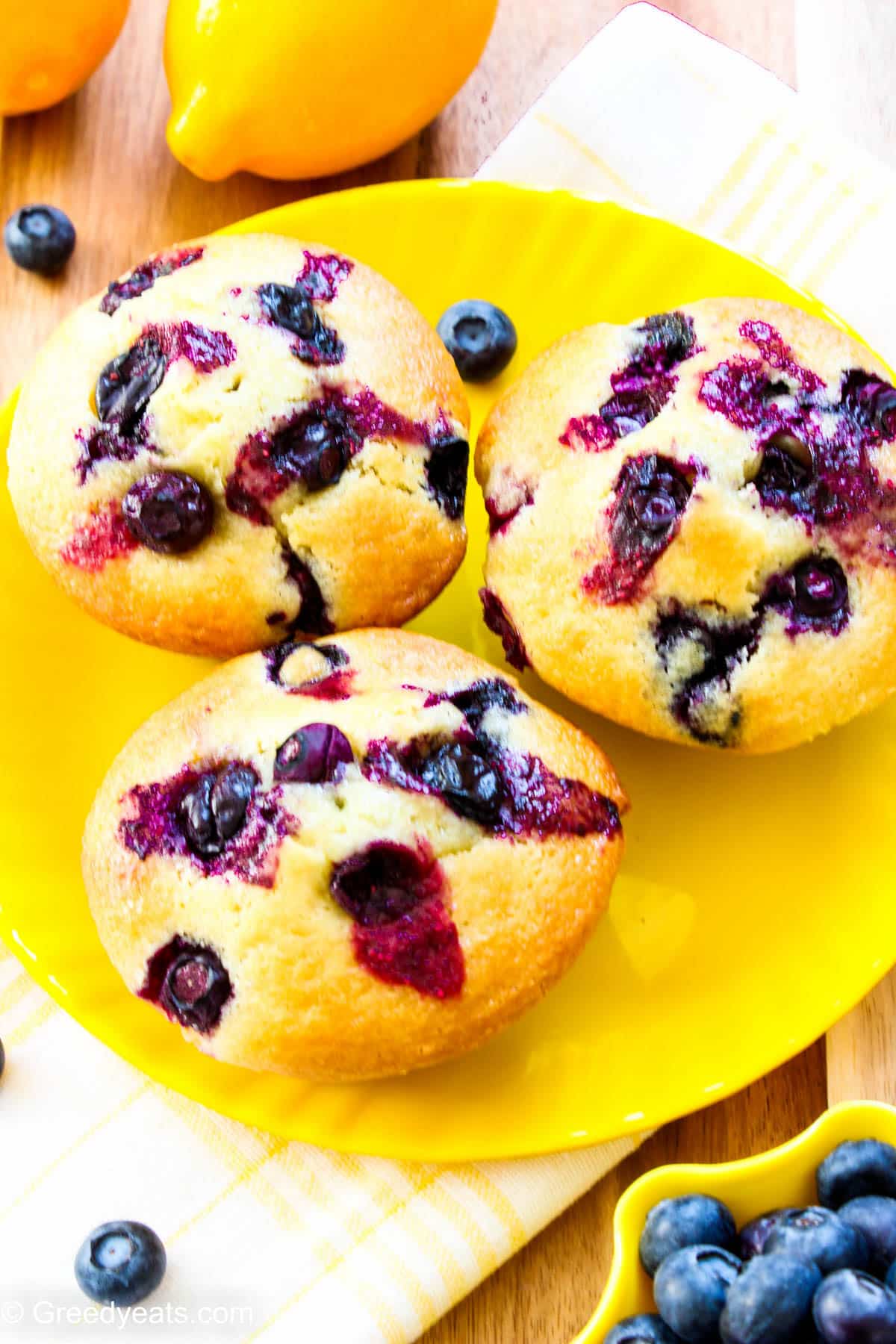 Moist, glossy and shining happily on the top blueberry muffins for you! ⇑ ⇑ ⇑
Bake them as Standard muffins, Jumbo muffins or Mini muffins:
The standard sized muffins are baked by filling muffin liners to the brim. No, your muffins won't convert into a yellow lemon lava in the oven.
Because, initially we are setting our oven to a high temperature, so that these rise all the way to the top. Finally lower the temperature to let them bake well on the inside!
You can even make 6 jumbo muffins using this same batter and temperature, just initially bake them at 425 deg F and then lower the temp to 350 deg F and allow them to bake until done.
Did you notice that dome on the top? I call it mushroom top. 😉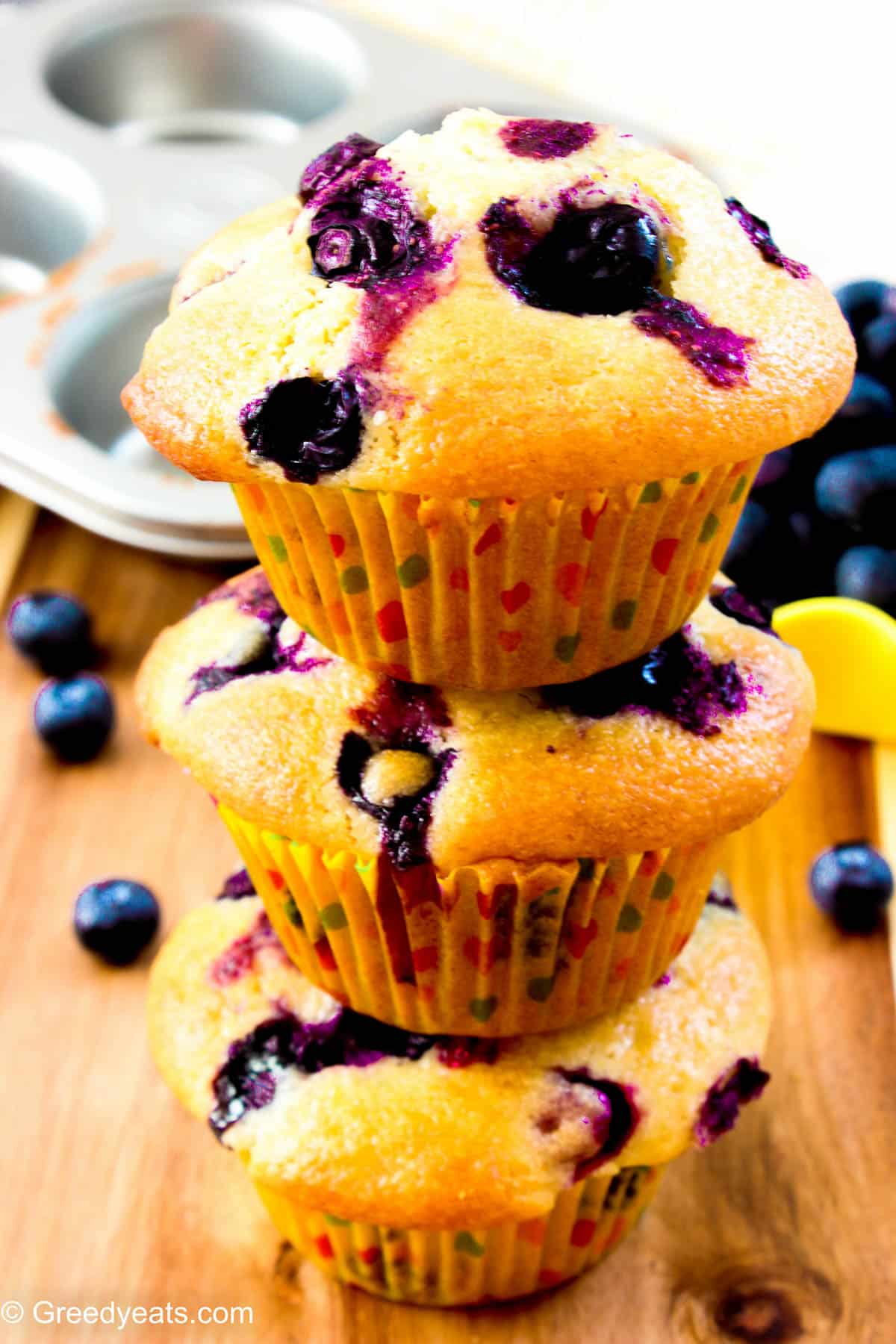 How do you store fresh blueberry muffins?
I like to store these muffins at room temperature, laying a paper towel underneath them. And one on their top to soak additional moisture. Cover tightly.
How do you make muffins light and fluffy?  
To make muffins tall and fluffy, you should take note of following things-
Try not to over beat the batter. After mixing dry ingredients into wet, only fold it with a spatula till flour disappears.
Add just the right amount of leaveners and making sure they are fresh. Adding too little or too much leaveners in muffins can lead to their shrinkage as they come out of the oven.
Measuring your flour accurately is the key to fluffy muffins. Employ a weighing scale or use "spoon and sweep method."
What is Spoon and Sweep Method?
Use a spoon to fluff flour in the canister/bag. Now lightly spoon that flour into measuring cup. Do not tap the measuring cup at any point. In short, don't pack your measuring cup with flour.
Now run the edge of a knife/spatula, over rim of the cup and level it, sweeping the excess back into the original canister/bag.
Why did my muffins come out so dense?
There can be multiple reasons for this mishap!
The batter probably was over beaten. This may result in dense and chewy textured muffins.
You accidentally added too much flour into batter.
The leaveners were expired or not so fresh and so they could not react with the acids (like yogurt and lemon juice) in the batter.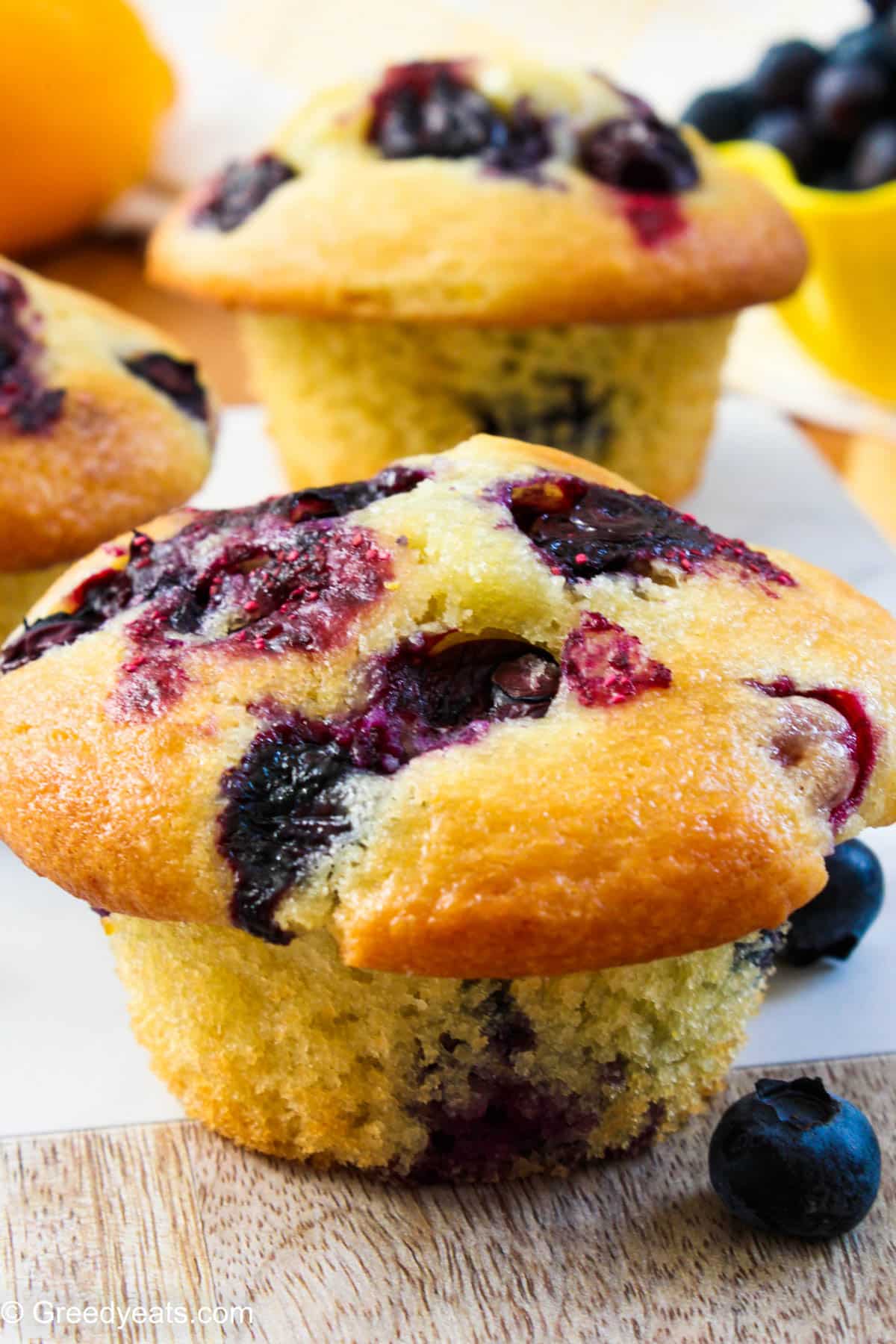 Can you store muffins in the fridge?
Of course you can! And for muffins with fresh fruits and berries, I only keep them at room temp for a day or two.
For longer storage (up to 5 days) it is recommended to store muffins in the fridge covered TIGHTLY all the time.
Stressing tightly since you don't want your muffins to dry out in the fridge. So consider wrapping muffins in foil before putting in an air tight container to lock moisture in.
And you certainly don't have to like lemons to like these muffins. The tangy taste of lemon just disappears in the bake somewhere.
And a sensational fruity depth of flavor is produced, that you'd not want to put down!
More sweet Breakfast Recipes for ya!
7 ingredients Almond snack bars!
Moist Chocolate strawberry muffins
Readers' fave healthy banana raspberry muffins
If you liked this recipe give it a star review. Also, tell me in the comments below, how did this turn out for you! And don't forget to share your creations with me on Instagram at #greedyeatsblog Also follow me on Pinterest and Facebook!
Recipe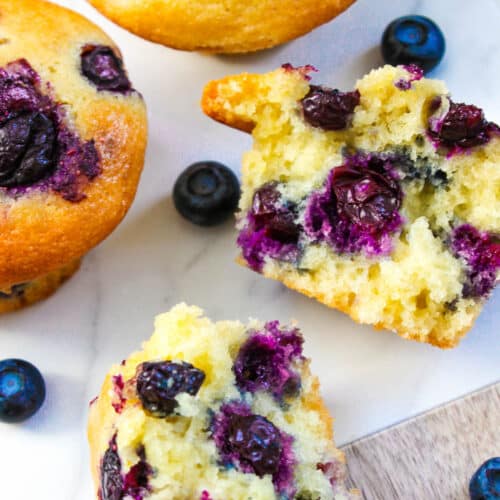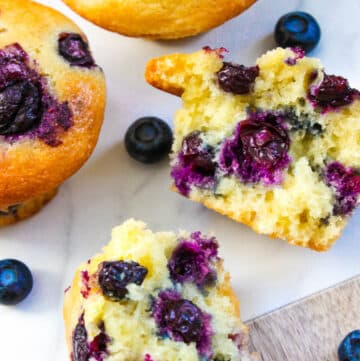 Lemon Blueberry Muffins Recipe
Squeeze the best out of your day with my lemon blueberry muffin recipe. Soft. Moist. Bright. Cheerful! You only need- One Bowl, 5 minutes of prep time and you will be feasting on them in 30 minutes.
Print
Pin
Rate
Equipment
1 Muffin Pan

2 Mixing Bowls
Ingredients
2 Cups 240

gms

All purpose flour

1

teaspoon

Baking soda

⅛

teaspoon

Salt

½ Cup 120

ml

Oil

2

Large

Eggs

(at room temperature)

1 Cup 240

ml

Yogurt

(full fat)

1 Cup 200

gms

Sugar

4

tablespoon

Lemon juice

2

tablespoon

Lemon zest

1 ½

teaspoon

Vanilla Extract

1 ½

Cups

Blueberries

(Fresh/frozen)
Instructions
Preheat your oven to 425°F and line a muffin pan with 12 liners. Set aside.

In a large mixing bowl beat together egg and sugar (You may use a beater to speed up the process). I did it with a whisk. 😉 Add oil, yogurt, salt, vanilla and mix these well until incorporated. Beat in lemon juice and zest too.

Sift all purpose flour and baking soda over wet ingredients and fold only till no streak of flour is visible. Use a spatula for this job and employ cut and fold method to avoid over mixing. Make sure to get to the bottom of your bowl.

Fold in (flour coated) blueberries, saving some for dotting on top before baking (for those appealing tops). Pour the batter in pre-lined pan. Bake these for 5 minutes at 425°F. Then keeping the muffins in the oven, lower the temperature to 350°F and continue to bake for 17-19 minutes. Or till your muffins pass toothpick test.

Allow the muffins to cool on wire rack after 5 minutes of taking them out of the oven.
Notes
If using frozen berries, no need to thaw.
To make 6 jumbo muffins: Preheat oven to 425°F. Bake muffins for 7 minutes, then keeping the pan in oven, reduce temp. to 350°F and continue to bake for 22–25 minutes for a total of 29-32 minutes. For 40 mini muffins: After pre-heating at 350°F, bake them  for 12–14 minutes. 
Storing Information: You can store these muffins at room temperature for 2 days covered tightly. Muffins stay fresh in refrigerator for up to a week.
For longer storage, you may freeze them for up to 2 months and thaw a few hours before enjoying!
Yogurt: Always use full fat yogurt for best taste and texture.
To ensure soft and fluffy muffins: Use room temperature ingredients and don't over mix the batter after adding dry ingredients.
Nutrition
Serving:
1
Muffin
|
Calories:
260
kcal
|
Carbohydrates:
36
g
|
Protein:
4
g
|
Fat:
11
g
|
Sodium:
138
mg
|
Sugar:
20
g