Give your oven some rest by making this cool and refreshing Oreo Strawberry Icebox Cake. Absolutely no bake and fuss free.
Disclosure: This shop has been compensated by Collective Bias, Inc. and its advertiser. All opinions are mine alone.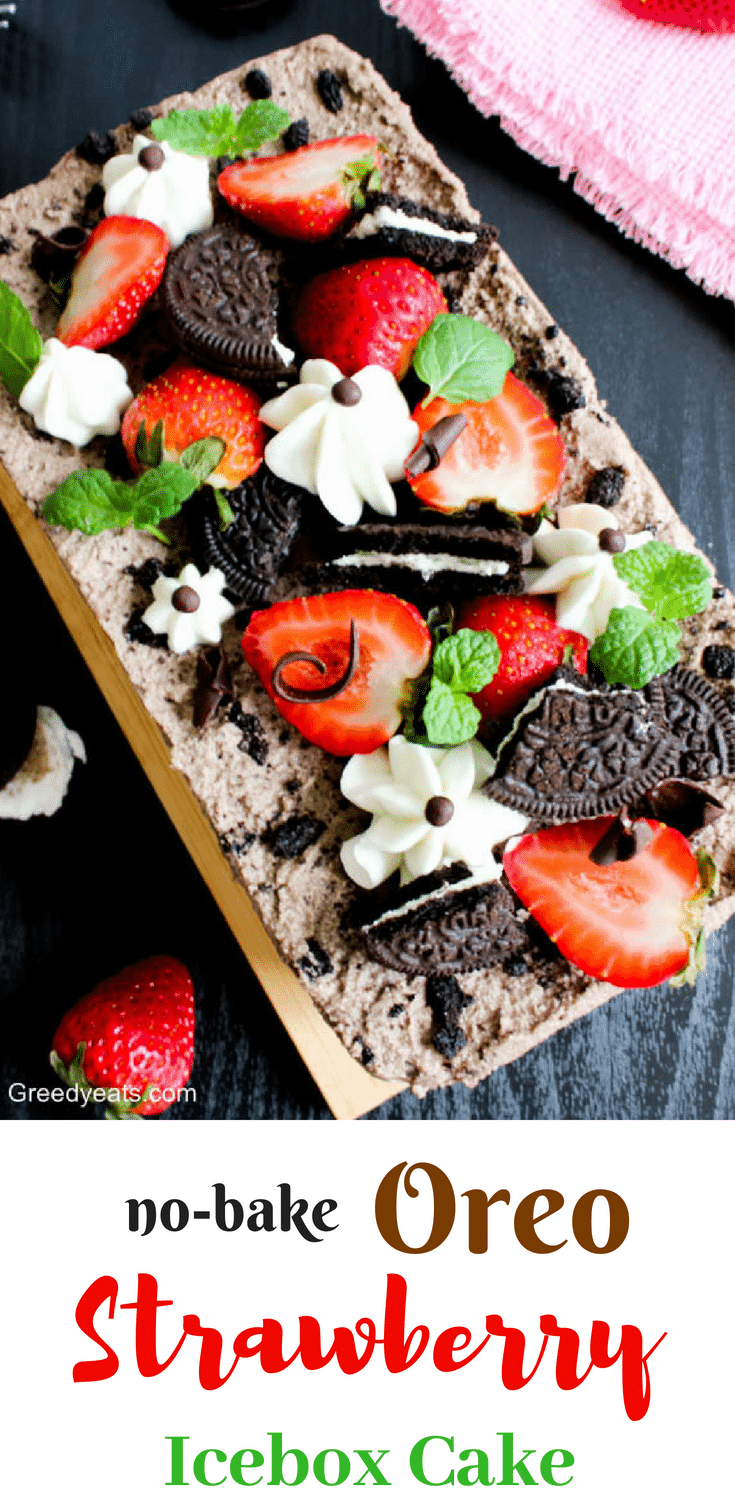 Are your ovens tired of running? Are you soaking wet on the thought of preheating that oven? Then you know it's time to give your oven and yourself a break. In other words, try my quick, creamy, fruity and chocolatey icebox cake.
I got the idea for this no bake dessert while shopping groceries a few days back. I happened to pass by the cookies aisle. In the moment I saw oreo cookies, I knew they were destined to be a cakey layer in my icebox cake! Already had fresh strawberries in my cart. Homemade fresh strawberry jam it is, my heart screamed!
Look how professional the layers look. And they are super easy to put together!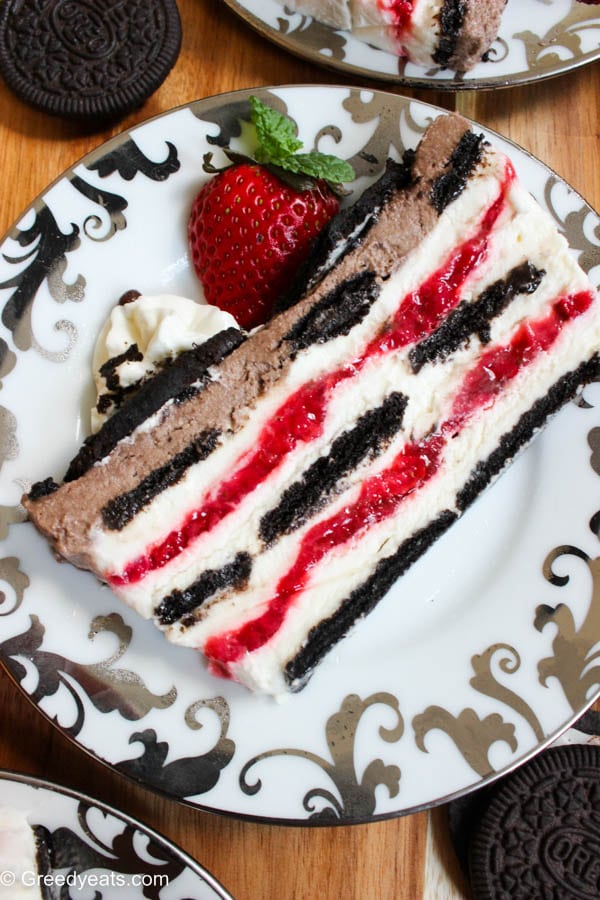 Certainly Giant Eagle is my favorite destination to shop all my groceries! However, with their fuelperks+ program going on, I feel like stocking up flour, sugar and butter enough for two years.
Between all this excitement, I almost forgot I owe you a cake! Lets jump right into it.
How to make oreo strawberry icebox cake
We will make this oreo strawberry icebox cake in a loaf pan. It is so easy to make. Needs a very few ingredients and comes together at ease.
Instead of using store bought whipped topping/cool whip and jam. I used easy homemade strawberry filling (cooked on stove top) and freshly whipped whipping cream. You can switch these both to store bought when in a rush!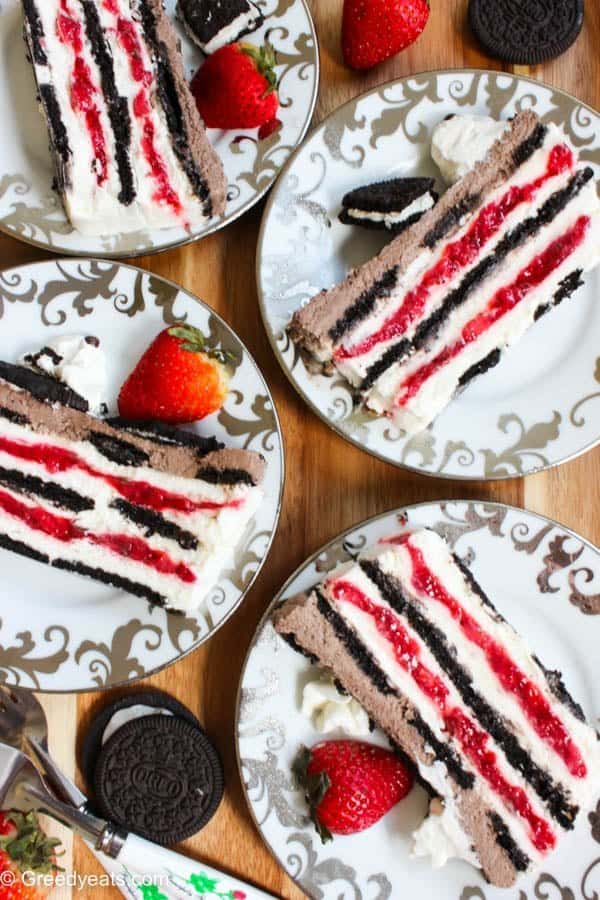 Icebox cake texture
The texture of this cake? Super creamy and light. Oh and the oreo cookies don't get soggy at all. They only soften to produce a cake like texture in this fruity oreo icebox cake!
I also used the cream of these sandwiched cookies to make my whipping cream sweet. That way the cake isn't overly sweet and you don't need much extra sugar in the recipe. Win win!
Whipped cream 
We will whip our cream using the oreo cookies cream and a little sugar to soft peaks. Most important: don't over whip the cream as it can curdle very easily!
For the topmost layer, I added some cocoa powder to my whipped cream to make it chocolate flavored!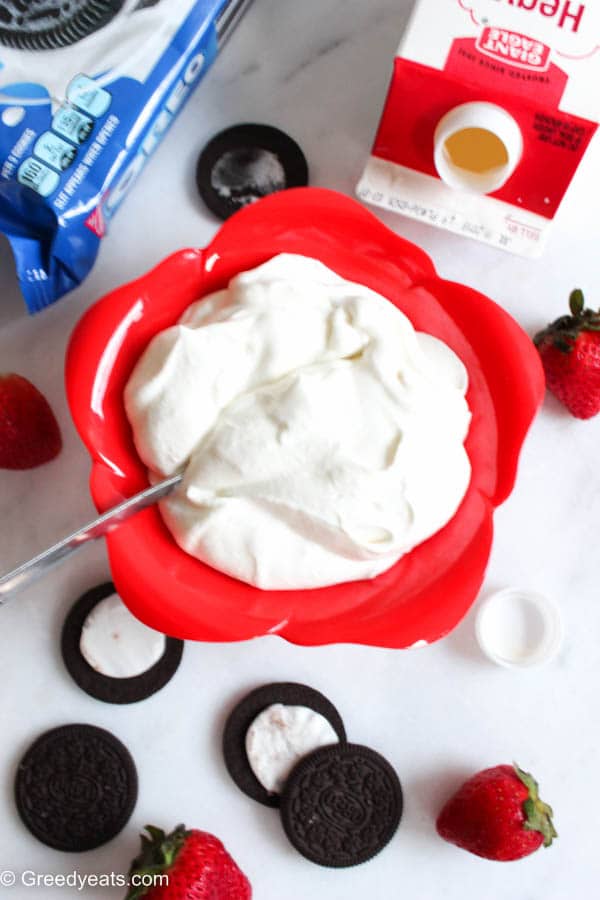 Layers of icebox cake
Featuring repetitive layers of fresh strawberry filling, smooth, light and silky vanilla cream with cakey oreos cookies! In short, I got your summer favorite redefined!
There are 10 in total. But most of them are either oreo cookies(individual, cream removed), whipped cream or strawberry jam! Also there is chocolate flavored whipped cream for the top most layer.
We will begin by lining a plastic wrap to our loaf pan. Because it ensures easy removal of our cake. Please don't skip this one!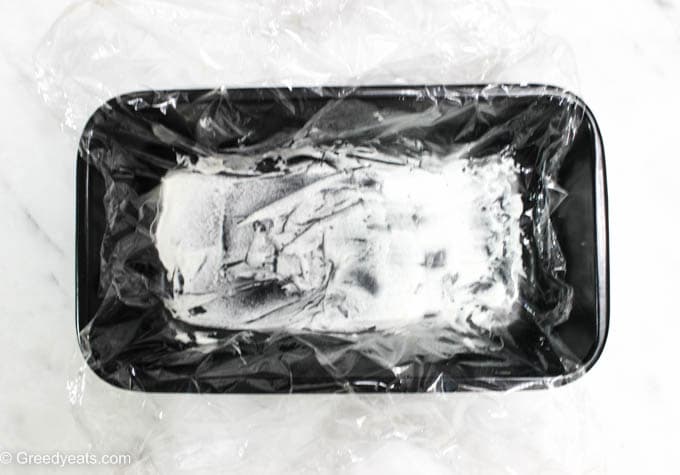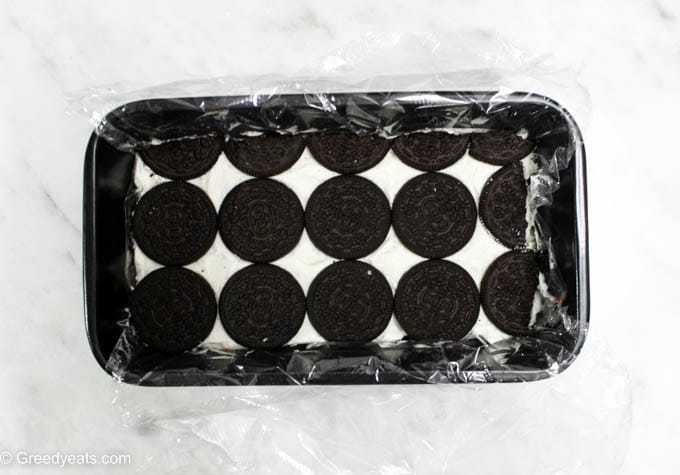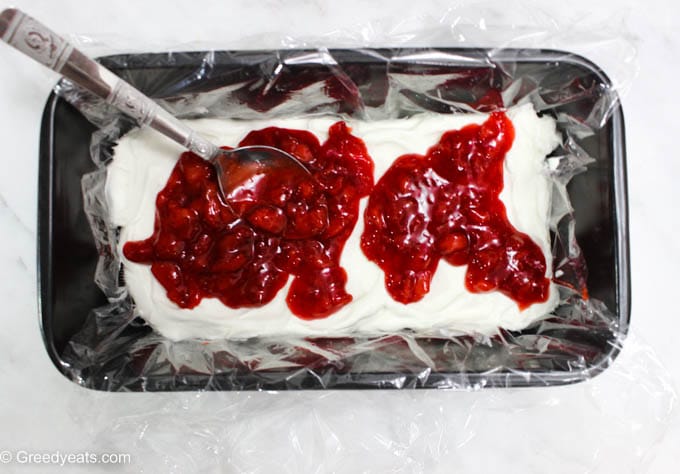 The first layer isn't a layer actually. It is just a scant spread of whipping cream to ensure the cookies stick to the pan.
Oreo cookies (individual, cream removed)
Whipped cream (vanilla flavored)
Strawberry filling
Whipped cream (vanilla flavored)
Oreo cookies
Whipped cream (vanilla flavored)
Strawberry filling
Whipped cream (vanilla flavored)
Oreo cookies
Chocolate cream (Whipped cream mixed with some cocoa powder)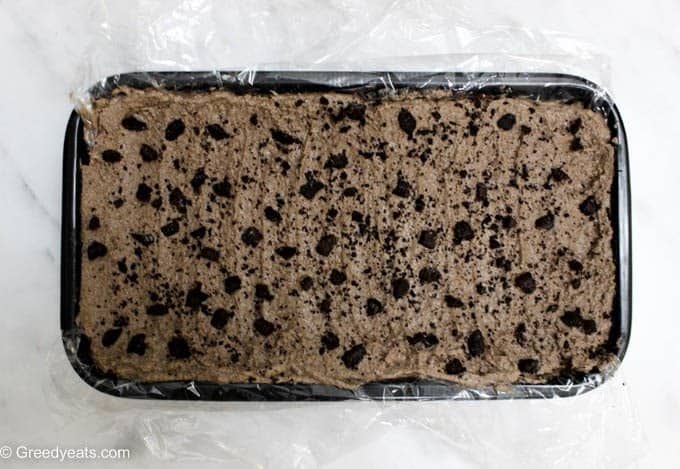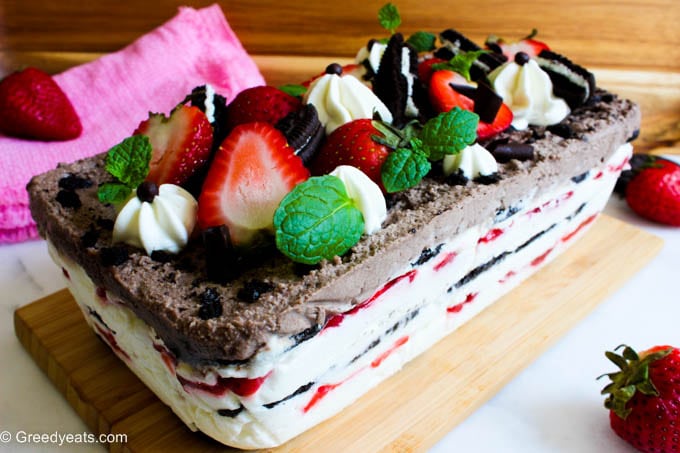 Finally, we will set the cake in freezer 5-6 hours or overnight. Voila! A light, fresh and cool oreo strawberry icebox cake is ready to devour!
Just look at how beautiful and distinct the layers appear. Most noteworthy, only a handful of ingredients and 10 minutes of layering!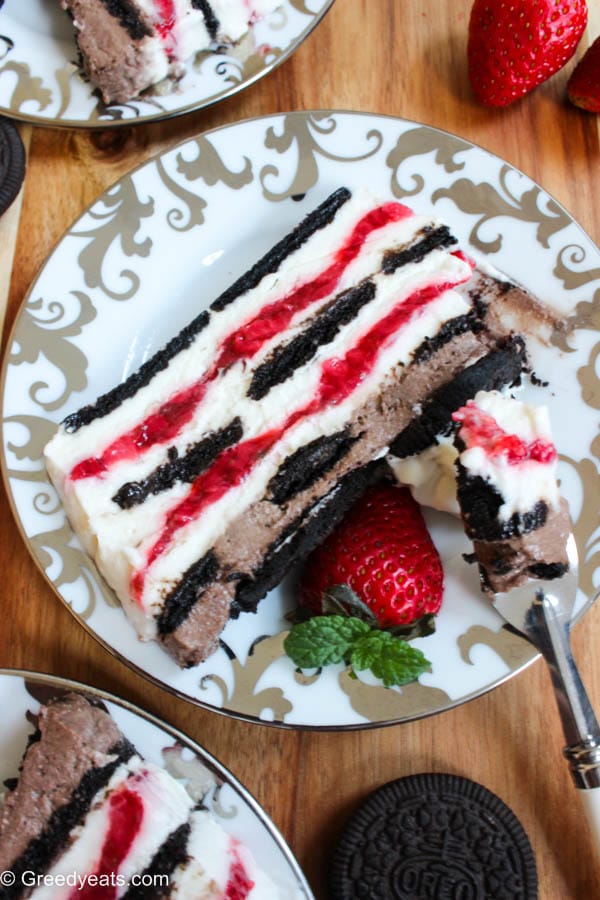 So you love strawberries and chocolate together! Seems like you will adore my strawberry chocolate cupcakes. Also this moist chocolate cake. So yummy!
Want even more? Try this readers fave strawberry cookies. loaded with chocolate chips!
Recipe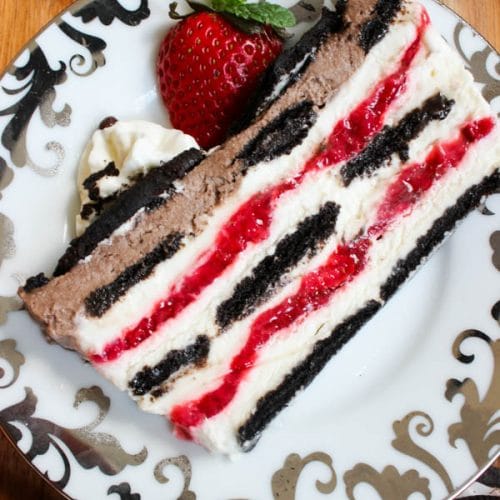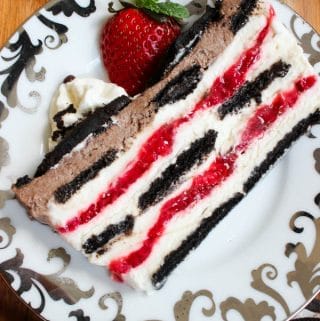 Oreo Strawberry icebox cake
Give your oven some rest by making a cool and refreshing Oreo Strawberry icebox cake. Absolutely no bake and fuss free.
Print
Pin
Rate
Ingredients
2 Cups (473 ml)

Heavy whipping cream

From 20 cookies

Cream (leftover from oreo cookies)

2 teaspoon

Pure vanilla extract

¼ Cup

Sugar (Granulated)

1 ½ tsp

Cocoa powder (For the top chocolate cream layer)

About 20 whole

Oreo cookies with vanilla cream

A few crushed

oreo chunks (to top, optional)
Strawberry Filling
2 cups

Strawberries (chopped)

2 tsp

Cornstarch

2 tsp

Lemon juice (fresh)

3-5 Tbsp

Sugar (As much/little sweet as you like)

2 tsp

Water
To decorate on top (optional)
A few

strawberry slices

Some

Broken oreo cookies

Some

Chocolate curls

Few flowers of

Piped vanilla whipped cream

1 Crushed

oreo cookie (to sprinkle over the top layer)
Instructions
Making the whipped cream:

Using a hand mixer, beat the cream, sugar, vanilla and leftover oreo cream till soft peaks are formed (DO NOT whip to stiff peaks). Now put approx ¾ cup of the cream in a separate bowl and mix cocoa powder to it. Set aside.

Making the Strawberry sauce:

1. Add lemon juice, water and cornstarch to a small bowl and mix well to combine.

2. In a small sauce pan put chopped strawberries and sugar together and stir over medium heat. After 4-5 minutes add in the cornstarch mixture to the pan.

3. Cook till the sauce thickens and coats the back of the spoon well. Set aside to cool.

Making the cake:

1. Line a 9x5 loaf pan with plastic wrap (leaving over hangs) and coat with a thin layer of whipped cream to stick cookies on. Layer oreo cookies (half of the whole cookie, cream removed) on the top!

2. Spread and layer ¾ cup of the whipped cream on top of cookies. Layer half of the strawberry filling on top. Then again a layer of whipped cream. About ¾ cup.

3. Line oreo cookie halves over the cream (as close as possible). And layer whipped cream over it.

4. Now layer the remaining strawberry filling on the whipped cream. Top this filling again with the remaining white vanilla whipped cream.

5. Final and third layer of oreo cookie halves come then.

6. Over these cookies, spread and layer the ¾ cup of chocolate flavored whipped cream. Top with crushed oreo chunks.

7. Cover with aluminium foil on top and let set in the freezer for good 4-6 hours. Overnight is the best.

8. Let the cake soften to room temperature for about 10-15 minutes before serving, or it will be rock hard! You could also soften it in the refrigeratore for about an hour or so before slicing.

9. Unmold the cake using the over hangs. Decorate with toppings (if doing so)Slice and serve!
Notes
You can make your strawberry filling ahead and store it in the refrigerator for 2-3 days.
The cake can be made and kept in the freezer 2-4 days in advance. Thaw in the refrigerator only when ready to eat!
Nutrition