Super fun and easy overnight oatmeal in a jar for two. Flavor packed with fresh mangoes and blueberries. Such a bright and convenient start to a hot summer morning!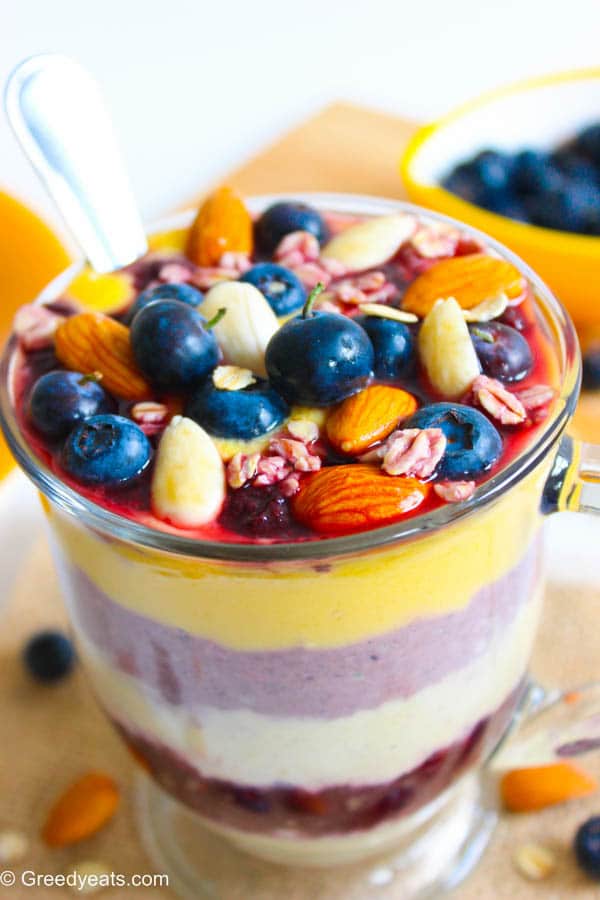 After stuffing myself with these super moist muffins for straight 6 days, I don't need more carbs for like a month! Oh and I did eat this cake for breakfast just the other day. What? You don't eat cake for breakfast? You are so silly totally missing out!
Morning is the best time to enjoy your cakes. That way, you will get one whole day to burn all the pesky calories. Right? Right?? Think about it. 😉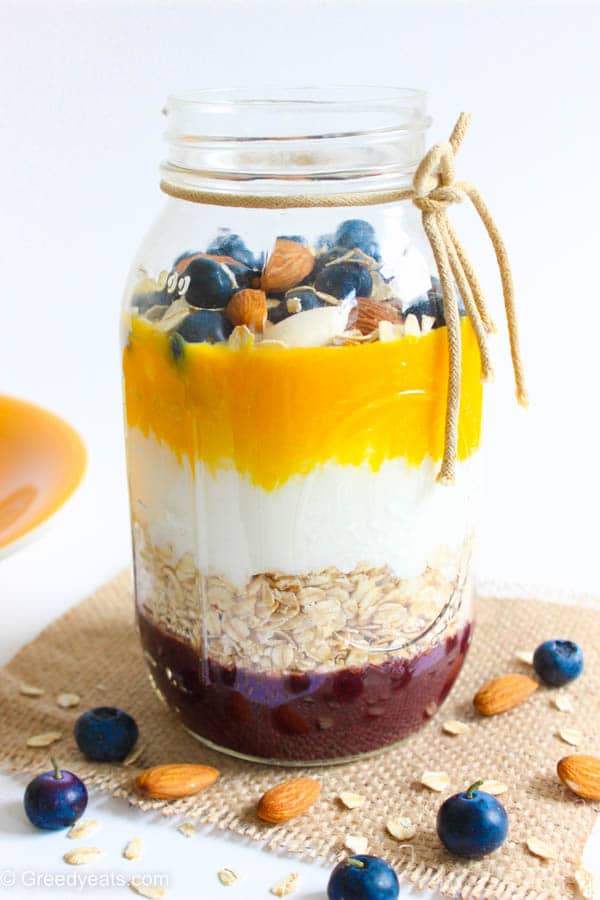 Anyway, this overnight oatmeal recipe takes no more than 5 simple ingredients and 5 minutes to put together. When you don't even need to spare those 5 minutes on a hectic morning and your breakfast tastes all fruity and creamy like a dessert, would you eat anything else for your breakfast ever?
I have 3 jars full of mango overnight oats sitting in my freezer right now. Yeah, moderation always fails to exist in my world!
Heck, I can only eat healthy breakfast for a month. Remember!
This is the most delicious (oh and also cold!) make ahead and ready to devour breakfast option you can treat yourself with.
How do you make overnight oats?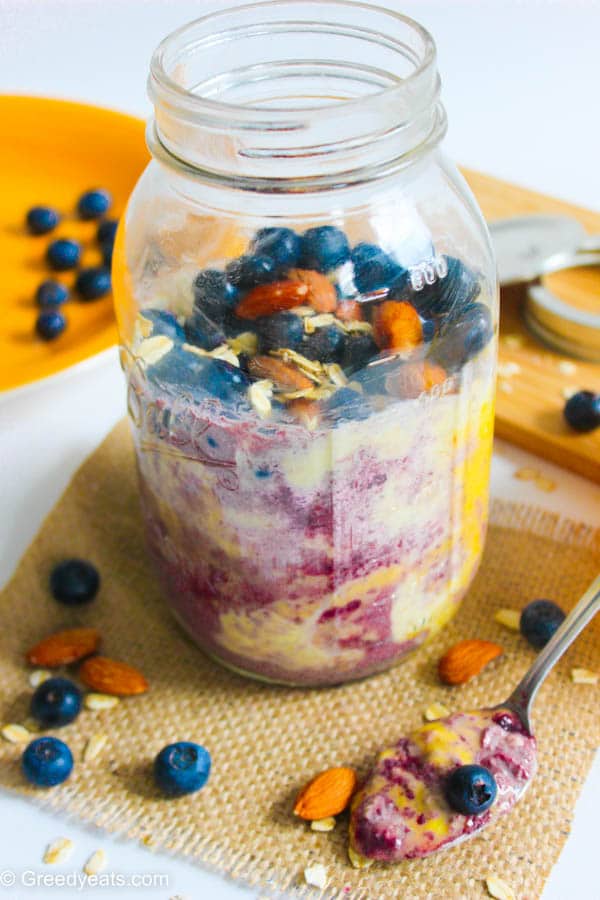 You throw in some rolled oats, vanilla flavored yogurt, mangoes and blueberries (grinded to a puree) and a sweetener of choice. Voila! Stick it in your fridge for the night to enjoy a creamy, fruity and ready to eat breakfast.
Plus it's so versatile. You can even make this recipe vegan, gluten free and dairy free at ease. Add sweeteners of choice (honey, brown sugar, maple syrup, coconut sugar etc) if using unsweetened yogurt. If using a non-flavored yogurt, splash some vanilla extract for that flavor kick.
Or if you are feeling a little jazzy like me layer your oats, yogurt, berries and mango for a pretty looking morning treat! It is so easy. Lets see how we do it!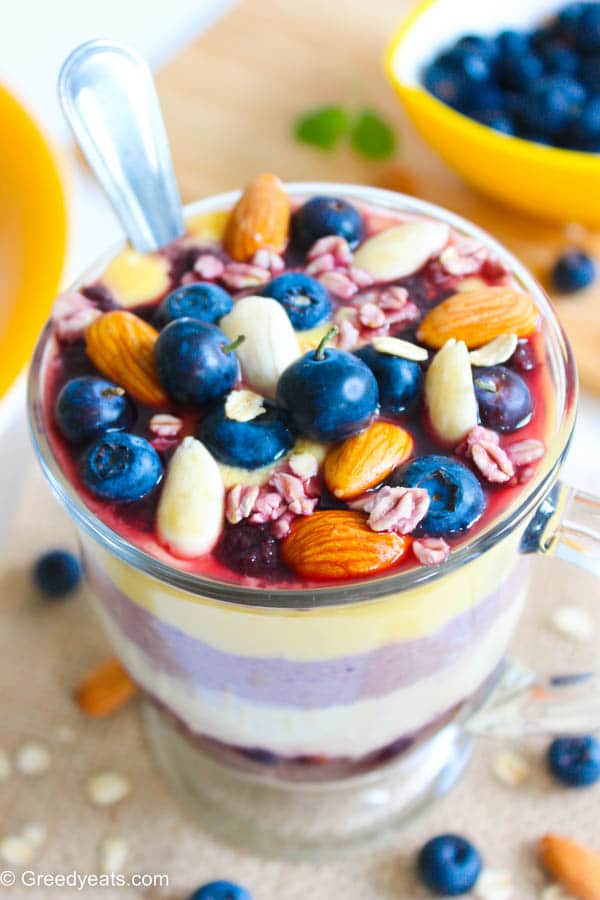 Layering your overnight oatmeal
Same ingredients, same quantity.
Start the first layer with ⅓ cup of yogurt. Add another layer with some berry puree. Add ⅓ cup of oats in remaining curd and make the third layer in your mug/jar. Mix the remaining oats and berry puree to form the fourth one(lighter shade of purple). Mango puree comes on the top. Spread a tablespoon of berry puree over the last layer for added looks.
You can alternate these ingredients and the order of layers as you please. Just make sure that all the oats are moistened. And you abide by the proportion of the ingredients!
Top the mug with your favorite fruit and nuts. I love soaked almonds over this recipe!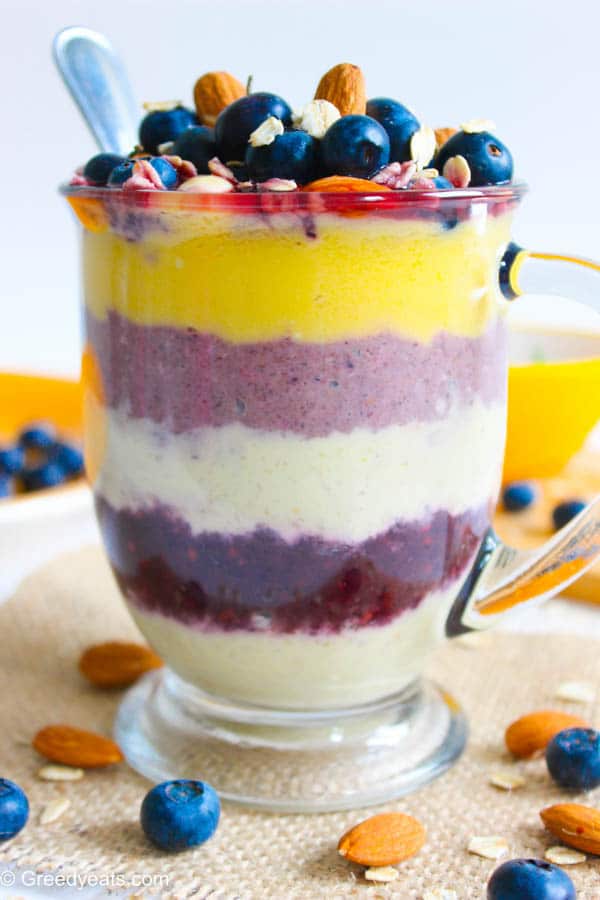 These berry and mango overnight oats are so satisfying, wholesome and super quick dessert like breakfast! Want to know what else I eat for my breakfast?
♥These wholesome muffins flavored with orange, pistachios, cranberry and some white chocolate!
♥Healthy granola bars with nuts and chocolate
♥These simple and yummy wholewheat banana muffins
♥Easy baked granola recipe
♥Protein packed Almond bars
♥And my favorite healthy and fluffy muffins with walnut and chocolate
I suggest you try these too for your breakfast. They all store really well and are a quick grab and go breakfast option!
Recipe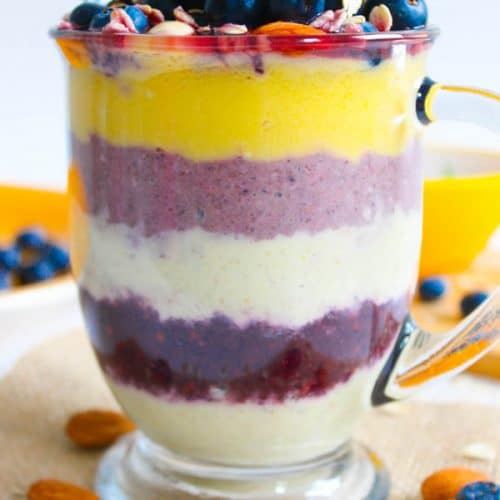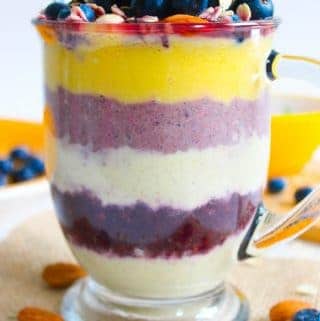 Overnight oatmeal in a jar with mango and berries
Super fun and easy overnight oatmeal in a jar for two. Flavor packed with fresh mangoes and blueberries. Such a bright and convenient start to a hot summer morning!
Print
Pin
Rate
Ingredients
⅔ Cup

Rolled oats

⅔ Cup

Vanilla flavored yogurt

⅓ Cup

Fresh/frozen mango puree

⅓ Cup

Fresh/frozen blueberry puree

1 Tbsp

Sweetener of choice (I use honey)
For topping
A handful

of soaked and/or peeled almonds

A handful

of fresh blueberries

A sprinkle of

oats (optional)
Instructions
1. Grind mango and blueberries to puree.

2. In a mug/jar combine yogurt, honey and oats till the oats are moistened.

3. Add in berries and mango puree. Do not over mix these puree in the yogurt mixture. Doing so will reveal a few yellow and purple swirls in the morning.

4. Secure the jar/mug with a lid/plastic wrap and keep overnight in the refrigerator. If you plan to make this recipe in the day, let it rest for atleast 7 hours in the refrigerator.

5. In the morning, top the oats with soaked almonds, fresh berries sprinkled with a tablespoon of oats (optional).

6. If you find the oats are less sweet than what you prefer, add more sweetener as desired. Also extra milk of choice can be added right before serving to adjust the consistency.
Notes
Storage:
Overnight oats can be stored in the fridge for 1-2 days. These taste best when eaten within 12-18 hours.
You can also freeze them in small portions for 5-6 days and thaw in the fridge overnight before enjoying. Add nuts, fresh fruits and toppings right before enjoying. 
Substitutions:
Make these overnight oats dairy free and vegan by adding vegan vaniila yogurt and a vegan sweetener of choice.
Use certified gf oats if wish to make this recipe gluten free. 
If using a non flavored yogurt, add a splash of vanilla extract in the curd+oats mixture.
Nutrition