When this dragon fruit smoothie bowl is your breakfast on a hot summer morning, you'd never want to set your alarm on snooze!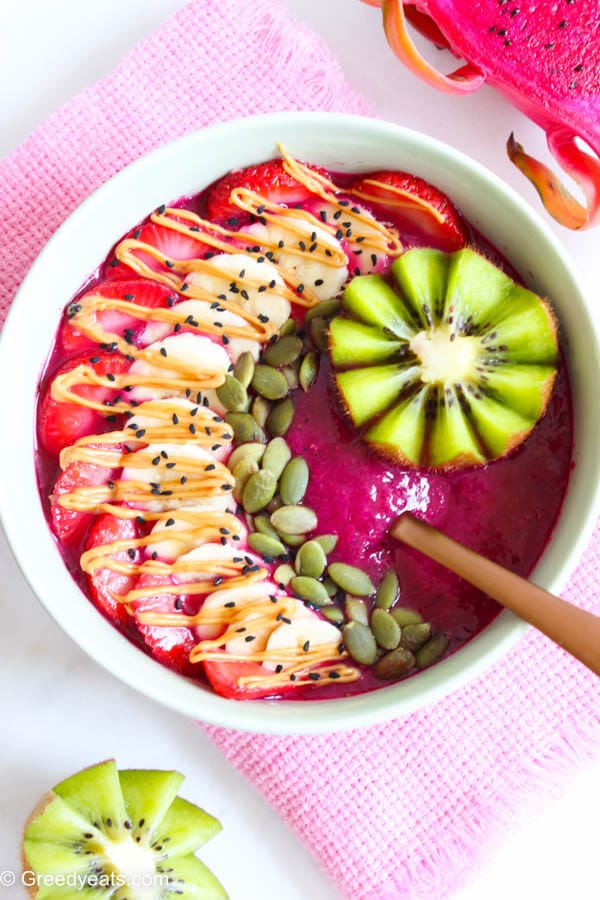 If you want to ask me why am I not sipping my smoothie directly from a straw! Or why care to dress it up as if this bowl was off to some summer party!
Well take a moment to look at this vibrant bowl again. Have you ever seen a fat glass of some boring smoothie, look half as pretty as this one? Did you say you too don't like those pale colored smoothie glasses? Smoothie glasses that hide boring veges in them and taste all like dry leaves! Then this one is for you.
Apart from the added beauty, this colorful bowl packs in so much flavor, freshness, nutrients and crunch in the toppings! Worth every effort you take to pour your smoothie in a bowl. Garnish it and then dig with a spoon! So much flavor in every bite.
What do we need for this smoothie bowl recipe?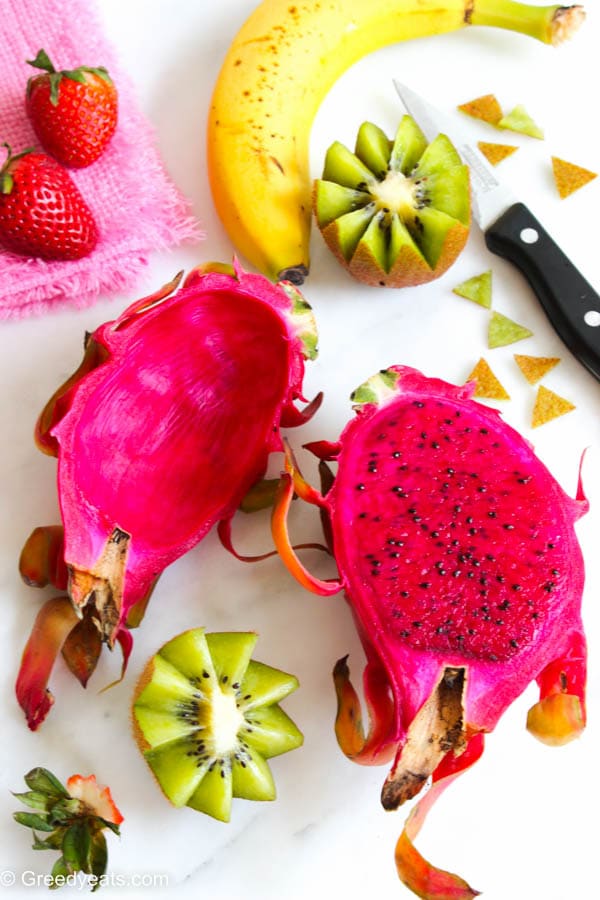 A dragon fruit (pitaya) or a pitaya puree pack
One medium banana
½ kiwi
And a few strawberries
That is all you need to make this hot cold electric pink bowl!
Oh and don't forget 2 giant spoons of peanut butter drizzle on top. Can't stress it enough! Just melt some pb in microwave. And pour it on top of your smoothie bowl. Also your favorite fruit and seeds toppings.
I used banana, strawberries, pepita and sesame seeds.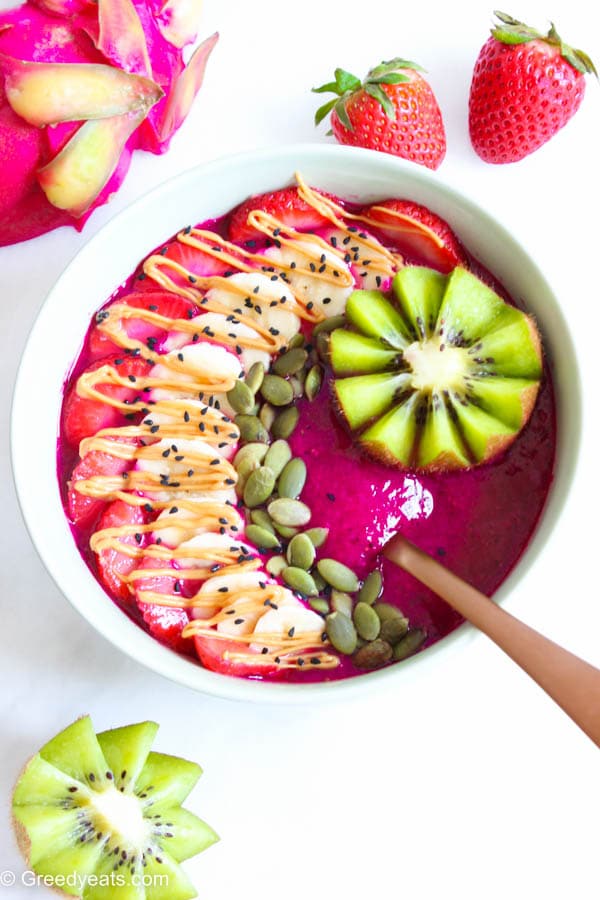 That kiwi flower is absolutely unnecessary. But pretty. No? You can always chop it when in a rush. 😉
Love pink? Then these cookies here are a must try for you! Oh and also their giant version!
I inhaled this buttery cake and these fruity muffins non-stop for past 4.5 days. Now I need nothing more but smoothie bowls and overnight oats! Need to fuel up my body with some real food!
More pretty and healthy breakfast choices for you!
Try my easy granola recipe
or these wholesome banana bread muffins
Also these festive muffins right here
And you do not wanna miss these high rising chocolate walnut muffins either!
Recipe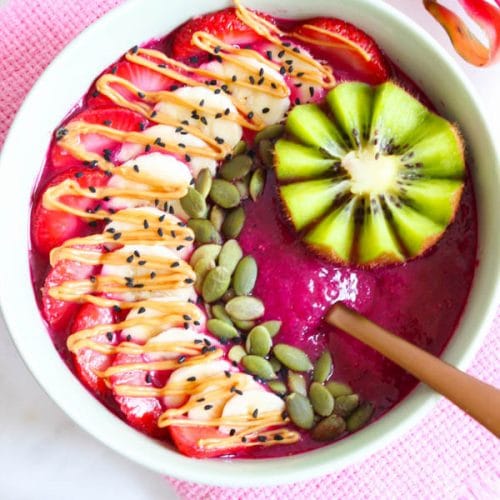 Dragon fruit recipe bowl
Bright and fresh pitaya/dragon fruit smoothie bowl served with fresh fruits, seeds and a drizzle of peanut butter. Yes, pb is absolutely necessary!
Print
Pin
Rate
Ingredients
1

Pitaya/dragon fruit or 3.5 oz (100 ml) dragon fruit puree pack

1

Banana

½

Kiwi (frozen preferably)

6-7

Medium strawberries (frozen preferably)
To top
A few

strawberry slices

A few

Banana slices

A kiwi flower

(optional)

3 Tbsp

Pepita seeds

1 Tbsp

Peanut butter (to drizzle)

Black Sesame seeds

to sprinkle
Instructions
1. Place all the smoothie bowl ingredients in a blender/ processor and blend until smooth.

2. Garnish with the strawberry and banana slices. Line some pepita seeds for the third layer.

3. Decorate with the kiwi flower, drizzle melted peanut butter on top. Finally sprinkle with black sesame seeds and enjoy!
Notes
Use super chilled fruits to make smoothie bowl. That way it will be ready to devour, as soon as blended!
If you prefer a thicker version of this smoothie bowl, use frozen banana.
Nutrition