Super easy one bowl recipe for cookies with cake mix in 6 ways. These are loaded with sugar coated chocolate chips, sprinkles and sparkling sugar!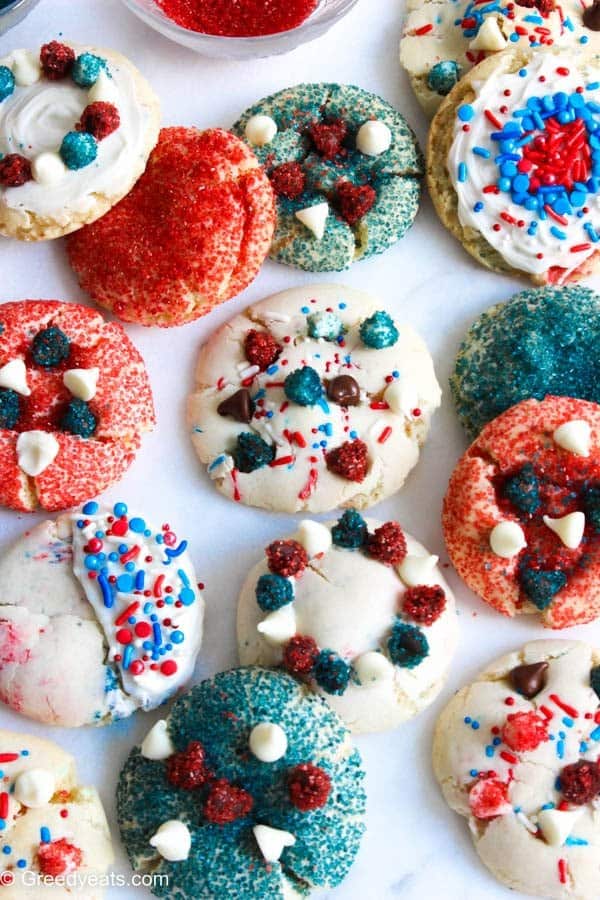 I made two dozen cookies yesterday and clicked one thousand shots. No, I'm not kidding. It took me several hours to select pictures for today's post. The recipe was way quicker to put together.
Now I crave for a cookie of different kind each time I see these pictures. Totally worth it! Not 1000 pictures. But these cookies that start with a box of cake mix. I love how convenient and easy to follow cake mix cookie recipes are. Just one bowl. No chilling, no mixers required! And these taste so soft, light and extremely chewy on the inside. Also they are pretty quick to whip up. Then you'll need nothing but a tall glass of chilled milk!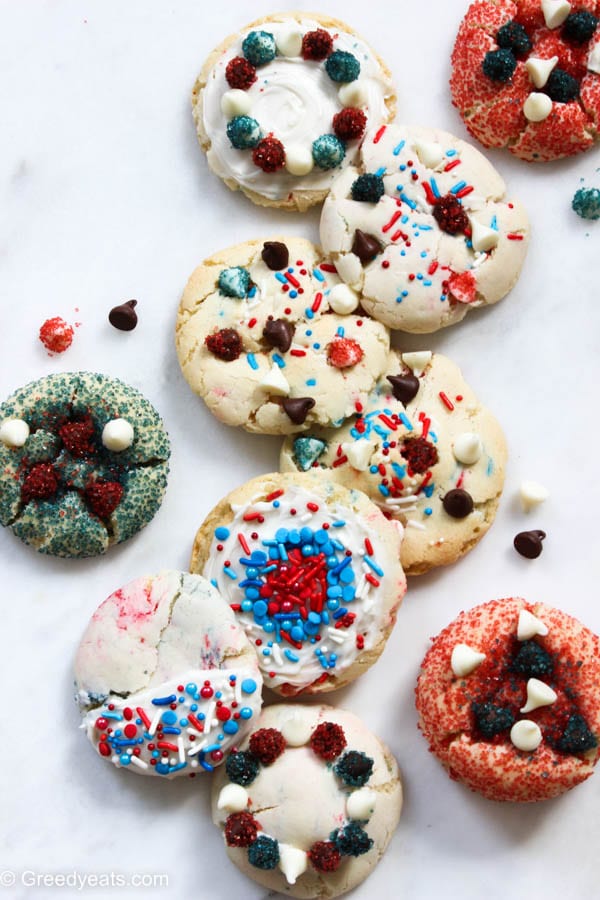 Ingredients for these Cake batter cookies
They are only 5! Cake mix, 2 eggs, baking powder, a splash of vanilla and some oil. These pantry friendly ingredients constitute the base of our cookie today.
Now they aren't boring or anything. Here comes the fun bit! Add sprinkles, chocolate chips (sugar coat them in red and blue) or frost with candy melts. Decorate as you like. These are your cookies! But for now step into a sugar filled ride with me. Here we gooooo!!!!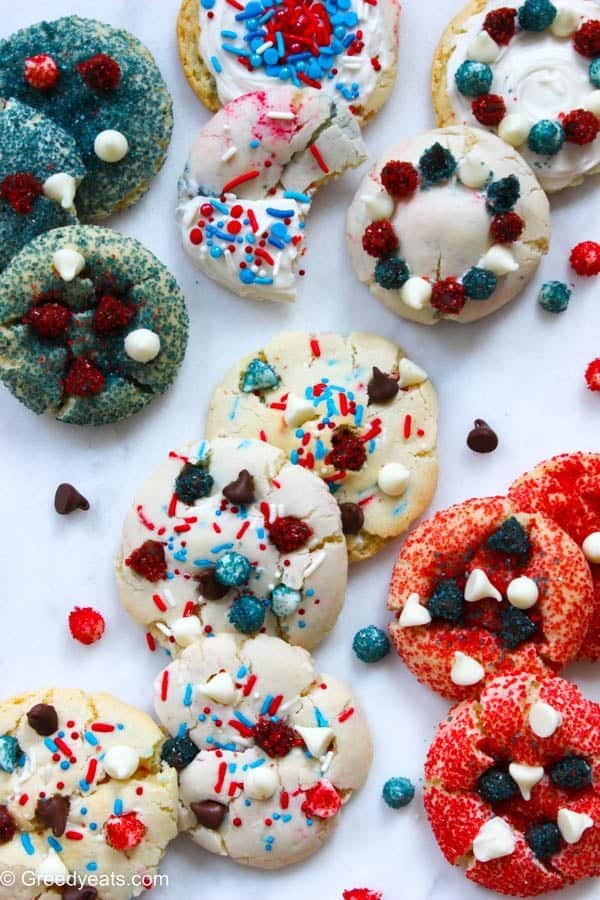 1. Sparkling cookies with cake mix
Super easy and such a fun treat. Just roll your cookie dough ball into sugar dust (color of choice). Top with chocolate chips or keep them plain. The are beautiful either way! And bake. Love that chewy crunchy texture!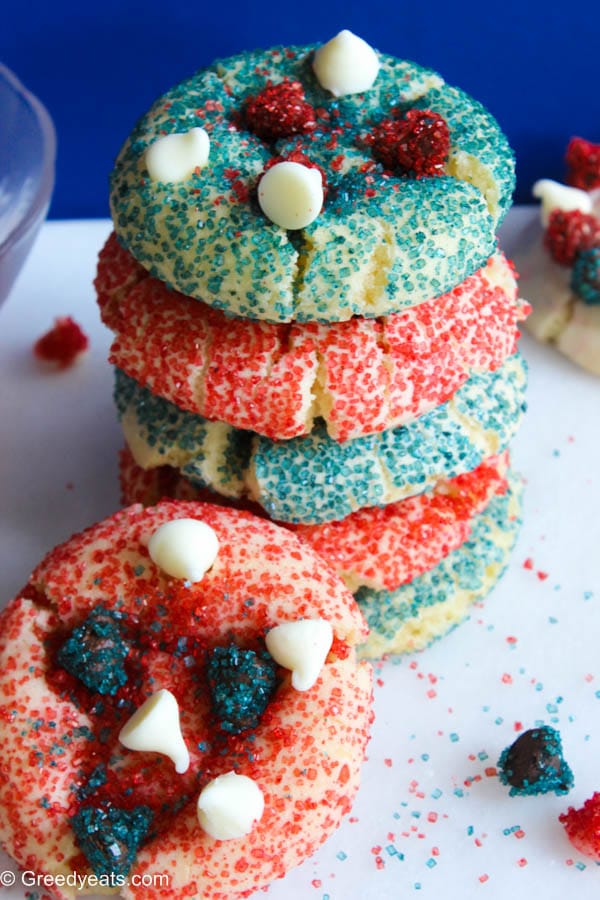 2. 4th of july cookies with wreaths
Meet my new favorite obsession! Bake your cake mix cookies. Make a circle (about half an inch away from the edges) with melted chocolate or candy melts. Then stick those shimmering red, white and blue chocolate chips on the cookie. Takes less than half a minute per cookie! And look how festive it turns out!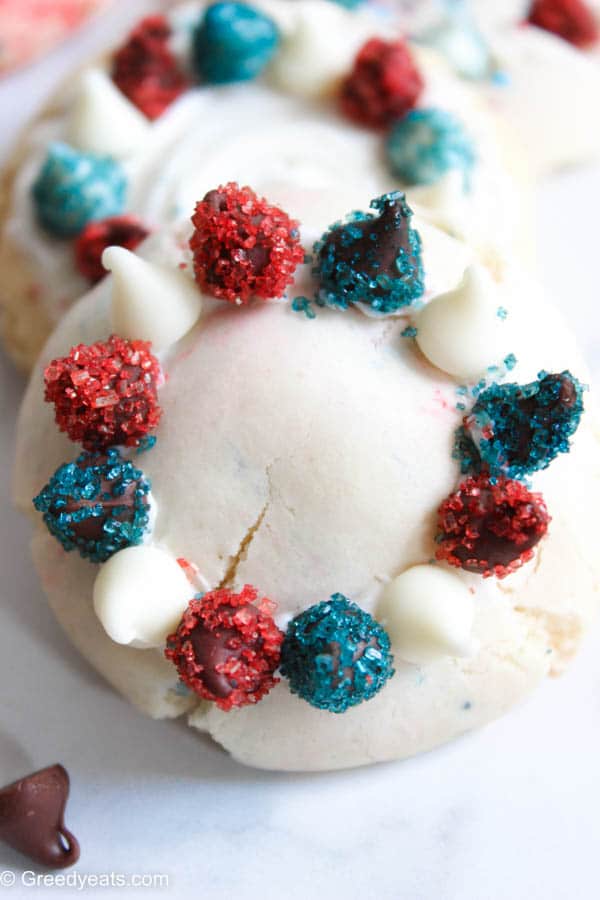 3. Frosted wreath cookies
Though the cookies above are elegant as it gets, you can pop those colors even more with a quick frosting. Melt those candy melts (with great care) in microwave and spread on your cookies with a spoon. While the frosting is still gooey, press down your chocolate chips on the cookie and voila!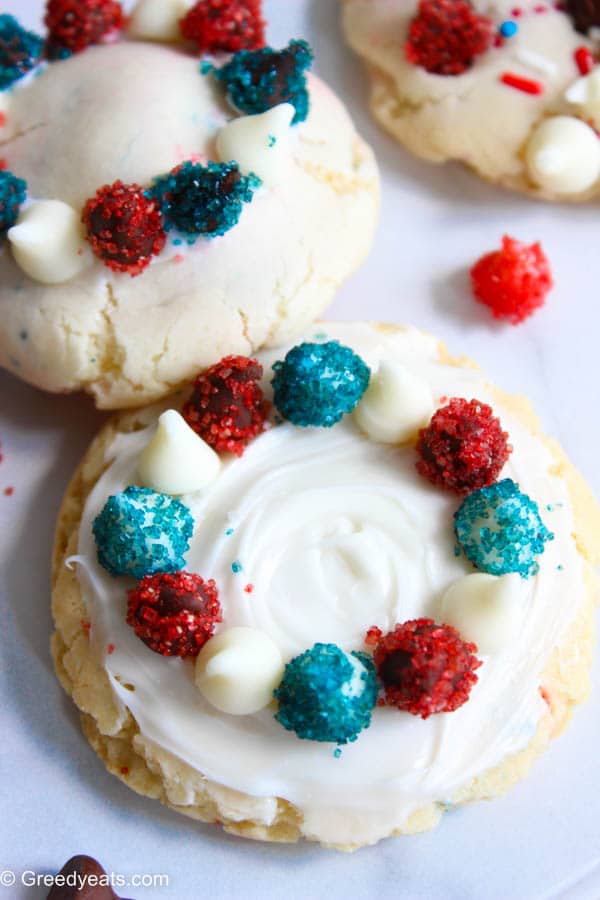 4. Cake batter chocolate chip cookies
Oh! it can't get any better. I am warning you. Have a crowd to share this Not So Innocent cookie with you! It is everything cookie dreams are made of.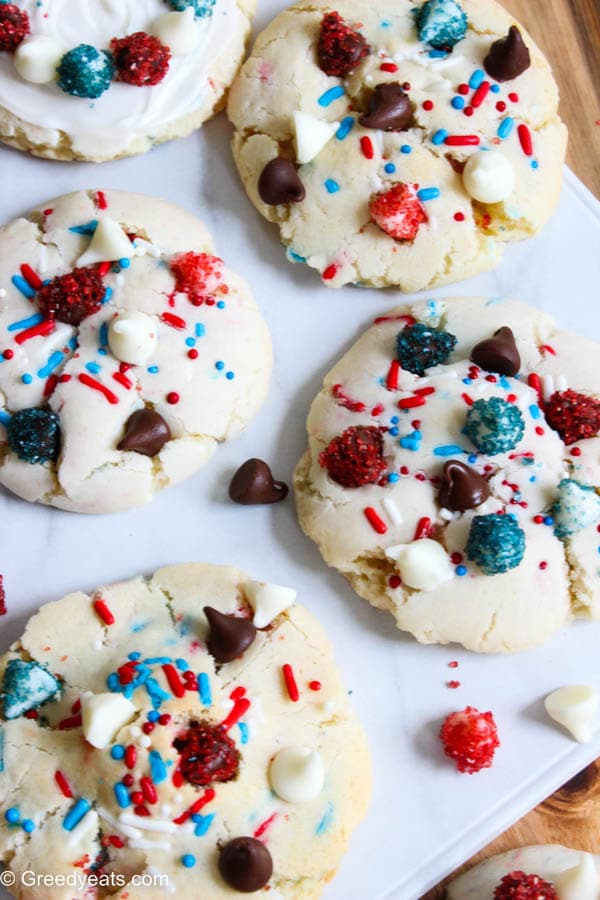 Okay! Praises aside! But I can't stop talking about them. Their texture, color, those crinkly tops, oh and that crunch from sprinkles and shining chocolate chips! ↓
Texture- soft, fuffy, light and chewy
Color- Snow white (baby sit them after 8th minute. white to pale-all of it happens in under one minute!)
Contrasting crunch from the add ins- chocolate chips- dark and white, sprinkles, oh and sugar coated chocolate chips! (More on that in a minute)
Crinkly and gorgeous!
5. Funfetti cake mix cookies (Frosted with candy melts)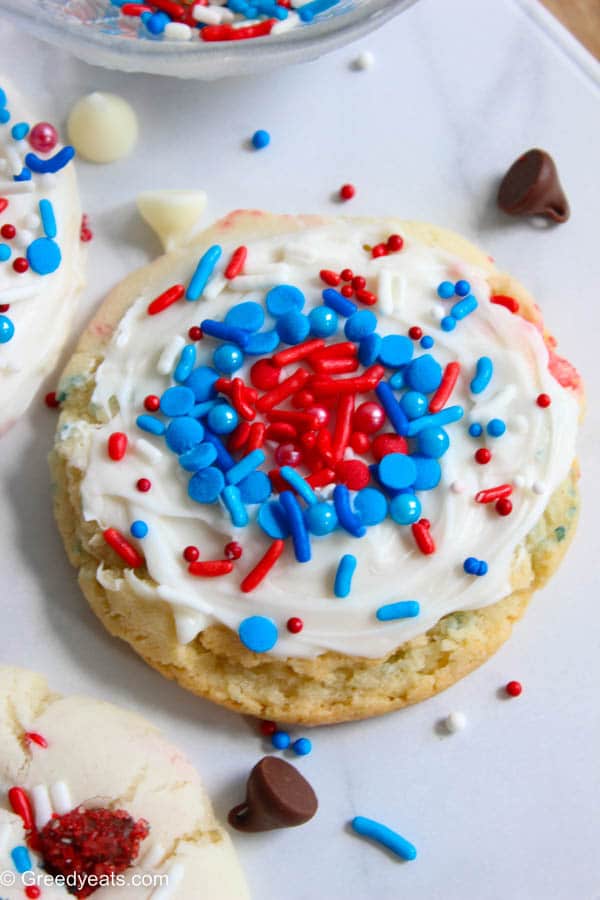 I couldn't wait to bite in those two red and blue circles! That combination of cookie+sprinkles= chewy+cruncy is worth every calorie! 😉
Mix about a cup of sprinkles in your cookie dough. Roll it into balls of 1-1 ½ inch and bake. Frost with candy melts. Decorate with more sprinkles while the candy melt is still gooey and press them a little. That way The decorations will stay put in the cookies.
6. Funfetti cookies dipped in candy melts
So easy it is to decorate. Melt those candy melts using a double boiler/microwave in a bowl. Dip your baked funfetti cookies in the bowl and top with the sprinkles of choice!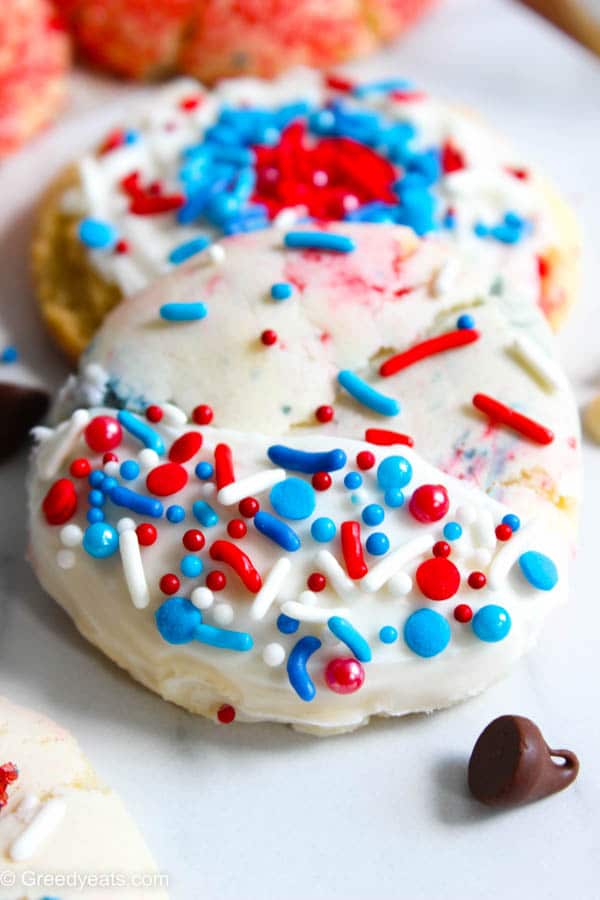 To coat your chocolate chips:
Dip your room temperature (not so hard to touch) chocolate chips in sanding sugar. Roll them with a fork and take them out. Or when your chips are cold, dip them in a bowl of water. Take them out quickly using a fork and then place them in sanding sugar to coat. Before you call me a fool, hear me out. Sugar sticks very quickly on a wet surface. And soaking cold chocolate chips in water for a sec will not melt them or anything! Win win!
Love easy to bake and quick to gobble cookies with cake mix? Then you need to try these strawberry flavored monster cookies!
Recipe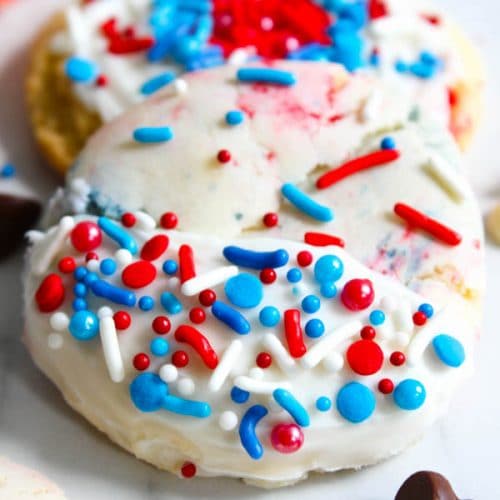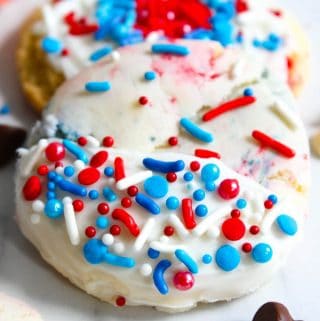 Cookies with cake mix 6 ways
Super easy one bowl recipe for cookies with cake mix in 6 ways. These are loaded with sugar coated chocolate chips, sprinkles and sparkling sugar!
Print
Pin
Rate
Ingredients
1 Box

White cake mix (I used duncan hines for this recipe)

½ tsp

Baking soda

⅓ Cup

Cooking oil (flavorless)

2 medium

Eggs

½ tsp

Vanilla extract
For decoration (Specific to the cookie you are baking)
1 Cup

Sprinkles

½ Cup

Sugar coated chocolate chips (color of choice)

¼ Cup

White chocolate chips

1 Cup

White candy Melts
Instructions
1. Preheat your oven to 350 F and line large cookie sheet with parchment paper/silicone baking mat and set aside.

2. Whisk eggs, vanilla, and oil using a balloon whisk in a mixing bowl. Add cake mix and baking soda to this mixture and stir very well to form cookie dough. You can do this step with hands. Just take care to get all those flour lumps out to form a smooth dough.

3. Add in the sprinkles (if adding). Drop 1- ½ inches of round balls on the pre lined sheet. Bake the cookies for 9-10 minutes. Let them cool on the sheet for 2-4 minutes and cool them down further on a wire stand.

4. The cookies will come out very soft out of the oven. But worry not. They will firm up as they cool.

5. For decorations please refer my post. I have explained in detail how to decorate cookie of each kind individually there.
Notes
Store your decorated/plain cookies for upto 7 days in an air tight container.
These also freeze well for two months. Thaw them in the fridge for a few hours. Enjoy cold or bring at room temperature before devouring!
Nutrition