Pumpkin applesauce muffins are so easy to make and are a guilt free fall breakfast treat. Topped with soft pumpkin spice crumb and melty chocolate!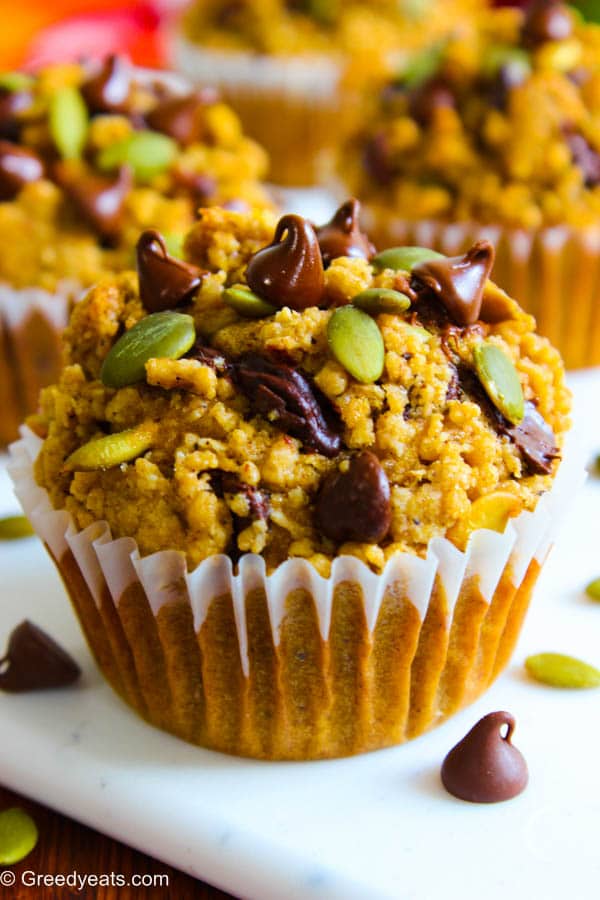 Want to opt for a healthy breakfast option that contains a little less oatmeal cookies and fewer overnight oat bowls?
Then my pumpkin applesauce muffins will be your best friends. For this pumpkin season. And for years to come, promise!
I know what you are thinking in your mind right now. Healthy pumpkin muffins? Apple sauce? Whole wheat? Rubbery? Chewy? Bland??? Blah!
Pish-posh! Scratch it all out of your head. Coz these truly the fluffiest muffins ever! So tender, soft and light.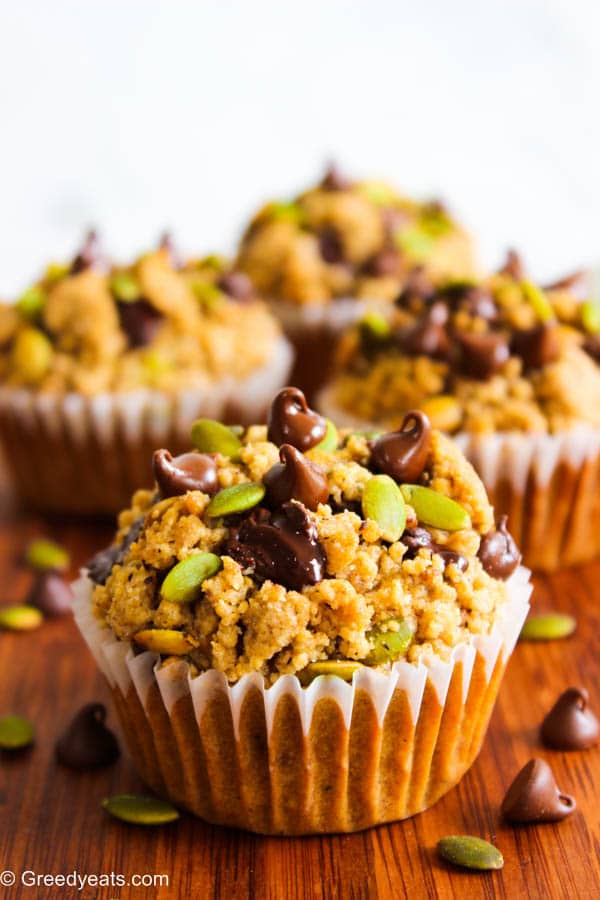 Pumpkin applesauce muffins: Texture
Oh and these aren't any ordinary fluffy pumpkin muffins!
They are exploding with warm pumpkin spices, melty chocolate chips, toasty pepitas and a tender crumb on top. I am literally drooling on my keyboard as I type this! Gross!!!
Ample of pumpkin flavor and a ton of texture is what our muffins are over-flowing with!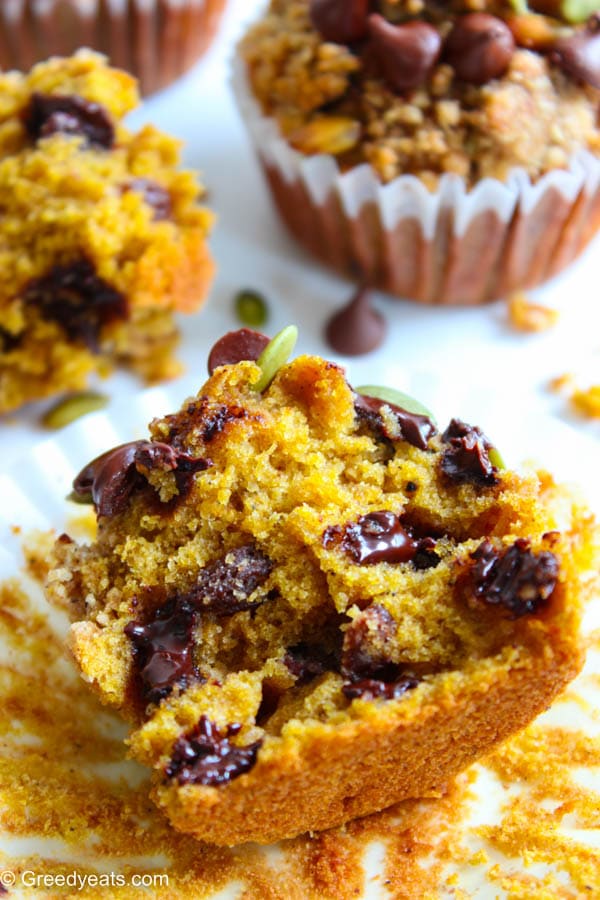 Under that crumb, you will find a pumpkin muffin that isn't very innocent!
Filled with (just enough) dark melty chocolate chunks, hearty pumpkin flavor, light texture and buttery crumbs, you can never guess they contain whole grains or applesauce. Promise!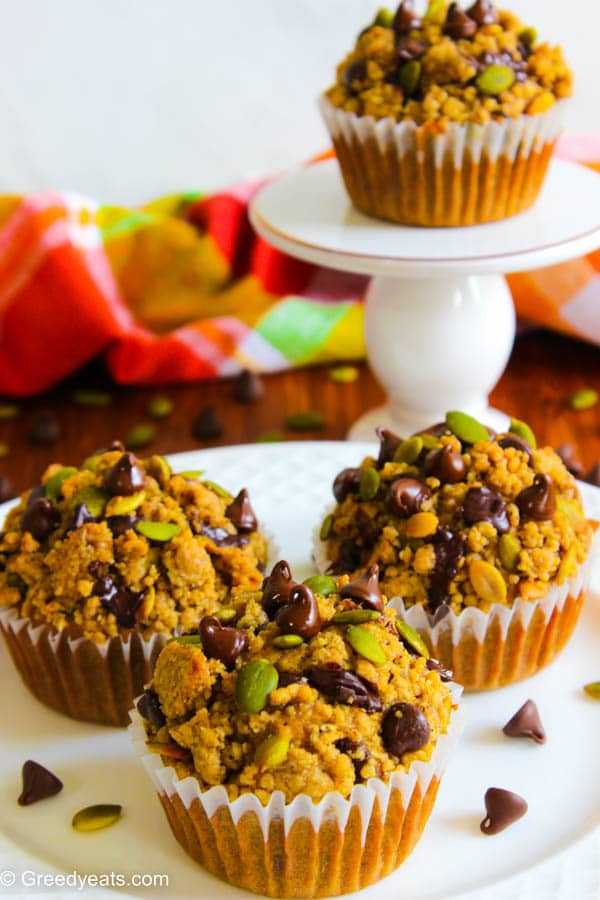 I took care to add just enough chocolate so it doesn't steal all the spotlight. We want the pumpkin and pumpkin spice flavors to shine through. But chocolate for brekky? I got you covered!
Pumpkin applesauce muffins: Crumb
That streusel is the bomb! Telling ya.
Pumpkin spice (All that flavor!)
Vanilla
Chocolate chunks
Brown sugar (OMG! That color.)
Butter (so Yum!)
Pepita seeds
Pumpkin spice brown sugar chocolate chunk streusel it is. Simply topped with more chocolate chips! 😉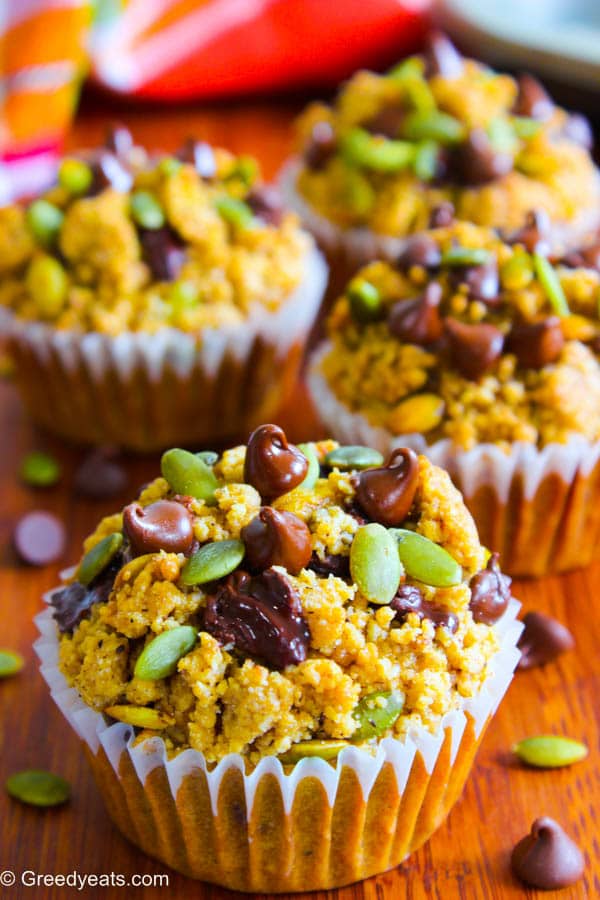 These pumpkin applesauce muffins are the perfect health-ish treat for breakfast, quick grab and go snack or even as a dessert. Hello, all the chocolate!
You won't be able to stop eating them and thanking me from the bottom of your stomach!
Follow me on instagram for more such drool-worthy dessert recipes! And tag #Greedyeatsblog if you make these muffins. Seeing your creations, makes my day!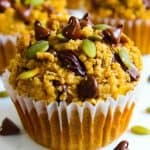 Pumpkin applesauce muffins with pumpkin spice streusel
Pumpkin applesauce muffins are so easy to make and are a guilt free fall breakfast treat. Topped with soft pumpkin spice crumb and melty chocolate!
Keyword:
Healthy pumpkin muffin recipe,, Pumpkin spice muffin recipe
Ingredients
1/2 of 15 oz Pumpkin can (15 Tbsps)

Pumpkin puree (Not pumpkin pie filling)

1/4 Cup

Flavorless oil

1/4 Cup

Applesauce (sugar less)

1/2 Cup

Granulated sugar

1 1/2 Large

Eggs

3/4 Cup

Whole wheat pastry flour/ white whole wheat flour

1/2 Cup

All purpose flour

1/2 tsp

Baking soda

1/4 tsp

Baking powder

1/4 tsp

Salt

1 tsp

All spice

1 tsp

Mix of ground (Cloves+nutmeg+black pepper)

1/4 tsp

Ground cardamom

1/4 tsp

Ground cinnamon

1 tsp

Vanilla extract

1/2 Cup

Chocolate chunks/chips of choice (optional)
Pumpkin spice chocolate streusel
1/2 Cup

Whole wheat flour

1/4 Cup

Butter (Cold)

1/3 Cup

Brown sugar

1 1/2 tsp

Vanilla Extract

1 tsp

All spice

1/2 tsp

Ground cinnamon

1/4 Cup

Chocolate chunks/chips

1/2 Cup

Pepita Seeds
Instructions
Preheat your oven to 375 deg F and line 12 paper liners in a muffin pan. Set aside.

MAKING THE CRUMB

1. Mix together flour, sugar, spices, and vanilla. Now crumble your butter in the flour mixture with a fork to combine.

2. Fold in pepita seeds and chocolate chunks/chips (saving a few for decoration).

FOR THE MUFFIN BATTER

1. In a mixing bowl whisk together eggs, pumpkin puree, sugar, vanilla and applesauce.

3. Sift both flours, baking powder, baking soda, spices and salt. Now add wet ingredients to dry and gently fold to combine. DON'T overmix! Over beating whole grain muffins produces stiff and rubbery baked goods!

4. Divide the batter among the paper liners (each about 2/3 full) and top with the prepared crumb.

5. Bake for about 15-20 minutes or until a tooth pick inserted int the center comes out with a few baked crumbs.

6. Take out of oven and top with remaining chocolate chips.
Recipe Notes
Both homemade and store bought puree work well in these muffins.
You can also replace whole wheat flour with all purpose flour, both in the muffin batter and the crumb.
Baked muffins stay fresh for upto 7 days, covered tightly in an air tight container.
These also freeze well for 3 months. Thaw in refrigerator or on the counter and warm to your liking in microwave (if needed).
I like to use a lot of spices in my pumpkin muffins. A large pinch of black pepper and a hint of cardamom gives them a unique depth of flavor, trust me. You can alter the spices to your taste preferences though.
Slightly adapted from A bountiful kitchen