Pumpkin applesauce muffins are so easy to make and are a guilt free fall breakfast treat. Topped with soft pumpkin spice crumb and melty chocolate!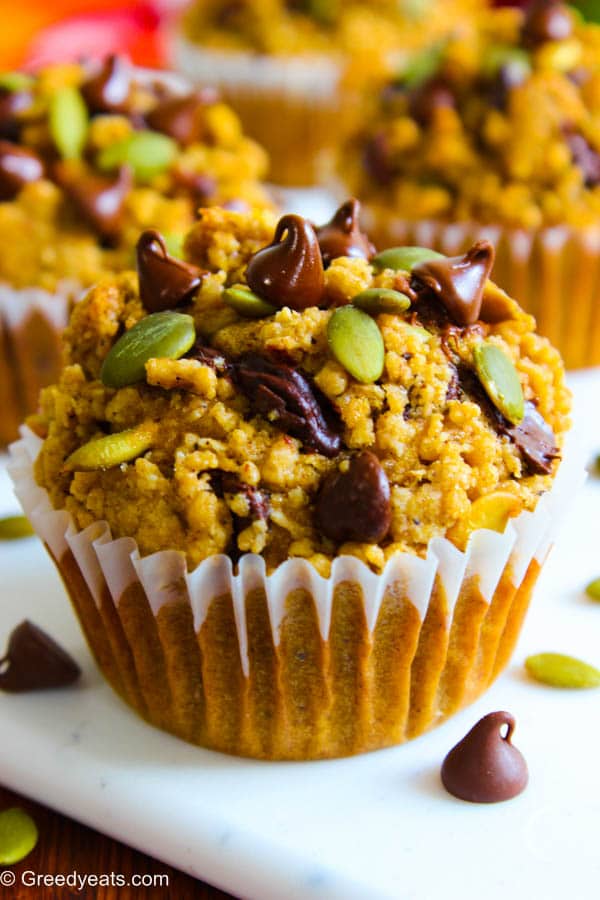 Want to opt for a healthy breakfast option that contains a little less oatmeal cookies and fewer overnight oat bowls?
Then my pumpkin applesauce muffins will be your best friends. For this pumpkin season. And for years to come, promise!
I know what you are thinking in your mind right now. Healthy pumpkin muffins? Apple sauce? Whole wheat? Rubbery? Chewy? Bland??? Blah!
Pish-posh! Scratch it all out of your head. Coz these truly the fluffiest muffins ever! So tender, soft and light.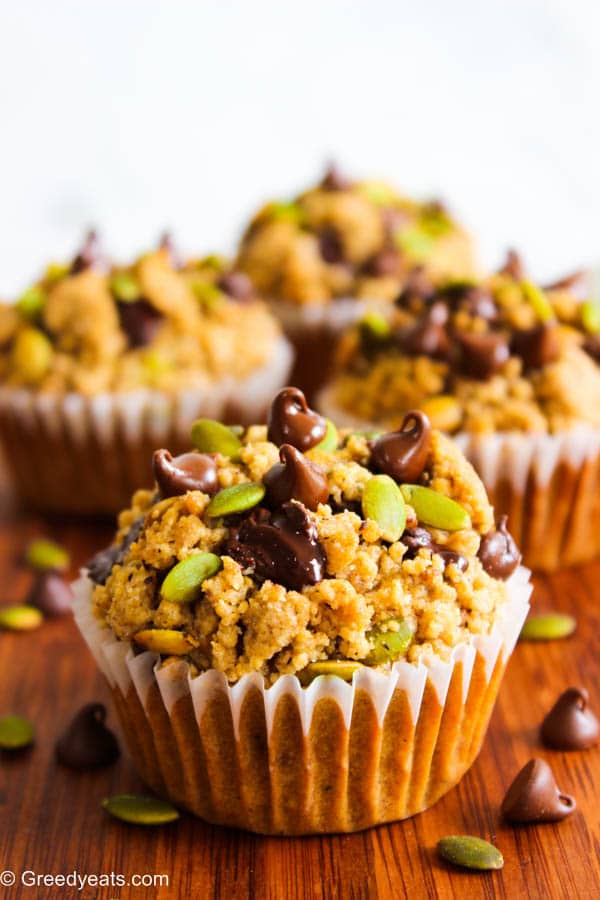 Pumpkin applesauce muffins: Texture
Oh and these aren't any ordinary fluffy pumpkin muffins!
They are exploding with warm pumpkin spices, melty chocolate chips, toasty pepitas and a tender crumb on top. I am literally drooling on my keyboard as I type this! Gross!!!
Ample of pumpkin flavor and a ton of texture is what our muffins are over-flowing with!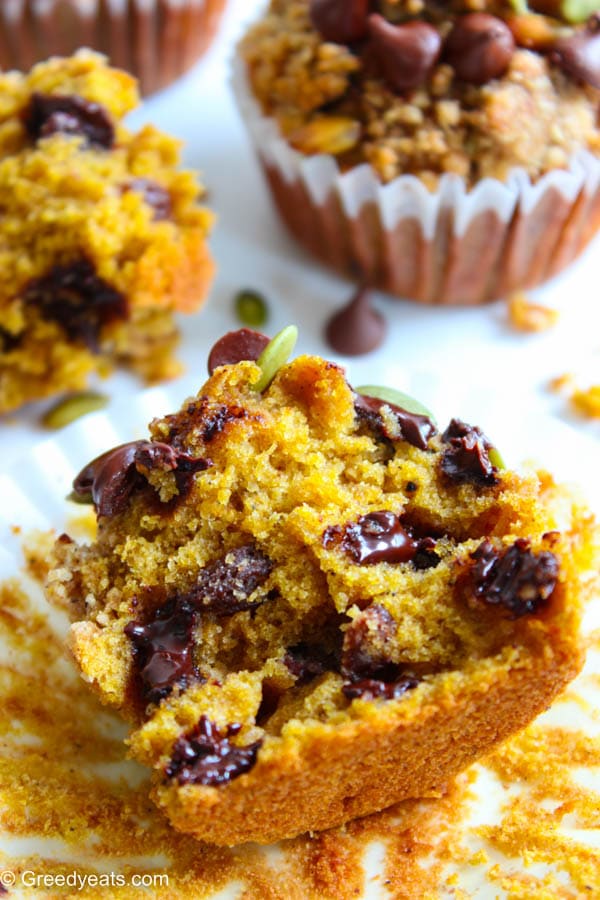 Under that crumb, you will find a pumpkin muffin that isn't very innocent!
Filled with (just enough) dark melty chocolate chunks, hearty pumpkin flavor, light texture and buttery crumbs, you can never guess they contain whole grains or applesauce. Promise!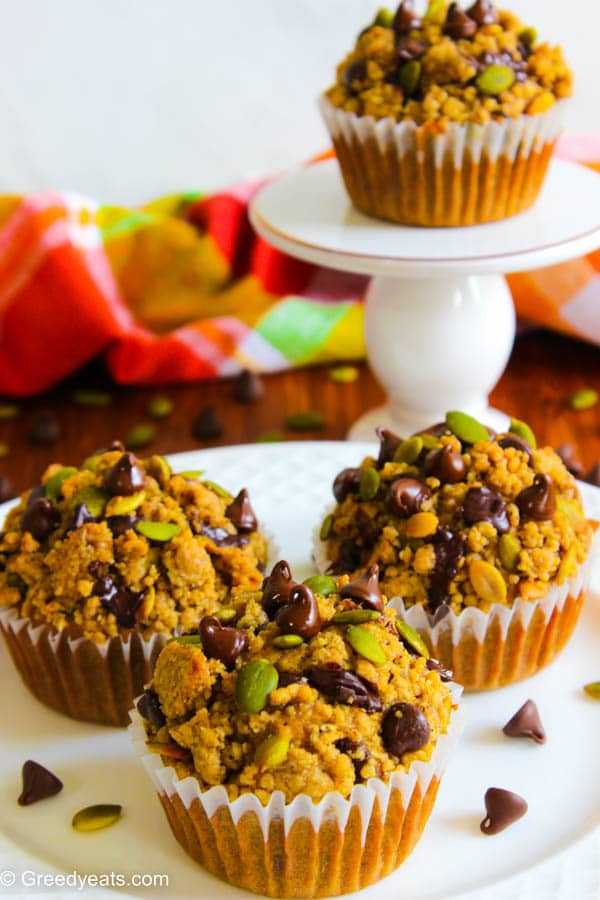 I took care to add just enough chocolate so it doesn't steal all the spotlight. We want the pumpkin and pumpkin spice flavors to shine through. But chocolate for brekky? I got you covered!
Pumpkin applesauce muffins: Crumb
That streusel is the bomb! Telling ya.
Pumpkin spice (All that flavor!)
Vanilla
Chocolate chunks
Brown sugar (OMG! That color.)
Butter (so Yum!)
Pepita seeds
Pumpkin spice brown sugar chocolate chunk streusel it is. Simply topped with more chocolate chips! 😉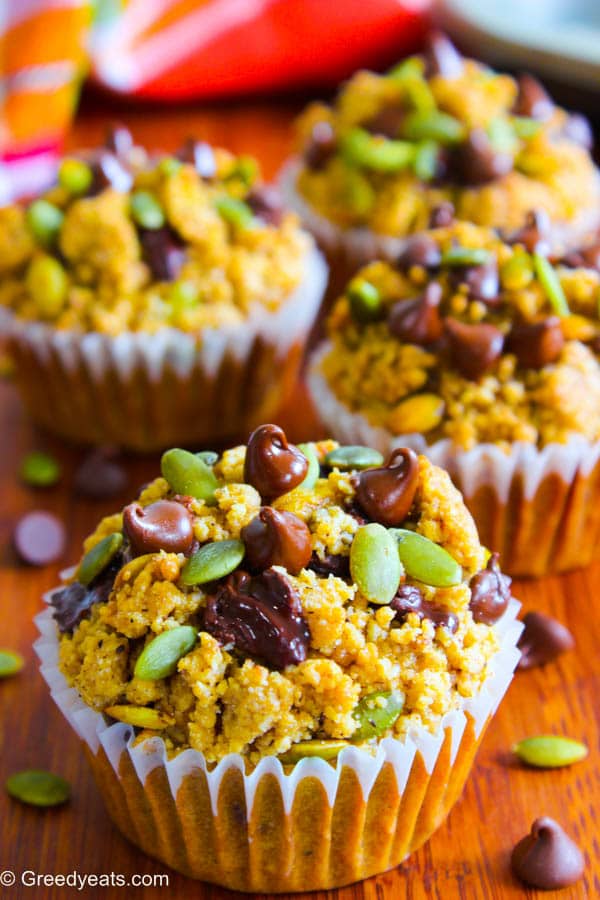 These pumpkin applesauce muffins are the perfect health-ish treat for breakfast, quick grab and go snack or even as a dessert. Hello, all the chocolate!
You won't be able to stop eating them and thanking me from the bottom of your stomach!
Follow me on instagram for more such drool-worthy dessert recipes! And tag #Greedyeatsblog if you make these muffins. Seeing your creations, makes my day!
Slightly adapted from A bountiful kitchen