Pumpkin Chocolate Chip Cookie recipe, a Small Batch Cookie Recipe to bake this fall. So chewy, insanely thick, super soft and not cakey at all! These cookies are ready in under 30 minutes and require no mixer.
Try my Pumpkin Chocolate Chip Cookies next. Or these Melted Butter Chocolate Chip Cookies! Find all my cookie recipes at one place!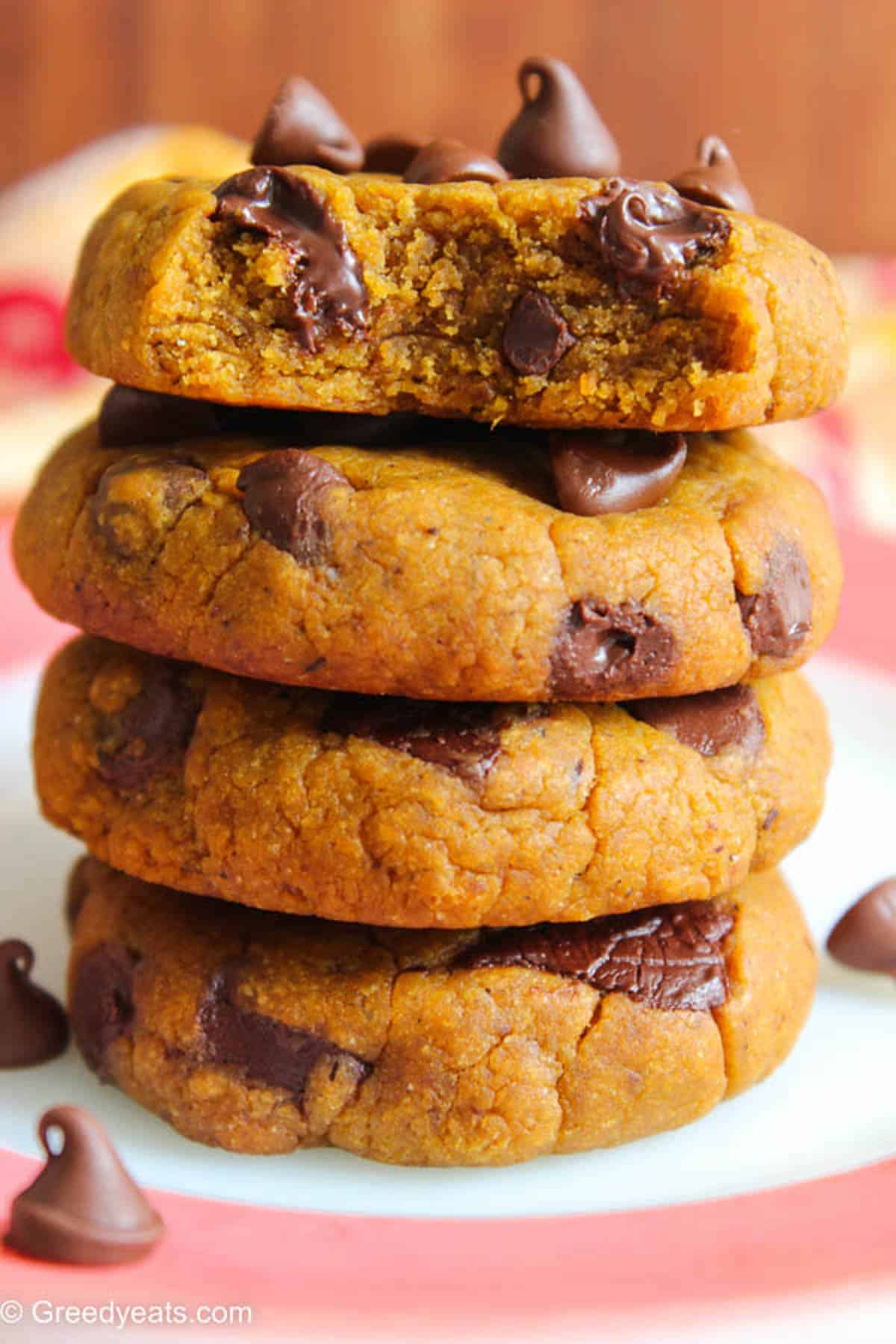 Although it's 90 degrees F outside, but in my head I am in the fall state of mind. Dreaming about picking apples, carving pumpkins, wearing knitted socks, cozy boots and making pretty pies! I love fall more than I love these!
No, seriously I do.
You will love these Chocolate chip pumpkin cookies because:
They are super quick to bake. With only 30 minutes of chilling time.
Not at all cakey!!
Perfect make ahead dessert, since the flavor and texture amplifies the next day!
These are eggless cookies, so no need to wait for the egg to come to room temperature.
And,
They are just as pretty as my Pumpkin Oatmeal Cookies all dressed up for fall! Loaded with dark chocolate and chocolate chips, studded with more chocolate chips and scented with truck load of spices!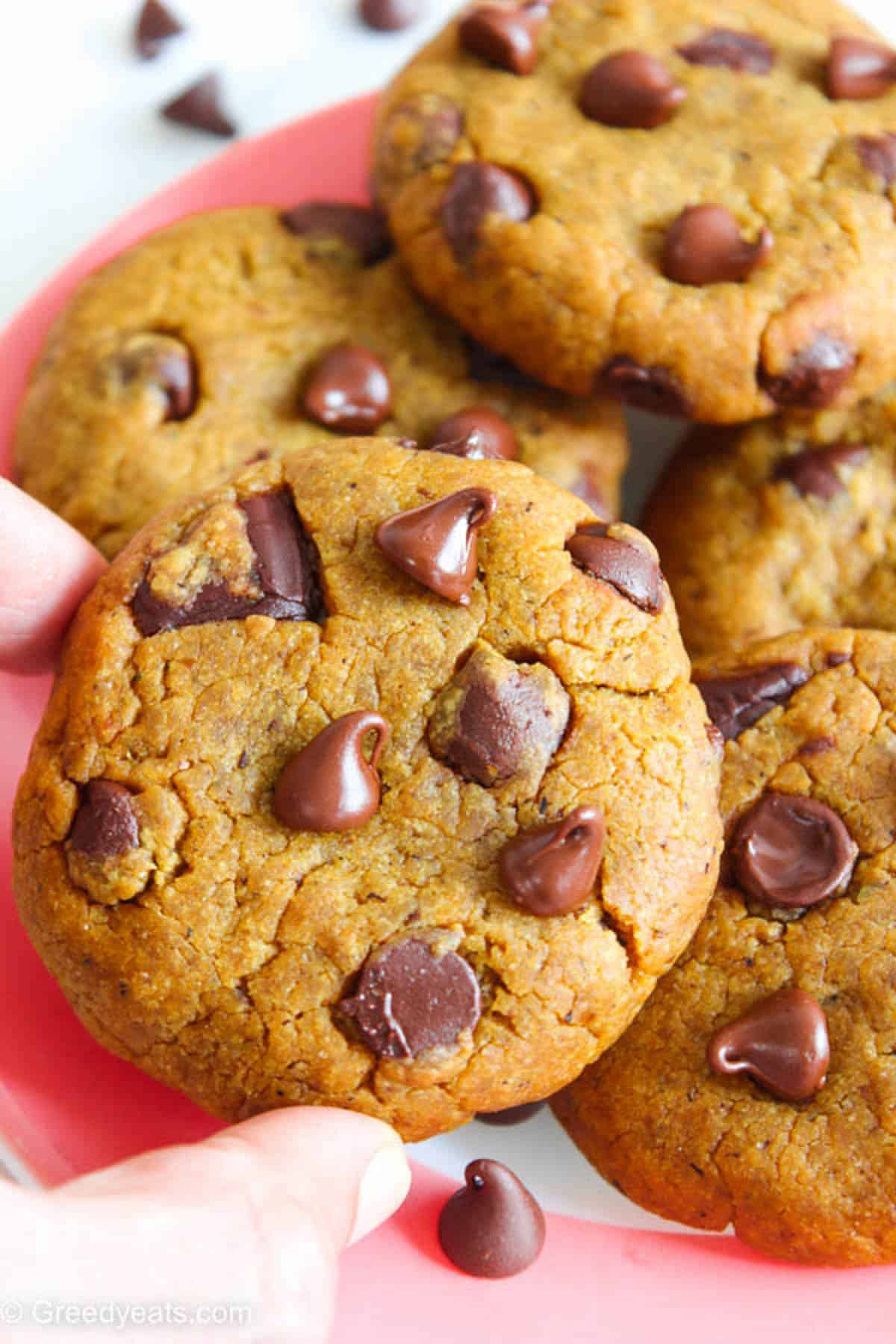 Pumpkin Cookie Recipe: Taste and Texture
They are chewy and oh-so-soft
Super thick
Filled with massive pumpkin and soul satisfying spice flavors
Dotted with chocolate and chocolate chips
These don't taste like some dense pumpkin cake (like most pumpkin cookie recipes out there)
I realized we don't really need an egg in pumpkin cookies. I tried so many recipes with eggs and result were cookies that tasted like muffin tops!
Soft Pumpkin Cookies Ingredients: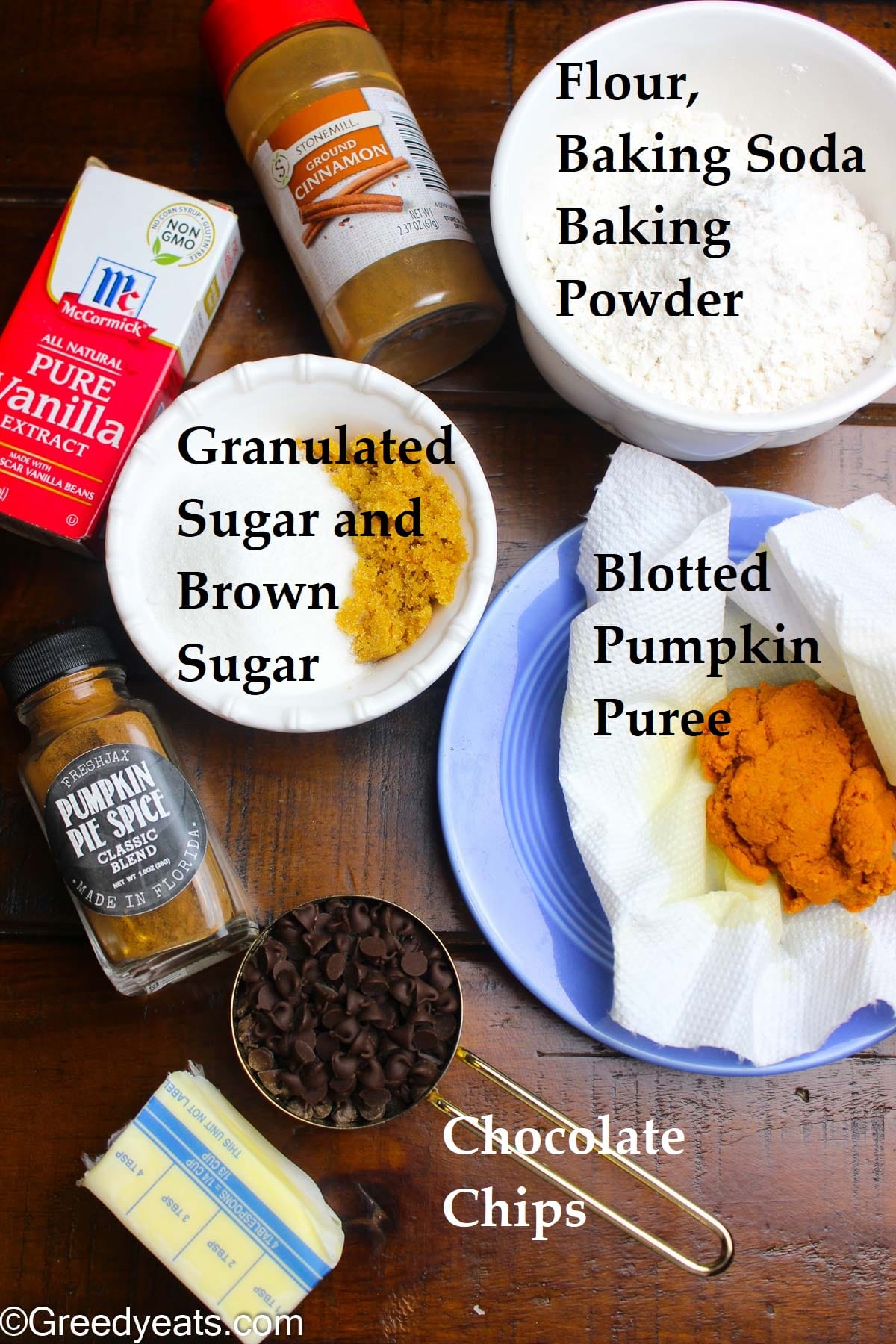 Canned Pumpkin: I like to use Libby's canned pumpkin. Do not skip to blot the puree using a few paper towels to get rid of excess moisture.
Leaveners: Both baking powder and baking soda are needed to bake perfect textured cookies.
Sugars: A combination of white and brown sugar in the cookie dough creates super chewy and soft pumpkin cookies.
Butter: We are using melted butter in these cookies. No need to wait for the butter to get to room temperature.
Vanilla: I like to add a splash of vanilla extract to this dough. It enhances the overall flavor profile of pumpkin cookies. I suggest you give it a try!
Spices: You may use the spices that I am using in this cookie dough. I use ground ginger, cloves, nutmeg and all spice powder to create my homemade version of pumpkin pie spice. Or you can use store bought pumpkin pie spice along with ¾ teaspoon cinnamon.
No egg or yolk: As pumpkin already contains ample of moisture (about 91%) by mass, adding more moisture in the form of egg leads to cakey textured cookies.
Substituting egg with pumpkin puree not only solves the cakey cookie problem but also imparts ample of pumpkin taste to the cookies!
Easy pumpkin chocolate chip cookies from scratch: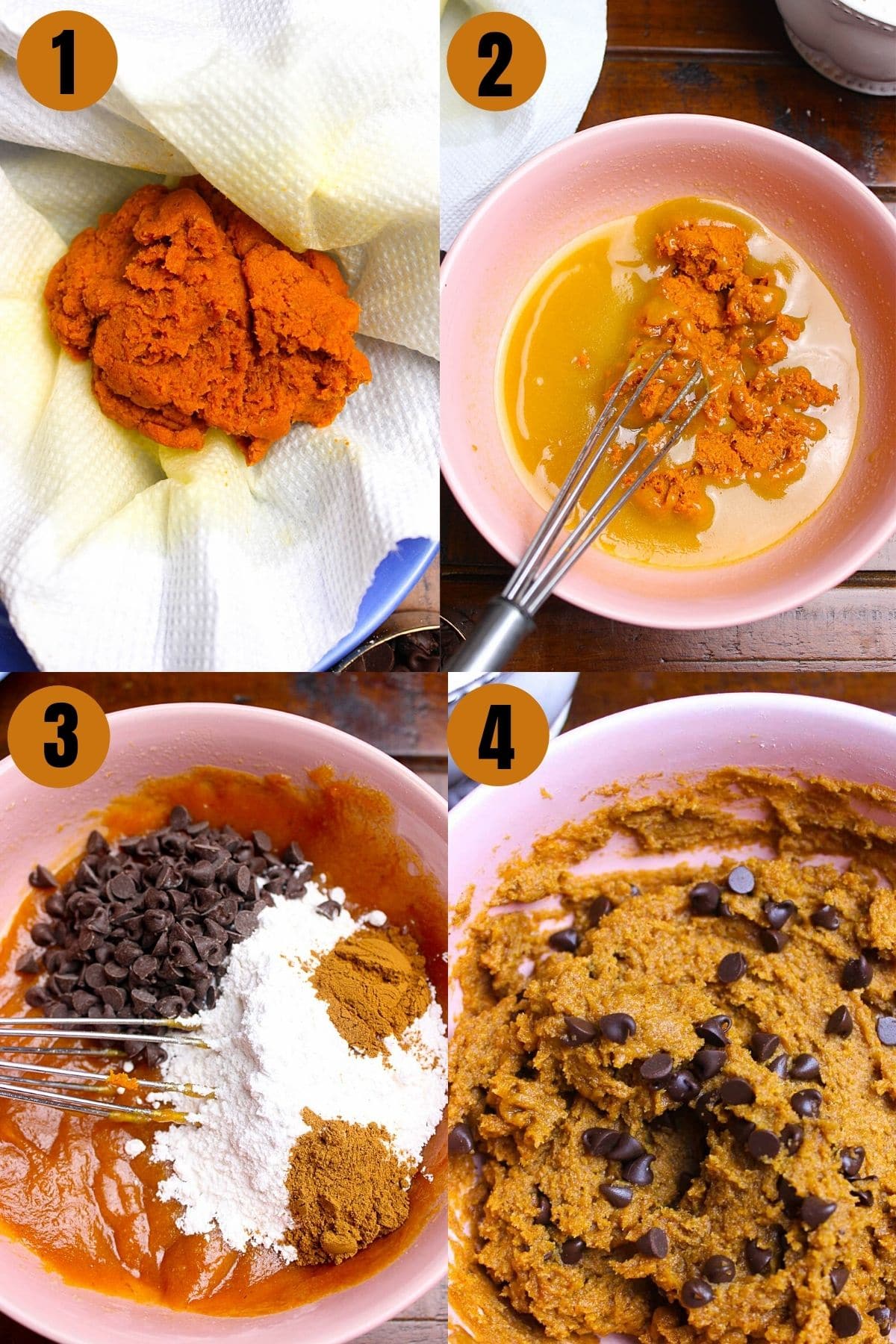 We are using melted butter in the cookies to make them extra chewy. To make these:
Blot your pumpkin puree.
Beat butter and both sugars till combined.
Add and mix in pumpkin puree.
Now sift in all the dry ingredients including spices and form cookie dough.
Add chocolate chips and dark chocolate (if adding).
When ready to bake, shape dough into balls and flatten them like in the picture below. As they don't spread much in the oven. ↓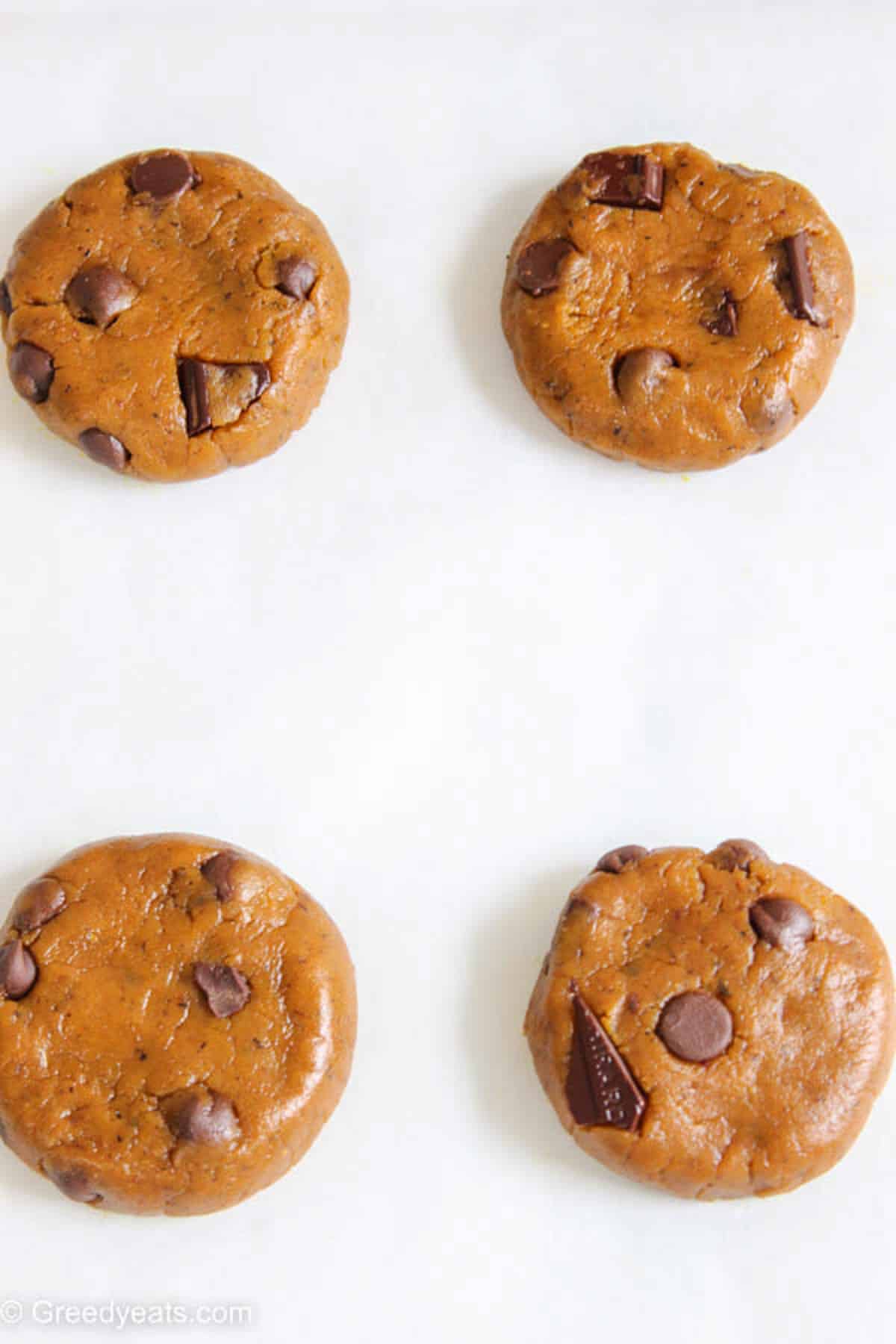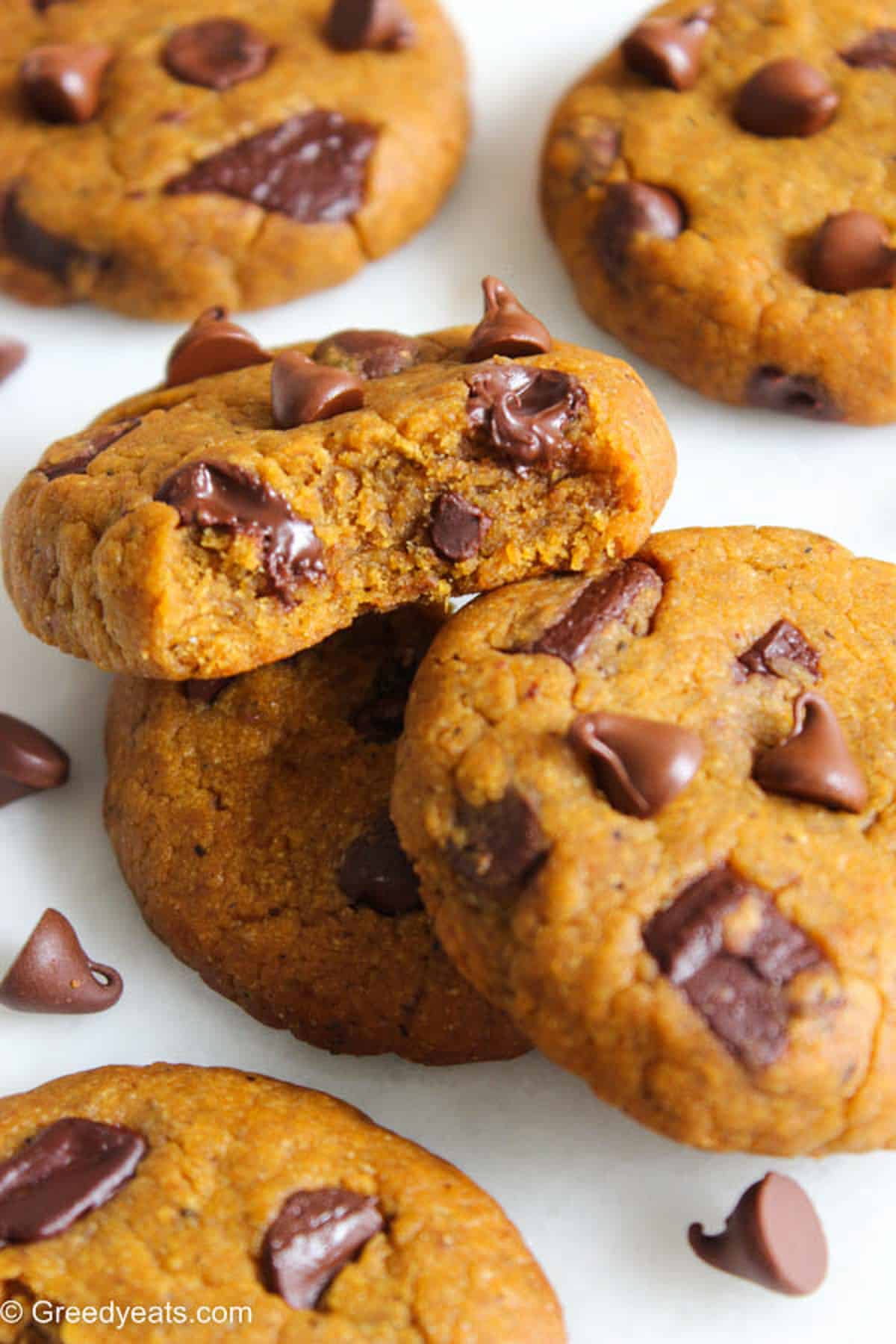 CHOCOLATE CHIPS AND ADD ON VARIATIONS:
Both chocolate chunks and chocolate chips taste good in these cookies. I like to use regular semi sweet chocolate chips, though you can also opt for mini ones.
Try switching semi sweet chocolate chips with Milk chocolate chips, White chocolate chips, Cinnamon chips or even Biscoff chips will taste wonderful with these cookies.
How long are pumpkin cookies good for?
Kept at room temperature pumpkin cookies will stay fresh for 3 to 4 days. For longer storage opt for storing them in refrigerator or you can also freeze them.
How to store Pumpkin Cookies?
These Cookies stay good on room temp, covered tightly for about 3-4 days. You can store them in refrigerator for up to a week.
Do pumpkin cookies need to be refrigerated?
You only need to refrigerate these cookies if you are not planning to use them up within a period of 3 to 4 days. Refrigerating cookie will last them for about 7 days.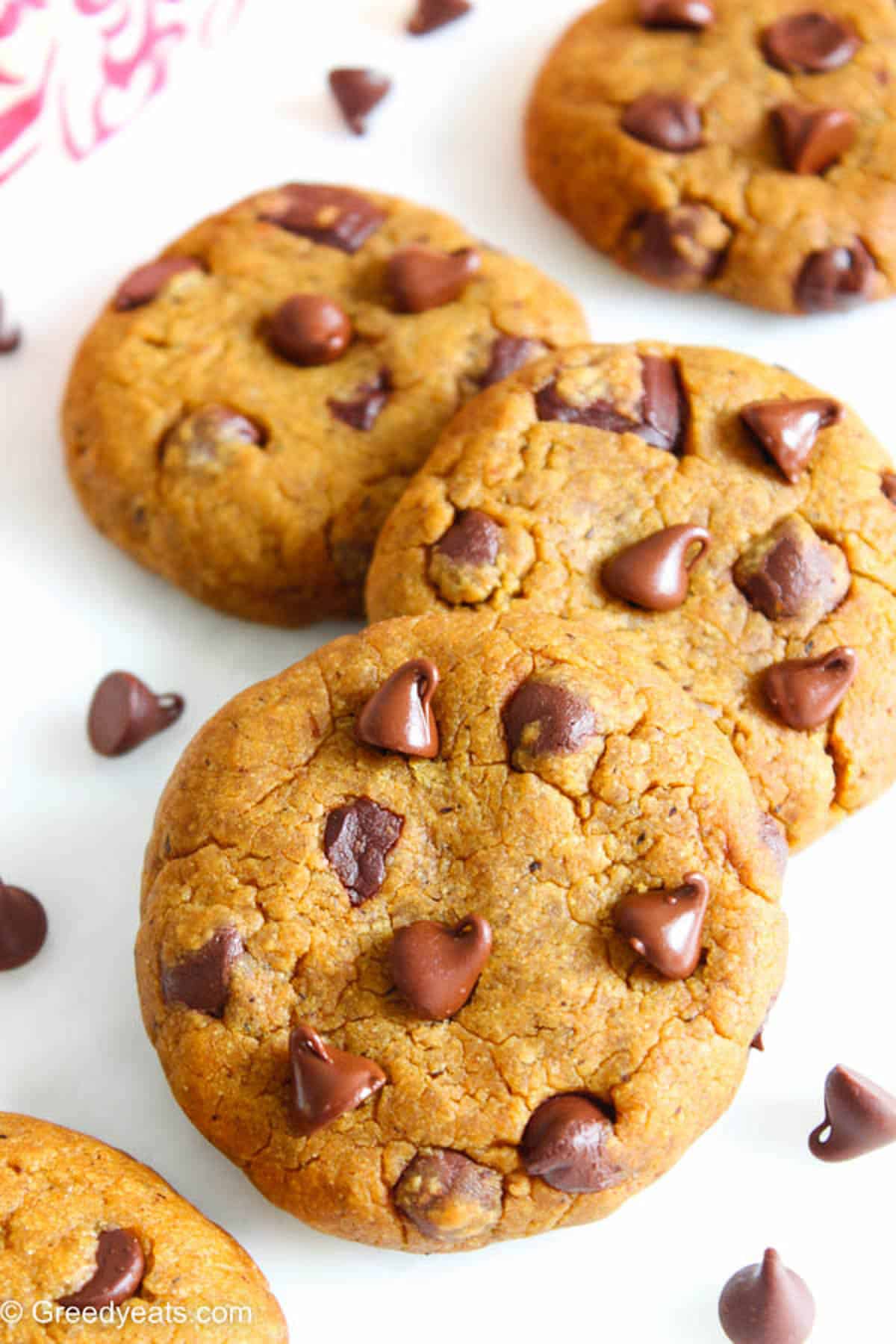 Can I use pumpkin pie mix instead of puree?
No unfortunately you can't sub pumpkin pie mix for pumpkin puree. Since pie mixes already contain sugar, the ratios of cookie dough would blow out of proportion.
Do pumpkin cookies freeze well?
These Cookies keep well in freezer for about 2 months. Allow cookies to cool down completely first before storing. Keep them in freezer safe bags or containers.
I have added ample of spices to my pumpkin cookies Recipe and not a lot of chocolate. We want pumpkin taste to shine through and not be taken over by chocolate!
Pumpkin flavor enhances even more on day 2. You can even leave them uncovered for a few hours, to make their texture get more chewier. These are the best cookies to make ahead of time.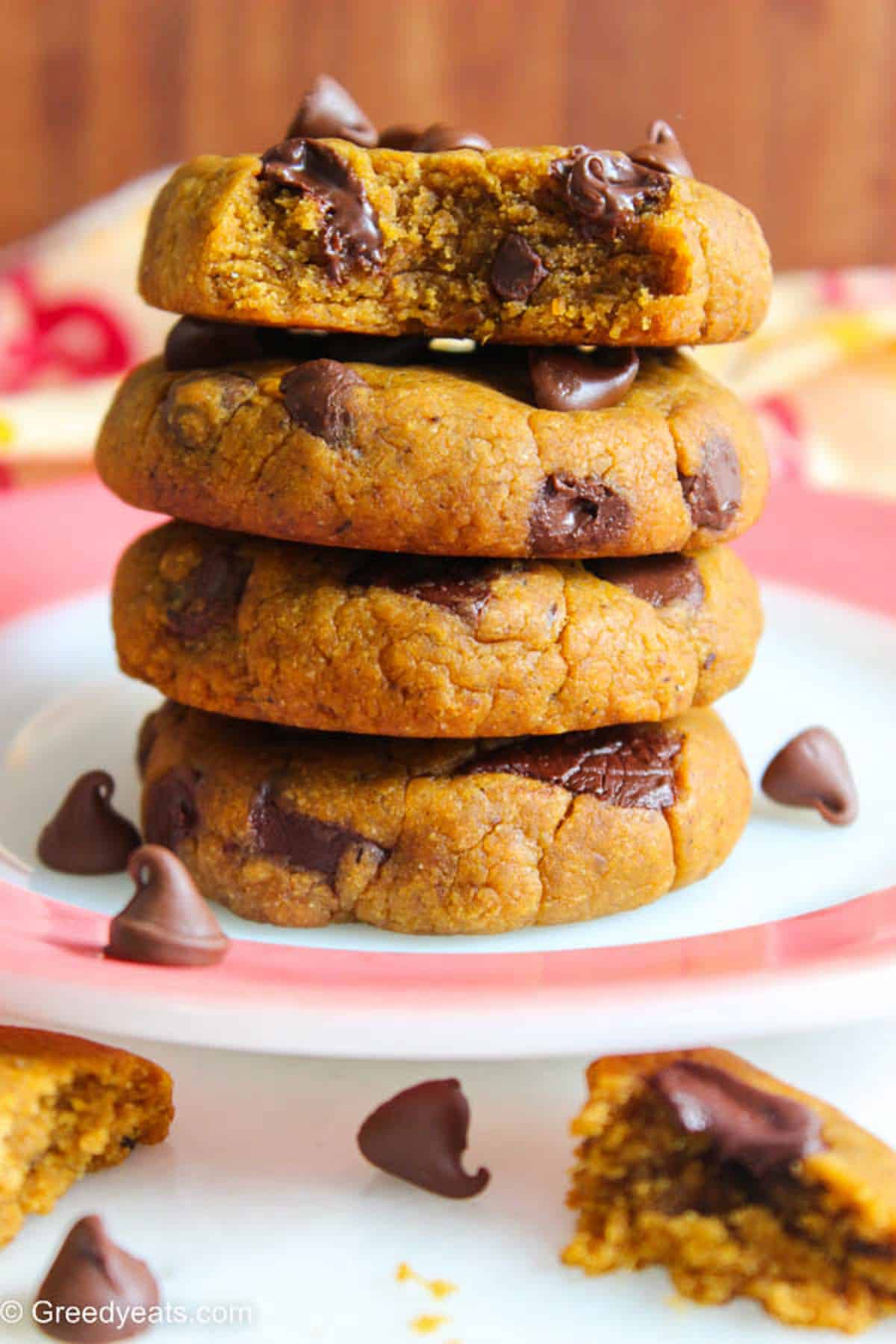 Allow these cookies to cool down on wire rack and keep them there for a few hours to yield a more chewier cookie.
Flavor profile of these cookies enhances the next day (if you have the patience to wait that long!) They taste so so good on day 1 too.
My lengthy post aside, these pumpkin chocolate chip cookies are truly the easiest and a M-U-S-T bake this pumpkin season!
More Pumpkin Desserts:
Pumpkin Chocolate Chip Muffins
If you liked these Cookies give them a star review. Also, tell me in the comments below, how did this turn out for you! And don't forget to share your creations with me on Instagram at #greedyeatsblog
Recipe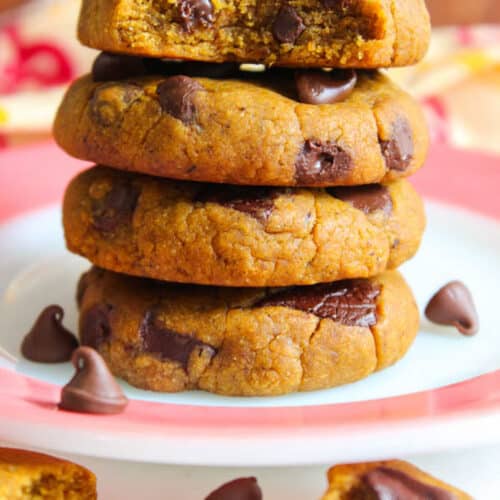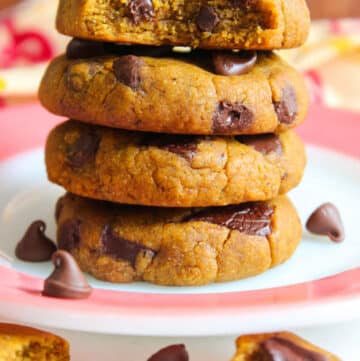 Easy Pumpkin Chocolate Chip Cookies
Pumpkin Chocolate Chip Cookie recipe, a small batch cookie recipe to bake this fall. So chewy, insanely thick, super soft and not cakey at all!
Print
Pin
Rate
Equipment
Balloon Whisk/Hand Mixer

Cookie tray

Silicon Mat/Parchment Paper
Ingredients
¼

Cup

Unsalted Butter

(Melted, room temperature)

2 (20 gms)

tablespoon

Light brown sugar

¼ 50 gms)

Cup

Granulated Sugar

3

tablespoon

Canned Pumpkin puree

(blotted)

¾

Cup

All purpose flour

⅛

teaspoon

Salt

⅛

teaspoon

Baking soda

⅛

teaspoon

Baking powder

¾

teaspoon

Ground cinnamon

⅛

tsp (each)

Ground Ginger + Cloves + Nutmeg + Allspice

½

teaspoon

Vanilla Extract

¼

Cup

Chocolate chips

2

tablespoon

Dark Chocolate Chunks

(Optional)
Instructions
In a small bowl mix melted butter, white and brown sugar, pumpkin and vanilla until well combined using a balloon whisk or hand mixer. Set aside.

In a separate bowl, sift flour, baking powder, baking soda, all the spices and salt. Add and fold dry ingredients to wet and form cookie dough. Add in the chocolate chips (saving some for pressing on top after baking). Now roll the dough into 6 balls and flatten them (as shown in the visual above). Chill them for about 20-30 minutes in the freezer.

In the meantime preheat your oven to 350 deg F and line a baking sheet with silicon mat of parchment paper.

Now take dough balls out of refrigerator and bake for around 11-13 minutes. The cookies will look very soft in the centers but don't be tempted to over bake them. Cookies will continue to set on the cookie tray as well as they cool.

Take them out and press the remaining choc-chips on top for the looks! Allow them to cool down for about 20 minutes on the sheet. And keep for a few hours on wire rack to get even more chewier cookies.
Notes
Storage Information:
You can chill the dough in refrigerator for up to 2 days. Allow it come to room temperature before forming those balls.
Cookies stay fresh at room temperature for 5-7 days. Baked cookies freeze well for 2 months. Thaw in the refrigerator or at room temperature before enjoying!
Unbaked cookie dough balls can be frozen for up to 3 months. Bake them as is, no need to thaw. Just add an extra minute to your baking time.
Pumpkin Puree: Blot it with a few paper towels to get rid of some of the moisture.
Spices: If you desire, you may replace all the spices used with ½ teaspoon of Pumpkin Pie spice. Don't leave out Cinnamon in this case.
Chilling the Cookie Dough: If you are not pressed on time, you may chill the dough in refrigerator for about 2 hours.
Nutrition
Serving:
1
Cookie
|
Calories:
201
kcal
|
Carbohydrates:
33
g
|
Protein:
2
g
|
Fat:
10
g
|
Sodium:
83
mg
|
Sugar:
20
g
These easy pumpkin chocolate chip cookies are slightly adapted from my favorite blogger on this entire earth Sally!