Start off your day on the right foot with pumpkin pie overnight oats packed with nutrition, health, loads of autumn flavor and some chocolate!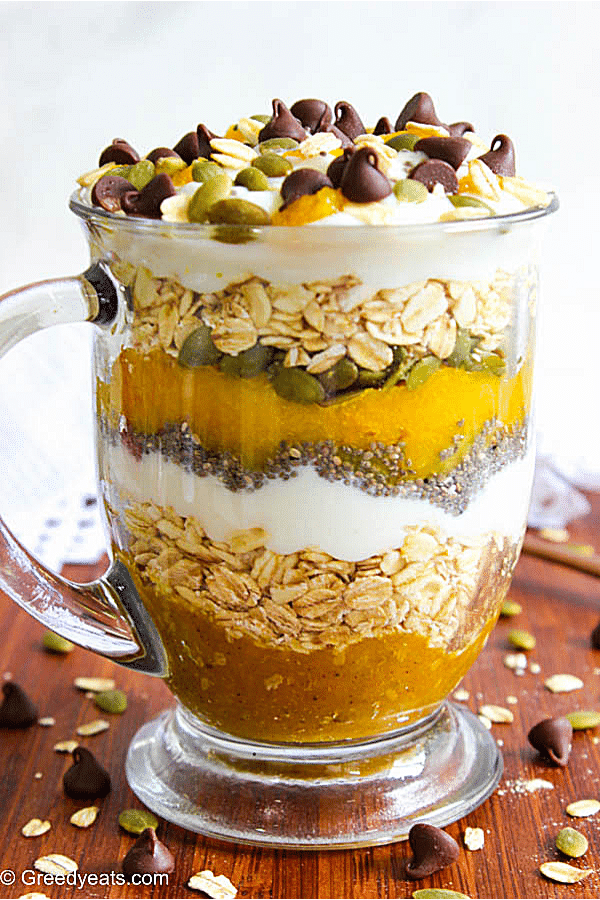 Pumpkin needs no calendar, does it? Autumn begins right on the day when we crack open that first can of gooey and mushy (in a delicious way) pumpkin puree.
But for me it's autumn all year round! Reason? I store heaps of homemade pumpkin puree in my freezer. And by the time october rolls in, my blood type is converted into pumpkin spice!
It's almost fall! And I can't hide my love for pumpkin anymore.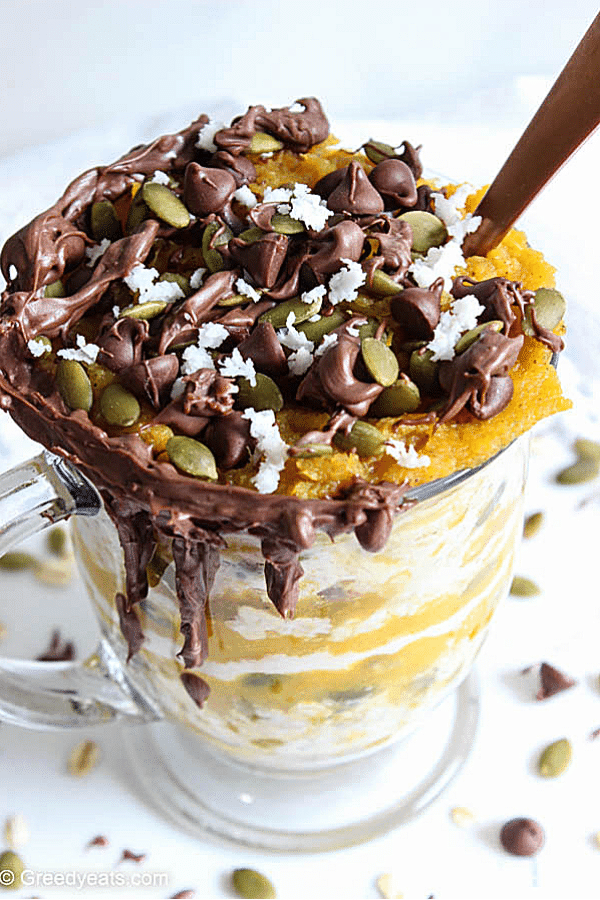 Pumpkin pie overnight oats:Texture
Today I am serving you a pumpkin pie disguised as an overnight oatmeal!
Filled with mega amount of pumpkin pie spice, loaded with pepita and chia seeds, swirled with the goodness of greek yogurt and fresh pumpkin puree, these oats are the best fall breakfast, ever!
Yep. You caught me! I decided not to ditch and hide C-H-O-C-O-L-A-T-E among the dead leaves. Rather we are topping our pumpkin pie overnight oats with an uber amount of chocolate chips, oh and also melted chocolate!
I was going to work out later in the day anyway!
With or without chocolate, they taste so hearty and flavorsome with all those warm spices inside. I added maple syrup to sweeten my pumpkin overnight oats. Adds to that existing pumpkin pie flavor!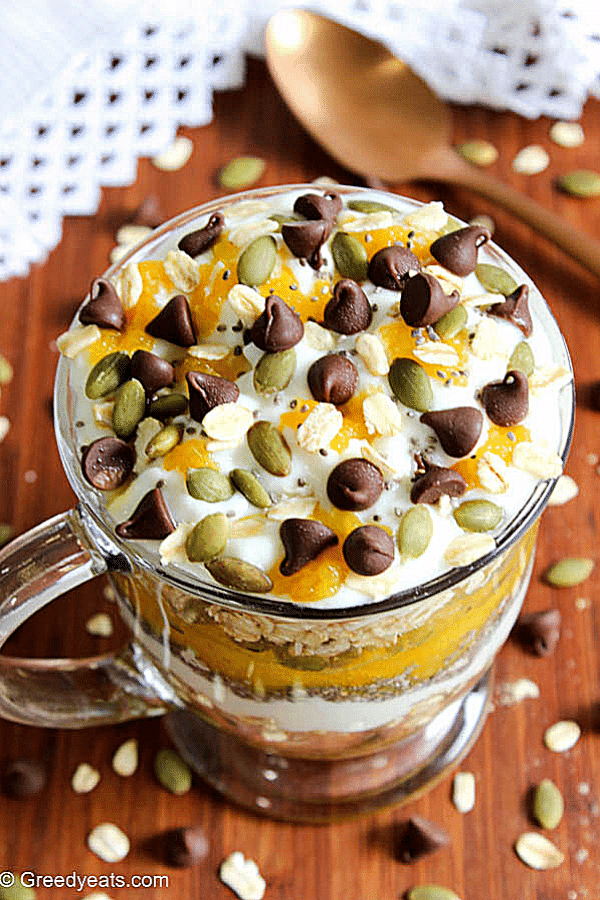 Overnight oats Tips
Always use rolled oats (also known as old fashioned oats) in your overnight oats recipes. Quick oats will get way too mushy for your liking!
Don't fill your jars to the tip. Leave ample space for oats to soak and expand as they get ready.
Your toppings (fruits, nuts and seeds) will soak liquid and soften if added at the time of soaking oats. Instead add them when you are ready to eat.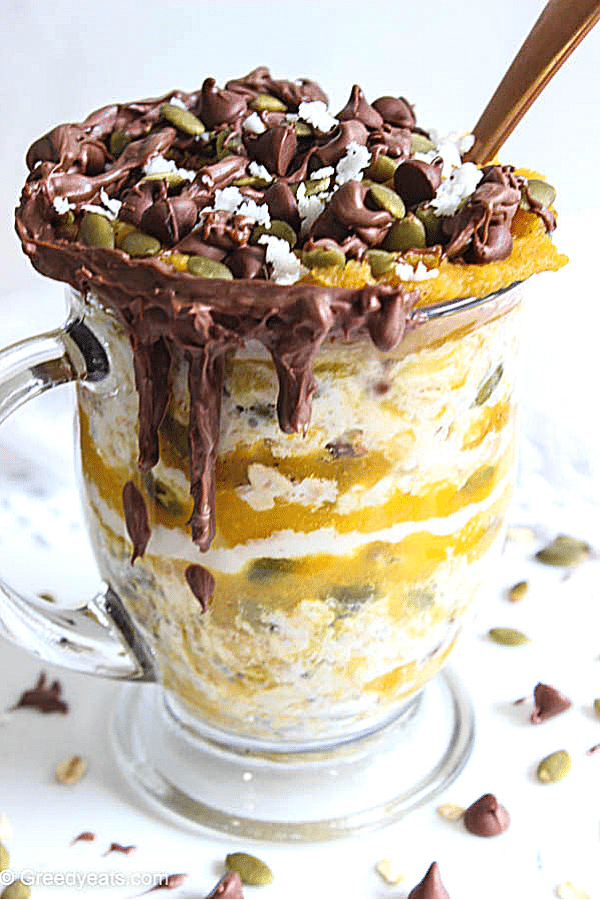 You can make your oats a few days in advance keeping them in an air tight jar/container of some kind.
Another thing to keep in mind is the ratio of dry to liquid. Too much moisture and your overnight oats will get way too mushy and runny. Too little and you will be left with a solid lumpy-bumpy mass of oats! Follow a 2:1 liquid to dry ratio and you will win, every single time!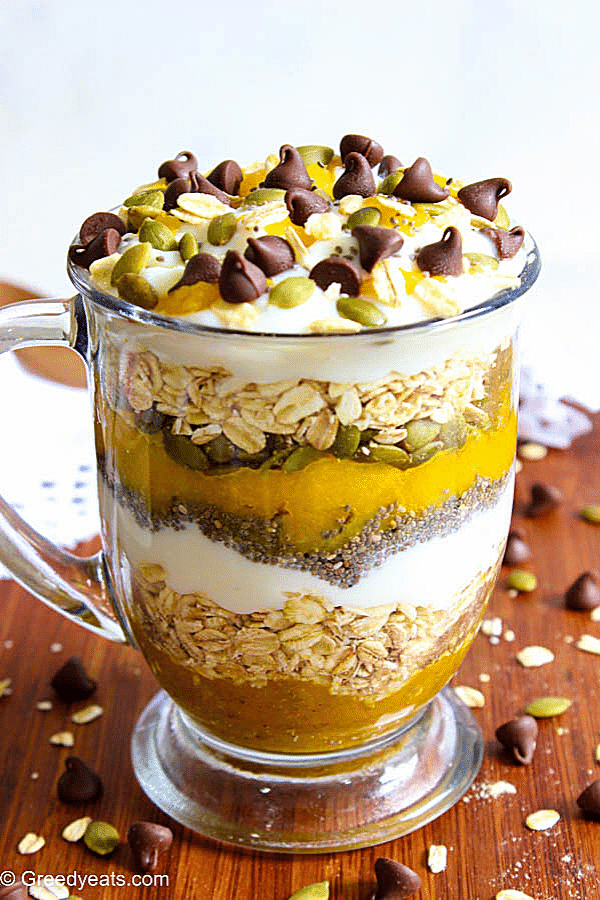 Get ready to indulge in a guilt-free pumpkin pie, served chilled, in the healthiest way possible!
More healthy dessert like breakfast recipes for you to try:
My favorite overnight oatmeal
Easy and crunchy baked granola
Festive Christmas screaming muffins
Recipe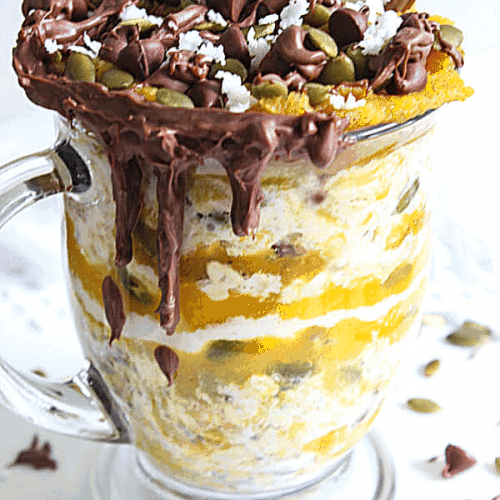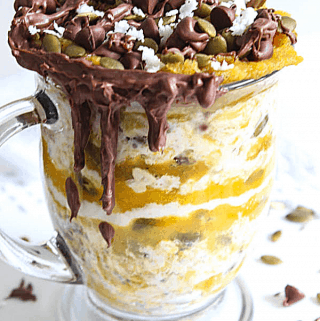 Pumpkin pie overnight oats
Start off your day on the right foot with pumpkin pie overnight oats packed with nutrition, health, loads of autumn flavor and some chocolate!
Print
Pin
Rate
Ingredients
½ Cup

Rolled oats (Old fashioned oats)

¼ Cup

Pumpkin puree (Homemade/canned)

2 Tbsp

Greek yogurt (of choice)

½ Cup

Unsweetened almond milk

2 Tbsp

Chia Seeds

½ tsp

Vanilla Extract

1 Tbsp

Pure maple syrup

1 tsp

Pumpkin spice

½ tsp

Ground cinnamon
For toppings
Chocolate chips, pepita seeds, melted chocolate (optional), freshly grated coconut
Instructions
1. Combine together oats, almond milk, pumpkin puree, vanilla, maple syrup, greek yogurt, chia seeds, cinnamon and pumpkin spice in an air tight container of choice.

2. Seal it well and place in the fridge for 3-6 hours, preferably overnight.

3. You can enjoy your overnight oats cold or re-heat them in microwave if you like them hot.

4. When ready to eat, top with chocolate chips, seeds, coconut or toppings of choice.

5. Nuts like pecans or walnuts would be so great with these pumpkin pie overnight oats!
Nutrition
Slightly adapted from a sweet pea chef!