From scratch brownie cupcake recipe that will delight you with its brownie top, fudgy centers, chewy edges and a thick cheese swirl (with my most favorite cheese)!
More Festive Birthday Desserts for you!
This post is sponsored by Montchevre but the content and opinions expressed here are my own.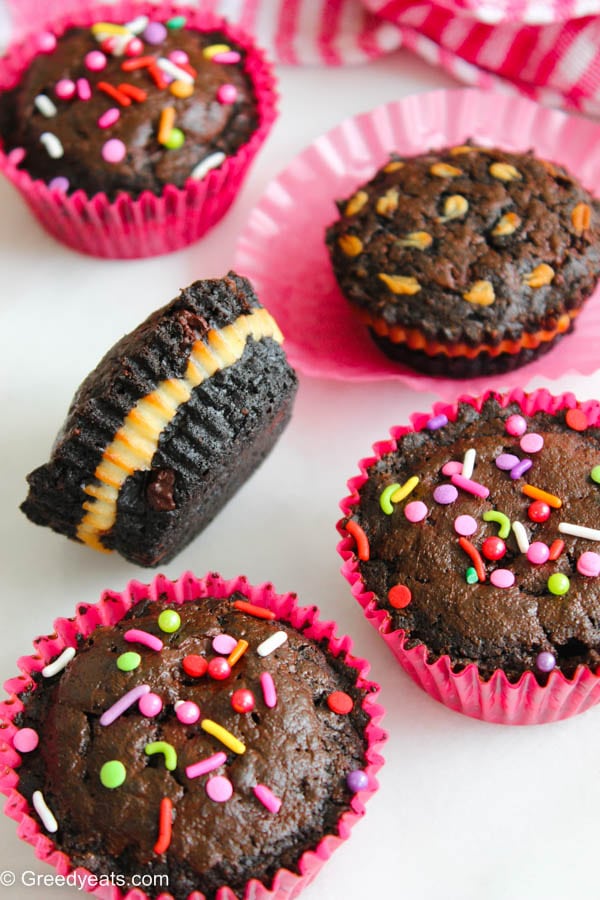 It was my birthday yesterday!!! I didn't know what to bake. Nothing unusual there #dessertbloggerproblems! But I was certain it had to be something involving chocolate, swirls and lots of sprinkles(nothing unusual here either).
And of-course I was baking for myself. Don't you bake on your birthday?
I've loved layered cakes with 13456 buckets of frosting to celebrate ma day! But this time I wanted something even cuter, more intense and in mini form. So baked these little brownies in cupcake pan that hide a delicious swirl of cheese inside. Call it my recent addiction!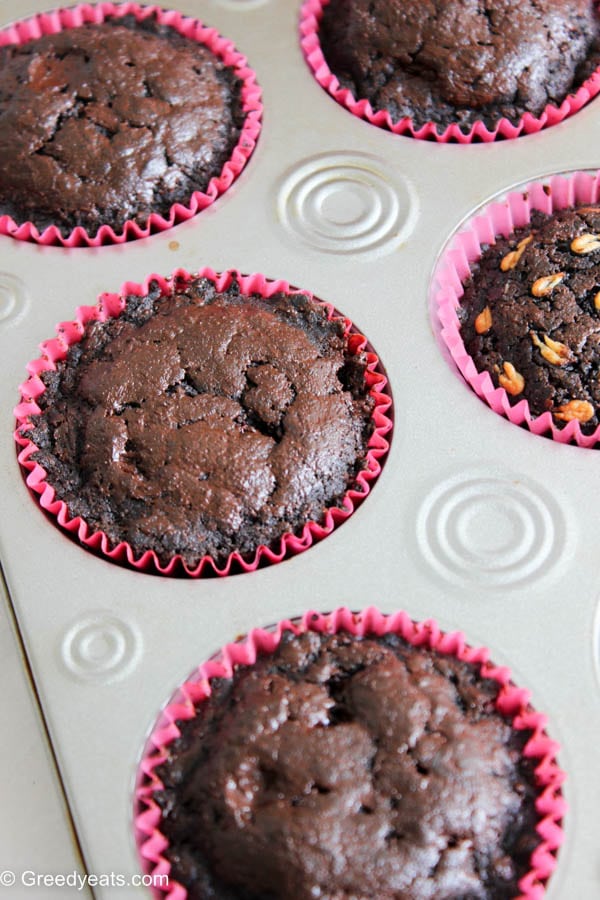 This one is a super easy brownie cupcake recipe. Also takes no time to assemble. And when you bite in these buttery brownies, you can't stop smiling from what you discover on the inside.
Look for yourself!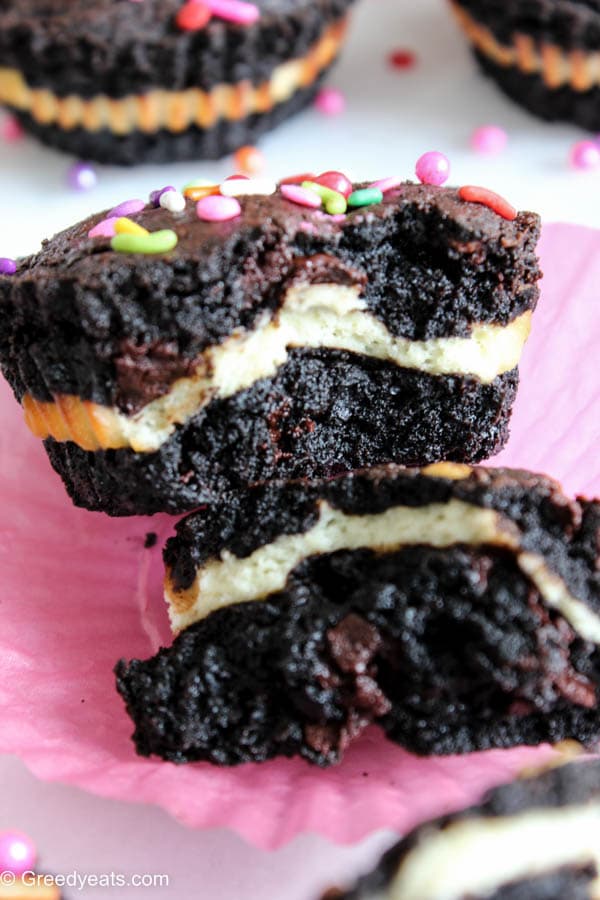 Brownie cupcake recipe: Texture
Super super super fudgy (but doesn't appear too dense)
Extremely chewy on the edges
Also a few pockets of melty chocolate (always more chocolate, always!)
Thick and pretty cheese swirl to make you smile say Ch-e-e-e-e-se! More on that in a minute.
The brownies taste even chewier the next day. And right from the refrigerator? OMG!! This recipe makes 10 good sized cupcake brownies which you can double at ease. So there is plenty to save for the next day. No?
Brownie cupcake recipe: The swirl
Now lets focus on the star of our show. Cheese! And not any cheese. I used Montchevre cheese to swirl my brownies. It's always the quality ingredients that make the best desserts. Take it from me!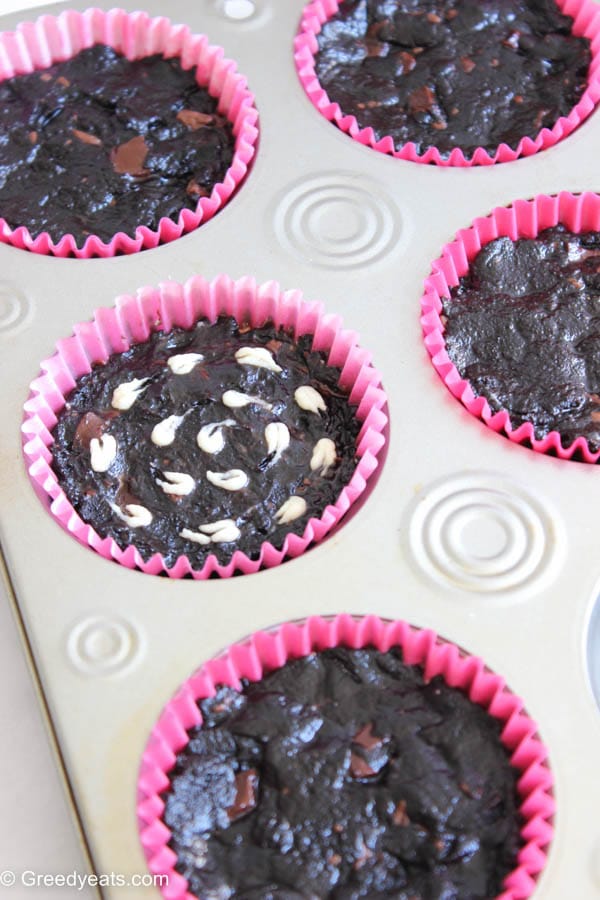 Also a dozens of flavors to choose from. I went for natural one, but how cool would pumpkin be for fall? Or Cinnamon Cranberry? Oh and blueberry vanilla! I can already taste them all in my cupcake brownies!
One unexpected ingredient that will take our brownies from boring to eat that last crumb good! I am telling ya that swirl is to die worth living for!
Brownie cupcake recipe: Assembly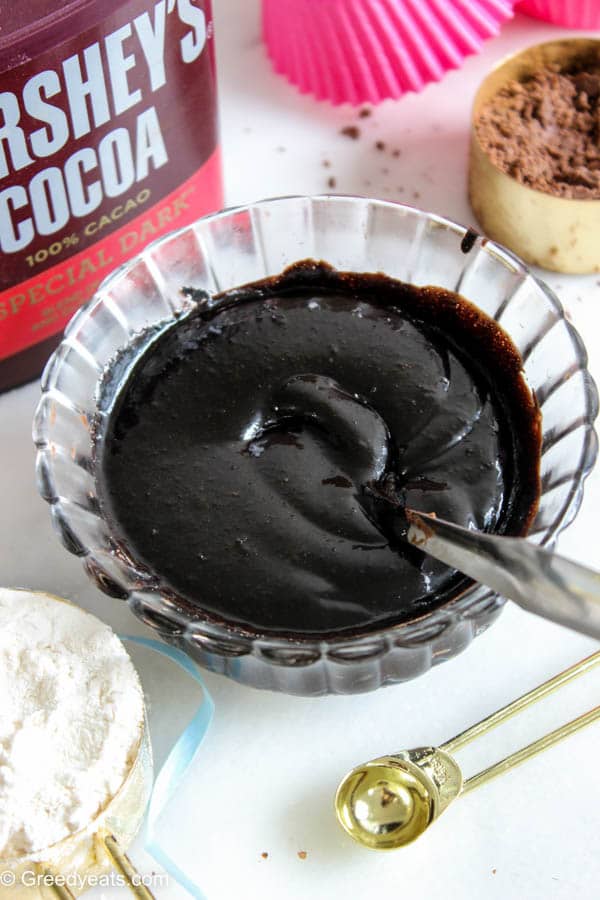 Can't get any easier! We will melt butter and sugar on stove top and heat it a bit. Add beaten eggs, cocoa, salt and baking powder to the mix. Add flour, some chocolate, swirl with cheese in the center and bake!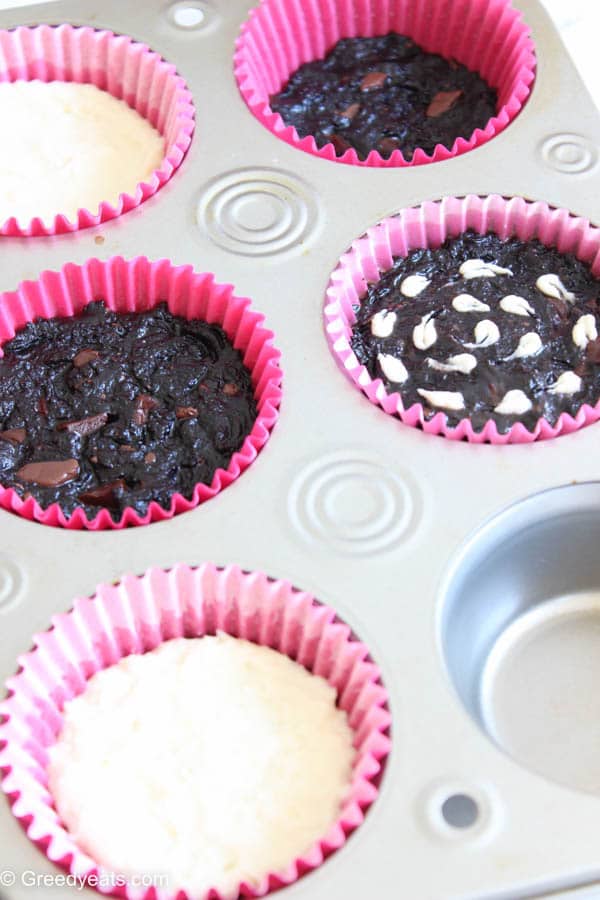 Top right is the first layer of our brownie cupcakes.
Top left one with cheese makes the second.
Pour more brownie batter
Now you can create a cheese swirl on the top layer too. Just like this. ↓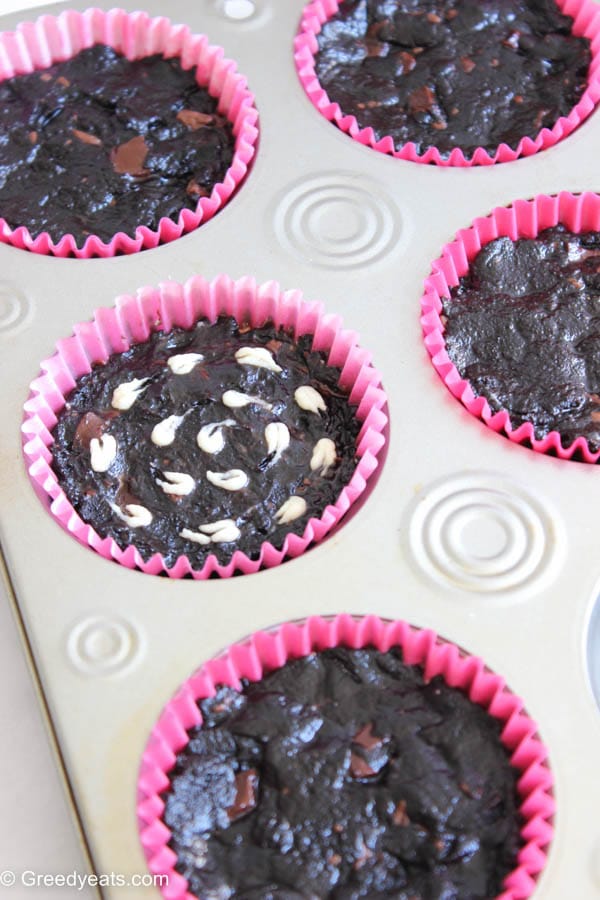 Or bake it as is for that beautiful top layer. And top with some sprinkles!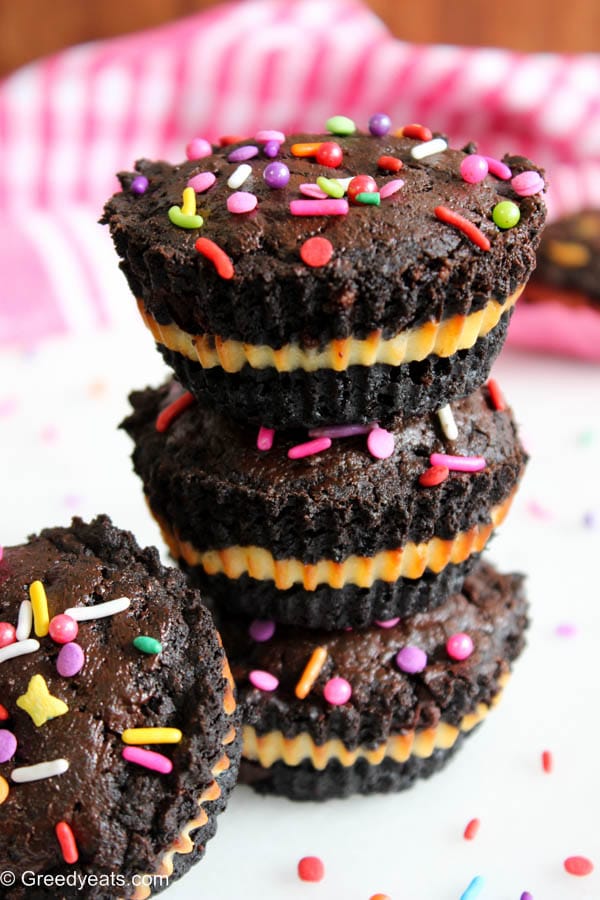 Either way, get ready! Montchevre is about to become your go to goat-cheese for life.
Recipe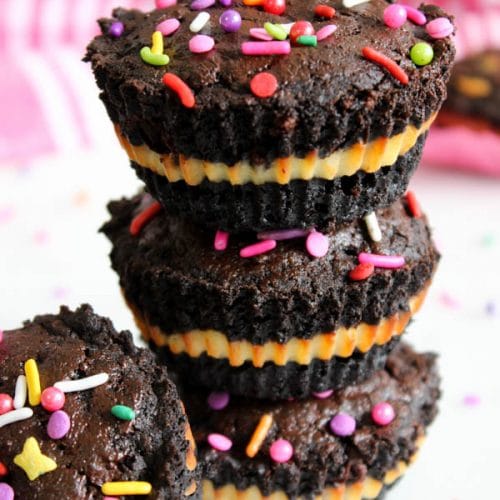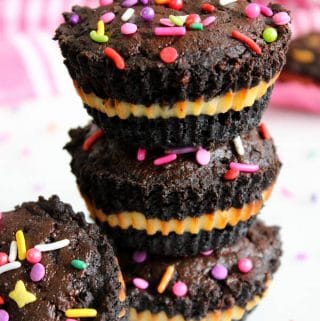 brownie cupcake recipe with cheese swirl
From scratch brownie cupcake recipe that will delight you with its brownie top, fudgy centers, chewy edges and a thick cheese swirl (With my favorite cheese)!

Print
Pin
Rate
Ingredients
½ Stick

Butter

1 cup + 2 Tbsp

Powdered Sugar

½ cup + 2 Tbsp

Dutch cocoa

½ tsp

Salt

½ tsp

Baking powder

½ Tbsp

Vanilla Extract

2 Large

Eggs (Room temperature)

¾ Cup

All purpose flour

1 Cup

Chocolate chunks/chocolate chips

¼ Cup

Sprinkles (optional)
Goat Cheese Swirl
6 Oz

Montchevre goat cheese

1 Tbsp

Sugar

1

Egg

1 tsp

Vanilla Extract

½ tbsp

All purpose flour
Instructions
1. Preheat oven to 350 deg F and line a cupcake pan with 10 cupcake liners. Set aside.

2. In a medium sauce pan melt butter and sugar together on low heat. And heat this mixture (stirring occasionally) until hot but not bubbling. You can also do this in microwave, to speed up the process.

3. While the mixture is heating, mix all the ingredients for cheese swirl in a medium bowl, beat well and set aside.

4. Transfer this mixture into a mixing bowl and add cocoa, baking powder, salt, vanilla and eggs. Beat in to combine well.

5. Now add in your flour and chocolate chunks/chips. 

6. To layer, add 1 ½ tablespoon to 2 tablespoon brownie batter in all the liners. Distribute the prepared cheese in all of them as the second layer.

7. Add the remaining brownie batter in the liners and bake for 20-25 minutes or just until a toothpick inserted in comes out with a few baked crumbs.

8. Top with sprinkles, let them cool down a bit to enjoy!
Notes
Heating the butter and sugar leads to that beautiful brownie top we all aspire for. So don't skip this step.
Adding chocolate chips/chunks also helps in forming the top brownie layer.
Nutrition
Adapted from king Arthur flour brownies